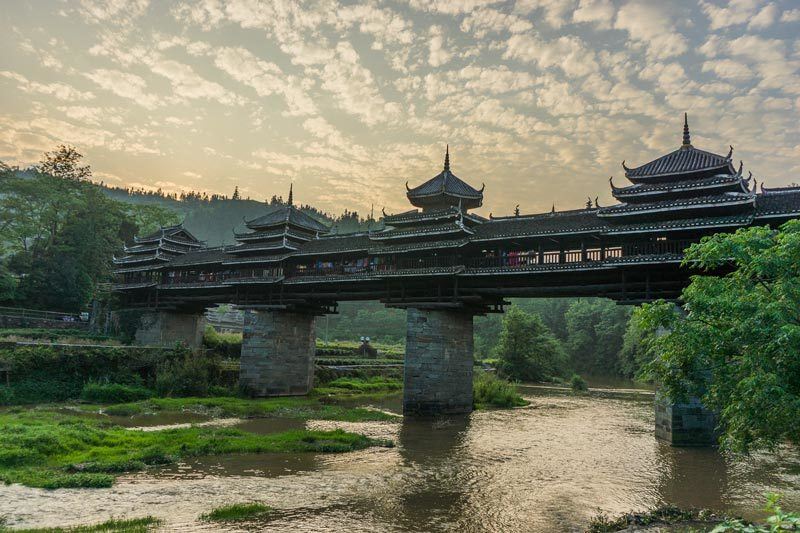 Before we had stepped foot in China we had visions of big cities like Shanghai and Beijing, smog, traffic and litter. Of course we knew there was a lot more to this vast nation, but we weren't exactly sure what. Our first impressions in Shaxi really made us start to realise how beautiful the ancient Chinese villages could be, and the UNESCO hot spot of Lijiang proved exactly how uncontrolled tourism could potentially ruin it. And at the risk of assuming every Chinese ancient village is the same, we decided to wander out to Chengyang anyway – a small town in the Guangxi province, only two hours from Guilin City.
What we found was a quaint, bucolic pearl, complete with awe-inspiring wind and rain bridges, striking drum towers, narrow alleyways filled with the scent of spices and a fascinating Dong ethnic minority culture. Chengyang did not disappoint.
The crown jewel of Chengyang is the Wind and Rain Bridge. Built in 1912 and stretching for over 64 metres, this brick and timber bridge is designed with the traditional Chinese style that can be found throughout the ancient region. At night the Yongji Bridge lights up in spectacular fashion, glowing stunningly in the night.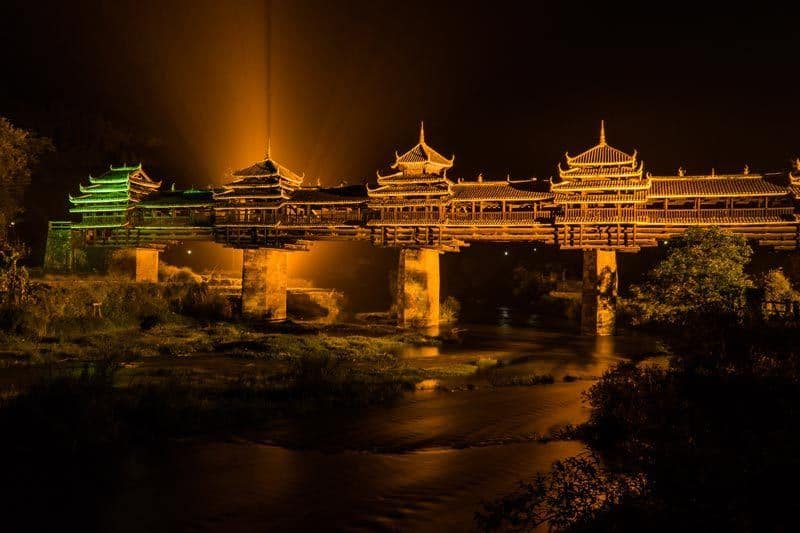 For those feeling active be sure to climb up the top of the hill on the ticket booth-side of the river for some beautiful views over the valley. The hike only takes about 20 minutes to the top and isn't strenuous. The vistas are completely worth it.
We also managed to time our trip with a cultural feast that is held every month. On the first Saturday of the month (though we're not positive on this date as we couldn't find a definitive answer from locals), the Dong minority families get together to have huge communal dinners in the public squares. For the cost of 60RMB we could sample any of the hundreds of dishes prepared by the women of the households in Chengyang. Fried peppers, barbecued pork, sauteed vegetables and a host of unrecognisable meat were on offer. Afterwards traditional dances take place on the stage and there is plenty of rice wine to consume. If you manage to be in town for this extravaganza, don't miss it!
Chengyang was more than a pleasant stopover – it helped to make us fall in love with rural China again. The cities and long transport between destinations was quickly grinding us down, but being lost in the meandering alleys of this ancient Dong village replenished our souls.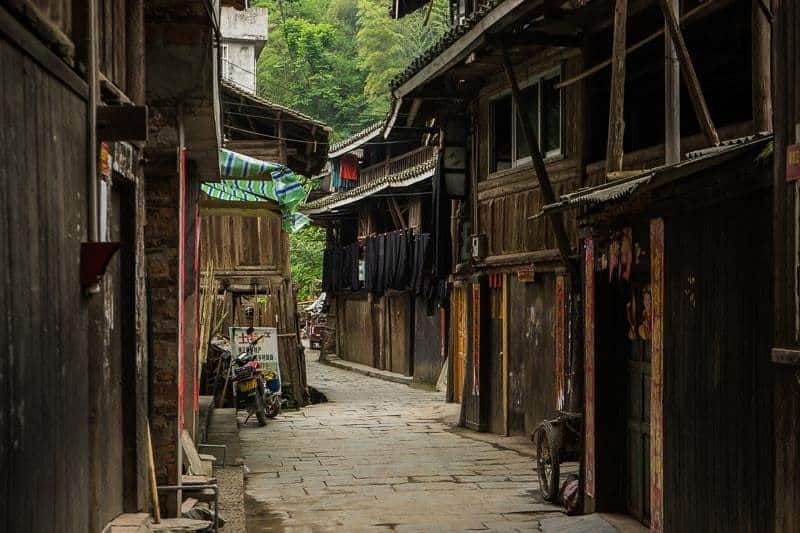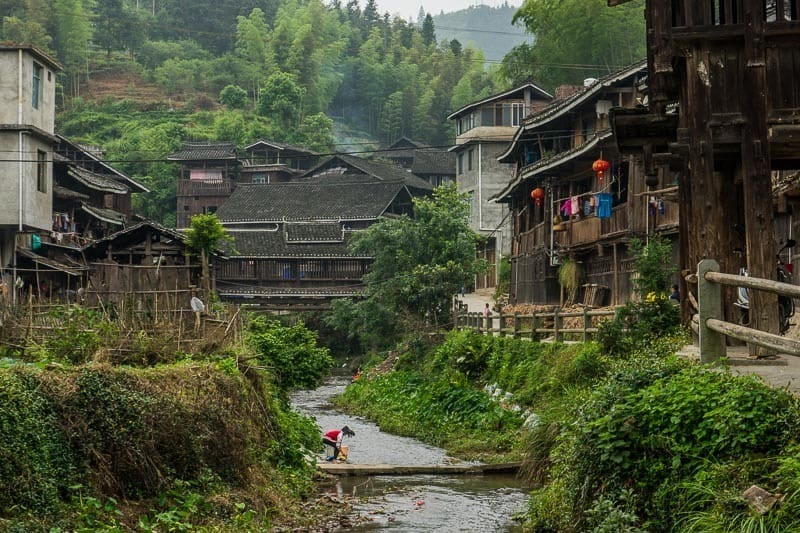 How To Get To Chengyang (程阳)
The village of Chengyang is about a one hour drive from the town of Sanjiang (三江). If you are coming via train from Guilin, jump on a local bus from outside the train station to Sanjiang (it should cost about 4RMB) and tell the driver you are planning on going to Chengyang. He will tell you when to get off, which should probably be at the bus station. But in our case he dropped us off on a random street corner where the buses to Chengyang drive past. We ended up having a minivan driver pull over and offer us a ride to Chengyang for 10RMB, but we heard the actual bus is 5-8RMB.
There are two bus stations in Sanjiang – Hexi (河西) and Hedong (河东). You need to go to the Hexi bus station to go to Chengyang.
The road to Chengyang is under construction and quite bumpy. When completed it will probably take about 30 minutes or less, but for now it takes one hour.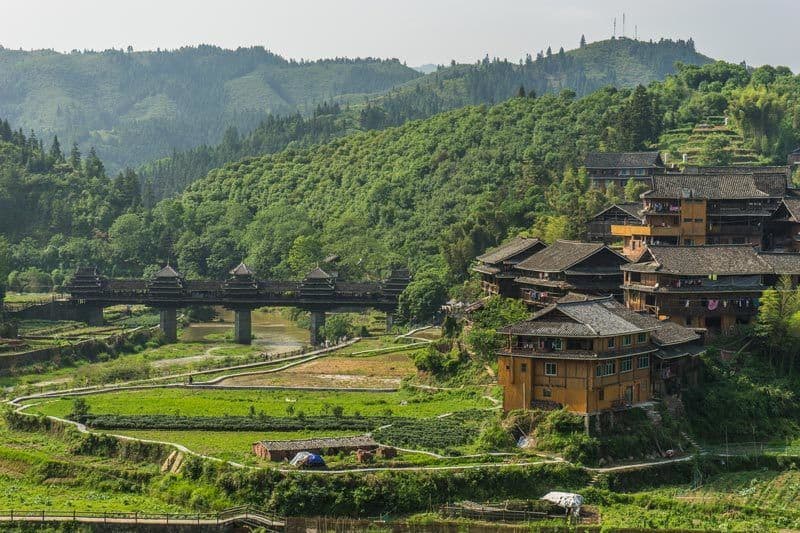 How To Get To Sanjiang (三江)
You can get to Sanjiang in a number of ways, and by bus it is linked to Liuzhou, Nanning, Guilin and Longsheng. These will more than likely drop you off at the Hedong bus station in Sanjiang, meaning you need to find your way to Hexi. The other way is to take a train from Guilin or Zhangjiajie. The ridiculously oversized and modern train station is about 10km outside of town (and has been creating a bit of controversy lately, as you can see in this BBC Travel article). From there either take the bus or a taxi into town.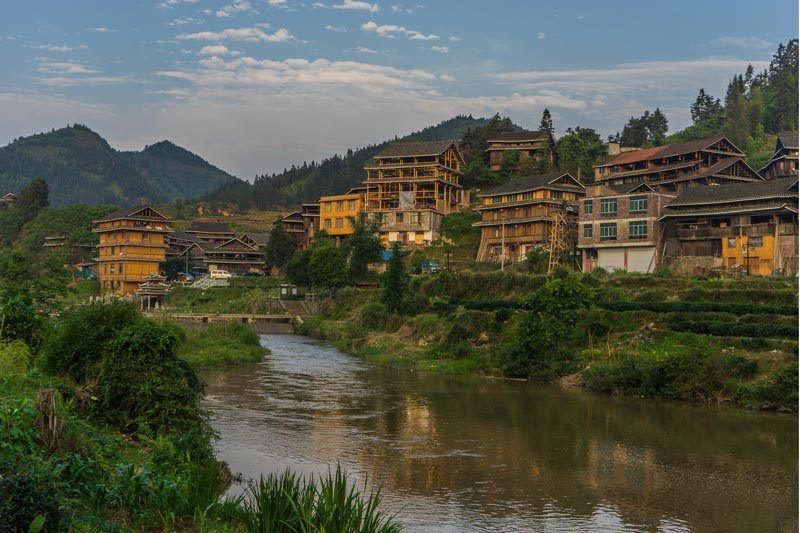 The Entrance Fee To Chengyang
The price for the entrance fee into Chengyang is 60RMB (30RMB for students). This supposedly goes to the upkeep and maintenance of the town, but in all honesty it probably goes straight into the pockets of government officials.
If you ask the bus driver to take you past the Yongji Wind and Rain Bridge you can avoid the entrance fee. Our minivan driver offered to do this for us for 10RMB, and it worked without problem. He drove straight past the ticket booth and dropped us off just on the other side of the bridge. Once inside you will not be asked to show your ticket, and you can walk across the Yongji Wind and Rain Bridge without being checked.
Note that the other bridges inside Chengyang require donations or a small entrance fee to cross. These are supposedly run by the locals and they are in charge of the upkeep.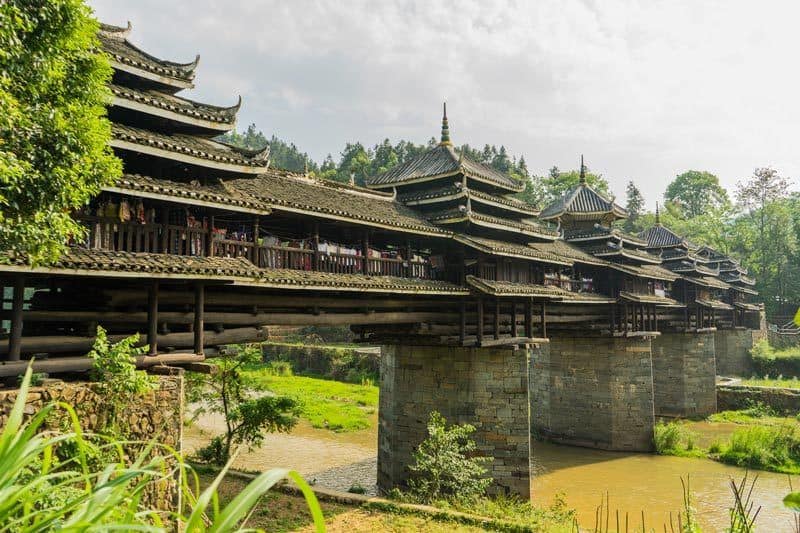 Where To Stay In Chengyang
We met a friendly Chinese lady, Lusang, on the bus from the train station to Sanjiang and we ended up sticking by her on the way to Chengyang. It was her second time to the village and she supposedly knew of the best accommodation in Chengyang. We put our faith in her and we were so glad we did!
We ended up staying at the Shanjian Guesthouse (山间客栈) which was up on a hill overlooking the town. This place was top notch! It had the best view of any accommodation in all of Chengyang, comfortable beds, clean bathrooms and timber rooms full of character. The staff were lovely, however they didn't speak any English. There is also a restaurant on site and they serve delicious tea and cheap wine.
Shanjian Guesthouse (山间客栈)
Phone – 13481996420 / 15347762620
Price – 60RMB for a double room with a view and private bathroom.
Directions – When you go over the Yongji Bridge turn right and follow the road for about 50m. Follow the left road when it forks at Yang's Guesthouse and walk another 20m or so. There will be a sign on your left and some stairs running up. Follow those all the way to the top and you will reach the Shanjian Guesthouse.
Save this Pin for later?