From exploring imposing Soviet Architecture to marvelling at gorgeous mosques and museums, here's our list of the best things to do in Tashkent.
The biggest city in Central Asia has never received much love from the travelling community.
Articles on Uzbekistan tend to focus on the countries' big hitters and more well-known destinations like Samarkand, Bukhara or the fabled Aral Sea.
Even when compared to other Central Asia cities, Tashkent is usually trailing behind the regions big hitters; Ashgabat and Astana.
Most travellers blast through on their way in or out of Uzbekistan and this really is a crying shame.
However, as tourism to the region increases, this is slowly starting to change. Tashkent is starting to show itself as a fascinating destination in its own right.
Tourism is really starting to take off in the Uzbek capital and travellers are starting to take advantage of Tashkent's awesome tourist spots.
It is a city brimming with culture, architecture, history and good food.
Whilst having all of the Uzbek and Central Asian staples, if you need a break from plov, manti and shashlik then this is the place!
READ MORE: Check out our epic Uzbekistan travel guide to make the most of your trip here!
Our List of the Best Things to Do in Tashkent
Without further ado, here's our list of the top things to do in Tashkent for your next visit.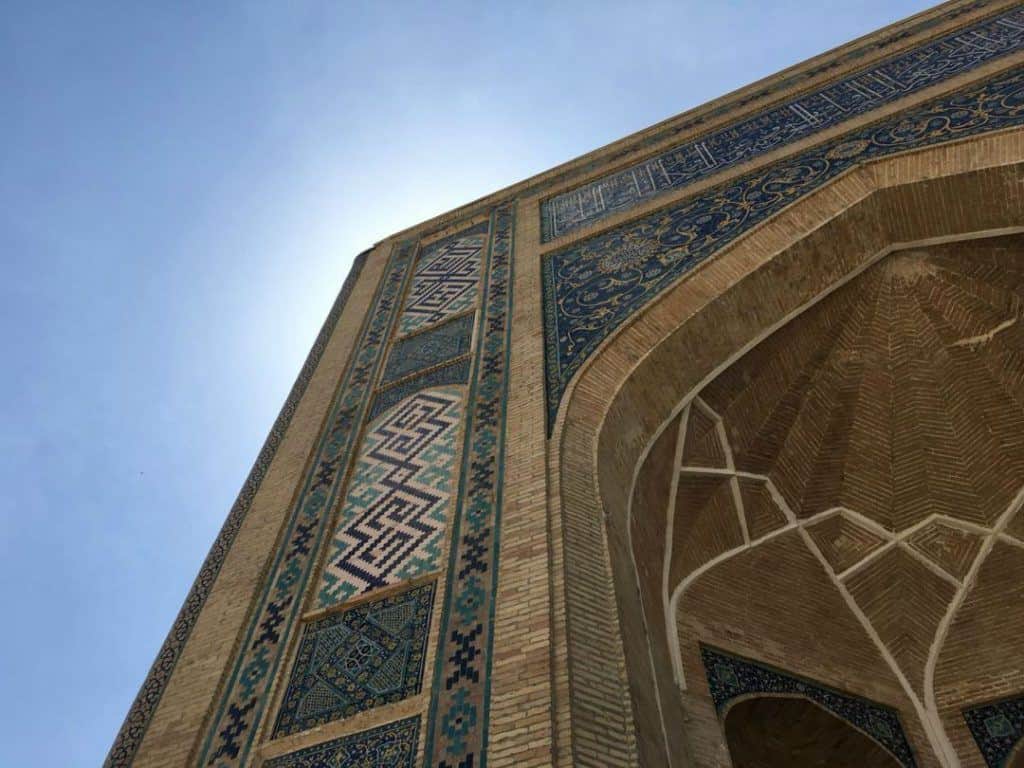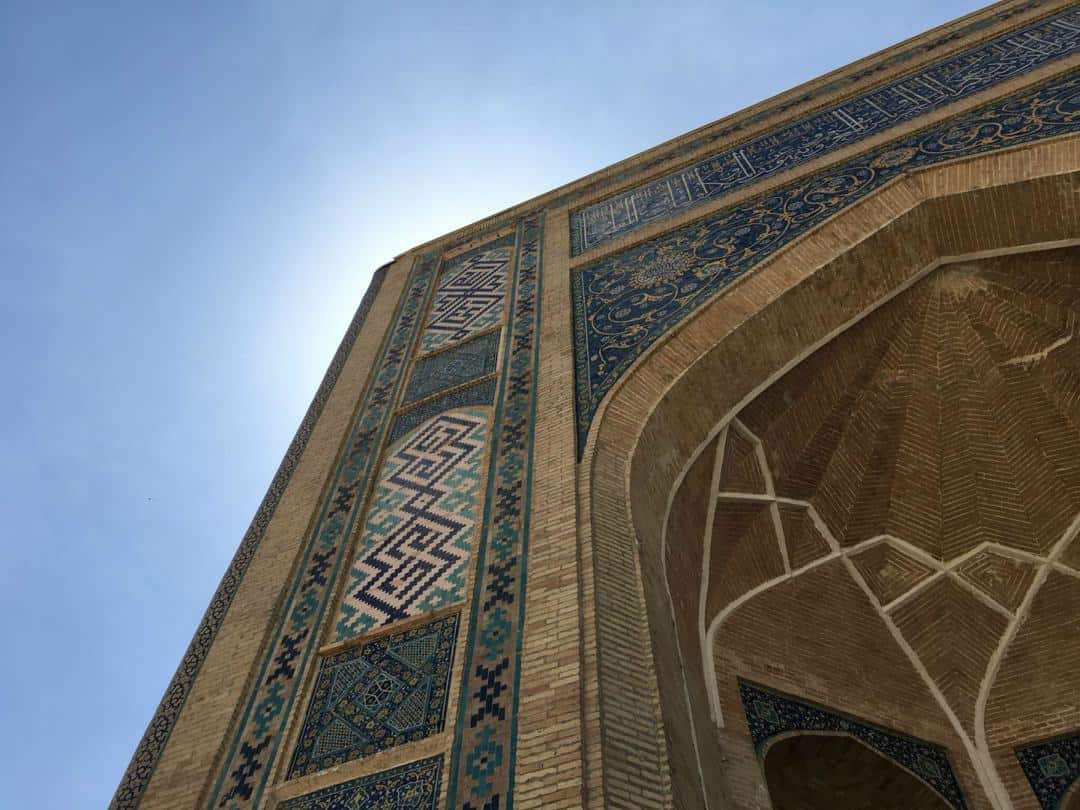 Visit Khast Imam
This collection of mosques and madrasas in the centre of Tashkent is home to what is supposed to be the worlds oldest Qur'an.
Although this small museum where the text is kept is certainly worth checking out it is just a tiny portion of this huge complex.
The surrounding narrow alleyways are a perfect place for a wander and get a glimpse of old Tashkent.
As one of the more popular Tashkent tourist attractions, Khast Imam's traditional Islamic architecture is stunning to behold. Its grandiose beauty impresses everyone!
Location: Karasaray Street
Nearest subway: Chorsu
Opening hours: every day from 9 AM – 9 PM
Price: Free of charge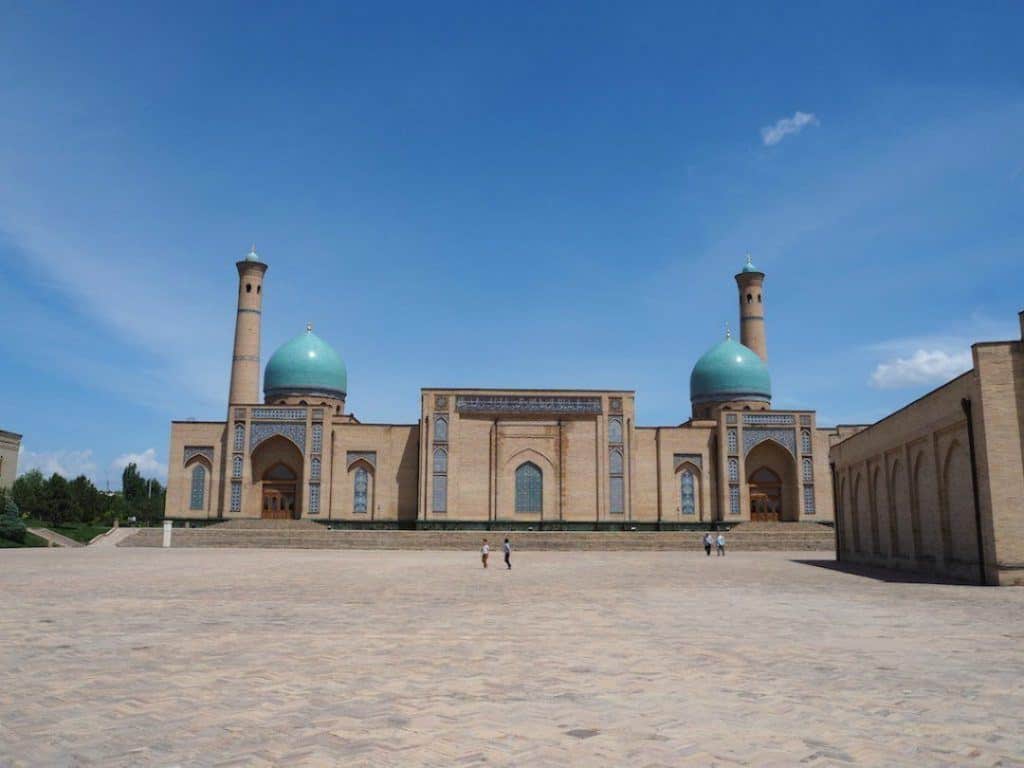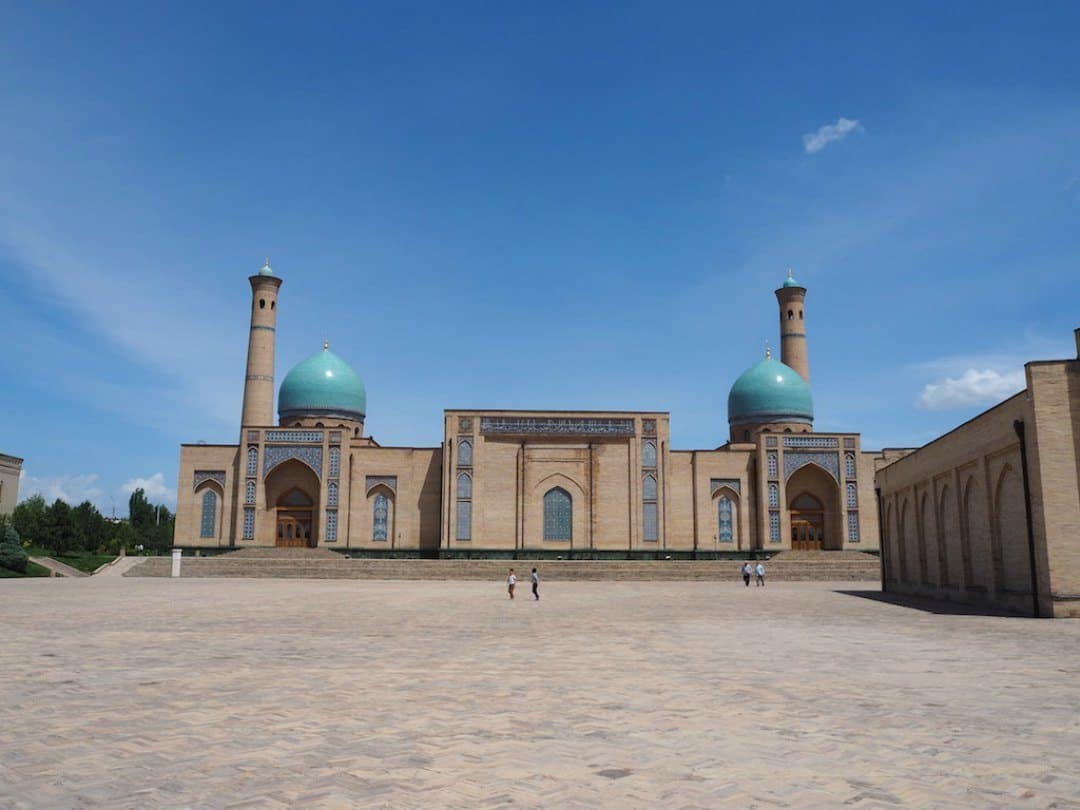 Wander Around the Chorsu Bazaar
The chaotic network of stalls, outdoor food stands and wholesalers is everything you would expect from a Central Asian bazaar at the centre of the old silk road.
Often believed to be housed within this blue dome picture below, stalls and food stands radiate for what seems like forever.
The area around the station is chock full of bread and cheap Chinese made products.
Whereas the dome and surrounding area is full of fresh fruit, veg and meat, open air food halls and textiles.
This is a working a market so don't be surprised if people are brash and direct.
Markets are some of our favorite spots to hit when visiting a new country – you get to mingle with locals, try foods and get some unique souvenirs. If you want that full Tashkent sightseeing experience – add Chorsu Bazaar to your itinerary!
The area surrounding the Bazaar has a few small mosques and madrasas that are worth a look.
Also do be aware that this area has a number of money exchangers, something that is not necessary with recent financial reforms.
Address: 57 Tafakkur ko'chasi
Nearest Subway: Chorsu
Opening hours: every day from 5 AM – 8:15 PM (except Saturday & Sunday from 5 AM – 9 PM)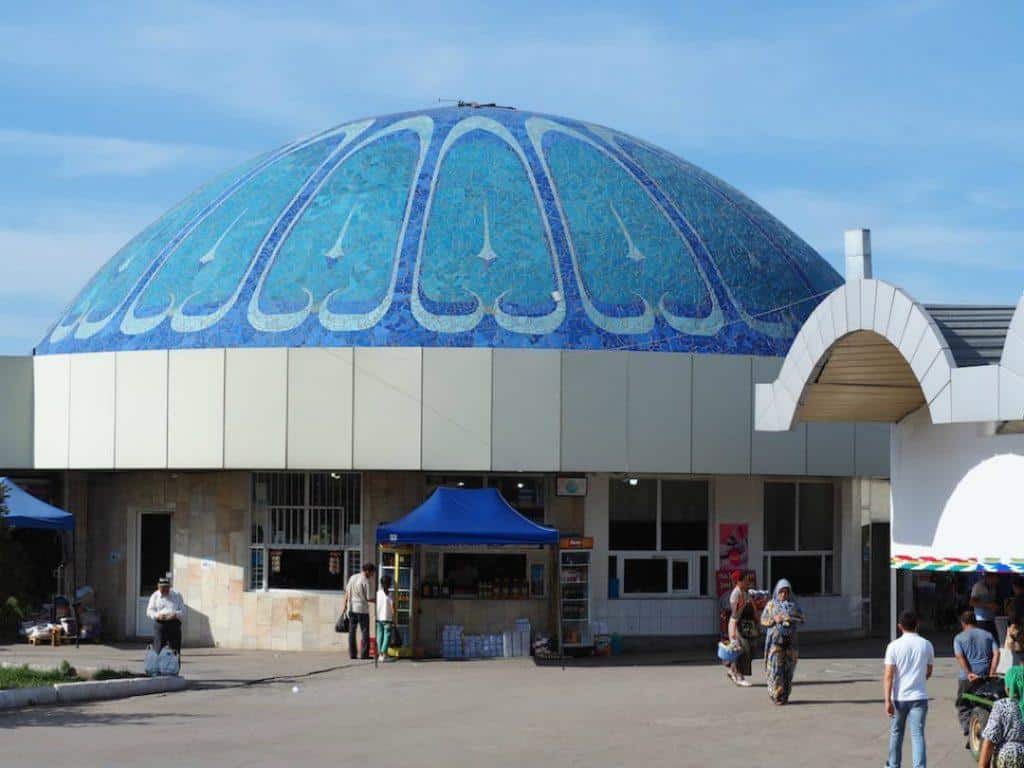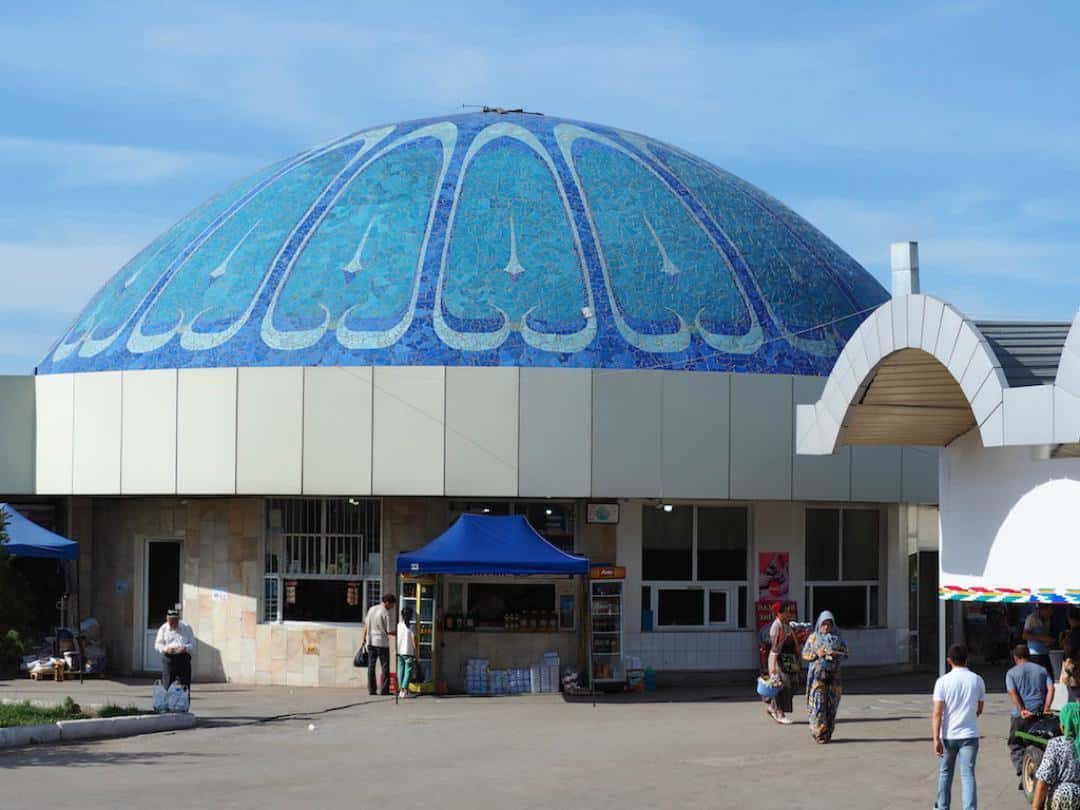 Marvel at the Soviet Mosaics
Tashkent is home to some impressive Soviet architecture, however Shota Rustaveli Street, South East of the Grand Mir hotel has a number of old Soviet era tower blocks decked out in some rather fantastic mosaics.
Definitely one of the most interesting and surprising Tashkent attractions.
Nearest Subway: Oybek/Ming Orik
READ MORE: Travelling elsewhere in Central Asia? Check out our ultimate guide to the Pamir Highway in Tajikistan!
Kolkouz Canal
This canal runs from very close to the Chitagay Bazar, near Tinchlik subway all the way to Khast Imam.
With narrow alleyways decorated by old Lada's and crawling vines, this is an excellent place to explore and get to know old Tashkent.
This is probably one of the most interesting things to do in Tashkent, it's certainly a place that gets you away from the crowds.
The houses in this area are surrounded by high walls with big gates that are usually shut.
However, you can expect to see eyes peering over the top of the walls or through the gate as you walk past.
Do not be surprised if people invite you in for a cup of coffee or just fancy a chat outside their homes.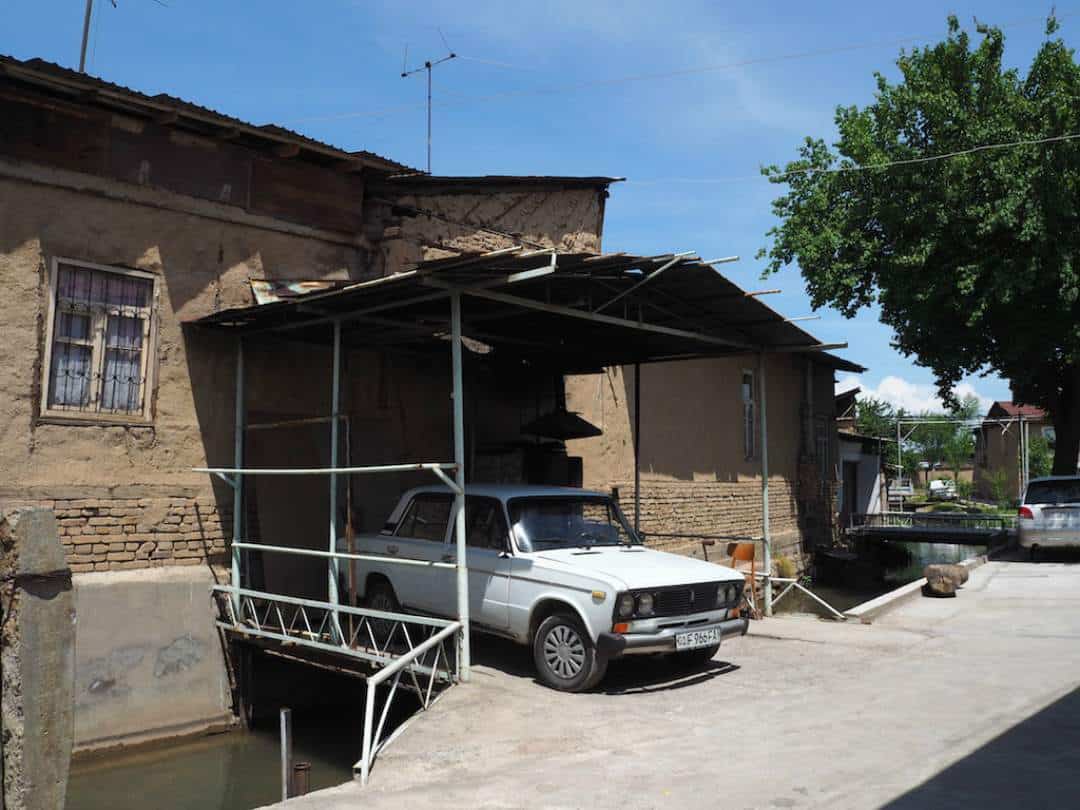 Check Out the Minor Mosque
This huge white marble mosque was built between 2013-2014 under the orders of the country's then-leader, Islam Karimov.
A gorgeous building on the edge of the Ankhor canal it looks like it would be more at home in Ashgabat's white marble jungle than in Tashkent.
Evenings are usually pretty quiet, making it a nice time to explore.
Address: Little Ring Road
Nearest Subway: Bodomzor
Opening hours: 24h/7
Price: Free of charge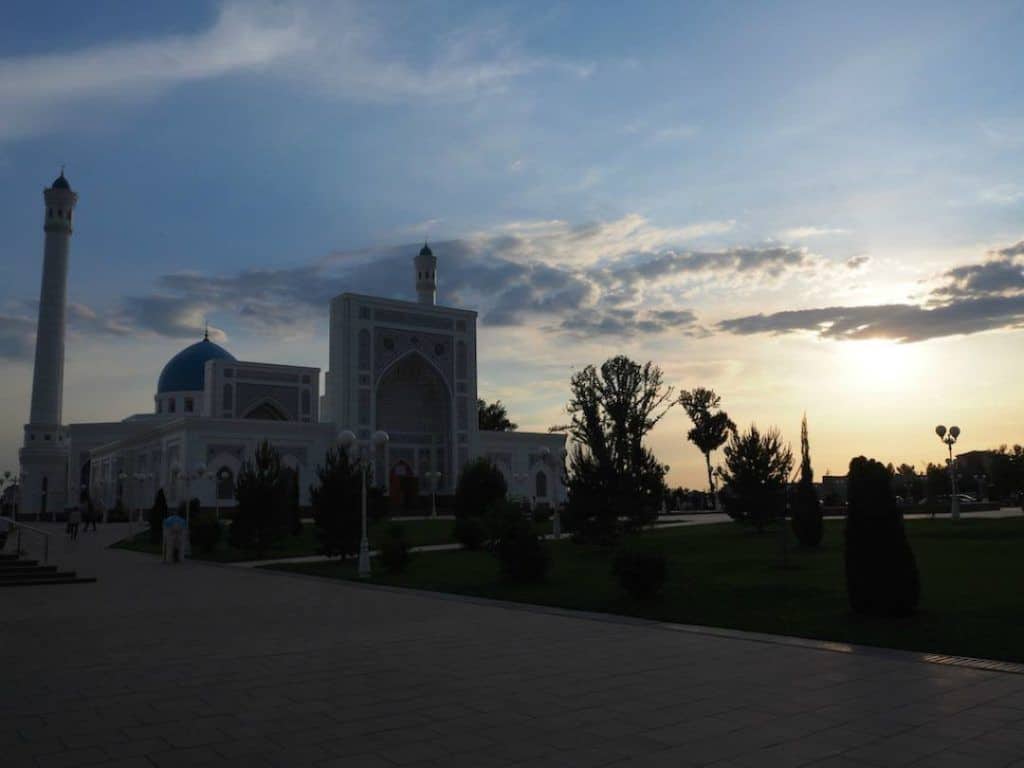 Hang Out in the Amir Timur Square
Amir Timur is the most famous Central Asian conqueror in history. At its largest, the empire stretched from the borders of Western China all the way to Turkey.
Some historians suggest that he came close to invading Xinjiang, China's most western province.
With a fair few believing if he had done he may have taken a huge amount of territory as China was going through a period of tremendous change with the fall of the Yuan dynasty and the rise of the Ming.
Behind the Amir Timur statue is the Uzbekistan hotel, a classic piece of Soviet design.
The area surrounding the square is home to restaurants, cafe's, the occasional disco.
In the evening the area comes alive with inline skaters and fairground stalls giving you the opportunity to win all kinds of cuddly toys.
For Tashkent's nightlife options check the bars and clubs in the area.
The park surrounding the statue and the Bolazhon Park are certainly worth exploring, especially around sunset as locals meet to chat and relax.
Don't forget to include Amir Timur Square on your list of what to see in Tashkent!
Nearest Subway: Amir Temur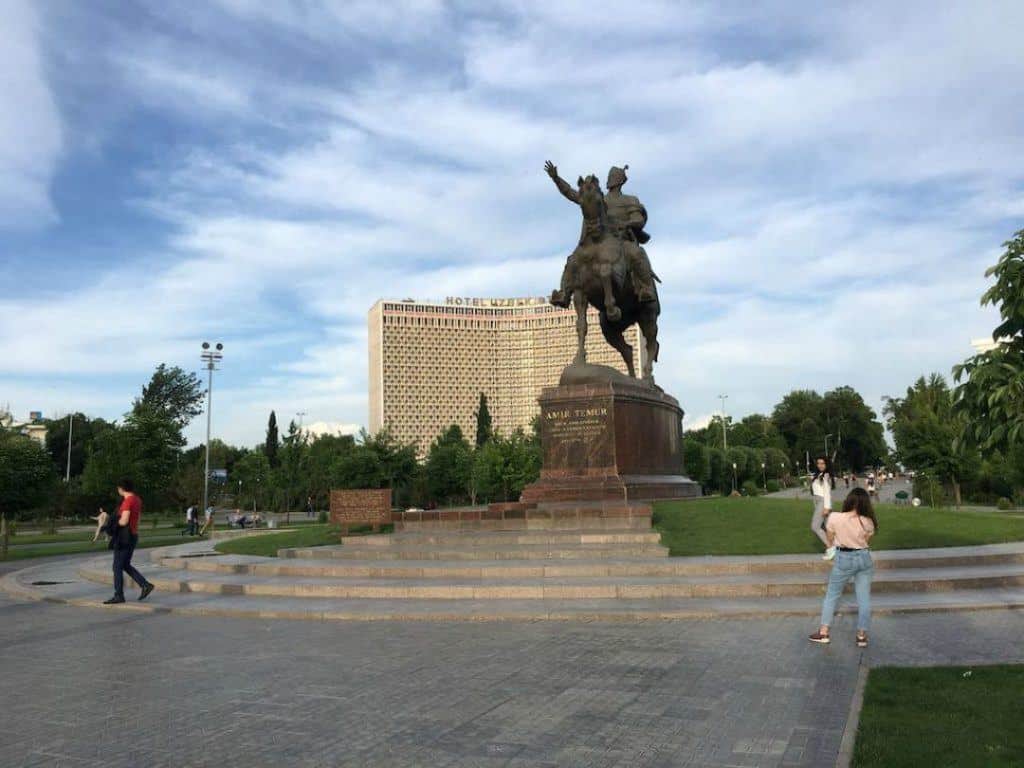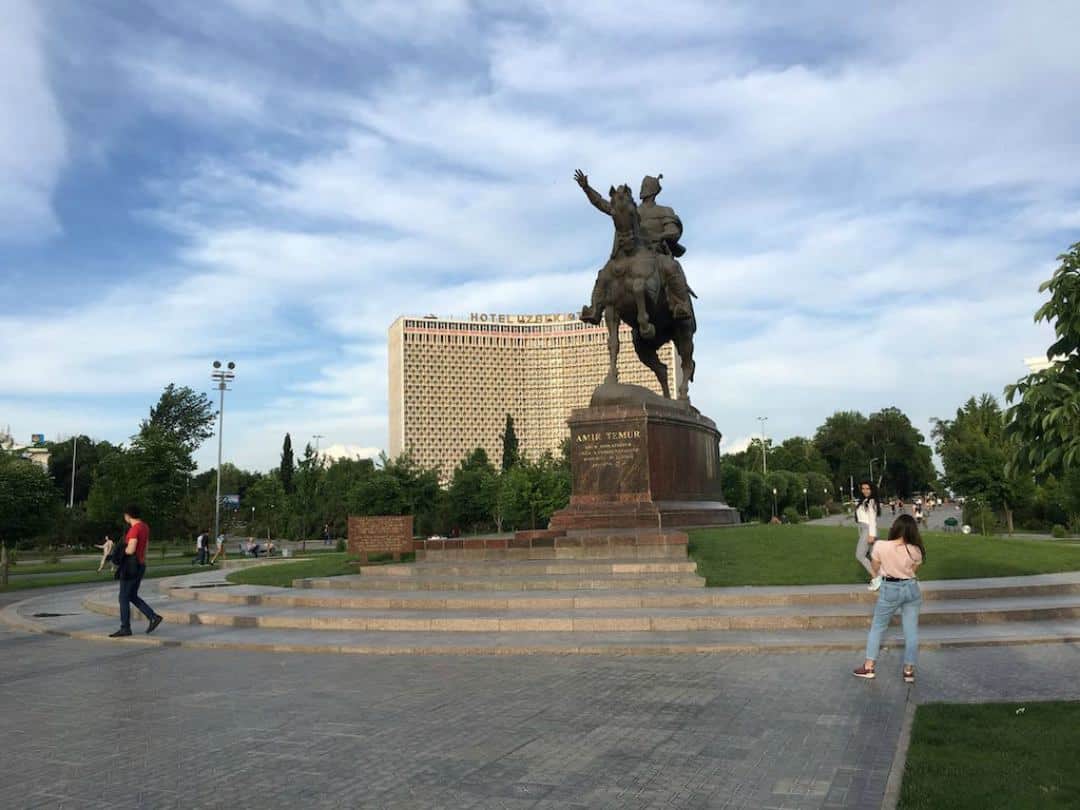 The Navoi Theatre is the best place to catch a ballet show in Tashkent. The small ticket office outside the theatre has a schedule posted on the window.
Do be aware that the ticket sellers are unlikely to speak English. Fortunately I spoke enough Russian to get the job done.
Failing that a combination of pointing and google translate should suffice.
We were hoping to catch a ballet performance but when purchasing our tickets we were informed that the ballet had been replaced.
My Russian, whilst being good enough to buy the tickets was only helpful in helping us understand that we were going to be treated to some kind of dance performance.
READ MORE: Here's our latest guide on what to do in Bukhara – don't miss it!
The next evening we took our seats in the gloriously grandiose theatre. As the lights dimmed we were treated to a propaganda film on the industrial exploits of Novosibirsk on a screen that was too small.
This was then followed up with a phenomenal performance of traditional Russian dancing.
As we headed out we noticed a lot of well-dressed individuals being escorted off to very fancy cars.
It certainly seemed like it could have been a show for visiting Russian dignitaries, but who knows.
Either way, if you're in luck you'll be able to get tickets to see the national ballet perform at a bargain price. The show at Navoi Theatre is a Tashkent must see!
Address: Moustafa Kamoul Atatürk 28, Bukhara Street
Nearest Subway: Kosmonavtlar
Explore Mausoleums at Tashkent Islamic University
Exploring this part of Tashkent can easily be combined with a visit to Druzhba Narodov and Navoi Park.
Within the grounds of Tashkent University lies the Sheikhantaur Memorial Complex.
The three remaining mausoleums (originally there were 16) are quite easy to find once you enter the University.
There are even a few tapchan sofas offering some rest and shade from Tashkent's blistering sunshine.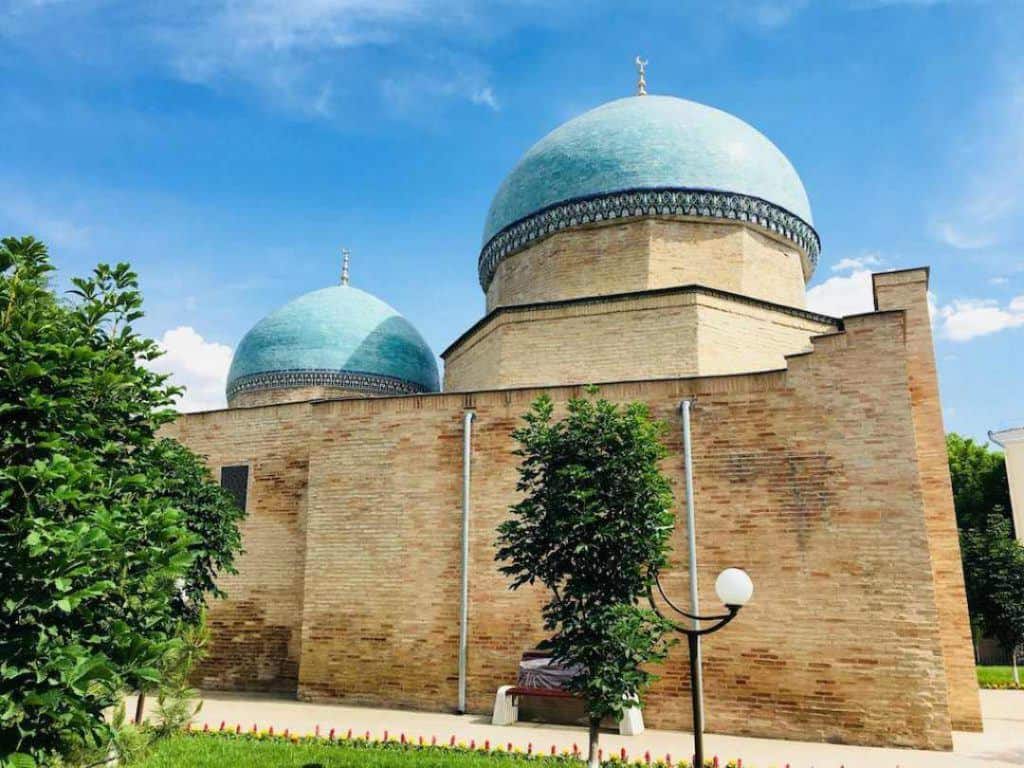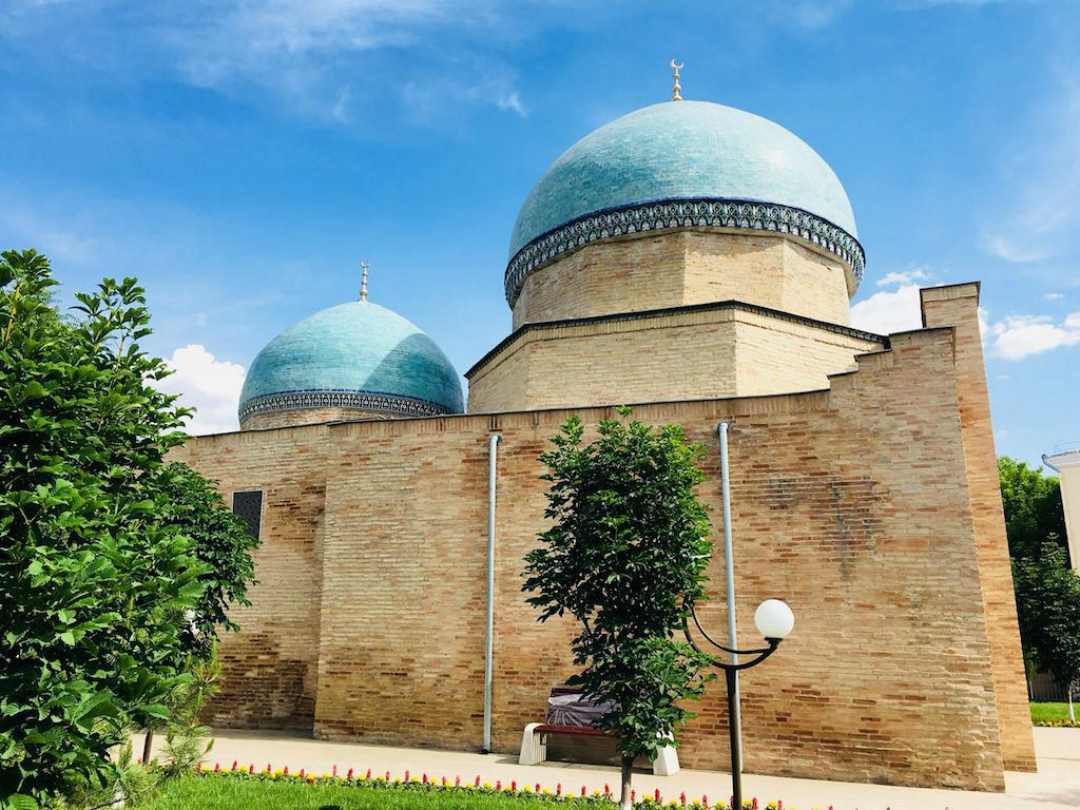 Visit the Druzhba Narodov Square
This huge square on the edge of Navoi has some funky statues and Soviet buildings, as well a clear view of the circus down the tree-lined boulevards.
In addition, it is here where you will find the obligatory "I heart Tashkent" sign.
Behind the square the gloriously grandiose Istiqlol Saroyi. The acts playing at this giant concert hall have certainly changed since the Soviet days, German rock legends Scorpions played here in 2018.
The square and concert hall are right next to Navoi Park, so combine the two!
READ MORE: Check out my article all about the Aral Sea on my personal blog.
The huge expanse of green has lots of shady areas and trees to escape Uzbekistan's oppressive heat.
Expect to find plenty Timur statues as well others commemorating famous Uzbek poets, musicians and writers.
Around the fringes of the park, there are some restaurants, shops and food stalls if you want to grab some manti and shashlik and have yourself a picnic in the shade.
If you want to spend an easy afternoon, the Navoi Park is one of the places to visit in Tashkent.
Explore Central Tashkent
There is a lovely walk that takes you from Paxtakor subway station through Central Tashkent, taking in some classic Soviet-era architecture before ending up at the Navoi theatre.
Come out of Paxtakor station and head north and take a right onto Navoi Avenue.
The area around here is full of government buildings for various departments. An excellent demonstration of communist architecture.
Take the first left and this will bring you to the Sheikhantaur Memorial Complex in the grounds of Tashkent Islamic University.
Alternatively, carry on and turn right onto Pakhtakor Street.
Follow this leafy street and check out Pakhtakor stadium, home to Tashkent's very own Pakhtakor FC.
From the stadium, you can head towards the Ankhor canal and follow it all the way back to Navoi Avenue or try and cross the bridge and check out the monument to Uzbekistan.
Sadly we were told "нет" by a rather grumpy security guard.
If you're in the same boat, cross Navoi Avenue and check out the Turkistan Concert hall, complete with epic outdoor theatre.
Just beyond the theatre take a right onto Sharaf Rashidov Avenue, from here you can explore memorial square before continuing on to the Navoi theatre.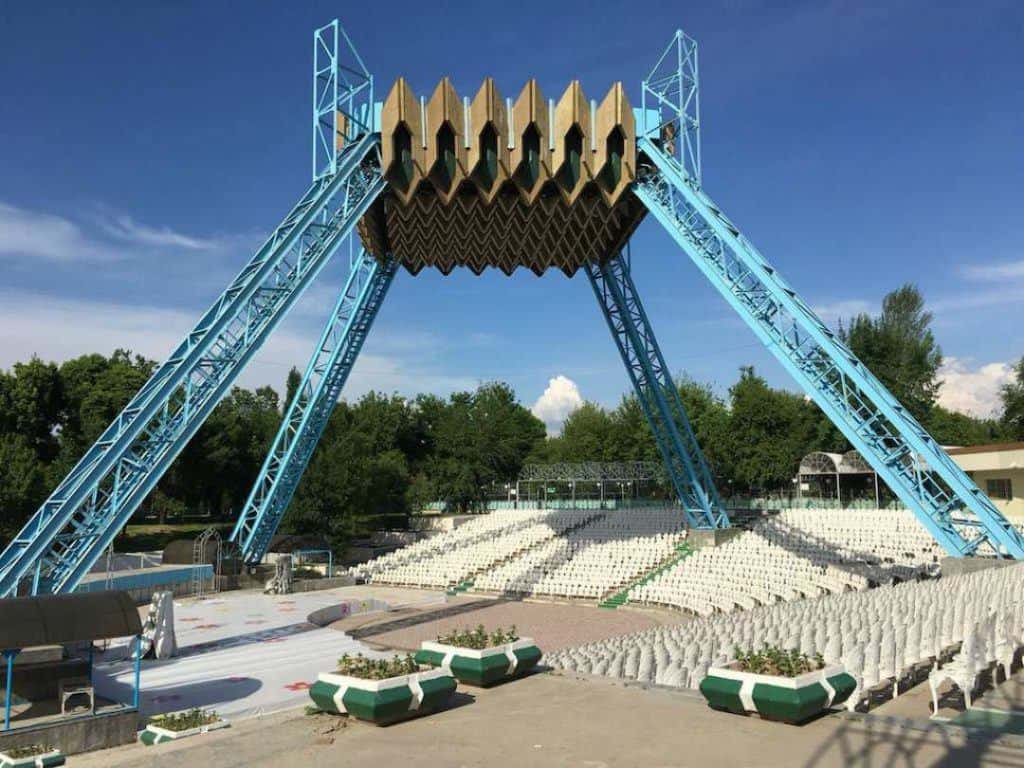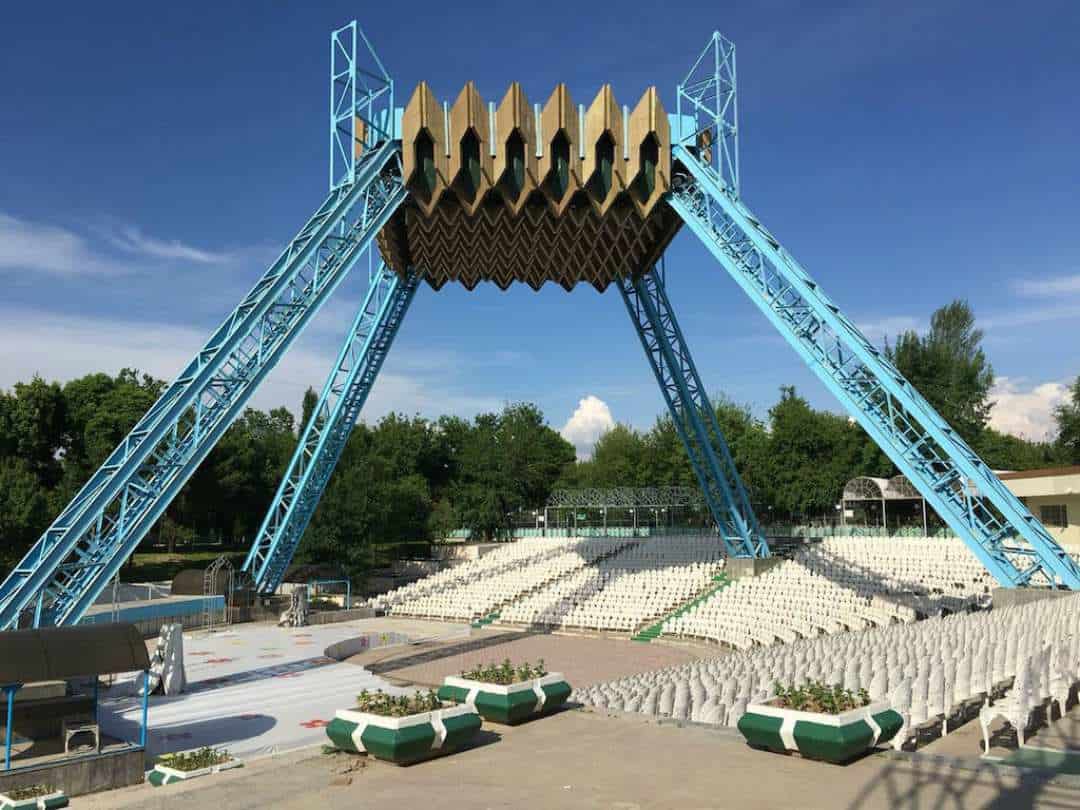 Eat some Plov – Uzbekistan's National Dish
No visit to Uzbekistan is complete without eating some plov. Supposedly the Central Asian Plov Centre serves the best in all of Central Asia.
I can't comment on the claim but after a long day exploring Tashkent, a plate of plov does go down a treat.
If you can't make it here, don't despair, as you can find plov everywhere in Uzbekistan, however it may not be best in Central Asia.
The countries national dish also has a hidden secret. Supposedly drinking the oil at the bottom of the pot is supposed to add extra spice to a man's libido.
Not sure where this belief first originated from but it certainly doesn't sound particularly appealing.
Address: 1 Guards Colonel Khodjaev Street
Nearest Subway: Bodomzor
Opening hours: every day from 9 AM – 5 PM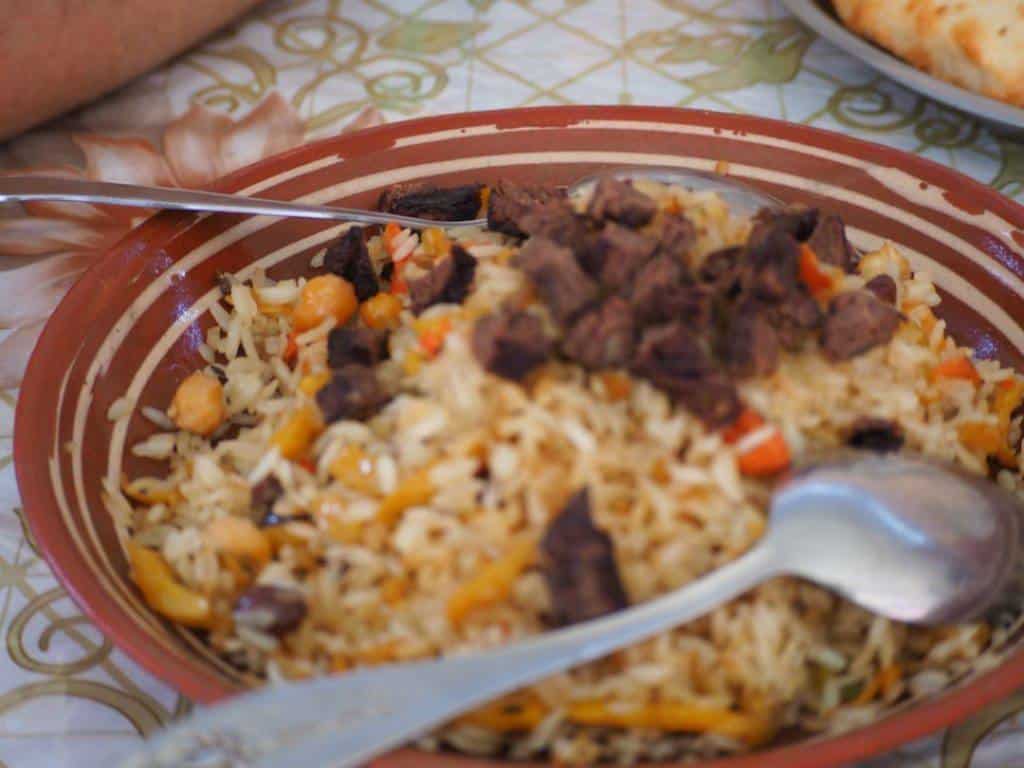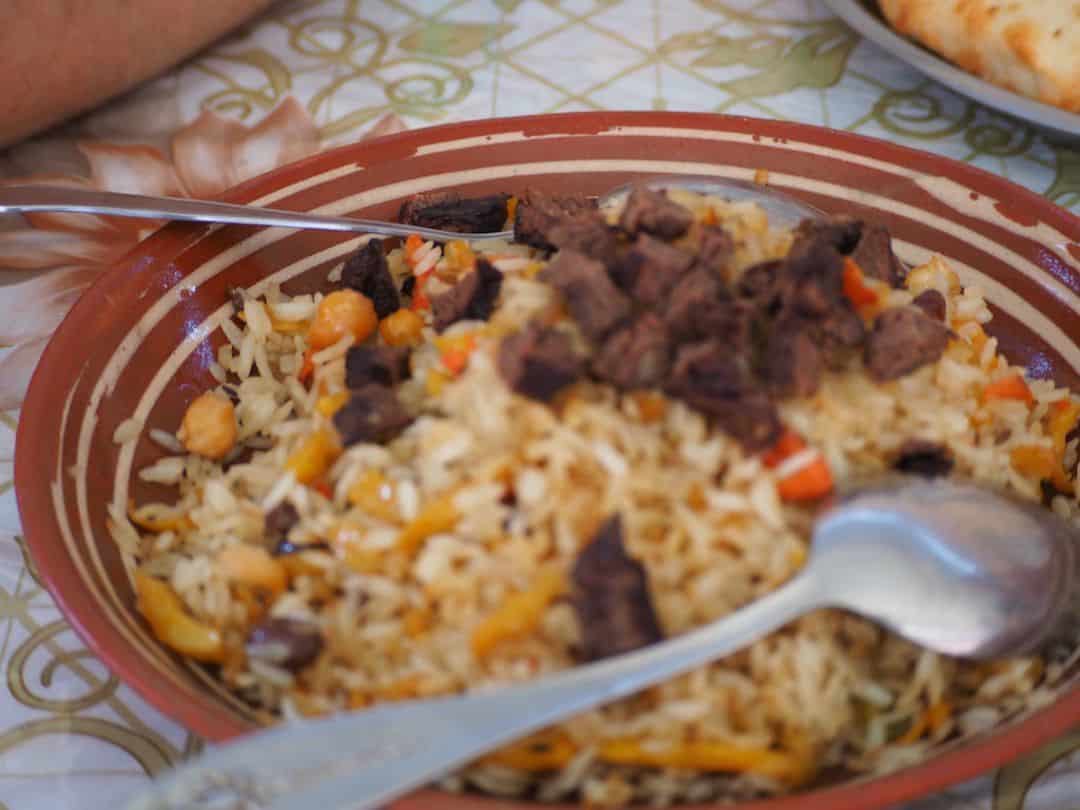 Museums and Galleries
Tashkent has a number of decent museums including the Museum of History of Uzbekistan, the Fine Art Museum of Uzbekistan and the Tashkent House of Photography.
There is a reasonable amount of English and the exhibits are quite insightful.
There are a number of other art galleries for the true aficionados.
There are many things to see in Tashkent, but if you already checked out all the major sights – visit the museums to gain more of an understanding into the rich history and culture of Uzbekistan and how it influenced the country today.
Islam Karimov Museum
If you only have time to visit one museum in Tashkent, make sure it's this one.
This museum is dedicated to the countries' former authoritarian leader Islam Karimov who died in 2016. This is definitely one of the least touristy places in Tashkent.
He had been president of Uzbekistan since the collapse of the Soviet Union in 1991.
An authoritarian leader responsible for numerous human rights abuses, the most notorious being the Andijan massacre in 2005.
He was regarded as one of the most repressive modern dictators.
Throw this into the mix with a stagnating economy, environmental issues, especially in Karakalpakstan and it's hard to see how he was re-elected in 2000, 2007 and 2015 receiving over 90% of the vote each time.
The museum is full of quotes, artworks, gifts and feats of brilliance attributed to Karimov.
It's a fascinating exhibit of a leader who had all the hallmarks of a cult of personality.
Since his death in 2016 Uzbekistan has begun to open more to the outside world, so one hopes for a more positive outlook and future for the Uzbek people.
Address: 18 Afrosiab Street
Nearest Subway: Kosmonavtlar
Opening hours: Tuesday – Sunday from 9 Am – 9 PM
Price: Free of charge
Tashkent Museum of Railway Techniques
Fancy spending a morning climbing around a bunch of old Soviet trains? If so then this is the place for you!
There are certainly some dodgy restoration jobs on display, but it's definitely an interesting place to check out.
Address: 6 Turkiston Street
Nearest Subway: Tashkent
Opening hours: every day from 8:30 AM – 7 PM
Price: around 10.000 Som
Best Day Trip from Tashkent – Chimgan Canyon
Located 2 hours or so north of Tashkent is the Chimgan canyon, home to hiking, rafting and skiing amongst other things.
Not necessarily the things that first come to mind when you think of Uzbekistan, there are plenty of hiking trails as well as options for an overnight stay.
To get here you can either take a marshrutka or a private taxi. Naturally public transport will be cheaper but you may not be able to get there without changing.
Check with your guesthouse for the latest updates with regards to this. For a private taxi expect to pay around $50 for a full day of hiring, however with decent negotiating skills you may be able to get less than this.
As always your guesthouse or hostel is a pretty good place to start.
BONUS – Check out our Things to Do in Tashkent Video!
That's right, NOMADasaurus have now put together an awesome little video on all these great activities in Tashkent.
Check it out here:
Tashkent Travel Guide
Now that you know what to do in Tashkent, here's my mini travel guide to the city to help you plan the rest of your trip.
Transport in Tashkent
Getting to Tashkent and around the city has never been easier. Here's my guide to help you plan your next trip.
Getting There and Away
Most people enter Tashkent at the city's international airport. In the past there were strict limits on how much cash you could bring into the country.
However the restrictions have been lifted somewhat, but you need to declare if you are bringing in between $2000 and $5000.
Anything over $5000 requires the completion of another form at the airport.
The most convenient way of getting to and from the airport is by taxi. When you exit the airport you will be harassed by taxi drivers charging extortionate prices.
Ignore them and keep walking. The further away you get from the entrance the cheaper the prices will get.
We stayed around Kosmonavtlar subway station and paid $2 (16,000 som) from the airport.
Alternatively you may arrive in Tashkent by train. Again, taxi's are the best way to get to and from the station. From the station to Kosmonavtlar it cost us $2 (16,000 som).
Tashkent is serviced by two train stations handling both high speed and slow trains travelling from all over Uzbekistan.
Tickets can be purchased online in advance or from ticket offices in the city centre.
However the chances of encountering an English speaker at these ticket offices is slim.
If you come across the border from Kazakhstan you will need to get a taxi into Tashkent itself which should cost around $5.
However do be warned that this border with Kazakhstan is extremely chaotic and as a result it can take a few hours to get through.
Getting Around Tashkent
Tashkent's metro is famous for its extravagant designs, although not quite at the level of Moscow or St Petersburg there is some fantastic artwork on display. Aside from that, it's taxis or marshrutka.
In Uzbekistan, every car is a potential taxi. Stand on the side of the street and try and flag one down and you will probably get a regular car before you get a taxi.
When we hopped into regular cars we never felt unsafe or ill at ease. However if this isn't for then just get a regular taxi.
Expect journeys within the city centre to be between $1-2 (8000-16000 som).
When to Visit Tashkent
Generally the months to avoid are June, July and August when Tashkent and Uzbekistan swelter under the desert heat.
Spring and Autumn are excellent times to visit.
Insider Travel Tip – The World's Fastest Money Counters
In the past the only way to get local currency was through the bank or black market. Uzbek som was traded for dollars by any international visitor, due to the lack of ATM's.
However the bank rate was much worse than the black market rate. This is because the bank rates were fixed by the government and the black market rates reflected the actual value of the som against the dollar.
Banks set $1 at being worth 4210 som, on the black market it was worth around 8,000 som.
You were better off changing money with some shady looking characters round the back of the Chorsu bazaar than going into a bank.
However in 2017 this all changed. The government abandoned the fixed rates and the black market and bank rates were the same.
In addition the government introduced 10,000 and 50,000 som bills, although the 50,000 som bills are not that common yet.
Prior to this the only notes available were 1000 som.
This gave Uzbeks the reputation of being the worlds fastest money counters, certainly something we are no position to disagree with after seeing them in action.
Nowadays you don't need to bring all of you money in with you, but ATMs are not widespread, may not work and there can be issues with them accepting foreign cards.
Therefore it's still probably a good idea to bring most of your cash with you. In Tashkent you shouldn't have too many issues finding an ATM, but elsewhere is much trickier.
Another piece of good news is that a number of major currencies are now accepted by all Uzbek banks: US Dollars, Euros, Pound Sterling, Japanese Yen and increasing the Chinese Renminbi.
When changing money you will need to bring you passport and you money needs to be crisp and clean. They will not accept ripped or old notes.
You can change som back, usually into dollars as that's the currency most banks hold.
However do this in Uzbekistan as it's a nightmare to do it outside of the country.
Accommodation – Where to Stay in Tashkent
Being the largest city in Central Asia, there are certainly plenty of accommodation options in Tashkent ranging to cheap and cheerful dorms to luxury suites.
The nearer you are to a subway station the easier life will be. We stayed a two different places during our time in Tashkent – Anvar's Guests and Top Chan.
We felt Topchan was too far away from everything for us. Anvars on the other hand was just a 15 minute walk to Kosmonavtlar station.
The Best Hostel in Tashkent – Art Hostel
This is probably the most popular hostel in Tashkent. With wifi and free breakfast as well as a variety of private and shared rooms this could suit couples and solo travellers.
However bathrooms are shared so it may not be for everyone. It even has a pool, perfect for escaping the Uzbek summer. Additionally staff are friendly and can offer plenty of helpful advice where necessary.
Best Budget Accommodation for Couples – Anvar's Guests
This excellent guesthouse is something of a stalwart on the Tashkent travel scene.
Offering decent rooms and free breakfast it's also close to the subway as well as numerous restaurants and shops.
There's also an excellent cafe just opposite serving great coffee and cakes. The rooms do need a little bit of TLC in places and the bathrooms are a bit on the small side.
However for price and private bathrooms this is an excellent option.
Anvar himself is full of helpful advice and information and speaks flawless English alongside Uzbek and Russian. He was able to recommend taxi drivers, restaurants and the best place to pick up a cheap sim card.
Best Mid-Range Hotel in Tashkent – Citizen Hotel
Located near the Minor Mosque this hotel has large rooms and free breakfast.
The wifi connection is quick and reliable and being located up here means that it's in one of the more secluded accommodation options in Tashkent.
Best Luxury Hotel in Tashkent – Sharq Hotel
Luxury hotels in Central Asia usually run into the issue of not being up to international standards.
There are a number of luxury options in Tashkent however this issue is a consistent area of complaint.
However Sharq hotel seems to be one of the few that has overcome this. It has everything you would expect form a luxury hotel; large rooms, great food and a pool. This really is a superb luxury option in Tashkent.
Best Restaurants in Tashkent
For great Uzbek food, you can't go wrong with checking out some of the stands at the Chorsu bazaar. The plov and shashlik are both excellent.
Do check the price before ordering as you may end up with a bigger bill than you anticipated.
Most small hole in the wall restaurants offer good cheap eats, so if you're watching the pennies these are excellent options.
You won't find too many of these in the city centre, however.
One thing that sets Tashkent apart from other cities and towns in Central Asia is the variety of cuisine.
As good as plov, manti, lagman and shashlik are, you will at some point crave something different.
Tashkent can provide this in oodles, but it is more expensive than local cuisine.
The excellently named Jumanji has a huge menu offering local, European and Asian cuisine. Functioning as both a bar and restaurant it usually has live music as well.
However our favourite non-Uzbek eatery was an excellent Korean restaurant located on the corner of Vosit Vokhidov Street and Shota Rustaveli Street, just east of the Mir Hotel.
The dishes are certainly not cheap, but taste wise it is exactly what you would get if you walked into a restaurant in Seoul.
DISCLAIMER: Some of the links in this article are affiliate links, which means if you book accommodation, tours or buy a product, we will receive a small commission at no extra cost to you. These commissions help us keep creating more free travel content to help people plan their holidays and adventures. We only recommend the best accommodations, tours and products that ourselves or our fantastic editorial team have personally experienced, and regularly review these. Thanks for your support, kind friend!