In this Ryokan Ochiairo review we explore everything that makes this place, nestled in the mountains of the Izu Peninsula in Shizuoka Prefecture, one of the best ryokans in Japan.
There's a lot to love about Japan – the nature, the food, the people, the culture, the history and of course, onsens.
A true adventure around the Land of the Rising Sun will often revolve around these elements, with travellers of all backgrounds seeking an authentic experience that will remain with them long after they leave this incredible country.
And in a world filled with generic chain hotels and fast-paced stays, few places execute a journey of traditional hospitality quite like the iconic ryokans of Japan.
This is exactly what led us to the mountains of the Izu Peninsula – a search for this fabled Japanese experience.
Having journeyed through the heart of the country on multiple visits, we've had the privilege of soaking in the serene ambiance of a several ryokans.
These traditional inns, with ancient luxury designs of tatami floors and paper sliding doors, have always offered a window into Japan's rich cultural tapestry.
Yet, our stay at Ryokan Ochiairo, heralded as one of the most exclusive and beautiful in the entire country, was unparalleled.
While we've been captivated by the charm of other ryokans, Ochiairo Murakami presented a blend of tradition and luxury that was distinctively its own.
From the intricate craftsmanship of its rooms to the rejuvenating hot spring baths, every detail seemed to echo a commitment to authenticity and excellence.
As seasoned travellers, it's rare for us to be taken by surprise.
But this ryokan did just that, and a new benchmark has been set for our next trip to Japan.
Discovering Tradition in Our Ryokan Ochiairo Review
On our third trip to Japan we focused on the attractions and landscapes of the Shizuoka Prefecture, and each day offered an insight into a slower pace of life.
We rode around the wasabi farms of Izu Peninsula, picked fresh tea leaves from plantations in the Hamamatsu mountains and sampled the varied cuisine of this rural paradise.
The pinnacle of our journey though was spending the night in Ryokan Ochiairo, a place as legendary as it is luxurious.
This our Ryokan Ochiairo review, where we delve into the history, accommodation, hosts and cuisine from our stay.
Does it live up its high expectations amongst lovers of Japanese hospitality? Let's find out…
A Glimpse into the Past: The Rich History of Ochiairo Murakami
Nestled in the scenic valleys of central Izu, Ryokan Ochiairo stands as a testament to Japan's enduring architectural and cultural heritage.
Founded in 1874, this ryokan has gracefully withstood the test of time, preserving the essence of traditional Japanese hospitality for 150 years.
Over the decades, it has witnessed the ebb and flow of history, from the pre-war era to the post-war reconstruction and the economic booms that followed.
Throughout these changing times, the ryokan has remained committed to offering an authentic experience, seamlessly blending the old with the new.
Its walls have seen countless travellers, each leaving behind a piece of their story, adding to the rich tapestry of memories that make Ochiairo more than just a place to stay.
Adorning the walls, nooks and shelves of the ryokan are priceless cultural artefacts, many of which can be discovered on an included tour by one of the hosts.
It's a living chronicle of Japan's journey through time, and a beacon of its timeless traditions.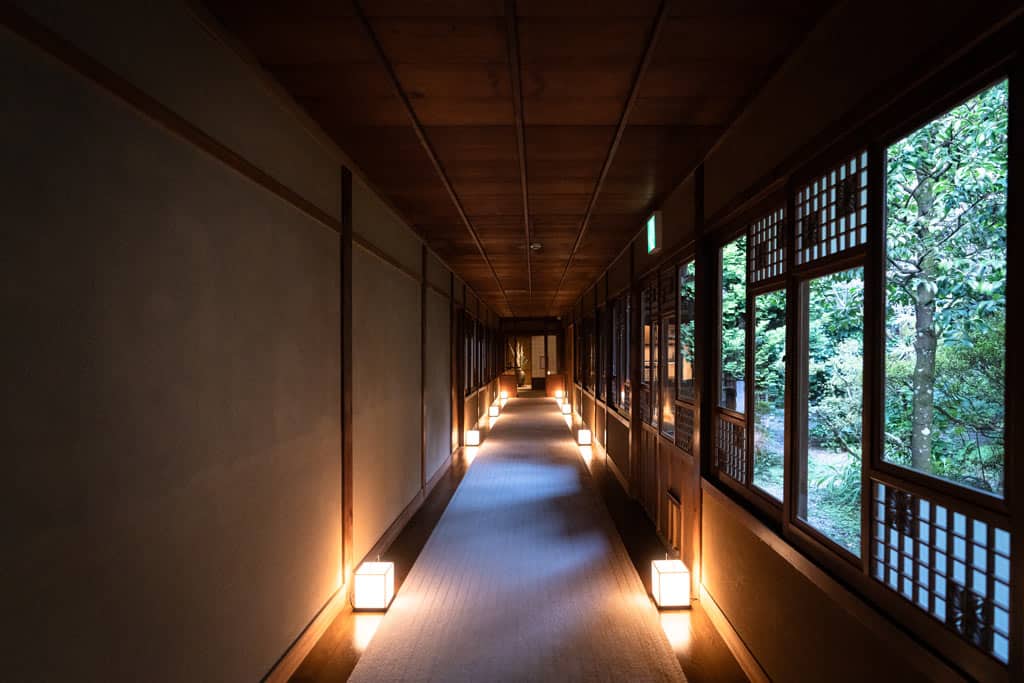 Stepping into Tranquility: Our First Impressions
We drove from the sea cliffs of Koganezaki on the Izu Peninsula deep into the mountains and valleys of its interior, passing through quaint villages and trading traffic lights for pine trees.
The rural energy was clear, yet as we turned down the driveway of Ochiairo and stepped foot inside its tranquil walls, we were immediately enveloped in an atmosphere of elegance.
READ MORE: Check out our comprehensive guide on visiting Japan!
The meticulous attention to detail, from the polished wooden floors to the artfully arranged ikebana, spoke volumes about the establishment's dedication to preserving authenticity.
The check-in process was a seamless blend of efficiency and traditional Japanese courtesy.
We were led to the lounge and presented with freshly brewed tea and an assortment of Japanese sweets, while the staff made us feel as if we were returning home after a long journey.
Every interaction was marked by a sense of respect and attentiveness, ensuring that our needs were anticipated and met with precision.
The bar set in the corner of the lounge was stocked with tea, coffee, soft drinks, filtered water, beer, wine, whisky and sake, all of which was complimentary, excluding the highest level of spirits.
Soon after we were guided to our room, the stunning Tsubaki quarters, and the subtle fragrance of tatami and the soft glow of paper lanterns further deepened our appreciation for the ryokan's commitment to providing an unparalleled experience.
It was clear from the onset that our stay at Ryokan Ochiairo would be one for the books.
Japanese Elegance: The Tsubaki Room
Entering the Tsubaki room we were immediately struck by its harmonious blend of traditional Japanese aesthetics and modern comforts.
Located on the first floor, this Japanese-style room spans a generous 68m², offering ample space for relaxation.
For anyone who has been to Japan before, you'll know just how scarce living areas can be, which made this all the more special.
One of its standout features is the built-in terrace, which allowed us to relax to the soothing sounds of the nearby river and enjoy the beauty of the early autumn trees.
Inside, the room had two wooden seats on the floor around a table, which would be removed and adorned with two sets of 120cm futons come bed time.
We had our own bath, heated naturally from onsen water, which meant we could rejuvenate in the private of our room or soak after the public onsens had closed.
Modern amenities, including quality toiletries and high-speed wifi, complemented the traditional setting.
Each thoughtful element was executed perfectly without feeling overdone, making our stay in the Tsubaki room a memorable one.
Rejuvenation in Izu: Enjoying the Onsens
Bathing in an onsen, or natural hot spring, is a quintessential Japanese experience.
At Ryokan Ochiairo you will find three onsens for guests to enjoy, all of which are naturally beautiful and built into their surroundings.
There are two public hot spring baths, filled with the therapeutic qualities of the mineral-rich waters being piped up from the volcanic earth beneath.
Each bath is separated by gender, as clothing is not permitted inside the water, and the rituals of cleaning yourself before entering are paramount.
The two public onsens are rotated twice daily between men and women, ensuring you can experience both options during your stay.
The outdoor bath in particular, with pines peeking above the bamboo fences, is exceptionally picturesque.
For those seeking a more intimate experience however, the ryokan boasts a private onsen that can be booked for free by guests.
With allocated time slots you simply check in with the staff to see what's available, and then you have the entire outdoor onsen to yourself.
It is a truly romantic experience, with the solitude and serenity of the private bath placing an emphasis on connection.
Local Cuisine
At Ryokan Ochiairo the culinary experience is an integral part of the stay, offering guests a delightful journey through traditional Japanese flavours.
Each meal is a testament to the ryokan's commitment to authenticity, with dishes crafted using locally-sourced ingredients.
Our dinner was a 9-course gastronomy adventure, filled with the tastes of delicate sashimi, exquisite sautéed vegetables and robust simmered dishes, with each course being a celebration of Japan's rich culinary heritage.
Meals are served in an intimate setting of the dining area, allowing guests to savour each dish in a serene ambiance.
The presentation, true to Japanese aesthetics, is an art form in itself, with each plate carefully arranged to please both the eye and the palate.
Special dietary requests, such as vegetarian options, are accommodated, albeit slightly limiting, especially if you are a firm no on fish.
Activities and Experiences
The essence of a ryokan stay extends beyond mere accommodation, and Ochiairo amplifies this philosophy with an array of activities and experiences.
Of course simply immersing oneself in the natural beauty of the surroundings is an activity in itself.
The ryokan's strategic location in a valley in central Izu offers guests the opportunity to partake in serene nature walks, and there's some peaceful trails right inside the grounds.
For those keen on cultural immersion, traditional tea ceremonies can be organised in the afternoons.
The ryokan also offers guided tours, providing insights into its rich history and the architectural artefacts that make it a standout.
There's also a games room downstairs to keep the kids, both young and old, entertained.
The Exceptional Hospitality of the Hosts
At Ryokan Ochiairo Murakami, the hospitality extended by the team and hosts is the embodiment of the Japanese concept of "Omotenashi" – a deep-rooted tradition of wholehearted service.
From the moment we arrived we were greeted with genuine warmth and attentiveness, making us feel not just as guests, but as honoured members of their extended family.
Every interaction, whether it was a simple inquiry or a special request, was met with a graciousness that showcased their commitment to ensuring our comfort and satisfaction.
An interesting element we noticed was that the staff were always close by when you needed them, but completely absent when you didn't, giving the impression that you often had the ryokan completely to yourself.
The hosts, with their wealth of experience and genuine passion for hospitality, have cultivated an environment where every guest feels valued and cherished, making our stay at Ryokan Ochiairo an unforgettable experience.
Tips for Your Visit to Ryokan Ochiairo
If you're lucky enough to be planning a visit to this exquisite Japanese inn, we have a few tips to help you make the most of your trip.
1) Seasonal Beauty
The ryokan's location in Izu means it's surrounded by nature that changes with the seasons. Consider visiting during cherry blossom season or autumn foliage for a visually stunning experience.
2) Dietary Preferences
If you have specific dietary needs or preferences, communicate them well in advance. The ryokan is known for accommodating special meal requests, ensuring a delightful culinary journey for every guest, but Japan is notoriously difficult to be a strict vegetarian as fish products are used in just about every dish.
3) Onsen Etiquette
If you're unfamiliar with traditional Japanese onsen etiquette, take a moment to familiarise yourself. This will enhance your bathing experience and show respect to other guests.
4) Traditional Attire
Embrace the ryokan experience by wearing the provided yukata (a casual summer kimono). It's comfortable and perfect for lounging around the premises.
5) Connectivity
While the ryokan offers a serene escape, there is wifi throughout the property. Please take note though that internet connectivity might be limited.
6) Local Attractions
Explore the surrounding area of Izu. The ryokan staff can provide recommendations for local attractions, hikes, and cultural sites worth visiting.
7) Language
While the staff at Ryokan Ochiairo speak some English, it might be helpful to learn a few basic Japanese phrases or utilise Google Translate. This can enhance your interactions and show appreciation for the local culture.
8) Booking in Advance
Given the ryokan's popularity and limited number of rooms, it's advisable to book well in advance, especially during peak seasons.
9) Transportation
Plan your transportation to and from the ryokan. The guesthouse does not provide transfers, but can provide assistance if required when booking. We recommend renting a car while in Izu Peninsula.
10) Respect the Silence
Ryokans are places of tranquility. Maintain a quiet demeanour, especially in shared spaces, to respect other guests' peace and relaxation.
Where is Ryokan Ochiairo?
Ryokan Ochiairo Murakami is beautifully situated in the heart of Izu, a region renowned for its scenic beauty and natural hot springs.
This strategic location offers guests a serene escape, surrounded by the majestic mountains of Izu and the gentle murmurs of mountain streams.
The ryokan's setting is not just about picturesque landscapes; it's also about accessibility.
READ MORE: Check out our list of the top places to visit in Japan!
While it feels like a secluded haven, it's well-connected to key attractions in the Izu region.
Whether you're looking to explore the local hot springs, embark on nature trails, or simply soak in the ambiance of traditional Japan, Ryokan Ochiairo serves as the perfect base.
Address: 1887-1 Yugashima, Izu, Shizuoka 410-3206, Japan (Map)
How to Get to Ryokan Ochiairo
For those traveling from afar, it's advisable to plan transportation in advance.
Public transport with trains and buses are available, however it can be a bit time-consuming to travel here from a nearby major city like Atami.
We personally recommend renting a car to get to Ryokan Ochiairo.
The best way to get around is to rent a car and explore on your own! We recommend Rental Cars, which has the largest range of vehicles for the best value on the market.