Here are our best tips on what to look for in eco-friendly and sustainable hotels and accommodation.
Travel trends are showing that people are more and more people are getting interested in sustainable tourism and trying to reduce their environmental impact when travelling the world.
It's a wonderful thing to see, because with the number of people hitting the road increasing every year, the strain on the planet is getting tough.
Luckily it's not just travellers looking to make a difference in how they travel – a lot of companies are jumping onboard with this, and one of the biggest industries trying to minimise their footprint is the hotel and accommodation industry.
But with so many accommodations out there claiming to be eco-friendly, how do you know if a property really is doing their part?
"Eco" is a buzzword, and far too many people are throwing the word into their business name to try and play on this trend without practising what they preach.
READ MORE: Check out our complete responsible travel guide here!
We've spent over a decade travelling the world, seeking out the best environmentally-friendly hotels and guesthouses wherever we went.
Some of the ones we've come across have been fantastic. Some have been pretty lacklustre.
What are Sustainable Hotels?
If you're like us you want to ensure you choose the best accommodation options wherever you go.
The fact you are reading this article shows you want to make a change and be more aware of how you can minimise your footprint when travelling.
Let's dive into the details of tips for booking an eco-friendly hotel.
What Makes an Accommodation Eco-Friendly?
To begin, I will say there is no property that is perfect in every way, but owners are making a change and are vocal in what they are doing and this is what matters.
Each accommodation is different and as such are limited to what the can and can't do.
This can be because of their environments, locations and maybe country laws.
When you are searching for eco-friendly accommodation there are a few criteria to look out for (beyond the hotel just saying they are 'eco').
The accommodation should be trying to lessen their impact on the environment in different ways. These are some of the ways they execute this:
Limiting energy consumption
Limiting water consumption
Reducing waste production
Using renewable energy
Promoting environmental education
Contributing profits to green charities
Using recycled and locally-sourced products
So how do you know if an accommodation is doing all of this?
First of all they should be listing this kind of level of care to the environment on their website.
Larger hotels might have an entire section dedicated to sustainability on their website.
But smaller ones might just have a few sentences talking about what they are achieving and how under their about section or hotel facilities.
If you find an accommodation that claims to be eco in their name or description but don't tell you how, be very wary.
We feel that hotels should be proud of what they are doing and how they are trying to commit to reducing their waste and protecting the environment and the local community.
You can also look for hotels that are certified as sustainable through programs like Green Globe.
Seeing Through the Companies that are "Greenwashing" You
What is greenwashing you may ask?
This is when a business describes itself to be more eco-friendly or responsible than they actually are, purely for the marketing benefits. This one gets me angry.
As a result of the environmental impacts and trends in responsible travel, a lot of accommodations are changing their ways to be better and lower their impact on the environment.
But on the flip side, lots of other businesses now want to capitalise on this by putting a few words on their website and thinking they will attract more customers who are interested in greener accommodation.
Do not be fooled by this.
It can be hard to differentiate between these genuine commitments to becoming a greener accommodation to ones that are dressing up their business to make money off the green movement.
There are not any laws in some countries for this to stop businesses misleading guests using the "greener" or "eco" labels. This is why it is important to do your own research.
What to Look for When Booking an Eco-Friendly and Sustainable Hotels and Accommodation
There are many types of accommodations and we will break it down into a few different categories.
When we are looking for accommodations we try to look for smaller, locally run guesthouses and not the large corporation hotels.
The smaller guesthouses will generally have a lower impact on the environment than bigger hotels as there are fewer rooms and therefore fewer people, and you are supporting a local business, not a big company's shareholders.
Authentic Eco-Hotels, Eco-Lodges and Eco-Retreats
This is a popular hotel theme and we are seeing more eco-hotels, lodges and retreats popping up every month.
We look at authentic eco-accommodations as being ones that really go above and beyond to minimising their impact.
This can be done a variety of ways.
Some hotels strive to use as much renewable energy as possible, such as harnessing solar or wind power.
Others will grow their own organic vegetables and fruits to provide to guests for meals.
Sometimes you'll find a place that is completely off-grid, even using compost toilets and water tanks so they can be fully self-sustainable.
The best thing about these places is that they are reducing their carbon emissions and lowering their impact on the environment.
Example – EcoCamp in Torres del Paine, Chile
One of our all-time favourite eco-friendly accommodations was EcoCamp in Torres del Paine in Chile.
We spent 4 nights here in 2017 and were lucky enough to become friends with the managers and get a tour of the property.
Located in one of the world's most beautiful places, the owners had made a commitment to minimising their impact on the national park in every way possible.
They had an on-site restaurant cooking delicious meals, and all of the ingredients were locally-sourced from farmers rather than shipped in.
The chefs could even name the supplier of each product personally, as they maintain excellent relationships with them.
All of the accommodation was built using geodesic domes and were installed without using any concrete foundations.
That means if they ever decide to leave the park, they can take all of their structures with them and leave no permanent footprint.
Every bathroom was using compost toilets, but they were experimenting with earthworm sewage management to turn waste into fertiliser.
The toiletries they provided were all completely natural, and they ask you not to use any of your own to not contaminate their water systems or the earth.
Finally the entire property ran off of wind and solar power. We've been lucky enough to stay in a lot of eco-friendly accommodations in our time, but this one was by far the best we have ever seen.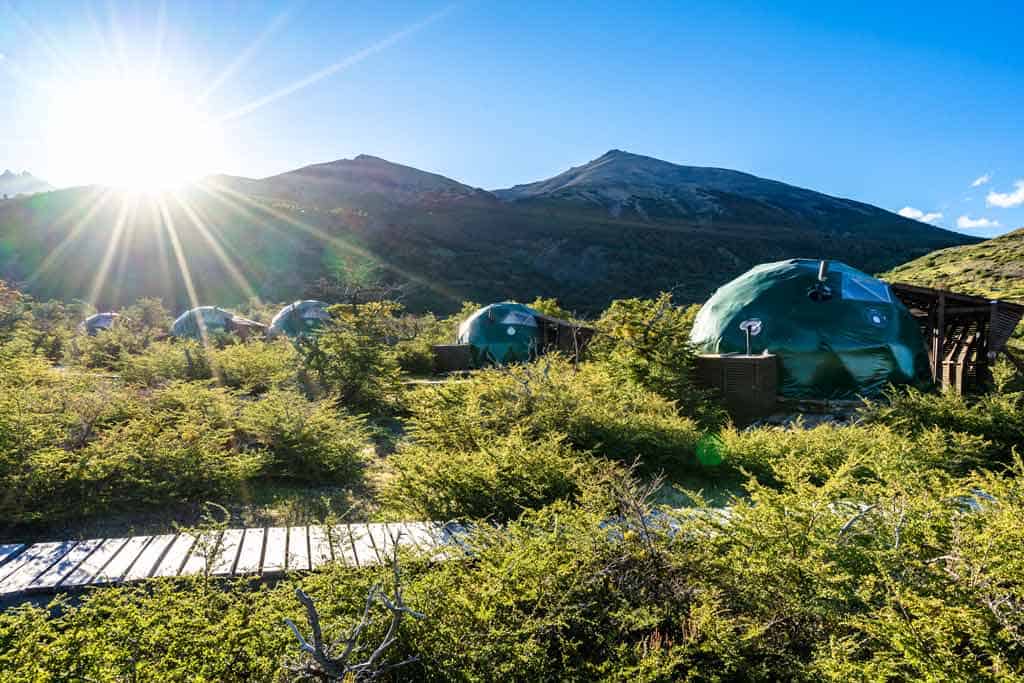 Sustainable Hotels that Support Communities
Just because a hotel is in a big city doesn't mean they can't be sustainable
If you're travelling to somewhere like Bangkok, London, New York or Sydney, you'll find quite a few excellent options if you do a bit of research.
Many places can still use solar panels or reduce their waste output by implementing a few simple practices like:
Encouraging guests to use less water when showering
Not having any single-use plastics around the property
Not doing housekeeping every day unless requested
Having large water jugs instead of giving guests plastic bottles
Again, check their websites, or if in doubt, give them a call.
Another tip for finding a sustainable hotel is to look for smaller guesthouses and family-owned accommodation.
This dives into a level of sustainable tourism that goes beyond being eco-friendly. It's about supporting local communities.
Staying on Farms or Remote Home Stays
Another accommodation option that can be eco-friendly and sustainable is staying on farms or heading out to remote homestays.
These are often owned by families and are very personal, offering a unique experience.
Because the locals also live in the house, they are often more protective of their environment than large hotels.
A home or farm stay could involve the chance to volunteer in exchange for accommodation or as an added experience.
The best thing about staying in these types of places is that your money goes directly to supporting a local family, and you can really integrate yourselves in their culture.
Other Eco-Friendly Accommodation Alternatives
There are other alternative accommodation options that are sustainable and eco-friendly.
Camping is a great way to reduce your carbon emissions, as you set up and pack up without leaving a trace.
Just make sure you take all your rubbish out with you and don't damage the local environment.
Also always use the toilet facilities if there are some available.
Some enterprising businesses have started to offer stays in tepees and yurts, which are low-impact accommodation options as well.
They can be very basic, or luxurious, like the yurt camp our friends built in Wanaka in New Zealand, but are almost always eco-friendly if you find the right place to stay.
Bamboo beach huts are also great sustainable hotel options, as bamboo is a fast-growing plant.
You can find lots of these around Southeast Asia, like on the southern islands of Thailand.
Do you have any other tips for finding eco-friendly accommodation while travelling? Leave a comment below and let us know!