Everything you need to know about the Kalaw to Inle Lake trek in Myanmar.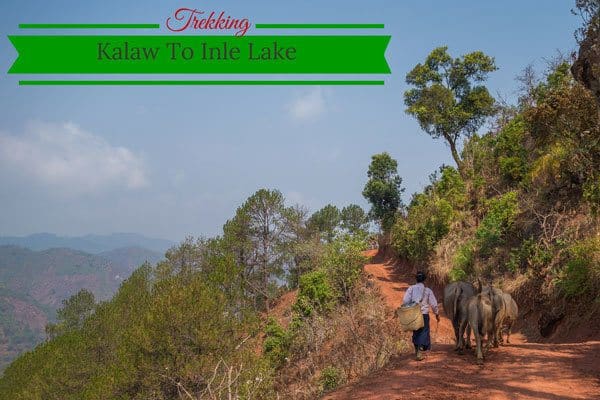 As the convoy of buffalo quietly approached, I was forced to shuffle my way off the compressed soil trail to avoid a collision. Only metres from the path the earth dropped steeply, rocks tumbling their way to the valley floor. I kept one eye on the nearing cattle and the other on the land's edge.
Rising up in the distance were rounded peaks from mountains and flowing hills, casting vast shadows across the farmland. The ethnic Shan lady guiding the buffalo smiled and nodded her appreciation for my necessary movement allowing her to pass. I smiled back and drew a deep breath of the unpolluted rural air.
In a nation that has been oppressed for decades, the stretch of land from Kalaw to Inle Lake still seems like an old-world paradise, free from the political turmoils and frustrations found elsewhere in Myanmar. I hope the smiling Burmese lady feels the same.
The unassuming country town of Kalaw has rapidly become a tourist hotspot in the developing Buddhist nation of Myanmar. Only 60km from the town's heart lies the immensely popular Inle Lake, where images conjure of solitary fisherman balancing on one leg as they cast nets across the water, wrapping their other leg around an oar to propel themselves forward.
As Myanmar quickly opens up to tourism and the number of foreigners visiting exponentially increases every month, the trek from Kalaw to Inle Lake is growing in popularity.
Beginning your trek from the centre of town, you slowly gain altitude as you work your way up towards the elevated plains above Kalaw. Mountains and valleys stretch their way across the landscape. A slight haze softens the view from the dust kicked up by centuries of unaltered agricultural industry.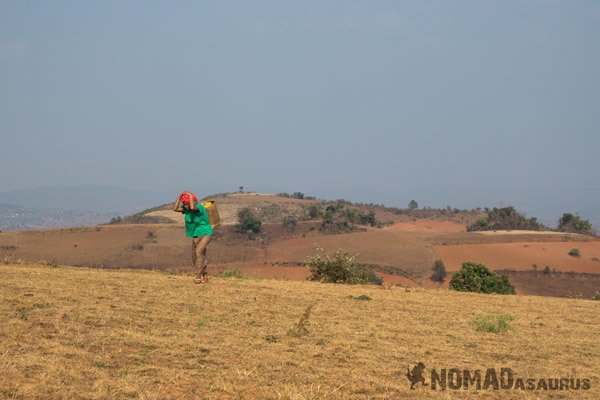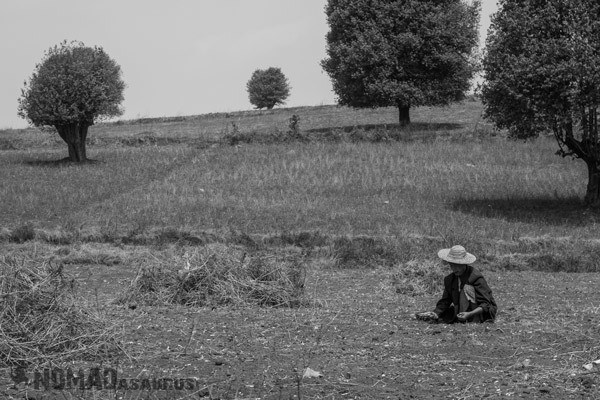 As you trek through indigenous Shan villages bemused children run out from behind bamboo houses to prod and gaze at the foreign human traffic making their way from Kalaw to Inle Lake. Nights are spent on thin, yet comfortable, mattresses in the stilted homes of village elders.
The food is meticulously prepared to be nourishing, traditional and surprisingly delectable. Noodles, fried vegetables, fresh fish and chicken make up the staple diet and the local chefs are always excited to allow tourists to experience the best Shan fare on offer.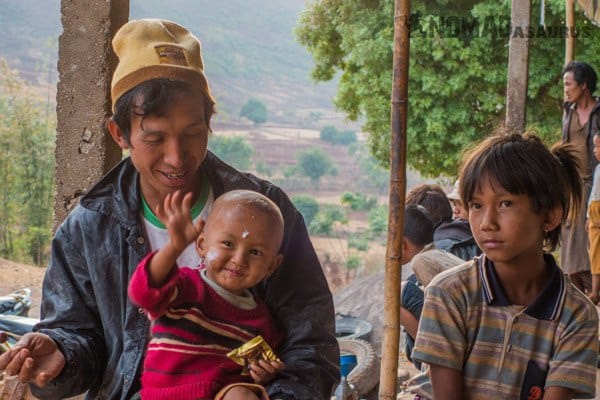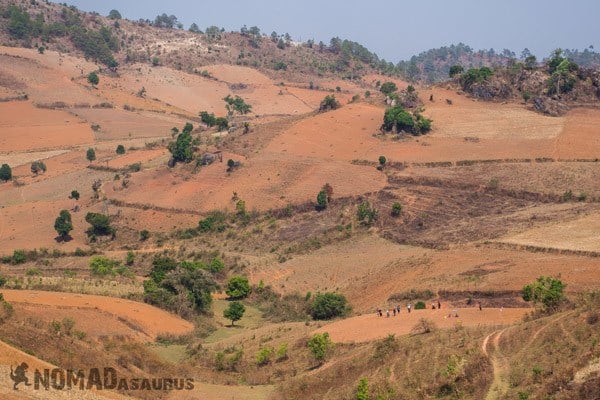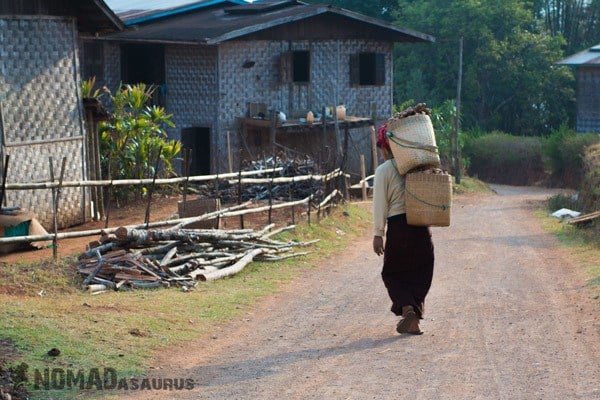 Rest periods between hiking are spent playing games with the local children, using whatever improvised toys are available. A humble sandal can provide hours of entertainment for the kids who have never had access to the internet, television or video games. Life is much simpler up in the mountains between Kalaw and Inle Lake. It is a beautiful thing to observe.
As you approach the final destination of Inle Lake, the descent is rapid and excitement levels peak. Your first glance of the immense lake is unforgettable as it protrudes between thinly-leafed trees like a shimmering mirror haphazardly placed on the bucolic terrain.
Finally launching off on a narrow, timber boat, aimed for the far end of Inle Lake is a glorious feeling. Putting in the physical effort to reach the picturesque reservoir is a rewarding experience, especially as you reflect on the bewitching scenery you passed through to get there. Trekking from Kalaw to Inle Lake is one of the most memorable adventures you can undertake in Myanmar, and indeed in all of Southeast Asia.
Our Three Day, Two Night Kalaw To Inle Lake Trek
After our epic trek in Hsipaw, we had a strong thirst for more adventure. Taking on the three day, two night trek from Kalaw to Inle Lake was next up on our ideal unplanned itinerary for Myanmar, and we were going to make sure we didn't miss out!
After we checked into our accommodation in Kalaw, we went looking for the best trekking companies in town. We had heard a lot about Sam's Family Restaurant and his high-quality trekking tours, so we dropped in to talk to Uncle Sam himself. He instilled a lot of confidence in us about his operation and we left feeling good about trekking with him.
Naturally we then checked with a few other companies in town, but didn't have the same positive relationship that we had developed with Uncle Sam. We decided it would be his company we would trust to take us to Inle Lake.
Check out our article on the money situation in Myanmar.
Our guide, Chosu, was a great young Shan lady who spoke near-perfect English. Our experience with her was that although she was very affable, knowledgeable and caring, she was still just a young girl (maybe 20) who was more concerned with her daily life, constantly on her mobile phone.
Whenever we asked her questions she happily put her phone down and chatted away with great enthusiasm, but always went straight back to her cell phone. Still this didn't really alter our impression of her. Which 20-year-old girl anywhere in the world wouldn't be the same?
The food was incredible and we were never short of dishes to eat. In the villages we stayed or ate in we were always welcomed into neighbour's houses to drink fresh green tea with them. They never asked for money and were always up for a laugh.
Playing games with the children was without a doubt a highlight. Their zest for life, despite living in conditions that Westerners may find below adequate, was inspiring. The local indigenous population always wore a smile and seemed genuinely curious in us.
Our trek from Kalaw to Inle Lake is still to this day one of the main highlights of our trip in Southeast Asia. Definitely put a few days aside in your schedule so you can complete the hike yourself.
Can You Do The Kalaw To Inle Lake Trek Independently?
We met an Argentinian man who did not have much money, and as such couldn't afford the cost of a guide. With an adventurous spirit, he opted to do the Kalaw to Inle Lake trek independently. He copied down a map of the area he saw in a restaurant from memory, and headed off with just his backpack and some cash on him.
Our friend managed to reach Inle Lake with little problems. Whenever he got lost he would ask a local farmer for directions to the next village, and they happily pointed him in the right direction. At night he simply walked into a town and asked for a place to stay. People would direct him to a registered homestay where he could pay for food and board.
The trails are meandering and confusing, obviously with no signage. Trekking from Kalaw to Inle Lake independently is definitely possible, although it would be a difficult undertaking if you have no experience with this kind of thing. Our friend perhaps got lucky with how things worked out for him, so think long and hard before you choose to do this yourself.
Also the option of simply staying in anyone's house in not possible due to government regulations. Local people can get in A LOT of trouble for housing foreigners illegally. Take this into account before you set off from Kalaw and go knocking on a stranger's door.
Need accommodation for Inle Lake? Click here to check to book through Agoda.com
[box type="info" size="large" style="rounded" border="full"]Have you done the Kalaw to Inle Lake trek? Let us know what you thought of it by commenting below. [/box]