Looking for incredible things to see and do on a San Francisco to Las Vegas drive? Here's our ultimate San Fran to Las Vegas road trip itinerary.
San Francisco and Las Vegas are two of the most prominent cities in the Western USA.
With vast open roads, stunning national parks, and plenty of cool landmarks around California and Nevada, the best way to travel between San Francisco and Las Vegas is a good old-fashioned road trip!
Though it's a quick and easy flight between the two cities, taking the scenic route with a rental car or campervan is an amazing way to explore California's natural wonders.
We're going to provide two different San Francisco to Las Vegas drive itineraries, both with epic scenery and unique attractions.
Both itineraries will begin in San Francisco with a visit out to Yosemite National Park following shortly after. The Sierra Nevada Mountains run through Western California, so from Yosemite, you'll have to pick driving down the eastern or the western side of the mountains.
It's not easy to crisscross across the massive peaks of the Sierra Nevadas. So we'll list two different road trip routes that cover each side of the mountain range.
Of course, you can alter these itineraries however you want. But these two itineraries are designed to make your San Francisco to Las Vegas drive as seamless as possible!
How long is a San Francisco to Las Vegas drive?
The most direct route for a San Francisco to Las Vegas drive is about 570 miles and takes 9-10 hours. However, this driving time doesn't include any stops or detours.
It's definitely worth taking the scenic route for your Las Vegas road trip!
You really can't visit Northern California without seeing the magnificent Yosemite National Park, and there are plenty of other destinations worth visiting like Zabriskie Point in Death Valley, Mammoth Lakes, Kings Canyon, Tioga Pass, and the Mojave Desert.
So if you're willing to spread your journey out into a few days or more, you can really see some incredible sights on the scenic route.
Our first itinerary goes from San Francisco to Yosemite National Park and down the eastern side of the mountains toward Las Vegas. This is about 620 miles and 12.5 hours of driving time without stops.
The second itinerary travels along the western side of the mountains. This is about 750 miles and 15 hours of driving time without stops.
Both San Francisco to Las Vegas road trips can be modified to fit your time frame. You'll really want to spend at least a few days in Yosemite, and you could easily stretch the drive out into a week or more. But it's up to you!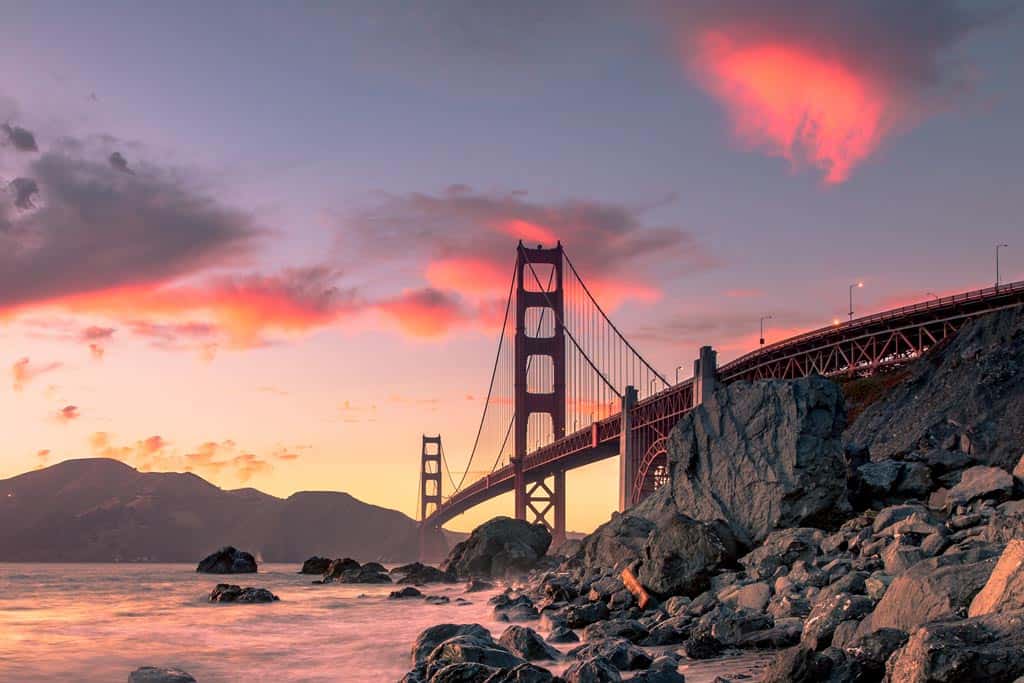 San Francisco To Las Vegas Drive Itineraries
Let's dive into these two incredible San Francisco to Las Vegas road trip itineraries!
Both road trips begin in San Francisco and then head to the world-famous Yosemite National Park. From Yosemite, you can choose to drive down the eastern or the western side of the Sierra Nevada Mountains as you make your way to Las Vegas.
If you plan to head further south, check out our list of the best things to do in Southern California!
San Francisco
Before you hit the road, you'll definitely want to spend at least 3 days enjoying San Francisco. This captivating city offers a blend of history, culture, and innovation.
Known for its picturesque setting, the city is nestled between the Pacific Ocean and the San Francisco Bay, creating a stunning backdrop of rolling hills and iconic landmarks.
The Golden Gate Bridge, an engineering marvel, stands tall as an emblem of the city, connecting San Francisco to Marin County and offering breathtaking views. A boat cruise over to the famous Alcatraz Island and former prison is also a top attraction.
San Francisco's eclectic neighborhoods each possess their own unique charm, from the bohemian vibes of the Mission District to the upscale boutiques and tech giants in SoMa (South of Market).
Renowned for its progressive values, San Francisco has been at the forefront of social movements and technological advancements, making it a hub of creativity and change.
San Francisco also offers amazing places to eat, from upscale restaurants to cozy food trucks. Travelers can explore world-class museums, such as the de Young Museum and the San Francisco Museum of Modern Art, or wander through the iconic streets of Chinatown and North Beach.
For nature enthusiasts, nearby attractions like Muir Woods National Monument and the wine country of Napa Valley offer an escape to natural beauty. With its blend of rich history, forward-thinking mindset, and stunning surroundings, San Francisco continues to inspire and captivate residents and visitors alike, making it a city like no other.
Find more inspiration with our ultimate 3 Day San Francisco Itinerary!
Yosemite National Park
Distance from San Francisco: 200 miles
Driving Time: 3.5 hours
After exploring San Francisco, drive a few hours east of the city towards one of the USA's most famous national parks.
Yosemite National Park, located in the Sierra Nevada mountains of California, is a breathtaking testament to the wonders of nature. Encompassing nearly 1,200 square miles of awe-inspiring beauty, the park is renowned for its towering granite cliffs, majestic waterfalls, and pristine wilderness.
The park's diverse ecosystems provide a haven for a wide array of wildlife, including black bears, mule deer, and rare bird species.
Visitors can embark on countless hiking trails, enjoy scenic drives, and immerse themselves in the tranquility of the great outdoors. Yosemite's timeless beauty and serenity will undoubtedly leave a mark on you as you pass through.
Iconic landmarks such as Half Dome, El Capitan, and Yosemite Falls draw adventurers and nature enthusiasts from all over the world. There are so many cool things to see and do, most of them centered around the Yosemite Valley.
If you make an effort to visit Yosemite National Park, it's worth staying for at least a few days to really soak it all in. You can always get a self-guided audio driving tour if you're not sure where to go as well!
From Yosemite Valley, you can decide whether you're going to road trip down the eastern or western side of the Sierra Nevadas, as it can be difficult to drive through them. If you're going east, we recommend taking the scenic mountain pass known as Tioga Pass, located in the eastern part of Yosemite National Park.
Situated at an elevation of over 9,900 feet (3,018 meters), Tioga Pass is one of the highest highway passes in the Sierra Nevada mountain range. The pass provides a breathtaking and picturesque drive through a rugged landscape of alpine meadows, glacially-carved valleys, and snow-capped peaks.
Tioga Pass offers access to some of the park's most iconic attractions, including Tuolumne Meadows, Tenaya Lake, and Olmsted Point. The journey along Tioga Pass is an unforgettable experience, so it's definitely worth taking if you're choosing to head east!
Road Trip Itinerary #1 – Eastern Side Of The Sierra Nevadas
Here is your first road trip itinerary route that takes you from Yosemite National Park, through the Tioga Pass, and out onto the eastern side of the Sierra Nevadas.
You'll continue exploring the most beautiful areas on this side of the mountains, before heading southeast towards Las Vegas.
Mammoth Lakes
Distance from Yosemite: 40 miles
Driving Time: 45 minutes
Once you leave the Tioga Pass and exit the eastern side of Yosemite National Park, continue east towards Mammoth Lakes. If you're driving in the warmer months, take the gorgeous, 16-mile June Lake Loop route on your way to Mammoth Lakes.
Once you arrive in Mammoth Lakes after driving the June Lake Loop, you'll find that the area offers a paradise for outdoor enthusiasts throughout the year.
In winter, Mammoth Mountain becomes a world-class ski destination with abundant snowfall and a vast network of ski trails catering to all levels of expertise.
As the snow melts and summer arrives, the landscape transforms into a haven for hiking, mountain biking, fishing, and camping.
The shimmering lakes, such as Lake Mary and Convict Lake, invite visitors to relax by their shores or embark on paddling adventures. Mammoth Lakes also serves as a gateway to the nearby Devil's Postpile National Monument and the Ansel Adams Wilderness, providing further opportunities to explore and connect with nature.
In addition to its natural attractions, Mammoth Lakes offers a charming mountain town atmosphere with a variety of shops, restaurants, and cultural events. The town's village area features cozy lodges, inviting cafes, and a vibrant après-ski scene where visitors can unwind and indulge after a day of adventure.
Throughout the year, Mammoth Lakes hosts various festivals and events, celebrating everything from music and arts to outdoor sports and local cuisine.
Whether seeking an adrenaline-pumping escapade on the slopes or a serene retreat surrounded by nature's beauty, Mammoth Lakes provides an enchanting escape and a memorable experience for all who venture into its breathtaking wilderness.
Lone Pine
Distance from Mammoth Lakes: 99 miles
Driving Time: 2.5 hours
The next stop on your San Francisco to Las Vegas road trip is Lone Pine. Nestled against the towering peaks of the eastern Sierra Nevada mountains, the town serves as a gateway to some of the most breathtaking natural wonders in the United States.
One of the town's main attractions is the proximity to the stunning Alabama Hills, a unique geological formation known for its majestic rock formations and stunning landscapes.
Alabama Hills has been a popular filming location for numerous Hollywood movies and offers endless opportunities for hiking, photography, and stargazing.
There are also numerous hiking trails and camping spots not too far from the town center. The town itself exudes a relaxed and welcoming atmosphere, with charming cafes, local boutiques, and historic buildings that reflect the area's rich Western heritage.
Whether seeking outdoor adventures, checking out Alabama Hills, or simply basking in the tranquility of nature, Lone Pine offers a memorable destination for travelers seeking a true escape into the wonders of the Sierra Nevada.
Sequoia National Park
Distance from Lone Pine: 10 miles
Driving Time: 30 minutes
Sequoia National Park is another one of California's best national parks. It's huge, so the driving distance from Lone Pine to the park will depend on where you plan to arrive!
The 10-mile distance mentioned above accounts for traveling from Lone Pine to Mount Whitney, the tallest mountain in the continental US! This is a super popular hiking destination in California, so many travelers may want this to be their first stop in Sequoia National Park.
Other fun things to do in the park include hiking, camping, birdwatching, and checking out the massive trees!
Sequoia National Park is renowned for its massive sequoia trees, including the General Sherman Tree, which stands as the world's largest tree by volume. These towering giants, some of which are over 2,000 years old, create an awe-inspiring atmosphere that leaves visitors humbled and in awe of nature's grandeur.
Beyond the majestic sequoias, Sequoia National Park encompasses a range of ecosystems, from rugged mountain peaks to lush meadows and cascading waterfalls.
The park is a haven for outdoor enthusiasts, offering an extensive network of hiking trails, rock climbing opportunities, and scenic drives, including the famous Generals Highway, which winds its way through the heart of the park.
It's undoubtedly one of the best places to stop while traveling from San Francisco to Las Vegas.
Looking to explore more of the Golden State? Check out our perfect 10-Day California Road Trip Itinerary!
Death Valley National Park
Distance from Sequoia National Park (eastern side): 108 miles
Driving Time: 2 hours and 15 minutes
Another highlight on the drive from San Francisco to Las Vegas is Death Valley National Park, a land of extremes and superlatives.
Covering over 3.4 million acres, Death Valley is the largest national park in the contiguous United States and boasts a diverse and mesmerizing landscape.
From the vast salt flats of the Badwater Basin, the lowest point in North America, to the towering sand dunes of Mesquite Flat, the park showcases nature's impressive sculpting skills. Zabriskie Point is a famous viewpoint in Death Valley National Park where colorful and eroded rock formations create a surreal and otherworldly landscape.
Death Valley is renowned for its extreme temperatures, with some of the hottest recorded temperatures on the planet, making it a true desert wonder. Despite its harsh environment, the park is home to a surprising array of plant and animal species that have adapted to the challenging conditions, adding to its ecological significance.
The park's geological formations are equally captivating, with colorful canyons, rugged mountains, and unique rock formations like the Racetrack Playa, where mysterious moving rocks leave trails in the dry lakebed.
Visitors can also explore the historic sites of Death Valley, including remnants of old mining operations and ghost towns that tell stories of the area's past.
Stargazing is a highlight in Death Valley due to its Dark Sky status, offering an unforgettable celestial experience. Get yourself a self-guided driving tour if you need a bit of guidance while exploring the park!
It's also worth spending a few days in Death Valley National Park so you can stay overnight, stargaze, and soak it all in. There are some awesome hotels right in the park, or you could try camping in the wilderness!
Red Rock Canyon
Distance from Death Valley National Park: 120 miles
Driving Time: 2 hours
Before you arrive in Las Vegas, stop at Red Rock Canyon which is located just west of the city. The canyon is characterized by its vibrant red sandstone formations, sculpted by millions of years of geological processes.
With its numerous hiking trails, visitors can explore the rugged terrain, discover hidden caves, and marvel at the colorful rock formations. The Calico Tanks trail is a popular choice, leading hikers to natural water pockets and panoramic views of the Las Vegas Strip from a distance.
Beyond hiking, Red Rock Canyon provides opportunities for rock climbing, horseback riding, and wildlife viewing. The area is home to diverse plant and animal species, including bighorn sheep, desert tortoises, and various bird species.
The visitor center offers educational exhibits on the region's geology, ecology, and cultural history, providing valuable insights into the area's natural wonders.
If you'd rather just head right to Las Vegas without stopping, consider booking a 4X4 tour of Red Rock Canyon so you can still experience the wonders of this incredible place!
Las Vegas
Distance from Red Rock Canyon: 20 miles
Driving Time: 30 minutes
Finally, you've made it to Las Vegas!
Also called "Sin City", Las Vegas is synonymous with excitement, extravagance, and non-stop entertainment. Famous for its vibrant nightlife, world-class casinos, and dazzling neon lights, Las Vegas is a playground for adults seeking an unforgettable experience.
The iconic Las Vegas Strip is lined with opulent resorts, each showcasing its unique theme, offering everything from grandiose shows and concerts to luxurious dining experiences.
Beyond the glitz and glamour, the city also boasts a diverse range of attractions, including high-end shopping, art galleries, and exhilarating outdoor adventures.
After completing the epic road trip from San Francisco, make sure you cherish every moment in the famous city of Las Vegas!
Read next: The 21 Best Things To Do In Las Vegas, Nevada
Road Trip Itinerary #2 – Western Side Of The Sierra Nevadas
Now let's dive into an alternative driving route from San Francisco to Las Vegas. This road trip also goes from San Francisco to Yosemite National Park, but then you'll exit via the western side of the park.
This allows you to travel down the western side of the Sierra Nevadas. Though this route is a bit longer in terms of driving time, it offers a different array of scenery and attractions.
But you can of course combine our two road trip routes to create your own perfect itinerary. These are just suggestions about the easiest ways to get from San Francisco to Las Vegas with a bit of excellent scenery thrown in!
Kings Canyon National Park
Distance from Yosemite: 111 miles
Driving Time: 2 hours and 15 minutes
So for this road trip itinerary, leave Yosemite National Park via the western side of the mountains where you entered. Then head south to Kings Canyon National Park!
As one of the least-visited national parks in the United States, Kings Canyon offers a sense of solitude and serenity amidst its stunning vistas.
The park's centerpiece is the Kings Canyon itself, a deep and steep-sided gorge that rivals the Grand Canyon in depth, making it one of the deepest canyons in North America.
The towering granite cliffs, pristine alpine lakes, and lush meadows add to the park's allure, providing lots of opportunities for hiking, backpacking, and exploring the high country.
Kings Canyon is also known for its remarkable groves of giant sequoia trees, some of the largest living organisms on the planet. The General Grant Grove features the General Grant Tree, famously designated the Nation's Christmas Tree, and the Redwood Mountain Grove is home to the Boole Tree, one of the largest sequoias by volume.
Visitors can also marvel at the roaring Kings River, which carves its way through the canyon, offering striking views and cascading waterfalls, including the magnificent Grizzly Falls.
With its abundant natural wonders and relatively untouched wilderness, Kings Canyon National Park remains a hidden gem, inviting explorers and nature enthusiasts to discover the untamed beauty of the Sierra Nevada mountains.
Sequoia National Forest
Distance from Kings Canyon National Park: 25 miles
Driving Time: 45 minutes
Sequoia National Forest, located in the southern Sierra Nevadas, is a vast and diverse forest known for its towering sequoia trees and stunning alpine landscapes.
Although separate from Sequoia National Park, the forest shares the same region and offers a unique and equally captivating experience.
The Giant Sequoia groves within the forest, such as the Alder Creek Grove and the Freeman Creek Grove, house some of the largest and oldest living trees on earth, including the famous Stagg Tree. Visitors can explore these ancient giants through hiking trails and enjoy scenic drives that wind through the forest's breathtaking terrain.
Beyond the sequoias, Sequoia National Forest offers a range of outdoor activities, including camping, fishing, and horseback riding, amidst its scenic lakes and rivers. The forest is a haven for nature enthusiasts, with diverse wildlife and plant species that thrive in its various ecosystems.
The Kern River Canyon, a rugged and picturesque area within the forest, is a popular destination for whitewater rafting and rock climbing. For those seeking a quieter and less crowded alternative to the nearby national park, Sequoia National Forest provides a serene and enchanting escape into the wonders of nature.
Bakersfield
Distance from Sequoia National Forest: 111 miles
Driving Time: 2.5 hours
After a scenic drive through the Sequoia's, continue on your San Francisco to Las Vegas road trip. Your next stop is Bakersfield, a vibrant city situated in the southern part of California's San Joaquin Valley.
Known for its rich agricultural heritage, Bakersfield is often referred to as the "Breadbasket of the World" due to its significant contributions to the nation's food production. The city's warm and sunny climate, coupled with fertile farmlands, has made it a hub for growing crops like almonds, grapes, and citrus fruits.
Beyond its agricultural roots, Bakersfield offers a diverse and lively community, with a thriving arts and music scene, historic landmarks, and a range of outdoor activities.
Whether savoring the local cuisine, enjoying cultural events, or exploring the natural beauty of the surrounding landscapes, Bakersfield welcomes visitors and residents alike with its unique blend of tradition and modernity.
While Bakersfield isn't one of the top destinations in California, it's right on the way as you drive from San Francisco to Las Vegas. So it's a convenient place to stop and there are lots of affordable hotels here.
Calico Ghost Town
Distance from Bakersfield: 140 miles
Driving Time: 2.5 hours
Next on your road trip through Southern California towards Las Vegas is Calico Ghost Town. Located in the Mojave Desert, this is a fascinating living museum that takes visitors back in time to the era of the Wild West.
Once a bustling silver mining town in the late 1800s, Calico is now preserved as a well-maintained historic attraction, offering a glimpse into the rugged and adventurous days of the past.
Strolling through the dusty streets of the historic town, visitors can explore original and restored buildings, such as the schoolhouse, saloon, and blacksmith shop, all decorated with period-appropriate furnishings and artifacts.
Engaging live performances and reenactments bring the town's colorful history to life, providing an immersive experience of what life was like during the height of the silver rush.
With its unique blend of history, entertainment, and scenic desert surroundings, Calico Ghost Town continues to charm and captivate both history enthusiasts and curious travelers seeking a taste of the Old West.
If you're traveling around more of Western USA, here is our ideal Las Vegas to Los Angeles road trip guide!
Mojave National Preserve
Distance from Calico Ghost Town: 55 miles
Driving Time: 1 hour
The next stop on this San Francisco to Las Vegas drive is Mojave National Preserve. Covering over 1.6 million acres, the preserve encompasses a variety of desert environments, including sand dunes, volcanic cinder cones, Joshua tree forests, and vast expanses of desert wilderness.
Visitors to Mojave National Preserve can explore the stunning Kelso Dunes, where the shifting sands create a mesmerizing sight, or hike through the rugged terrain to discover hidden oases and ancient lava tubes. The preserve is also home to an array of wildlife, including bighorn sheep, coyotes, and desert tortoises, adding to its ecological significance.
Mojave National Preserve provides ample opportunities for outdoor activities, such as camping, stargazing, and backcountry exploration. The preserve's vastness and relatively low visitation rates offer a sense of solitude and connection with nature, making it a perfect destination for those seeking a remote and unspoiled desert experience.
Mojave National Preserve offers an unforgettable adventure in the heart of the Mojave Desert, whether you're reveling in the stark beauty of the desert landscape or marveling at the starry night skies.
Seven Magic Mountains
Distance from Mojave National Preserve: 42 miles
Driving Time: 45 minutes
After experiencing the Mojave Desert, your road trip will curve north towards Nevada so you can make your way to Las Vegas. But another worthwhile stop lies just south of Las Vegas!
The Seven Magic Mountains is a striking and whimsical art installation that has become an iconic, Instagram-worthy destination.
Created by Swiss artist Ugo Rondinone, the installation consists of seven towering and brightly colored limestone boulders stacked on top of each other, standing up to 30 feet tall. The vibrant hues of the rocks, ranging from neon pinks and yellows to deep blues and greens, create a surreal and eye-catching contrast against the stark desert landscape.
The installation serves as a playful and thought-provoking commentary on the relationship between nature and human intervention, as well as a symbol of the merging of the natural and artificial worlds.
So before you finish up your San Francisco to Las Vegas drive, stop here and snap a few photos!
Read next: The Ultimate 3 Days In Las Vegas Itinerary
Las Vegas
Distance from Seven Magic Mountains: 26 miles
Driving Time: 30 minutes
From the Seven Magic Mountains, it's only a 30-minute drive to Las Vegas! You are now free to return your rental car and indulge in all the wonders and cool attractions offered by the famous city.
Whether you chose to drive the eastern route or the western route, or you mixed and matched the attractions on both road trip, any San Francisco to Las Vegas drive is sure to be stunning.
Try some of our favorite day trips from Las Vegas if you have some extra time in Sin City!
Wrapping Up
So there are plenty of amazing things to see on your San Francisco to Las Vegas road trip! From Yosemite, Sequoia, Death Valley, and Kings Canyon national parks, to the unique towns and cultural stops in between, it's an incredibly scenic route to take.
If you're looking to explore more of the western USA by road, you're in luck. This corner of North America is packed with beautiful drives!
Drive further north to California gems like Lake Tahoe, or complete a gorgeous loop drive around Northern California. Or head to the coast and road trip along the Pacific Coast Highway or down to Los Angeles.
Once you get down to Las Vegas in the desert, you can head east to the Grand Canyon or continue to explore Arizona in places like Sedona and Phoenix.
Or take on more of the iconic national parks in nearby locations like Utah. The options for exploration are endless!
DISCLAIMER: Some of the links in this article are affiliate links, which means if you book accommodation, tours or buy a product, we will receive a small commission at no extra cost to you. These commissions help us keep creating more free travel content to help people plan their holidays and adventures. We only recommend the best accommodations, tours and products that ourselves or our fantastic editorial team have personally experienced, and regularly review these. Thanks for your support, kind friend!