Wondering what activities and attractions you can't miss in the Valley of the Sun? Our guide to the best things to do in Phoenix is just what you need!
Famous for its luxurious hotel resorts, desert gardens, championship golf courses, and decadent fine dining, Phoenix, Arizona is a top travel destination across the globe.
As one of the top fastest growing cities in the United States, Phoenix continues to grow in its attractive features that draw people from all over the world to its desert landscape.
Full of outdoor recreational activities like hiking Camelback Mountain, and indoor attractions such as the Phoenix Art Museum, Phoenix is a diverse destination that can please history buffs, art lovers, food cravers, hikers, golfers, and more!
Phoenix, AZ is also 3.5 hours away from the Grand Canyon, one of the most famous natural features of the USA. Phoenix is a popular starting point for road trips into the Grand Canyon, and it is even possible to visit it as a day trip if you're willing to take on a bit of driving.
But aside from the Grand Canyon, there are lots of fun things to do in Phoenix and the city center. In fact, Phoenix is home to some of the best things to do in Arizona!
In our article, we have only the best Phoenix attractions listed for the ultimate travel vacation to experience all that Phoenix has to offer. So pack your bags. It's time to start exploring!
Read Next: Want to know how to make the most of your time in Phoenix? Here's our guide to how to spend an awesome 3 days in Phoenix Itinerary!
The Best Things to Do in Phoenix, Arizona
If you're searching for what to do in Phoenix, look no further. We have the top 21 Phoenix activities listed below!
From mountain biking or hiking at South Mountain Park to exploring Old Town Scottsdale or checking out some interesting museums, here are the best things to do in Phoenix.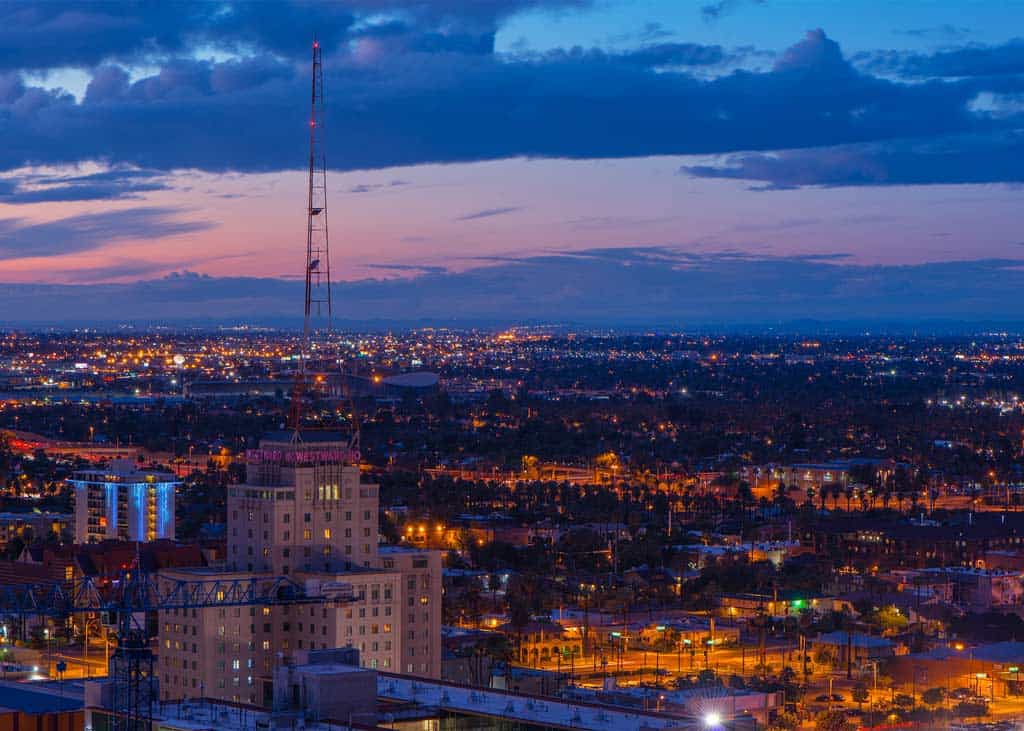 1) Glimpse Endangered Plant Species At The Desert Botanical Garden
A 140-acre botanical garden, the Phoenix Desert Botanical Garden homes 55 acres under cultivation and 50,000+ plants on display showcased in stunning outdoor exhibits.
Marked as one of twenty-four botanical gardens accredited by the American Alliance of Museums, over 650 volunteers and 229 full-time staff members work to keep this refreshing and awe-inspiring botanical garden running.
Half a million visitors stop by the Desert Botanical Garden to witness the beauty of the natural world presented in Arizona.
Housing 485 rare and endangered species and 92,150 herbarium specimens, the wide variety of plant species waiting to be explored and learned about are waiting for your visit!
The Desert Botanical Garden is easily one of the best things to do in Phoenix.
Address: 1201 N Galvin Pkwy
Hours: 7 am – 8 pm every day
Cost: Tickets range from $14.95 – $24.95 (Advance booking required)
READ NEXT: Looking for more ideas of what to do in Arizona? Check out our post on all the best things to do in Arizona!
2) Go On An Adventure At South Mountain Park & Preserve
The largest municipal park in the United States, South Mountain Park and Preserve has been designated as a Phoenix Point of Pride popular hiking, biking, and riding destination.
Spanning over 16,000 acres, it is also one of the largest urban parks in North America and the world!
For the ultimate Phoenix Arizona outdoor adventure, start at the South Mountain Environmental Education Center to learn more about this enigmatic location before beginning your hike, bike, or ride.
Stretching out with 58 miles worth of hiking trails and mountain bike trails for a fun and new activity to explore, you are sure to get a good dose of nature and exercise at South Mountain Park.
To end your adventure, we recommend following the road at the South Mountain Environmental Education Center to the top of the mountain for superb panoramic views.
Read Next: Check out these incredible day trips from Phoenix!
3) Visit The Premier Arizona Science Center
One of the nation's premier science and education destinations, the Arizona Science Center is a science museum in downtown Phoenix, in the scenic Heritage and Science Park.
Founded in 1984, the Arizona Science Center is dedicated to inspiring, educating, and engaging curious minds through science.
The 140,000-square-foot building was designed by renowned architect Antoine Predock and combines ramps, galleries, hallways, and terraces in one and has been recognized as a unique Phoenix landmark.
Through interactive exhibits, standards-aligned STEM education, and research-based programs, the Arizona Science Center promotes excellence in young minds.
The state-of-the-art planetarium, immersive exhibits, and five-story giant-screen theater are all exciting ways to educate and entertain people of all ages.
If you are looking to entertain kids, the Phoenix Children's Museum is another great spot to visit.
Address: 600 E. Washington Street
Hours: 10:30am – 4pm daily
Cost: $21.95 adults, $15.95 kids ages 3-17
Heading west next? Check out our list of the best things to do in Los Angeles.
4) Explore Downtown Phoenix
Loaded with fun activities, downtown Phoenix is full of significant attractions waiting to be explored.
An entertainment and business district stocked with art galleries, cocktail bars, brunch spots, hands-on exhibits, and the Chase Field baseball park, downtown Phoenix is a great place to explore various activities.
Many people travel downtown to enjoy live music and sip on craft brews as they socialize with locals and fellow tourists. No cars are required to travel around downtown thanks to the Valley Metro Rail, making it easy for tourists to visit historic areas like Roosevelt Row, a walkable arts district.
Decked out with over 200 restaurants, grabbing food in downtown Phoenix is highly recommended for various decadent and scrumptious selections. In addition, the rooftop lounges and bars with live music make for a great nightlife option.
During the day, hop over to the different art galleries, museums, and theaters to learn more about the local history and culture.
5) Ignite Your Imagination At The Phoenix Art Museum
Featuring an expansive collection of art dating back to the Renaissance, the Phoenix Art Museum is centered in a bustling desert metropolis that welcomes locals and tourists worldwide!
Its world-class exhibitions and comprehensive collections have promoted a connection to the arts for over sixty years.
As the largest art museum in the southwestern United States, the Phoenix Art Museum houses over 20,000 artifacts and welcomes over 300,000 guests annually. The museum is dedicated to igniting imagination and creating connections through an inspiring space filled with transformative art.
From art lovers to history buffs, stepping over to the Phoenix Art Museum is a journey you'll be delighted you took.
Address: 1625 N Central Ave
Hours: 10am – 9pm Wednesdays, 10am – 5pm Thursdays – Sundays
Cost: $23
Read Next: Plan your trip to explore the red rocks with our guide to the best things to do in Sedona!
6) Tour The Musical Instrument Museum
For all music lovers, visiting the Musical Instrument Museum is a must-see attraction during your time in Phoenix, Arizona!
The largest musically-dedicated museum, the Musical Instrument Museum, hones a collection of over 15,000 musical instruments and objects.
Each represents up to 200 different countries and territories. Guests can explore music from across the globe through live performances, workshops, and other family-friendly activities.
As the world's only global musical instrument museum, this one-of-a-kind museum presents international musical development and its impact on the history of many world cultures.
Fondly referred to as the language of the soul, guests can explore the impact music has had on culture and history at the great Musical Instrument Museum.
Address: 4725 E Mayo Blvd
Hours: 9 am – 5 pm daily
Cost: $20
READ NEXT: Check out our post on all the best things to do in Tucson, Arizona!
7) Discover The History Of Firefighting At The Hall Of Flame Fire Museum
Dedicated to preserving firefighting equipment historically used throughout the years, the Hall Of Flame Fire Museum is found in Papago Park, along with a few other popular Phoenix attractions.
Homing over one hundred fully restored pieces of fire apparatus from 1725 to 2004, the museum hosts almost a full acre of fire history exhibits.
The artifacts at the National Firefighting Hall of Fame are collected worldwide, including destinations like Austria, Japan, Germany, France, and England.
Old fire alarm systems, loads of diverse FireMarks, and outdated fire extinguishers are on display. Lithographs, paintings, prints, and engravings cover a wide variety of subject material related to the generous efforts of firefighter history.
Since its founding in 1961, the Hall Of Flame Fire Museum began with George F. Getz, Jr., who started collecting fire apparatus worldwide.
Since his passing, his children and grandchildren have taken his mission over to promote fire safety education, recognize firefighters that have died in the line of duty or are recognized for acts of heroism, and preserve the history of firefighting.
Address: 6101 E Van Buren St
Hours: 10 am – 6 pm Tuesday – Saturday
Cost: $17
8) Wander Through Old Town Scottsdale
The vibrant heart of Scottsdale, Old Town Scottsdale is nine walkable neighborhoods filled with exceptional art galleries, shops, nightclubs, restaurants, top-class museums, and historical sites that date back to the 1800s.
Combining Old Wild West charm and a chic urban vibe, this enigmatic neighborhood is an excellent stop during your stay in Phoenix, Arizona.
Located just a 20-minute drive away from Phoenix, this place is perfect for history buffs and nature lovers. There is lots of desert sightseeing and hiking to be done near Scottsdale.
A super fun thing to do is take a half-day hiking tour in the Sonoran Desert after exploring Old Town Scottsdale. Or head down to Salt River and go kayaking.
Or travel to the famous old Apache Trail used in the late 1800s from Old Town Scottsdale before or after exploring all the town has to offer!
9) Relish In The Desert Oasis Of Tempe Town Lake
An Arizona desert oasis, Tempe Town Lake is located near downtown Tempe.
Many outdoor adventurers flock here as a haven for recreational activities like kayaking, rowing, stand-up paddleboarding, picnicking, walking, and fishing.
This urban environment is a perfect getaway from city life. Step out for a live concert at the outdoor amphitheater or lay down on the grassy bankside of the crystal clear lake to picnic with friends and family. Or catch a local game of baseball at Tempe Beach Park.
As the crown jewel of Tempe city, Tempe Town Lake is a quick stop from Phoenix and a worthwhile destination to explore.
Maybe you're heading north after Arizona? Here is our guide to the best things to do in Las Vegas, Nevada!
10) Glimpse The Resurrected Species Of Arabian Oryx At The Phoenix Zoo
Opened in 1962 and since recognized as the largest privately owned non-profit zoo in the United States, the Phoenix Zoo operates on 125 acres near Papago Park.
With more than 3,000 animals housed, many of which are endangered species, the zoo is dedicated to preserving wildlife which can be shown through their efforts to boost populations of ten imperiled native Arizona species.
The Phoenix Zoo partners with many universities and organizations to work on conserving wildlife in Arizona and worldwide.
One of the significant successes of this reputable zoo is its resurrection of the Arabian Oryx. This antelope went extinct in the wild in 1972. The Phoenix Zoo and Fauna Preservation Society played a prominent role in resurrecting this extinct species and reintroducing it back into the wild.
In the present day, visitors can see the magnificence of the Arabian Oryx that would have otherwise remained extinct if not for the Phoenix Zoo's essential role in its conservation.
Address: 455 N Galvin Pkwy
Hours: 7am – 1pm in June – August, 9am – 5pm in September/October
Cost: $29.95
Book your admission ticket to the zoo on Get Your Guide!
11) Tour The David and Gladys Wright House
The David and Gladys Wright House is a historical landmark in Phoenix, Arizona. Part of the Frank Lloyd Wright Foundation, this house was built and designed by Frank Lloyd Wright and was gifted to his son David and daughter-in-law Gladys.
Constructed in 1950, the house is one of Wright's most architecturally innovative and unusual creations. The home sits at the base of Camelback Mountain, and with its spectacular design, the residents can easily view the mountain and the surrounding desert.
Most recently, the house was added to the National Register of Historic Places after being saved from demolition.
Frank Lloyd Wright Foundation was named after the master planner of this historically unique home. A famous architect, Frank Lloyd Wright, is recognized as one of the greatest American architects of all time, with a career that spanned seven decades.
Address: 4505 N Rubicon Ave
Hours: 9 am – 12 pm Thursday – Monday
Cost: Free (extra cost for audio or guided tours)
12) Bask In The Serenity Of The Japanese Friendship Garden
Stretching 3.5 acres, the Japanese Friendship Garden is a Japanese stroll garden part of a joint project with its Sister City, Himeji, Japan. Named RoHoEn, the garden was constructed in 1987 to present the bonds of friendship between Japan and the United States, especially between Phoenix and Himeji.
There is also a stone garden, courtyard garden, tea garden, and the featured stroll garden. Every aspect of the decorative features seen in the garden was gifted by the City of Himeji and its citizens.
With over 1,500 tons of hand-picked rock, lanterns, stone footbridges, and over 50 plants, the garden is a serene garden meant to be basked in. The 12-foot waterfall, flowing streams, and the koi pond stocked with over 300 vibrant koi fish transform one's experience as if one were in Japan themselves!
Address: 1125 N 3rd Ave
Hours: 9 am – 4 pm Tuesday – Sunday
Cost: $10
13) Hike Camelback Mountain
Only twenty minutes from downtown Phoenix, Camelback Mountain is a top attraction for hikers year-round.
Rated as one of Phoenix's best hikes, two trails ascend 1,420 feet to the summit that the mountain was named after, which resembles a camel's back. At this summit, the panoramic view of the city can be enjoyed—it's also a popular picture spot.
Receiving its namesake from the two rock formations that resemble the head and back of a kneeling camel, Camelback Mountain is a dedicated Phoenix Mountains Preserve and became a city park in 1968. It is next to the lively Arcadia neighborhood of Phoenix, a popular dining spot.
On this private hiking tour, an experienced and knowledgeable guide will take you and your group up to the summit to be rewarded with stunning panoramic views of the city.
The hike is not recommended for beginners or young children as the hike is challenging. Don't forget to pack plenty of water and slap on some sunscreen!
14) Go On An Adventure At Papago Park
Home to loads of outdoor recreational activities, Papago Park is teaming with history.
Once a reservation for indigenous tribes, a fish hatchery during the Great Depression, a POW camp during World War II, and then a VA hospital, Papago Park is a magnificent Phoenix activity for history buffs and active individuals.
Since then, Papago Park has expanded to encompass the Phoenix Zoo, the Desert Botanical Garden, museums, and golf courses.
Golfers can step over to Papago Golf Course to enjoy a round surrounded by Sonoran Desert plants and animals. Animal lovers can explore the nearby Phoenix Zoo or, for plant lovers, stroll the Desert Botanical Garden, all within access of Papago Park!
15) Learn About American Indian Art At The Heard Museum
A private, not-for-profit museum, the Heard Museum promotes the advancement of American Indian art.
Founded in 1929, the museum has rapidly grown and been recognized internationally because of its world-class exhibits, collections, exceptional festivals, and high-quality educational programming. The stories of the American Indian people are told from a first-person perspective, engaging in a successful story presentation.
The Heard Museum collaborates with American Indian artists and tribal communities to correctly display and advocate the art of Native people based on their perspectives.
As one of Phoenix's first cultural attractions, the Heard Museum is the perfect place to learn about the history of American Indian arts and cultures.
Address: 2301 N Central Ave
Hours: 10am – 4pm Tuesday – Sunday
Cost: $20
16) Golf A Few Rounds In Paradise Valley
Phoenix is known for its golfing, so definitely one of the best things to do in Phoenix is hit a few rounds at places like Orange Tree Golf Resort and Stone Creek Golf Club.
But Paradise Valley is the most popular place to golf, and it is settled in the heart of the desert oasis of Scottsdale and Phoenix.
Paradise Valley is surrounded by the ever-so-famous Camelback Mountain to the south, the McDowell Mountains to the east, and the Phoenix Mountain Preserve to the west. This town is full of outdoor and indoor attractions like hiking and shopping.
As Arizona's wealthiest municipality, this town is filled with luxury, including real estate, restaurants, golf courses, shopping, and adventurous outdoor recreational activities nearby.
17) Test Your Bravery At The Goldfield Ghost Town
Goldfield Ghost Town and Mine Tours is a reconstructed 1890s town that offers a range of attractions, including a history museum, gold-mine tours, Old West gunfights, and much more.
Once home to a boarding house, three saloons, a blacksmith shop, a general store, a school house, a brewery, a boarding house and a meat market, Goldfield Ghost Town eventually died a slow and painful death when success in the ore industry tanked.
Many travelers worldwide come to explore the ghost gold mining town that is settled near the historic Apache Trail.
On this ghost town and canyon lake day private tour, guests will experience the Old West as they tour the Goldfield Mine and other historical points of Goldfield. Lunch will be at the Old Saloon before guests can experience a scenic steamboat ride on Canyon Lake.
18) Walk The USS Arizona Memorial Gardens
Created to honor the brave U.S. forces aboard the USS Arizona during the attack on Pearl Harbor, the USS Arizona Memorial Gardens were designed to flourish around the boat house relic enclosed in a glass case.
This USS Arizona Exhibit honors the 1,170 of the 1,512 crew members killed in the Pearl Harbor attack.
One torpedo and eight bombs had hit the USS Arizona, causing a massive death toll. In the gardens, those killed are honored on metal monuments of stacked blocks with names and ranks engraved.
In addition, some quotes have been memorialized by the survivors on benches scattered along the pathways in the gardens.
The USS Arizona Memorial Gardens is designed and inspired by the USS Arizona ship's shape and reaches the exact same size at 608 feet long.
Address: 7455 N Pima Rd, Scottsdale, AZ
Hours: 7am – 7pm daily
Cost: Free
Exploring more of the USA south? Here is our ultimate 3 days in Dallas Texas itinerary.
19) Explore The Bountiful Historic Neighborhoods
Phoenix has 35 historic neighborhoods waiting to be explored by travelers.
For example, Willo Historic District was constructed through deliberate actions to encompass specific characteristics. As a result, there are over 700 homes in Willo, making it one of Phoenix's largest historic neighborhoods.
The neighborhood started in the 1920s thanks to Home Builders, a construction firm that built 41 residences of the same architectural style within five years in Willo.
Another beautiful spot is the Alvarado District, home to the Heard Museum. This neighborhood is filled with olive trees and Spanish/American colonial architecture.
Windsor Square is another lovely area that was shaped by the US's exit from the World Wars. The ranch-style homes here are exquisite.
Even if you're not a huge fan of history or architecture, these neighborhoods are stunning and are definitely worth checking out.
20) Tour The Mystery Castle
A unique stone castle created by a father for his princess, Mystery Castle is listed on the Arizona Historical Register and is a Pride of Phoenix Award winner.
Boyce Gully constructed the native stone castle in 1945 for his daughter. It has thirteen fireplaces, eighteen rooms, parapets, nooks, crannies, and many southwestern antiques.
The daughter moved into the home and began giving guided tours until she died in 2010.
Present day, Mystery Castle is open for tours from October to May and has been recognized by Warner Brothers, Life Magazine, The New York Times, The National Inquirer, and many others.
21) Hike The Apache Trail through the Superstition Mountains
The Apache Trail is a 40-mile scenic drive that stretches through the Superstition Mountains.
Most of the Apache Trail is unpaved and full of cacti and deep reservoirs. This historical trail is named after the Apache Indians who once used the route.
Now, many people come to hike this scenic Arizona trail.
Taking a guide is essential, so we recommend checking out this Apache Trail and Dolly Steamboat Day Trip tour.
The guided tour will take guests through the desert, the mountains, and then over Canyon Lake by Dolly Steamboat for an informative and fun adventure.
Where to Stay in Phoenix, Arizona
So now you know all the best Phoenix attractions! We focused mainly on the best things to do in the Phoenix city center, and around Scottsdale.
We didn't include the Grand Canyon on this list, simply because it is quite far. But you can definitely plan your trip to the Grand Canyon from Phoenix, whether you are renting a car, booking a tour, or planning an epic western USA road trip.
But while you're in Phoenix Arizona, here are some of the top places to stay for every budget.
Best Hostel in Phoenix
A traveling organization dedicated to catering to international travelers, tourists, and people of all ages wanting to experience the world on a budget, the HI Phoenix Hostel & Cultural Center is a highly accommodating hostel.
Having won numerous awards for its unique programs, the hostel offers private rooms, family rooms, dorm spaces, reading rooms, common spaces, gardens, and more to provide for the customized needs of its guests.
Best Mid-Range Hotel in Phoenix
The Clarendon Hotel is located near all of Phoenix's top attractions in the city center.
Providing accommodations like free private parking and Wi-Fi, this top-quality property is the perfect hotel for your needs!
Best Luxury Hotel in Phoenix
Boasting world-class service, JW Marriott Phoenix Desert Ridge Resort & Spa is settled in the Sonoran Desert to offer its guests scenic Arizona views.
This five-star hotel encompasses all your travel needs with two golf courses, five restaurants, an on-site Starbucks, five swimming pools and waterslides, a spa, and a fitness center.
DISCLAIMER: Some of the links in this article are affiliate links, which means if you book accommodation, tours or buy a product, we will receive a small commission at no extra cost to you. These commissions help us keep creating more free travel content to help people plan their holidays and adventures. We only recommend the best accommodations, tours and products that ourselves or our fantastic editorial team have personally experienced, and regularly review these. Thanks for your support, kind friend!