Looking for all the best attractions in SoCal? Our guide to all the best things to do in Southern California is all you need!
Boasting plenty of world-famous attractions, stunning national parks, and scenic coastal views, Southern California is on many people's travel bucket lists!
The southern third of California, in a region that includes Los Angeles, San Diego and an area that stretches from the coastline to the inland desert of Palm Springs, Southern California is a cultural and social oasis.
Home to Hollywood, a Disney Theme Park, and plenty of other iconic pop culture locations, this area is a hub for the entertainment industry.
Unlike its Northern California counterpart, the climate in Southern California is like heaven, with lots of crisp, sunny days year-round. Locals and travelers flock to the stunning Southern California beaches such as Santa Monica Beach and Laguna Beach for a dip in the salty water and a laze in the sun.
The national parks, like Joshua Tree National Park, draw in millions of people from across the globe to see intriguing rock formations, rugged canyons, tall mountain peaks, and diverse species of plant and animal life.
So from the thriving entertainment industry to the breathtaking natural beauty, here are some of the most fun things to do in Southern California!
Check out our ultimate guide to the best things to do in California for more ideas around the Golden State!
The Best Things to Do in Southern California
If you're looking for all the best activities in Southern California, this article is for you! From exploring the majestic Santa Monica Mountains to sinking into paradise on Catalina Island, Southern California has loads of adventure-filled, intrigue-sparking activities waiting to be explored!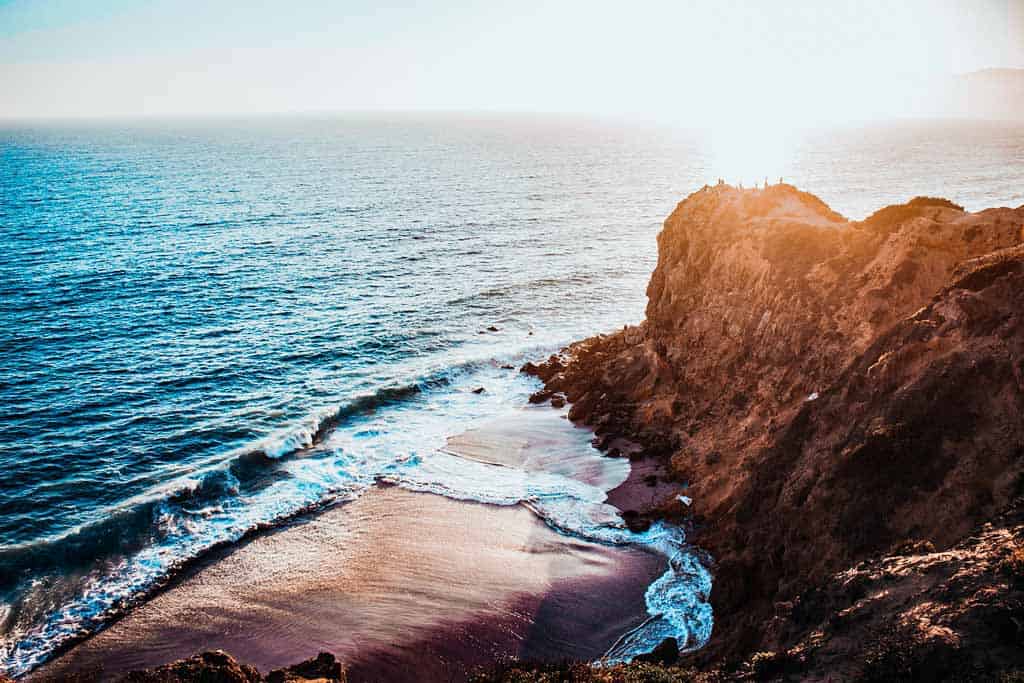 1) Change Your Perspective At The Los Angeles County Museum of Art
The largest art museum in the western part of the United States, the Los Angeles County Museum of Art is renowned for its impressive and expansive collection. The museum features more than 149,000 pieces that explore over 6,000 years of human history and artistic expression.
A walk through the Los Angeles County Museum of Art will take visitors through diverse collections and perspectives of culture, history, and expression.
It's not hard to spend hours soaking in the numerous displays, including one of its most popular installations, the Urban Light collection, which features 202 old vintage street lights that light up at night.
Address: 5905 Wilshire Blvd, Los Angeles, CA 90036, United States
Hours: 11 am – 6 pm Monday, Tuesday, and Thursday, 11 am – 8 pm Friday, 10 am – 7 pm Saturday and Sunday
2) Enjoy A Little Bit Of Everything At Balboa Park
San Diego's cultural and entertainment oasis, Balboa Park, is teeming with exuberant social activity and top attractions. It is one of the best things to do in Southern California, settled near the heart of the city.
Within Balboa Park are some of the top attractions, including the San Diego Zoo and multiple top-rated museums. Mere minutes from downtown, Balboa Park is a delightful urban park filled with culture, history, and entertainment.
Explore the Spanish Arts District and peer at works from local artists, or check out the intricate architecture that is scattered throughout the park.
Stroll through luscious botanical gardens or engage in thought-stimulating exhibits at the 17 museums. The options are endless in the one-of-a-kind Balboa Park!
Read Next: Check out this post for planning an epic California road trip!
3) Hitch A Ride On The Scenic Palm Springs Aerial Tramway
The world's largest rotating aerial tramway, the Palm Springs Aerial Tramway, is a scenic departure linking the Coachella Valley to San Jacinto Peak.
A ride on the Palm Springs Aerial Tramway takes passengers on an unrivaled picturesque experience along the Chino Canyon. Though the ride is short, about ten minutes to be precise, it's one you'll never forget.
The expansive wilderness views, the rugged canyon cliffs, and the valley around you make for a rewarding journey.
At the top of San Jacinto Peak is the Mountain Station. Here, visitors can grab food at the two restaurants, savor the views of downtown Palm Springs at the observation decks, peer through the natural history museum, and take part in more than 50 miles of hiking trails.
Address: 1 Tramway Rd, Palm Springs, CA 92262, United States
Hours: 10 am – 8 pm Tuesday – Friday, 8 am – 8 pm Saturdays, Sundays, and Mondays
Read about more of the best things to do in Palm Springs here!
4) Tour The Old Mission Santa Barbara 1786
A Spanish mission referred to as the "Queen of the Missions," the Old Mission Santa Barbara 1786 was first established in 1786.
The mission still runs as a home for Franciscan Friars, the base for the Saint Barbara Parish, a Novitiate program for Friars in training, and the Santa Barbara Mission Archive-Library.
The historic site features luscious gardens, great bell towers, and scenic views of the Pacific Ocean and the Santa Ynez Mountains.
Visitors can tour the grounds of the old mission, the inner garden, the cemetery, and the museum for a peek into the Old Mission Santa Barbara 1786's long and impactful history.
Santa Barbara is also known for its wine scene. While you're in the area, join this all-inclusive wine-tasting tour to experience the famous wine culture of Santa Ynez Valley through sprawling vineyards and classy wineries.
Address: 2201 Laguna St, Santa Barbara, CA 93105, United States
Hours: 9:30 am – 4 pm
5) Take A Hike At Joshua Tree National Park
One of the best things to do in Southern California, Joshua Tree National Park is renowned for its bristled and twisted Joshua trees, from which it receives its namesake. But that's not all the park is adored for!
Joshua Tree National Park lies between the Colorado Desert and the Mojave Desert. Its long stretches of sanded and plant-speckled desert boast some of the most famous rock formations, such as Arch Rock, Skull Rock, and Heart Rock.
People travel from all over the world to hike to these rock formations to snag the perfect pic!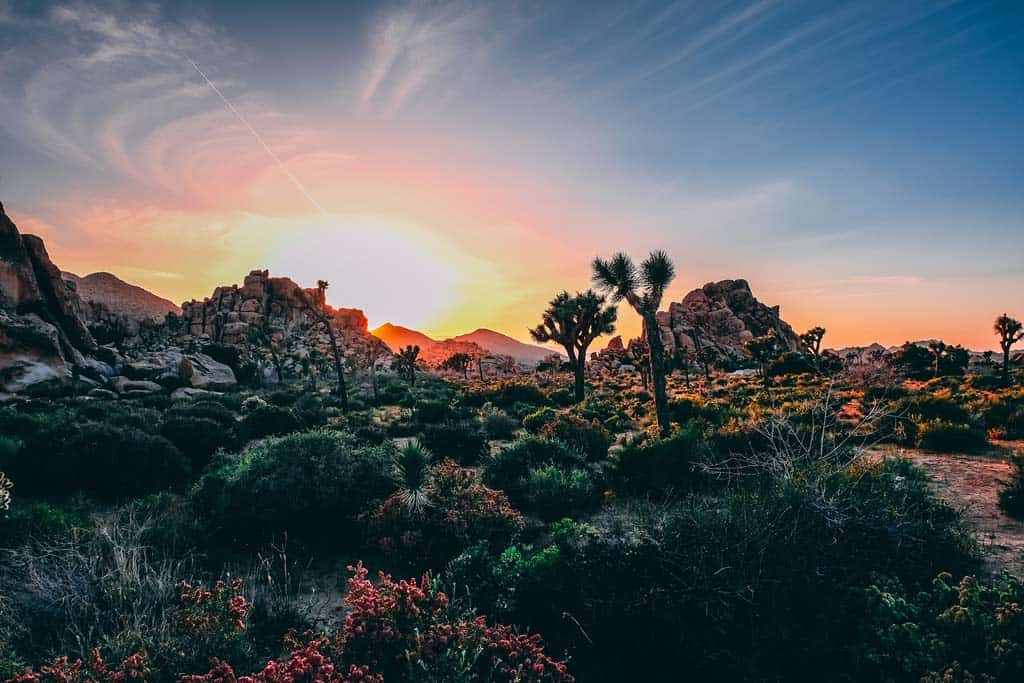 6) Enjoy A Rewarding Challenge With A Trek To Sandstone Peak
The highest summit in the Santa Monica Mountains, Sandstone Peak, is a moderately challenging hike, but the views from above are incredible!
There are a few methods of reaching Sandstone Peak. First, the straight and classic route heads up to the steep summit. Another option with more picturesque viewpoints is the Mishe Mokwa Trail. The Echo Cliffs, Split Rock, Tri-Peaks, and Balanced Rock are within eyesight on this route.
If you're a hiking enthusiast, definitely make the trip out here when you visit Santa Monica! It's about an hour's drive from Santa Monica, so it makes an easy day trip.
Read next: The 21 Best Things To Do In Santa Barbara
7) Join The Fun At The Santa Monica Pier
Located near Santa Monica Bay, the iconic Santa Monica Pier stretches out into the Pacific Ocean. One of the most photographed places in the world, the pier is a place of culture, entertainment, and history!
Along the Santa Monica Pier is an amusement park, Pacific Park, that boasts the classic Ferris Wheel. A walk down the pier can be the perfect family-friendly activity or an intimate romantic stroll with views of the sandy beach, salty ocean, and a refreshing atmosphere around you.
Go for a dip at Santa Monica State Beach afterward, or stroll along Santa Monica Boulevard. Visiting this popular area of Los Angeles is one of the best things to do in Southern California!
You May Also Be Interested In… our post on all the best things to do in Santa Monica!
8) Visit The World-Famous San Diego Zoo
One of the top things to do in Southern California, the world-famous San Diego Zoo, is settled within Balboa Park.
Considered one of the best zoos to visit, the San Diego Zoo has been welcoming and stunning crowds for more than a century. The vast number of animals at the zoo, more than 650 species and subspecies manage to wow and impress everyone who visits, no matter what age you are!
Address: 2920 Zoo Dr, San Diego, CA 92101, United States
Hours: 9 am – 5 pm
Book your skip-the-line admission ticket to the famous zoo on Get Your Guide!
9) Witness The Stunning Sights Of Death Valley National Park
The hottest, lowest, and driest national park in the nation, Death Valley National Park is also one of the largest national parks in the United States. And though it may be the hottest and driest of the parks, none of that stops it from being one of the top things to do in Southern California.
Some of the most spectacular scenery can be seen in Death Valley National Park, including the spectacular salt flats, the volcanic Ubehebe Crater, and the colorful Artist's Palette.
Miles of towering sand dunes, rugged canyons, impressive mountain peaks, and sightings of rare and endemic wildlife are notorious features of this remarkable park.
10) Catch A Wave At The Huntington Beach Pier
At the Pacific Coast Highway intersection, the Huntington Beach Pier is one of the longest recreational piers on the West Coast.
The Huntington Beach Pier is the social hub for the town known as "Surf City USA". From the pier, lively surf competitions and competitive beach volleyball tournaments can be spectated, many of the competitors being high-end professionals.
With the year-round sunny weather of Southern California, going for a surf or a swim here is always a good idea!
If you're an angler, go pier fishing for Pacific bonito, tomcod, queenfish, and yellowfin croaker catches. Afterward, head to the Pier Plaza Amphitheater for live music or enjoy classy modern American cuisine at the Hunting Beach Pier Restaurant with spectacular ocean views beyond.
11) Schedule A Road Trip Down The Legendary Pacific Coast Highway
Undoubtedly one of the most famous road trips in Southern California is the Pacific Coast Highway. This legendary scenic route winds and twists along the dazzling and rugged coastline from San Diego to San Francisco.
Considered one of the most scenic roads on the planet, the Pacific Coast Highway features viewpoints of skyscraping trees, sprawling beaches, and impressive mountain peaks.
Numerous popular points of interest speckle across the drive, including surfing villages, locally-made wine, historic sites, and scenic viewpoints.
The drive from one end to the other takes ten hours to complete. Therefore, taking your time on this scenic route is highly recommended to enjoy the best of the best. A road trip here is one of the most fun things to do along California's coastline.
Read Next: Plan your drive on the PCH with our ultimate guide to the perfect Pacific Coast Highway road trip!
12) Enjoy A Family Day At La Jolla Cove
Protected within a marine reserve, La Jolla Cove is a picturesque cove and beach favored for its water activity opportunities. It's common to find people swimming, snorkeling, kayaking, and scuba diving in La Jolla Cove to catch sight of little treasures like sea stars and large schools of fish.
This spot is also famous for its sea caves and a large number of sea lions that like to laze away on the rocks.
Lifeguards are present regularly, making La Jolla Cove a safe place for the family to vacation. As one of the best things to do in Southern California, a visit to La Jolla Cove is a must, especially if you've never seen wild sea lions playing or lounging in their natural habitat.
For an unrivaled on-the-water experience, this guided kayaking tour takes you through La Jolla's Ecological Reserve and Seven Sea Caves to witness the thriving ecosystem firsthand!
13) Spend The Day In The Sun Beachside At Heisler Park
An oceanfront park in Laguna Beach, Heisler Park is a favored attraction thanks to its easy access to numerous beaches, such as Rockpile Beach and Picnic Beach.
One of the most popular accesses from Heisler Park is Diver's Cove, a beach near downtown Laguna Beach. The cove is a favorite spot for scuba diving, swimming, and snorkeling, thanks to the reef offshore.
Throughout Heisler Park are luscious gardens of blooming flowers, intricate art sculptures, picnic tables, scenic walking paths, and more desirable amenities for a day spent in the sun.
The Veterans Memorial features two plaques in the park commemorating all the courageous men and women who have served during a war.
Address: 375 Cliff Dr, Laguna Beach, CA 92651, United States
Hours: 5 am – 12 am
Heading north? Check out our ultimate 3 Days in San Francisco Itinerary!
14) Stroll Through The Sherman Library & Gardens
Found in Newport Beach, the Sherman Library & Gardens is a spacious botanical garden and research library full of vibrant and luscious plant life.
The horticultural oasis joins blooming seasonal flowers, decorative gushing fountains, shaded patios, and an intricate conservatory in one breathtaking setting. After a stroll through the Sherman Library & Gardens, stop at the on-grounds restaurant, Cafe Jardin.
The restaurant combines fresh local produce with a French cuisine twist. Plus, the rejuvenating views of the flower gardens make for a refreshing meal.
There's also the Tea Garden Creperie at Sherman Library & Gardens, which offers casual outdoor dining on the weekends with ambient music and handmade crepes surrounded by the serene Tea Garden.
Address: 2647 East Coast Hwy, Corona Del Mar, CA 92625, United States
Hours: 10:30 am – 4 pm
15) Relax On Catalina Island
One of the Channel Islands of California, Catalina Island, is reached by ferry or helicopter to access the island's array of activities.
A serene island retreat full of adventure and refreshing scenery, Catalina Island boasts loads of fresh seafood restaurants, thrilling water sports, and resort lodgings for an unrivaled trip.
And though the island is favored for its paradise-like setting and array of attractions, there's so much more to Catalina Island waiting to be discovered!
For example, most people don't know that Marilyn Monroe once lived on the island. Or it's legal to drive golf carts on the road, as there's a 20-year waiting list to own a car on the island. Residents get around by foot or by golf cart on this–don't be surprised when you see small golf cart-sized driveways!
Hop on a semi-submarine tour of the wildlife-rich waters around the island and see the fascinating Southern California marine life up close!
16) Explore Los Angeles
Exploring the world-famous city of Los Angeles is definitely one of the best things to do in Southern California! There are so many cool neighborhoods and attractions to check out, so dedicate at least a few days to this vibrant city.
Downtown Los Angeles is known for its historic and hip atmosphere. Stop by the historic Grand Central Market for fresh food, locally-sourced produce, unique souvenirs, and eclectic products. Opened in 1917, the Grand Central Market is the oldest and largest public market in Los Angeles.
There's also Olvera Street, a lively historic location downtown featuring colorful vendor stalls, mariachi music, art galleries, and plenty of souvenir options to take back home with you!
Or head over to Hollywood and see the iconic Hollywood Walk of Fame! If you're into movies, consider a tour of the Warner Bros Studio and see famous sets and props from classic films.
In addition to a studio tour, no visit to LA is complete without seeing the Hollywood Sign! Join a guided walking tour up to the Hollywood Sign and learn about the area from your local guide.
17) Experience Southern California's Outdoor Playground At Venice Beach
Exuding quality bohemian spirit and competitive spirit, Venice is notorious for its many attractions and classic Californian beach culture.
As one of the top things to do in Southern California, you don't want to miss out on a trip to this lively area known as the playground by the sea for Southern Californians and tourists alike!
Within Venice is the famous Venice Beach, well-known for its iconic oceanfront boardwalk. Venice Beach attracts millions of visitors annually, keeping the place buzzing with activity.
Along the beachside boardwalk are many attractions, including cafes, beach volleyball courts, eclectic shops, a bike trail, and even a skate dancing plaza.
Find more fun things to do in Los Angeles here!
18) Pick From A Boatload Of Fun Activities In Downtown San Diego
A hub of culture, entertainment, and history, downtown San Diego is a prevalent attraction in Southern California, thanks to its numerous attractions.
Be sure to check out the historic Gaslamp Quarter, full of Victorian Age and modern architecture that draws the eyes. The lively neighborhood boasts a lively nightlife, with cocktail lounges, clubs, and dive bars to suit various tastes.
If you continue to the western edge of San Diego's downtown, you'll enter Embarcadero, a hub for cruise ships, fresh seafood, and water-based activities.
Here you can visit the Maritime Museum of San Diego, explore the historic ships at the USS Midway Museum, shop and dine at Seaport Village, and walk down the boardwalk for a romantic stroll along the bay.
19) Bask In The Underwater World At The Aquarium of the Pacific
Located on Rainbow Harbor in Long Beach, the Aquarium of the Pacific focuses on celebrating and displaying the largest body of water, the Pacific Ocean, and its many inhabitants.
More than 100 exhibits are on display at the Aquarium of the Pacific, with designated areas displaying the different regions of the Pacific, including the Tropical Pacific, the frigid Northern Pacific, and the temperate Baja region of Southern California.
Millions of people visit the aquarium annually, setting the Aquarium of the Pacific as one of the leading Southern California attractions.
This aquarium in Long Beach has won many awards for its sustainable practices presenting its dedication to the conservation and preservation of the environment. A visit to the Aquarium of the Pacific guarantees spectacular viewings of white abalone, leopard sharks, giant sea bass, giant spider crabs, and sea otters.
Address: 100 Aquarium Way, Long Beach, CA 90802, United States
Hours: 9 am – 6 pm
Read Next: Don't miss any of these great places to visit in California!
20) Access The Gateway To The Cosmos At The Griffith Observatory
In Griffith Park facing downtown Los Angeles, the Griffith Observatory offers people the chance to see sights beyond our planet!
The Griffith Observatory is a national leader in public astronomy, welcoming people from all over the world.
As one of the best things Southern California things to do, you won't be disappointed with a visit to this leading observatory on Mount Hollywood's slope, with perfect viewpoints of the iconic Hollywood Sign.
Enjoy free public telescope viewing to peer into the evening sky to see planets and stars beyond. Experience a live planetarium show in Griffith Park for an entertaining and educational presentation of the cosmos.
This Southern California attraction is a must when visiting LA!
Address: 2800 E Observatory Rd, Los Angeles, CA 90027, United States
Hours: 12 pm – 10 pm (Opens at 10 am on Saturdays and Sundays)
21) Feel The Magic At Disneyland Park
One of the best things to do in Southern California, Disneyland Park, is every kid's dream destination!
Welcoming all ages to experience the magic, Disneyland Park is the only Disney park that Walt Disney (the mastermind behind all things Disney) designed and completed. The famous amusement park is found within Disneyland Resort in Anaheim, Orange County, which also contains the theme park, Disney California Adventure.
The theme park hosts classic rides and attractions such as Mr. Toad's Wild Ride, Star Wars: Galaxy's Edge, and the Pirates of the Caribbean. You can witness a heroic adventure outside Avengers Headquarters for a live Spiderman stunt show or see Disney's first-ever "stuntronic."
Address: 1313 Disneyland Dr, Anaheim, CA 92802, United States
Hours: 8 am – 1opm Mondays and Wednesdays, 8 am – 8 pm Tuesdays and Thursdays, 8 am – 12 am Fridays, Saturdays, and Sundays
22) Swim & Adventure Crystal Cove State Park
A popular area for outdoor enthusiasts and nature lovers in Orange County, Crystal Cove State Park exudes a Southern California charm with its rugged coastline of wooded canyons, quaint tide pools, hidden coves, and sandy beaches.
The water of Crystal Cove State Park is a hub spot for swimmers, snorkelers, and surfers. The coves and tide pools are open for exploration to visitors. Caution during high tide is always advised. Guided hikes, geology talks, and tide pool walks are available throughout the year, run by State Park staff and docents.
We recommend visiting the nearby Crystal Cove Historic District with its collection of 46 vintage coastal cottages built by a seaside colony in the 1930s to continue your adventure!
This is one of the largest remaining areas of open, untouched wilderness in Orange County, Southern California!
Looking for more natural beauty around California? Check out our list of the best things to do in Lake Tahoe!
23) Explore The Unique Channel Islands National Park
Made up of five ecologically prosperous islands, Channel Islands National Park preserves and protects the environments on and around these remarkable islands.
Due to the islands' isolation for thousands of years, the species of plants and animals, plus archaeological resources, are endemic to this unique area.
A host of activities can be taken on within Channel Islands National Park. Visitors to the park can spearfish, camp, backpack, scuba dive, swim, hike, kayak, and explore the vast array of complex and spectacular sea caves.
24) Visit One Of The Most Popular Filming Locations In The World At The Historic Greystone Mansion
Beverly Hills may be famous for its chic movies and high-class celebrities, but this renowned city homes a lot of history, too!
The Greystone Mansion, sometimes called the Doheny Mansion, is one example. This historic mansion exemplifies Tudor Revival architecture and design, the landscaped estate featuring formal English gardens.
Listed on the National Register of Historic Places, Greystone Mansion has a rich history. It has been used as a filming location for more than 70 movies, such as the Oscar-winning movie, There Will Be Blood, Ghostbusters I, Ghostbusters II, and The Bodyguard.
This is one of the top tourist attractions to check out when you visit Southern California.
Address: 905 Loma Vista Dr, Beverly Hills, CA 90210, United States
Hours: 10 am – 5 pm
25) Go On A Scenic Hike At Runyon Canyon Park
On the eastern end of the Santa Monica Mountains is Runyon Canyon Park, one of the most popular hiking trails in the Los Angeles area. The expansive park (160 acres) welcomes more than two million visitors annually!
Runyon Canyon Park is a dog-lovers paradise as the park is incredibly dog-friendly, perfect for taking your puppy on an outdoor adventure. You can also go mountain biking here!
Locals and tourists head to Runyon Canyon Park for a peaceful stroll or a challenging hike, depending on the day. Three main trails are available at the park, each ranging in length and difficulty.
Hiking in the early morning is a good idea to beat the crowds and the Southern California heat!
Address: 2000 N Fuller Ave, Los Angeles, CA 90046, United States
Hours: 6 am – 6:30 pm
DISCLAIMER: Some of the links in this article are affiliate links, which means if you book accommodation, tours or buy a product, we will receive a small commission at no extra cost to you. These commissions help us keep creating more free travel content to help people plan their holidays and adventures. We only recommend the best accommodations, tours and products that ourselves or our fantastic editorial team have personally experienced, and regularly review these. Thanks for your support, kind friend!