If you're planning to have a fun-filled 3 days in Portland and don't know where to start, then this epic Portland itinerary will have you making the most of your time in Oregon!
So you're thinking about exploring all of the incredible places to see in Portland, Oregon that millions of its residents have come to enjoy about their city?
Well you've come to the right place!
Boasting a diverse culture, spectacular landscapes and enough microbreweries to keep you sampling beer for weeks, Portland is a great place to visit as you tour the Pacific Northwest.
Filled with more activities, attractions and highlights than should be fair for any one city (seriously, check out our full-on guide to the best things to do in Portland), it's little wonder it's quickly becoming everyone's favorite town in the US.
While a coin toss almost named the city after Boston instead of its namesake in Maine, the west coast city of Portland has had no problem establishing an identity for itself.
Today the city is known for being at the center of the progressive movement that aims to be more environmentally conscious and focused on improving the overall quality of life for its residents.
There's little wonder that it's rising through the ranks as one of the top spots to come for a weekend anywhere in the United States.
If you've set aside 3 days in Portland, you will have the chance to see Mt. Hood standing tall in the backdrop of the city while you wander the historic Old Town.
You can relax in the many parks and gardens in the city and even saunter off to explore local wines, waterfalls and wonderful food delivered from farm to table.
If that sounds like a good way to enjoy your well-earned vacation, then my post will help guide you with exactly what to do on with your short Portland itinerary.
Ready to get started?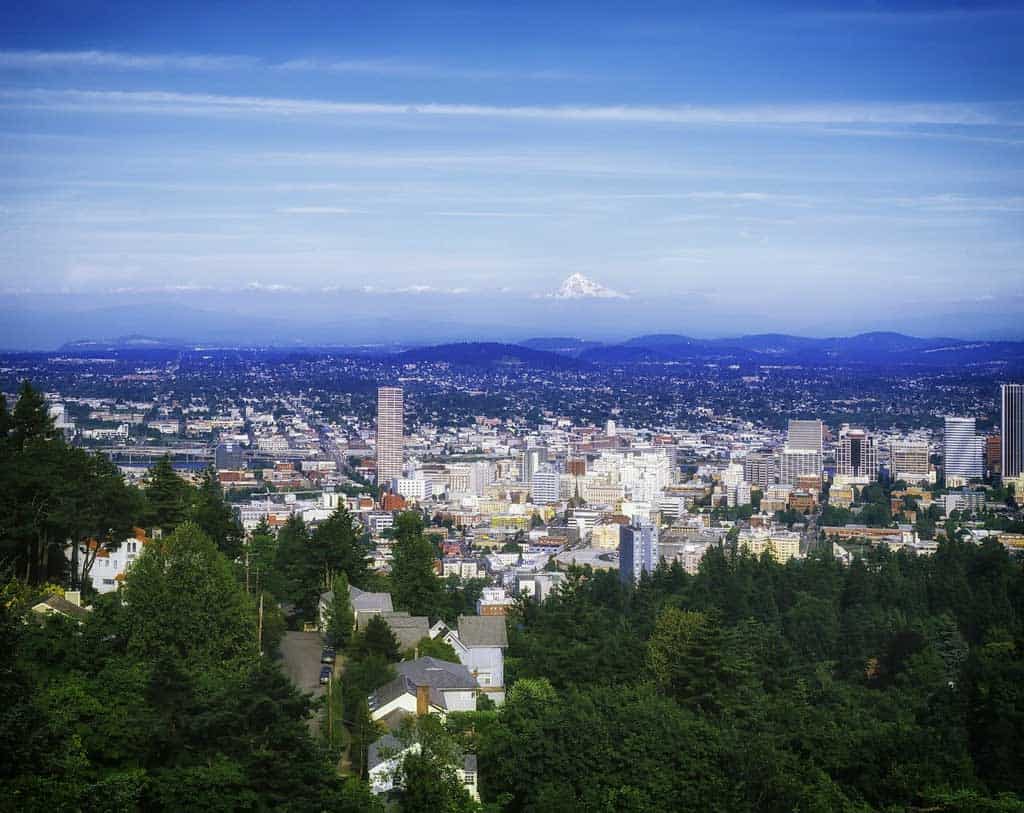 How to Spend a Perfect 3 Days in Portland Itinerary
A couple of nights here is just scratching the surface of all there is to see and do in the city.
For this Portland itinerary we've divided up your time into 3 sections.
We advise you to think about your time in Portland along with the following segments, which you can choose to extend or skip depending on your interests.
The first day will take you downtown into the heart of the city and it's famous Old Town.
Next, you'll have a day to get out of town a little for some perspective on why Portland is such a unique place.
Whether you want to hike or simply drive through the scenic country, you'll appreciate the city of Portland more after this quick excursion.
Finally, we'll bring you back into the city to explore the outskirts of town in the vast Washington Park.
From here you can mosy back down into the downtown and Old Town area to finish anything on your list from the first day.
Of course, we expect you're going to want to come back to the city to finish everything on your Portland itinerary.
But at least we'll give you the best the city has to offer in such a short amount of time!
Day 1 – Wander Historic Old Town and Downtown Portland
The first day of the Portland itinerary will begin in the historic Old Town. Known for its inclusion of Old Town Chinatown, this part of town covers a few city blocks along the Willamette River.
You'll find everything from quirky shops, restaurants and bars to many unique local businesses.
Portland Saturday Market
If your plans include visiting Portland over the weekend then you will want to start your day at the local Saturday Market.
Every Saturday and Sunday between March and Christmas Eve hundreds of vendors will set up booths in Tom McCall Waterfront Park beneath the Burnside Bridge.
Find unique art, delicious munchies and a variety of entertainment as you stroll through the market for a uniquely Portland experience.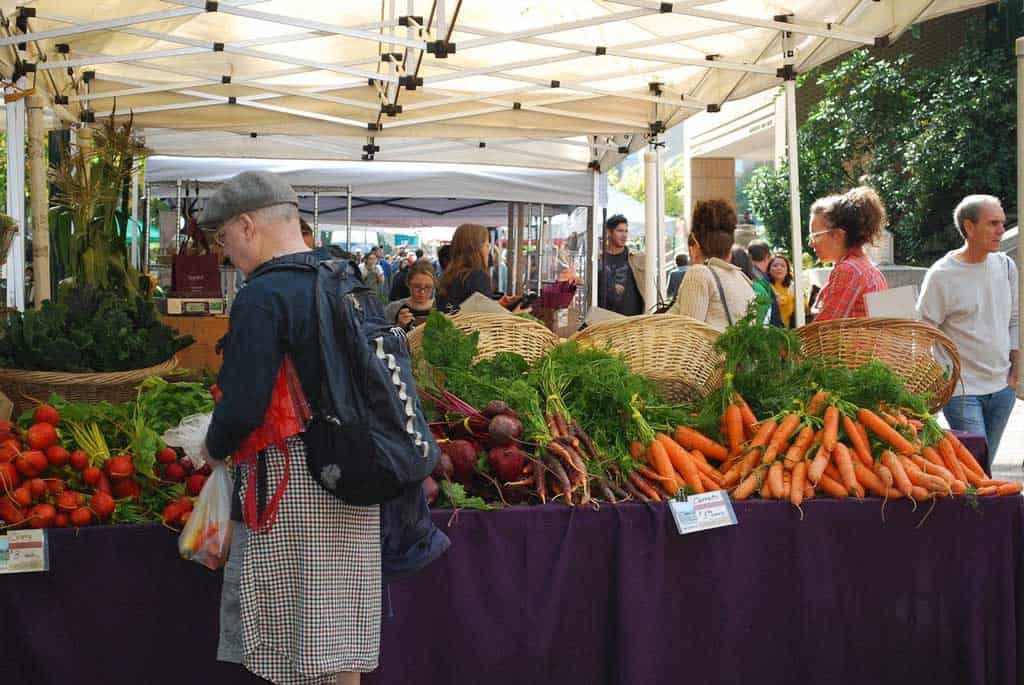 Chinatown
From here you'll make your way up to the Chinatown Gates and the official entrance into Portland's classic Chinatown. As a city within a city center, there are lots of shops to explore and food to enjoy.
Shanghai Tunnels
One of the biggest Portland attractions in Chinatown are the Shanghai Tunnels. Officially known as the Old Portland Underground, the tunnels are a series of underground passageways connecting a variety of shops and businesses.
As they were first intended, these tunnels were a passageway for transporting merchandise from the docks on the Willamette River to the various storehouse and shops via their basements.
This led to the opportunity for organized crime and the practice of "shanghaiing," which is essentially the kidnap and conscription of sailors against their will.
Of course, over time myth and lore blended with true history and today, there are a variety of tours offering a behind-the-scenes look at the Shanghai Tunnels.
Lan Su Chinese Garden & Museum
After touring the Shanghai Tunnels, head over to a more peaceful part of Old Town and visit the Lan Su Chinese Garden.
Despite the hustle and bustle of the 25th largest US city, the gardens intentionally offer tranquility to its visitors.
Stroll through the gardens on your own time, sit for tea and learn calligraphy, learn to play the traditional Chinese board game Wei Chi or practice Yang Style Tai Chi.
To learn more about the Chinese influence in Portland's history, double back to the Chinatown Museum.
Only open in the afternoon between Thursday and Sunday, the museum is proud to present a no-holds-bar portrayal of life for Chinese immigrants in the Pacific Northwest.
Cost: $12.95
Hours: 10 am – 4 pm (closed Wednesdays)
Address: 239 NW Everett St
Voodoo Doughnuts
If you haven't already filled up at any number of shops or restaurants in Chinatown, this is a great time to fill up on the famous Voodoo Doughnuts.
Known as much for their delicious doughnuts as for the quirky names they give them, Voodoo Doughnuts is a staple to Old Town Portland Oregon.
But you can also grab a bite to eat at Portland City Grill, Mother's Bistro and Bar and Kells Irish Restaurant and Pub, all within a block of each other.
If you're a big foodie, you can even embark on an underground donut tour of Portland!
Powell's City of Books
Spend the afternoon perusing books at Powell's City of Books. The largest independent bookstore in Portland, Powell's City of Books location in Old Town boasts an inventory of over 1 million books!
Get lost in the shelves or take a tour of the store. As a lover of books, we think the best thing is just to wander around in search of one particular book to see what other books turn up along the way.
Deschutes Brewery
And whenever you begin to get thirsty for a cold beer, head a few blocks further to Deschutes Brewery Portland Public House.
Enjoy a draft beer brewed in-house or sit down for a full meal as you recap the day and prepare for your next adventure.
Deschutes Brewery is one of Oregon's proudest and most successful breweries and well worth a taste while you're in the area.
At this point in the day, you can either plan to retreat to your hotel to rest up for the next day in this busy Portland itinerary or you can head out into the Portland evening for a night on the town.
You are right in the middle of everything the city has to offer at night so enjoy your time out while visiting Portland.
READ MORE: Use this itinerary to plan the perfect 3 days in San Francisco
Day 2 – Portland Mini-Excursion
On day 2 of your 3 days in Portland itinerary, you're going to have the chance to get out of the city a little bit to reflect on why this part of the country attracts so many people.
Mt. Hood
You've likely already asked yourself what mountain is in the background as you have turned corners in walking throughout the city.
This towering mountain is Mt. Hood and is one of the unique ways in which Portland can be identified.
Located 2 hours through a spectacular drive through the Columbia River Gorge a day trip to visit Mt. Hood is beautiful from start to finish.
Join a tour or drive yourself out and enjoy spectacular views along the way. There are plenty of places to stop and hike.
If you don't have your own wheels but want to get some to do the trip independently, then head over to the Rental Cars website to find the best value rentals in Portland.
And you're going to definitely want to stop at Multnomah Falls, one of the most famous waterfalls in all of the US.
Multnomah Falls
Multnomah Falls is the most popular of dozens of waterfalls in the area. Located in the Columbia River Gorge, the falls consist of two drops.
The higher falls is 542 feet that cascade into a pool which then drops another 69 feet to the bottom of the creek.
While the waterfall was geologically formed around 15,000 years ago, more popular legend says that it formed when a young Native American woman sacrificed herself by falling off the top in order to appease the Great Spirit and save her tribe from a terrible plague.
Upon her death water began flowing down the falls.
Regardless of its source, viewing the waterfall is well worth the visit especially when combined with several other waterfalls in the area.
This half-day tour is a fantastic way to get out there. If you love nature, definitely include this stop in your Portland itinerary.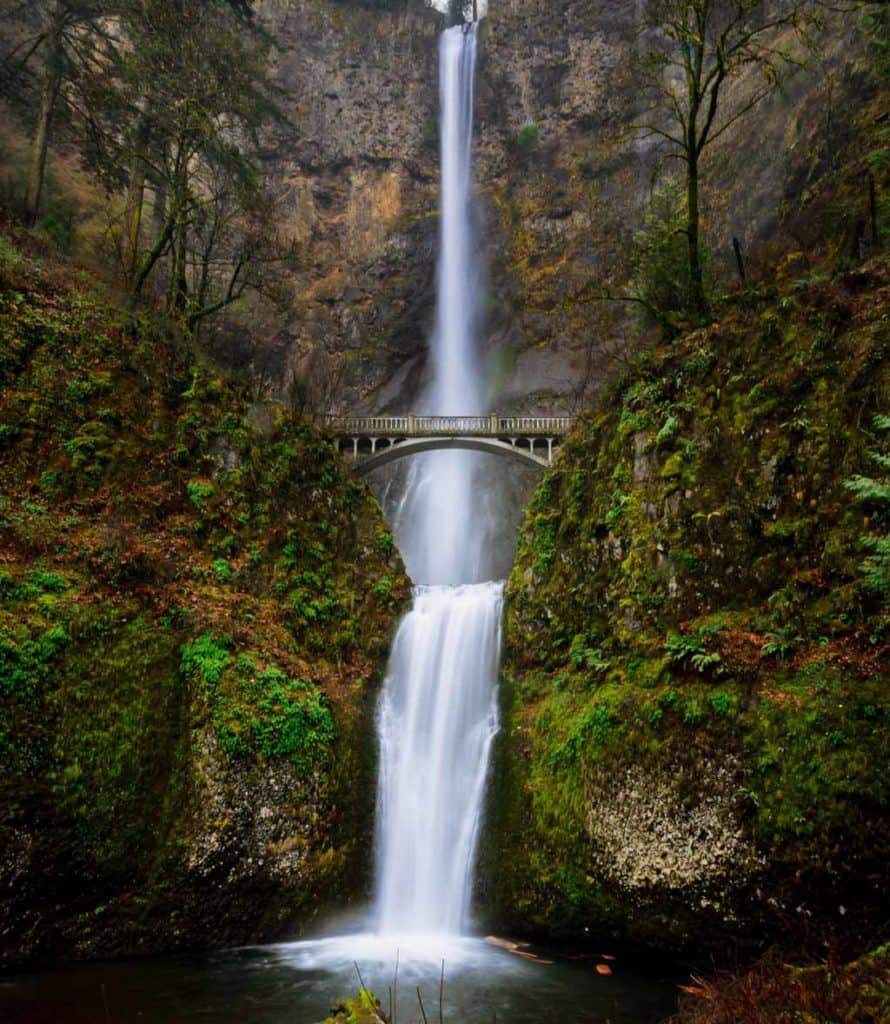 Willamette Valley Wine
If you are interested in wine, a quick trip to the Willamette Valley an hour south of Portland is definitely worth your time.
The soil in the valley is very fertile thanks to the volcanic activity that shaped this part of the country.
As such, combined with a climate perfect for growing grapes, there are now over a half dozen world-class wineries in Willamette Valley.
You can take a self-guided tour of the vineyards with your own vehicle. Or join a tour from Portland and don't worry about how much wine you drink!
If you do have your own transportation, however, and are kicking yourself for having to choose between wine and waterfalls, don't worry.
Silver Falls State Park is under a half an hour drive through beautiful landscapes and boasts over 20 miles of trails that will lead you to 10 different waterfalls.
You don't have to hike them all, of course. Most waterfalls are quickly accessible from parking areas throughout the park.
This tour combines Silver Falls with Willamette Wine Country, so you can hit both in one trip. Wine country is also a great weekend trip, if you have more time and are really into wine!
Hike Forest Park
If you have no desire, or means, to get away from the city during your 3 days in Portland, then you can still experience the great outdoors by spending a few hours hiking through Forest Park.
Covering over 5,000 acres, Forest Park has 80 miles of trails that you can hike, bike or jog.
Open from 5 am until 10 pm, you can spend as much or as little time exercising or simply enjoying nature that is tucked within the reach of Portland.
An Evening Back In Portland
Depending on how far you ventured out during the day you are likely to want to come back to your hotel and rest up for your final day in your Portland itinerary.
But if you want to continue to try and sample all of the delicious craft beers in the city or want to catch a comedy show or concert, head back into Old Town or downtown Portland for the evening.
READ MORE: Use this itinerary to plan the perfect 3 days in Seattle.
Day 3 – Downtown Portland
Depending on how fast you moved through Old Town, you might have already skipped into downtown on day 1 of your 3 days in Portland itinerary.
But if you didn't venture out yet there are a few places you should visit.
Start out at Voodoo Doughnuts on the fringe of Old Town. Then head two blocks to Tom McCall Waterfront Park.
If you're here on a Saturday you can enjoy the Saturday Market. Otherwise, enjoy a stroll down the riverfront on the waterfront park trail, or browse the local businesses throughout town.
Oregon Historical Society and Portland Art Museum
If you're interested in history, then cross the street back over to the Oregon Historical Society. Here, among other things, you can see the penny that was flipped to determine the name of the city.
There are a series of other displays and revolving exhibits that highlight Oregon's rich history.
Head another two blocks to the Portland Art Museum if you are interested in traditional art museums, with a particular emphasis on Native American, Asian and American arts.
Cost: $25
Hours: 10 am – 5 pm (Closed Mon/Tues)
Address: 1219 SW Park Ave.
Pioneer Courthouse Square
Or you can head just a few short blocks to the Pioneer Courthouse Square at the heart of the city of Portland.
Affectionately known as "Portland's living room," the massive square hosts a variety of over 300 events throughout the year.
The milepost sign is one of the most recognizable features of the square.
Though anyone who has spent any time passing through Portland, let alone living here, will tell you that they've attended festivals and concerts, markets, runs and races and political events in the square as well.
Be sure to check what events are taking place during your visit as there is almost guaranteed to be something going on during your 3 days in Portland.
At this point, you are in the perfect position to make another decision about how to spend the remaining time of your Portland itinerary.
If you enjoyed Old Town and Chinatown you are back on the cusp of entering those neighborhoods again. Be sure to check off anything you didn't see or do on your first day.
Alternatively, if there is a soccer match taking place it will be at the stadium at Providence Park.
Portland is known for its soccer fanatics. So if there happens to be a match this will definitely be a unique way to take in a few hours.
Lastly, you can head up to Washington Park where a whole other world awaits you. Here over 140 hectares of city park invites you to explore the many activities in the park.
Portland Japanese Garden
The Portland Japanese Garden has 12 acres featuring 8 different gardens and a magnificent view of Mt. Hood.
Enjoy the peace and tranquility the traditional Japanese garden offers, including a tea house and numerous walkways and streams that reflect the Japanese aesthetic.
Cost: $16.95
Hours: 10am – 3:30pm, closed Tuesdays
Address: 611 SW Kingston Ave
International Rose Test Garden
The International Rose Test Garden features over 10,000 rose bushes and 650 varieties of roses.
As Portland has been dubbed the City of Roses, the International Rose Test Garden receives roses from all over the world where they are evaluated on a number of characteristics.
With 4.5 acres and numerous gardens you can walk through and enjoy views of Mt. Hood.
Cost: FREE
Hours: 5am – 10pm
Address: 400 SW Kingston Ave
Hoyt Arboretum
The Hoyt Arboretum invites you to wander through 12 miles of trails that traverse through over 2,000 species of trees and shrubs from 6 continents.
The arboretum invites you to enjoy the park at your own pace. But there are also guided tours and classes offered on the weekends where you can learn more about the species of plants in the park.
Cost: FREE
Hours: 5am – 10pm
Address: 4000 SW Fairview Blvd
Pittock Mansion
If you haven't had your fill today, you can head over to the Pittock Mansion, a 46-room French chateau-inspired residence.
Completed in 1914, the mansion has a history of scandal surrounding the Pittock family.
But the size and beauty of the mansion is not to be diminished by its scandalous history.
(The Pittock Mansion is closed for the month of January 2022 for maintenance. Check the website for updates!)
Cost: $12
Hours: 10am – 4pm, opens at 12pm on Tuesdays
Address: 3229 NW Pittock Dr
Witches Castle
Just down the hill from Pittock Mansion is the Witches Castle. The remnants of a stone home built in the mid-1800s is all that remains, along with the lore of it's one murderous owner Danford Balch.
Balch hired a helper to clear the land around the home. In the process, this helper fell in love with Balch's daughter and eloped against his will.
Long story short, Balch murdered his daughter's husband and after the trial he became Oregon's first legal execution.
Today the home has been abandoned and moss has overgrown the building. It gained its name in the 1980s as groups of teenagers used the home to party.
An Evening Back In Portland
It's been a very busy 3 days in Portland and you're likely going to spend the evening getting ready to leave the next day.
But if you still have some energy left, you could head across the Willamette River in downtown Portland and visit the Oregon Museum of Science and Industry's Planetarium.
Cost: $6.75 – $7.50
Hours: 9:30 am – 5:30 pm
Address: 1945 SE Water Ave
If you do venture to this side of the river know that there is literally a whole other side to the city and you might stay up all night exploring the many bars and restaurants in the area!
READ MORE: Use this itinerary to plan the perfect 3 days in New York City
Portland Oregon Travel Guide
Now that you know how to spend 3 days in Portland Oregon, here is a little more information about when to visit the city, how to get around, where to stay and what to eat.
When to Visit Portland
There's not really a bad time to visit Portland, depending on what activities you plan to do when there.
The best time to visit is in the summer, when the weather is warm and it's less likely to rain.
The city's roses are in full bloom and outdoor activities are abundant. But the summer is also prime tourist season and you will need to book your hotel stay and tours in advance.
If you want to beat the summer crowds, plan on visiting March through May. You will still catch spring flowers blooming and it's also a good time to whale tours on the coast.
The winter months from November through February are the rainiest and it can become quite chilly.
But if you are into winter sports, Portland is a great place for skiing and other winter activities because of its close proximity to Mt. Hood.
Getting Around Portland Oregon
Though a big city, Portland is very compact for its size and is easily walkable and is one of the most bike-friendly cities in America.
Downtown Portland and the central city area are easy to explore on foot.
There are also several bike rental companies and a bike-share program if you'd rather bike around town.
Portland also has one of the best tourist-friendly public transportation services. Your best bet after arriving at the airport is to take the light rail train into the city or to your hotel, and for less than $3 it's very budget-friendly.
There are several bus lines that can take you anywhere in the city and the Portland Streetcar is another popular option to get around town.
I wouldn't recommend renting a car for exploring the city as parking can be very expensive. But do consider renting a car if you plan to visit Mt. Hood or Willamette Valley during your visit.
The best way to get around is to rent a car and explore on your own! We recommend Rental Cars, which has the largest range of vehicles for the best value on the market.
Where to Stay in Portland
Because most of the activities in this 3-day Portland itinerary center around the downtown area of the city, our recommendations for the best places to stay in Portland are all in this area.
There are a variety of options to suit any budget. But to make the most of your time in the city we wanted to save you transit time while providing you the best value in accommodation.
Here are our suggestions on where to stay in Portland.
Budget Accommodation – HI Portland Northwest
Located just outside Old Town in the spirited Nob Hill neighborhood, HI Portland Northwest is the best place to stay in Portland if you are on a budget.
Choose between dorm or private accommodation and enjoy the shared kitchen, drinks at an in-house cafe and WiFi throughout the hostel.
HI Portland Northwest is located in close proximity to all public transportation and you can park on the street if you arrive in your own car.
This is the perfect location to explore Old Town and downtown Portland as well as to quickly access all of the activities of Washington Park.
Mid-Range Accommodation – Hotel DeLuxe
The Hotel DeLuxe will give you a luxury feel at a mid-range price providing great value in your stay. With an on-site restaurant and bar, room service and their unique "Well & Fit kit" the hotel goes above and beyond to ensure you have everything you could want or need.
You can even partake in free fitness classes or borrow bicycles to get around the city.
Of course, being located in downtown Portland Oregon has its advantages too as you are right in the middle of everything we recommend during this itinerary.
Luxury Accommodation – The Society Hotel
Staying at the Society Hotel puts you in the middle of everything you could want to do during your 3 days in Portland itinerary.
Located just a quarter-mile from the famous Chinese Gardens and all that Old Town has to offer, the Society Hotel provides a fitness center, in-house restaurant and bar and offers complimentary breakfast to fill you up for your day out and about.
Rooms are spacious and come with views of the mountains or garden and include standard amenities to make your stay more enjoyable. Book the king suite for a truly exceptional stay.
Best Restaurants in Portland Oregon
Now for my favorite part of the whole post – where to eat in Portland!
Budget – Voodoo Doughnuts
You can never go wrong with a delicious doughnut at any hour of the day. A staple for everyone who visits or lives in Portland, Voodoo Doughnuts has several locations and is open 24 hours a day to make sure you get your doughnut fix.
Mid-Range – Q Restaurant and Bar
Q Restaurant and Bar is a Portland favorite especially among those looking for a farm to table experience.
Enjoy traditional American cuisines of seafood, lamb, duck and good old fashioned steak all dressed up in delicious seasoning and preparations.
High-End – Jake's Famous Crawfish
Serving up more fresh Pacific Northwest seafood than the name suggests, Jake's Famous Crawfish is known for flying in its seafood daily.
Enjoy steelhead, Dungeness crab, and a spread of local oysters cooked into a variety of dishes.
DISCLAIMER: Some of the links in this article are affiliate links, which means if you book accommodation, tours or buy a product, we will receive a small commission at no extra cost to you. These commissions help us keep creating more free travel content to help people plan their holidays and adventures. We only recommend the best accommodations, tours and products that ourselves or our fantastic editorial team have personally experienced, and regularly review these. Thanks for your support, kind friend!