Trying to find great activities and attractions in the City of Angels? Our Los Angeles itinerary is all you need to plan the perfect trip!
The world's entertainment capital, Los Angeles, is a world-famous city that offers a wide range of activities and attractions in Southern California.
Empowered by its robust variety of gorgeous beaches, movie industries, Hollywood stars, outdoor activities, historic landmarks, and famous theme parks, Los Angeles has loads of fun activities waiting to be experienced.
There's a reason this city is known across the world and why visiting Los Angeles is a top bucket list option for many.
Its famous tourist spots like Venice Beach, Beverly Hills, and Hollywood are joined by its many attractions like museums, theme parks, and historical landmarks. Really, who wouldn't be tempted to visit?
Our article features the top activities to participate in, encompassing outdoor and indoor activities. Just a weekend (or 3 days during the week to beat the crowds) is a great amount of time for an intro to LA.
You can explore the beaches and see the highlights like Santa Monica Pier and Venice Beach boardwalk.
You can also explore downtown LA, hike Runyon Canyon, visit Griffith Observatory, see the Hollywood sign, and more.
Los Angeles is also a convenient location for road-tripping or just traveling around California. A road trip to San Diego is 2 hours away along the Pacific Coast Highway. San Francisco is a 1.5-hour flight away. 
Combine this 3 days in Los Angeles itinerary with the other California highlights and you're sure to have an unforgettable trip.
Read Next: Looking for more activities to add to your LA itinerary? Check out all of these great things to do in Los Angeles!
How to Spend 3 Days in Los Angeles Itinerary
The perfect destination for a range of outdoor and indoor activities, we've created the ideal three-day Los Angeles itinerary for a productive and stimulating time exploring the city.
Prepare yourself for an array of activities, from hiking the famous trails at Runyon Canyon Park to biking down the historic Santa Monica Pier. Let's get started!
Day 1 in Los Angeles
Let's start your three-day weekend in Los Angeles by exploring the grand outdoors of the magnetic city! Start with some good old-fashioned sightseeing in the heart of LA.
Then, spend the afternoon exploring Santa Monica & Venice on an Electric Bike Tour. And end the day with a relaxing hike at Runyon Canyon Park, a popular spot to see your favorite celebrities! when you visit LA.
Day 1 Morning – Sightseeing in Downtown LA
The first day of your Los Angeles itinerary should start with the basics. Put on your walking shoes, grab your camera, and head to downtown LA.
Your first stop should be the famous Hollywood Boulevard. This long street runs east to west through downtown LA and is the heart and soul of the tourism and entertainment industries.
Stop by the Hollywood Walk of Fame and see all the famous stars on the pavement. It can be a bit crowded and touristy around the Hollywood Walk of Fame, but it's an iconic spot in the city nonetheless.
Hollywood Boulevard is home to some major Los Angeles museums as well. Stop in the Hollywood Museum, Wax Museum, Guinness World Records Museum, Museum of Selfies, Medieval Torture Museum, or whatever else sparks your interest.
Consider walking down Sunset Boulevard, aka the Sunset Strip, though this spot is at its prime when the sun goes down. If you're itching to experience nightlife during your LA itinerary, Sunset Strip is the place to be.
If you'd like to continue exploring the famous spots in downtown LA, hop on the local bus and continue down Hollywood Boulevard toward Beverly Hills. Walk down the classic, palm-tree-studded streets and admire all the mansions.
Read Next: Be sure to check out the best day trips from Los Angeles!
Day 1 Afternoon – Explore Santa Monica Pier & Venice On An Electric Bike Tour
Next, head to the coast on an Electric Bike Guided Tour of Santa Monica and Venice.
With more than 7 million visitors a year, Santa Monica is a famous beach city that boasts some of the best sunsets on the West Coast.
Honing 3.5 miles of coastline and the pedestrian-friendly Third Street Promenade, Santa Monica boasts a laid-back atmosphere combined with high-class refinement.
The famous Santa Monia Pier is the area's most well-known spot. With its own amusement park and Ferris wheel, as well as amazing viewpoints and fishing spots, the Santa Monica Pier is a must-see.
On the other hand, Venice Beach is known for its canals, beach, and the Venice Beach boardwalk, a two-and-a-half-mile pedestrian promenade often speckled with street performers and vendors. It's also known for Muscle Beach outdoor gym and its skate park.
Exploring these magnetic Los Angeles locations by electric bike is a fun and enjoyable way to cover some ground without getting too tired. The electric bike removes the physical effort, allowing riders to bask in sunshine and refreshing views of Los Angeles' top sunny tourist attractions.
During the tour, riders will ride down Santa Monica's award-winning beach to the Marion Davies Guest House, under the Santa Monica Pier, and through Venice Beach, past the free-spirited Venice boardwalk to the Venice Canals.
Hours: 10 AM, 2 PM
Admission: $79/person
Address: 214 Pier Avenue
Day 1 Evening – Hike At Runyon Canyon Park
After a late lunch, get away from the hustle and bustle of Hollywood and step on over to Runyon Canyon Park.
A relaxing outdoor activity to settle down after a glorious day of exploring Los Angeles, Runyon Canyon Park is a relatively short hike.
This 160-acre park at the eastern end of the Santa Monica Mountains is a popular hub spot for celebrities, locals, and tourists, whether they be looking for a challenging run, to take their energetic dogs for some much-needed exercise, or to bask in the outdoors on a peaceful hike.
We highly recommend taking a hike to embrace the outdoors of Los Angeles. The spectacular city views are breathtaking, and you can see all the way to the Hollywood Sign up in Hollywood Hills.
Depending on your patience level, we recommend not going to Runyon Canyon Park on the weekends. The trails are a popular spot and can get a bit overcrowded on the weekends, and parking can be tight.
There are three entrances to Runyon Canyon Park. The park's southern end entrances are Fuller Avenue and Vista Street. The third entrance is on the northern end, located on Mulholland Drive.
Only street parking is available in the local neighborhood to hike at Runyon Canyon Park. Always pay attention to parking restriction signs, so you don't come back to a hefty parking ticket. We recommend getting an Uber or Lyft to drop you off to avoid dealing with the issue of finding parking.
Try visiting on a weekday, and you'll be able to experience the glory of this popular hiking trail!
Opening Hours: 6 AM-6 PM Daily
Admission: Free
Address: 2000 N Fuller Ave
Read next: The Ultimate 3 Days in San Francisco Itinerary
Day 2 in Los Angeles
To continue this optimal three-day Los Angeles itinerary for visiting LA, start day two by feasting your senses and taste buds on freshly sourced produce and products at the Downtown Santa Monica Farmer's Market.
Next, explore the galaxy at the Griffith Observatory and its stunning city panoramic views. Finally, end the day at the movie palace of TCL Chinese Theatre, surrounded by signature marks of famous celebrities like Marilyn Monroe.
Day 2 Morning – Grab Fresh Produce At The Downtown Santa Monica Farmer's Market
A feast for the senses, start your morning at the Downtown Santa Monica Farmer's Market. Grab a fresh-baked muffin and juice for a quick delicious breakfast as you explore the vibrant market full of produce, vendors, and lively people.
As California boasts rich agricultural land, we highly recommend investing in some of the fresh local produce at this famous farmer's market. Feel like a local as you take part in the Southern California lifestyle!
Many A-list celebrities and big-time chefs, like Niki Nakayama and Michael Cimarusti, investigate the day's fresh produce at this hit Santa Monica market.
However, you're likelier to see chefs right as the farmer's market opens at 8 AM when they can grab the freshest catch of the day. At this hit farmer's market, unique items to splurge on include emu eggs, sea urchin, black truffles, and bergamot.
So join the club and pick out a fresh batch of produce, flowers, and other insanely delicious goods at Santa Monica's Farmers Market!
Opening Hours: Wednesday & Saturday, 8 AM-1 PM
Admission: Free
Address: Arizona Avenue (between 4th & 2nd)
READ NEXT: Check out our post on all the other great things to do in Santa Monica!
Day 2 Afternoon – Peer Through A Telescope At The Griffith Observatory
Zone in on the stars and planets during this guided tour of the Griffith Observatory!
A magical place to visit, the Griffith Observatory allows visitors to witness unbelievable sights of the stars, moon, and planets outside our atmosphere.
It also boasts the best vantage point to observe the famous Hollywood Sign. So it's no wonder the Griffith Observatory welcomes over 85 million visitors annually!
Fondly dubbed the "hood ornament" of Los Angeles, the Griffith Observatory is settled in a prime location… but the parking is not ideal.
We recommend getting dropped off by an Uber or Lyft or getting dropped off at a walking distance from a nearby location to avoid the dreadful parking struggles. To avoid a crowd and lack of parking spots, visit the Griffith Observatory during the day.
During your visit to the Griffith Observatory, check out the moon landing and space debris in the Edge of Space exhibition. Then, walk the impressive scale model of the store system. Next, experience a live show in the Samuel Oschin Planetarium.
Finally, bask in the empowering and stunning views of Mount Wilson, Los Angeles Griffith Park, the Pacific Ocean, and the world-famous Hollywood Sign.
Opening Hours: 12 PM-10 PM (Friday), 10 AM-10 PM (Saturday-Sunday)
Admission: Free
Address: 2800 E Observatory Rd
Day 2 Evening – Grab Tickets To The TCL Chinese Theatre
With a collection of around 200 handprints, autographs, and footprints of famous stars, the TCL Chinese Theatre is not your average theater.
First opened in 1927, this theatre is the most renowned Hollywood cinematic icon. It boasts the largest IMAX auditorium in the world! It has cemented its place on the Historic Hollywood Walk of Fame. It also hosted the Academy Awards from 1944-1946.
And yes, you can watch movies at this exceptional movie palace! And, if you're interested in learning more about the history of this famous theatre, there are 30-minute walking tours available for all the curious guests wanting to explore its magnificent structure.
During one of the tours, guests can explore the women's dressing room featuring a 14-mirror wrap-around wall where Jane Russell and Marilyn Monroe once stood in 1953.
Then, investigate the iron grate that once concealed the tunnel that leads to the Roosevelt Hotel.
Finally, at the TCL Chinese Theatre, guests can gaze at Marilyn Monroe's gold dress in Gentleman Prefer Blondes, Judy Garland's dress from The Wizard of Oz, and Arnold Schwarzenegger's costume from the famous Terminator 2: Judgment Day movies, along with Grace Kelly's enchanting beaded gown from the premiere of To Catch A Thief.
Learn more about the history of this astounding theatre during your trip, before or after you watch a movie in this magnificent structure!
Opening Hours: Saturday, 10:15 AM-7 PM
Admission: $14/Child, $15/Military/Senior/Student, $16/Adult
Address: 6925 Hollywood Boulevard
Heading east? Check out our guide to the best things to do in Las Vegas!
Day 3 in Los Angeles
Get ready for a fun day of exploring Los Angeles! First, start day three by exploring the impactful landmark emporium of the Grand Central Market.
Next, witness the multitudinous animal and plant species at the Los Angeles Zoo & Botanical Gardens. Finally, end your last day in Los Angeles with a romantic trip on the signature swan pedal boats on Echo Park Lake.
Day 3 Morning – Browse The Grand Central Market
Initially called "Wonder Market" upon its opening, it is now known as the Grand Central Market. This impactful downtown Los Angeles landmark emporium has been known as the "largest and finest public market on the Pacific Coast" since its founding in 1917.
Hosting over 50 privately owned and operated vending stalls, this impressive market features florists, game nights, prepared food vendors, and movies.
At the Grand Central Market, Los Angeles cuisines and cultures are empowered to be expressed and experienced through its vendors and visitors. Vendors promote only the highest quality ingredients and products.
In downtown Los Angeles and only a short walk from the Pershing Square stop on the Metro Red/Purple Line subway, the Grand Central Market can be a great stop if you want to avoid driving downtown. It's an accessible stop, only two stops from the Union Station.
Experience this national-caliber eating experience as you embark on an adventure of the 30,000-square-foot retail marketplace and food emporium for the ultimate downtown gathering place.
Afterward, we recommend stopping by The Last Bookstore, an airy book and record store that features local art only a few blocks away.
Opening Hours: 8 AM-9 PM
Admission: Free
Address: 317 S Broadway
Day 3 Afternoon – Explore The Los Angeles Zoo & Botanical Gardens
Hosting more than 2,200 types of animals, including 270 species of animals, 60 endangered species, and highlighting over 800 different plant species and 7,400 individual plants, the Los Angeles Zoo & Botanical Gardens is a worthwhile Los Angeles attraction to visit.
Founded in 1966, the Los Angeles Zoo & Botanical Gardens boasts an array of specific biomes for the habitat exhibits, including New World tropics and African grasslands.
In the zoo's 133 acres, the zoo dedicates this space to educating the public on its conservation efforts of the beautiful creatures and the habitats they live in.
Explore the stunning assortment of plant species, like the Hong Kong orchid trees and Mexican fan palms, at the Botanical Gardens. Then, soak in the sights of endangered species like the Addax and Okapi at the Los Angeles Zoo.
Check out the impressive collection of plants and notorious animal species at the Los Angeles Zoo & Botanical Gardens!
Opening Hours: 10 AM-5 PM Daily
Admission: $17/Child, $19/Senior, $22/Adult, Free/Infants
Address: 5333 Zoo Drive
Read Next: Check out this great 3-day San Diego itinerary!
Day 3 Evening – Paddle on Echo Park Lake and/or see a show at Walt Disney Concert Hall
End your last day in Los Angeles on a romantic note via swan pedal boat rental at Echo Park Lake!
A staple landmark of East Los Angeles since 1895, Echo Park Lake is surrounded by expansive lotus flower beds, an array of fluttering wild geese and swans, and dense greenery.
A top-rated Los Angeles activity, many have cruised along Echo Park Lake's glistened waters for the ultimate romantic date, a short secluded getaway on a stunning waterfront scene surrounded by native flora and fauna.
At this East LA park, popular local events and festivals, like the Dragon Boat Race and Lotus Festival, are annually held at this historic Los Angeles landmark.
So take a stroll as you take in the generous art scene, people watch Echo Park Lake's daily visitors, and embrace this one-of-a-kind Los Angeles haven.
Your swan pedal boat rental encapsulates a refreshing experience paired with a mobile trivia game that shares the rich history of Echo Park Lake. Bask in the panoramic views of the Los Angeles skyline on this top-rated Los Angeles activity!
Opening Hours: 9 AM-7 PM Daily
Admission: $11/Adult
Address: 751 Echo Park Ave
If you still have time and energy after this, head over to the Walt Disney Concert Hall which is just a 5-minute drive away. This sophisticated and modern concert hall has incredible, world-class concerts every week.
End your LA itinerary with an enchanting night of music at the Walt Disney Concert Hall. See the website for schedules. Hours and prices vary depending on the performance.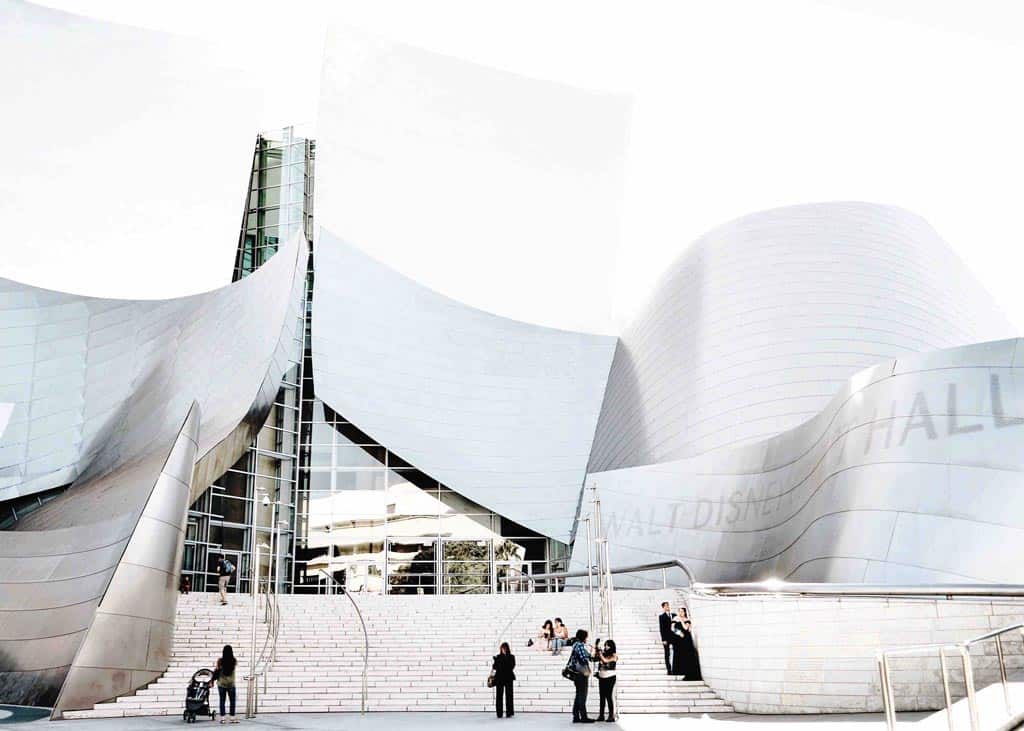 Los Angeles Travel Guide
Of course, there are lots more attractions in LA, like the Los Angeles County Museum of Art, Universal Studios Hollywood, La Brea Tar Pits, Long Beach, Santa Barbara, and more.
But 3 days in Los Angeles is enough to see some of the highlights that we mentioned, and you'll just have to come back to LA to see everything else! And if you have some free time, feel free to fit more stuff into this 3 days in Los Angeles itinerary. This is just a guideline!
Now that you have the best LA itinerary to guide you, here is some information that will help you know the best time to visit, how to get around, and where to stay when you visit.
When is the Best Time to Visit Los Angeles
Like anywhere in the world, there's always a recommended time to visit, whether it be to avoid poor weather or oppressive crowds.
When looking to visit Los Angeles, we recommend planning your trip to this world-famous city either from March to May or September to November.
During these recommended months, the air is more breathable as you'll be avoiding the oppressive heat of summer. The crowds are also less packed, which can drastically take away from an otherwise invigorating experience.
Getting Around Los Angeles
As a tourist, getting around Los Angeles isn't as difficult as you might think. Los Angeles has a metro rail system that is easy to use and that many locals use to get around the vast metropolis.
The bus public transport system is also reliable, you just have to deal with the LA traffic which the metro avoids.
However, we do recommend car rentals to get around Los Angeles. You can find all major car rental companies in LA. If you want to drive along the Pacific Coast Highway or take a day trip to nature like Joshua Tree National Park, having a car is ideal.
Uber or Lyft are great options if you're looking to invest in infrequent trips that are not near your stay in Los Angeles.
Otherwise, invest in this Private One-Way Transfer to Los Angeles for a stress-free one-way transfer from the Los Angeles International Airport to your destination in Los Angeles.
Los Angeles is well connected to other big cities by plane, so it's easy to find affordable flights into the city. Particularly from San Francisco, Las Vegas, and other west coast metropolises, getting into LA is easy.
Where to Stay in Los Angeles
If you're wondering where to stay during your LA itinerary, our recommendations for the best accommodation in Los Angeles will help you choose the top spot for your budget!
Best Hostel in Los Angeles
The Banana Bungalow is a hot spot hostel in West Hollywood near Sunset, Hollywood, and the Melrose strip.
The hostel offers free BBQ on the terrace, free Wi-Fi, large $5 dinners, and shuttles to Disneyland, Venice Beach, Santa Monica Beach, and more big-time Los Angeles attractions! There's no better place to stay for an LA itinerary if you're traveling on a budget.
Best Mid-Range Hotel in Los Angeles
Located in Venice Beach, STAY OPEN is only a minute walk from the beach!
With featured accommodations like free bikes, concierge service, and free WiFi, STAY OPEN boasts seaside views in its optimal location near big beach spots like Venice Beach, the famous Santa Monica Pier and Beach, and Marina Del Rey Beach.
In addition, the Los Angeles International Airport is only six miles away from your stay!
Best Luxury Hotel in Los Angeles
At the Peninsula Beverly Hills, guests are only a 12-minute walk from Rodeo Drive, a popular shopping spot in Beverly Hills.
Featuring world-class dining for breakfast, lunch, and dinner, this luxury hotel in Los Angeles offers enigmatic accommodations like its large rooftop outdoor pool, modern gym with available personal coaches, full-service spa, and gourmet on-site dining options!
DISCLAIMER: Some of the links in this article are affiliate links, which means if you book accommodation, tours or buy a product, we will receive a small commission at no extra cost to you. These commissions help us keep creating more free travel content to help people plan their holidays and adventures. We only recommend the best accommodations, tours and products that ourselves or our fantastic editorial team have personally experienced, and regularly review these. Thanks for your support, kind friend!