Looking for all the best attractions in the Golden State? Our guide to all the best things to do in California is all you need!
A well-known destination that draws in travelers from all over the world, California is home to more than a few world-famous attractions.
From the Golden Gate Bridge to the Hollywood Walk of Fame, there are plenty of things to do in the sunny state of California. Whether it be surfing, tasting world-class wine in Napa Valley, or visiting top-notch national parks, this gem of the west coast has it all.
Nicknamed "The Golden State" due to all the gold discovered here during the Gold Rush of the 1800s, California has become one of the most popular states to visit in the US. Cities like San Diego, San Francisco, and Los Angeles have become world-renowned destinations!
Tourists flock here to see the Hollywood Sign and hike in Yosemite, whereas local Americans from colder states are constantly relocating to California for some surf, sunshine, and laid-back living.
And when it comes to narrowing down the list and finding out what to do in California, we've got the list for you!
The Best Things to Do in California
For things to do in California, we've narrowed down the list to the best tourist attractions and activities that are worthwhile, rewarding, and guaranteed to make cherishable memories.
So whether it be photographing the Golden Gate Bridge in San Francisco, riding a roller coaster at a theme park, or hiking through Sierra Nevada Mountains in Yosemite or Lake Tahoe, California is ready to be explored!
1) Hear The Sand Sing At Death Valley National Park
A desert valley found in Eastern California, Death Valley National Park is the hottest place in the world during the summer and one of the top California attractions.
In Death Valley, Badwater Basin is home to the lowest elevation in North America, with its salt flats made mostly of sodium chloride (table salt) and other components like gypsum. This notable feature has established the park as the hottest, lowest, and driest place in the world.
Death Valley is a place of adventure with over three million acres open for discovery. Here at this unique park, you can experience singing sand, a phenomenon that occurs when the sand on top of the steep dunes falls.
Death Valley National Park is one of the few places in the world where singing sand can be heard so clearly.
Address: Furnace Creek, CA 92328
Hours: Open 24 Hours
2) Take On The Iconic Santa Monica Pier
The Santa Monica Pier is a classic symbolic landmark of California. Located at Santa Monica State Beach, this pier is a must-see in Los Angeles!
From its amusement park that includes a giant Ferris wheel and roller coaster to the high-tech arcade, iconic original 1922 merry-go-round, and various shops and eateries, the Santa Monica Pier is the place to be!
As one of the most photographed locations in the world, the pier features outstanding views of the Pacific Ocean.
So whether it be with family or for romance, the Santa Monica Pier is the perfect place to go for a stroll, catch a thrill on the amusement park rides, eat ice cream, and enjoy a variety of other fun activities.
Address: 200 Santa Monica Pier, Santa Monica, CA 90401
Hours: 6 AM – 10 PM
Check out our ultimate 3 days in Los Angeles itinerary for more ideas!
3) Spend The Day Outdoors At Point Reyes National Seashore
A protected coastline, Point Reyes National Seashore is home to over 1500 species of animals and plants and long, golden beaches such as Wildcat Beach.
Miles of sandy shorelines are available for sun tanning, swimming, and relaxing. You can also hike one of the many trails available here, like the Tomales Point Trail, for picturesque ocean views.
One of the best things to do in California is to check out the Point Reyes Lighthouse. The historic lighthouse was built in 1870 and protected mariners for 105 years. Touring inside the Point Reyes Lighthouse is an option, where visitors can see 1867 clockworks and other original artifacts.
Address: Point Reyes Station, CA 94956
Hours: 6 AM – 12 AM
4) Take On The Famed Yosemite National Park
A famed attraction of California, Yosemite National Park hosts ancient giant sequoia trees, waterfalls, granite cliffs, deep valleys, and thriving wilderness.
Some of Yosemite's granite rock formations appear to catch on fire when exposed to sunlight. Horsetail Fall is one of the best examples of this!
The park is also home to over 400 unique species. A sighting of a Sierra Nevada red fox in 2014, the first in almost a century of the endangered species, was a delightful surprise for the park. In addition, this unique park features one of the tallest waterfalls in the world, Yosemite Falls.
Hiking, camping, and rock climbing are the top three activities to take part in at Yosemite. Then, for rewarding views, see Yosemite's many waterfalls, like Nevada Falls, or head to popular viewpoints, like Glacier Point and Olmsted Point.
Finally, for a step back in time, head to Pioneer Yosemite History Center to tour the various historic buildings that tell the story of this famed park in the Sierra Nevada Mountain Range.
If you don't have a lot of time to spend in Yosemite, you can do it as a day trip from San Francisco!
Address: Tioga Rd Hwy 120 & Hwy 140 Yosemite National Park, CA 95389
Hours: Open 24 Hours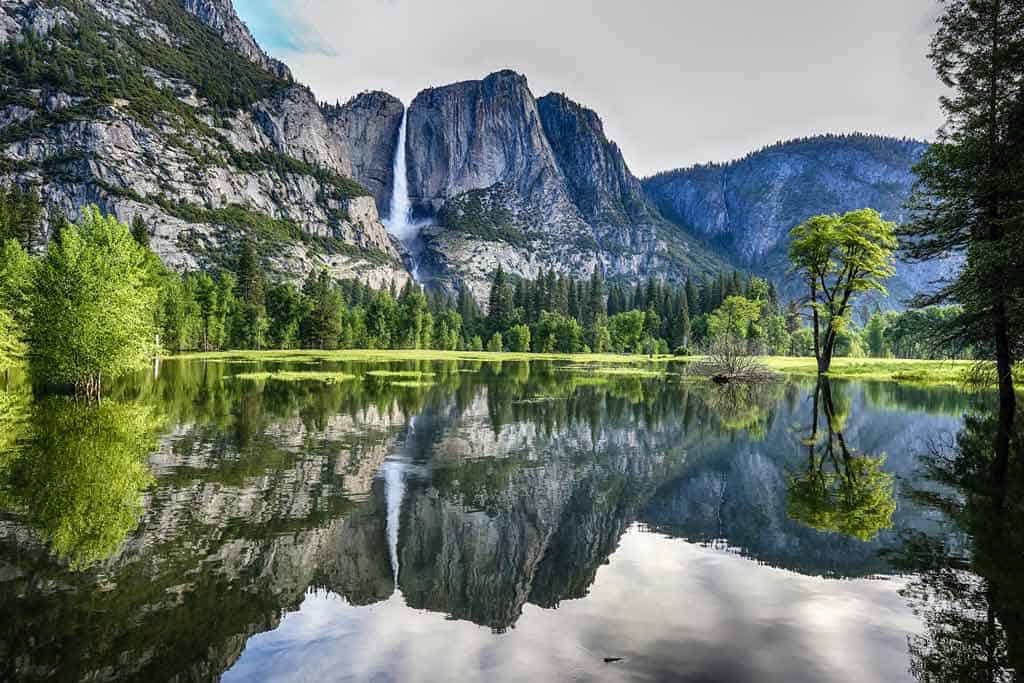 5) Tour The Winchester Mystery House
The previous home of the heiress widow of firearms magnate Willliam Wirt Winchester, the Winchester Mystery House is an established historical and architectural attraction in California.
After the death of her infant daughter and husband, widowed Sarah Lockwood Pardee Winchester moved to San Jose, California, from New Haven, Connecticut.
The Winchester Mystery House is the eight-room farmhouse she bought, going as far as enacting the world's longest home renovation that only ceased when Sarah Winchester passed in 1922. The renovations ran from 1886-1922.
The extensive renovations have established the house as one of the world's most intricate architectural innovations.
Along with the eerie reports of paranormal activity that are whispered to occur in the house, this attraction has seduced millions of visitors since it opened its doors to the public.
Tours take guests through 110 of the 160 rooms in the Winchester home to peer upon the mystery of this unique mansion.
Address: 525 S Winchester Blvd, San Jose, CA 95128
Hours: 10 AM – 4 PM (Monday-Friday), 10 AM – 5 PM (Saturday-Sunday)
Read Next: Check out this post for planning an epic California road trip!
6) Snorkel, Hike, & Watch For Whales At Channel Islands National Park
The Channel Islands National Park is considered one of the most stunning destinations on the west coast of California. It consists of five islands: Santa Barbara, Santa Cruz, Anacapa, San Miguel, and Santa Rosa.
Each island is protected for its thriving natural resources and inhabitants, including 145 endemic species like the "Island Fox," which is endemic to six of the eight Channel Islands.
During the warmer months, activities like snorkeling, swimming, and kayaking are prevalent at Channel Islands National Park.
For prime whale-watching opportunities, gray whale sightings are most common during the winter, and sightings of humpback whales and blue whales are more frequent in the summer months. And throughout the whole year, dolphins are seen playing and gliding through the waters between the islands.
Santa Cruz Island is home to one of the largest sea caves in the world, called Painted Cave. Its expanse is near that of four football fields!
Kayaking and paddleboarding to this spot, surrounded by unique colored rocks and a ceiling that reaches the equivalent of a 15-story building, is a top activity when visiting the Channel Islands.
On Santa Rosa is an archaeologist excavation that discovered the oldest human remains in North America. Channel Islands National Park is a destination of fun, adventure, and exploration waiting to be experienced!
Address: Ventura, CA 93001
Hours: 8:30 AM – 5 PM
7) See The Underwater World At Monterey Bay Aquarium
The first aquarium to exhibit a living kelp forest, the Monterey Bay Aquarium is renowned for being one of the best aquariums in the world and is considered one of the best things to do in California.
With a focus on the marine life that inhabits Monterey Bay, the aquarium is favored for its exceptional interactive exhibits, dedicated marine research, and conservation efforts.
Walking through the aquarium, the array of sea life is eye-catching, ranging from stingrays and sharks to octopuses and jellyfish.
More than 80,000 plants and animals call Monterey Bay Aquarium home, and you can witness the marvels of the world underwater and those that call it home at this world-class aquarium.
And for an in-person look at some of the largest animals in the world, join this whale-watching tour on Monterey Bay. A marine biologist led and narrated the trip for educational information and fun facts about the local wildlife.
Address: 886 Cannery Row, Monterey, CA 93940
Hours: 10 AM – 5 PM
Read Next: Check out our post on all the other great things to do in Monterey.
8) Take A Trip Down The Scenic Pacific Coast Highway
A renowned scenic route, the Pacific Coast Highway was first constructed in the 1930s and has since established itself as one of the top scenic routes in the world.
One of the top California activities to experience, this highway twists and winds through over 600 miles to showcase California's stunning coastlines, impressive sequoia trees, long stretches of beaches, and big mountains.
On this picturesque route are points of interest to stop at, from pioneer outposts to surfing towns. Driving the route takes ten hours if you head straight from the Northern California coastline all the way down to the south.
The route ends in Orange County, so celebrate the end of your drive with a surf at the nearby Long Beach, Newport Beach, or Huntington Beach (aka Surf City USA).
But the drive doesn't need to be done in one go or completed entirely. If you love road trips, this is a must when visiting California!
Looking for more fun things to do on the Cali coast? Check out our 3 days in San Diego itinerary!
9) Walk Through A Giant Sequoia Tree Grove At Kings Canyon National Park
Near Sequoia National Park, Kings Canyon National Park is known for the giant sequoia trees that are rooted there and the General Grant Tree, the second largest sequoia tree in the world. This tree has been fondly termed "the Nation's Christmas Tree."
Kings Canyon National Park homes the largest grove of sequoia trees worldwide. It is surrounded by diving valleys, trees that touch the sky, and rocky cliff sides.
People travel from all over to see the impressive General Grant Tree, though there are other popular activities like horseback riding, hiking, and camping.
Address: 83918 CA-180, Grant Grove Village, CA 93633
Hours: Open 24 Hours
Read Next: Plan your California itinerary with this post about the best places to visit in California!
10) Visit Universal Studios Hollywood
One of the most incredible, world-famous theme parks is Universal Studios Hollywood.
Whether you're traveling with kids, or you're a bit of a movie geek yourself, there is something fun for everyone at this exciting tourist attraction.
Visit the Wizarding World of Harry Potter, go on the thrilling Revenge of the Mummy ride, or see some dinosaurs at Jurassic World.
This theme park is filled with various rides, shops, and attractions that showcase the best of different characters and films.
It's worth booking your skip-the-line ticket to Universal Studios online in advance! That way you can avoid waiting in long lines and spend more time enjoying the rides. Spending a day here is one of the most fun things to do in California!
Address: 100 Universal City Plaza, Universal City, CA 91608, United States
Hours: 10 am – 6 pm Tuesdays – Fridays, 9 am – 7 pm on Saturdays, 10 am – 7 pm on Sundays and Monday
11) Explore The Renowned San Diego Zoo
Located in Balboa Park, a cultural oasis, the San Diego Zoo offers visitors the opportunity to see more than 650 species of animals across the zoo's 100 acres. It is one of the most popular things to do in San Diego and one of the best zoos in the United States.
The zoo's conservation efforts to revive endangered species into the safe zone have placed the San Diego Zoo in a top position of admiration and respect for its reputable success.
Some examples of such include the California Condor, which would have otherwise died out without the San Diego Zoo, the Southern White Rhinoceros, and Giant Pandas.
San Diego Zoo is a great family-friendly activity, welcoming all ages to explore the uniqueness of different species and the habitats they call home at the safari park.
Address: 2920 Zoo Dr, San Diego, CA 92101
Hours: 9 AM – 8 PM
Read Next: Find more things to do in San Diego here!
12) Hike, Swim, & Adventure At Emerald Bay State Park, Lake Tahoe
A National Natural Landmark, Emerald Bay State Park is one of Lake Tahoe, California's top attractions.
One of the favored things to do in California, this picturesque destination boasts sparkling emerald waters perfect for swimming and boating, granite cliff sides carved by glaciers, and expansive panoramic views.
Other top attractions of Emerald Bay State Park include Vikingsholm, a historic 38-room mansion that embodies the finest representation of Scandinavian architecture in the United States, and Eagle Falls, a rewarding hike featuring cascading waterfalls and enchanting scenery.
On this sightseeing cruise of Emerald Bay, you can experience the greatness of Emerald Bay on the world-class Tahoe Bleu Wave. Lake Tahoe as a whole is one of the most beautiful locations in the USA, and Emerald Bay is the crown jewel of this gorgeous area.
Address: 138 Emerald Bay Rd, South Lake Tahoe, CA 96150
Hours: 7 AM – 7 PM
13) Check Out Unique Rock Formations At Joshua Tree National Park
Famed for its phenomenal rock formations, Joshua Tree National Park is a worthwhile trip from Palm Springs, California.
One of the most talked about rock formations of the park is Arch Rock, a short hike from White Tank Campground. But that's not all Joshua Tree National Park is known for.
The park is home to intriguing teddy bear cholla cactus and Joshua trees, where it gained its namesake. Cousins to agave, Joshua trees can live more than 150 years and play a critical role in the ecosystem of the Mojave Desert.
Some other points of interest in the park include Cholla Cactus Garden, a popular photography spot featuring sunlit cacti.
Skull Rock, another famous rock formation in the park, and the Hidden Valley Trail, a popular hike with panoramic views of the park, are two other popular attractions in Joshua Tree. You can easily spend one day in Joshua Tree National Park or make it a destination in itself.
Address: 6554 Park Boulevard, Joshua Tree, CA 92252
Hours: 8:30 AM – 5 PM
14) Learn About California's Early History At El Presidio de Santa Bárbara State Historic Park
El Presidio de Santa Bárbara State Historic Park, also known as Royal Presidio of Santa Barbara, was established in 1782 by Spain.
The presidio's purpose was to defend the Second Military District. Now, the historic park functions to preserve the site of the last and only four military outposts the Spanish constructed in California.
The Santa Barbara Presidio dates back to 1782, defending settlers and missions against invasion. It was with the help of the Chumash Indians that the buildings and walls were built, using sun-dried adobe bricks as the foundation.
If you wish to learn more about the state's impactful history, visit El Presidio de Santa Bárbara State Historic Park!
Address: 123 E Canon Perdido St, Santa Barbara, CA 93101
Hours: 10:30 AM – 4:30 PM
Read Next: Check out our post on all the other great things to do in Santa Barbara.
15) Ride The "Iron Horse" At California State Railroad Museum
A world-renowned tribute to the iron horse's role in connecting California to the rest of the nation, California State Railroad Museum preserves historical artifacts and memorabilia.
The museum's restored car and locomotive collection are impressive, some of which date back to 1862. Throughout the museum, guests can learn about the impact of the Transcontinental Railroad that began construction in 1862 and how railroads played a crucial role in California's development.
The California State Railroad Museum offers excursion train rides to guests during select months.
The 50-minute round-trip train ride along the Sacramento River is run by a historic steam or diesel locomotive paired with vintage passenger coaches and converted freight cars for a unique experience of "the iron horse."
Address: 125 I St, Sacramento, CA 95814
Hours: 10 AM – 5 PM
Read Next: Check out our post on all the other great things to do in Sacramento.
16) Explore the Magnificent City of San Francisco
San Francisco is one of California's most incredible cities, and visitors should definitely spend at least 3 days exploring all that this city has to offer.
San Francisco Bay itself is one of the most spectacular natural bays on the Northern California coast. Within the bay, you can find numerous islands with their own attractions, including the famous prison island, Alcatraz.
While exploring downtown San Francisco, you'll be amazed at the number of activities awaiting you.
The most famous attraction in San Francisco is the Golden Gate Bridge. An impressive engineering wonder, the Golden Gate Bridge is a symbol of innovation and architecture. San Francisco is even nicknamed "The Golden City" after the iconic bridge.
Other things to do in San Francisco include driving along the winding Lombard Avenue, touring the Palace of Fine Arts, strolling along Pier 39, and checking out the various cafes, shops, clubs, music venues, art galleries, and more around the city.
For more ideas, check out our ultimate 3 days in San Francisco itinerary!
17) Visit a Ghost Town at Bodie State Historic Park
One of the more unexpected things to do in California is to visit a ghost town.
Bodie is a small California town that was once a booming location for gold mining during the California Gold Rush of the 1800s.
When the gold mines finally become depleted around 1881, everyone abandoned the town. Fires destroyed what little community was left there, and it became a true ghost town.
Brodie is now a state historic park, and visitors can tour the abandoned buildings to relive the Gold Rush through preserved landmarks.
Address: CA-270, Bridgeport, CA 93517, United States
Hours: 9 am – 4 pm
18) Tour Hollywood in Los Angeles
The star-studded neighborhood of Los Angeles known as Hollywood is easily one of the most famous destinations in the world.
Even if you're not someone who is a massive fan of movies or the entertainment industry, Hollywood still has so much to offer.
Go hiking in the Hollywood Hills to stretch your legs and soak in that Southern California sunshine. Runyon Canyon is a particularly popular route!
Also, be sure to snap a picture of the iconic Hollywood Sign! Or stroll along the Hollywood Walk of Fame to see the stars embedded in the sidewalk, all of which adorn the names of the biggest names in entertainment.
But if you are into movies, definitely check out the Warner Bros. Studio in Hollywood, Los Angeles! A tour of the Warner Bros. Studio will get you behind the scenes of some of the most epic studios in the business.
19) Settle Down With A Glass Of Wine On The Napa Valley Wine Train
Head out on a 36-mile round-trip adventure of California's celebrated wineries on the Napa Valley Wine Train!
Featuring vintage Pullman rail cars that have been restored with Honduran mahogany paneling, the Napa Valley Wine Train exudes luxury and class. The etched glass partitions and brass accents add to this powerful setting.
The Napa Valley Wine Train is one of the few historic passenger railroads still active in the United States. A ride on this historic train features gourmet dining, world-class wines, and unrivaled scenic views of the valley.
This hidden gem deserves a place on the top things to do in California for its luxurious and scenic experience full of refinement and great-tasting wine.
Address: 1275 McKinstry St, Napa, CA 94559
Hours: 8 AM – 5 PM
Read Next: Check out our post on all the other great things to do in Napa Valley.
20) Tour The Kern County Museum
Kern County Museum in Bakersfield, California, powerfully utilizes its 16 acres to preserve 50 original buildings for historical purposes.
Each of the buildings at the Kern County Museum originates from the late 19th century to tell the story of the way of life during this century. The museum itself was founded in 1941 and has continued to showcase the impactful stories of the life lived in Kern County.
The citizens of Kern County largely donated the historical materials in the museum after a letter from the Bakersfield Lion's Club was published in 1929 requesting donations.
Come ponder over the thousands of historical artifacts and structures representing the history of Kern County and California!
Address: 3801 Chester Ave, Bakersfield, CA 93301
Hours: 9 AM – 4 PM
21) Go Stargazing At Anza Borrego Desert State Park
Anza Borrego Desert State Park is California's largest state park. The park's name is derived from the famous 18th-century Spanish explorer Juan Bautista de Anza and the Spanish word for "sheep," Borrego, after the region's native bighorn sheep.
In the park are slot canyons, secret oases, and a large expanse of desert open for hiking and exploring on off-road vehicles. The most popular hiking trails include the Borrego Palm Canyon Trail, Hellhole Canyon, and the Wind Caves.
Other activities to take on in the park include the Galleta Meadows Sculptures, which features steel sculptures by artist and welder Ricardo Breceda, Font's Point, a popular scenic overlook with sweeping views, and stargazing.
In addition, Anza Borrego Desert State Park is an International Dark Sky Park, meaning the land presents exceptional starry nights.
Address: 200 Palm Canyon Dr, Borrego Springs, CA 92004
Hours: Open 24 Hours
For more outdoorsy adventures in California, check out our list of the best things to do in Lake Tahoe!
22) See Every Type Of Volcano At Lassen Volcanic National Park
Overflowing with hydrothermal sites, such as Bumpass Hell, which features acres of gurgling mud pots, Lassen Volcanic National Park is home to an array of stunning natural finds.
This park is a natural gem, from thriving meadows and crystalline mountain lakes to dormant volcanoes and steaming fumaroles.
Here you can also find the largest plug dome volcano in the world. The park is also one of the few places where all four types of volcanoes can be found.
They include a plug dome, stratovolcanoes, cinder cones, and shield volcanoes. And they can all be admired on the trails traversing this one-of-a-kind park!
Address: 38050 Highway 36 East Mineral, CA 96063
Hours: Open 24 Hours
23) Visit The Iconic Venice Beach in Los Angeles
Free spirits travel to Venice Beach to absorb its welcoming atmosphere as the playground by the sea.
The bohemian and artsy vibes of Venice Beach are strong, giving the destination a unique twist compared to other beaches in Southern California. Often referred to as simply "Venice", Venice Beach was named after Venice, Italy, to inspire its lagoon, piazzas, and canals.
However, the area stepped up its game with its notorious beachfront boardwalk and pier, often decked out with performers and artists, like mimes and musicians.
Address: 1800 Ocean Front Walk, Venice Beach, Los Angeles
Hours: Open 24 Hours
For more fun activities, check out our complete list of the best things to do in Los Angeles!
24) Bask In Nature At Sequoia National Park
Another gem of California is Sequoia National Park, famous for its giant sequoia trees. One of the most popular trees is the General Sherman Tree, widely known throughout the forest for its massive size.
Some other significant points of interest in the park include Crystal Cave, Moro Rock, and Tunnel Tree. Crystal Cave is a stunning marble karst cave, one of 240 known caves in the park.
Moro Rock features a dome-shaped granite formation with a rock-cut stairway that directs visitors to the summit's rewarding panoramic views. Finally, the Tunnel Tree is a car tunnel carved from a giant sequoia tree that fell and blocked the road.
Address: 47050 Generals Hwy, Three Rivers, CA 93271
Hours: Open 24 Hours
25) Reset Surrounded By Nature At Point Lobos State Natural Reserve
One of the top attractions in Carmel-by-the-Sea, Point Lobos State Natural Reserve boasts outstanding photography, sightseeing, hiking, and scuba diving opportunities.
The scenic nature reserve offers tranquility for visitors to settle down for a picnic, paint, walk, or practice their photography skills. Sightings of whales, sea lions, dolphins, and sea otters are common at Point Lobos State Natural Reserve, where nature can be savored.
Check out the Whalers Cabin Museum, constructed around 1850 for preserved artifacts, including harpoons used to hunt whales.
Or take on the park's hiking trails, including Cypress Grove Trail, Sea Lion Point Trail, and Bird Island Trail, for a hike surrounded by rejuvenating nature and scenery.
Not far from this location is Del Monte Forest, another gorgeous area of California that is home to many hiking trails.
Address: 62 CA-1, Carmel-By-The-Sea, CA 93923
Hours: 8 AM – 5 PM
DISCLAIMER: Some of the links in this article are affiliate links, which means if you book accommodation, tours or buy a product, we will receive a small commission at no extra cost to you. These commissions help us keep creating more free travel content to help people plan their holidays and adventures. We only recommend the best accommodations, tours and products that ourselves or our fantastic editorial team have personally experienced, and regularly review these. Thanks for your support, kind friend!