Traveling between Las Vegas and LA? Here's the perfect Las Vegas to Los Angeles road trip itinerary that includes all the best stops on the way!
Las Vegas and Los Angeles are two of the most-visited cities in America. Both are famous for their world-class entertainment and attractions that lure in visitors from across the globe.
However, most people don't realize that a trip from Los Angeles to Las Vegas is less than five hours without traffic. The drive between the two major cities contains famous attractions like the World's Tallest Thermometer, Death Valley, and Red Rock Canyon State Park.
Our itinerary features the most sought-out attractions between Las Vegas and Los Angeles, with some hidden gems along the way.
You can also do this itinerary in reverse for an epic Los Angeles to Las Vegas road trip. Either way, this short but scenic drive is packed with cool things to see and do!
Check out our 3 Days In Las Vegas Itinerary if you need inspiration for your time in Sin City!
Planning Your Las Vegas to Los Angeles Road Trip
Driving from Las Vegas to Los Angeles requires planning if you want to hit the best attractions along the way. This epic road trip includes the top spots whether you're looking to catch a thrill, soak in nature, or learn about history.
Whether you want to take your time on this scenic route, skip some stops and shorten the journey, or complete the drive in reverse and travel from Los Angeles to Las Vegas, this amazing drive through the wild west will surely be memorable!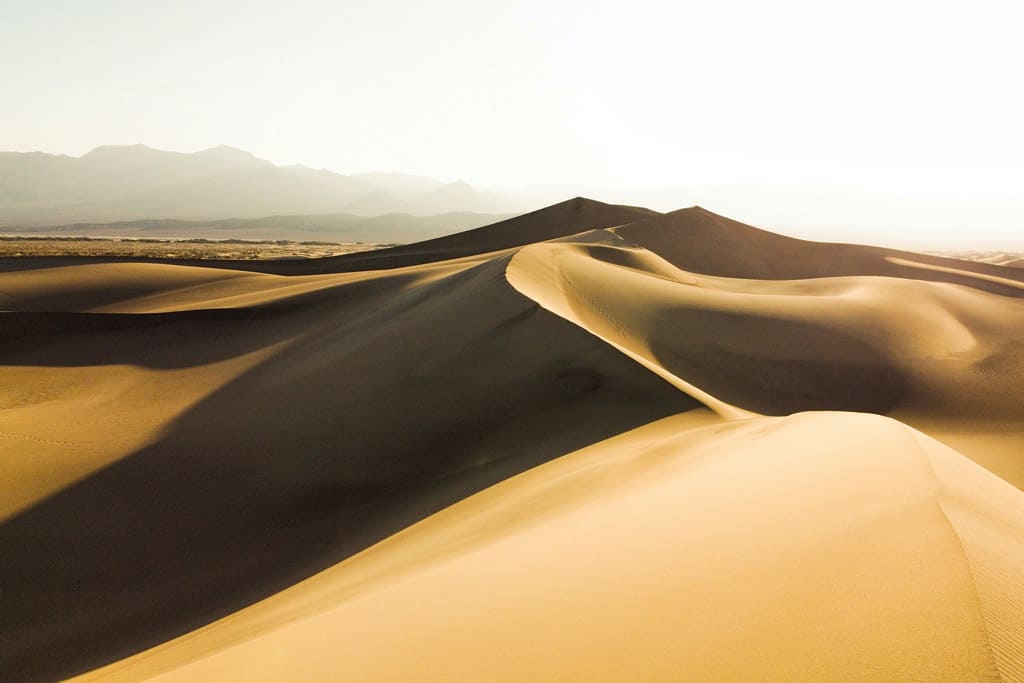 Where to Start Your Las Vegas to Los Angeles Road Trip
We are starting this road trip in Las Vegas and west towards Los Angeles. But you can also do this in reverse using the information we provide in this guide.
The route is pretty straightforward, and there are plenty of gas stations, national parks, ghost towns, eateries, attractions and hotels along the way.
Feel free to reverse the road trip if you'd rather travel from Los Angeles to Las Vegas, or add more amazing places if you want to stretch the journey out more. Or you can just drive straight there and arrive in just a few hours.
If you don't have your own car to take on this Las Vegas drive, be sure to rent one! There are plenty of places in Las Vegas that offer car rentals. And if you're doing the road trip in reverse, there are lots of car rentals in LA as well.
The best way to get around is to rent a car and explore on your own! We recommend Rental Cars, which has the largest range of vehicles for the best value on the market.
Best Time of Year For the Las Vegas to Los Angeles Drive
The best time of year for this drive from Las Vegas to Los Angeles is late spring and early fall. May, early June, September, and early November are the ideal times of year to make this road trip.
The weather will be cooler, making it more comfortable for adventuring outside and in the parks, some of which are advised not to visit in the summer. Death Valley National Park is one of them, infamous for being the hottest place on Earth!
How Long Is This Road Trip?
The driving time without stops is about four hours and 30 minutes without traffic. With stops at the recommended points of interest we've included in this road trip itinerary, the total drive time exceeds 16 hours of driving.
Of course, the drive time is split up between the different stops. We recommend taking a week to experience all of the stops we've included in this itinerary without being in a rush on this Las Vegas road trip.
Read next: 25 Best Things To Do In California
Las Vegas to Los Angeles Road Trip Itinerary
When driving from Las Vegas to Los Angeles or from Los Angeles to Las Vegas, here are the top places to stop on the way.
Las Vegas
One of the most visited places on Earth, Las Vegas is a trip many take for bachelor and bachelorette parties, birthdays, or simply to see what all the hype is about. Called "Sin City," Las Vegas is teeming with world-class entertainment, casinos, and popping nightclubs.
The luxury hotels along Las Vegas Blvd are among its most sought-out attributes due to their immaculate and unique designs. The Venetian is one such example. It is a casino resort and luxury hotel featuring Italian themes, 20 restaurants, a shopping mall, artificial canals with offered gondola rides, a nightclub, and more!
The city is loaded with thrilling attractions people travel from all over the world to experience. Treat yourself to a Las Vegas vacation before you start the drive to LA!
Top things to do in the area:
Fremont Street
Las Vegas Boulevard
The Mob Museum
Bellagio Conservatory & Botanical Gardens
The Venetian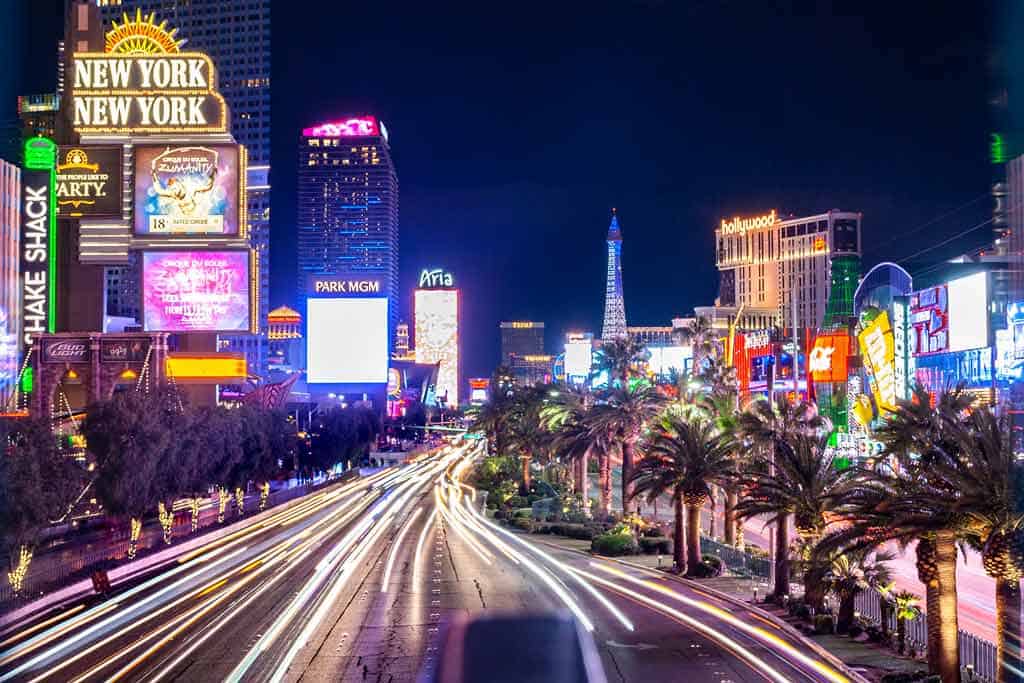 Seven Magic Mountains
Less than thirty minutes from the Las Vegas Strip, Seven Magic Mountains was established by famous Swiss artist Ugo Rondinone.
The exhibition displays seven dayglow totems that stretch 30-35 feet into the sky. The boulders used for the totems were locally sourced and painted colorfully, catching the eye of the beholder.
The art installation was enacted to strengthen Nevada's support of artists worldwide further. The state is dedicated to incorporating varying styles and passions of art creation.
Though art is always open to interpretation, the meaning of the Seven Magic Mountains exhibition is believed to express the midway points between natural and artificial, from the natural beauty of the Mojave Desert to the passageway to the city of lights, Las Vegas.
Read next: 21 Best Things To Do In Las Vegas
Death Valley National Park
The place of extremes, Death Valley National Park is the driest, lowest, and hottest national park. It is the hottest place on Earth, breaking a record of 134°F in 1913.
Contrary to its name, Death Valley National Park has fascinating geologic formations, rich habitats, and natural wonders. The park is part of the Mojave Desert and borders the Great Basin Desert to establish some of the most stunning vistas. Zabriskie Point and Dante's View are two of the top landscapes people travel from all over to see.
At Badwater Basin, Death Valley National Park visitors can walk to the lowest point in North America, which may initially seem covered in snow but is blanketed in salt!
The Mesquite Flat Sand Dunes are one of the top attractions at Death Valley National Park. Many come to the towering sand dunes to try their hand at sandboarding for a unique and thrilling activity.
There are a few gas stations in the park but it's recommended to have some backup in your car if you plan on off-roading.
Other top things to do in the area include:
Mesquite Flat Sand Dunes
Devil's Golf Course
Dante's View
Badwater Basin
Darwin Falls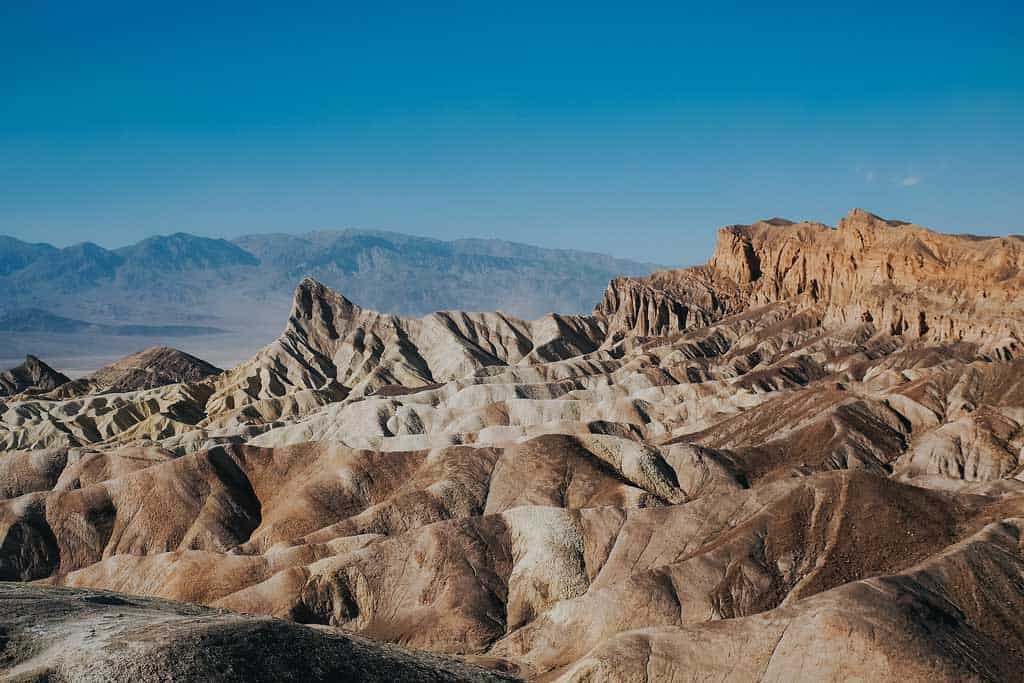 World's Tallest Thermometer
Another unique stop on this Las Vegas drive is the World's Tallest Thermometer. The record-breaking thermometer reaches 134 feet, which purposefully matches the highest temperature recorded in Death Valley National Park.
The World's Tallest Thermometer is situated in the town known as the "Gateway to Death Valley" in Baker, California. Seen from miles away, the thermometer's highest recorded temperature is 127 degrees.
By the landmark are a gift shop and an outdoor picnic area featuring a thermometer and two fake eggs on a cast-iron skillet. Visitors to the landmark and gift shop can check if it is hot enough for the eggs to fry, which requires a temperature of 158 degrees.
Read Next: Check out our post on the best day trips from Las Vegas.
Mojave National Preserve
The Mojave National Preserve is another beautiful place to visit on this scenic route to Los Angeles!
The Mojave Desert is the driest desert in the nation. Its mystifying landscapes were used as backdrops for films like The Avengers and Nocturnal Animals. It expands across four states and holds nine national park units. The Mojave National Preserve is the third largest of all United States National Park System units.
The Mojave National Preserve protects the largest population of Joshua Trees, even more than Joshua Tree National Park. Visiting the Mojave National Preserve grants an impeccable opportunity to see volcanic cinder cones, towering sand dunes, Joshua Trees, and much more!
Its trails, like the Hole-In-The-Wall Rings Trail, are a rewarding feature of the Mojave National Preserve. This trail is a climbing trek up input ring bolts mounted into the rock that is safe for hikers to proceed into Banshee Canyon. The canyon was named after the eerie mournful sounds created as the wind passes through the eroded holes in the rock.
Other top things to see/do in the area:
Mojave Memorial Cross
Banshee Canyon
Boulders Viewpoint
Kelso Dunes
Best Trails To Hike:
Teutonia Peak Trail
Lava Beds Trail
Lava Tubes Trail
Hole-In-The-Wall Rings Trail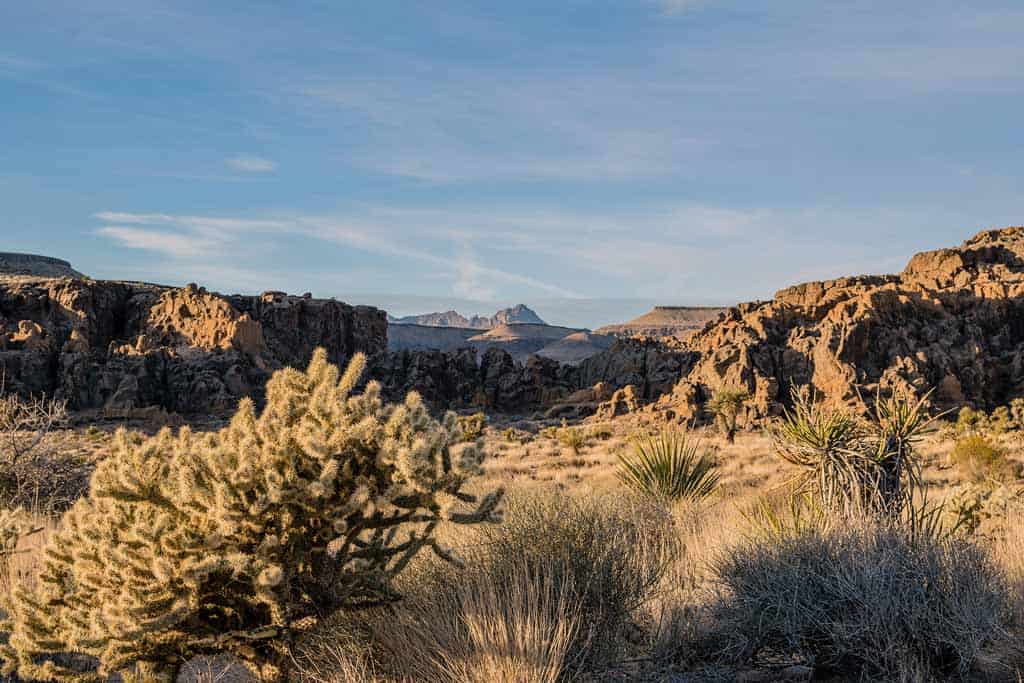 Calico Ghost Town
Once a boisterous, wealthy mining town in the 1880s, now this town in Southern California is the Calico Ghost Town.
Calico Ghost Town, in its prime, had more than 500 mines that produced more than $20 million in profit. Its primary source of income was the silver, gold, and borax plowed from the depths of the Earth.
When the silver dried up, the town was abandoned in the mid-1890s. Today, the old mining town has become a popular tourist spot for people to visit the remnants of the glory days of an Old West mining town.
On the drive from Los Angeles to Las Vegas, Calico Ghost Town is a perfect stop to take along the way. It is full of historical attractions and a mysterious ambiance that continues to attract visitors more than a hundred years after its abandonment.
Visit Lucy Lane's house, which once acted as the courthouse and post office but now functions as a museum to exhibit intriguing artifacts from the town.
Then, take a trip on the historic Calico & Odessa Railroad around Calico Ghost Town to see where miners once worked. On the train ride, keep your eyes peeled for the name of the ghost town carved into the mountainside and exclusive sights of the mines that visitors can't see on foot!
Other top things to do in the area:
Dorsey's Dog House
Mystery Shack
Maggie Mine
Lil and Joe's Saloons
Calico & Odessa Railroad
Want to explore more of Southern California? Here is our list of the top 25 things to do in the area!
Red Rock Canyon State Park
Part of the Mojave Desert, Red Rock Canyon State Park is renowned for the ancient history it preserves and its unique geological formations.
Hiking and camping are the top activities in the park, and the area is particularly famous for its rock climbing.
Its nickname is "5.7 Heaven" for its many multi-pitch low-difficulty climbs, plus more routes. One such spot is Cat In The Hat. Expanding over six pitches, Birdland in Pine Creek is a 5.7+ that reaches up Brass Wall, recommended for experts only.
Sightseeing by 4×4 is another popular activity in Red Rock Canyon State Park, whether of the diverse land formations or the species that call the area home. From gray wolves and tarantulas to the endangered desert tortoise, there are eye-catching sights to be seen at this famous park.
Detouring to Red Rock Canyon State Park is a rewarding stop along this Las Vegas to Los Angeles road trip.
Other top things to do in the area:
Scenic Drive
Red Rock Canyon Visitor Center
Kraft Boulders (rock climbing)
Petroglyph Wall
Best Trails To Hike:
Calico Hills Trail
Ice Box Canyon Trail
Guardian Angel Pass
Red Springs Boardwalk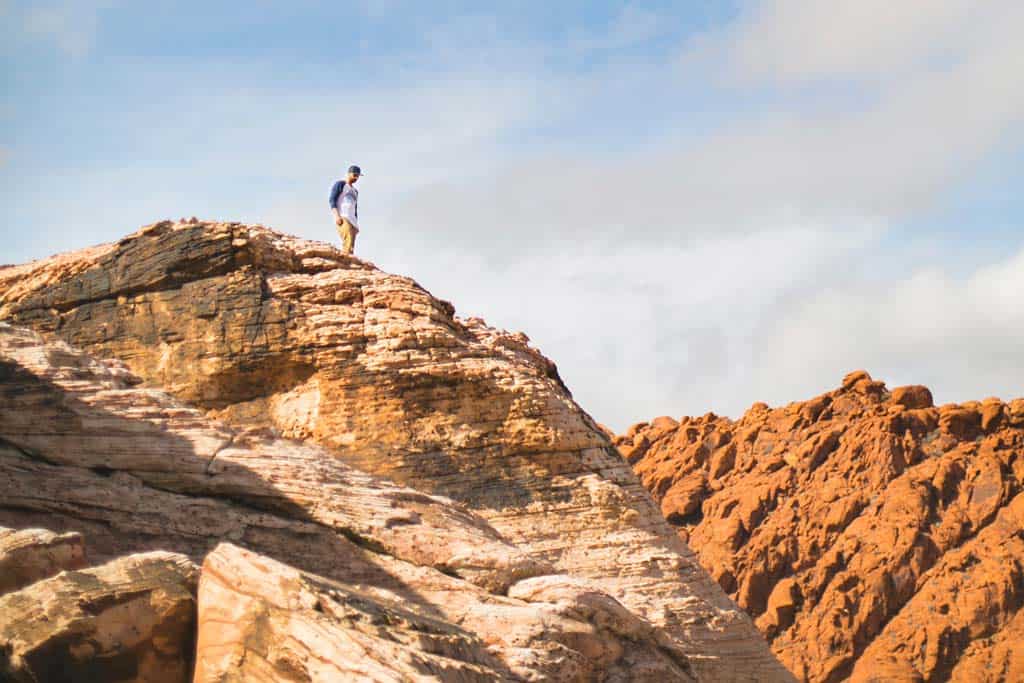 Elmer's Bottle Tree Ranch
One of the most favored roadside attractions to stop by, Elmer's Bottle Tree Ranch is a creative inspiration come to life for Elmer Long.
Set on Route 66, Elmer Long created the main attraction from a collection he and his father scavenged. When Elmer was a kid, he would go camping with his father in the desert. Elmer and his father found dumps in the desert during these camping outings.
They both would find intriguing things to bring home, the main attraction being the bottles Elmer's father collected that featured items they'd discovered from the dumps, including rakes, boats, and the like.
There's even a bottle tree sculpture made from an old missile Elmer discovered on one of his scavenges! If you like unique attractions, be sure to stop at the Bottle Tree Ranch en route from Los Angeles to Las Vegas.
Read next: The Perfect 3 Days In Los Angeles Itinerary
Joshua Tree National Park
Next on this epic Las Vegas drive to Los Angeles is Joshua Tree National Park. Because of its diverse ecosystems, the park is rich with sightseeing opportunities to see local species of animals, flora, and fauna.
The teddy bear cholla cacti are among the most famous sights at Joshua Tree National Park alongside the Joshua Trees. This cactus is also known as the jumping cholla because if you get too close, a segment of the cactus will fall off and fly at you!
These cacti can be seen everywhere in the park, but most popularly in the Cholla Cactus Garden, a cacti grove that includes other species of plants, such as the desert star vine and desert lavender.
Head over to Echo Cove for rock climbing the 8,000 climbs, with options available for beginners and experts. Or hike at Echo Cove to admire the exquisite rock formations.
To savor your stop in Joshua Tree National Park, the park's multiple campgrounds can sink in with nature and peer up at the star-speckled sky in an International Dark Sky Park. This designation refers to the park's untainted pollution of artificial light and clear views of the stars in the sky, making it the perfect spot to stargaze while camping!
This self-driving audio tour guides visitors through Joshua Tree National Park to uncover the secrets of this desert landscape rich with life. From hearing the fascinating tales of the McHaney Gang to learning how people once thrived here, this self-guided tour is a peek into the rich history of Joshua Tree National Park.
Other top things to do in the area:
Ryan Mountain
Lost Horse Mine
Cottonwood Spring
Keys View
Best Hiking Trails:
Arch Rock Nature Trail
Hidden Valley Nature Trailhead
Cholla Cactus Garden Trail
Skull Rock Trail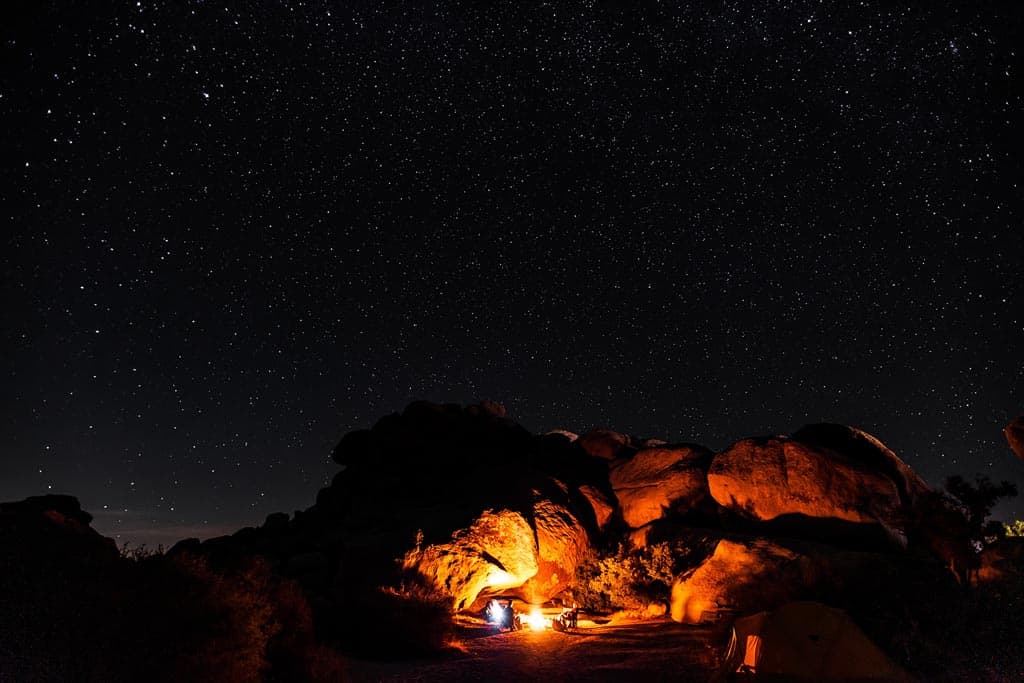 Palm Springs
In the Sonoran Desert, Palm Springs is beloved for its natural hot springs, mid-century modern architecture, and recreational opportunities.
Palm Springs was a hot destination that attracted big-name stars like Frank Sinatra and Walt Disney back in the day. On this guided tour, visitors can discover more than 50 celebrity homes on tour throughout Palm Springs.
The favorable sunny climate in Palm Springs, paired with its top-class golf courses, rejuvenating spas, upscale shopping, and natural hot springs, seal the deal.
While visiting Palm Springs, make it a point to ride the Palm Springs Aerial Tramway. The largest rotating aerial tramway in the world, the Palm Springs Aerial Tramway takes passengers up to San Jacinto Peak while showcasing breathtaking views of Coachella Valley.
At the top of San Jacinto Peak, at the end of the passage, are two available restaurants overlooking the valley, a natural history museum, and hiking trails to traverse for a fun activity in Palm Springs!
Other top things to do in the area:
Palm Springs Aerial Tramway
Moorten Botanical Garden
Palm Springs Art Museum
Palm Springs Air Museum
Find more ideas with our list of the best things to do in Palm Springs!
Huntington Beach
World famous for its hot spot surfing beaches, Huntington Beach is every surfer's dream destination!
On the West, Huntington Beach borders the Pacific Ocean. Its expansive 8.5 miles of sandy beach are widely known for its perfect surfing waves and climate. As a result, the California city was nicknamed "Surf City" for its excellent natural capacity for luring in surfers from all over the world.
Even if you're not a surfer, a trip to Huntington Beach is well worth the stop along this Las Vegas to Los Angeles road trip.
Many people visit the city to soak in the sun's rays while observing surfers catch a big one. For a step away from life's stressors, grab a hotel at one of the many high-class beachside resorts scattered across Huntington Beach. Before you know it, you won't want to leave Surf City!
Other top things to do in the area:
Bolsa Chica Ecological Reserve
Bella Terra
Huntington State Beach
Shipley Nature Center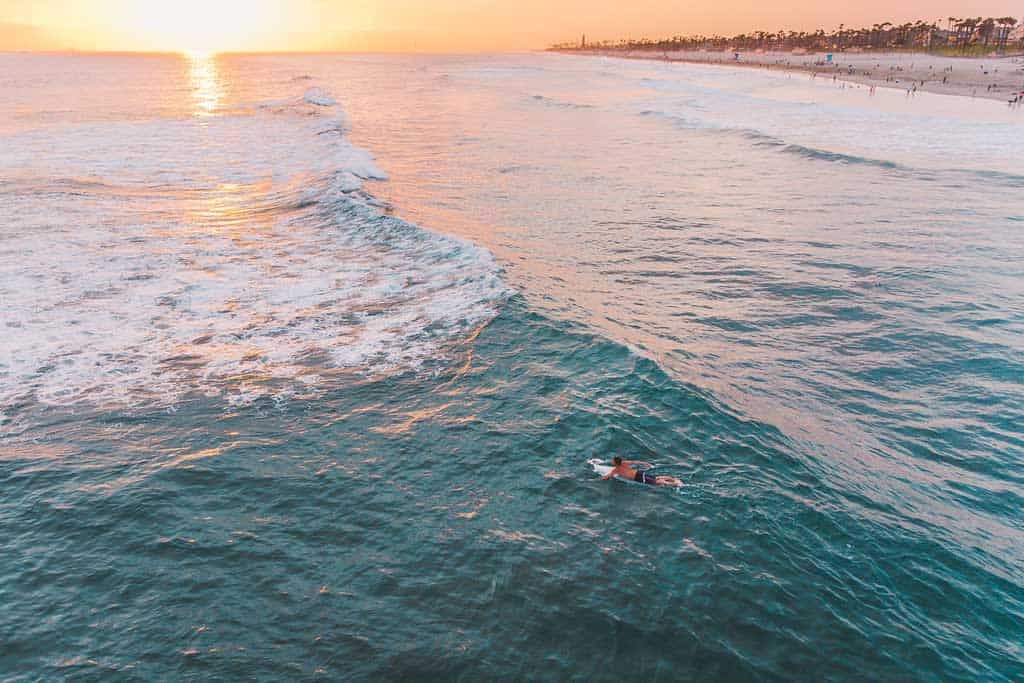 Topanga State Park
Nestled in the Santa Monica Mountains, Topanga State Park is also part of the Santa Monica Mountains National Recreation Area.
Topanga State Park has over 36 miles of trails available to explore the largest wildland in the boundaries of a major city.
The trails are open for hikers, equestrians, and mountain bikers seeking an adventure of the great outdoors. An adventure of Topanga State Park highlights stunning geologic formations, marine fossils, earthquake faults, and volcanic intrusions.
One of the most sought-out points of interest in Topanga State Park is Eagle Rock. The hike up to Eagle Rock is a rewarding climb to the top of Eagle Rock, where many like to hang out in the small cave that overlooks the San Fernando Valley, Santa Monica Bay, and the canyons.
Other top things to do in the area:
Eagle Rock
Topanga Lookout
Temescal Canyon
Best Trails To Hike:
Los Liones Trail
Temescal Canyon Trail
Paseo Miramar Trail
Skull Rock Loop
Read next: The 21 Best Things To Do In Los Angeles
Los Angeles
The largest city in California, Los Angeles, is world-famous as the entertainment capital of the planet. Overflowing with things to do, Los Angeles is rich with action, adventure, and inspiration.
Its Spanish name translates to "The City of Angels." The city is frequently sunny and warm, perfect for welcoming visitors from across the globe to adventure through its abundant streets.
Many people move to Los Angeles to get a fresh start in the entertainment industry, whether it be musicians, actors, or artists. Others travel to Los Angeles to get a taste of the hype of this world-famous city.
One of the most famous landmarks in Los Angeles is the Hollywood Sign. The city is home to the renowned neighborhood of Hollywood, known as the place where celebrities live, and movies are made.
It is also the place of top-class attractions like the Los Angeles County Museum of Art, the western United States' largest art museum known internationally for its upscale exhibits.
Whether you're starting your journey here for a Los Angeles to Las Vegas drive, or you're finishing up here after road-tripping from Vegas, spend a few days soaking in all that this famous city has to offer.
Other top things to do in Los Angeles:
Los Angeles County Museum of Art
Griffith Observatory
TCL Chinese Theatre
The Broad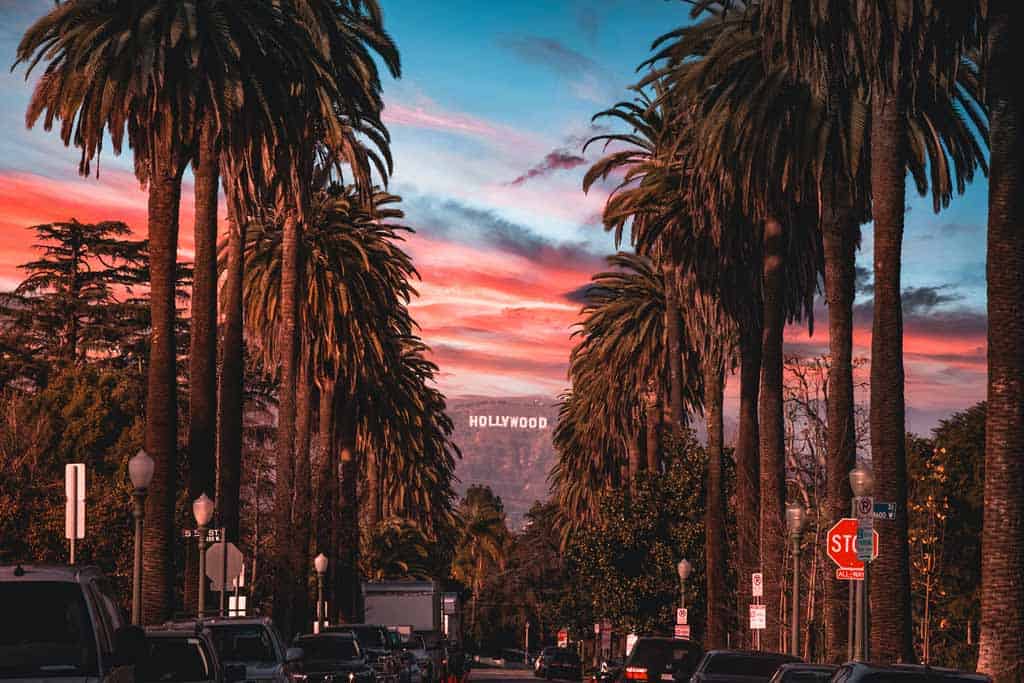 DISCLAIMER: Some of the links in this article are affiliate links, which means if you book accommodation, tours or buy a product, we will receive a small commission at no extra cost to you. These commissions help us keep creating more free travel content to help people plan their holidays and adventures. We only recommend the best accommodations, tours and products that ourselves or our fantastic editorial team have personally experienced, and regularly review these. Thanks for your support, kind friend!