We're going to help you build the best possible 3 days in Las Vegas itinerary!
First of all, take everything you think you know about Las Vegas and throw it out the window.
Nevada's neon-lit oasis in the desert may be known as Sin City. But there's much more to Las Vegas than casinos and strip clubs.
These days, the city proudly bills itself as the Entertainment Capital of the World.
And it's really not an overstatement to say this.
From legendary musicians to world-class performances, professional sports teams and so much more, you will definitely be entertained for 3 days in Las Vegas.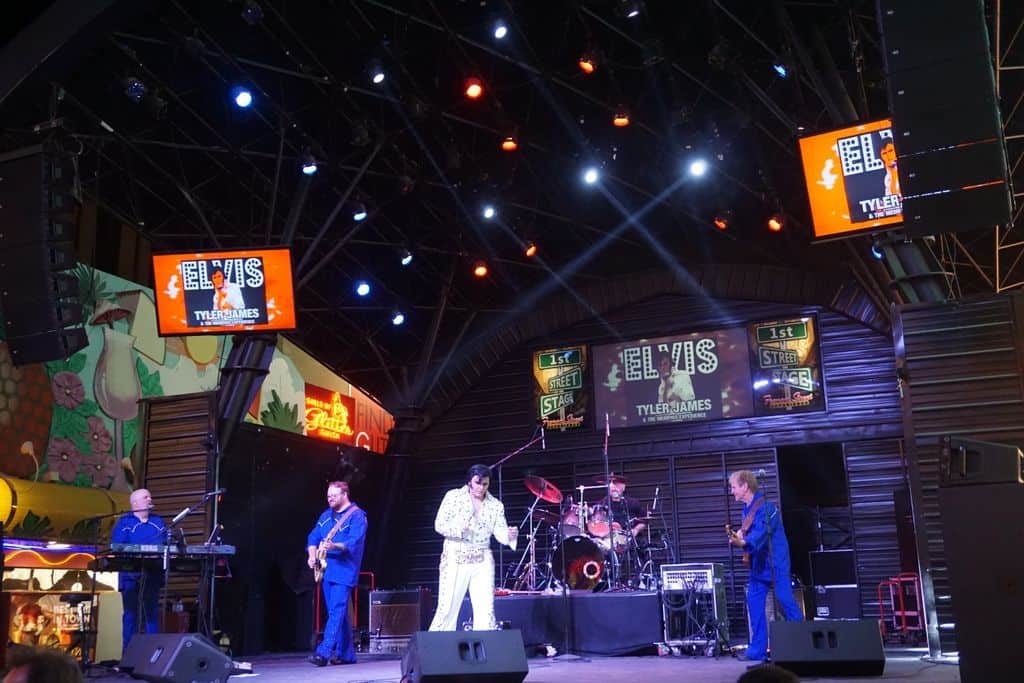 While Las Vegas is famous for "The Strip," there is a lot to discover outside of these massive casinos and resorts.
With a weekend in Las Vegas, you can also do a bit of hiking, check out a museum or two, and even jump out of a plane if you fancy it.
In between your explorations of this adult playground in the desert, you'll have some amazing options for eating and drinking.
Take your pick from the fancy casino buffets, international cuisine from all corners of the globe, or maybe just a good old greasy burger from In-n-Out.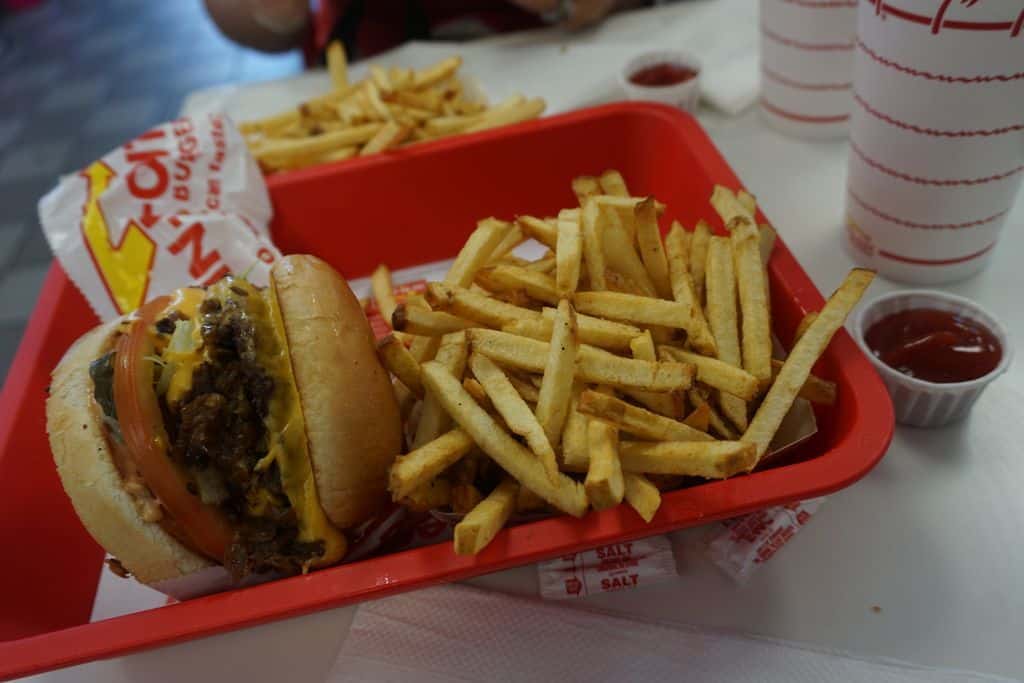 Speaking of drinking, go ahead and crack open a beer before you head out for the day.
Las Vegas is one of the very few places in the US where you can legally drink in public. Cheers!
The biggest problem with travelling to Las Vegas is that there's just so much to see and do and it's quite spread out.
But I'm stoked to give you the best opportunity to enjoy your time there with this epic 3 day Las Vegas itinerary.
OUR TIP: Pick up a hop-on hop-off bus ticket for unlimited transportation for either 1 or 2 days!
How to Spend a Perfect 3 Days in Las Vegas
So you want to spend a weekend in Las Vegas, do you?
The good news is that it doesn't even have to be on a weekend. This city is ready to party every night of the week!
Actually, it can be beneficial to visit during the week for many reasons.
First of all, the crowds in Las Vegas are way bigger during the weekend.
This is especially true if there's a festival or another large event in town. So check the calendar to see what's going on before booking your flight.
Day 1
You've just landed in Las Vegas and the excitement is high.
Perhaps you even hop on a slot machine and order a beer before even leaving the airport. It's go time, baby!
Consider purchasing a sightseeing flex pass on Get Your Guide to save a ton of money on activities throughout this itinerary!
Welcome to Fabulous Las Vegas
Before checking in at your accommodation, you might as well make a quick detour for a photo opp.
Just south of the airport, you'll find the famous "Welcome to Las Vegas" sign.
You can easily jump in a cab or order an Uber and have them cruise you over to the Las Vegas sign to take a few pictures.
Many drivers will also offer to make a pit stop for you at a liquor store.
With your Instagram shot taken and your party supplies secured, you can officially kick off this Las Vegas itinerary.
The Welcome to Las Vegas sign is located in the middle of the road. Every driver in town should know how to get there.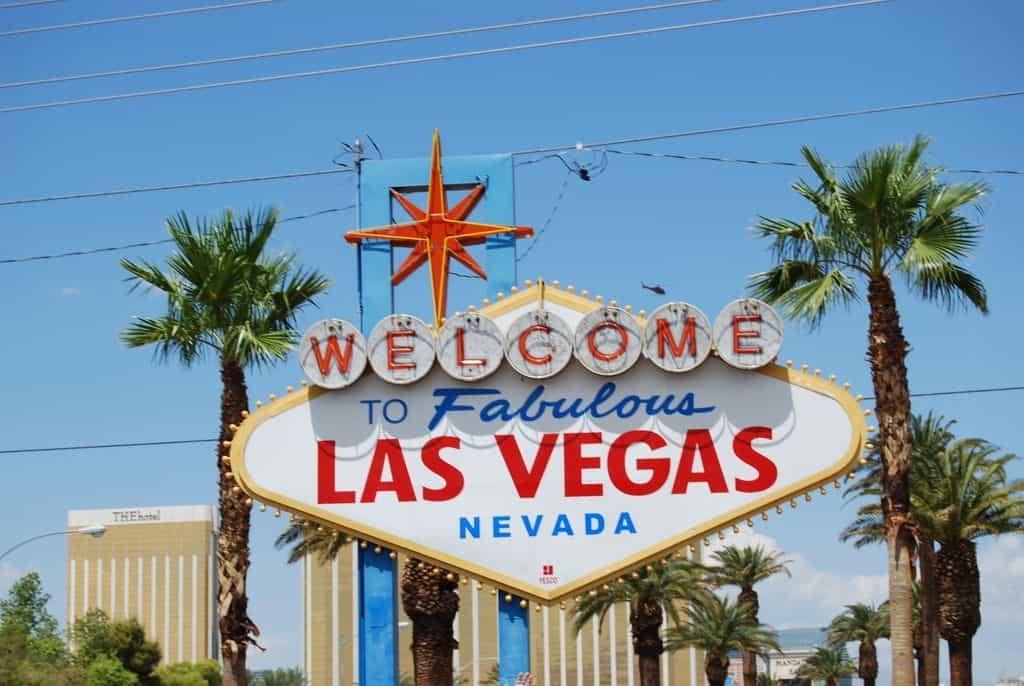 The Las Vegas Strip
Interestingly enough, the most famous part of Las Vegas isn't really in downtown Las Vegas at all.
The Las Vegas Strip is actually located south of the city limits in the unincorporated towns of Paradise and Winchester.
The Las Vegas Strip stretches for 6.8 km (4.2 miles) and is full of massive casinos and resorts.
When you think of the Las Vegas skyline, this is what you picture.
Travelling up and down the Las Vegas Strip, you can visit the pyramids of Egypt, the skyscrapers of New York City, and even the Eiffel Tower.
It really is a pretty cool sight to behold and a great way to start day 1.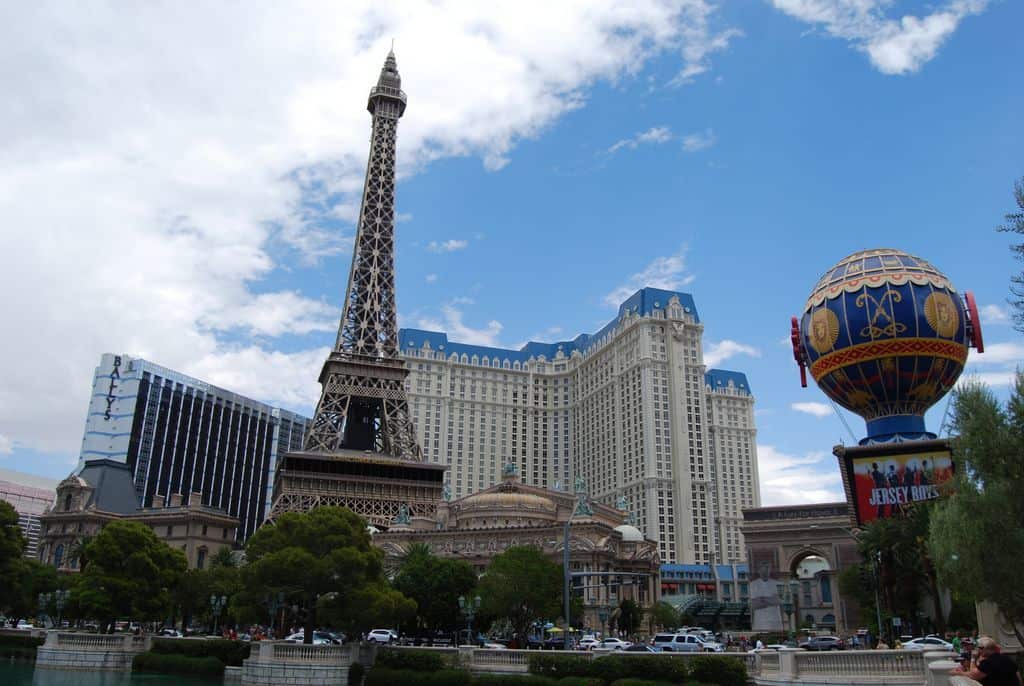 If you decide to buy the bus pass, you can just hop on the bus and ride it up and down the Strip.
Where and when you decide to hop off the bus all depends on your tastes.
There really is something for everyone along the Las Vegas Strip.
Here are some of the most popular places to add to your 3 day Las Vegas itinerary, going from south to north on the Las Vegas Strip.
Read Next: Check out our post on all the great things to do in Las Vegas to fill your itinerary!
Shark Reef Aquarium at Mandalay Bay
Your journey begins at the southern end of the Vegas Strip at Mandalay Bay.
The main attraction here is the Shark Reef Aquarium, which is home to over 2,000 animals.
Here you can see sharks, rays, turtles, and even a Komodo dragon.
They also have a new exhibit called Polar Journey, which is an interactive look at Earth's polar regions.
Cost: USD$36 for adults and $31 for children
Hours: every day from 10 AM to 6 PM
Titanic: The Artifact Exhibition and BODIES… at Luxor
If you're a fan of the movie, you'll definitely want to check out the incredible Titanic exhibition at the Luxor.
Here you'll find over 250 artifacts recovered from the doomed ship.
There are also impressive recreations of many areas and rooms on the Titanic, including a replica of the Grand Staircase.
Perhaps one of the most unique attractions you can add to your Las Vegas itinerary is BODIES… The Exhibition.
Through an innovative preservation process, they have displayed 13 whole-body specimens here as well as over 250 organs.
Here you'll get a look at the human body that's only possible in an anatomy lab.
The exhibit encourages a healthy lifestyle by showing the damage done to bodies through over-eating, smoking, and a lack of exercise.
Cost: USD$32 for adults and $24 for children. You can also grab a combo ticket for $42 that includes admission to both
Hours: open daily from 11 am to 6 pm
Read Next: Spending time in the Southwest? Be sure to read our guide on the ultimate 3 days in Phoenix itinerary!
Big Apple Coaster at NYNY
Continuing north on the Strip across Tropicana Avenue, you arrive at New York New York.
This massive casino and resort actually looks like the skyline of New York City, complete with a replica Statue of Liberty!
One of the most fun things to add to your Las Vegas itinerary is a ride on the Big Apple Coaster here.
This epic rollercoaster provides some serious thrills in addition to fantastic views of Las Vegas.
Cost: $19 for your first ride and $10 for each re-ride (first ride is $23 after 6pm)
Hours: Mon-Thurs 1pm – 8pm, Fri-Sun 11am – midnight
For a few bucks more, you can tack on the VR experience.
That's right – you can battle aliens and monsters as you ride a roller coaster.
Fountains at Bellagio
One of the top things to see in Las Vegas is definitely the fountain show at the Bellagio.
It's hailed as the most ambitious water feature ever made, and you'll quickly see why.
Prepare to be amazed at this choreographed display of water, light, and music.
They rotate a wide variety of music, so you can even check it out a few times on your trip.
During the week, the fountain show runs every 30 minutes from 3-8 PM and then every 15 minutes until midnight.
It starts running at noon on Saturday and 11 AM on Sunday.
Best of all, it's totally free no matter when you see it!
Gondola Rides at the Venetian
Another popular spot in Las Vegas is the Venetian for their gondola rides.
It's a little slice of Italy right here in fabulous Las Vegas!
You have the choice between an indoor or outdoor gondola ride.
Either way you go, it's definitely one of the most romantic things to do in a 3 day Las Vegas itinerary.
Cost: Mon-Thurs cost $34 per person, Fri-Sun cost $39 per person
Hours: The indoor rides operate from 10 AM until 11 or midnight and the outdoor ones go from 11 AM until 10 PM.
Volcano at the Mirage
There are a lot of ridiculous, outlandish things on the Strip, but it's hard to top the volcano at the Mirage.
Seriously, there's a volcano right there on the Strip that erupts nightly.
As if the display weren't cool enough, the music for this show was composed by legendary drummer Mickey Hart of Grateful Dead fame.
He worked with Zakir Hussain (an Indian composer and master of the tabla) to craft an original score. How cool is that?!
You can watch the explosion nightly at 8, 9 and 10 PM. Once again, this is another totally free attraction to add to your Las Vegas itinerary.
Read Next: Want to see more of the Vegas area? Be sure to check out our post on the best day trips from Las Vegas!
Dinner and a Show
As you can see, there's plenty to see and do to keep you busy on the Strip for a quick trip to Las Vegas.
If you're motivated, you can check most of those things and then some off your list.
However you choose to spend day 1 on the Las Vegas Strip, you should definitely plan on dinner and a show for your first night in town.
Remember, Las Vegas calls itself the Entertainment Capital of the World. It's a fair nickname, as your options are nearly endless here.
Each of the large resorts on the Strip has several different options for dining and entertainment.
You could eat sushi then see a magic show. Or you could hit a steak house then see Cirque du Soleil.
Perhaps you'd rather have Italian and see some stand-up comedy.
The choice is yours!
For a list of upcoming shows in downtown Las Vegas, click here.
There are always deals available on shows, especially on weekdays.
When you get out of the show, you'll walk out to see the Strip in all its neon-lit glory.
Go ahead and take one more walk around, as you're in for some epic people watching.
We've still got a lot to fit into this 3 day Las Vegas itinerary, though, so I recommend taking it relatively easy on night one.
READ MORE: Get out of Las Vegas by taking an awesome Las Vegas to Los Angeles road trip!
Day 2
It may be a bit tough to avoid the temptations of Las Vegas nightlife. But trust me that it's worth it to have a more enjoyable day 2.
Today you're heading out on the day trip of your choosing, and it'll be way more fun minus a hangover!
Life is all about choices, and you've got a big one to make today.
With just 3 days in Las Vegas, you really can't do it all.
Here are a couple of options that are only around 30 minutes from Sin City.
Red Rock Canyon
After exploring all that the Strip has to offer on day one, it's time to get out into nature.
Thankfully that's not too difficult, as Red Rock Canyon is just 30 minutes away.
This stunning conservation area is 24 km (15 miles) west of the city.
It makes for an easy half-day trip to add to your Las Vegas itinerary.
As the name would suggest, this area is full of stunning red rock formations.
These were carved over millions of years and it's an absolutely awe-inspiring landscape to visit.
There's a one-way loop road around the canyon that gives you access to several different viewpoints and trailheads.
It's a popular spot to do a bit of hiking, rock climbing, or mountain biking.
Click here to read about all the different hikes and trails.
You have a few different options for visiting the Canyon. The easiest is just signing up for a tour that includes transportation from Las Vegas.
Your options range from open-air van tours, to mountain biking, to scooters, and even hot air balloon rides.
This tour on Get Your Guide is particularly awesome and comes highly recommended.
Alternatively, you can just rent a car for the day. This would allow you to potentially hit Red Rock Canyon and the next spot on our list.
In addition to the rental car cost, expect to pay another USD$15 for a day pass to the area for the vehicle.
Hoover Dam
One of the most popular places to visit within 30 minutes of Las Vegas is the Hoover Dam.
This engineering marvel was built between 1931-36 during the Great Depression by thousands of workers.
It has 17 generators producing an amazing 4 billion kilowatts of electricity per year!
The Hoover Dam really is an impressive sight to behold, towering 221 meters (726 feet) above the Colorado River.
You can enjoy some incredible views of the dam from the Mike O' Callaghan – Pat Tillman Memorial Bridge, which connects Nevada to neighbouring Arizona.
To visit the Hoover Dam, you can jump on a tour out of the city.
Being Las Vegas, you have several interesting options. You can kayak down the river, go on a mountain biking tour, or even drive your own Polaris Slingshot out there.
You can always just rent some wheels and check out both Red Rock Canyon and the Hoover Dam in a day.
Alternatively, book an awesome guided tour here.
Grand Canyon
If you're feeling super motivated, you can add a day trip out to the Grand Canyon to your Las Vegas itinerary.
Just be advised that it makes for a very long day, as it's about a 2.5-hour drive to the West Rim.
That being said, it's worth the effort if you're not sure if or when you'll make it back to see the Grand Canyon.
After all, Las Vegas is the closest airport to the West Rim.
One way to cut down on travel time is to visit on a helicopter tour. There are several different options for these as well as land-based tours of the Grand Canyon.
You should consider saving the Grand Canyon for another time as it is one of the most visited places in the United States for good reason.
You can enjoy your time 3 days in Vegas and then rent a car to get yourself to the Grand Canyon separately.
Choose Your Own Adventure
How you spend the rest of your day 2 depends entirely on what day trip you embarked on.
If you just do Red Rock Canyon or the Hoover Dam, you'll still have plenty of daylight left by the time you get back to Las Vegas.
Here are just a few of the fun things you can do with your afternoon back in Las Vegas:
Hit a pool party at one of the casinos
Play KISS mini-golf at the Rio or Twilight Zone at Bailey's
Visit the Pinball Hall of Fame
Ride the thrill rides at the Stratosphere
Play Top Golf at the MGM
Go on the High Roller (giant Ferris wheel)
Visit the Bellagio Botanical Gardens
See how many awesome things there are to do in 3 days in Vegas?
Of course, you could always just try your luck on the slots, at the tables, or at the sportsbook.
Some people skip out on that part of Las Vegas. But it's obviously a big draw for others.
Nightlife
If you're not too tired from this busy Las Vegas itinerary so far, it's time go out and party it up!
How you choose to spend your night is up to you. There are plenty of other shows that are worth catching. One of the more popular shows is The Beatles "Love" show by Cirque du Soleil.
Las Vegas is also home to some awesome dive bars, comedy clubs, breweries, night clubs, and more.
The world really is your oyster on a trip to Las Vegas.
READ MORE: Plan the perfect 3 days in Chicago.
Day 3
It's been a massive Las Vegas itinerary thus far, so don't feel bad about sleeping in a bit on Day 3.
If you haven't already done so, today is the day to take advantage of one of the city's countless buffets.
After a nice big meal (and maybe a Bloody Mary or mimosa), you're ready to take on your final day 3 in Vegas.
Downtown
The Vegas Strip may be the most famous area of the city, but downtown Las Vegas is where the city was born.
There's enough to see and do here to spend the entire day exploring the area.
18b Arts District
If you're the artsy type, you'll definitely want to spend some time wandering around 18b.
Named for the 18 blocks it covers, this is the arts district of Las Vegas about 15 minutes from the Strip.
This vibrant cultural hub is full of art galleries, boutiques, vintage clothing stores, and much more.
It's the perfect spot to pick up a unique souvenir or just do some window shopping.
The arts district also hosts many different events. If you happen to be in town on the first Friday of the month, you should definitely head here.
The "First Friday" art walk is a very festive event that draws thousands of people.
For more info and other events, be sure to check out their calendar.
Mob Museum
A great addition to any 3 Day Las Vegas itinerary is a trip to the Mob Museum.
This interesting museum takes a closer look at organized crime and its impact on American society.
There are three floors full of exhibits ranging from Prohibition-era speakeasies to 100 years of mob history.
Even with a couple of hours you likely won't see everything!
Cost: USD$29.95. It costs a bit extra to add some of the special experiences, such as a firearm training simulator
Hours: open daily from 9 AM – 9 PM (closed at 7pm on Sundays)
Neon Museum
It doesn't get much more Vegas than this next stop.
The Neon Museum is full of signs from casinos and hotels of yesterday and is a fun place to check out.
Also known as the Neon Boneyard, it's home to over 200 signs.
At night, they're illuminated by ground lighting. Some of them have even been restored to their neon-lit glory!
You have a few options for visiting the museum. It's possible to take a self-guided tour between 9 AM-7 PM. These cost USD$20 per person.
Alternatively, you can hop on an hour-long guided tour for USD$28. We recommend signing up for an evening tour so you can see the restored signs all lit up. Click here to check out the various ticketing options.
Fremont Street
Our massive 3 day Las Vegas itinerary winds down with a visit to Fremont Street.
This sprawling open-air mall is the perfect place to finish up a huge weekend in Las Vegas.
A walk along the Fremont Street Experience is total sensory overload.
The canopied street boasts a whopping 12 million LED lamps and the largest audio-video light show in the world!
There are always free concerts going on here, so check the calendar to see what's playing.
Make sure you catch the Viva Vision light show on the canopy while you're down here.
If you need some more thrills, you can take a ride on the SlotZilla zipline.
Fremont Street is also home to several restaurants, casinos, and bars, so stick around as late as you like and enjoy your last night in Vegas!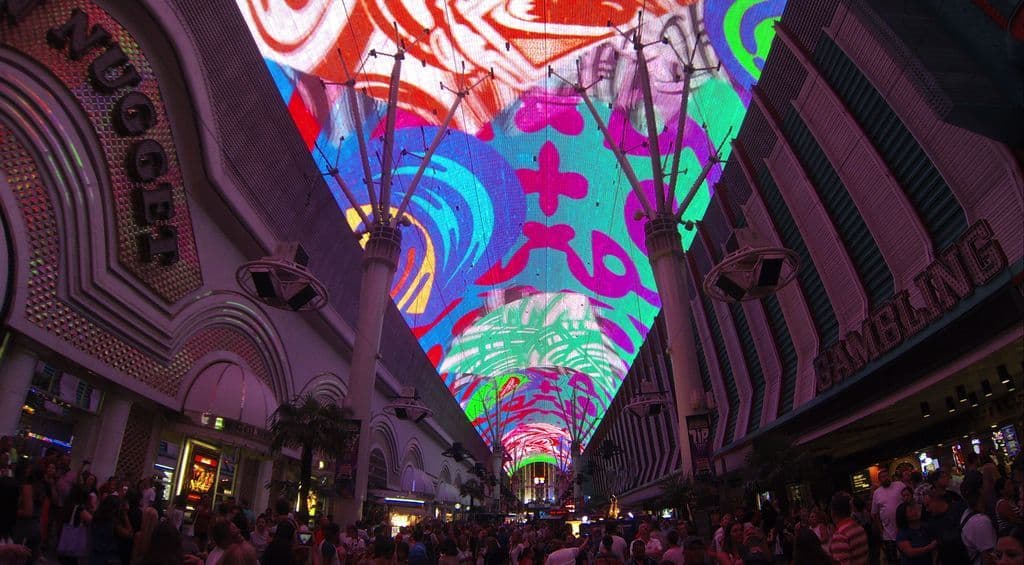 Las Vegas Itinerary Travel Guide
Now that you know what to do during your 3 days in Vegas itinerary, check out our mini travel guide to help you know where to stay and where to eat.
When to Visit Las Vegas
As far as weather goes, Las Vegas is out in the desert.
The summer can be scorchingly hot. But at least it's a dry heat and there's air conditioning virtually everywhere you go.
Temperatures can get pretty low at night during the winter, so bring some warm clothes with you.
Spring and fall tend to make the best times to spend 3 days in Las Vegas.
Where to Stay in Las Vegas
The next thing you'll want to do is settle on where to stay in Las Vegas.
Your options are basically endless here. From backpacker hostels to cheap motels, to the massive resorts for which the city is famous.
We recommend checking out the options on Booking.com
Getting Around Las Vegas
When it comes to getting around during your busy Las Vegas itinerary 3 days, you've got plenty of options.
There are a few tram lines that operate between some of the bigger casinos.
These are free of charge but not really that useful unless you're staying in one of those places.
While the monorail is widely regarded as a failure, it may be useful to you at some point in your 3 days in Las Vegas.
It runs from the MGM Grand to the SLS Resort with several stops in between. Click here to check out your options for tickets.
Generally, the most viable public transportation option in Las Vegas is the RTC bus.
These can get you up and down the Strip, east and west on residential routes, and even all the way downtown.
Of course, you can always just get a cab. There are always cabs waiting in front of the bigger casinos.
Uber and Lyft are both available in Vegas as well and are super convenient for getting around.
For further exploration of the area such as visiting the Hoover Dam, you'll need to either sign up on a tour or rent a car.
Accommodation for your Las Vegas Itinerary 3 Days
There are hundreds of options for accommodation in Las Vegas to suit all budgets.
Here are our top picks for budget, mid-range, and luxury options.
Best Budget Accommodation – Serene
If you're looking for a decent place to stay without breaking the bank, Serene is a solid choice.
This 3-star hotel has easy access to both the airport and the Strip.
The rooms here are comfortable and there's a nice outdoor pool you can take advantage of as well.
You can get a room for less than $100 during the week and around $125 on weekends.
Best Mid-Range Accommodation – MGM Grand
There are plenty of resorts in Vegas for under $200 a night before fees. But our pick goes to the MGM Grand.
You've got everything under one roof here – a sprawling pool complex, spa, fitness centre, restaurants, bars, shops, and more.
This famous casino also has tons of options for entertainment.
They have comedy, magic, live music, and often host big boxing or UFC fights.
You could honestly never leave the resort and you'd have an awesome vacation here.
Best Luxury Accommodation – Aria
Those seeking to live like a high roller in Vegas should book a room at Aria.
This sleek 5-star resort is definitely one of the nicest looking in Las Vegas.
It's also in a great location right on the Strip.
Staying at Aria, you can catch a performance of Cirque du Soleil or legendary rock bands like Aerosmith.
It's also really close to T-Mobile Arena where the Las Vegas Golden Knights hockey team plays.
Best Restaurants in Las Vegas
There are so many amazing restaurants in Las Vegas that you could try a new place for every meal and barely scratch the surface.
You can get cuisine from all corners of the globe here. It really is a foodie's paradise in Las Vegas!
Here are just a few recommendations for where to eat in Las Vegas:
Sage – Farm-to-table New American restaurant with seasonal ingredients and an innovative menu.
Le Cirque – A fancy French restaurant in an opulent space. This is the perfect spot for a date night in Vegas.
Wing Lei – This was the first Chinese restaurant in the US to receive a Michelin star thanks to dishes like their Imperial Peking Duck.
Lago – Delicious Italian food with a view of the Bellagio fountains is what you'll get at this excellent Vegas restaurant.
Lotus of Siam – Often ranked the best Thai restaurant in the US, this place is absolutely fantastic. They have two locations, and the Sahara Ave location is temporarily closed due to staff shortages from the COVID-19 pandemic. But the Flamingo Road location is up and running! Check their website for updates.
DISCLAIMER: Some of the links in this article are affiliate links, which means if you book accommodation, tours or buy a product, we will receive a small commission at no extra cost to you. These commissions help us keep creating more free travel content to help people plan their holidays and adventures. We only recommend the best accommodations, tours and products that ourselves or our fantastic editorial team have personally experienced, and regularly review these. Thanks for your support, kind friend!