Want to make sure you don't miss out on the best things to do in Tampa when you visit? We've got you covered with this guide!
Tampa may put you on the doorstep of the Gulf of Mexico and some of Florida's famous beaches, but its own attractions and local adventures will quickly fill up your itinerary.
At the heart of the Tampa Bay area, Florida's third-biggest city boasts a fantastic dining scene, a rich collection of museums and galleries and a long list of reasons to be outside.
This makes Tampa a year-round destination and one of the best places to visit in Florida. In the sizzling summer months, there are water parks and rivers to paddle.
When the heat tapers off, you'll have hiking and riverfront walks. While "cold" weather and hot temps are both reasons for exploring local history and creativity inside.
Our Perfect 3 Days in Tampa Itinerary will also help you plan your visit. Check it out!
21 Best Things To Do In Tampa Florida
You'll find no reason to be bored with all the things to see in Tampa.
Fun and sun may have brought you here, but the historic architecture, family fun and great food will be what you remember the most.
Enjoy the scenery of the Tampa Riverwalk or relax on the grass in Curtis Hixon Park. Venture to the exciting Ybor City in north Tampa or take a day trip to an amusement park or a state park in Hillsborough County.
There are lots of tourist attractions in Tampa Florida, as well as relaxing local spots to enjoy.
Consider getting the Tampa CityPASS to save money on selected attractions!
Including Busch Gardens, two aquariums, museums, and boat tours, buying the CityPASS will offer you discounted entry fees to some of the best activities in Tampa.
Let's get into the list of the best things to do in Tampa!
1) Ybor City
In the late 19th century, Vicente Martinez Ybor, a cigar baron, made his way to Tampa. Ybor was a successful cigar baron, who opened what would go on to be the largest cigar factory on earth.
This was just the beginning of one of Tampa's most fascinating neighborhoods. At the factory's height, 4,000 staff rolled almost a million cigars per month, making the city the cigar capital of the world.
The gravy train came to a sudden halt due to the Great Depression. The Ybor City now represents a brilliant case of urban renewal, with old warehouses replaced by a vibrant local culture with rows of restaurants, boutiques and galleries.
Ybor City is now a National Historic Landmark District. Wander around to discover Ybor City's signature architecture while making sure to visit Columbia Restaurant, the oldest in Florida.
Read Next: Check out our post on all of the best things to do in Florida!
2) Tampa Riverwalk
Making its way through downtown Tampa, the Tampa Riverwalk is a beautiful way to see the city and the river, day or night.
The path traverses the water's edge for almost 2.5 miles. It guides you along the banks of the scenic Hillsborough River, taking you between two of the best Tampa attractions with many sites in between.
Beginning at the foodie center of Sparkman Wharf, make your way along the Riverwalk by beautiful public art, including vast murals and intricate sculptures.
You'll also venture by the Florida Aquarium and the Tampa Museum of Art before ending at the Armature Works.
The Riverwalk intersects with Bayshore Boulevard, the longest continuous pedestrian walkway in the world. It also passes Hyde Park. Hyde Park is an upscale and beautiful neighborhood of Tampa, and there are lots of adorable shops and farmers' markets in Hyde Park Village.
The Riverwalk is an invigorating way to start your day and is a great way to do some Tampa sightseeing. While at night, you can enjoy the city lights of the Tampa Skyline sparkle against the night sky in the Hillsborough area.
An alternative way to enjoy downtown Tampa is booking a speed boat tour that will take you out along the coastline.
Or you can rent kayaks or stand-up paddleboards with a local company and explore the river that way.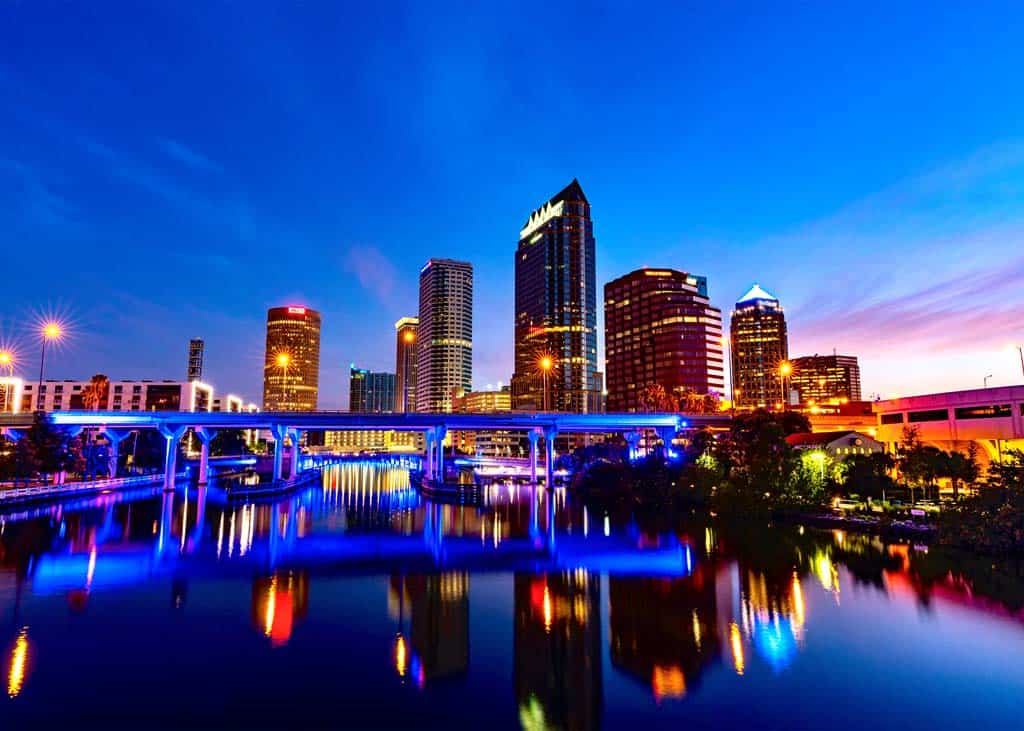 3) Busch Gardens
Theme parks help put Tampa on the tourist map and at the center of the city's range of fun activities is Busch Gardens. The 335-acre Tampa Busch Gardens has a vast range of attractions that help separate it from other amusement parks.
Families wondering what to do in Tampa, won't have to look beyond Busch Gardens for the full gamut of adventures.
We all know about the famous theme park's range of rides and thrilling experiences.
But you'll also be able to embark on an African safari, to replica villages and along plains where wildlife roam. There are animal exhibitions and animal attractions there to excite the whole family.
Beyond the Serengeti Safari, you'll have roller coasters, water rides to cool off along with vast arcades to challenge your friends and family. Visit the website to see what rides and exhibits they have in store for you.
Location: 10165 McKinley Dr, Tampa, FL 33612
Opening Hours: 10am-6pm (Mon-Thur) 10am-8pm (Fri) 10am-10pm (Sat) 10am-9pm (Sun)
Price: $124
Read Next: Consider these great day trips from Tampa while you're in the area!
4) Armature Works
At the end of the Tampa Riverwalk, the Armature Works awaits. Built in 1910, the historic building has been transformed from a maintenance facility to a foodie hub.
The sprawling space features a wide-open food hall. The variety of eats will have you scratching your head trying to figure out which to choose. But there's much more to the Armature Works than food. You'll find cooking classes, wine tastings, boutique shops and a rooftop bar to try the local tipple.
The Armature Works also hosts the lively Heights Night Market. This occurs every second Wednesday of the month and will help you celebrate "Hump Day" with artisanal treats, live music and eclectic art.
Location: 1910 N Ola Ave, Tampa, FL 33602
Opening Hours: 7.30am-10pm (Mon-Thur) 7.30am-12am (Fri) 8am-12am (Sat) 9am-9pm (Sun)
Price: Free
Want to explore more of Florida? Check out this 2 Week Florida Road Trip Itinerary!
5) Lettuce Lake Regional Park
In the 1980s, the Lettuce Lake Regional Park was established to protect a conglomerate of gorgeous local ecosystems. Those traveling to Tampa will be well placed to explore them while enjoying a number of fun outdoor activities.
The regional park is only 20 minutes northeast of Tampa. On arrival, make your way to the Visitor Center where you can get the lowdown on the best adventures along with the park's resident wildlife and flora.
There are several miles of easy hikes that will guide you into the park. Many of these are raised and accessible boardwalks that help to showcase the vibrant wetlands and estuaries.
Beyond hiking, you can explore further on a kayak or sign up for a ranger-led tour.
This spot is a great day trip destination near Tampa for the whole family.
6) Adventure Island
Busch Gardens may be the go-to theme park in the Tampa Bay area, but if you really want to cool off while getting your heart racing, then there's only one place to go.
Adventure Island is the best water park in Tampa and will provide you with an endless list of water-inspired thrills.
There are nine intense water slides spread around Adventure Island, each one more terrifying than the last. Whether you're a young buck or simply young at heart, the slides such as the Corkscrew, Riptide and Vanish Point will leave you heart-in-mouth yet ready to experience it all over again.
Beyond the slides, there is a rafting race, where you can compete against your friends. Plus lazy rivers and a relaxing beach round out all the Tampa activities.
Location: 10001 McKinley Dr, Tampa, FL 33612
Opening Hours: 10am-5pm (Mon-Fr) 10am-6pm (Sat-Sun)
Price: $80
7) The Sparkman Wharf
Your adventures around Tampa will ensure that you work up quite the appetite. So you'll be happy to know that Tampa is developing quite the reputation among foodies.
Another top spot to eat out in Tampa is the Sparkman Wharf. Here, you'll uncover a delightful concentration of delicious restaurants and pub grub all set within a collection of repurposed shipping containers.
While the containers provide the Sparkman Wharf with a unique atmosphere, it will be the delectable food that keeps you around.
As you nosh on the many creations, enjoy the vibe within the outdoor space. The busy calendar of additional events includes movie nights and there is space for your furry friend to join in on the fun.
Location: 615 Channelside Dr, Tampa, FL 33602
Opening Hours: 11am-9pm (Sun-Thur) 11am-11pm (Fri-Sat)
Price: Free
8) Clearwater Beach
If you're craving a beach day, Tampa is only 30 minutes east of one of the best stretches of sand in the United States.
Around three miles long, the beach harbors a captivating atmosphere with gorgeous turquoise water, parks, nearby restaurants and a historic pier.
Once you step onto the beach, you'll note how immaculate the sand is. It makes for the perfect bed as you bathe under the Florida sun before seeking refuge in the crystal clear waters of the Gulf of Mexico.
At the heart of Clearwater Beach is Pier 60. The lengthy concrete pier extends into the Gulf and is at the heart of the nightly Sunset Celebration. Here, crowds gather to enjoy golden hour alongside vendors and live music.
9) Florida Aquarium
In downtown Tampa, the Florida Aquarium features a range of marine life alongside reefs and underwater flora.
They all combine to create an insightful aquarium that showcases life beneath the surface not only in the Sunshine State but around the world.
It's the layout of the Florida Aquarium that will most impress those who visit. It begins with a single drop of water that pops out from a spring and takes you on an exciting journey from the inland waterways out to the Gulf of Mexico.
The logical progression allows you to understand how everything works together as you discover the species that reside within Florida, then the Gulf and eventually the wider oceans.
With an outdoor park boasting water cannons and a pirate ship, the aquarium is as fun as it is educational.
Location: 701 Channelside Dr, Tampa, FL 33602
Opening Hours: 9:30 am-5 pm (Mon-Sun)
Price: $27
10) Tampa Museum of Art
For all the theme parks and outdoor adventures, Tampa is home to some of the best museums and galleries in the state. At the top of the list is the Tampa Museum of Art.
Set upon the Riverwalk, the Museum of Art opened in 1920 and now covers a lengthy period of human history that takes you as far back as the Roman era.
Beyond housing one of the largest collections of Roman and Greek antiquities in the United States, you'll also find multi-media exhibits, sculptures, contemporary paintings and photography.
One of the highlights of the experience is the incredible LED installation of Leo Villareal's Sky. The 14,000 square-foot piece lights the museum's south wall.
Location: 120 W Gasparilla Plaza, Tampa, FL 33602
Opening Hours: 10am-5pm (Fri-Wed) 10am-8pm (Thur)
Price: $20
After Tampa, be sure to slide a few hours east and check out Orlando with The Perfect 3 Days in Orlando Itinerary!
11) Tampa Bay History Center
If you're keen to learn more about local history, then the Tampa Bay History Center is one of the most fun things to do in Tampa.
Travelers will be able to embark on a 12,000-year journey as you trace the human activity around Tampa from early inhabitants to the Seminoles, European settlement and the expansion of the railroads.
The center provides a vital insight into the rich multicultural community that now calls Tampa home. You'll also be able to explore how the region's geography has not just changed but shaped how the city and neighboring towns were developed.
Some of the top exhibits include the Treasure Seekers Gallery, which focuses on piracy in the Gulf with historic artifacts and a replica pirate ship.
The Tampa Bay History Center is the perfect stop for history lovers, as this museum dedicated to the secrets of the past is fascinating.
12) Curtis Hixon Waterfront Park
A picnic at the Curtis Hixon Waterfront Park is one of the best free things to do in Tampa.
A few steps from the Riverwalk, the park presents spacious greenery perfect for relaxing with friends near the city's waterfront.
Backed by the high rises of downtown Tampa, the park isn't just a place to break out the cheese and crackers. It hosts monthly Rock the Park live music concerts along with regular community events and markets.
The park is sloped in sections so you can enjoy better views not just of the water but the concerts as well. You'll also find splash pads, playgrounds and a dog run throughout the waterfront park.
13) Amalie Arena
To enjoy some live sport in Tampa, you won't have to venture far. Amalie Arena, home to the Tampa Bay Lightning, is placed in the Channel District a short walk from downtown.
The Lightning carves up the ice while battling for supremacy in the National Hockey League from October to May. The face-paced sport is a thrill to watch live, even if you're new to hockey.
But the Lightning aren't the only residents of Amalie Arena. The ice often makes way for college basketball games, wrestling and regular live events.
Other ways to enjoy sports while in Tampa include heading just out of the city to Raymond James Stadium (Tampa Bay Buccaneers) or to St. Petersburg to watch the Rays play baseball.
14) The Straz Center for the Performing Arts
Continuing the theme of live entertainment, catching a show at the Straz Center for the Performing Arts is one of the most fun things to do in Tampa.
The Straz is one of the largest performing arts centers in the American south and presents a rich calendar of events.
You'll find the center on the edge of the Hillsborough River just north of the Waterfront Park. Since opening, it has showcased over 4,000 performances, ranging from Broadway productions to concerts and standup comedy.
Before arriving in town, be sure to check out their schedule to see what's on.
If nothing lines up with your dates, why not check out the Patel Conservatory? This resides within the center and offers workshops for those interested in the performing arts.
Be sure to check out this 3 Days in Miami Itinerary if you're heading to the south of Florida.
15) Glazer Children's Museum
If you have young kids in tow on your trip to Tampa Florida, you'll be happy to know there are more than just amusement parks for the little ones to enjoy.
The Glazer Children's Museum is packed with interactive exhibits that will help your children take part in an experience that is equally fun and insightful.
The museum helps kids explore the world around them through play. Each exhibit has an underlying theme and lesson, but the activity itself is never boring.
Here, they can learn about banks and budgeting without drawing a yawn. They can also experience life as a firefighter, with the chance to complete every kid's dream of sliding down a fire pole.
Other exhibits include life as a veterinarian and a ship captain along with learning about worldwide cultures.
Location: 110 W Gasparilla Plaza, Tampa, FL 33602
Opening Hours: 10am-5pm (Tue-Fri) 10am-6pm (Sat) 1pm-6pm (Sun)
Price: $15
16) Henry B. Plant Museum
The opulent Victorian palace, which formed a part of the old Tampa Bay Hotel, now pays tribute to a vital figure in local history.
Henry Plant helped developed the railroads around the Tampa Bay area, which led to a population boom and the modern city you're exploring today.
The distinctive building is an architectural gem and was turned into a museum in the 1930s. It remains much the same, inclusive of the splendid Garden Room and the gorgeous Grand Hall.
The towering spires atop the red brick building make the Plant Museum an iconic landmark in the city. The Plant Building is also part of the University of Tampa, and there are even some classes held inside this National Historic Landmark.
Since Plant was such a, well fan of plants, the grounds are as eye-catching as the palace and museum. Before wandering inside, be sure to check out the space that features a great collection of tropical flora.
Location: 401 W Kennedy Blvd, Tampa, FL 33606
Opening Hours: 10am-5pm (Tue-Sat) 12pm-5pm (Sun)
Price: $10
17) Tampa Bay Food Tours
We mentioned that Tampa has a growing food scene. The various markets and food halls do their best to help you explore it. But with the help of Tampa Bay Food Tours, you can experience the best of the city's delectable food.
The tours last for about 3.5 hours. Your expert guide will take you around town on food, leading you to some of the best food and drink options in Tampa.
As you'll pass a number of attractions and historic sites, your food tour is also a great way to see the city, including the waterfront and downtown areas.
All up, you'll stop at five highly rated establishments to enjoy classic Florida cuisine and some refreshing craft beer.
18) Florida Museum of Photographic Arts
In the center of the Waterfront Arts District, the Florida Museum of Photographic Arts provides a raw journey through contemporary history.
The museum opened for the first time in 2001 and has developed a reputation for innovation.
Its first exhibition featured 50 iconic black and white photos from a number of private collections. It was an awe-inspiring way to begin and laid the foundation for the years to come.
Today, a collection of photos focus not just on the United States but across the world, provides what feels like firsthand insight into important events.
When complemented by some fantastic temporary exhibitions, it provides guests with an experience that goes beyond just art.
Location: 400 North Ashley Drive Cube 200, Tampa, FL 33602
Opening Hours: 12pm-5pm (Sat-Thur) 12pm-7pm (Fri)
Price: $10
19) Florida Botanical Gardens
There are some great parks around Tampa, but if you really want to take a deep breath and de-stress, the Florida Botanical Gardens is the place to go.
The gardens are free for all visitors and are another top spot for a romantic picnic or family gathering.
From the entrance, the paths guide you into a lush oasis that showcases some impressive themed gardens and different ecosystems.
As you wander, you'll cross paths with some of the 3,000 unique plant species in the gardens, from tulips and orchids to bonsais and begonias.
There is also the vibrant Butterfly Garden, plus elegant fountains and public art.
Location: 12520 Ulmerton Rd, Largo, FL 33774
Opening Hours: 7 am-5 pm (Mon-Sun)
Price: $21.95
20) Hillsborough River State Park
Home to bayous, swamps, dangling vines and vast mangroves, the Hillsborough River State Park is a wilderness on the doorstep of Tampa Florida.
After opening in the 1930s, it became one of the first state parks in Florida. The rolling Hillsborough River cuts through the park, providing the area with a rich habitat.
There are 7 miles worth of hiking trails to enjoy. These will guide you to open picnic areas to put your feet up. When the sun is heating up the park, wander over to the revitalizing freshwater pool before embarking on some more adventures.
Aside from walking, you can admire nature and keep your eye out for wildlife by paddling along the river. You can also go fishing or check out the Fort Foster State Historic Site.
21) Big Cat Rescue
Tampa's Big Cat Rescue has been open since 1995 and is a sanctuary for injured and abandoned cats. You may have heard of Big Cat Rescue due to its central role in the viral Netflix show Tiger King.
The rescue provides them with a place to live out their days free of abuse and manipulation. For visitors, it's a chance to see these impressive animals up close while learning about each species and wildlife conservation.
There are also feeding opportunities and fun night tours to embark on.
Location: 12802 Easy St, Tampa, FL 33625
Opening Hours: Check their website for more info
Price: $49
For more great Florida adventure be sure to check out our post on The 20 Best Things To Do In Key West, Florida!
Where to Stay in Tampa Florida
With the best things to do in Tampa covered, are you ready to pack your bags? Let's explore some of the top Tampa accommodations.
Best Hostel in Tampa Bay: Gram's Place
At Gram's Place, have your choice of private rooms with an ensuite or your classic hostel dorm room.
This hostel is all about the good vibes with a fun music theme. There's a jacuzzi, two full kitchens and you'll be just north of downtown.
Best Mid-Range Hotel in Tampa Bay: Courtyard by Marriott
The Courtyard by Marriott provides guests with proximity to both the city, Clearwater Beach and Busch Gardens.
The spacious rooms come with cable TV and a work desk, plus there is an on-site pool, fitness center and restaurant.
Best Luxury Hotel in Tampa Bay: Grand Hyatt
At the Grand Hyatt, guests will have access to a trio of on-site restaurants, two outdoor pools and upscale rooms.
The hotel can also arrange complimentary local transport to nearby attractions. You can also enjoy the uninhibited sunset on the edge of Old Tampa Bay.
DISCLAIMER: Some of the links in this article are affiliate links, which means if you book accommodation, tours or buy a product, we will receive a small commission at no extra cost to you. These commissions help us keep creating more free travel content to help people plan their holidays and adventures. We only recommend the best accommodations, tours and products that ourselves or our fantastic editorial team have personally experienced, and regularly review these. Thanks for your support, kind friend!