Everything you need to know to plan the perfect 3 days in San Francisco itinerary!
Located in the Bay Area of Northern California, San Francisco is one of the most iconic American cities and home to some of the best things to do in California.
Known for its steep hills, pastel houses, vibrant culture, and funky weather, it's a very unique city.
From the Gold Rush to Silicon Valley, this city has always been at the forefront of technology.
Some of the companies that call San Francisco home include Google, Facebook, Uber, and Airbnb.
Chances are you'll use them all when planning a trip!
Speaking of planning your trip, let's get into it!
Lace-up your walking shoes, charge those camera batteries, and get ready for an epic 3 days in San Francisco itinerary!
San Francisco Highlights
Golden Gate Park
Fisherman's Wharf
Chinatown
Sea lions at Pier 39
Golden Gate Bridge
Aquarium of the Bay
Walt Disney Family Museum
Palace of Fine Arts
Exploratorium
San Francisco Zoo and Gardens
Haight-Ashbury
The Presidio
Alcatraz Island
Ghirardelli Square
Lombard Street
Napa Valley Wine Country
How to Spend a Perfect 3 Days in San Francisco Itinerary
Visiting San Francisco Travel Tips
When to Visit San Francisco
Before figuring out what to do with 3 days in San Francisco, you'll need to decide when to visit.
The city is famous for its unpredictable weather. It can be foggy and cold on the beach and scorching hot and sunny just a few blocks away!
If this is your first trip, one common misconception about San Francisco is that it's always warm.
That's not the case in the Bay Area of Northern California!
It actually gets pretty cold here between November and February.
Those months also see the most rainfall, which can definitely put a damper on your trip.
The warmers months are actually September and October, so that's a great time to visit San Francisco.
Crowds are way smaller in fall than they are during the summer, so you can score some solid deals on accommodation and activities.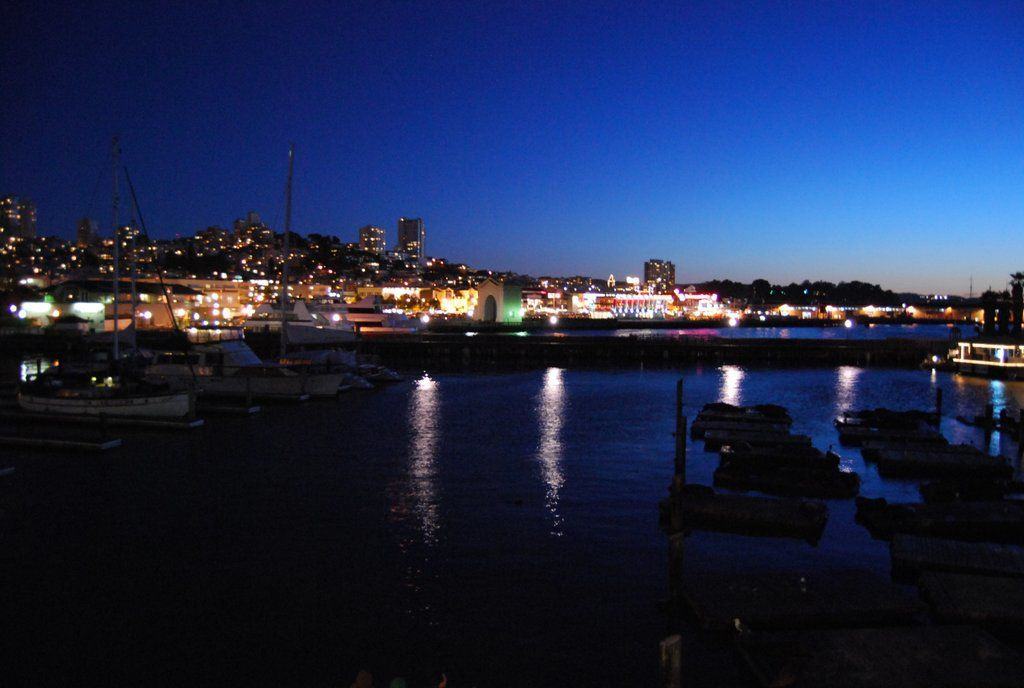 San Francisco CityPASS
One thing we highly recommend is that you purchase the San Francisco CityPASS before you arrive.
Seeing as how you'll be doing quite a bit of sightseeing in San Francisco, this is a worthwhile investment and the best way to see the gems of the city.
You'll find that the combination ticket gets you into five of the following attractions:
California Academy of Sciences
Blue and Gold Fleet Bay Cruise Adventure
Aquarium of the Bay or
Walt Disney Family Museum
Exploratorium or
San Francisco Zoo and Gardens
The San Francisco CityPASS saves you quite a bit of money (upwards of 45%) as it only costs USD$76 for adults and $56 for kids.
You can easily visit all of these places as part of your 3 days in San Francisco!
SPECIAL DEAL: Purchase your San Francisco CityPASS ahead of time to access all the biggest discounts for attractions in the city.
Getting Around San Francisco
The cable car is one of the best ways to get around San Francisco. You can pick up a 3-day visitor passport for USD$32.
These are valid on the cable car, streetcars, and the Muni bus and metro system.
Some people prefer the convenience of the hop-on, hop-off bus over the cable car.
A 1-day pass costs USD$49 and will get you to such landmarks as Chinatown, the Golden Gate Bridge, and Fisherman's Wharf.
There are also plenty of public transport options to and from the city center and San Francisco International Airport, which is convenient.
Now that you've got some basic info on the city, let's take a closer look at what to do in San Francisco for 3 days.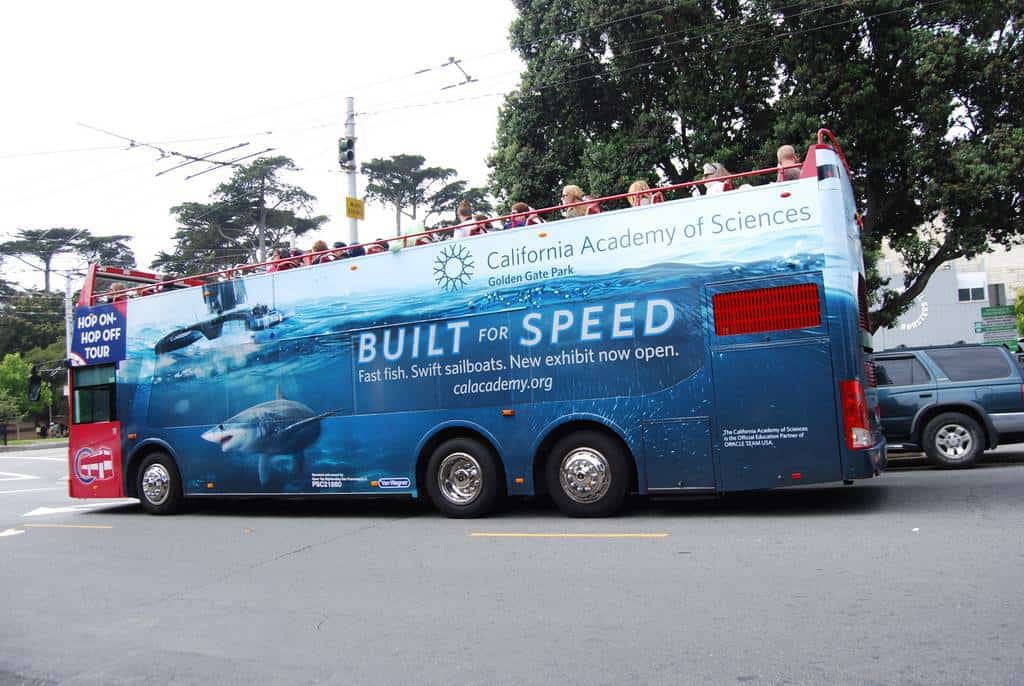 Book your ONE DAY hop-on hop-off pass and your TWO DAY pass here!
Day 1 – Morning
Wherever you decide to stay, make sure you have a big breakfast and fuel up with some caffeine.
You're going to need all the energy you can get for a big first day in San Francisco!
A Walk on Ocean Beach
To kick off 3 days in San Francisco, jump on the N Judah light rail. Ride it until the very end to the Ocean Beach stop.
To be clear, this isn't a day at the beach. The water of the Pacific Ocean is often quite frigid here and the weather can change in an instant.
Ocean Beach is beautiful, though, and is a great place for a leisurely stroll along the Pacific Ocean.
Plus, you can go from the beach straight into the next stop.
Golden Gate Park
Before we get to the Golden Gate Bridge, it's time to check out the Golden Gate Park.
Golden Gate Park covers over 1,000 acres and is actually 20% bigger than Central Park in New York!
There's so much to see and do in Golden Gate Park that you could easily spend the entire day there.
With just 3 days in San Francisco, however, you'll need to move a bit quicker.
The Golden Gate Park has trails, picnic areas, lakes, gardens, playgrounds, and even a Dutch windmill.
It's home to a conservatory of flowers, a Japanese tea garden, a fine art museum, and much more.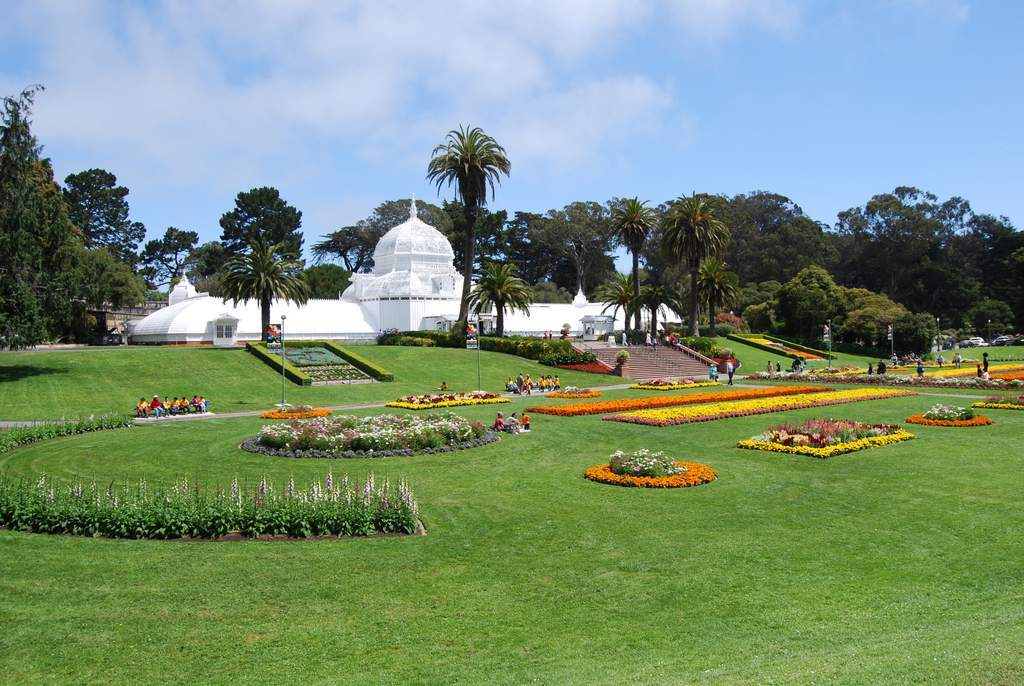 There's a golf course and a disc golf course here. Golden Gate Park also has tennis courts, horseshoe pits, and a skate area for sports enthusiasts.
You can also rent a bike or join a bike tour to help you cover more ground.
If you bought the San Francisco CityPASS, you'll want to stop at the California Academy of Sciences.
Read Next: Have extra time on the West Coast? Take the ultimate road trip from San Francisco to Seattle!
Tickets cost USD$35 otherwise. You can buy a 'Skip the Line' ticket here to get you in quicker.
There's a lot going on here, with an aquarium, planetarium, and even a rainforest!
It's pretty amazing all the different things you can do in one park!
After making it the entire length of the Golden Gate Park, sit down and chill out for a bit on Hippie Hill.
It may not be the summer of love anymore, but the hippie spirit is still alive and well in San Francisco!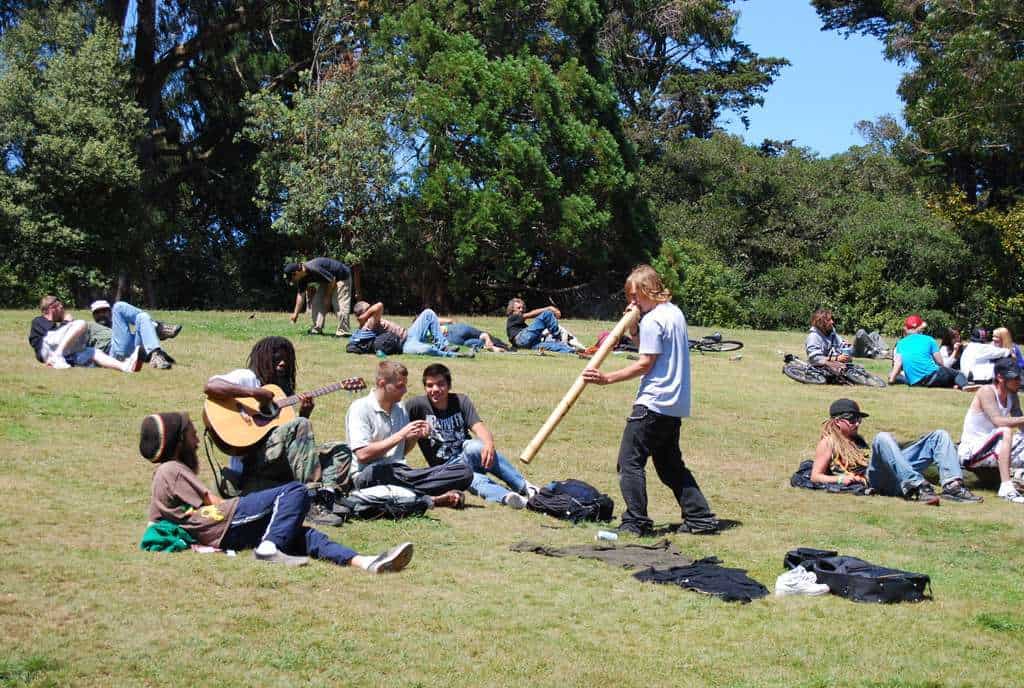 Day 1 – Afternoon
Whatever you decided to do while visiting the Golden Gate Park, chances are you're getting pretty hungry and a bit tired at this point.
Thankfully, you'll end up in one of San Francisco's coolest neighbourhoods upon leaving the park. There are plenty of options for lunch here!
Haight-Ashbury
Back in the '60s during the summer of love, the Haight-Ashbury area of San Francisco was the birthplace of the hippie counterculture movement.
Young people from all corners of the country flocked here and established a community centred around liberal ideals, music, and drugs.
The first head shop in the nation opened up here and was a popular meeting place.
While the original Psychedelic Shop is no longer around, there are plenty of funky shops here to peruse.
In addition to head shops, you'll also find some pretty awesome record and clothing stores here.
Be sure to check out Amoeba Records, Buffalo Exchange, Decades of Fashion, and Loved to Death.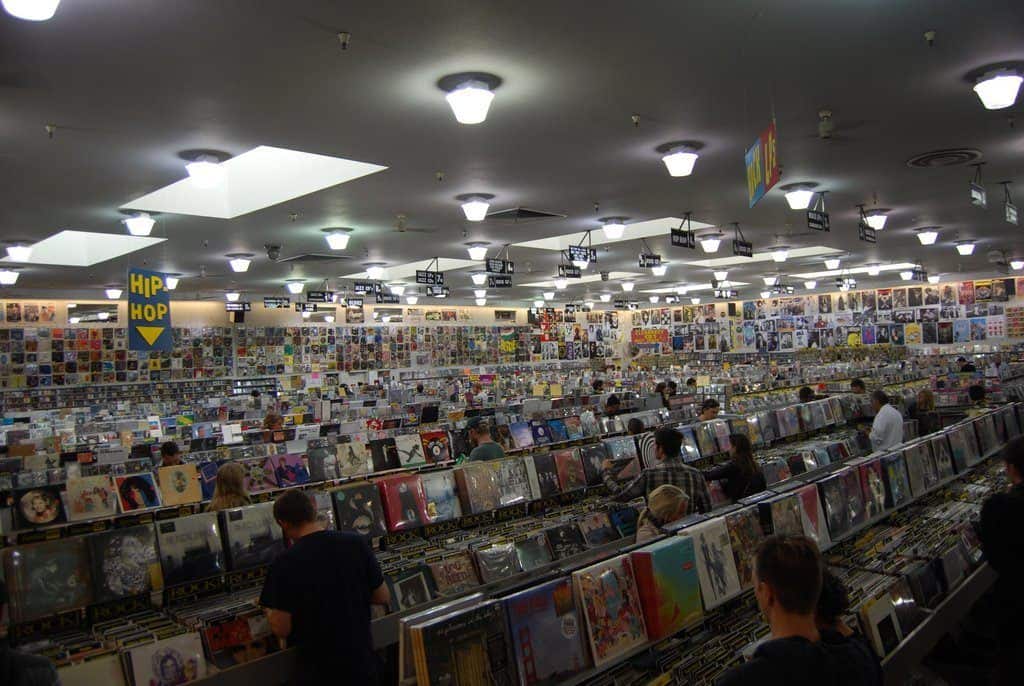 My personal favourite part of visiting this area is seeing the house where the Grateful Dead used to live.
710 Ashbury was home to the legendary band from 1965-68 and it remains a popular attraction for Deadheads from all over the world.
If you happen to be in town on a Friday, you can sign up for the Flower Power Walking Tour of the Haight.
Tours start at 2 PM and last about 2.5 hours.
It costs USD$20 per person and you can book online in advance.
Read Next: Tack on a few extra days in the area with a Northern California road trip!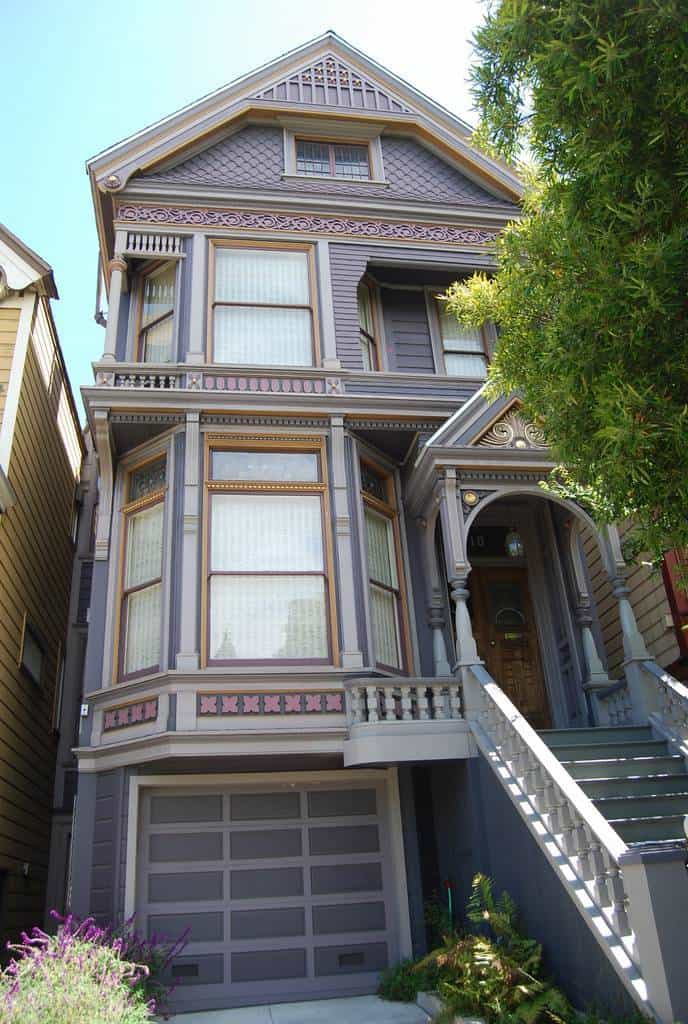 Local Parks
When you've had your fill of the Haight, it's time to check out another local park or two around the city.
The aptly named Buena Vista Park really gives you a buena vista ("good view") of the San Francisco skyline.
A few blocks away, you'll find Alamo Square Park.
This is the best spot to snap a photo of San Francisco's iconic "Painted Ladies" – a row of colourful Victorian-style homes.
Known as "Postcard Row," this block of houses really does make for some postcard-worthy images.
If they look familiar, it's probably because you've seen them before.
The homes on Alamo Square were used in the opening credits of the famous TV show "Full House."
READ NEXT: Add these great things to do in San Francisco to your itinerary!
Day 1 – Evening
It's been a busy first of your 3 days in San Francisco so I recommend taking it easy on your first evening.
After you explore San Francisco all day and cover some serious ground, it's time to chill out a bit!
Read Next: With a little extra time you can have some fun on a handful of great day trips from San Francisco!
Dinner & Drinks
Once you finish your photoshoot with the Painted Ladies, you've got lots of options for dinner & drinks in the area.
You can stick around the Alamo Square Park area or walk a few blocks to the Lower Haight or Hayes Valley.
There are plenty of restaurants, breweries, and bars in the area from which to choose.
Take your pick from Mexican, Thai, Italian, Japanese, Greek, and more.
There are also craft breweries, Irish pubs, and quirky dive bars. The options are practically endless here!
Live Music
If you've got any gas left in the tank and you're up for it, there are several excellent music venues in the area.
There's the San Francisco Symphony if you feel like classing it up a bit.
Other options include SF Jazz, the Fillmore, and the Bill Graham Civic Auditorium.
I always check Jambase to see what's playing when I'm travelling.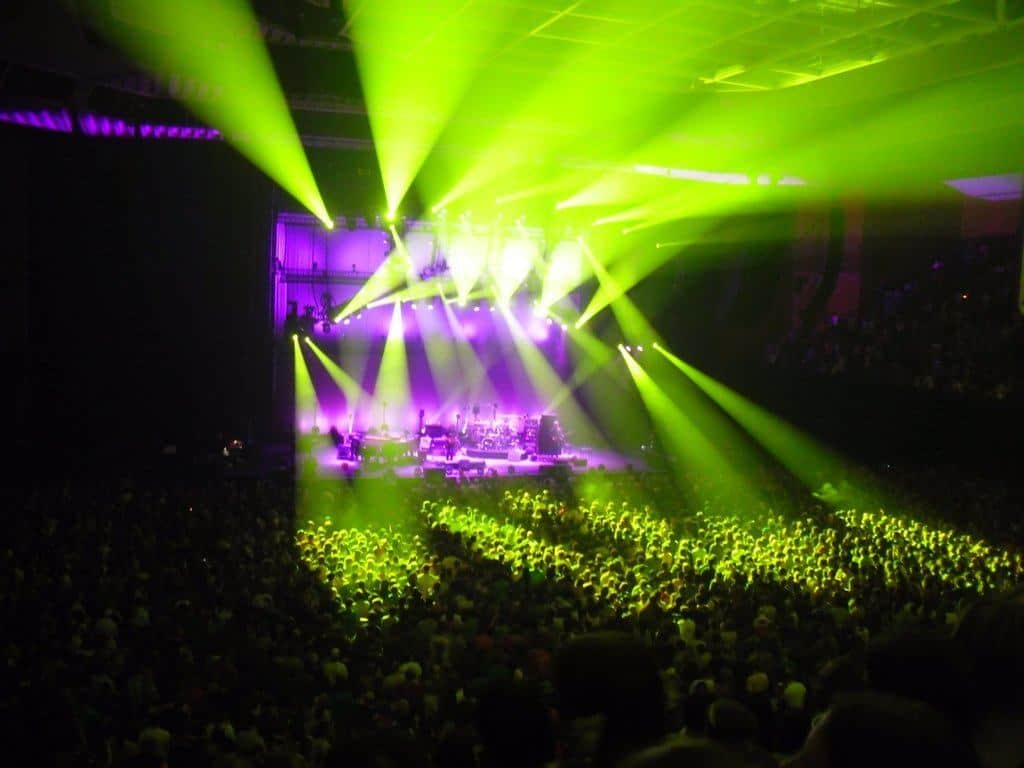 Day 2 – Morning
Our 3 days in San Francisco trip planner rolls on with day two.
Hopefully, you got some solid sleep and had a substantial breakfast because we've got another big day!
Lyon Street Steps
For those who like to kickstart their day with a little exercise, a visit to the Lyon Street Steps is a solid choice.
They're located on the southeast corner of the large Presidio Park where you'll be spending the morning.
You'll have to walk up 332 steps here, but it's well worth it for the epic views of the bay.
Be sure to bring your camera for this one!
While it's worth a visit on a clear day, I should note that you can skip out on the Lyon Street steps if San Francisco's infamous fog rolls in.
READ NEXT: Consider taking a trip to the nearby mountains after reading our post on all the great things to do in Lake Tahoe!
The Presidio
Whether you walk up the stairs or not, the rest of your morning should be dedicated to exploring the Presidio, especially if it's your first time visiting San Francisco.
Once the site of a US Army post, it's now a national park.
There's a lot going on here and the park is quite large. So you'll have to pick and choose what you do here.
If you start with the stairs, you can then walk along the scenic Lovers' Lane trail.
Nearby is the Letterman Digital Arts Center. It's home to Lucasfilm, the legendary studio behind the Star Wars series.
You can drop into the lobby during working hours to snap photos with life-sized statues of Darth Vader and Boba Fett.
Plus there's also a Yoda Fountain out front. It's definitely a necessary stop for all the Star Wars fans out there!
Next up is the Palace of Fine Arts. This beautiful Greco-Roman palace was originally built for the 1915 Panama-Pacific Exhibition.
The Palace of Fine Arts is now a popular event space and a great spot for photographers to check out. It also showcases lots of, you guessed it, fine arts!
The venue is open from 10 AM-5 PM from Tuesday to Sunday and you'll need about an hour to check it all out.
An alternative approach to the Lyon Street steps is starting your visit off on the coast at Baker Beach.
From here, you can access the nice Batteries to Bluffs trail along the shoreline.
That's not all, though. The Presidio is also home to a few museums, lots of public art, plenty of scenic overlooks, and a few beaches.
One of the best views of the Golden Gate Bridge is possible from the Golden Gate Overlook.
You could definitely spend all day here, but we've got a busy San Francisco itinerary ahead of us still!
Day 2 – Afternoon
As far as lunch goes, you've got a few options.
There are a few cafes and restaurants in the park, including the Presidio Social Club and The Commissary.
If you'd rather sit outside and save some money, you can do that instead!
There are plenty of picnic areas in the Presidio, so you can always just pack a lunch.
Golden Gate Bridge
Next up is the most iconic image of the city – the Golden Gate Bridge.
It's listed as one of the Seven Modern Wonders of the World and attracts over 10 million visitors each year!
To learn more about this engineering marvel, you can drop into the Golden Gate Bridge welcome centre.
They've got some informative exhibits on the Golden Gate Bridge and some great views of it as well.
While you can just take in the views from an overlook, the best way to really experience the Golden Gate Bridge is by walking across it!
This should definitely be high on your list of what to do in San Francisco.
It takes about 45 minutes to an hour to walk across the 1.7-mile bridge.
You could also opt to rent a bicycle from a nearby shop and ride that across.
Once you get to the other side of the Golden Gate Bridge, you're in Marin County.
Seeing as how you walked all the way across the bridge, you must see the view of San Francisco from that side of the water.
There are a few trails and viewpoints on the Marin side of the bridge, as well as Kirby Cove Beach and the Presidio Yacht Club.
The latter is home to Travis Marina, a chilled-out bar with cheap drinks and awesome views across the San Francisco Bay.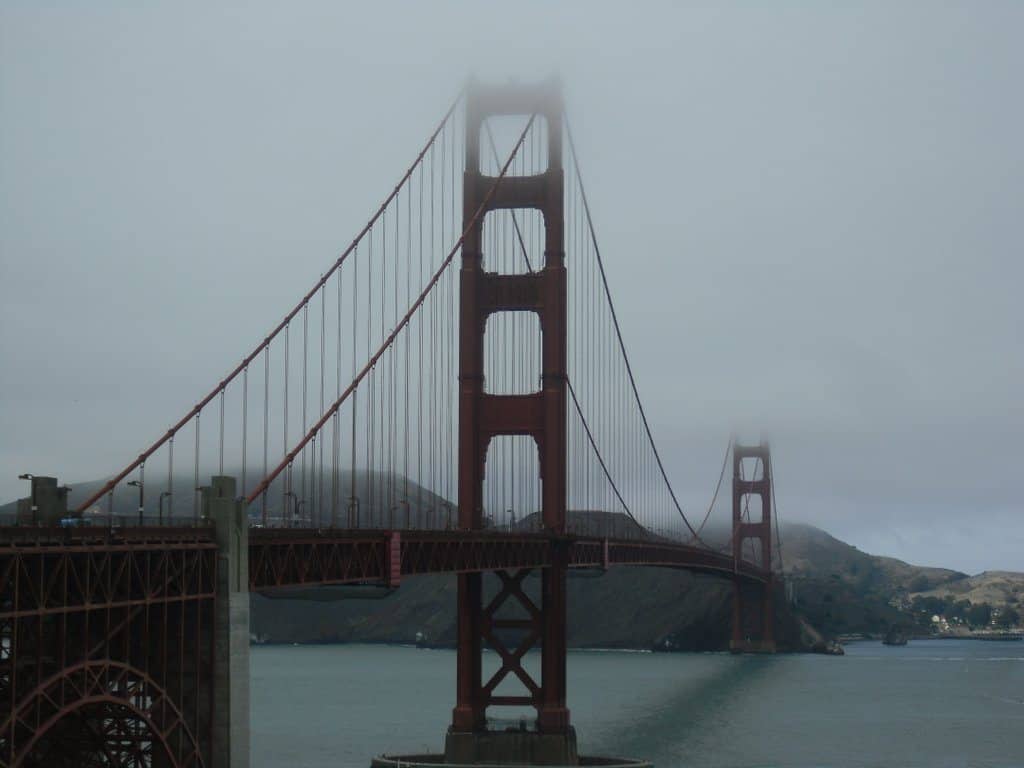 Day 2 – Evening
After that huge day, you might want to chill out back at your accommodation for a bit.
With just 3 days in San Francisco, you need to squeeze in a break every now and then!
Have a shower, get changed, and head out for a big night out on the town.
Mission District
When it comes to nightlife, few areas do it better than the Mission District in downtown San Francisco.
Before we get to the partying, though, you're going to need some food in your belly.
This part of the city is home to a large Hispanic community, and that means plenty of awesome taquerias to choose from.
Actually, there's a special variety of burrito that originated right here!
Burritos are more than food here. They're a part of the culture. Be sure to come hungry, because these Mission District burritos are no joke!
La Taqueria is one of the most popular spots to try this famous burrito.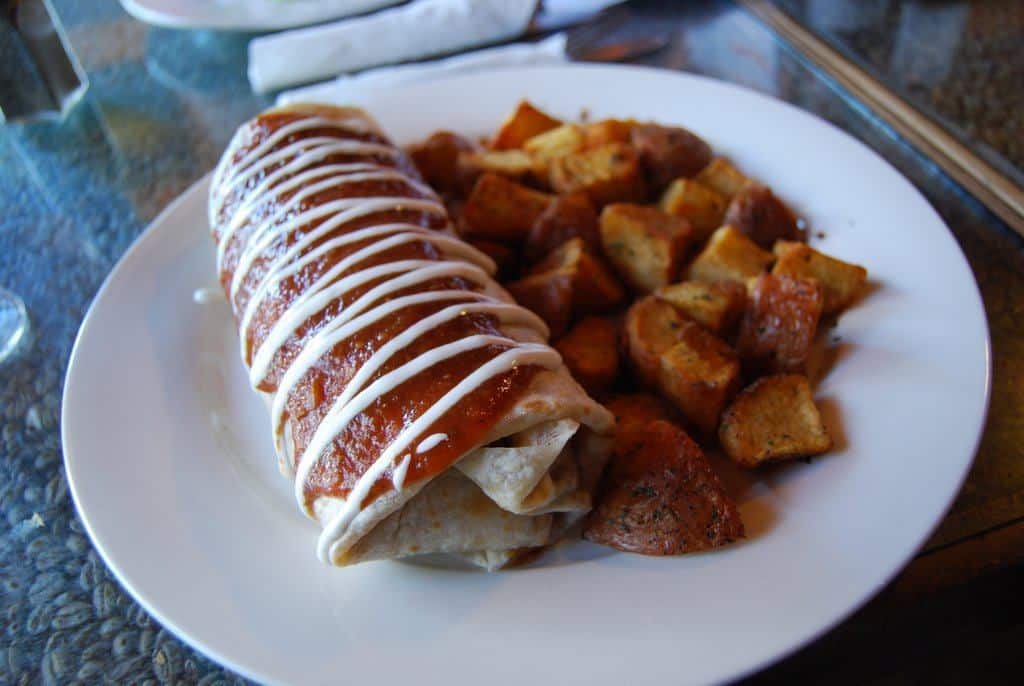 With a belly full of delicious burrito goodness, it's time for a drink.
The Mission District is full of excellent bars, from classy cocktail lounges to old-school dives.
If you're feeling a bit too full for beer, some of the best places to get a cocktail include ABV, Dalva, and Trick Dog.
The latter has received the honour of "best cocktail menu in the world," so you'll definitely want to check it out!
So what else is there to do in the Mission District?
You can walk around and check out the street art as you do a bit of bar hopping.
There's always live music doing on here, so pop into wherever sounds good and rock out.
If you've got room for dessert after burritos and drinks, this neighbourhood is also famous for its ice cream.
Bi-Rite Creamery, Smitten, Garden Creamery, and Xanath are all within a few blocks of each other, so take your pick!
Day 3 – Morning
This 3 days in San Francisco itinerary has been huge so far, and we've still got one more day to go.
For the final day, you've got some important choices to make.
Unlike other days, I'm going to recommend a light and quick breakfast today.
Trust me, you'll want to be hungry for an early lunch today!
Yerba Buena Gardens
After a light breakfast, head over to the Yerba Buena Gardens.
This is the perfect place to ease into your third and final day in San Francisco.
The gardens feature a memorial waterfall to Martin Luther King Jr., plenty of public art, an ice skating rink, a bowling alley, and more.
There's definitely something for everyone here.
Museum of Your Choice
While you're over here, you might as well check out one of the many museums around the garden.
If you bought the San Francisco CityPASS, a visit to the San Francisco Museum of Modern Art is already included.
If not, it's USD$25 for adults and free for kids.
Speaking of kids, if you're travelling with little ones you might want to head to Children's Creativity Museum.
This interactive museum is fun for the whole family and a great way to spend a morning.
Other choices include the Contemporary Jewish Museum, the Museum of the African Diaspora, and even the Museum of Ice Cream.
Chinatown
Next up, hop on the cable car and ride it up to San Francisco's Chinatown.
This is the oldest Chinatown in the US and it's also the largest Chinese enclave outside of Asia.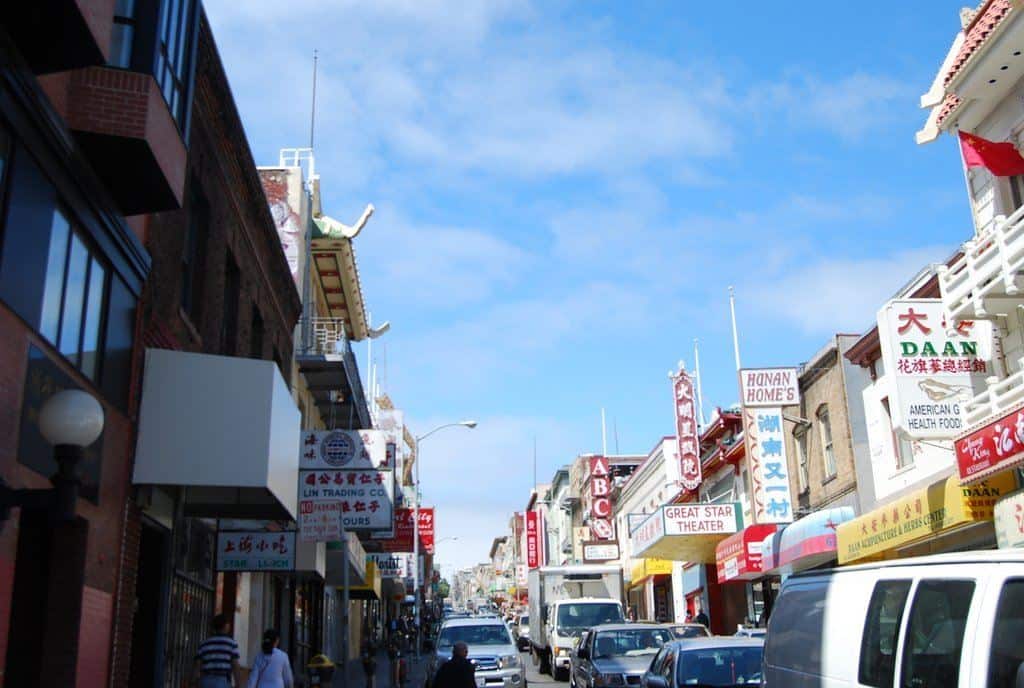 Of course, one major reason to come to Chinatown is for the food.
I advised you to take it easy at breakfast for a reason today!
Noodles, dumplings and more await you here in San Francisco's Chinatown.
Snap a photo of the Dragon Gate, do a bit of window shopping, and check out the Transamerica Pyramid. It's definitely one of the funkiest skyscrapers around.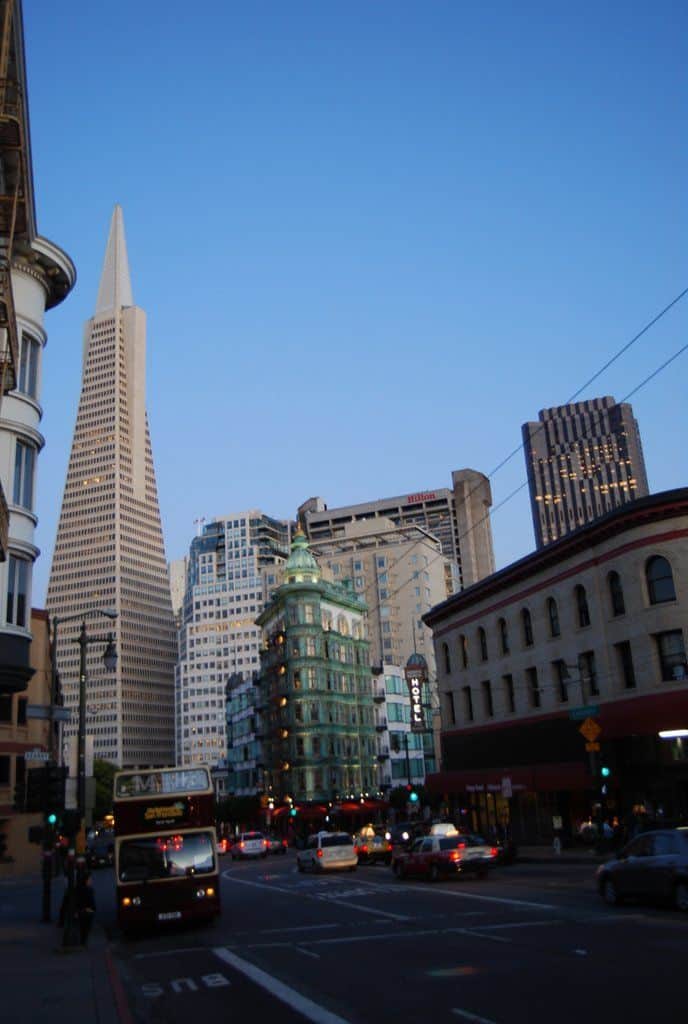 Views Galore
In such a hilly city, there are lots of places to go for some awesome views in San Francisco.
Hop back on the cable car from Chinatown and head north to Columbus & Lombard Street, the famous crooked street of San Francisco.
From here you've got a few options for taking in the scenery of San Francisco.
Head west and you'll find the stretch of Lombard Street that's famous for its hairpin turns.
Walk up the steep Lombard Street which is full of landscaped flower beds and you'll get to George Sterling Park, where you're rewarded for your efforts with a great view.
If you have a car while exploring San Francisco, don't miss the opportunity to drive along Lombard Street. Just drive carefully, of course!
If you'd rather take the easy way out, head east from the cable car station to the Coit Tower. Walk out to the observation deck to enjoy 360-degree panoramic views of San Francisco.
Tickets for the Coit Tower cost USD$9 for adults and $6 for children.
When you head down from the tower you can walk down the Greenwich Steps for even more views.
Another scenic spot in San Francisco is Union Square. As the heart and soul of the city, Union Square has lots of hotels, entertainment, shops, and restaurants in the area.
Day 3 – Afternoon
How your afternoon goes on day three depends on your interests and whether or not you bought the San Francisco CityPASS.
Those who picked up the CityPASS will want to make sure to get their money's worth.
You've still got two items left to check off, and they're conveniently located right next to each other.
Aquarium and Cruise
Head on over to Pier 39 on the fringe of Fisherman's Wharf. Here is where you'll get to watch tons of sea lions sunbathing on the pier.
After observing the sea lions, you can pay a visit to the Aquarium of the Bay.
There's a lot to see here, with the highlight being their Under the Bay exhibit.
This immersive exhibit takes you through long tunnels filled with rays, sharks, and more.
Tickets run USD$28.25 for adults and $18.25 for kids if you don't have the CityPASS.
Skip the lines at the Aquarium of the Bay with this ticket!
Next up, you can embark on a Blue & Gold Fleet Bay Cruise.
This narrated hour-long cruise takes you around the bay and Alcatraz Island.
Speaking of Alcatraz, that's another day trip option for this afternoon.
Alcatraz Island
If you're wondering what iconic things to do during you 3 days in San Francisco, this next one is for you.
It really doesn't get much cooler than taking a day trip to Alcatraz Island.
Once upon a time, this island in the San Francisco Bay was home to a maximum-security prison.
It was here that those who caused trouble at other prisons were sent.
These included notorious criminals like Al Capone and Machine Gun Kelly.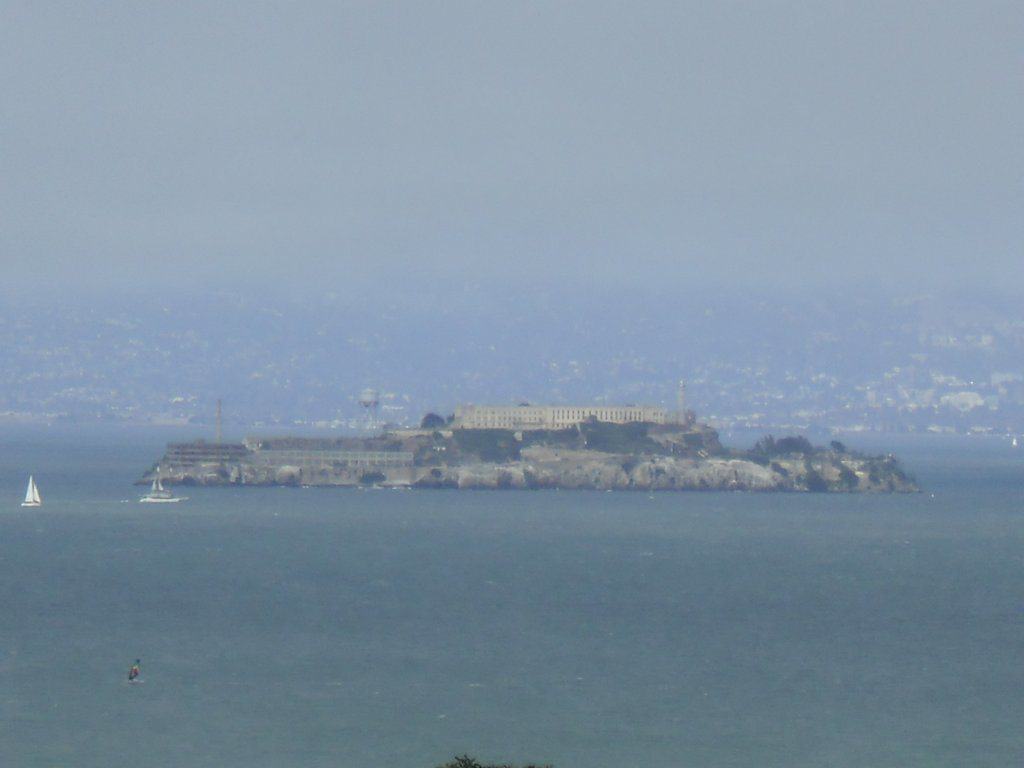 If you're taking the Blue & Gold Cruise and have a San Francisco CityPASS, you have the option of just paying five bucks extra for a tour around the island.
Otherwise, you'll want to check out the different tours available from Alcatraz Cruises.
Their day trip is a solid choice to really take in the sights of Alcatraz. It includes a round-trip ferry, an audio tour, and optional programs & exhibits.
One of the best ways to end this part of the day is to pop into Ghirardelli Square for some world-famous delicious chocolate concoctions.
Book your Alcatraz cruise in advance on Get Your Guide
Wine Country (Alternative Day Trip Option)
If Alcatraz doesn't really interest you, but vineyards and wine does, you could also consider a day trip to Napa Valley or Sonoma Valley.
These are two of the USA's most famous wine regions, and they are both only about an hour away from the city. So they are great day trips!
Napa Valley in particular is extremely famous around the world for its Cabernet Sauvignon wine and its scenic, rolling green hills.
But Napa Valley and Sonoma Valley both are stunning and have a multitude of beautiful vineyards for wine tasting.
Booking a guided tour is best for wine-tasting trips unless you have a designated driver. You want to be able to sample all the wine without worrying about driving!
There are lots of wine tasting day trips from San Francisco that visit both Napa Valley and Sonoma Valley.
Read Next: Check out our post on all the best things to do in Napa Valley!
Day 3 – Evening
Just like that, 3 perfect days in San Francisco is coming to an end.
Thankfully, you don't have to go far to reach our next stop once you get back on land.
Fisherman's Wharf
One of the most famous places to visit in San Francisco is Fisherman's Wharf in the North Beach neighborhood.
This San Francisco Bay waterfront area along Jefferson Street is the centre of the city's fishing industry and is home to several excellent seafood restaurants.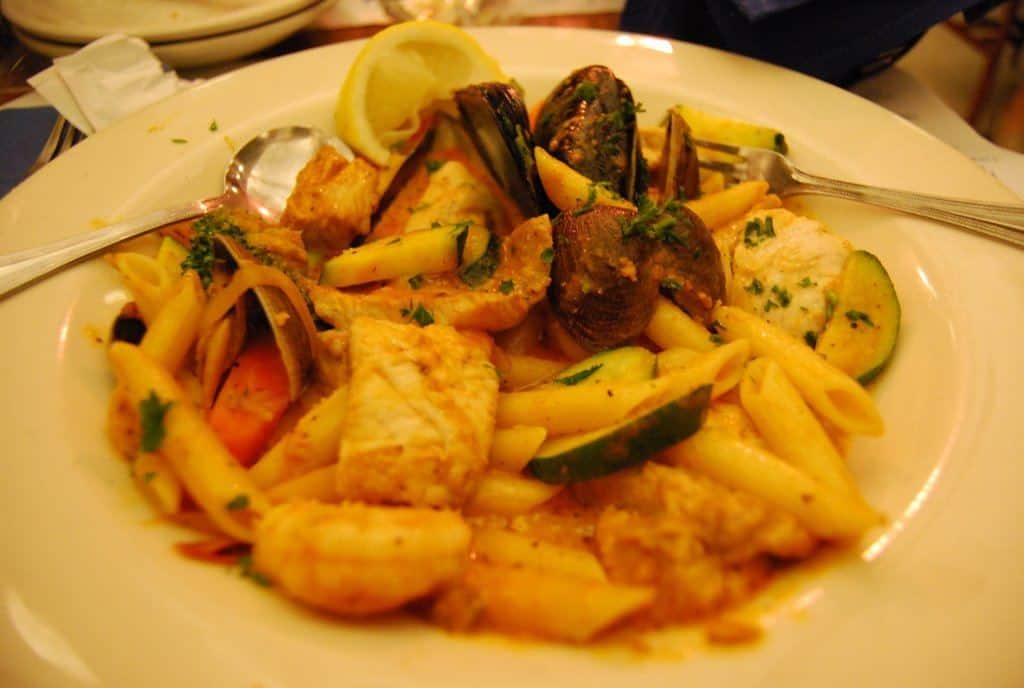 After a whirlwind tour of San Francisco in 3 days, I'd say you've earned a nice seafood meal at Fisherman's Wharf with views of the San Francisco Bay.
There are lots of places to choose from, including Scoma's, Pier Market, and Fog Harbor.
The latter is the first 100% sustainable seafood restaurant in the area and a great place for your last dinner in town.
Yes, Fisherman's Wharf is touristy and yes it can be a little on the pricey side. But it's worth making the trip here at least once.
If you've got any energy left after dinner, the world is your oyster as far as nightlife goes.
You can hit a comedy club nearby Fisherman's Wharf, check out some more live music, go bar hopping, or just enjoy some good old fashioned people watching.
There are few places better than San Francisco to do that!
Where to Stay in San Francisco
Now that you've got a jam-packed itinerary for 3 days in San Francisco, it's time to figure out where to stay.
Some of the best neighbourhoods to stay include Nob Hill, Union Square, Haight-Ashbury, South of Market (SoMa), and the Mission District.
San Francisco has hostels, cheap motels, quaint B&Bs, luxury hotels, and everything in between.
And you can easily get to all accommodation using the cable car and a bit of walking.
There's something for every style and budget when it comes to accommodation.
Here are a few recommendations to suit all budgets:
Best Hostel in San Francisco – USA Hostels
Our pick for the best hostel for where to stay in San Francisco goes to USA Hostels.
With over 7,000 reviews and a rating of 9.1 on Hostelworld, you know that this place is doing something right!
There's a lot to love about this hostel.
First of all, their dorms are only 4 beds, so you don't have to worry about sharing a room with 15 snoring strangers. They've got super comfy beds here as well!
Meeting people is easy here thanks to their large lounge area and the various activities they run.
From free walking tours to karaoke nights, to hostel dinners, it's a very social place.
Best Mid-Range Hotel – Hayes Valley Inn
If you want a place in a great location without breaking the bank, Hayes Valley Inn is a solid choice.
Hayes Valley Inn is located near Union Square in the city center, so it's a great base for all the San Francisco attractions mentioned in this itinerary.
This is a true B&B where guests are served breakfast each morning.
It's a very homey place and definitely has more character than your generic chain hotels.
You'll find basic but comfortable rooms and the bathrooms are shared.
For the price (under $200 a night) and the location, this place is a steal in San Francisco.
Best Luxury Hotel – Hotel Drisco
The people have spoken, and Hotel Drisco is the top choice on Trip Advisor this year.
It's located in the Pacific Heights area of the city, just a short walk from the Presidio.
Guests here get to enjoy Egyptian cotton linens, a gourmet breakfast buffet, chauffeur service, and much more.
This is definitely a place to stay if you are looking to splurge and enjoy some of the finer things in life during your 3 days in San Francisco!
As you might expect, staying in this lap of luxury comes with a pretty hefty price tag.
This is San Francisco, after all. Rooms start at just over $400 here.
That about wraps it up for this guide to a perfect 3 days in San Francisco itinerary. I hope it helps you have an amazing trip to the Bay Area.
It's definitely one of our favourite cities to visit in the US!