Your ultimate guide to the Tasman Peninsula, including the best things to do and see, where to stay, how to get around, and more.
When we travelled around Tasmania for three months in our campervan, we tried our best to visit every beach, town, bay, national park and waterfall we could.
From the wild west coast to the southern tip, northern forests to the stunning east coast, and of course the mountainous interior, we were constantly blown away at just how magical this Australian island is.
Our absolute favourite place to explore though? The glorious Tasman Peninsula.
The Tasman Peninsula in Tasmania is an ideal attraction for tourism because it has so much to offer.
The area consists of beautiful beaches, epic hikes, excellent fishing and snorkelling opportunities, historical sites and quaint towns.
We spent over a week here, trekking the famous Three Capes Track, chasing the Aurora Australis and exploring historic Port Arthur, and managed to fill every single day with activities
Our guide to things to do on the Tasman Peninsula, one of the best places to visit in Tasmania, is a great self-guided travel opportunity where visitors can style their plans to just about anything they'd like to achieve from their trip.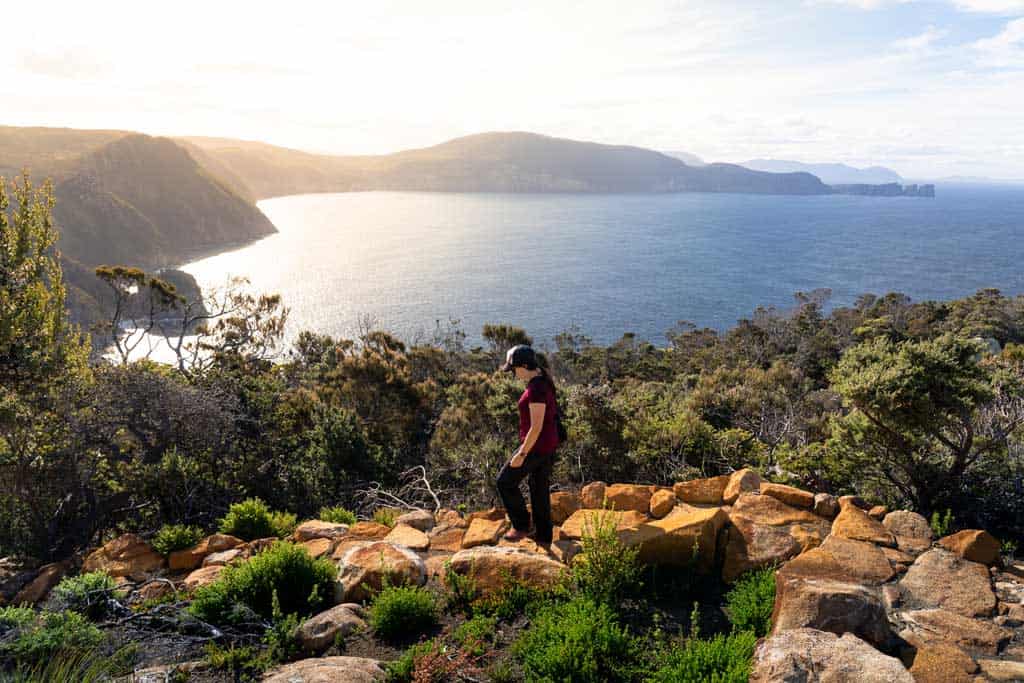 The Best Things to Do on the Tasman Peninsula
Whether you're looking for adventure, nature, wellness, food or history, you'll find it all when checking out the top things to do in the Tasman Peninsula.
Here's what we did while we were there, and what Tasman Peninsula attractions we think you shouldn't miss.
1) Port Arthur Historic Site
The Port Arthur Historic Site at Sullivans Cove is home to Tasmania's most popular tourist attraction.
The site has over 6 kilometres of scenic trails that wind through a convict settlement, with restored buildings and old stonework.
The Port Arthur Historic Site grounds look beautiful now, but this place has a hard history.
These convict settlements were once haunting sites where prisoners were kept and staff and guards slept in cottages. Many terrible events took place here.
It used to be a former convict prison in the 1800s, so it was where many criminals were sent who had committed things like robbery and murder. Yes, they were bad people, but no one should go through these horrible conditions.
Many things happened at this prison that we can't even imagine. Prisoners would work hard for days without eating or drinking, just begging for a sip of water or a bite to eat.
They all became very skinny and unwell which caused many deaths. The guards were as cruel as the prisoners, hitting and screaming at them if things didn't go their way.
It is crazy to think all this once happened here and today it is one of Australia's most visited tourist sites, with people coming from all over the world to explore what life would have been like for those who were sentenced there and learn more about Australian history.
The UNESCO World Heritage-listed ruins can be explored on your own with an informational brochure or on a free 45-minute walking tour where you can explore more.
When you purchase your ticket the walking tour is included, as is a harbour sightseeing boat tour and access to the museum.
You can add on tours if you like such as The Isle Of The Dead where many escapees were executed in front of their loved ones.
Give yourself a whole morning or an afternoon to explore and learn about this place.
Getting There: Head to Port Arthur on the Arthur Highway. Once you reach Port Arthur you will pass the fuel station on the left and the Port Arthur Historical Site is down the road on the left after the fuel station. There are signs for it.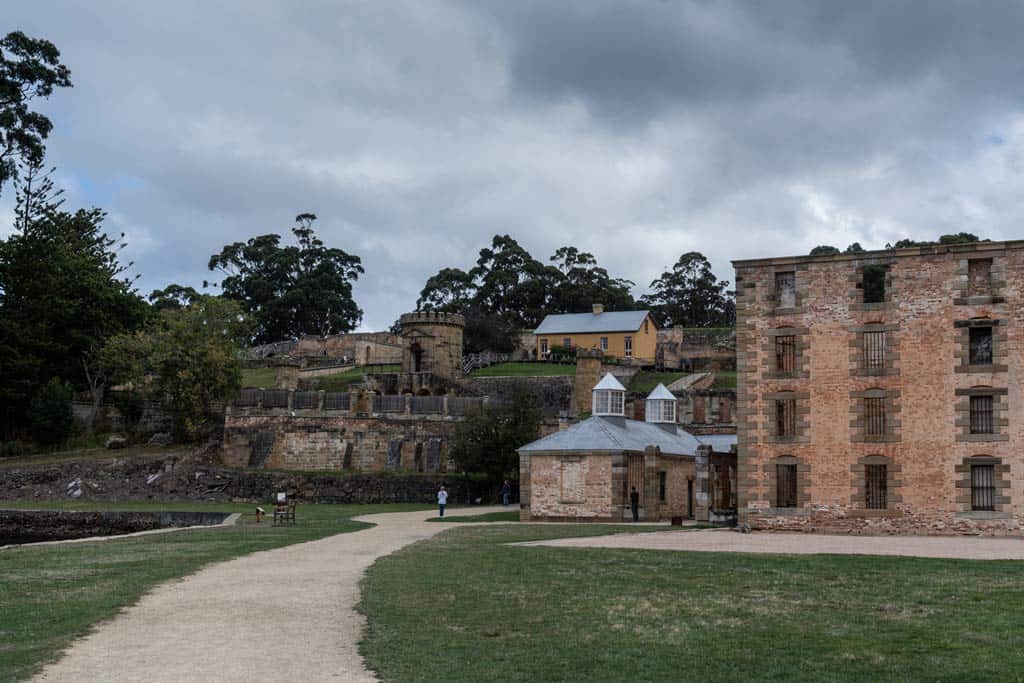 2) Pirate's Bay Lookout
With breathtaking views and impressive cliffs, Pirates Bay Lookout is one stop that should not be missed.
People will get to enjoy delicious locally roasted coffee while taking in this stunning view from an elevated position at the entrance to Peninsular Tasmania.
Not only does it offer great views but also there are many landmarks such as Cape Raoul or The Candlestick which can be seen on clear days. In certain seasons you may even see migrating whales!
Grab yourself a coffee at the van, Cubed Espresso Bar which is located right there at the viewpoint.
Getting There: Take a scenic drive along winding Pirates Bay Drive, just minutes from Arthur Highway for an unforgettable experience!
3) Tessellated Pavement
After you have enjoyed the view at the Pirate Lookout, head to the Tessellated Pavement which is just down the road.
The Tessellated Pavements is a photographer's dream come true. This natural square-like wonder appears out of the rocks along the water looking like tiles work.
Photographing this spectacle alone would be worth your time but if that's not your thing, it is definitely still worth going and seeing.
The patterns vary depending on the materials involved but there are three main types: tessellated pavement, honeycomb weathering, and daggy turf.
Essentially, the earth's movement caused these beautiful cracks and fractures in what we call jointing.
Jointing itself isn't unusual, but the salt crystals present on this site along with consistent erosion by waves from an adjacent sea have created some spectacular patterns.
The "tessellations" found at the Tessellated Pavement in Tasmania are a result of the extensive dissolution of siltstone by seawater with dissolved rock salt from beneath.
The dissolved rock salt is sodium chloride (NaCl) which is otherwise known as common table salt. This process of dissolution leaves behind a crystal-like patterning throughout the original sedimentary stone.
There are Tasmanian crabs living in crevices on these rock formations to delight animal lovers (and humans).
Getting There: It is located on Pirates Bay Drive. From the Pirate Bay Lookout, follow the signs to Tessellated Pavement as it is about a 5-minute walk down.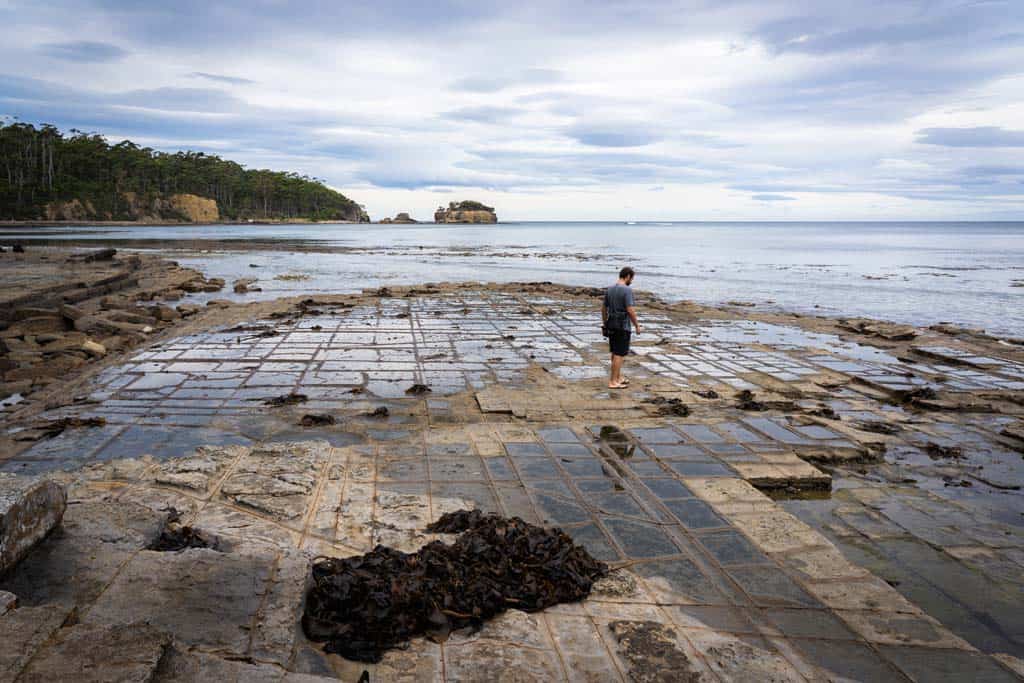 4) Tasman Island Boat Cruise
This 3-hour tour will take visitors to Tasman Island, a nature lover's paradise. Located half an hour from Port Arthur these cruises are the perfect way for enjoying views of pristine coastal scenery.
The boat heads towards Tasman Island where you can see seals when in season and possibly even dolphins or whales. Countless bird species fly overhead as well.
The cruise travels beneath towering vertical cliffs and explores waterfalls, rock formations, archways, and deep-sea caves before reaching Cape Pillar where you are likely to see seals or migrating whales in their feeding frenzy.
Cruises depart multiple times a day from an accessible jetty
Getting There: Starts and Finishes from Tasman Island Cruises Booking Centre, located at 6961 Arthur Highway. If you are coming from Hobart, give yourself about 90 mins to get there.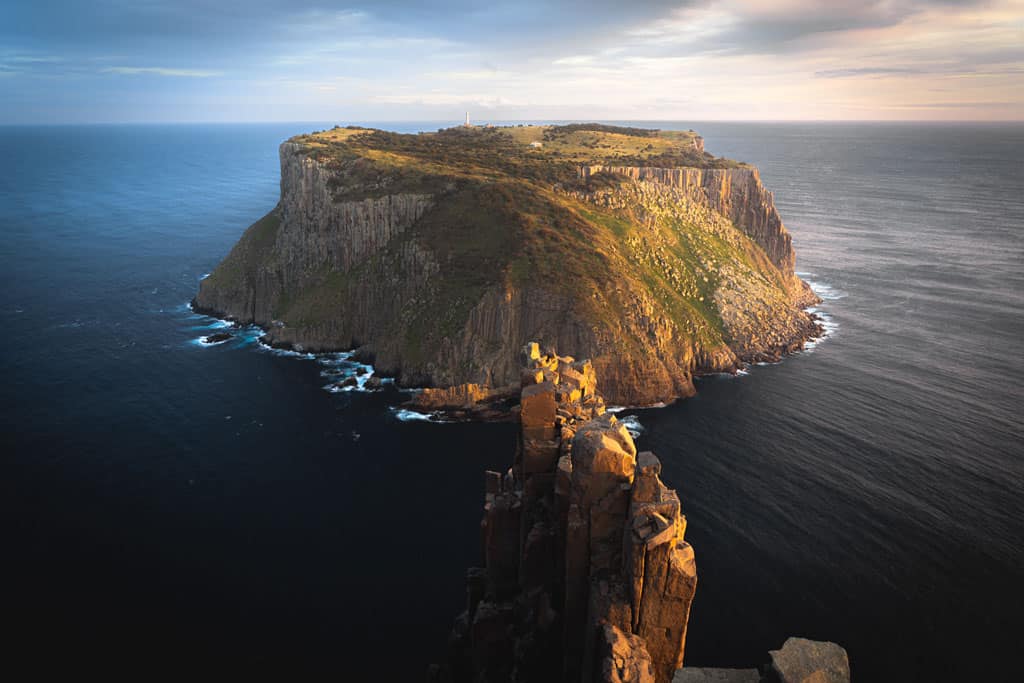 5) The Blowhole and Fossil Bay Lookout
The Blowhole is a geological feature that attracts many tourists to it every year. Located on the coastal path of Port Arthur this impressive sight, created by nature through erosion, makes for an interesting and amazing photo opportunity.
This blowhole is in fact located just before Fossil Bay Lookout so if you don't feel like climbing the lookout, there is that option.
The Blowhole in particular can be hard to get a good photograph of as it is constantly changing but you will never have a problem with staying dry for long, for this blowhole spits water 7 metres into the air!
It is best when the winds are stronger so keep an eye on the weather before you visit.
The Fossil Bay Walk Lookout is just next to the blowhole and here you can see the dolomite formations of Tasmania's Jurassic coastline which are over 190 million years old.
These fossils can be seen from day to night and visitors say that it is a spectacular sight.
Getting There: Located on Blowhole Road. The Blowhole is located on the coastal walk between Port Arthur Historic Site and Coal Mine Point, a 10-minute walk from both. Fossil Bay Lookout can be found just over the hill from here so you have a few options to get there.
Need more ideas for your Tasmania trip? Here is our list of the 12 Best Places To Visit In Tasmania.
6) Tasman Arch and Devil's Kitchen
Just right around the corner from the blowhole is the Tasman Arch and the Devil's Kitchen.
The Tasman Arch is the first attraction you will come across as it is located right near the carpark. This archway happens to be what remains after erosion has worn away parts of limestone and left an open hole or ceiling up high on Eaglehawk Neck.
This natural formation was created by water eroding through bedrock at different speeds which causes vertical cracks for air pressure below ground level but also higher than sea-level as well. The blowhole can often spew water from the bottom of this archway as you might imagine…
Devils Kitchen is just further up the path in a big cave. This one has been created through glacial erosion which is evidenced by the jagged rock formations inside, giving it its name.
There is no danger here as only the roof of this cave has collapsed and they say that when you walk inside a feeling of peace and serenity washes over you!
Getting There: Located on Tasmans Arch Road. Devil's Kitchen is located on the coastal path, between Port Arthur Historic Site and Coal Mine Point. Tasman Arch can be found behind this sea arch nearby at The Boilermakers Bluff Lookout or you can take a short walk from Devil's Kitchen to get there.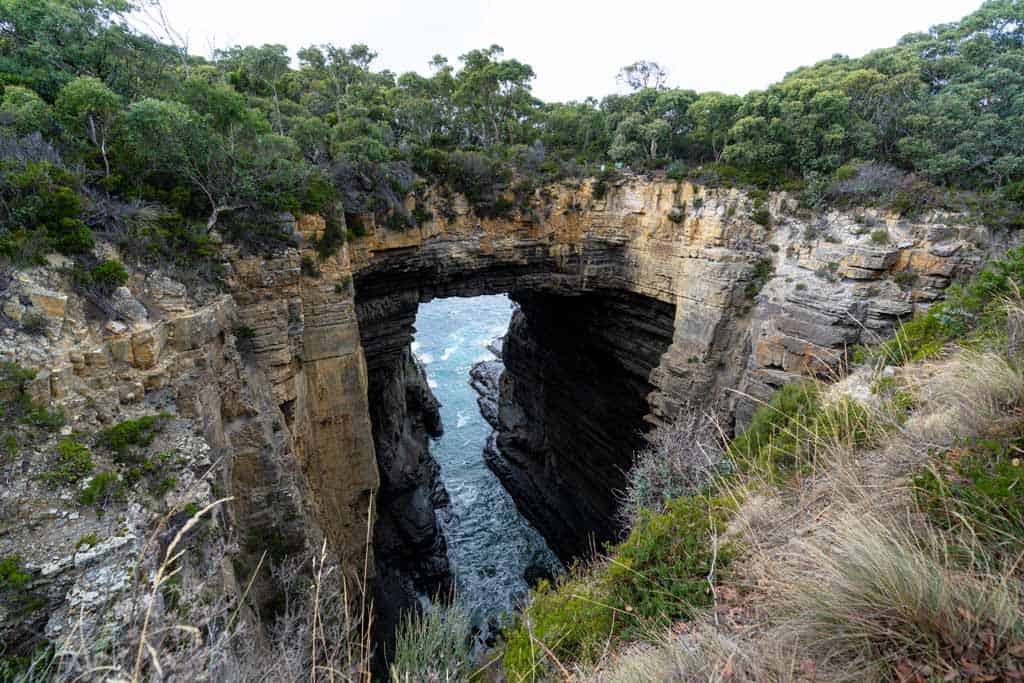 7) Waterfall Bay Trail and Lookout
After seeing the Tasman Arch and the Devil's Kitchen there is a trail where you can continue to walk (or run if you are super keen) to Waterfall Bay.
It is a scenic, 4km return walk that follows the coastline, and at the end of it you get rewarded with a stunning view.
The path is non-technical in its construction making it suitable for everyone.
We really enjoyed this walk and saw no one else on the track as this is not a popular attraction.
The other option is to take the Water Bay road all the way to the end and you will reach your destination. This is a gravel road though.
Getting There: You can park your car at carpark at the end of Tasman Arch Road and walk the trail or you can drive to the end of Waterfall Bay Road which is a gravel road and see the attraction there.
8) Federation Artisan Chocolate and Art Gallery
If you are a chocolate addict or if you enjoy things done with quality and style, then this is for you.
This was once a bank that now serves as a gallery where they sell locally made goods of all things chocolate!
The art gallery on site also displays jazz musicians playing music live every Sunday in summer so it's the perfect place to spend the day.
The chocolate shop is open for tours, and yes this includes tasting, so you can try things if you haven't got time to make it back here again. They also have things like coffee or tea available whilst you wait for your tour (which takes about 30 minutes).
You can tour the factory and learn things about how things are made, the quality checks, and all things in between. At the end of the factory tour, they show you interesting things that have been created from chocolate, like wine for example. You can then taste these things too so it is a full day out!
9) Tasmanian Devil Unzoo
We actually never got here because we ran out of time, unfortunately. I have added it into the article because through research I have learned they do great work with Tasmanian Devils.
This place to trying to protect these endangered animals. In mid-1990, Tasmanian Devils were dying from the Devil Facial Tumour Disease (DFTD) which is transmissible cancer. Many died and they were untreated.
It is great to see today many organisations like this one are working to save these animals by preventing DFTD from spreading into their habitat. To increase the Tasmania Devils' numbers, these guys are also breeding healthy devils for future release on the Peninsula, as well as maintaining special devil-proof fences at Dunalley.
If you have been to this establishment, please leave a comment below and let us know what you thought.
Getting There: It is located along the Arthur Highway about 10km before you get to Port Arthur.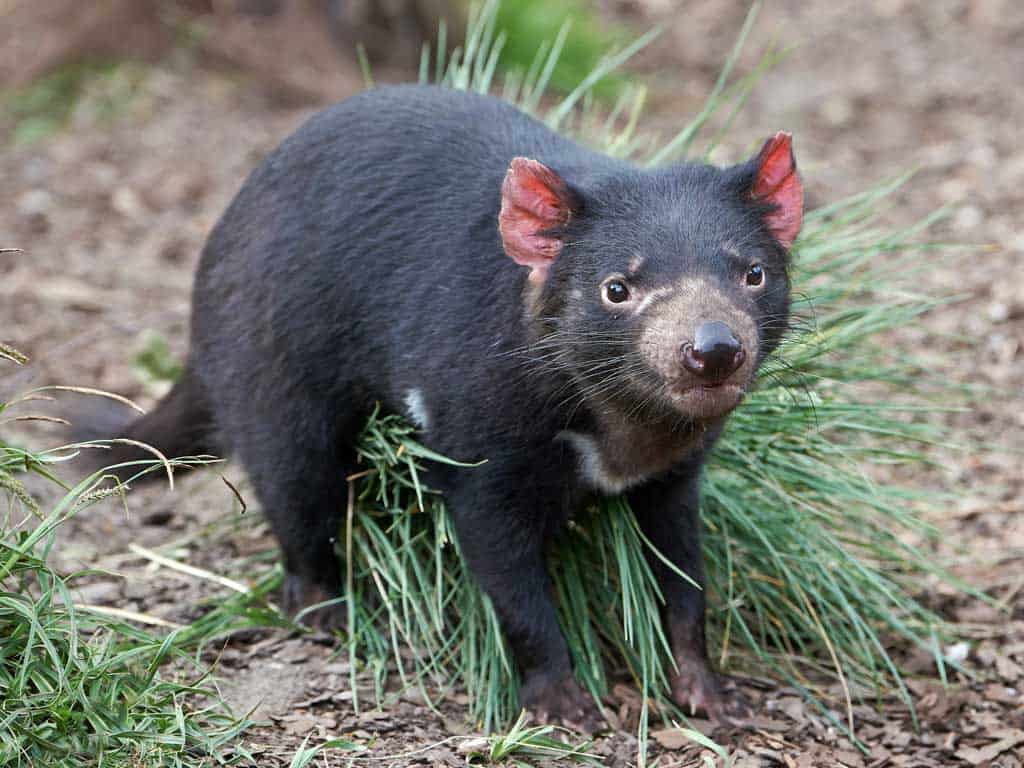 10) Port Arthur Lavender Farm and Cafe
After getting your fill of chocolate at the artisan factory, stop off at the Port Arthur Lavender Farm which is located just down the road.
Port Arthur Lavender is a multi-sensory experience, with fragrant lavender fields and rainforest providing the perfect backdrop to interactive demonstrations of distillation.
Take your time exploring before trying authentic Tasmanian cuisine at the cafe or picking up some locally crafted gifts for everyone back home!
They are situated right on the water, so this is a great spot to stop in for morning tea, lunch, or afternoon tea.
Getting There: Located just off Arthur Highway. You can not miss it. They have a big sign and are located on a corner.
11) Fortescue Bay
Tasmania is the perfect place for hiking and camping, and this is the spot to do it.
Fortescue Bay is a magical place, where you can find the best views in Tasmania. You can come out here for the day or camp out here with your caravan or campervan and camp the night.
You do need a booking. We were lucky and rocked up without a booking and were able to get a spot but we recommend booking so you are not disappointed. You can book online through the Tasman Parks website.
The bays waters are crystal clear waters and perfect for taking a dip in. But beware it is a little chilly.
Fortescue Bay is a great base for hiking out to Cape Hauy, Cape Pillar, and the Tasman Trail. If you don't want a long hike, there are shorter walks to Canoe Bay and Bivouac Bay.
The most popular one to do from here is the Cape Hauy Hike. From the end of the campground, you can hike out to Cape Hauy where you will get amazing views of the coastline. It is some of Australia's best scenery.
It can be daunting at first, but don't let that deter you! There are a lot of steps up but take your time and go at your own pace.
The walk only takes about 1.5 – 2 hours each way. Make sure you pack plenty of water before starting your journey as there is nowhere to refill. There are also several places along the trail where you can stop and rest or even sit down for an hour and have your lunch or a snack.
To get into Fortescue Bay you have to take a 20-minute unsealed road that is in ok condition but could be tricky when wet.
The facilities are superb with a great picnic area, camping opportunities and toilets available too! It looks like it has been upgraded in the last couple of years.
Getting There: Located at the end of Fortescue Bay Road off of Arthur Highway.
Read our ultimate guide to camping in Tasmania here!
12) Bivouac Bay Track
This is a shorter track that starts from the carpark on the left-hand side of Fortescue Bay Campground.
The hike begins on tranquil sands and climbs up modest cliffs before undulating through light bushland and forest.
You will often be near the water's edge where you can see sea birds, as well as seals, dolphins, or whales in some of the bays. Canoe Bay is one great place for seeing animals, they are plentiful here!
At about halfway there we come upon an old dredge ship called William Pitt which has sunken into deep waters due to metal rusting over time. You will pass Canoe Bay and you can continue to Bivouac Bay if you want.
The bays waters are crystal clear water and perfect for a dip if you are keen. You will need to have good walking shoes on as these things tend to get slippery!
The walk is about 10km return. If you choose to go the whole way to Bivouac Bay Camp and may take bout 4 hours.
Getting There: Take Fortescue Bay Road off of Arthur Highway. Drive to the end of Fortescue Bay Road and park at the day parking. The walk is down the left-hand side for about 20mins of the campground. Follow the signs.
13) Cape Pillar Walking Track
This hike takes you around "Cape Pillar" and the "Tasman Trail". Cape Pillar is an epic rocky headland that stands above the crashing waves.
It's a great spot to experience Tasmania's rugged coastline at its most extreme. While you are here, take in some stunning scenery around Binalong Bay too!
This hike takes between 4-5 hours each way, so be prepared to spend a lot of time moving. It is also along a very steep climb, so prepare for that as well.
There are a couple of free camps along the way where you can stay. The Bare Knoll Campground is the best one out of the two there. It is 7.7km one way from the Fortescue Boat Ramp to the campground.
From the camp, it is 8.7km out to Cape Piller one way. Keen runners jog this trail and get this long trek done in a day. If you leave super early, it definitely can be done as a day hike.
You just may get back as it is getting dark. Do be prepared and take enough water, snacks, and proper clothing.
Getting There: Just before you get to the camping area at Fortescue Bay, the trail is located on the right. You can park in the National Park area and walk from there.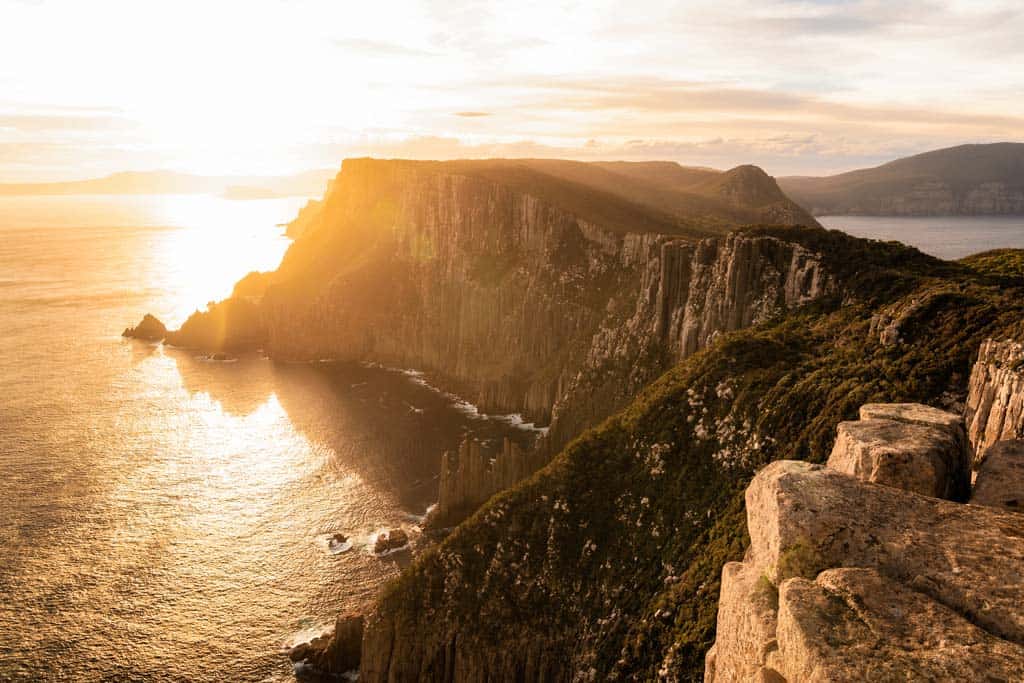 14) Cape Huay Track
The hike begins on the south side of Fortescue Bay. There are signs to follow.
You start by walking alongside the bay before reaching the Three Capes Track sign. From here are a lot of stairs up so be prepared.
Once you reach the top you follow the track through the coastal bush to then come to a t section in the trail. This marks the beginning of Cape Huay Track.
From here you will get to a beautiful lookout over Cape Huay, take a break and enjoy. Now it is a little down, a little up, a little down, and then up again.
You can see the path snaking through the low bush area. The summit offers great ocean views and great views of the coastal cliffs.
This is where the famous rock climbing route is. It's called the totem pole. It is on the left of the lookout and you'll see it if you look down.
This lookout also offers excellent opportunities for bird watching with a chance of seeing rarities such as Humpback and Sperm Whales, which are occasionally spotted in the waters below.
From the lookout, start your walk back down over a little grade rather than stairs this time. Yet again it undulates up and down until getting to yet another t section of the trail, where you will go straight and head back down to Fortescue Bay.
This one is a popular hike so we recommend getting on the trail early.
Getting There: Take Fortescue Bay Road off Arthur Highway. Drive to the end of Fortescue Bay Road and park at the day parking. The walk is down the right-hand side of the campground. Follow the signs.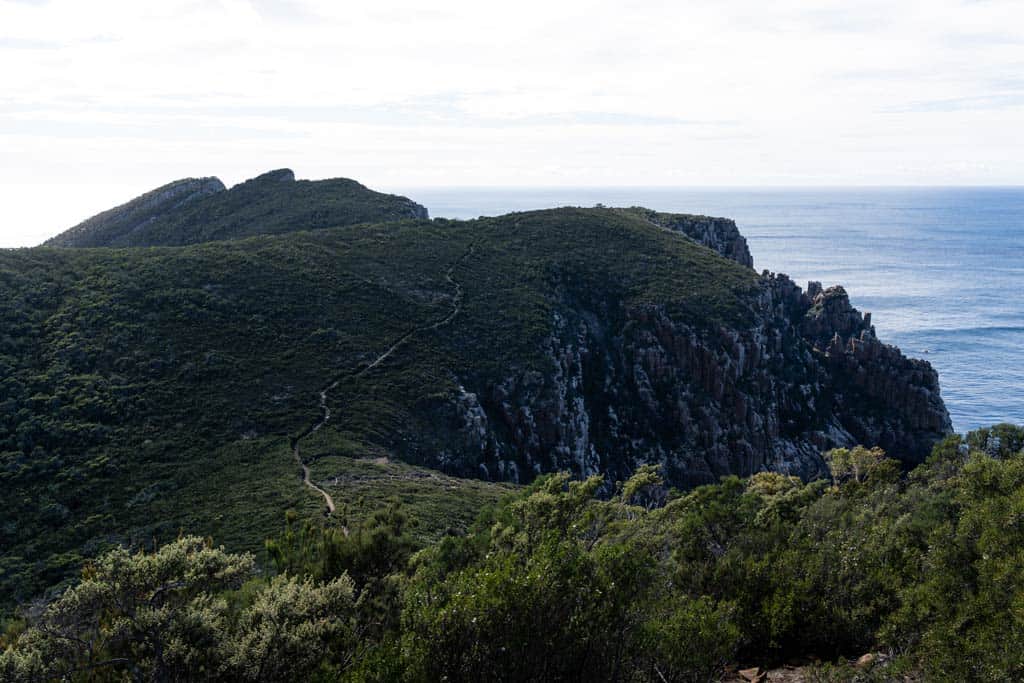 15) Three Capes Track
The Three Capes Track is one of Australia's most beautiful multi-day hiking trails, and have been lucky enough to recently complete it we can understand why it receives so much hype.
The 4-day, 48km one-way hike wanders along the southern tip of Tasmania in the Tasman National Park following some of its highest sea cliffs with mind-blowing views out toward Cape Huay and Cape Raoul – two incredible headland points that are iconic for their distinct beauty or historic significance.
This adventure track will take you from Port Arthur and on to Fortescue Bay, via Cape Pillar and Cape Huay.
This track was opened just a few years ago as part of The Great Walks Project by Parks & Wildlife Service Tasmania; making this an easy adventure on foot where you'll see incredibly scenic vistas while achieving your fitness goals!
At $495 AUD per person, this hike is not cheap. But it's worth it!
You get access to new huts with beds and memory foam mattresses, so there is no need for carrying mats or tents! There are heated dining halls on-site and kitchens that come equipped with pots, pans, utensils, and dish soap. All your food needs will be met here as well.
This is the perfect hiking trip if all you plan to bring is clothes (including shoes), sleeping bags & camera gear. You don't have to lug heavy items up mountainsides!
This is a great first multi-day hike for someone who is fresh to hiking. You only stay over one night and there is even a chance to have a hot bucket shower.
We both did this hike and loved it. We were so impressed by the cabins and the service of the rangers. Take your family and friends and go on an adventure.
Getting There: You start at the Port Arthur Visitors Centre. You can leave your vehicle here for the duration you are away if you have one. You will end at Fortescue Bay where a bus picks you up and takes you back to Port Arthur Visitors Centre. Transport to and from Hobart is available.
READ MORE – Want to read more about the Three Capes Track, here is our article on our 4 day hike.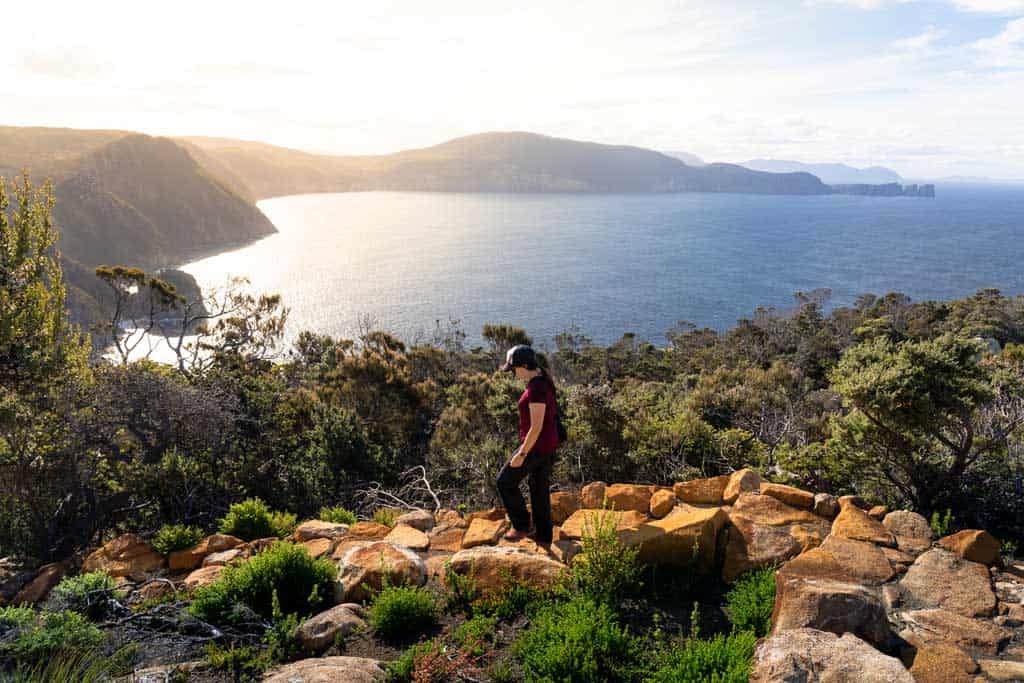 16) Remarkable Cave and Maingon Bay Lookout
This short walk to Maingon Bay Lookout takes you up above the many beautiful bays to see panoramic views of Tasmania—including Port Arthur, Tasman Island, Bruny Island and even as far away as Maria Island National Park on a clear day.
The walk starts at the Remarkable Cave carpark and will take you about 150m but 115 steps down.
aYou cannot go into Remarkable Cave itself, as it is protected by law and only a couple of rangers can go in each week to check on its environment and wildlife as well as for general maintenance purposes.
The Tasmanian Aboriginal people used this cave for shelter for thousands of years before the Europeans come in 1802 and "discovered it". The cave itself reaches about 50 metres inland and is around 20 metres wide.
Getting There: From Port Arthur, follow Safety Cove Road to the end and there is a parking lot. You can access the Maingon Bay Lookout and Remarkable Cave from there.
17) McHenry Distillery
The McHenry Distillery is located on the western shore of the West Coast Road about 6km from Port Arthur. It was Tasmania's first licensed whisky distillery and has been operating continuously since 1832.
After a tour, you get to taste some of your favourite Tasmanian whisky in their tasting room before heading off to lunch at the local pub.
Guided tours are available Tuesday to Sunday at 11 am and 2 pm and cost $8 per person.
The distillery is open every day of the year from 9:30 am – 4:00 pm, except on Christmas Day.
Getting There: From Port Arthur head out of town towards Cape Raoul and Nabeena. Once on Nabeena Road, turn left onto Radnor Road and you will see the distillery on the left in about 2.4km.
18) Cape Raoul Track
Cape Raoul is a 14km return day walk within the Tasman National Park.
With few steep sections, this hike takes about 5 hours to complete and offers ample time for relaxing and enjoying expansive views of surrounding areas from Bruny Island all the way south to Hobart on Tasmania's southern peninsula!
The start of Cape Raoul trail is located at the end of Terrapin Track. It is not possible to walk Cape Raoul track in reverse, and only experienced hikers should undertake this trail.
The start of the trail is a long and sometimes steep walk. Some areas are rocky and can be hard to navigate with slippery surfaces, so wear suitable footwear.
Good hiking boots or shoes are recommended as there is a lot of mud around this time of year due to heavy rain.
Near the end of Cape Raoul Track, you will reach an area where you can view the ocean, which gets deeper as you continue on (without going around) towards the cape.
The views at the end are beautiful and there are a couple of great lookouts.
If you want to explore a little more, you can go down the Tunnel Bay Track. Visit Shipstern Bluff where you can view crazy waves rolling sometimes with mad surfers riding them.
Getting There: The trail starts at the end of Stormlea Road which is off of Nubeena Road. There are signs out to Cape Raoul or put the location in your GPS.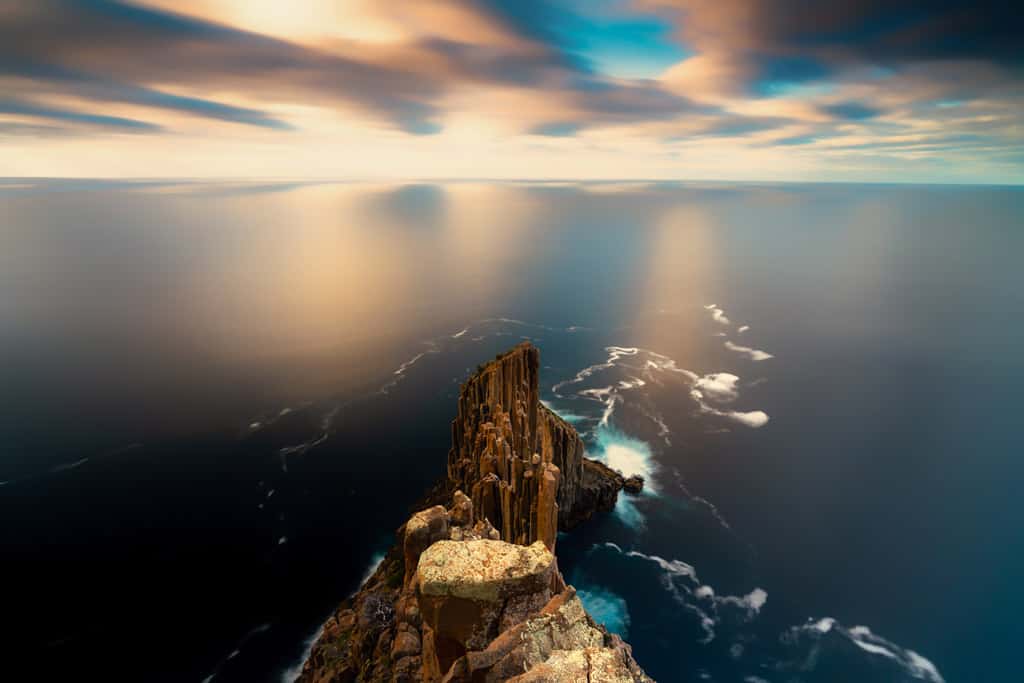 19) Coal Mines Historic Site
The Coal Mines Historic Site is one of Australia's most unusual and distinctive historic sites. It reveals the impressive feats of engineering and enterprise in a distant era, when convict labour was used to extract coal for shipment to Hobart by sea.
The miners worked in harsh conditions with great courage – the output of the mine was significant. Some of the convict barracks are still standing and can be seen in this historic site, which is set amongst a panorama of rugged mountains with abundant wildlife.
From Coal Mines Historic Site it's a 2.5-hour return walk down to the old Coppins Mine Ruins which are also worth checking out.
You will learn about the hardships and lifestyle of the minders, and you'll also get to see things like blacksmith's forges, stables, and a boiler house as well as inside the mine itself.
This is included in your ticket for the Port Arthur Historical Site.
Getting There: This is located on the Port Arthur/Richmond road only 1km past Cape Raoul with plenty of parking available to your left.
Check out this 2-Week Tasmania Itinerary for more ideas for planning your trip.
20) Take a Scenic Flight Over the Tasman Peninsula
Ever wanted to see the Three Capes from a different perspective?
Now you can, by plane or helicopter. These air tours pass over some of Tasmania's most spectacular sights including Port Arthur (UNESCO World Heritage Site) before turning west towards Cape Raoul and Cape Pillar and Cape Huay then come back around to see Hobert. You will see them all from the air.
These flights are not cheap, but they are one you will never forget.
Getting There: Depart from Hobart or Barilla Bay in Cambridge.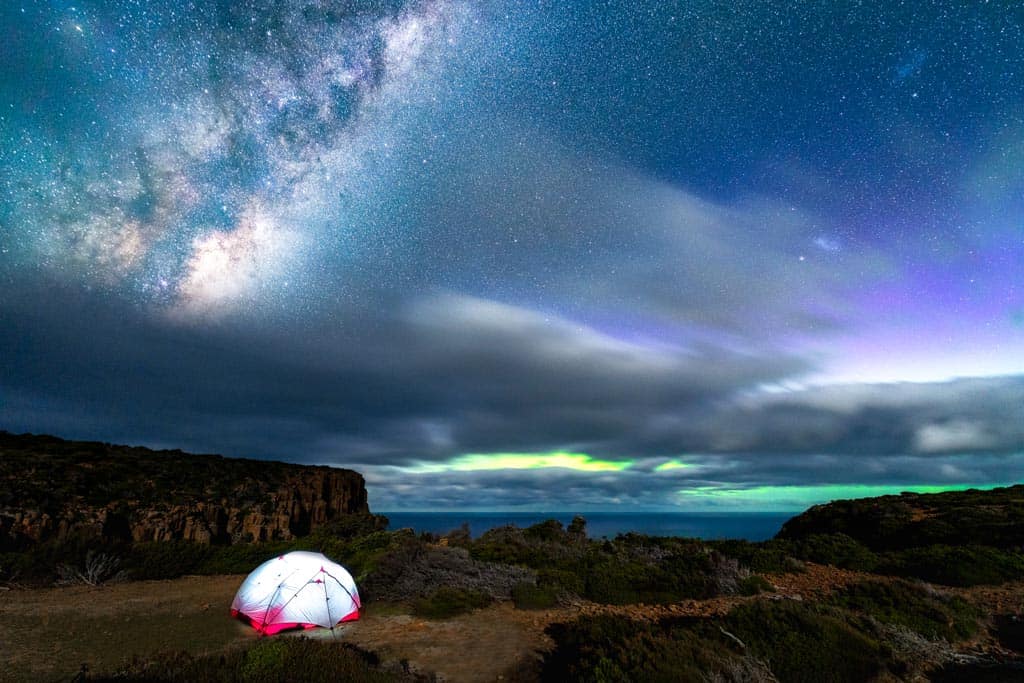 The Tasman Peninsula – Our Ultimate Travel Guide
Now that you know everything there is to see and do on the Tasman Peninsula, you'll need to know some basic travel information to.
In our Tasman Peninsula travel guide we'll help you make the most of your time here.
How to Get to the Tasman Peninsula?
The first thing you need to know is how to get to the Tasman Peninsula, and like most spots in Tasmania, the best way is to drive yourself there.
By Car
Driving yourself is ideal for people who would like to own their own time and aren't in a rush.
On average it takes about 3 hours to get down there from Hobart (depending on weather conditions and traffic).
For people who have their own car, it is best to head down along B173 towards Dover and then divert onto B174 which takes you in the direction of Port Arthur.
The best way to get around is to rent a car and explore on your own! We recommend Rental Cars, which has the largest range of vehicles for the best value on the market.
By Bus
From Hobart to the Tasman Peninsula, there is a public bus that runs this route. The bus drops you along Numbeena Road which is a short walk to Port Arthur Historical Site.
The bus only runs from Hobart to Port Arthur in the afternoons. Our advice is to get there the day before and start your exploring or hiking the following day.
For timetable and fare information please click on the link below: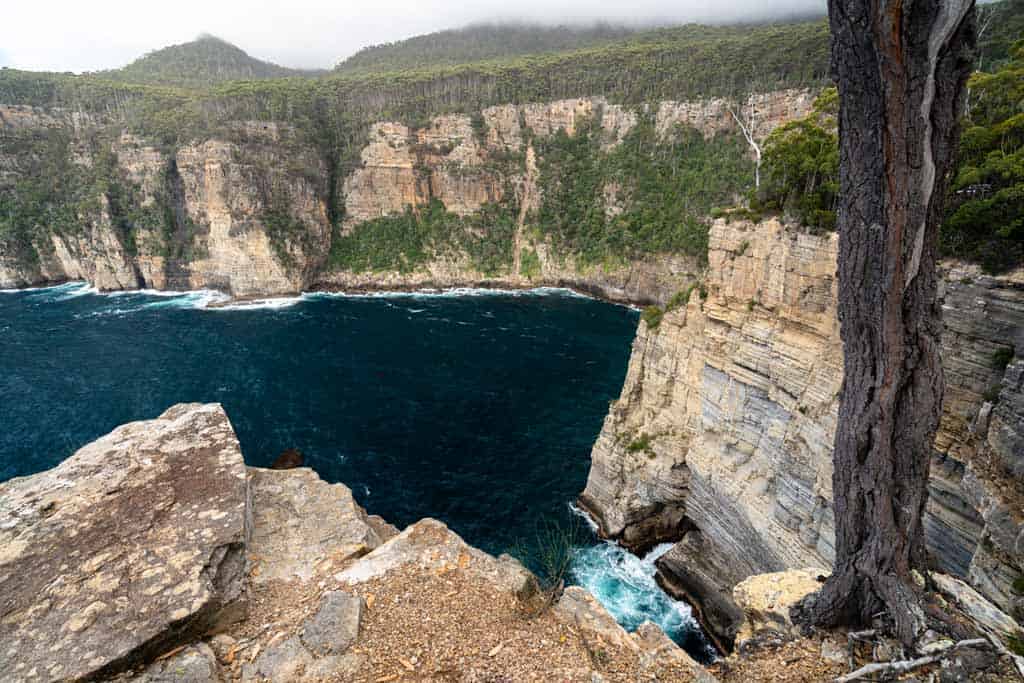 Tasman Peninsula and Port Arthur Area Facilities
This area of Tasmania has limited services, so stock up and be prepared before coming to the Tasman Peninsula.
Fuel
There is only one fuel station on the Tasman Peninsula and that is in Port Arthur. It is a general store also so its hours are standard
We recommend having a full tank before arriving on the Tasman Peninsula. It's also not a bad idea to have a spare fuel tank in your car just in case.
Food
There is a small grocery store in Port Arthur and Nubeena for basic or everyday foods. It is not fully stocked so be prepared before coming out this way.
There are lots of restaurants if you want to eat out, but they may not be open for all meals or they may require advance booking. Please ring and check first so you are not disappointed. These are small local businesses so if you can, please support them.
National Parks Pass
When you are visiting this part of Tasmania, you do need a National Parks pass for a lot of the attractions on the Tasman Peninsula.
You can buy them at one of the parks or online before you visit.
You can choose the option that suits you best when purchasing your ticket. They have a day pass, a 3 months pass, a holiday pass, or a yearly pass.
If you are going to other National Parks in Tasmania, make sure you get the pass that covers them all so you do not need to purchase another one.
Where to Stay on the Tasman Peninsula
There are some great places to stay on the Tasman Pensinsula, despite the area being quite remote.
Most accommodations are centered around Port Arthur, though there are other guesthouses and cabins scattered around the area.
We'll cover some of the best accommodations to suit all budget ranges.
If you're looking for an awesome place to stay in Port Stephens, we personally love using Airbnb. If you've never used the platform before, sign up using this link to get USD$35 off your first booking.
Budget
Camping is the cheapest option for accommodation on the Tasman Peninsula. Camping also allows you to immerse yourself in the wilderness. However, you have to make sure you pack all of your own camping gear.
We've already mentioned some campgrounds in the article, but as a general overview, here are some of the top campgrounds in the Tasman Peninsula. They are all free except you have to pay for the parks pass.
Fortescue Bay Camping Ground in Fortescue Bay
Lime Bay Camping in Lime Bay State Reserve
Wughalee Falls Campground in Cape Pillar
Bare Knoll in Cape Pillar
Other affordable options include holidays parks and cabins. The most popular and most affordable options is NRMA Port Arthur Holiday Park. It is conveniently located in Port Arthur, so it is relatively central and easy to drive to most attractions from here.
They offer spacious, rustic cabins as well as dorm rooms and tents. Guests can enjoy free Wifi as well as an on-site shop with groceries and fuel.
Mid – Range
For a bit of comfort during your stay, consider renting an entire cottage to yourself. There are some amazing Airbnbs and guesthouses for decent prices on the Tasman Peninsula.
Fairweather Cottage in Port Arthur is a cozy little beachfront cottage that doesn't cost an arm and a leg. Enjoy staying in a homey, 2-bedroom spot conveniently located in Port Arthur.
Luxury
Stewarts Bay Lodge in Port Arthur is another gorgeous accommodation where you can rent an entire bungalow and have the place to yourself.
A bit pricer than the other accommodation options, this wilderness lodge allows you stay right in the bush near the beach, so you can immerse youself in the serenity of nature.
Despite being right in the bush, this modern and cozy lodge has all the amenities you could need. Cabins are equipped with heating and air con, as well as decks and terraces with a view and BBQ pits. The lodge itself has an amazing on site restaurant if you want to treat yourself.
DISCLAIMER: Some of the links in this article are affiliate links, which means if you book accommodation, tours or buy a product, we will receive a small commission at no extra cost to you. These commissions help us keep creating more free travel content to help people plan their holidays and adventures. We only recommend the best accommodations, tours and products that ourselves or our fantastic editorial team have personally experienced, and regularly review these. Thanks for your support, kind friend!