We acknowledge the Traditional Owners of the land on which we travel, the Palawa and the Tarkiner Tasmanian Aboriginal Group. We pay our respects to their Elders, past and present, and the Aboriginal Elders of other communities who may be here today and remain as the traditional custodians of the land.
When you think of Tasmania (Lutruwita in local Aboriginal language), the Tarkine Drive is not a road trip that usually jumps to the top of the bucket list. Well, it should be.
Having recently spent 3 months travelling around Tassie in our campervan, we were lucky to experience the best that this adventurous island has to offer.
And one region that really stuck with us is the stunning Tarkine and it's driving route.
Located on the north west coast of Tasmania, the Tarkine Drive is a self-guided loop that starts and finishes in the town of Smithton.
It takes you to glorious waterfalls and temperate rainforest, along sprawling beaches and walking trails, and to the edge of the world, literally.
There's a reason it's a hidden gem in Tasmania!
The Tarkine Drive – Itinerary, History and Things to Do
During our travels we found a lot of people talking about the Tarkine Drive, but not too much great information for it online. That's why we decided to do the drive ourselves and publish this ultimate guide.
Here is our complete 2-day itinerary, filled with the best stops, walking trails, and places to see on the Tarkine Drive.
The best way to get around is to rent a car and explore on your own! We recommend Rental Cars, which has the largest range of vehicles for the best value on the market.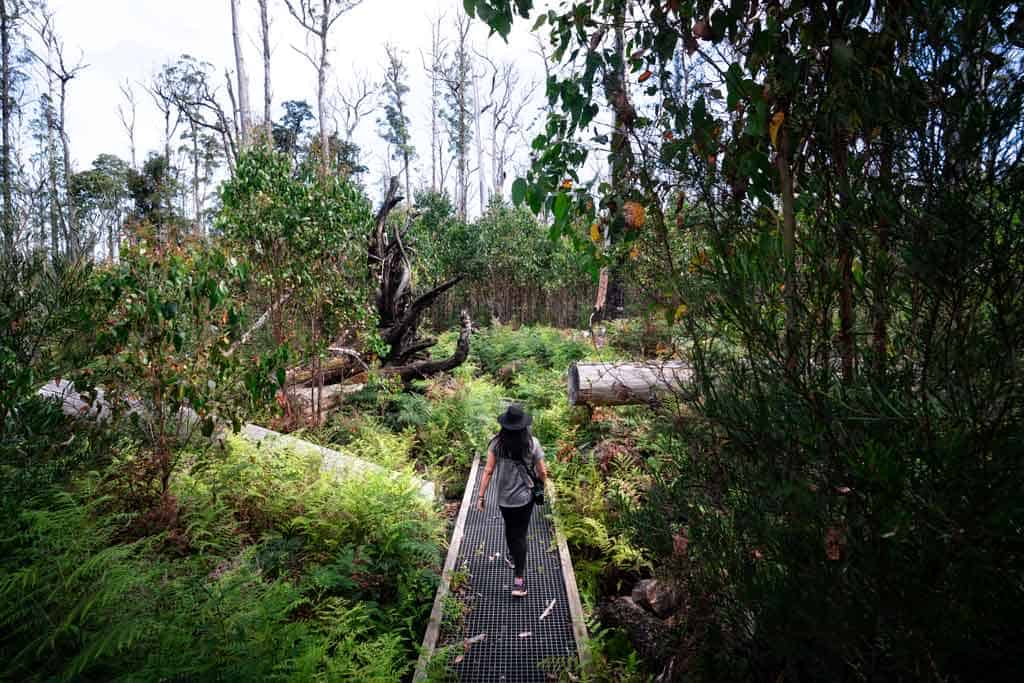 But First: Tarkine – What's in a Name?
Let's start from the beginning and talk about the name Tarkine. The name Tarkine means 'belonging to, or of, the Tarkiner.'
An Aboriginal tribe in the area known as Tarkiner people lived in the Sandy Cape region of the wild west coast of Tasmania for more than 40,000 years.
They were one of three Aboriginal tribes on the West Coast, stretching from the Pieman River mouth to the Arthur River.
The Tarkine area is filled with relics and remnants of their fascinating existence, including middens, hut sites and other artefacts.
These archaeological sites reflect a rich Indigenous culture and spirituality that still exists today.
Unlike a lot of Tasmania that has sadly suppressed the island's Aboriginal heritage (and destruction), in the Tarkine you will find lots of great information at the
There are informational signs installed around the main attractions that dive into the stories of Aboriginal chiefs and leaders of the area, as well as explaining the way they lived and hunted in the past.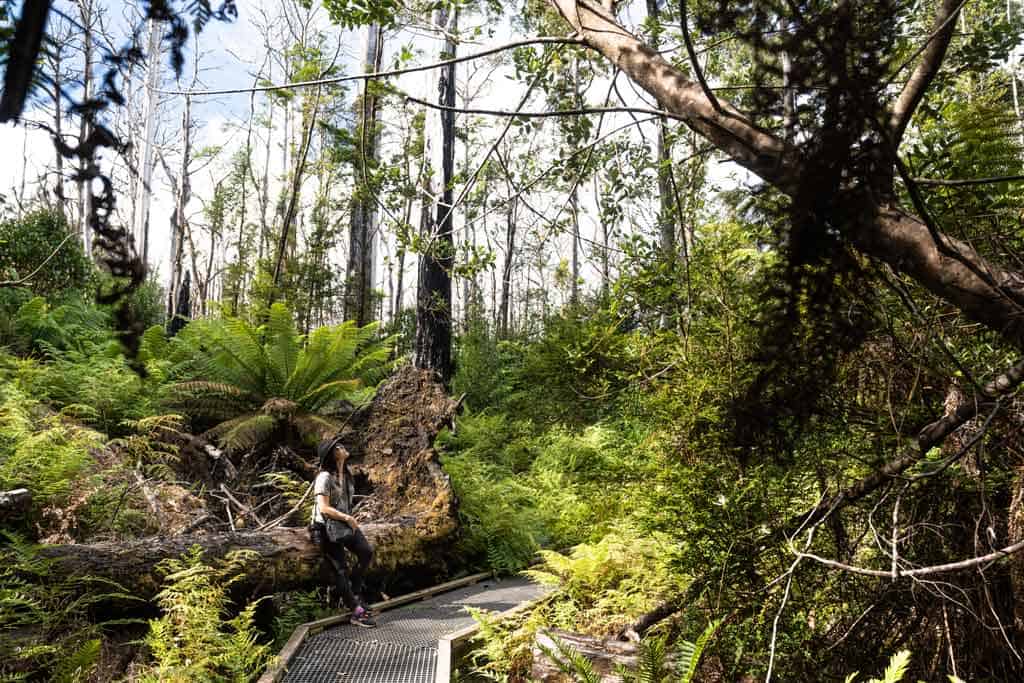 The Tarkine Rainforest – An Ancient Beauty Under Threat
The Tarkine Rainforest covers 450,000 hectares of land in the north west corner of Tasmania, and is incredibly precious and raw..
The Tarkine is a mixed rainforest, with wet and dry eucalypts, riverine, heathland, moorland and coastal ecosystems.
You'll be amazed at the peaceful rainforests and the history of the area, which luckily includes a large number of historic Aboriginal sites.
Unfortunately despite the environmental and cultural significance, the Tarkine is danger of being lost forever.
Logging is the single greatest threat to the future of the Tarkine as a wild area, and for the multitudes of animals and plant life that live here.
Large areas of forest within the proposed Tarkine National Park has been designated as being open to the wood-chipping industry.
This allows for logging and removal of huge volumes of timber for wood-chipping, often by massively destructive methods of clear-fell logging where every tree is cut down, and the area is then fire-bombed.
In April 2020, 356,000 hectares of previously protected land was released for logging after a 6-year hiatus, and the majority of this land is located in the Tarkine.
Tasmania is known for its untouched, wild beauty, yet the government is only focusing on short-term monetary gains for private business.
It's a tragic outcome, and heartbreaking to see one of the planet's most remarkable ecosystems may soon be decimated
This is horrible and so sad to hear and see for this amazing part of Tasmania. There is so much history and beauty in this region, it needs to be saved.
Luckily there are some amazing people doing their best to protect this region for future generations.
To learn more, check out this fantastic short documentary by Patagonia:
The Ultimate 2-Day Tarkine Drive Itinerary
By now you're just itching to know all the incredible things to do see and do on the Tarkine Drive! Don't worry, it's time to get stuck into it.
This is the exact route we did when driving the Tarkine Loop which covers the north west coast of Tasmania.
We decided to do it in two days, but feel free to shorten or lengthen this trip depending on your own schedule.
Here's our 2-day Tarkine Drive itinerary!
Day 1 of the Tarkine Drive Loop
You start the drive in the quaint town of Smithton, located in the northwest of Tasmania and not too far from the fantastic village, Stanley.
Smithton is the best place to stock up on fuel and supplies, so make sure you do that before you hit the road.
There's plenty of places to stay in Smithton, from free camps to caravan parks and beautiful BnBs.
READ MORE: Check out our perfect 2-week Tasmania road trip itinerary if you're short on time!
Smithton to Trowutta Arch
Head out of Smithton on Scotchtown Rd (C217) and enjoy the rolling farmland until you hit Trowutta Rd (B22, turning into C218).
Here you follow it through the town of Edith Creek, then veer to the left towards the town of Trowutta.
This turns into Reids Rd, then you turn right onto the unsealed Reynolds Rd (there's a sign to the Trowutta Arch).
Then it's a short 10-minute drive to the arch.
Note that while this road is unsealed, it is in good condition. The only issue is the fine silica white dust you'll get all over your vehicle.
Trowutta Arch
Welcome to the stunning Trowutta Arch! Park your vehicle and follow the 1.1km trail to the huge cave.
The trail is lovely, winding through lush rainforest filled with towering trees and sprawling ferns.
The Trowutta Arch is a large geological sinkhole that was formed when the cave above it collapsed. Now the cavern is exposed to the sky above, and an algae-topped lake sits at the base.
It's an impressive sight to see, yet for some reason very few tourists get out here, so there's a good chance you'll have it all to yourself.
For different views of the arch, and to see the second sink hole, make sure you climb up to the right.
The time spent here, including walking and spending time at the arch, should take you less than an hour and is graded easy.
Trowutta Arch to Milkshake Hills Forest Reserve
After the Trowutta Arch follow the dirt back to the main road (C218) then turn right.
Tayatea Rd will lead you into your first real views of the Tarkine Rainforest. You'll begin twisting and weaving along narrow pavement, with massive trees soaring above you on either side.
Once you approach the gravel Milkshake Rd, you'll see signs for Milkshake Hills Forest Reserve turning right.
READ MORE: Don't miss out on all these other great things to do in Tasmania!
Milkshake Hills
The drive to the Milkshake Hills parking lot isn't too long, but it is beautiful (and winding). Take your time driving then pull up at the picnic area, where you'll find tables and a toilet.
From here enjoy an easy 2.1km hike along the Lookout Walk trail to enjoy soaring views across the entire Milkshake Hills.
You'll wander through a large buttongrass plain, which was created by the Aboriginal people thousands of years ago to aid with their hunting of wild animals.
This alteration to the earth is part of their history, so spend a few minutes looking out and imagine what it would be like all those years ago.
The lookout is great, and on a clear day you can see a long way. Follow the trail back down, then if you have time continue on the Julius River Forest Walk, which loops back to the carpark. Julius River Forest Walk is one of the most popular walking trails on the Tarkine Drive.
Total walking time in the Milkshake Hills should be a leisurely 90 minutes.
Milkshake Hills to Lake Chisholm
It's another short drive to the next beautiful location on our Tarkine Drive itinerary, Lake Chisolm.
If the weather is nice put the windows down and enjoy the cleanest air in the world. Seriously, it even gets bottled and sold in China!
Lake Chisolm Walk
The trail to Lake Chisholm is a 1.1 kilometre loop and takes you deeper into the Tarkine Rainforest.
Lake Chisolm is one of the finest examples of a flooded limestone sinkhole in the country, and on a still day the lake acts like a mirror to give perfect reflections.
If you're real lucky you might even spot a platypus!
Give yourself about 30 minutes to walk to the lake and back.
Camping Option – Julius River Forest Reserve
If you're planning on camping along the Tarkine Drive, there's a great free camp located at Julius River Forest Reserve, between Lake Chisolm and Sumac Lookout.
This is where we stayed, and it was peaceful, flat and clean. You can do the rest of day 1's activities the next morning, or drive back here if you have lots of time in the afternoon to kill.
If you're not camping, you can continue onto Arthur River to stay the night.
Lake Chisolm to Couta Rocks
This long stretch of drive will take you out of the forest and all the way down to the coast. But that does't mean there's no spots to stretch the legs along the way!
Sumac Lookout
Just past Julius River Forest Reserve you'll see a parking lot for Sumac Lookout.
This spot offers beautiful views over the Arthur River and the surrounding cool temperate rainforest.
It is an easy 5 minute walk which you can do in any shoes. There is an information board explaining more about the area.
Kanunnah Bridge
You won't miss the Kanunnah Bridge (even though you drive past it to continue the Tarkine Drive).
Pull over by the side of the road and go for a walk along the path on the bridge. This is a great spot to view the rapids and reflections of the fabled Arthur River below.
Couta Rocks
When you hit the north west coast follow the gravel road down towards Couta Rocks.
This impressive coastline is best explored by foot, so park the car and go for a walk along the stretches of reflective sand and large rock bluffs.
It's a pretty unique place, and the small fishing village there may give you an insight into just how wild the northwest part of Tasmania can be.
Couta Rocks to Arthur River
It's only a short distance to Arthur River, but it could take you an hour or two with a few of the stops to make along the way.
The main road is paved, but the tracks between the beaches are unsealed and often potholed.
Sarah Anne Rocks
The Sarah Anne Walk is named after the famous local watercolour artist, Sarah Anne Fogg.
It's an easy 30-minute return walk where you'll get to experience some dramatic rock formations on the coast.
Nelson Bay
Just before you get to Arthur River you'll come across Nelson Bay, located down a short gravel road.
This remote fishing village is quirky and rugged, and this section of the north west coast is absolutely superb.
You can walk around Nelson Bay, head to the north end to Sundown Reserve, then follow the inland track to the mouth of Sundown Creek to see the ancient rock carvings.
The whole walk from Nelson Bay to Sundown Creek should take about 1.5 hours return.
Where to Stay in Arthur River
If you're pulling up in Arthur River for the night, you'll find a number of quaint guesthouses to stay in.
By far the best is Ocean View Cottage, a beautiful self-contained accommodation with stunning vistas over Arthur River.
It does book out though, so get in early if you want to crash here for the night.
Here's where you'll find all the other top places to stay in Arthur River.
Day 2 of the Tarkine Loop
Welcome to the second day of our Tarkine Drive itinerary! You're probably tired from the big day yesterday, but there's no time to sleep in.
Instead get up early, enjoy a delicious breakfast from one of the Arthur River cafes, and get ready for the first adventure.
Edge of the World
We're going to start the day by heading out to the Edge of the World.
This is Tasmania's rugged north west coast at its best. Beautiful scenery, gorgeous ocean views, but wild and windy.
To get to the "Edge of the World" you will enter via a gravel road which leads up to a carpark. There is an easy boardwalk out to the main lookout.
It's a pretty insane part of the island! The wind on the day we visited was hectic and nearly blew us off the beach. So be prepared and bring a coat.
There are also clean toilet facilities.
The Edge of the World lookout features an exhilarating view of the Tarkine coast. Easy, 10 minutes.
Arthur River Cruise
After the trip to the Edge of the World it's time to check out one of the best things to do in Tasmania – an Arthur River cruise.
Starting at 10am you jump onboard the famous 'Red Boat', MV George Robinson, and go out on a 14km journey into the heart of Tasmania's Tarkine wilderness.
It's like stepping back in time, and you'll fall in love with the wildlife and scenery all around.
If you're lucky you might spot white-bellied sea eagles swooping for fish, azure kingfishers, or even platypus, spotted quolls or pademeons.
The cruise has refreshments and a BBQ lunch in the bush. Seating is two rows of two and views of the river and surrounds are great wherever you are seated.
You can also go on the open top deck where there is more seating and fantastic viewing of the forest and river.
The trip is a 5 hours including lunch and a short interpretive bush walk. The pace of the tour is very relaxing and the environment you go through is a rare glimpse into wilderness.
Well worth doing! Book it direct through Arthur River Cruises.
Alternative – Arthur River Coastal Walk
If you don't want to go out on the Arthur River Cruise, you can instead go for a marvellous Arthur River coastal walk.
The Arthur River Beach Walk is a 8.4 km return trail starting at the mouth of the Arthur River.
Walk north along the coast to Church Rock and be amazed at the gorgeous views and sounds of nature the entire way.
This is a moderate walk and will take 2.5 hours return. Dogs are permitted on this trail, but they must be kept on a leash.
Arthur River to Marrawah
The drive to Marrawah is another short and easy one, but there are a couple of stop offs to enjoy along the way for this portion of the Tarkine Drive.
Bluff Hill
Take the gravel Bluff Hill Rd to go see the lighthouse overlooking the rugged coastline.
The Bliff Hill Lighthouse was built in 1982, and while it's not the most historic lighthouse in Tasmania, it's still worth a detour for the views.
There is a carpark out there, but be aware that bees have inhabited the area.
You can walk down to the ocean via a rough bush track if you'd like.
West Point
West Point Reserve is a significant Aboriginal Heritage site and a popular surfing spot that is known for its massive waves.
You'll also find the West Point Lighthouse, which built in 1916 on the most westerly point of Tasmania.
Green Point Beach
Drive through the bucolic coastal town of Marrawah and head out to Green Point Beach, one of the most beautiful spots in the northwest.
Here you'll find the long beach with a picnic area, electric BBQs, a playground and public toilets.
Green Point Beach is a great spot to go surfing, kitesurfing and windsurfing, and the rock pools on the southern end of the beach are excellent to explore.
It is a great place for a chilly dip, but do be water smart as this beach is not patrolled.
There is a free camp located here for campervans, so if you feel like staying by the beach instead of continuing straight back to Smithton (which is what we did), pull up here for a few nights.
Marrawah to Smithton
This is the final stretch of the Tarkine Drive! There isn't a lot to see along the way, unless you have a 4×4 and want to drive the northern route back to town.
Congratulations! You've now explored one of Tasmania's most beautiful and wild regions.
From Smithton you can drive out to Stanley to climb the Nut, or continue further along the north coast of Tassie.
Tips for the Tarkine Drive
Now that we've talked about the history, ecology and itinerary for the Tarkine Drive, it's time to dive into some of our best tips!
You can drive the Tarkine Loop, in one, two or three days.
There is so much to see and do along the way, and we recommend spending at least two days driving it if you have time.
There is no public transport along the Tarkine Drive so you will have to have your own vehicle.
The best way to get around is to rent a car and explore on your own! We recommend Rental Cars, which has the largest range of vehicles for the best value on the market.
Which Direction to do the Tarkine Drive?
The Tarkine Drive is a loop and you can do either clockwise or anti-clockwise from Smithton.
We did it clockwise, and this is the route we recommend. Feel free to reverse it if you'd like though.
Clockwise
From Smithton, you will head south on Scotchtown Road which will turn into Trowutta Road.
Follow Trowutta Road and it will start to head east toward Tayatea Bridge.
After Tayatea Bridge, you will follow Tayatea Road which changes to Rapid River Road then Sumac Road.
Follow the road until you get to Kanunnah Bridge, then the road will turn into Blackwater Road. You are heading north west towards the coast now.
You will pass the Western Explorer turn off. This road is only for 4×4 vehicles and heads to the small town of Corinna.
After this turn-off the road is named Rebecca Road and will take you to Couta Rocks.
After Couta Rocks you will start heading north and follow the coast.
Follow Temma Road to the town of Arthur River.
After Arthur River, the road is names Arthur River Road and this will take you to Marrawah.
From Marrawah you can follow the Bass Highway to take you back to Smithton.
How Much Time do I Need for the Tarkine Drive?
We would recommend breaking the Tarkine Drive up over 2 days. Even though the drive can be down in one day easily, you may feel rushed or end up skipping a few things.
By giving yourself two days for the Tarkine Drive, you have time to stop off at attractions and enjoy them without being in a rush
You will be in the car for at least 3-4 hours a day, but there are many places to stop off at and stretch those legs.
Road Conditions on the Tarkine Loop
The main roads that you follow are sealed the entire way, which makes the Tarkine Drive doable for any vehicle.
Some of the attractions are located away from the main roads though, and you may need to drive on a gravel road for parts of it. These roads are well maintained but can be dusty, especially the last section to Trowutta Arch.
When you get back to Smithton there is a great car wash that is tall enough for caravans and campervans.
Fuel, Food and Phone Service along the Tarkine Drive
The Tarkine Drive goes through some remote, small villages and supplies can be very hard to come by, so we recommend stocking up in Smithton before you hit the road.
There are only two towns along the Tarkine Drive where you may find basic services on this drive: Arthur River and Marrawah.
Marrawah has a small general store, a pub, a post office and petrol available.
Arthur River has a small store with a take-away counter but no petrol.
Fuel
Fill up in Smithton before leaving as the next gas station is not till Marrawah. It will also be much cheaper in town.
If you are heading down to Corinna make sure you take extra fuel as the nearest gas station from Corinna is Zeehan, Waratah or Rosebery.
Food
As I said above, you are looking at Arthur River or Marrawah for food options.
You can get take away food in Arthur River and purchase necessities from the small general store.
In Marrawah, there is a pub there for counter meals and a small general store to purchase necessities.
Stock up at the Woolworths in Smithton if you want bulk meats, produce and snacks.
Toilets
There are very few public toilets on the Tarkine Drive, so keep this in mind before you go drinking your 5th litre of water.
There are toilets at Green Point Beach, the Arthur River Ranger Station, the Edge of the World Viewpoint, Julius River, Milkshake Hills and Dip Falls. These are mainly clean drop toilets.
Definitely bring your own toilet paper, as the toilet blocks may not get restocked very often.
If you're busting and can't hold on until you get to a toilet, do the right thing and go well away from camps, waterways, roads, and tracks. Bury your waste and take your toilet paper with you. Please do not leave it as it can harm animals (and looks disgusting).
Mobile Service
There is no mobile phone coverage along parts of the Tarkine Drive because of the remoteness.
Jarryd is with Telstra and I am with Optus, and we can tell you that Telstra is the one that worked the most along the drive.
Optus didn't have any coverage until we got to Marrawah.
The Tarkine Drive is well-signed (brown tourist signs), and attractions are also signposted, so as long as you stay on the main road, you will be fine.
Pre-load Google Maps before you hit the road. For an offline navigation app, we recommend Maps.me. Just make sure you download the offline map before you leave.
Where to Stay Along the Tarkine Drive
There is accommodation along the Tarkine Drive, but it is quite limited. It all depends if you want to sleep in a room, or a campervan or caravan.
Accomodation
For room options, there is not a lot to choose from along the Tarkine Drive.
The big towns of Marrawah and Arthur River are your only options, and choices are limited.
In Marrawah, there are a few self-contained holiday home rentals and in Arthur River there are a lot more options from rooms to little cottages to self contained units.
If you do not have a tent or campervan, I would recommend to stay in Arthur River to break up the trip. You can do a cruise in the morning and head off back to Smithton.
On the east side and south side of the Tarkine Drive loop there is no accommodation, only camping.
Camping
There are great options for camping along the Tarkine Drive.
Here's my complete list of all the campsites along the Tarkine Drive:
Julius River Forest Reserve on highway C218 (Free, self-contained caravans only)
Manuka Campground, Arthur River (Check in and pay at Arthur River Ranger Station)
Peppermint Campground, Arthur River (Check in and pay at Arthur River Ranger Station)
Prickly Wattle Campground, Arthur River (Check in and pay at Arthur River Ranger Station)
Arthur River Cabin Park, Arthur River (Contact them for rates)
Green Point Campground, Marrawah (Free)
We stayed at Julius River Forest Reserve and Green Point Campground in our self contained campervan. Both were great with beautiful surroundings.
DISCLAIMER: Some of the links in this article are affiliate links, which means if you book accommodation, tours or buy a product, we will receive a small commission at no extra cost to you. These commissions help us keep creating more free travel content to help people plan their holidays and adventures. We only recommend the best accommodations, tours and products that ourselves or our fantastic editorial team have personally experienced, and regularly review these. Thanks for your support, kind friend!