Welcome to our epic guide to hiking the Three Capes Track in Tasmania. In this article you will find everything you need to know to tackle this adventure, from how to get there to booking the track, what to pack and what is expected along the way.
The Three Capes Track is one of Australia's most beautiful multi-day hiking trails, and having been lucky enough to recently complete it we can understand why it receives so much hype.
The 4-day, 48km one-way hike wanders along the south east tip of Tasmania in the Tasman National Park, following the highest sea cliffs in the southern hemisphere with mind-blowing views of Cape Pillar, Cape Hauy and Cape Raoul.
Listed as one of the Great Walks of Australia, the Three Capes Track first opened in 2015 and is managed by the Tasmania Parks and Wildlife Service.
$25 million was spent on developing and upgrading the existing network of trails, and constructing three world-class huts for walkers to stay in.
The upgrades have now created an exclusive experience, with limited walker numbers allowed on Three Capes Track each day and allowing the trail to be more accessible to all levels of hiker, with a luxury twist.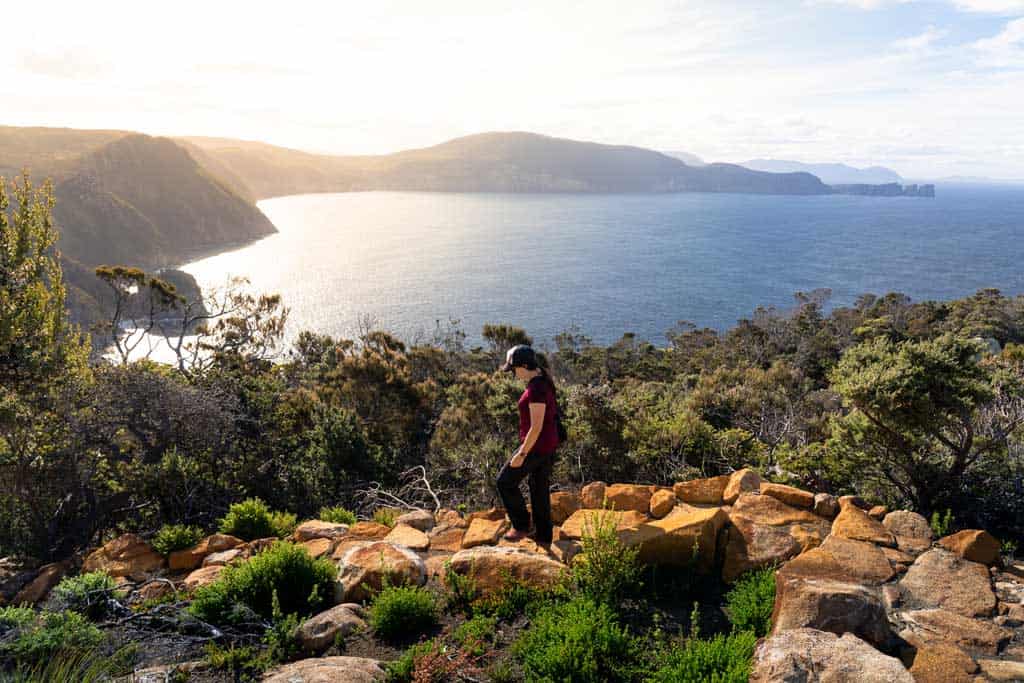 The Three Cape Track can be done self-guided or guided. We chose the self-guided option, at $495 per person.
It is expensive, but there's a reason why.
When we say there's a luxury twist, luxury is relative. But in the world of multi-day hikes, it doesn't get much more comfortable than this.
Your $495 ticket a lot includes a lot of benefits, including access to the brand new huts with beds and memory foam mattresses in modern dormitories, meaning you don't have to carry a tent or sleeping mats with you.
The kitchens have gas cookers, pots, pans, utensils and dish soap provided, and the dining rooms are heated.
All you need to bring on the Three Capes Track is your food, clothes, a sleeping bag and camera gear.
You'll also find clean compost toilets, fresh drinking water tanks and even yoga mats to stretch on in the evenings, making the 48km hike a perfect introduction for people who have never done a multi-day trek before, or for those who don't like the idea of carrying heavy backpacks.
It really is a completely different experience to hiking the Overland Track, which is another one of our favourite multi-day hikes in Australia.
As an added bonus you even get a scenic boat cruise on the way to the beginning of the Three Capes Track, transport back to the visitors centre and a two-year access pass to the UNESCO World Heritage Port Arthur Historic Site.
The comfort of the huts, the upgraded path and the limited number of people on the track are nothing compared to the sheer beauty of the Tasman National Park which you'll be hiking through though.
We would go so far to say the Three Capes Track may just be the most stunning trek in the entire country.
Let's dive into our comprehensive blog post all about this epic walking experience.
Three Capes Tracks General Information
Location: Tasman Peninsula, Tasmania
Length: 48 kilometres
Type: One-way hiking track – South to North
Booking Required: Yes
Permit Cost: AUD$495 per person
Southern Terminus: Port Arthur Historic Site
Northern Terminus: Fortescue Campground
Highest point: 480 m
Lowest point: Sea level
Difficulty: Easy – Moderate
How to Book the Three Capes Track
The only way to book the Three Capes Walk is on the National Parks website. Click here to visit the official page.
NOTE – Any other page you try to book through is most likely a private tour operator, selling the guided Three Capes Walk experience, which costs upwards of $3000.
When you are at the booking page you select the date you would like to start and the number of people in your party.
Before you book have ready your list of all party member names and dates of birth.
When paying only a valid credit card, Visa or Master Card, can be used.
The next screen is choosing your boat departure time to start the track, and your bus back to the Historic Site at the end, as well as adult, concession or child selections, followed by the payment screen.
After you have paid, you will receive an email confirming your booking along with a brochure to help you prepare for your the Three Capes Track.
This is the only way to do the official Three Capes Track, and numbers are strictly limited to 36 people per day.
This hike does book out well in advance, especially during the Summer months, so make sure you get in quick.
If you're already in Tasmania and looking to do the Three Capes Track, check the site to see if any last-minute availability comes up due to cancellations.
READ MORE: Check out our guide to all the other best things to do in Tasmania!
What is Included in Your Pass
Your Three Capes Track ticket includes the following:
A Pass for Port Arthur Historic Site: This is valid for 2 years and also includes a 45 minute group tour of the grounds and a short boat cruise. We recommend spending a day before or after your hike to explore the site – it's well worth it.
Official Pass: For walking on the trail for the four days
Park Entry: A Parks Pass for Tasman National Park is included for the duration of your time on the trail.
Reserved Accommodation: Your bed for all 3 nights in each of the beautiful huts along the track.
Scenic Cruise: This 2-hour cruise takes you from Port Arthur to the beginning of the trailhead, via secluded beaches and under the dolerite cliffs of the national park.
Bus Transport: Your transport from the end of the track at Fortescue Campground back to Port Arthur.
A Bag Tag: This attaches to your backpack to prove to the rangers you have purchased your ticket.
Information/Story Book: This great little book has lots of information about the Three Capes Track, the geology of the area and stories to go along with the artwork you can find. What it doesn't have though is almost any information about the Aboriginal history of the area, which we were pretty disappointed in.
How to Get to the Start of the Three Capes Track
The Tree Capes Track starts at the Port Arthur Historic Site in the town of Port Arthur on the Tasman Peninsula in Tasmania.
Here is how you can get there:
Flying
The closest airport is Hobart International Airport, which has regular flights to most capital cities in Australia, as well as to Auckland in New Zealand.
If money isn't a concern, you can also look at taking a helicopter from Hobart to Port Arthur.
Driving
From Hobart, it is about 1.5 hours driving to Port Arthur, following the Convict Trail.
From Launceston it is about 3.5 hours to Port Arthur. All roads are sealed, so it's suitable to take any car, including rentals.
There is a large car park at the Historic Site for walkers to leave their car for the duration of their trek. You just leave your registration number with the office before you leave.
Coach Services
If you don't have your own car the easiest way to get to the start of the Three Capes Track is to book a bus from Hobart.
There are regular buses that run between Hobart and Port Arthur. For timetable and fare information please click on the links below:
Both of these companies pick up and drop off at Hobart Airport, and must be arranged prior.
If you are already in the city , there is another (and cheaper) way to get out to the Tasman Peninsula without breaking the budget – public transport.
There is a public bus that runs from Hobart to the Tasman Peninsula. It doesn't drop you directly off at Port Arthur Historical Site, but it does stop along Numbeena Road and it is a short walk from there.
It only runs from Hobart to Port Arthur in the afternoon though, so you may have to stay the night before you begin the Three Capes Track.
For timetable and fare information please click on the link below:
Taxi or Uber
You can always take a taxi from Hobart or the airport if you prefer. Some people on our walk had done this and arranged a driver to pick them up as the bus schedule didn't work with them.
We can imagine this would be very expensive, but it may work out affordable and easier if you are in a group.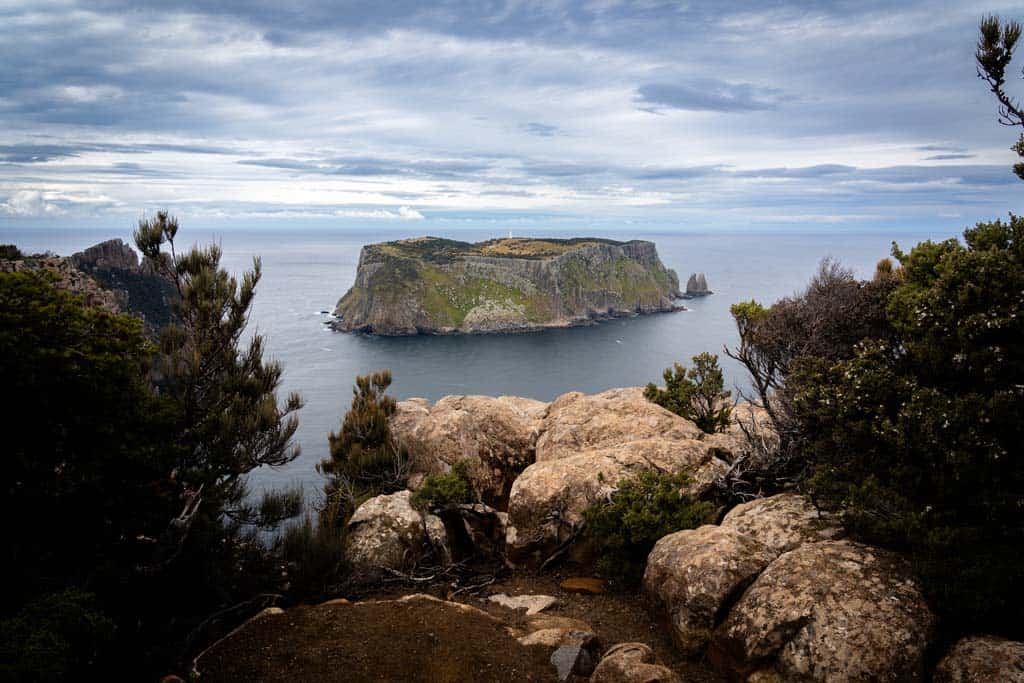 Official Track Transport
Your transport to and from the trail are included in your Three Capes Track pass.
Boat to Denman's Cove on Day One
Access to Denman's Cove, which is the start of the Three Capes Track, is undertaken on a 2-hour scenic boat cruise from the jetty at Port Arthur Historic Site.
The eco-cruise includes a guided trip around the bay, passing beneath soaring dolerite cliffs and into narrow beaches before dropping you off right on the sand at Denman's Cove.
Pennicott Wilderness Journeys is the company running the cruise and they have a passenger checklist before you get on the boat.
You can choose from two different departure times, 11am or 1:30pm. You have to select your time when you initially book your Three Capes Track ticket.
If you need to change this you can phone 1300 TASPARKS (1300 827 727).
Shuttle from Fortescue Bay Campground on Day Four
Once you finish the Three Capes Track, there will be a bus waiting to take you back to the Port Arthur Historic Site, or onwards to Hobart if you have pre-organised this.
You can choose from two different departure times, 2:30pm or 4pm. Just like the boat, you select this when you book your ticket for the Three Capes Track.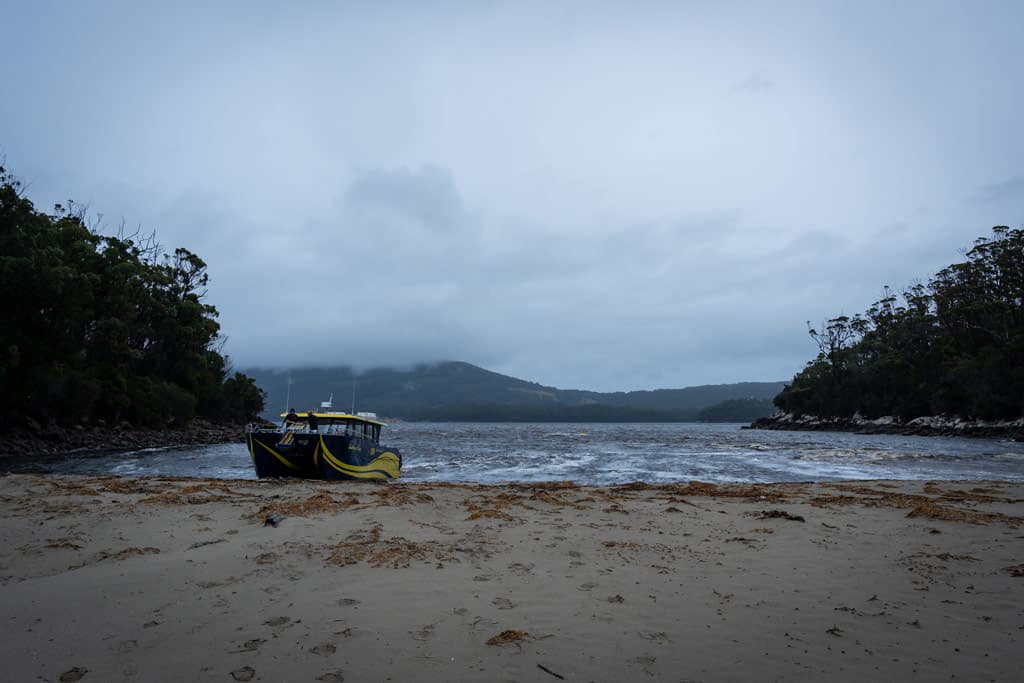 How Much Does the Three Cape Track Cost?
You have two options for hiking the Three Capes Track – self-guided or fully-guided as part of a tour.
Self Guided: This is the $495 per person ticket option if you book through the official site listed above.
Guided: Prices start at $3000 per person if you join one of the guided walking experiences run by private tour companies. This price is 'all-inclusive', meaning you don't have to provide your own food. You stay at the privately-owned Cape Pillar Lodge and Crescent Lodge instead of the National Parks lodges.
If you're doing the self guided version of the Three Capes Track like we did, the $495 includes transport, accommodation, and cooking utensils.
As a rough ballpark figure, add about $150 per person for food if you are planning on eating high-quality dehydrated meals and lots of nice snacks to get you through.
You could easily bring this down to under $100 for the four days or even less if you're thrifty.
If you have all your own hiking gear including sleeping bag, then you're good to go. Otherwise, expect to add an additional $15~ per day for sleeping bag hire.
If you're doing the guided tour of the Three Capes Track then everything is included, such as food, a chef, blankets, and even wine.
Can You Do the Three Capes Track for Free?
Technically, no. However there is an unofficial version known as the 'Free Capes Track' which can be done, although it isn't the exact same.
From Fortescue Bay Campground you can hike out to Cape Hauy and Cape Pillar, sleeping in tents at campsites and returning back to Fortescue Bay.
You cannot use the huts, other than to go to the toilet, and you cannot hike towards Surveyors Hut, as this is a one-way trail.
It's not the same experience as the Three Capes Track, but it is free and you get to see a lot of the same stunning views.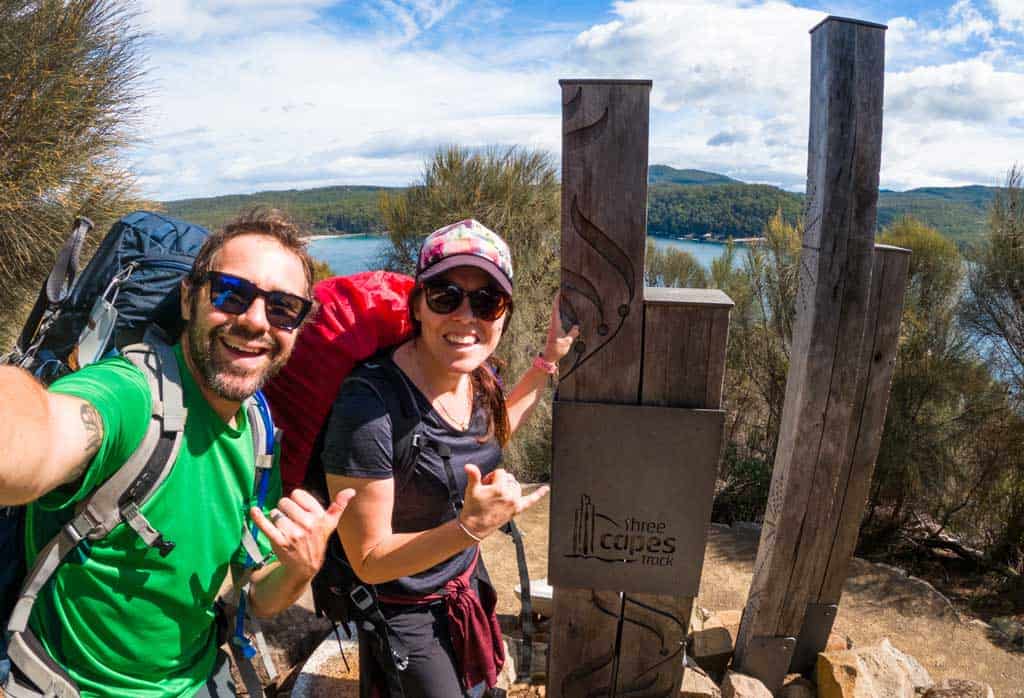 What to Expect on the Three Capes Track
Now that you know the basic information for the Three Capes Track, let's dive into what you can expect to find along the way.
Weather
Being in the far south east of Australia, the weather can be unpredictable at any time of year.
Even in the middle of summer you can experience sub-zero temperatures, so it's important to be prepared for anything on the Three Capes Track.
Always pack warm clothes just in case, and most importantly bring high quality waterproof pants and a jacket with you.
Having a rain cover for your bag and for the contents inside is crucial. This will save you on those unexpected rainy days.
At every hut the park rangers will have a weather report printed off so you can prepare for the next day.
Spring: September – November
Summer: December to February
Autumn: March – May
Winter: June – August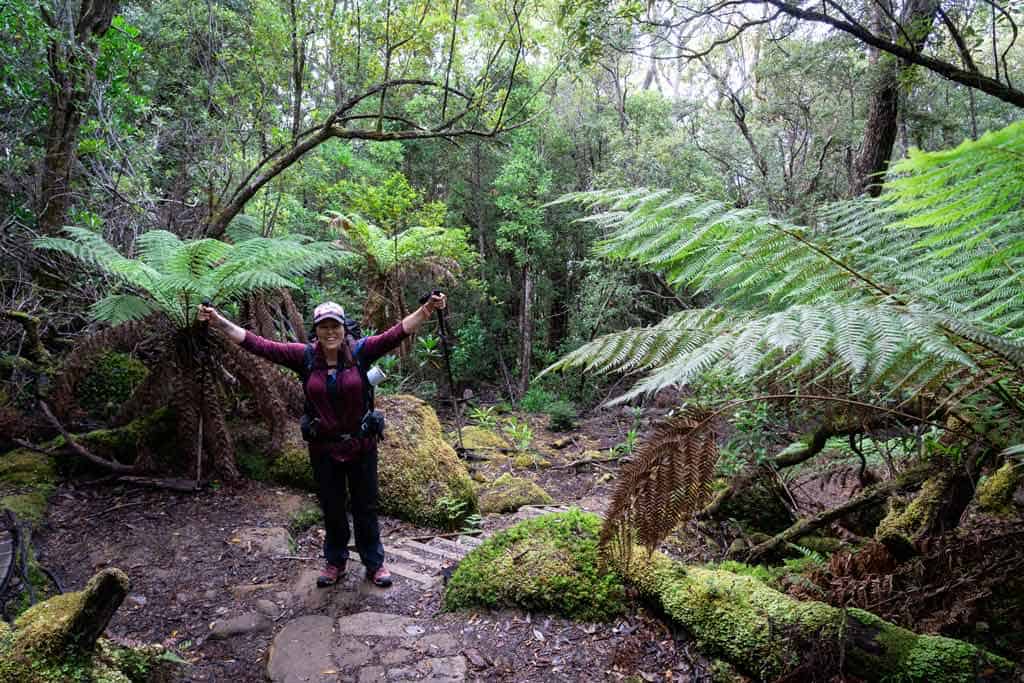 Fitness
If you have a moderate level of fitness, exercise regularly, and are capable of walking about 4 hours a day over four consecutive days, you will be fine.
The hike itself is not that hard, but the long distances and carrying a pack is what tires people out.
So be prepared and train if you have to before coming on the track.
The Three Capes Track is well maintained and groomed with a mix of gravel, compacted earth and boardwalk paths.
There are seats you can stop at along the path to take a rest and read though your information book.
If you have never done a multi-day trek before, or don't have experience walking with a backpack, we recommend doing a small day walk or day hikes around your home to get used to the weight.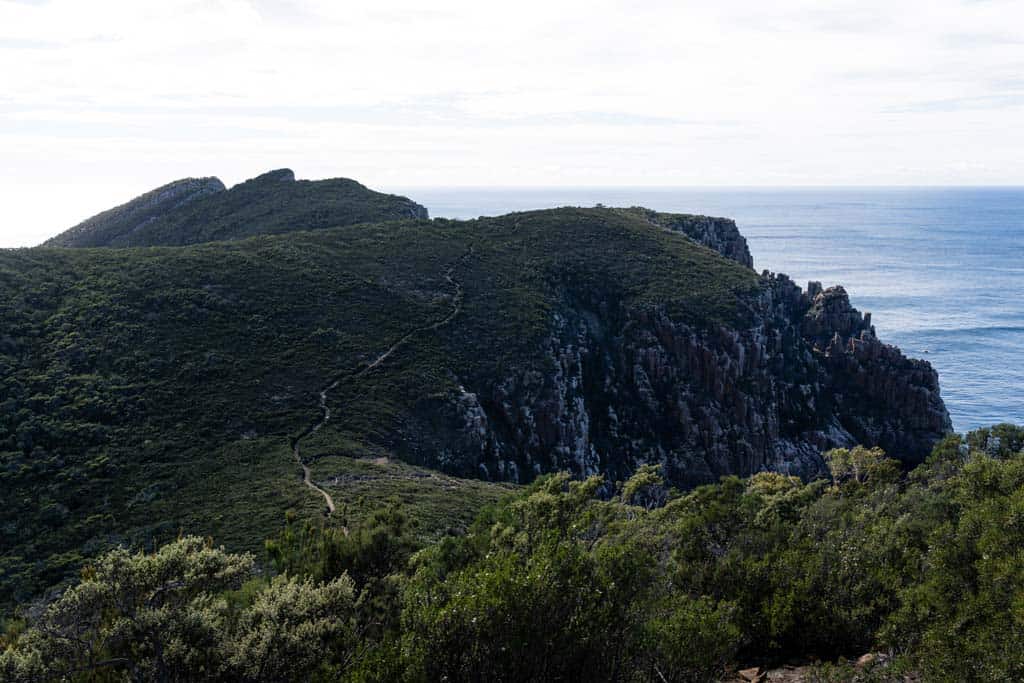 Equipment Checklist
When you book the hike Parks Tasmania will send you an equipment list. Definitely read it to see what you need to bring with you and what you can leave behind.
Do not overpack. This is a common mistake for so many people. You will regret it when you are hiking those long days with your heavy backpack.
Here is a list of everything we brought with us on the Three Capes Track.
Hiking Gear
Rain cover for your backpack
Waterproof liner
Day pack for the side trips
Hiking poles – not essential (we didn't use ours) but handy to have

Waterproof pants

Waterproof jacket
Waterproof dry bags for your food, sleeping bag and clothes
Sleeping bag
Sleeping bag liner
Inflatable pillow
2-litre water bladder or water bottle
Plates or bowls
Cutlery
Cup
Hiking shoes – Make sure they are worn in and are comfortable
Socks – Bring liners to help with blisters
Flip flops or slip-on shoes for around camp
Socks for camp
Blister kit
Bandaids
Simple first aid kit (bandages, joint cream, pain killers)
Hiking pants that zip into shorts
Hiking shirts
Fleece for hiking during the day
Hat
Beanie
Set of comfortable clothes for around camp
Quick dry towel
Underwear
Sports bra day and crop top for evening
Down jacket or jumper for camp
Thermal top and pants (depending on what time of year you are going)
Personal Items
Ear plugs (you will need these in the dorms)
Sunscreen
Toothpaste
Toothbrush
Hairbrush
Medication
Deodorant
Soap for the shower (please make sure it is biodegradable)
Face wash
Baby wipes to clean yourself on days one and three
Lip balm
Face moisturiser
Electronics
Camera
Mobile phone
Power bank
Charging cables for your phone and camera
Spare battery for your camera
Head torch
Food
Uncle Toby's Oat Packets – Great and quick for breakfast
Vita-Wheat Crackers – Great and easy for lunch.
Block of cheese – Trust us, it will not go off. We took one on the Overland and it lasted a week.
Vegemite – Flavouring for the crackers
Protein Muesli Bars – Great snacks and essential to keep morale and protein levels up
Chocolate – Great afternoon and after dinner snacks
Tea and coffee
Dehydrated meal packs – double portion (2 nights) – lightweight and all you have to do is add boiling water. We recommend the company Strive Food who are local to Tasmania. Best vegetarian dehydrated food we have ever found.
Steak, sausages and Vegetables for the first night's BBQ. Pack these into separate ziplock bags, and remember you have to take your rubbish out with you.
Wine – Some people brought wine in bags. After they finished the pack rolled away. Do not bring the wine bottle as you have to carry all your rubbish out with you.
Stuff You Don't Need to Pack
The items below are items you will NOT need to bring with you on the Three Capes Track. These are provided for you at the huts.
Tent – you are allocated a dorm bed every night
Sleeping mat – they provide memory foam mattresses
Stove – they have gas cookers in the kitchens for you to use
Pots and pans
Kettle
Knives and chopping board
Spatulas and ladles
Dishwashing detergent
Hand wash
Coffee plunger – one plunger is in every kitchen. If you have an Aeropress, we recommend bringing one as the coffee plunger may not be available.
Card games, board games and books – they are all provided at each kitchen hut for evening entertainment.
Hiking gaiters – the track is well maintained and you will not need these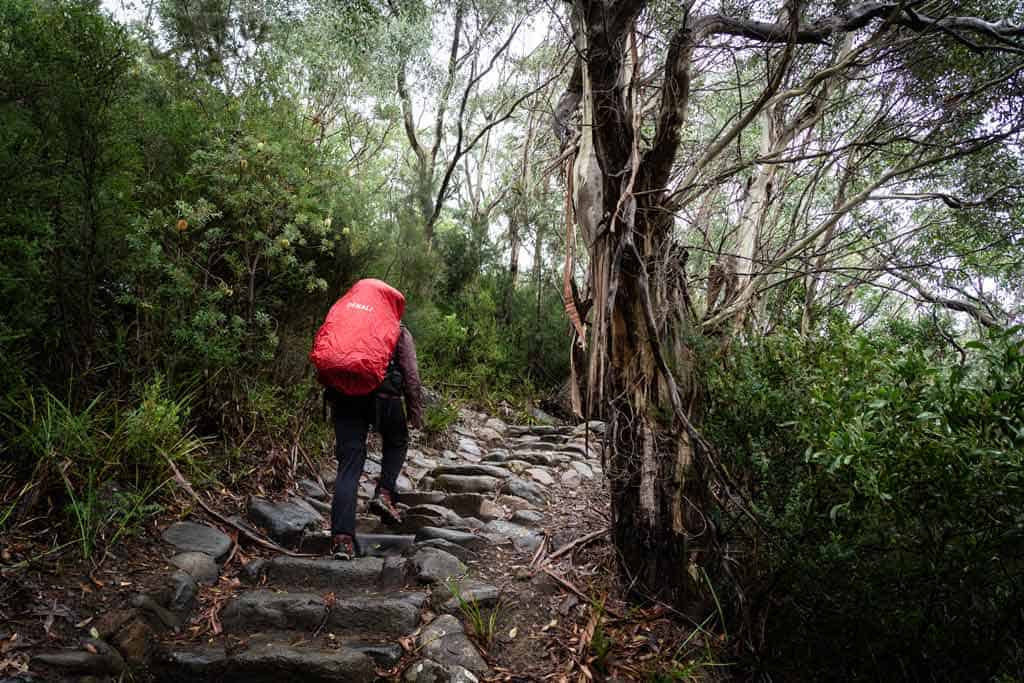 Terrain
The coastal section of the Tasman National Park is one of the most rugged, beautiful parts of Australia you can ever imagine, boasting the highest sea cliffs in the southern hemisphere, eucalypt forests, dolerite columns and epic Southern Ocean views.
In terms of the terrain, we would both say that the Three Capes Track is the best, most well-graded multi-day track we've ever hiked here in Australia.
Drinking Water
Beyond one litre for the first day's walk, you do not need to bring any drinking water, sterilisation tablets or filters with you for the entire hike.
Brand new water tanks are installed at each hut, and these are regularly tested for quality by Tasmania Parks and Wildlife Services.
Simply fill up your bottle or camelback with two litres before you hit the trail each day and you'll be good to go.
There isn't really anywhere safe to fill up with drinking water when you're on the Three Capes Track, but you shouldn't really need to.
Rubbish
Whatever you bring in, you carry out, including all your rubbish as there are no waste disposal points until you get back to Port Arthur.
This is so important to keep the Three Capes Track and the national park clean and the environment and animals protected.
Three Capes Huts
The Tasmanian government built three premium timber cabins* for hikers to stay in during the trek back in 2015, and they really are a work of art.
It almost feels like you're cheating at the end of each day when you show up at the huts, play card and board games in the heated dining rooms, cook dinner on the large gas cooktops and stretch out on the decks on provided yoga mats.
Each of the 3 huts on the Three Capes Track are different in style and layout.
*It wasn't without its controversy though. Have a read of this article on Wild for a different perspective.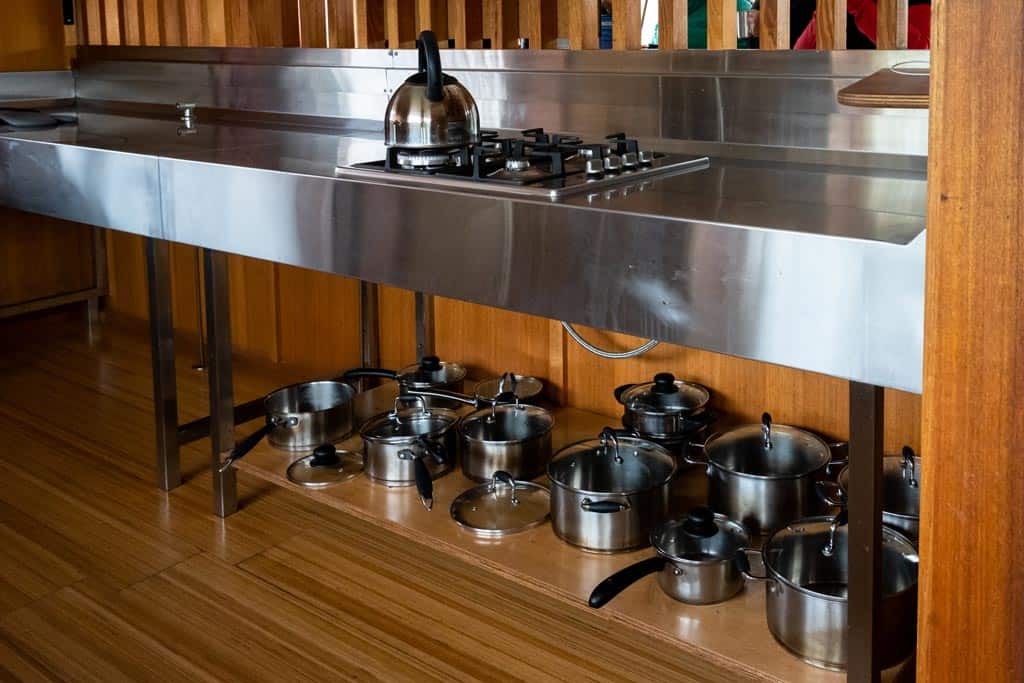 Day One – Surveyors Hut
This is one long building with the accommodation and kitchen common area joined.
The views from sitting in the kitchen are beautiful. They have outdoor BBQs here so bring those steaks on the first night of the Three Capes Track.
Day Two – Munro Hut
This hut is made up of two buildings; One for the kitchen and one for the accommodation.
It offers the best views of any of the huts from the balcony area and the helipad, overlooking the coastal cliffs and sea below. Perfect for sunrise!
This is also the only hut where you can have a hot shower, which is pretty decadent.
They have 2 outdoor bucket showers with a hot water tap at the entrance.
Day Three – Retakunna Hut
This hut is made up of 2 buildings. One for the two kitchens and outdoor kitchen and one building for the accommodation.
The drop toilets are located a distance away from the huts. They were the cleanest drop toilets we had ever seen.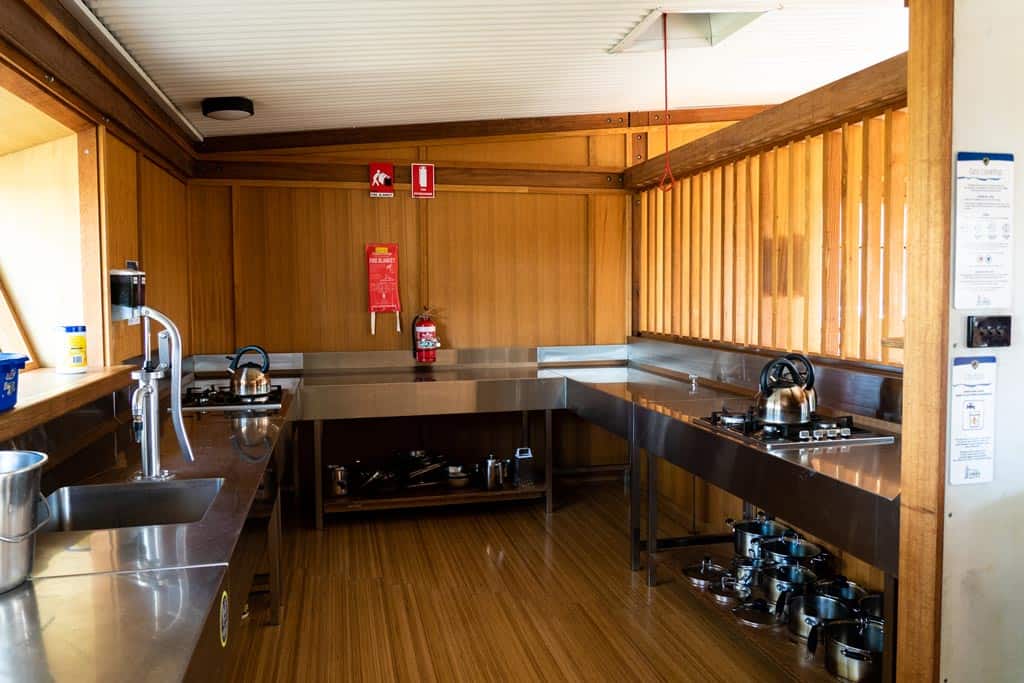 Common Amenities at Each Hut
Here are the standard facilities and features you can expect in each hut along the Three Capes Track:
Indoor kitchens with plenty of seating for meals. Munro one has 1 indoor kitchen, but a very large seating area.
Outdoor kitchens with a cooker, kettle and sink. If you don't want to cook inside, you can cook in the outdoor kitchen area and enjoy the fresh air.
Gas stoves, kettles, and a wide assortment of fry pans and pots for you to cook with. The only thing you need to bring with you is your cutlery, a plate, cup, your food and a tea towel to dry up. Dishwashing detergent is also provided.
Rain water is provided in every kitchen area. This is untreated, but regularly tested for quality. We never treated ours and we were fine. This water is for drinking, cooking and washing dishes.
Collection of boardgames and a library. We loved this and it is such a great way to break the ice with the other hikers. There are so many different boardgames and great educational and informational books about the local area.
Charging stations with USB power points so you can charge your cameras and phone in the evenings. These are limited and always get taken up quickly, so bring a power bank as well.
Large outdoor decking with lounge chairs. Great to relax in the afternoons.
Yoga mats and rollers so you can stretch out after a big day hiking.
4- or 8-person dormitories. Each room comes with a bench, hooks and a window shelf. You are assigned a room number on your first night, and it is the same throughout the entire hike.
Memory foam mattresses to let you have an amazing sleep. We didn't expect it to be so comfortable, but they were really incredible. BYO inflatable pillow and sleeping bag.
Bathrooms – There are 4 drop toilets at each hut. They all had toilet paper, hand wash, sanitiser, and running rain water for the sinks. They were the cleanest drop toilets we saw in all of Tasmania.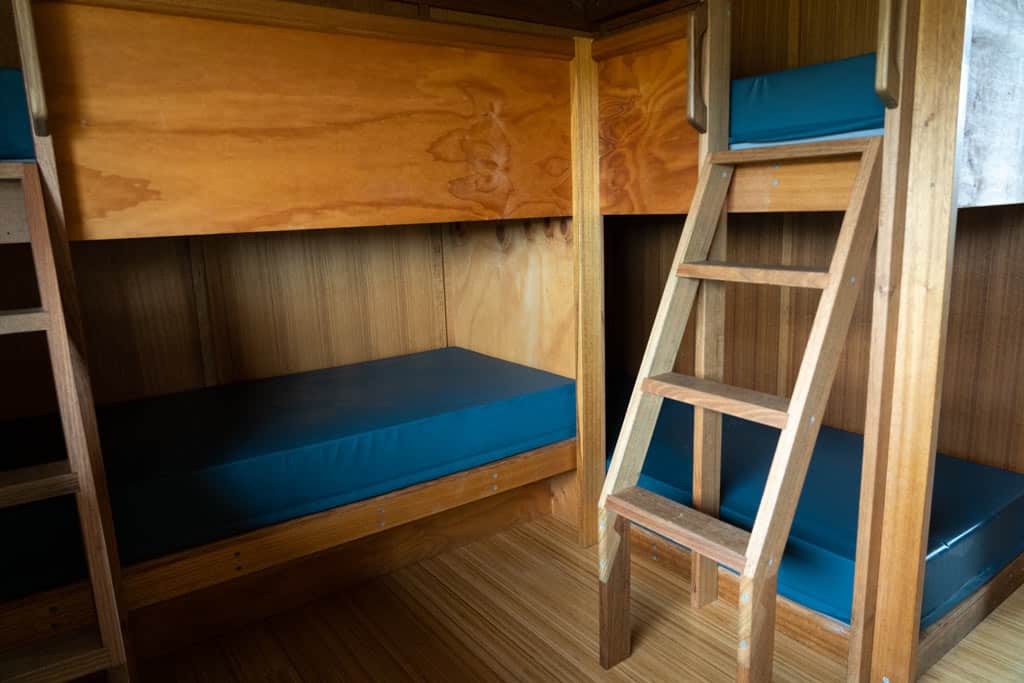 Checking In
Once you arrive at Port Arthur Historic Site on the day you start the Three Capes Track, you head into the visitors centre, past the ticket desks then walk downstairs, where you'll find the Three Capes Office.
Head in, have your name marked off and the friendly ranger will give you your bag tag, your pass and give you a quick safety briefing.
If you have arrived early you can drop your bag off in the adjacent locker room (the ranger will give you a coin so you don't have to pay for the lockers), then head upstairs to collect your entrance ticket for the Historic Site by showing your hiking pass.
Go for a walk around the historic site, or you can choose to simply relax in the cafe before departure.
15 minutes before your boat leaves grab your stuff and walk down to the jetty, meet the boat driver and jump onboard.
Phone Reception
If you're with Telstra or Optus, you will get intermittent phone service throughout the Three Capes Track, mainly at the top of the mountains and out at the capes.
It is very weak though and shouldn't be relied on.
Storyseats
If you're like us you've probably read 'Storyseats' and thought, "Err, what the hell are these?" Well don't worry, you'll find out all about them.
When you check in you receive a story book with information about the history, the landscape, the birdlife, the fungi, the marine life and more of the area.
The book also talks about the art you can find along the track.
Local artists were commissioned at the construction of the trail to craft a number of seats that relate to a different story where you can sit down and read about them in the book.
Don't miss them and do not skip reading the stories. They are great.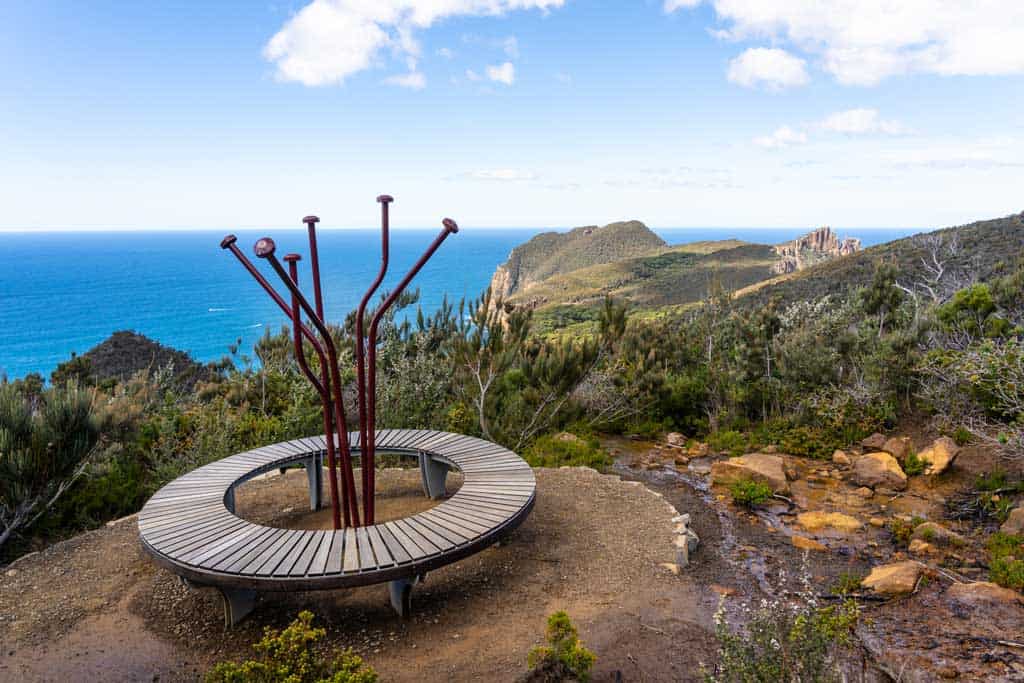 Hiking the Three Capes Track Itinerary
You start the Three Capes Track on the day you booked, and each night you move onto a different hut.
Unlike the Overland Track where you can stay at each campsite for as long as you want, on the Three Capes Track you must keep moving each day.
That makes the whole hike feel more intimate, as you are with the same small group the entire time.
It also has some other added benefits. During the day you can walk at your own pace and not stress about missing out on a bed, as one is reserved for you.
Without further ado, let's dive into the Three Capes Track itinerary in Tasmania. We'll also touch on the Three Capes Track experience, and what it's like along the hike.
READ MORE: While you're at it, don't miss these other epic places to visit in Tasmania!
Day 1 – Denman's Cove to Surveyors
Distance: 4km
Time: 1.5 hours
Highlights: Scenic boat cruise, Surveyors Cove
Campsite: Surveyors Hut
Once you have checked in and walked down to the jetty you jump onto your boat and head off on the 2-hour scenic cruise that takes you out to Denman's Cove.
Along the way your knowledgable (and in our case, hilarious) captain will cruise along the edge of the Tasman National Park, pointing out geological highlights and gorgeous viewpoints.
When you arrive at Denman's Cove the captain will drive the boat directly onto the beach, put down a ramp and everybody unloads onto the sand.
It's a short walk to the trailhead, where you can grab a photo at the official starting point before walking towards Surveyors Hut.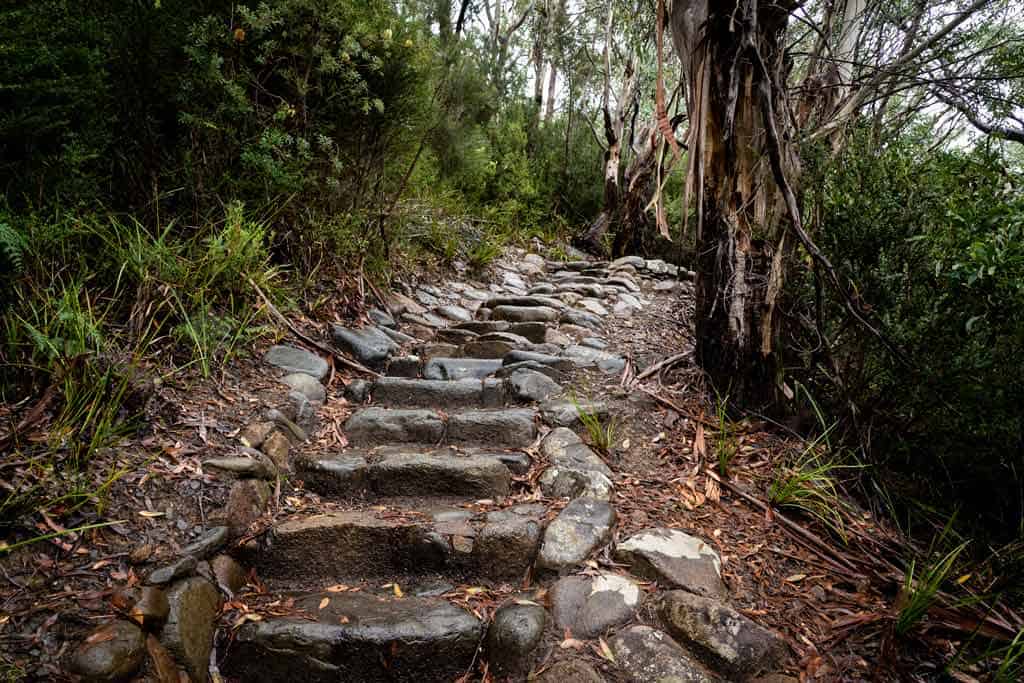 The trail is wonderfully maintained, and even in the rain we experienced there was no mud to navigate.
Wandering through the forest you pass over streams and beneath towering trees, before popping out at Surveyors Cove at about the halfway point.
It's a great spot to have lunch or a snack before continuing on the rest of the way to the hut.
Allow about a 1.5 hours to get to Surveyors Hut if you want to take your time, although for us we arrived in just under an hour.
We were amazed to see the size and design of the hut! Architecturally designed with huge timber beams, a wide deck and massive windows to enjoy the views, you can quickly see why it cost $25 million to build the whole track.
When you arrive you'll meet the national park ranger who will check your name off and assign you to a room. This is the same room number you'll keep throughout the hike.
Drop your gear off, get changed if you need to, then grab a spot in the dining room or out on the deck to get to know your fellow hikers.
Surveyors Hut is a very social place, partly due to the outdoor barbecues, partly due to the excitement everyone is feeling, and partly because a lot of people bring wine, and big meals to enjoy because of the short hike.
We cooked up some sausages and ended up playing card games with a couple of young hikers until about 9pm. A perfect way to end day one of the Three Capes Track.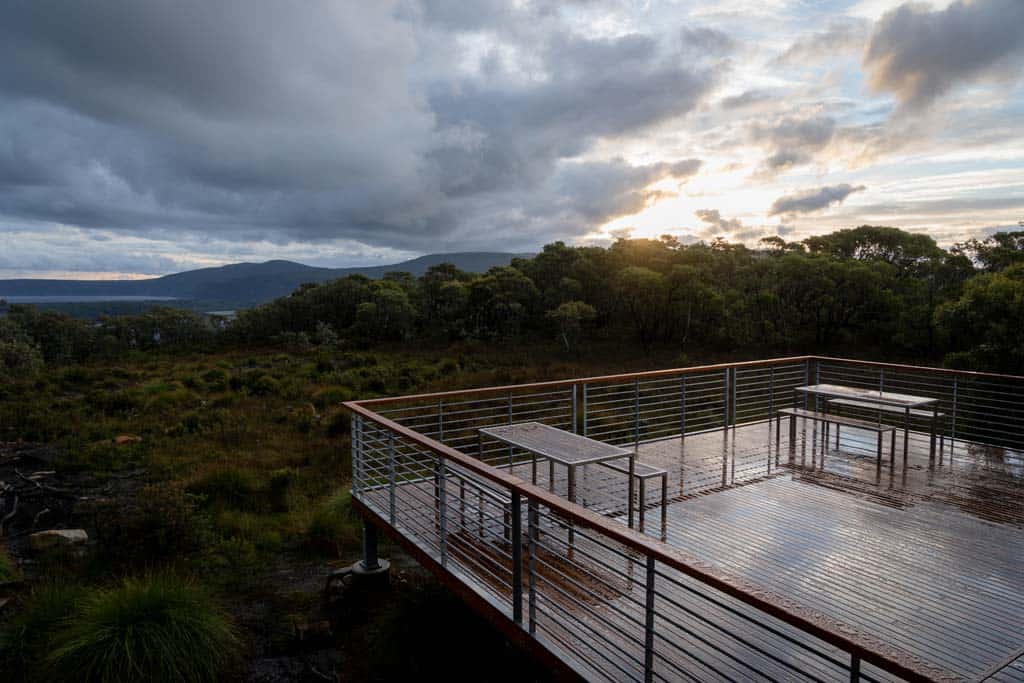 Day 2 – Surveyors Hut to Munro Hut
Distance: 11km
Time: 3-4 hours
Highlights: Storyseats, coastal views
Campsite: Munro Hut
It's a short walk to Munro Hut today so you don't have to leave too early if you don't want to.
Heading out from Surveyors you follow the path towards the coast, where you're rewarded with spectacular ocean views.
Climbing a moderate hill you'll find a few spots to stop and have a break, as well as a couple of Storyseats.
Before too long you hit a crossroad – left is the direct path to Fortescue Bay Campground, straight ahead is Retakunna Hut and to the right is Munro Hut and Cape Pillar.
It's less than one hour from here to Munro.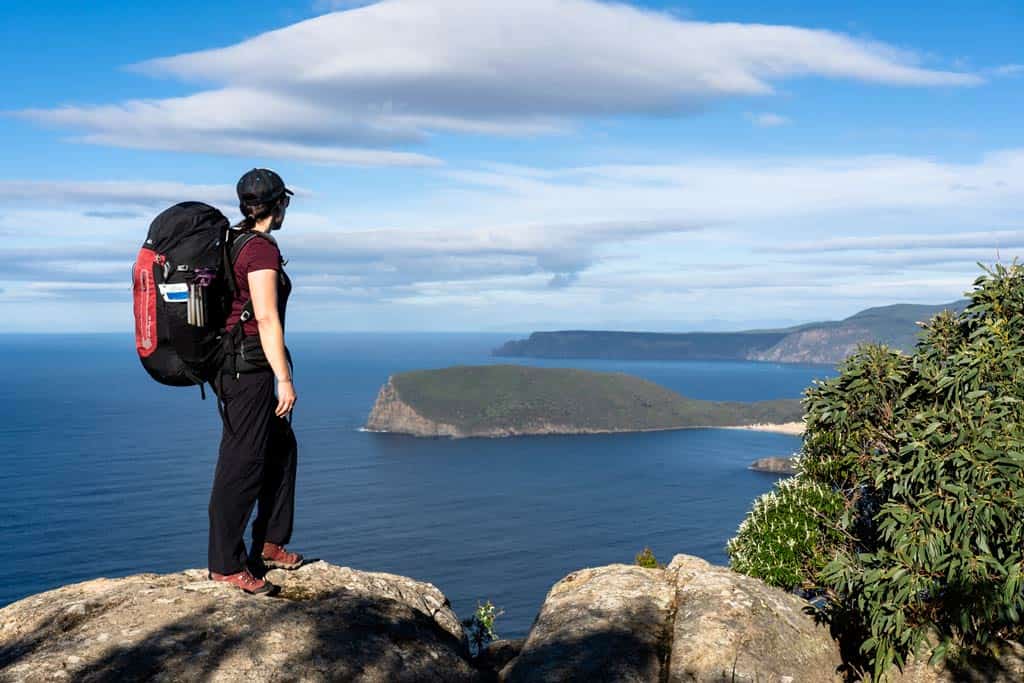 It's an easy, lush walk through the forest to Munro Hut, and if you left Surveyors around 8am, you will probably have arrived here at lunchtime. Check your name off on arrival and drop your gear off in your dorm.
The first thing you'll notice when you get here is the sensational platform with views over the enormous coastal cliffs. It's a stunning spot on the Three Capes Track.
Prepare your lunch and come out here to enjoy it if the weather is nice. The helipad just past the toilet block is another awesome spot to relax.
Munro Hut is huge on the inside, with lots of room to spread out and play games, read a book or relax.
Behind the sleeping cabins you'll find the outdoor hot shower. It's quite an experience, where you fill up a bucket with hot water, take it to the showers, pour the water into a bag with a shower head then lift it up with a rope.
It sounds complicated, but it'll all make sense when you're there (or you can watch our video on the Three Capes Track to see how it works).
We personally arrived at Munro Hut at around 11am on a lovely sunny day, and rather than spend the rest of the afternoon relaxing, we decided to hike all the way out to Cape Pillar, which is what is on the itinerary for tomorrow.
Jarryd even decided to stay out there for sunset and walk back to Munro in the dark.
Not many people do this, so it's a great chance to see Cape Pillar and the Blade twice if you're feeling energetic.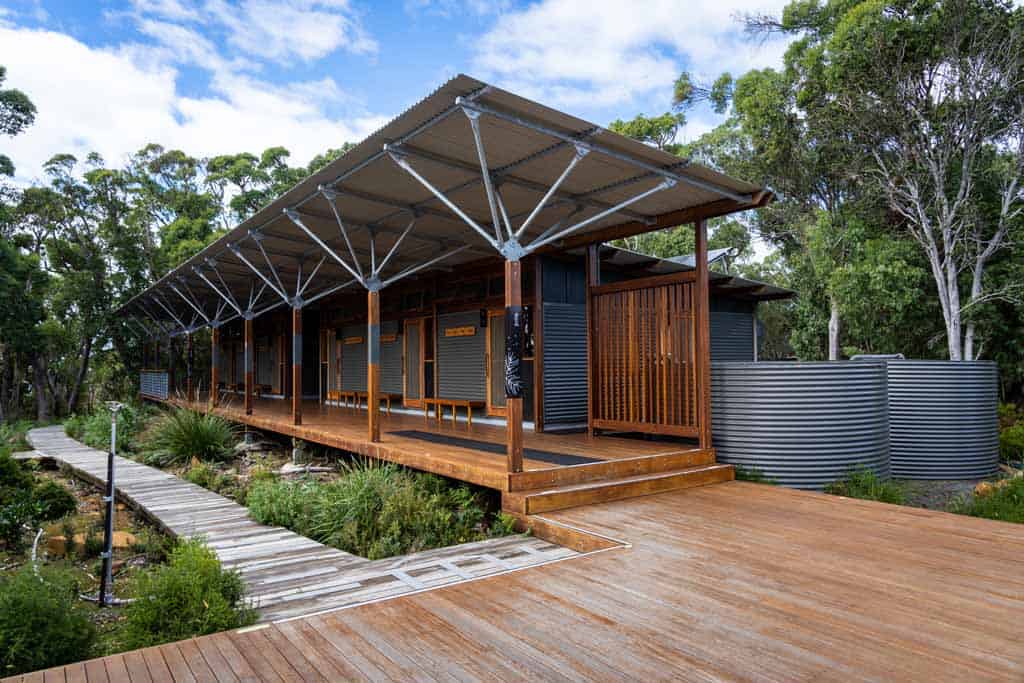 Day 3 – Munro Hut to Retakunna Hut via Cape Pillar
Distance: 19km
Time: 6-8 hours
Highlights: Cape Pillar Track and the Blade
Campsite: Retakunna Hut
Wake up early to watch sunrise from the viewing platform, enjoy breakfast then pack your room up to get ready for the big hike out to Cape Pillar.
Leave your large hiking pack in the storage locker just past the sleeping cabins and take a day pack with food, water and cameras for the Cape Pillar track.
The walk is fairly easy with only minor elevation gains, but almost immediately you'll be presented with incredible views all the way out to Cape Pillar.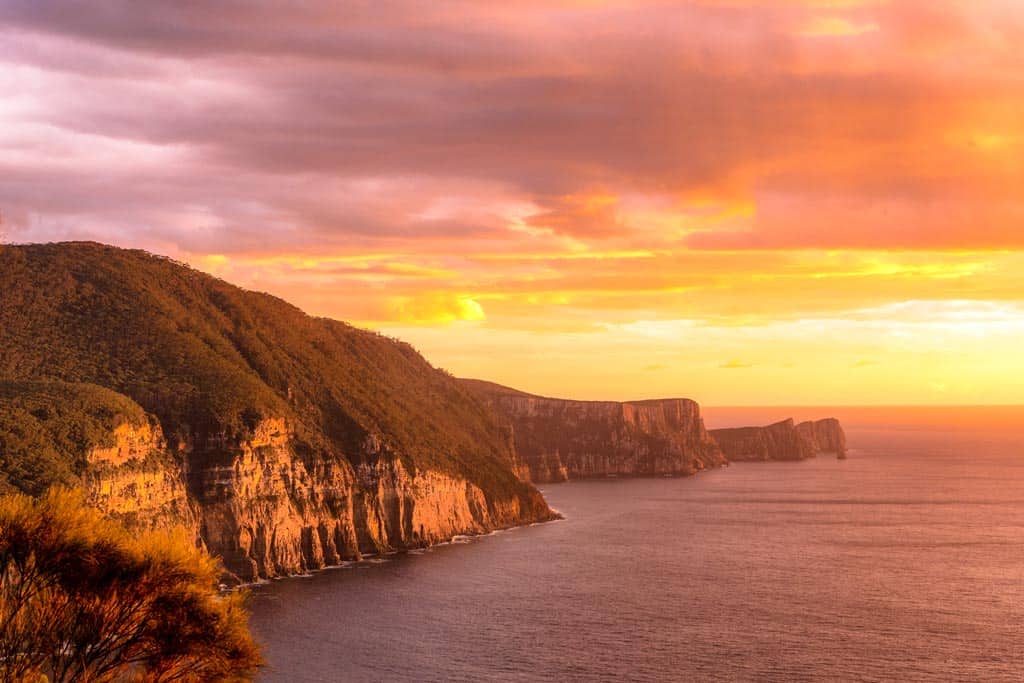 The trail is mostly boardwalk or gravel, and one interesting thing is that the 2.6km long boardwalk through coastal heath is actually one of the art installations on the Three Capes Track!
It is designed to look like the Dream Serpent when seen from the air, the mythical snake that carved the rivers, streams and creeks across Australia according to Aboriginal Dreamtime stories.
If you're moving quickly it'll take about 2-3 hours to get to the legendary Blade, a steep and narrow dolerite ridge that climbs up to offer tremendous views across to Tasman Island.
It can be pretty nerve-racking for people who are scared of heights, as there are no barriers between you and the edge of a 200m cliff. Just take your time and you'll be fine.
Once you've snapped your shots looking from the Blade down to Tasman Island head back down and continue the last little section to Cape Pillar, which is the end of the track.
From the top of Cape Pillar you can see all the way out to Cape Raoul and Cape Hauy, which is where the name 'Three Capes' comes from. Even though you only technically visit two, you can see three.
Having trekked all over the world, in some of the most epic mountainous regions on the planet, we never thought Australia would have views as incredible as this.
How wrong we were…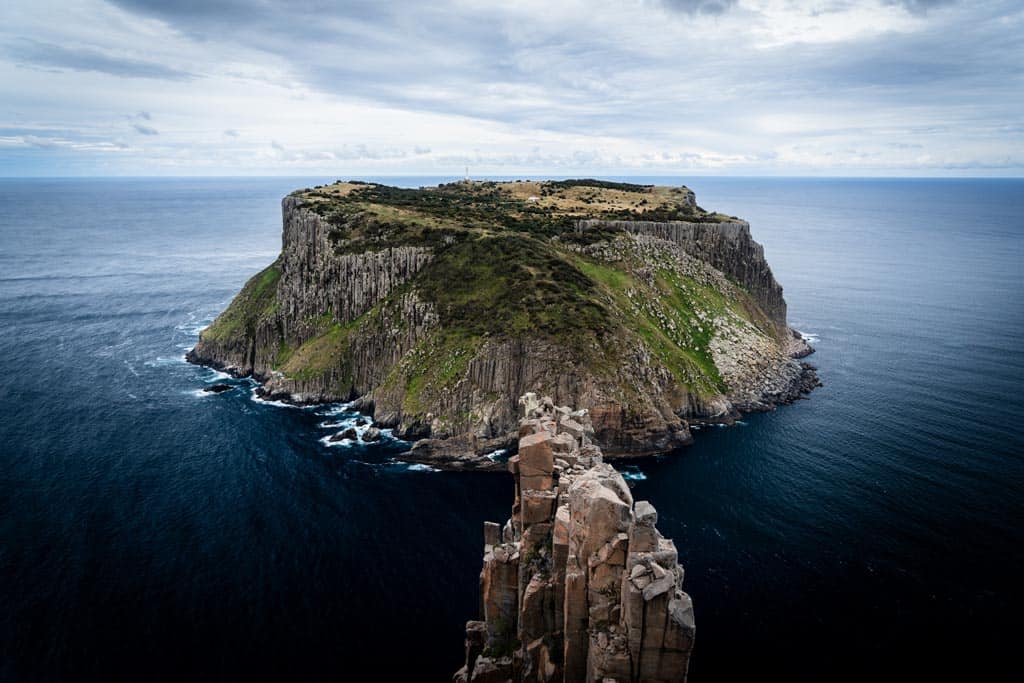 Make yourself lunch at any one of the coastal rocks and enjoy it with the views of Cape Pillar (just don't get too close to the edge), then walk back to Munro Hut in the afternoon.
Grab your big backpack on the way through, repack out on the deck if you need, then it's only an hour or so to Retakunna Hut.
Retakunna is the last hut you stay in on the Three Capes Track, and it's every bit as lovely as the last two.
The dorm rooms are separate to the kitchen and dining area, with lovely views up towards Mt Fortescue.
There's lots of room to spread out, and we spent the afternoon stretching on the yoga mats and chatting with our fellow hikers.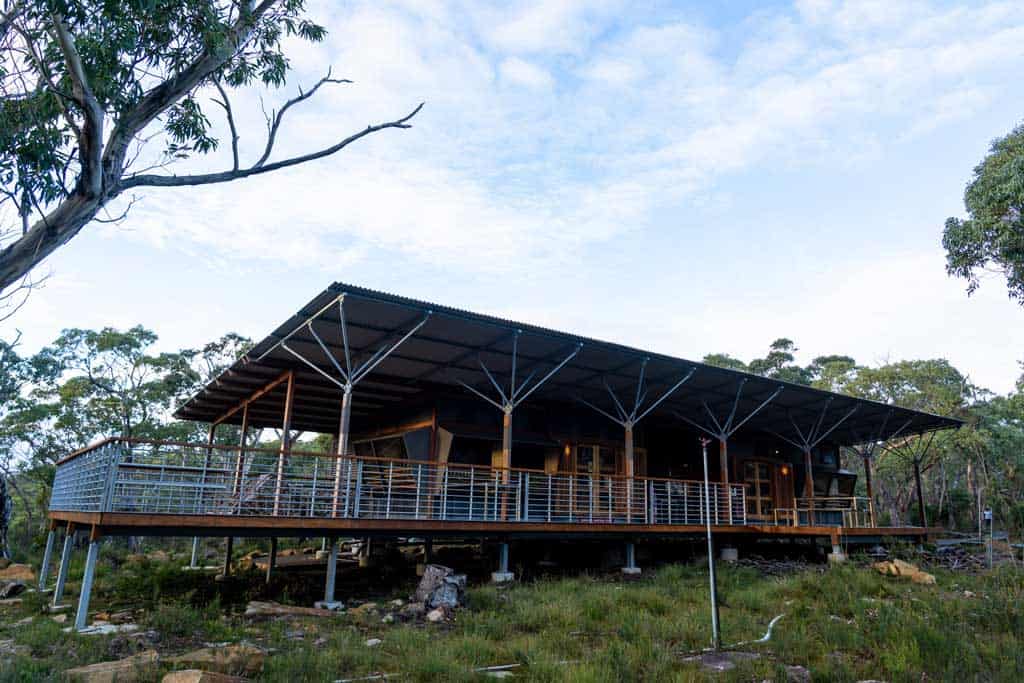 Day 4 – Retakunna to Fortescue Bay via Cape Hauy
Distance: 14km
Time: 4-6 hours
Highlights: Cape Hauy, the temperate rainforest on Mt Fortescue
Finish: Fortescue Bay Campground then Port Arthur Historic Site
By now you would have heard the ranger warning you about the climb up Mount Fortescue that awaits you first thing in the morning.
Honestly, it's not that bad. So don't stress too much about it.
We still recommend having an early start today though so you have plenty of time to hike out to Cape Hauy, which is the final side trip of the Three Capes Track.
The climb up Mount Fortescue is one of the highlights of the entire trip, as it is the only coastal temperate rainforest in all of Tasmania, making it closer in ecology to the alpine regions of Cradle Mountain rather than the Tasman Peninsula.
During the ascent you'll find sprawling ferns, colourful fungi and huge beds of moss covering the earth like carpet.
The small patch of rainforest is glorious, and we definitely recommend taking your time through here.
Once you hit the summit of Mount Fortescue it's all downhill from here, with the track hugging the edge of the cliffs offering sensational views all the way back to Cape Pillar.
As you hit the crossroad between Cape Hauy and Fortescue Bay you'll find a small platform where you can leave your heavy daypack for the short side trip to the cape.
Just make sure you cover your bag in your rain cover so the currawongs don't get into it!
It's less than an hour to Cape Hauy, and being a public trail from Fortescue Bay means there are a lot of people on the track. After 3 days of solitude, it's quite a change to see so many hikers.
The walk is fairly easy, but just like everywhere else on the Three Capes walk the views are seriously impressive.
Once you get to the end of the cape make sure you pop your head over the railing to catch a glimpse of the Totem Pole – a sheer dolerite column rising straight out of the sea that is one of the most challenging and famous rock climbing routes in the world.
Walking back from Cape Hauy grab your backpack at the crossroad then it's only a short downhill trek to get to the finish point at Fortescue Bay.
On a sunny, calm day the water in the bay is glistening and inviting. If you have time before your shuttle leaves make sure you go for a swim.
Once you get to the campground follow the signs to the rangers office where you meet the shuttle bus back to Port Arthur, and if you want you can buy a token to use the nearby hot showers for $2.
Congratulations – you have now completed the Three Capes Track
Conclusion to the Three Capes Hike in Tasmania
We hope this article helped you better prepare your 4 days Three Cape Track itinerary.
It was such an amazing hike with the best coastal scenery we've seen in all of Australia.
The Three Capes Track is a perfect introduction if to have never done a multi-day hike before as you aren't required to carry a full, heavy backpack that you find on other adventures
It's also a brilliant hike for a group of friends or a family, so rope your buddies into doing the Three Capes Track with you!
If you found our article useful make sure you leave a comment below, and share it with your friends or on social media.
Happy hiking!
DISCLAIMER: Some of the links in this article are affiliate links, which means if you book accommodation, tours or buy a product, we will receive a small commission at no extra cost to you. These commissions help us keep creating more free travel content to help people plan their holidays and adventures. We only recommend the best accommodations, tours and products that ourselves or our fantastic editorial team have personally experienced, and regularly review these. Thanks for your support, kind friend!