If you're planning a trip to Maria Island in Tasmania, this epic guide will tell you everything you need to know, from things to do to where to camp and all our top travel tips!
Australia's most beautiful, diverse and rugged state, tucked away at the southern tip of the country, has a lot of incredible places to visit and things to do.
We had always wanted to visit Tasmania, so when we finally made it across the Bass Strait we made the most of it and spent three months driving nearly 10,000km around the island.
It's fair to say we saw and did a lot there, from hiking the Overland Track to road tripping the west coast, and a thousand and one things in between.
Narrowing down our highlights to a select few is an almost impossible task. But one place that truly stands out to us is Maria Island.
When we took our campervan across to Tasmania, we did very little research on what we should do there. However everyone we met raved about how incredible Maria Island was (and specifically, the wombats!). So naturally, we had to go.
Most people take a day trip to Maria Island (pronounced "Ma-rye-ah"), but we decided to leave Marlee on the mainland, take our camping gear and spend 3 days, 2 nights exploring as much as we could there.
Located on the east coast of Tasmania, the island is best known for its convict history and scores of animals, including the endangered forty spotted pardalote, Cape Barren Geese, Tasmanian devils and wombats that live there, making it known as Tasmania's 'Noah's Ark'.
That's not all there is here though, and after 2 nights on Maria Island we strongly believe it should be on everyone's travel list when visiting Tasmania, no matter how long you're planning on being here for.
From the abundant wildlife to the landscapes to the fascinating history and more, we're excited to bring you our epic guide to Maria Island, Tasmania.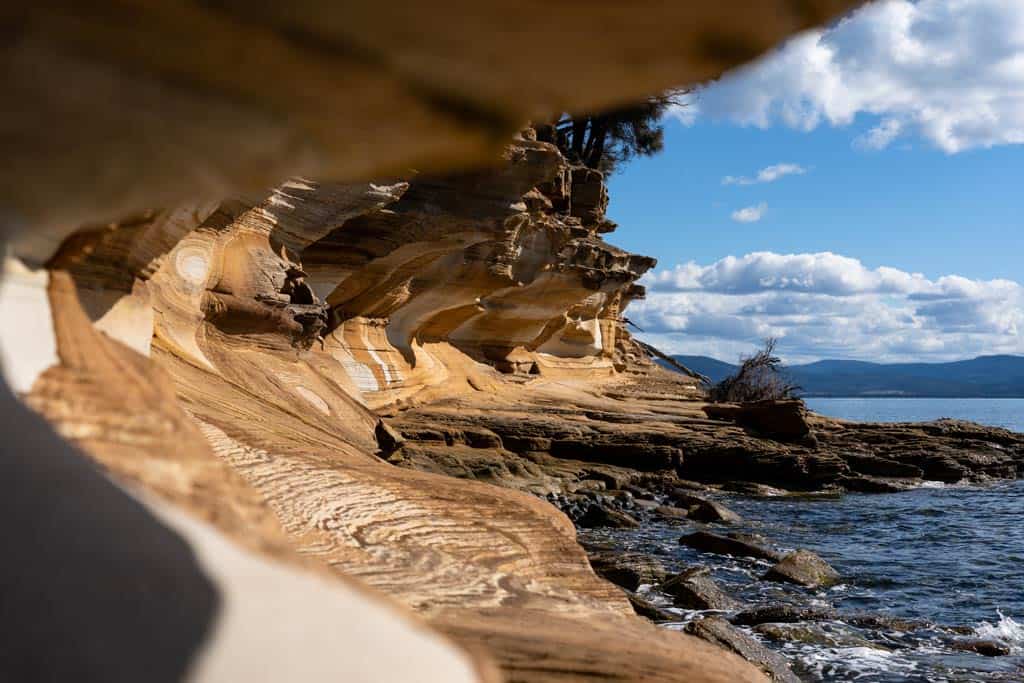 Maria Island Travel Guide
In this travel guide to Maria Island you'll find all the information you need to organise a fantastic trip here.
We dive into all the things to do in Maria Island, how to get here, where to stay as well as some other tips that made our visit that much more comfortable and enjoyable.
Let's dive into it.
READ MORE: See what else made our list of the best places to visit in Tasmania!
Where is Maria Island?
Maria Island is the magical mountainous UNESCO World Heritage Listed island located off the east coast of Tasmania in the Tasman Sea.
It is 19.5km from the town of Triabunna, and the only way to get here is by the Maria Island Ferry (or a scenic flight).
Triabnunna is 1 hour and 15 minutes north of Hobart, which is the closest major airport.
The Maria Island National Park
This entire island was declared a national park in 1971, which is protected by Tasmania Parks and Wildlife Service.
As a result there is a whole range of incredible native wildlife on the island, such as wombats and Tasmanian devils, and stunning natural landscapes like the sweeping bays, rugged cliffs, and sandy beaches.
There is only one town on the island called Darlington. I actually wouldn't even call it a town as there are no services; only the old convict probation station and historic buildings.
No one lives permanently on the island, but there are park rangers who stay temporarily here during their shifts.
Despite its size at 3km west to east and 20km north to south, there are no cars on the island, which helps look after the wildlife.
Maria Island History
The traditional name of Maria Island is Toarra-Marra-Monah, and the original custodians and protectors of this land are the Puthikwilayti Aboriginal people.
They lived in the Oyster Bay nation for over 35,000 years, before being forcibly removed from their land by European settlers from 1789 onwards.
In 1825 fifty convicts were taken to Maria Island by English soldiers. They built a little settlement called Darlington, where they would be imprisoned and sentenced with hard labour in agriculture.
After years of overcrowding and riots, in 1850 the government closed down the convict settlement on Maria Island.
Today it is a historic area, with the Darlington Probation Station being one of 11 convict sites making up one of Tasmania's UNESCO World Heritage Sites, including Port Arthur.
Is Maria Island Worth Visiting?
Yes, without a doubt Maria Island is worth visiting on any trip to Tasmania.
It is such an amazing and special place, and despite its tragic Aboriginal and convict history (which is important to learn), there is also great walks, biking, sightseeing, snorkelling, animal spotting and more to be done on the island.
We recommend staying at least one night over there to give yourself enough time to see all the places to visit on Maria Island.
How to Get to Maria Island
Maria Island is 19.5km out to sea from the town of Triabunna, about 1.5 hours from Hobart and 2.5 hours from Launceston.
There are 2 ways to get to the island – by ferry and by plane.
Maria Island Ferry
The Maria Island Ferry leaves from Triabunna on the east coast, taking tourists and workers on a semi-regular schedule.
The boat departs and arrives at the dock outside the Maria Island Visitor Centre and costs $45 per person for a return trip.
The Maria Island ferry ride is about 45 minutes.
You are allowed to take 7kg of carry-on luggage for free. Anything above this incurs a fee, as does taking a bicycle with you.
Check the Encounter Maria Timetable to see the ferry schedule.
Prices are:
Adult Return: $45
7kg Carry-On Luggage: Free
Additional Luggage Between 7–15kg: $10
Bicycle – $10
Kayak – $20
Scenic Flights to Maria Island
You can get a 3.5 hour scenic flight over Wineglass Bay and Maria Island, which touches down on the island and gives you 2 hours to explore.
You leave from the air strip on the Freycinet Peninsula near Friendly Beaches.
The cost for this starts at $399 per person (for 2-4 people) and includes a picnic lunch.
Day Trip to Maria Island from Hobart
If you are in Hobart and want to visit Maria Island, then you're in luck! There is a fantastic full-day tour that we highly recommend.
Leaving the city early in the morning from your hotel, you will be transported in comfort by bus tp spend the day on Maria, with a delicious lunch and expert, professional guide to lead the way.
If you're short on time and don't want to rent a car just to leave it at the Maria Island ferry terminal for the whole day, then this is the best way to see the island.
Getting Around Maria Island
Maria Island is pretty big, but a lot of the main attractions are centred around the main village of Darlington.
If you just have one day here and are on foot, you'll see a lot but not everything. If you have a bike options open up, and obviously the more time the better.
Here are the best ways for getting around Maria Island.
By Foot
You can walk to a lot of attractions from the ferry terminal. If you're on foot take the earliest ferry possible to maximise your time over here.
If you are just here for a day trip to Maria Island, we recommend staying around the Darlington area.
With an ambitious and active schedule on foot, you can explore the convict sites at Darlington, check out the Painted Cliffs, and possibly even make it to the top of Bishop and Clerk.
If you are staying on the island for a few days, you can walk to Frenchs Farm and Encampment Cove. This is a great place to camp and get away from everyone.
By Bicycle
Having a bicycle on Maria Island will make a world of difference to your experience here, giving you more time to see the attractions properly, and of course keep an eye out for all the cool wildlife around.
If you have your own bike, you can take it over on the ferry for $10. If you do not have a bicycle, you can rent one in Darlington at the convict settlement.
During school holidays and summer weekends it's recommended to pre-book your bicycle rental through the ferry company, as there are only a limited number available.
Can I Take My Car/Campervan/Caravan to Maria Island?
No. It is a no-vehicle island, except for park rangers and construction workers.
It's actually one of the reasons that makes Maria Island so fantastic to visit, as it's peaceful for both animals and humans alike.
You can leave your vehicle in the carpark over at Triabunna.
Where to Stay on Maria Island
If you're planning on spending a night or two on Maria Island (which we highly recommend), then you only have two options on where to stay: In a tent, or in the bunkhouse.
There are three official campgrounds on Maria Island:
Darlington, which is $7 for singles and $13 for couples per night
Frenchs Farm, which is free
Encampment Cove, which is free
You are only allowed to camp at the official campsites on Maria Island, so don't think you can just hike into the bushes and pitch your tent anywhere.
You do need to bring your own camping and cooking gear as there is none available to rent on the island.
If you would prefer to stay in bunk accommodation, you can book a room at the Maria Island Penitentiary at Darlington.
This is a very unique experience (seriously, where else can you stay in an old convict gaol?), and costs $44 per room, per night for two people and $50 for a family.
Accommodation is available but very limited on Maria Island, so make sure you book ahead here.
Do I Need a National Parks Pass?
Yes, you need a National Parks Pass to visit Maria Island.
You can purchase a day pass from the Visitor Centre in Triabunna. But if you're planning on being in Tasmania for a while we recommend buying a holiday pass.
Facilities on Maria Island
There are very limited facilities on the island, so please keep this in mind.
You'll find limited, untreated drinking water available at Darlington, Frenchs Farm and Encampment Cove, so bring your own if you are worried about this.
There are a set of toilets near the ferry terminal and at the camps. These toilet are flush toilets, but the more remote you get on the island, there are drop toilets
There is no food stores on the island, so bring your food and snacks you will need for the day.
There's a small number of gas barbecues at Darlington for campers to use, but you need to bring your own cooking equipment.
The 17 Best Things to Do on Maria Island, Tasmania!
Now that you now how to get here, where to stay, what to bring and a bit of history, let's dive into the most exciting part – exploring all the incredible things to do on Maria Island!
There is so much to do when you explore Maria Island. Where do you even start?
Well it all depends what you are into – history, hiking, biking, animals? Please say animals. Because there's lots of them!
Whether you are here on a day trip or plan on staying for a few nights, our list of what to do on Maria Island is guaranteed to help you make the most of your time here.
READ MORE: Don't miss our expert guide on how to spend 2 weeks in Tasmania!
1) Go Searching for Wombats
We're going to level with you – the real highlight of any trip to Maria Island is going to be seeing a wombat!
This incredible place is literally covered with super cute wombats, scurrying around and going about their days without a care for us two-legged beings.
You don't have to go far to see one either. We spotted our first wombat about 3 minutes after stepping off the ferry, and over the course of three days we lost count of how many we actually saw.
They are multiplying in numbers and wander around through the camps, into the old buildings and along the sandy beaches.
If you're wondering where is the best place to see wombats in Tasmania, it is right here on Maria Island!
2) Stop By the Information Centre (Commissariat Store)
When you arrive, just 150m from the jetty is the stone Commissariat Store. This is the island's oldest building, built in 1825, and is now used as a visitors centre with information boards, galleries and displays about the island.
This building is a great place to visit when you first get to the island. You'll learn a lot about the area, the buildings and the history before you start exploring.
The Information Centre is open from 9am-4pm daily.
3) Visit the Darlington Convict Probation Station
The Darlington Convict Probation Station was a convict penal settlement from 1825 – 1832, and is the most famous attraction on Maria Island (except for the wombats).
After some restorations and of course protection of UNESCO and the Parks and Wildlife service, a number of those buildings still exist today.
The collection of buildings are open to the public, some left as they would have appeared back in the day, some empty and some being turned into museums.
Spend a few hours wandering around the site, imagining how it would have been for convicts living in the old penitentiary centuries ago.
No trip to Maria Island would be complete without visiting the probation station.
4) Hike up Bishop and Clerk
Distance – 12km return
Duration – ​3-5 hours
Difficulty – Challenging
While not the highest mountain on the island (that accolade goes to Mount Maria), the climb up to Bishop and Clerk is by far the most rewarding and scenic hike you can do here.
From Darlington you walk up through grassland to the edge of enormous sea cliffs, before cutting up the ridge into tall forests.
Once you hit the rocky outcrop be prepared for a bit of a scramble towards the summit, with the last section requiring a bit of a boost up some boulders.
The effort is entirely worth it, because once you're standing on the 620m high summit, you'll have incredible vistas all the way back to the mainland and over soaring dolerite columns.
This Maria Island walk is not for everyone as it is challenging, but if you are comfortable with heights and have decent fitness you will be fine.
Wear good shoes, and make sure you bring water with you.
5) Walk the Fossil Cliffs Circuit
Distance – 4.5 km loop
Duration – 1.5 – 2 hours
Difficulty – Easy / Moderate
Another amazing Maria Island walk is the Fossil Cliffs Circuit, offering sweeping views of the island's rocky shoreline, low-lying sand dunes and distant hills.
This 4.5km circuit leads to the climb to Bishop and Clerk and around the old airstrip and back to Darlington, but the highlight is the extensive fossil cliffs where you can still see shark teeth and shells embedded in the rocks.
The literal wall of fossils down at the beach is fascinating to see, and there's an information board there too so you can learn more about the geology of the place.
The fossils found in this particular area are from about 300 million years ago and include a wide range of marine life, such as clams, corals, scallop shells, sea fans and more.
6) Visit the Painted Cliffs
Distance – 2.6 km one way
Duration – 2 hours
Difficulty – Easy
One of the absolute best things to do on Maria Island is hike out to the Painted Cliffs, found just a short walk from Darlington.
The Painted Cliffs are some of the most impressive sandstone rock formations you'll find in Tasmania, filled with amazing colours and swirling patterns.
Once you see them you'll instantly understand how they got their name. The best time to visit is in the afternoon when the western sun is lighting up the cliffs, accentuating their colours.
The sandstone cliffs are only accessible at low tide though, so make sure you time your walk out there around the tides rather than the sun.
It's a 5.2km return trip along the road or you can do a big circuit to include the Oast House Circuit which is about 6km (see details below).
7) Oast House Walk
Distance – 1.8 km one way
Duration – 30 – 45 mins
Difficulty – Easy
Built in 1844 and one of the oldest buildings of its type in Australia, the Oast House is also a short walk from Darlington.
This historic hop kiln was once used for drying hops, and amongst the ruins you can still see two large brick drying-towers, and the floors of ventilating bricks.
It's tucked back from the beach in marri, blackwood and eucalypt forest, surrounded by marram grass dunes.
You may spot some wombats, forester kangaroos and wallabies along the way so keep an eye out. As you are walking down the road you will also see Howell's Cottage, which is a cottage that was built in 1924.
Add this onto your Painted Cliffs Maria Island Walk. You can either take this on the way to the Painted Cliffs or on the way back.
8) Bike (or Hike) Out to Encampment Cove Camp
Distance – 12km
Time – 3 hours
Difficulty – Easy
Encampment Cove Camp is located in the centre of the island on the western side (before you hit the isthmus), and is a fantastic spot to check out if you have a day to spare.
Best visited on bike to save time, the ride out there is gorgeous, cutting through eucalypt forest and sandy beaches while passing old convict ruins.
It's a dirt road the whole way, so easy enough to navigate and you can't get lost. You'll also past Frenchs Farm, which is worth a detour and bit of exploration of the shearing shed.
Encampment Cove was the location of one of the original convict cells, and you can still explore the old buildings today. Just be careful, as they are quite dilapidated.
If you have your camping gear and are looking for a bit of peace and quiet, stay out at Encampment Cove or Frenchs Farm for a more remote experience.
9) Search for a Tasmanian Devil
It's not just wombats that call Maria Island home. If you're really lucky you may also spot one of the resident Tasmanian devils!
These guys are the world's largest carnivorous marsupial, and sadly they are endangered.
The devils aren't native to Maria Island, but they have found themselves here as part of a conservation plan to protect the population on mainland Tasmania.
Tasmanian devils are suffering from a contagious facial cancer called Devil Facial Tumor Disease (DFTD), which is decimating the species.
The cancer spreads through bites when an infected devil comes into contact with a healthy one and they start fighting. The cancer is unfortunately terminal and fast-acting.
In 2012, rangers released 28 healthy devils on Maria Island so they could thrive and repopulate without risk of the cancer.
And luckily for them, it has been wildly successful, with over 90 devils now living there!
It hasn't been such good news for the native animals though, as the devils have started attacking the resident local bird species and penguins.
Tasmanian devils are a lot harder to see than the wombats, but if you walk around the camps at night you may be fortunate enough to bump into one.
We never saw any on our evening walks, but we did hear them during the night.
10) Go Bird Watching
Even if you don't think you're into bird watching, you'll still love doing it here on Maria Island!
Maria Island National Park is a haven for birdlife, with more than 125 different kinds of birds living here.
Even more amazingly, all of Tasmania's twelve endemic birds live on Maria Island, including the Forty-spotted pardalote, one of the rarest birds in Australia!
The enormous Cape Barren Goose also wanders around the historical grounds at the convict settlement, grazing on the grassy slopes near Darlington.
Maria Island is a paradise for birdwatchers so do not forget your camera and binoculars.
11) Visit All the Historic Sites
Convict history is everywhere on Maria Island, and you'll notice this as soon as you get off the ferry.
There are historical buildings almost everywhere you look, with some being more preserved than others. But they all are worth visiting.
Australia's convict past is well-known with thousands of people being transported to the country from Britain after committing various crimes.
The worst criminals were delivered to Maria Island, where they worked in agriculture.
The settlement at Darlington is the best preserved part of the island, but it's worth checking out all the other buildings around the place.
You will find the remains of a lime kiln used for burning limestone by convicts, storage barns, convicts cells, officers quarters and more.
12) Walk Along the Reservoir Track
Distance – 4 km
Duration – 2 hours
Difficulty – Easy
The Reservoir Track is an easy Maria Island walk of 4km return, with a climb of just 60m. It is one of the easiest walks on the island and doable for all ages & fitness levels.
The walk is shaded from the coastal winds and if you're lucky you may stumble across some of Maria Island's cool wildlife.
Wandering through tall eucalypt forest, you'll come across the old reservoir which is a perfect spot for a picnic.
The coolest part though is the remnants of an old cement works building and a lime kiln. Definitely do stop and check it out.
13) Go Fishing for Your Dinner
If you are a keen fisherman (or fisherwoman), bring your rods over and try your luck at catching dinner on Maria Island.
Most of the island is surrounded by the Maria Island Marine Reserve though, so make sure you check with the rangers about where you can and can't throw a line in, or risk getting a big fine.
When it comes to cleaning your fish for cooking, there is only one shared dishwashing sink at the Darlington camp.
Please bring your own bucket to wash your catch and scale your own fish in, as many other people are using the area and may not enjoy the fishy smell.
14) Head to the Beach for Sunset
After a big day of biking or hiking, you deserve a few hours in the afternoon relaxing on the beach.
The best and easiest beach to access is the one right near the Darlington Camp.
It is a shallow beach so it is great for the whole family to play and enjoy the water.
It is not monitored by lifeguards though so please swim with caution and supervise kids.
This beach is also great for sunset, or you can walk up to Mrs Hunt's Cottage and look back on the bay.
15) Go Snorkelling on Maria Island
The one thing we didn't do here which we really regret is going snorkelling on Maria Island!
Being home to a huge marine reserve, this part of Tasmania is one of the best places to go snorkelling.
A lot of Maria Island's ocean is protected, which makes the marine life thrive and blossom.
If you have a wetsuit and your snorkel gear, bring it over and dive into the sea on the northwest part of the island.
Snorkelers and divers are able to find unique underwater life around Darlington Bay, the Painted Cliffs, and Fossil Bay.
Near the jetty on the the right hand side is a great spot which is easy to access and has an information board to help you identify the marine life you see.
16) Explore the Isthmus, Point Lesueur and South Maria Island
If you really want to get away from the crowds then grab your bike and head to the far tip of south Maria Island.
Past Encampment Cove you'll find the isthmus which heads out to Point Lesueur, where you can see ruins of a convict-era probation station built in 1821 and Robey's Farm near Haunted Bay.
Very few visitors get this far south, mainly due to how far away from Darlington it is.
We recommend spending the night at Frenchs Farm or Encampment Cove and using there as a base to check out the points further south.
(All times and distances are from Darlington)
Frenchs Farm​​​ – 10km​ one way, 3-3.5 hours on foot,​ 2 hours on a bike
Encampment Cove – 12km​ one way, 3.5-4 hours on foot,​ 2.5 hours on a bike
Point Lesueur​ – 14km​ one way, 4 hours on foot,​ 2.5 hours on a bike
McRaes Isthmus Walk (northern end) – 14 km one way, ​​4 hours on foot, 2.5 hours on a bike
Robeys Farm​ Walk – 19km one way, 6hours on foot, 3.5 hours on a bike
Haunted Bay Walk – 20 km one way, 7 hours​, 5.5 hours (you most likely can not ride the whole way)
17) Hike up Mount Maria
Distance – 16km
Duration – 6 – 7 hours
Difficulty – Challenging
If you really want to conquer the list of things to do in Maria Island, then you need to set aside a day to climb the island's highest peak, Mount Maria!
Standing 711 meters tall and much more remote than Bishop and Clerk, not many people make it to the summit which is a shame, because the panoramic views from the top are next level.
The hike up Mount Maria is a challenging 6 to 7 hour walk that finishes with half an hour of difficult rock scrambling to the summit.
At the summit of Mount Maria you can see sweeping views south towards the Tasman Peninsula.
The track begins halfway along the Frenchs Farm Inland Route. There is signage at the turn off.
Unfortunately, we never got up here as the mountain was fogged over the 2 days we were on the island.
Conclusion of Our Maria Island Travel Guide
That's it for our epic travel guide and list of things to do on Maria Island, Tasmania! If it's not already clear, we absolutely loved our time there and highly recommend everyone to visit!
If you found this guide useful, or have any of your own tips for places to visit or what to do on Maria Island, leave a comment below and let us know!
DISCLAIMER: Some of the links in this article are affiliate links, which means if you book accommodation, tours or buy a product, we will receive a small commission at no extra cost to you. These commissions help us keep creating more free travel content to help people plan their holidays and adventures. We only recommend the best accommodations, tours and products that ourselves or our fantastic editorial team have personally experienced, and regularly review these. Thanks for your support, kind friend!