Everything you need to know about getting around Magnetic Island, from public transport to car rentals and even some epic boat tours.
Once you've figured out how to get here and checked out all the incredible things to do, the final thing you need to work out is getting around Magnetic Island!
The island is massive at 52km², but 75% of it is designated as a national park with almost zero access, except for a few hiking trails.
That means you usually only need to navigate how to get around between the main villages of Nelly Bay, Picnic Bar, Arcardia and Horseshoe Bay.
Luckily for you there's a few different ways to get around Magnetic Island, and we're going to highlight them all in this article.
READ MORE: Here's our complete guide on how to get to Magnetic Island, with all the latest options and prices.
Getting Around Magnetic Island – Your Comprehensive 'How To' Guide
Depending on your budget and how long you're planning on staying, you have a few different options for transport on Magnetic Island.
Let's get into them now.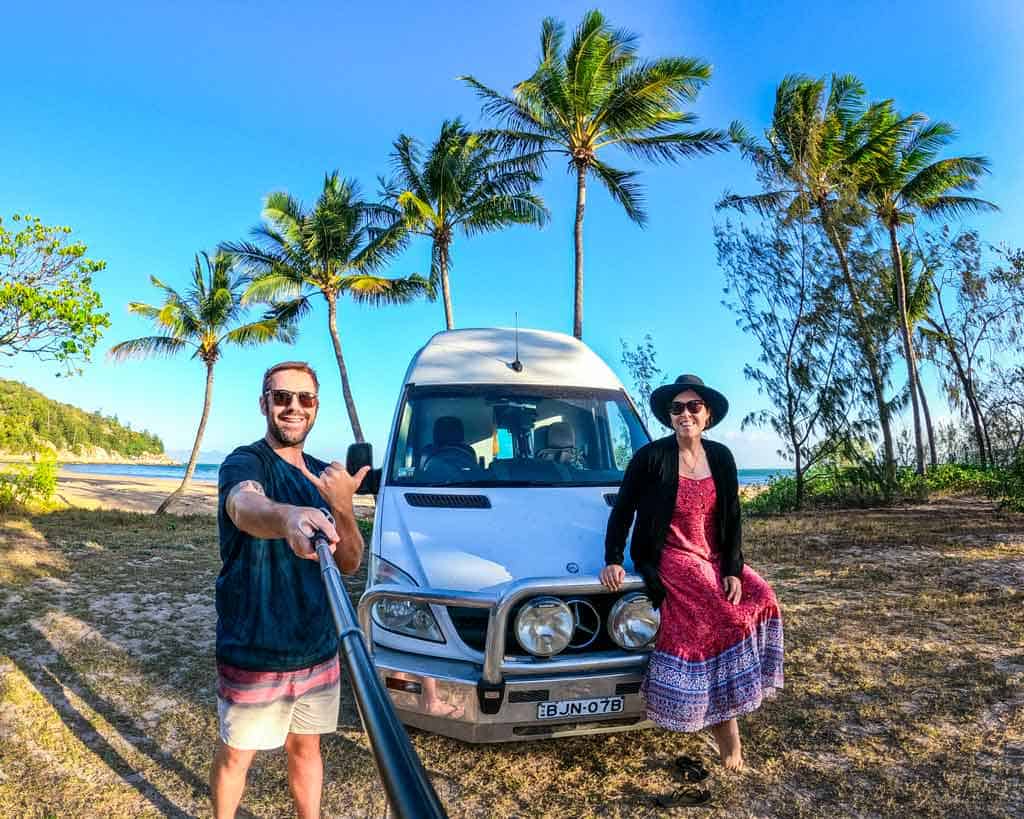 Public Bus on Magnetic Island
There is a local public bus that runs from Picnic Bay to Horseshoe Bay and back all day.
For the bus you have 2 options and price points (cash only!):
One-way ticket costs $2.80 per person per ride.
Day tripper ticket is $7.60 per person, and you can hop on and off as much as you want all day with unlimited ride.
It runs daily on the hour from one end of the island to the other, operating between 6:00am – 10:00pm.
The only down side with it running hourly is that if you miss the bus then you have to wait around or walk. So plan your trip so you can get the most out of your day.
It is a great way to see the island on a budget, and it's pretty much your only alternative if you don't want to rent a car or bring your own vehicle over from the mainland.
READ MORE: Check out our latest guide to all the best Magnetic Island beaches!
The bus stops off in front of the ferry terminal, at all the main bays including Geoffrey Bay, and the Forts Walk area.
It is very convenient for getting around Magnetic Island from one side to the other and exploring.
For the Sunbus Magnetic Island timetable information click here.
Car Hire on Magnetic Island
There are a few companies on the island to rent a car from.
From auto and manual SUV's to topless Jeep Wranglers, the prices range from AUD $80 a day for a standard SUV for a 5 seater.
If you want the classic Instagram photos though you'll want to rent a topless Jeep (or 'Barbie Car), which is about the same price.
Some companies offer half day hire, full day hire or 24 hour hire. If you are staying longer, some people offer discounts for 3 days or more.
With so many options, it can be hard to know where to stay on Magnetic Island. That's why we've put together our local expert guide to the best accommodation on Maggie!
For almost all of the car rentals on the island, their vehicles are only allowed to be driven on sealed roads between Horseshoe Bay and Picnic Bay.
Their vehicles are NOT allowed to go beyond the Forts car park to Arthur Bay, Florence Bay and Radical Bay, or on the road to West Point.
There are a number of car hire companies on Magnetic Island;
MI Rentals Car Hire
Magnetic Island Topless Car Hire
Isle Hire Car Rentals/Hire
Tropical Palms 4WD
Magnetic 4×4 Rentals
Tropical Topless Car Rentals
Tropical Palms Resort & 4WD Hire (Picnic Bay)
Arcadia Beach Guest House and Car Hire (Arcadia)
All of the car rental companies are located in Nelly Bay (unless otherwise stated), and are easy to locate when you get off the ferry terminal.
The best way to get around is to rent a car and explore on your own! We recommend Rental Cars, which has the largest range of vehicles for the best value on the market.
Electric Motorbike Rental on Magnetic Island – The Best (and Most Sustainable) Way to Get Around Maggie
There's a new company on the island that's revolutionising how to get around with zero-emission, road-registered electric motorbikes.
Yep, electric motorbikes. We kid you not. This is now the absolute best way to get around on Magnetic Island if you haven't brought your own car.
Magnetic Island Roaming is run by two legendary locals Tim and Pam who have bought 14 UBCO e-bikes and now have them available for day rentals and West Point sunset tours.
This bikes go up to 50km/h and have a 120km range on them, meaning you can literally zip all over the island all day without needing to charge or fuel up.
Best of all, because the speed is capped at 50km/h, you only need a car licence to drive one, not a motorbike licence!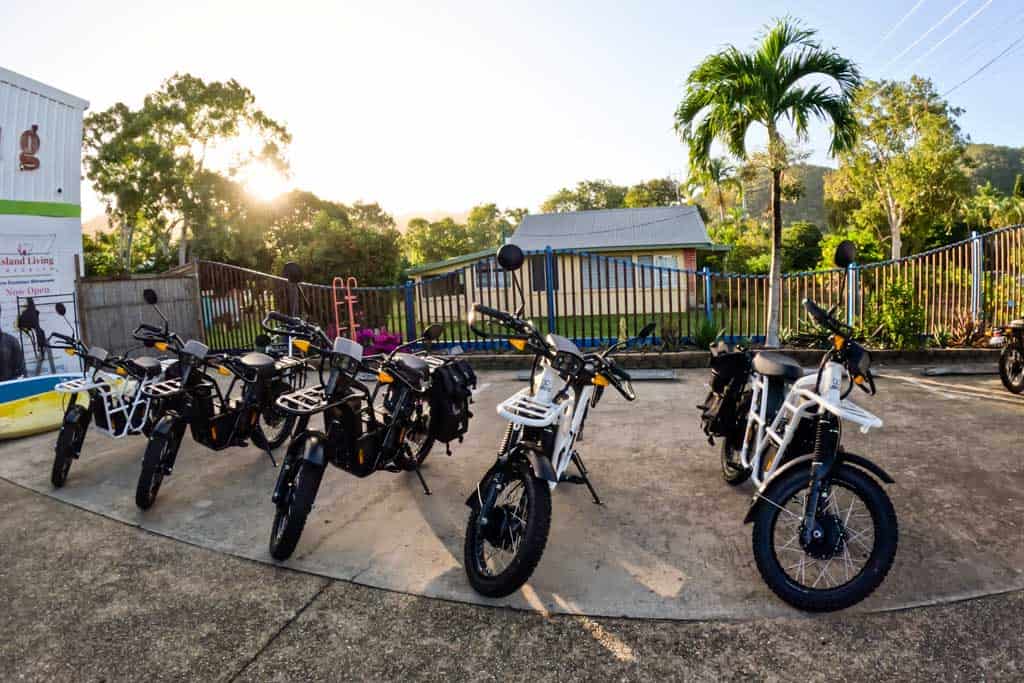 They are super easy to ride, have no gears, very comfortable and can tackle the hills and dirt tracks on Maggie like absolute weapons.
We've taken them out a few times and they are tonnes of fun. Also having a vehicle that is completely eco-friendly (Tim and Pam charge the batteries with solar power too) is such a good addition to Maggie and something all us locals are getting behind.
Prices are $55 for the day and you pick them up from Island Living, across the road from Scallywags Cafe.
Alternatively you can book a tour out to West Point for sunset with Tim, which is the only way to get out to this part of the island without owning your own car or walking (car and scooter rentals on the island are prohibited from taking the dirt road to West Point).
Make sure when you book you let the guys know that NOMADasaurus sent you!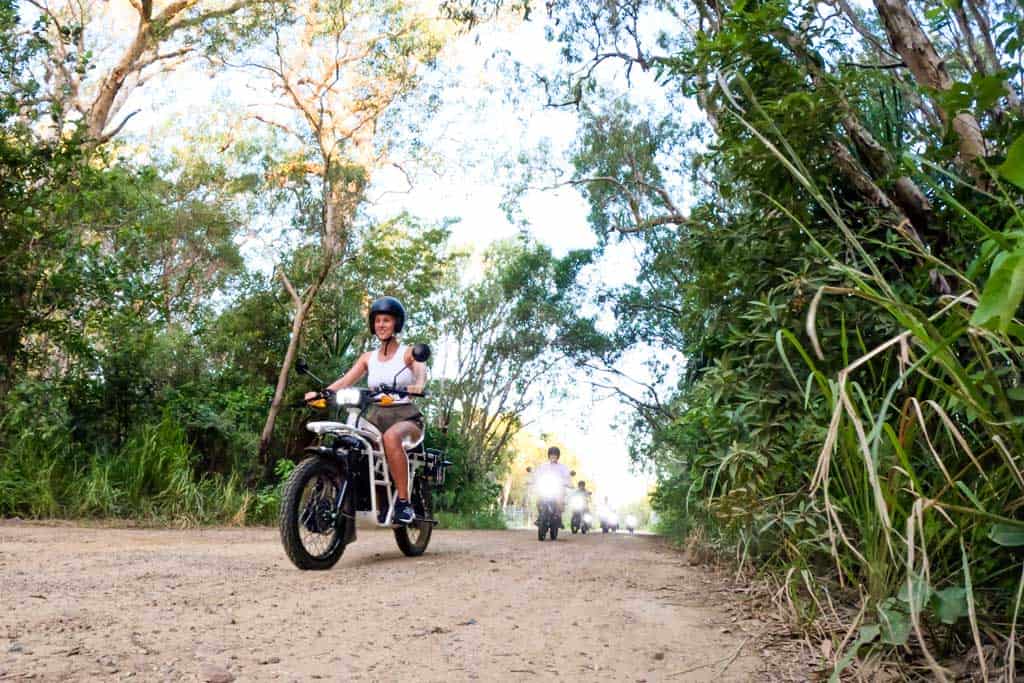 Scooter Hire on Magnetic Island
One of the things we loved most about Magnetic Island was the whole place had the atmosphere of a southern Thai island such as Koh Tao or Koh Phangan.
And one of the things that helps give it that vibe is that lots of people drive around on scooters.
You can rent a scooter on Magnetic Island from Road Runner Scooter Hire from just $40 a day to zip around on.
The company offers single and dual seat scooters, trail bikes and road bikes. When we were there on the island we saw a lot of people renting scooters and this is definitely a perfect place to do it.
READ MORE: Here's how to make the most with just one day on Magnetic Island!
When you are renting, do check with the owners where you CAN and CANNOT go, as there are limitations on rentals.
If you want to head out to West Point for sunset or Radical Bay look at hiring a trail bike if you have the correct licence.
When you are renting a scooter, remember to think seriously about your safety. It is all fun and games until someone falls off and rips their skin off or breaks a bone.
Please be responsible and wear proper clothing when riding around the island. Don't ride around in your bikini or board shorts. If you come off, it will hurt.
Road Runner Scooter Hire is located in Nelly Bay and is walking distance from the ferry terminal.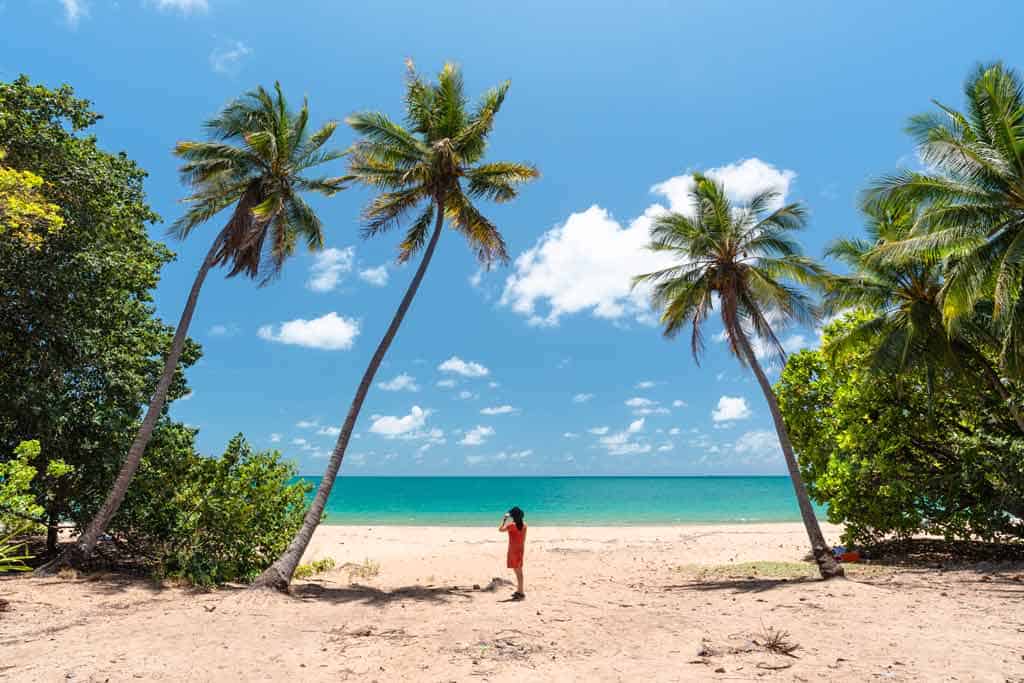 Purple Beam Scooters
Those mini electric scooters have made their way to Magnetic Island, and they are a pretty fast and convenient, if a little expensive, way to get around if you're just trying to get from point A to point B.
You can find these Beam scooters at the Nelly Bay ferry terminal, outside Base Backpackers and next to Alma Bay.
The price is $1 for initial hire and 75c a minute after that, using wireless payment to activate.
They are geo-locked to only work from Base Backpackers to Alma Bay, so you can't take them to Picnic Bay or up the Horseshoe Bay Road hill.
Just please please PLEASE don't dump these anywhere when you're done with them.
It's become a really negative thing for locals because drunken backpackers will literally drop them all over the paths or roads when they run out of battery or if they crash them.
If people keep trashing them, they'll be banned from the island. So be nice and everyone can enjoy them.
Bicycles on Magnetic Island
Bring your own bike over on the ferry (for free) or rent one over on Magnetic Island.
The main roads on the island are well maintained and sealed between the bays. There are great walking/biking trails by the water and on unsealed roads also.
Having a bike on the island makes it easier (and quicker) to get from bay to bay.
READ MORE: Check out our comprehensive 'Travelling in Australia' guide to answer all the questions you could ever have.
Walking on Magnetic Island
If you're wondering how to get around Magnetic Island by foot, we have good and bad news for you.
Yes, you can explore on the island by walking. But unfortunately you will not see too much.
The bays are a quite a bit of distance apart, and it does take time to walk between them.
On the plus side though you'll get to some absolutely stunning places!
If you are into hiking, going by foot is the only way to get to the famous viewpoints, and if you want to head over to Horseshoe Bay from Nelly Bay you can tackle the awesome trail straight over the island.
There are over 26km of walking trails around the island to explore, so make sure you pack your hiking shoes.
When you are exploring the bays, we find by foot is the best way to enjoy it. You can slowly take everything in and you might spot things you would have never seen if you were on a bus or in a car, especially little koalas that are everywhere over the island.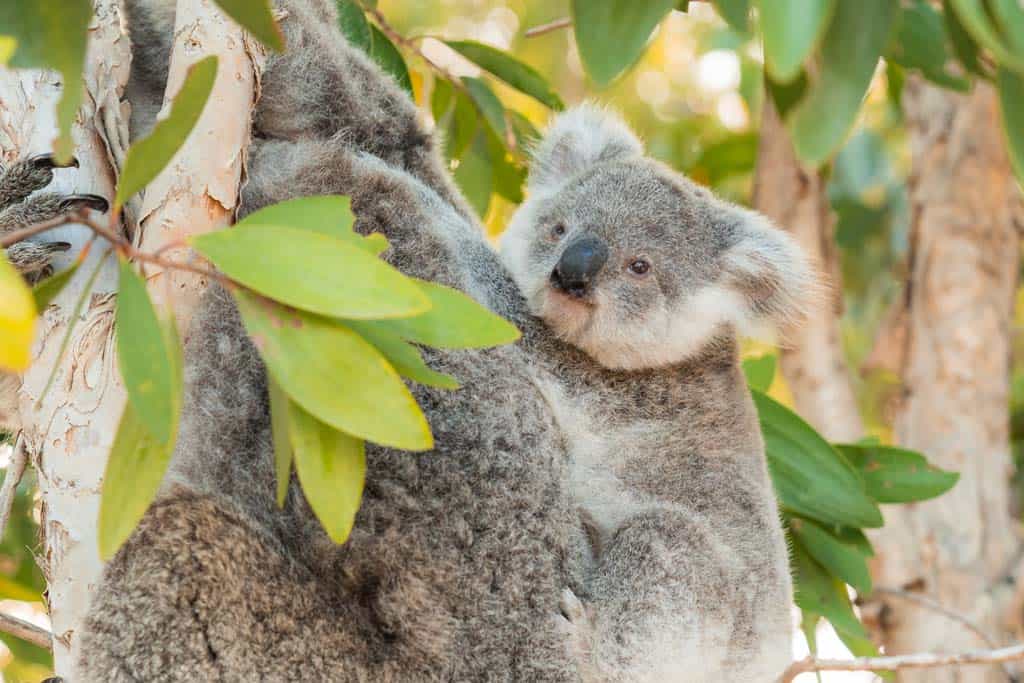 Taxi Service on Magnetic Island
There is a taxi company called Checker Cabs on the island and they can get you and your suitcase to your accommodation when you first arrive.
You'll occasionally find the taxis waiting around at the bays, or you can ring ahead and arrange a pick up from the ferry terminal.
This is a great way to get home after you have enjoyed a nice dinner or had a few too many drinks over sunset as well.
One thing to keep in mind though is that the taxis run on island time (ie they're not exactly punctual or regular) and they are limited in numbers. Make sure you give yourself lots of time if you need to rely on one.
READ MORE: Check out our guide on what to do in Townsville as well while you're in the area!
Day Tours on Magnetic Island
Magnetic Island has a couple of day tours available so you can check out some of the main spots, both on land and out on the water.
You can jump on a bus tour with a local guide to see some of the highlights of the Island and find out a bit of the history, or you can cruise out on the water in either a speedboat or sailboat to get to places that aren't accessed by land.
This boat tour here is our favourite, and we highly recommend it.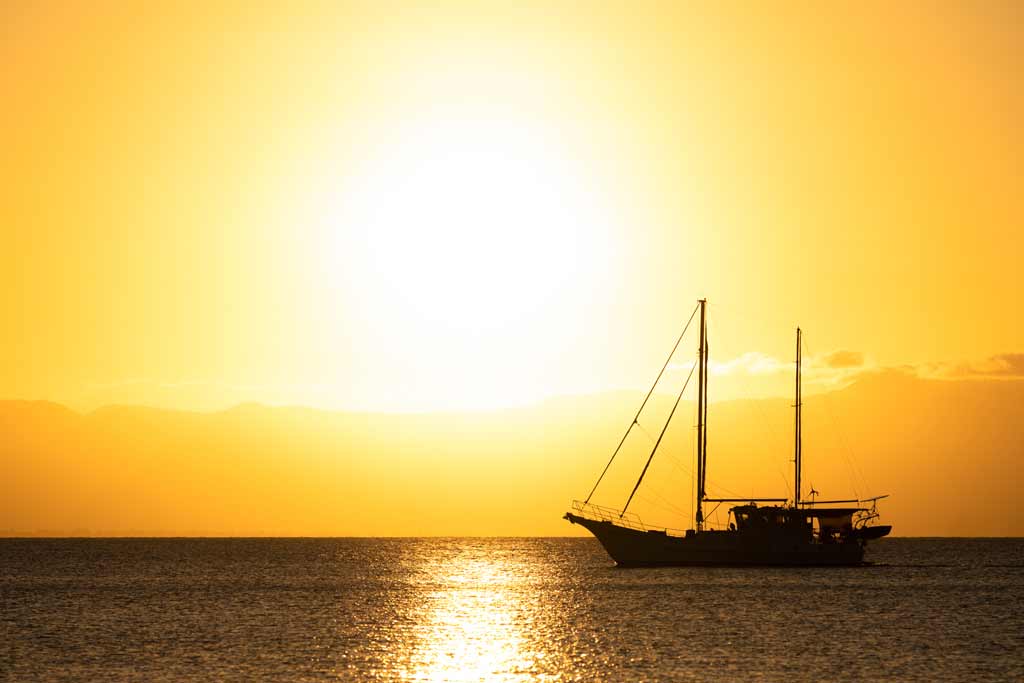 Driving Your Own Car
If you're planning on being on the island for a few days, and you have your own car and some friends or family to split the cost, the absolute best way to get around Magnetic Island is to bring your vehicle over on the ferry.
It is very expensive, starting at $220 return for a normal-size car, so it's not worth it for just one or two days. Instead rent a car on the island if that's how you want to explore the place.
DISCLAIMER: Some of the links in this article are affiliate links, which means if you book accommodation, tours or buy a product, we will receive a small commission at no extra cost to you. These commissions help us keep creating more free travel content to help people plan their holidays and adventures. We only recommend the best accommodations, tours and products that ourselves or our fantastic editorial team have personally experienced, and regularly review these. Thanks for your support, kind friend!