From grand palaces to locations of incredible historical significance topped off with some to-die-for food, here's our ultimate list of the best things to do in Seoul, South Korea.

If you were to ask somebody to name some Asia's most interesting and dynamic capital cities, there is a good chance that Seoul would be overlooked.
Surprising when you consider that it is one of the continent's most visited cities with tourism to Seoul booming in recent years.
Although there is a clear influence from the regions big hitters (China and Japan), Seoul clearly demonstrates the country's own unique culture from its historical buildings to modern day K-Pop and Jaebeol's (huge conglomerates like Samsung or LG).
There is no shortage of unique things to do in Seoul.
READ MORE: Check out our perfect 3 days in Seoul itinerary to make the most of your short trip!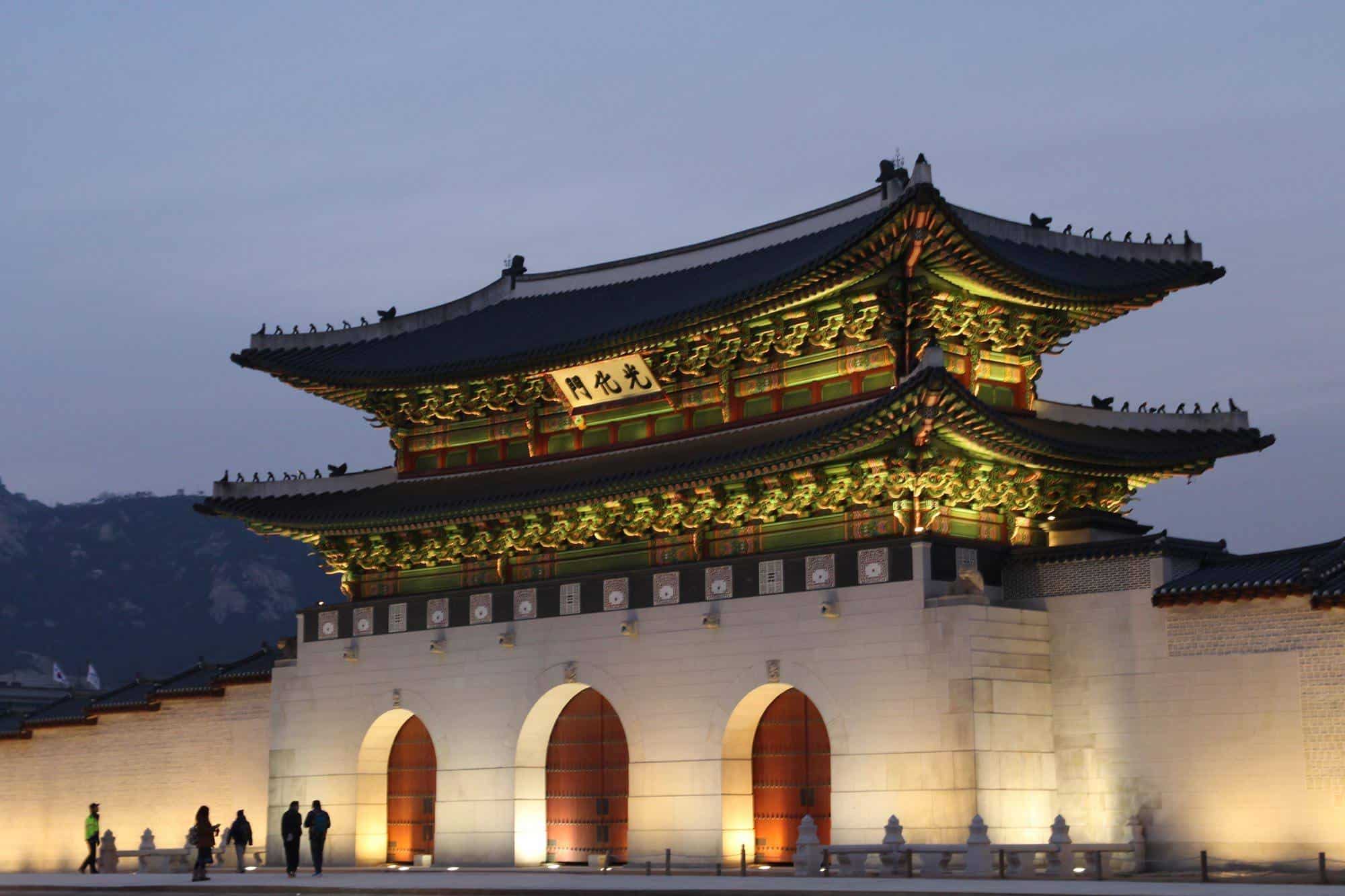 A Brief Overview on Korea's History
Korea has been the centre of a tug of war between China and Japan for the last couple of hundred years.
Prior to Imperial Japan's taking control following the first Sino-Japanese war (1894-95) Korea was a tributary of the Ming and then rather begrudgingly, Qing Dynasty; in effect it was China who was in control.
When World War 2 ended in 1945 it still wasn't an independent nation. Although its previous rulers had been vanquished and booted out, the country was split in two: the Russian backed North and the American backed South.
Interestingly up until the 1970's it was actually North Korea that was more developed, a far cry from today.
After overcoming poor governance, military dictatorships and a faltering economy South Korea grew year upon year and now has roughly the 11th largest GDP (some analysts have it slightly lower) and is regarded as one of the most technologically advanced nations on earth.
Seoul is the epicentre of this development. A city where the palaces of bygone dynasty's stand alongside giant skyscrapers, K-Pop and night markets compete for pennies and attention and the Jaebeol's are in and out the press (more often than not for something unpleasant). There truly is nowhere else like Seoul.
Our list of the Best Things to Do in Seoul, South Korea
Seoul is made of 25 Gu (districts) with a lot of sights concentrated in Jongno-gu, Jung-gu and Yongsan-gu.
Make no mistake, Seoul is huge but its excellent metro system means it's very easy to get around, meaning you should have no issues seeing Seoul's awesome sights.
READ MORE: Check out our mini-guide to the best hiking in South Korea!
Gwanghwamun & Jongno-gu
This area contains some of the most popular Seoul attractions. It's well connected to the rest of the city and most of the sights in this area are within walking distance of each other.
Start here for the best places to go in Seoul!
Gyeongbokgung
This is one of Seoul's most famous landmarks. Built in 1395 this huge palace was the home of the royal family until 1592 when it was burnt down during a Japanese invasion.
Despite its popularity it is very easy to find moments of zen, especially if you visit early in the day.
There are a number of interesting museums and exhibitions in palace and from 10am until 4pm, on the hour you can view the changing of the guard in the main courtyard. If you're not sure what to do in Seoul, this is a pretty awesome place to start.
Address: 161 Sajik-ro, Sejongno, Jongno-gu
Opening hours: every day from 9 AM – 6 PM (closed on Tuesdays)
Price: 3,000 won
Nearest Subway: Gyeongbokgung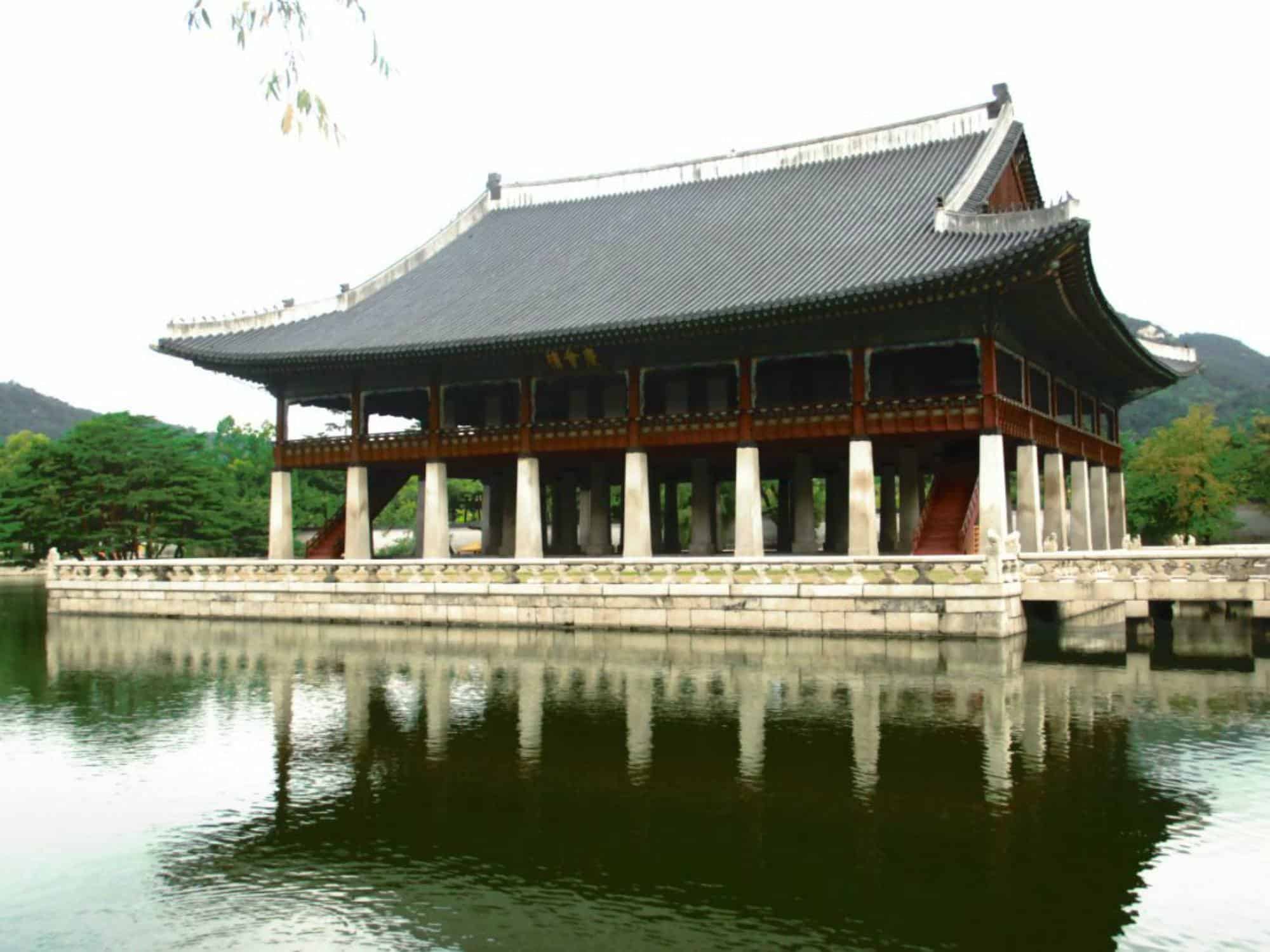 Bukchon Hanok Village
This village, situated in between Gyeongbokgung and Changdeokgung is home to roughly 900 Hanok (traditional Korean homes). It is full of small museums, art galleries and craft workshops and is a great place to explore.
At sunset or early morning it can be especially nice.
Do be aware that this place can get very busy with tourists who are in the area visiting Gyeongbokgung and Changdeokgung. In spite of all the museums, cafes and workshops this is still a residential area for some, so do bear that in mind when exploring.
Looking for a guided city tour of Seoul? Click the button below to join the best one in town!
Changdeokgung
The palace of Illustrious Virtue has a strong claim to being the most beautiful of Seoul's palaces. You can check out some of the outer buildings by yourself however to explore the core of the palace and its gardens then you will need to join a guided tour.
There are two options; the Palace Building Area or the Secret Garden, with the latter being slightly more expensive. Check out tour schedules and find which time suits you best.
The Secret Garden tour whilst being slightly more expensive it is one of the most interesting things to do with regards to Seoul's dynastic past.
During peak tourist seasons it's advisable to try and book as far ahead as possible. Schedules vary between the summer and winter months but there are a number of English tours on offer.
Address: 99 Yulgok-ro, Waryong-dong, Jongno-gu
Opening hours: every day from 9 AM – 5PM (closed on Mondays)
Price: 3,000 won
Nearest Subway: Anguk
Jogye-sa
This temple is home to the Jogye Order of Korean Buddhism and as a result is particularly spectacular around major buddhist festivals. You can combine this with a trip to Insa-dong.
Address: 55 Ujeongguk-ro, Gyeonji-dong, Jongno-gu
Price: Free of charge
Nearest Subway: Anguk
Jongmyo Shrine and Park
Located to the south of Changdeokgung this huge park is home a shrine of the same name as well as a number of others. It is the World Heritage-listed Jongmyo Shrine that is the most important.
It is here that spirit tablets of Joseon kings, queens and most loyal government officials are kept. It is believed that their spirits reside in the special hole bored into the wooden tablets.
Whilst the park is nothing too spectacular it's certainly a nice break for the hustle and bustle of Central Seoul.
Address: 157 Jong-ro, Hunjeong-dong, Jongno-gu
Opening hours:
February-May, September-October from 9 AM – 6 PM
Jun-August from 9 AM – 6:30
November – January from 9 AM – 5:30 PM
Price: 1,000 won
Nearest Subway: Jongno 3-ga
Explore the UNESCO World Heritage Sites of Changdeokgung Palace and Jongmyo Shrine on a tour with Get Your Guide
Take a Break from Palaces, Shrines and Temples and Eat at Insa-dong
South of Bukchon is Insadong, an area chock full of restaurants, bars and cafes. A great place to to take a break between the sights above.
Cheong-gye-cheon
This stream that flows from northern Seoul down to the Han River has undergone a major facelift in recent years. Roads and raised highways were torn down and replaced with walkways, waterfalls, footbridges and public artworks.
Understandably this has been a big hit with the people of Seoul with summer and is especially popular with families.
Nearest Subway: Gwanghwamun
Myeong-dong and Jung-gu
Now it's time to head to the other popular neighbourhoods of Myeong-dong and Jung-go to explore some of the best Seoul tourism activities.
Take in Awesome Views of Seoul from Namsan & the N Seoul Tower
Perched on top of Namsan is the N Seoul Tower, one of Seoul's most iconic sights. You can do the awesome but slightly knackering hike up to the N Seoul Tower or you can take a cable car from close to Myeong-dong subway station.
Views from Namsan and in particular the N Seoul Tower are spectacular. Visiting in the evening can give you some awesome city views, however the wait to get up the N Seoul Tower at night can be long, so just plan wisely and book ahead if you can.
If you're not fussed about going up the tower itself, the views from Namsan are still pretty awesome. This is definitely one of best evening's Seoul attractions.
Address: 105 Namsangongwon-gil, Yongsan 2(i)ga-dong, Yongsan-gu
Opening hours: every day from 10 AM – 11 PM (except Saturday from 10 AM – 12 AM)
Price: 11,000 won
Nearest Subway Stations: There are two options here, Hoehyeon and Myeong-dong. If you're hiking you can start one and hike up and loop round Namsan and finish at the other. If you want to save your knees then you can head to Myeong-dong and from there it' a short walk to the cable car station.
Take a Night Time Stroll Around Deoksugung
The Palace of Virtuous Longevity is unique in that it's the only Seoul landmark that you can visit at night. Naturally this is one of the best times to visit, it's only a short walk from the neon craziness that is Myeong-dong.
The perfect way to walk off an amazing meal and certainly a unique idea for what to do in Seoul!
If visiting during the day you may be lucky enough to catch a changing of the guard ceremony or join a free guided tour of complex. For times check out their website here.
If you do wish to go on a private guided tour – book an evening tour with Get Your Guide
Address: 99 Sejong-daero, Jeong-dong, Jung-gu
Opening hours: every day from 9 AM – 9 PM (closed on Mondays)
Price: 1,000 won (general admission)
Nearest Subway: City Hall
Shopping, Eating and People Watching in Myeong-dong
Myeong-dong is chock full of restaurants, bars and shops and certainly one of Seoul's glitzier districts. Although it's not quite at the level of Gangnam, there are still plenty of opportunities to splash the cash.
Down some of the smaller alleyways, closer to the subway station there are some excellent BBQ restaurants which are a must if you're in South Korea. The nearer you get to Myeng-dong's neon nucleus the wider the variety of food.
If you've had your fill and your pennies are running low then this is an excellent place to people watch.
Nearest Subway: Myeong-dong
While you're in Myeong-dong, why not book in for an epic Nanta show at the theatre?
Shop and Eat at Namdaemun
This sprawling 24 hour market sells anything and everything. By the evening food stalls are the name of the game and you can pick up some great bibimbap, pancakes, kimchi and various other Korean goodies.
Naturally prices are cheaper than in restaurants and most have some kind of outdoor seating, although it can be very busy so you may be looking for a seat for a while. However like in Taiwan, eating at these outdoor food markets offer some of the best local cuisine. You can't claim you've had the full Seoul sightseeing experience without venturing out to its street markets.
Book a 4-hour tour to some of Seoul's best known traditional markets +(bonus visit to the UNESCO World Heritage Site – Changdeokgung Palace).
Address: 21 Namdaemunsijang 4-gil, Hoehyeon-dong, Jung-gu
Opening hours: 24h/7
Nearest Subway: Hoehyeon
READ MORE: Check out our list of the best things to do in Jeonju, Korea.
Itaewon & Yongsan-gu
This area is one of the most popular expat hangouts in the city. A big reason for this is that the fact that there is an American military base close by. Expect to find a number of American bars and burger joints in this part of town.
A lot of people stay in this area, and if a night of bar hopping appeals then this may the place for you. A pub crawl in Seoul can be a fun way to meet new friends and mingle with the locals. However if you want to avoid the drunks and burger bars then you may want to look elsewhere for your evening entertainment.
The area is home to two excellent museums that are well worth a visit and help provide a deep insight into Korea's past, present and future, and definitely two of the best things to do in Seoul.
National Museum of Korea
The museum takes you on an in depth tour from Korea's feudal beginnings right through to the end of the Joseon Dynasty in 1897, the countries last.
Entrance to the main exhibits are free of charge, however the regular special exhibits are not and a ticket will need to be purchased.
There is a lot to see here with everything being displayed in both English and Korean.
Address: 137 Seobinggo-ro, Seobinggo-dong, Yongsan-gu
Opening hours: every day from 10 AM – 6 PM (Wednesday & Saturday from 10 AM – 9 PM, Sunday from 10 AM – 7 PM)
Price: Free of charge (separate charge for special exhibitions)
Nearest Subway: Ichon
Korean War Memorial
Frequently known as the forgotten war in the Western World, the Korean War was a battle between the competing ideologies of the USA and China and the Soviet Union.
The war raged from 1950 until 1953 when an armistice agreement was signed between the USA, China and North Korea. South Korea was not a signatory to this ceasefire and a formal peace treaty between the two Korea's and their allies was never formally agreed meaning that the two sides are technically still at war.
As well as a memorial to those that fought and died in Korean War the site is also home to a number of excellent exhibitions giving information into one of the most brutal conflicts of the 20th century.
The Korean War started in 1950 when North Korea launched a surprise invasion of the South. Initially the North made spectacular gains, partially thanks to weaponry and support from the Soviet Union.
However the USA soon pushed the North close to the Chinese border and then China joined in. There are many who believe that without China's intervention North Korea would have been ceased to exist.
This museum offers a lot of insight into Korean history and for all wanting to get to know the culture better – it's a Seoul must see!
Address: 29 Itaewon-ro, Namyeong-dong, Yongsan-gu
Opening hours: every day from 9:30 AM – 6 PM (closed on Mondays)
Price: Free of charge (only parking fees – 3,000 won per 2 hrs)
Nearest Subway: Samgakji
Western Seoul
Moving further into our Seoul travel guide, it's time to head to the Gu of Western Seoul.
Explore Hongdae
Seoul's main student area is home to funky live music venues, cafes and some awesome restaurants. Do not expect fine dining here, it's all about keeping the prices down. The area is also home to some excellent hotpot and BBQ restaurants.
If you're looking to catch some of South Korea's finest unsigned indie acts then this is the place to do it!
Nearest Subway: Hongik University and Sangsu
Noryangjin Fish Market
South Korean cuisine is home to some outrageously good seafood dishes and the Noryangjin fish market is the place to buy the freshest seafood in Seoul.
If you have ever been to the Tsujiki fish market in Tokyo this is not as big, but unlike Tsujiki there are less idiotic tourists pissing off the local traders so they are still ok with visitors coming early and checking it out during the peak market hours.
Auctions get going at around 5am, so naturally thats the best time to visit, but stay out of the way and be quiet. Do remember that this is a working market, so keep out of the way of workers and trucks hauling around the fish that will pay their salaries.
Address: 674 Nodeul-ro, Noryangjin-dong
Opening hours: 24h/7
Nearest Subway: Noryangjin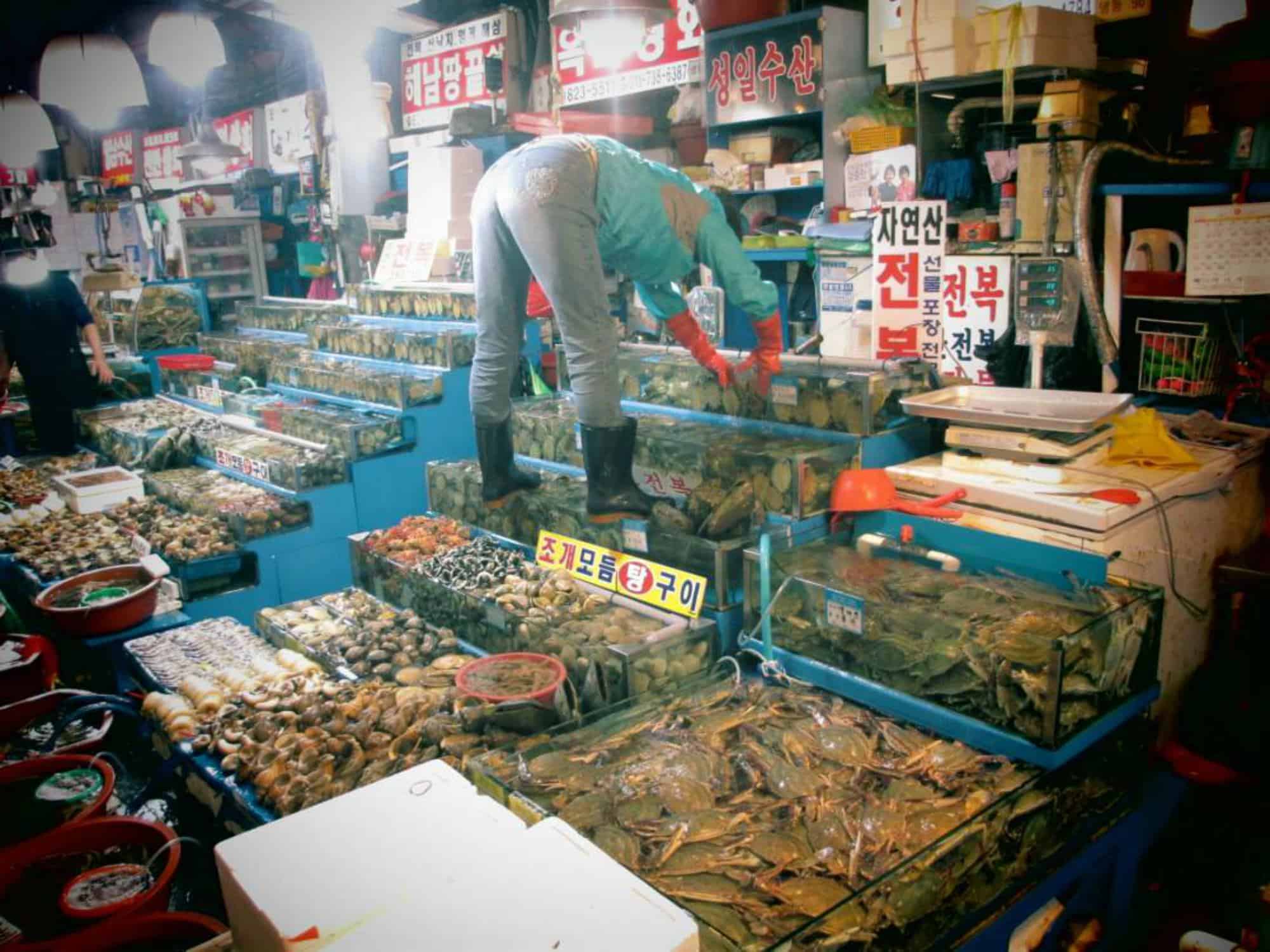 Relax in Hondgae's Parks
This area is home to two parks which are great to while away a sunny afternoon. Peace Park which is home to the World Cup stadium is east of Hongdae.
Seonyudo Park is built on an island in the middle of the Han River that was formerly home to a water filtration plant. Now it's full of ponds, plant nurseries and exhibitions – far more visually appealing.
Nearest Subway: World Cup Stadium for Peace Park and Seonyudo for the park of the same name.
Gangnam & South of the River
Head south of the river to find more ideas for what to see in Seoul, Korea!
Gangnam Style in Gangnam
This district will always be synonymous with Gangam Style, the song that has caused many a hangover riddled guy or girl to look back on the previous nights dancing with shame.
When this song came out I had not yet been to Seoul, but a good friend of mine lived there for a year. It was him who informed me that Gangam was actually a very fancy, upmarket area in Seoul.
Think Kensington or Mayfair in London. Not sure if the song "Mayfair Style" would sell as well.
It's certainly an interesting area to explore, with plenty of awesome and surprisingly affordable restaurants hidden in the cities back alleys.
If that's not your thing then there are plenty of fashion brands and expensive restaurants that have made Gangnam their home.
Nearest Subways: Cheongdam and Samseong
Visit the Olympic Park
Seoul being named as the host city for the 1988 Olympics was a demonstration of just how far South Korea had come.
Home to some interesting museums, various Olympic memorials and venues and some lovely walking trails this is a great place to spend a sunny afternoon. There are also bikes available to hire.
Nearest Subway Stations: Mongchontoseong and Olympic Park
Dongdaemun and Eastern Seoul
Dongdaemun is home to some of the best places to visit in Seoul.
Gwangjang Market
If you are looking for a market to stuff your face with amazing Korea street food then then this is the place! This place is positively buzzing most evenings, think the huge night markets in Tainan and Taipei as a rough comparison.
Come with an empty stomach and be prepared to stagger back home, because eating really is one of the top Seoul tourist attractions.
Without a shadow of a doubt this one of Seoul's most brilliantly chaotic places. Even if you're not here for the food it's certainly one of the most interesting things to see in Seoul.
Address: 88 Changgyeonggung-ro, Jongno 4(sa)-ga
Opening hours: every day from 9 AM – 5PM
Nearest Subway: Jongno 5-ga
Northern Seoul
Head over to Northern Seoul for another day of exploring in the South Korean city.
Bukaksan
Offering great views over Seoul this 342m peak is open to the public, however security is quite tight.
In 1968 North Korean Agents attempted to assassinate South Korea's president by climbing over the Seoul's old city walls at Bukaksan and into the presidential compound.
Although the mission was unsuccessful the area still remains under tight security, due to the fact the presidential palace is so close.
This was the city's last line of defence, and some of the views of the surrounding countryside and Seoul itself are particularly stunning. Do be aware that there are some points where photos are not allowed. Bring your passport.
How to get there: Head to Anguk, take exit 2 and jump on bus No. 2 to Waryong Park. The hike starts here and ends at Changuimun Gate. From Here you can take buses 1020, 7022 and 7212 back to Anguk.
Best Day Trip from Seoul
Sometimes you need to get out of the city too, so to inspire you here's my recommendation for the best day trip from Seoul.
DMZ
On of the most popular day trips from Seoul is to the DMZ which includes a trip to Panmunjeon. Incidentally this is also one of the best things to in Seoul.
However if you visit during a National Holiday there is a chance you may not be able to visit this area (sadly this was the case for me). This is definitely one of the most unique places in the world, let alone in Seoul.
This one is one of the most popular DMZ tours available. However try and book at least two weeks in advance, further if you're travelling during peak season.
Once you have booked you will be sent the details of where to meet. You WILL need to bring you passport and dress appropriately, as described on the website.
All Over Seoul
Some Seoul activities can be found just about anywhere in the city. If you're looking for general Seoul tourist attractions, and not just the main points of interest, these are for you!
Visit a Jimjilbang
Visiting a Jimjilbang is one of the best things to do in Seoul. A Jimjilbang is a Korean onsen/sauna/spa complex offering baths, massages, games rooms, saunas and a bunch of other bits and bobs.
A number of Jimjibang's have options to stay all night with various sleeping rooms within the complex and baths running throughout the night.
There are plenty of these in Seoul, however the price for day time rates and night time rates is likely to differ. Plan appropriately to make sure you don't get a surprisingly large bill.
All nighters can sometimes work out cheaper than a hotel, and you will feel fresh as a daisy the next morning.
These do have a reputation for being seedy (understandable when you describe it). However the chances of you finding such a place through a google search is pretty slim. Alternatively you can ask your guesthouse or hotel for a recommendation.
Live Music
South Korea is home to some awesome live music. Dongdaemun has some excellent jazz and blues clubs whereas Hongdae is the place to go for Indie.
If K-Pop is what you're after, and with the an ever growing fan base you wouldn't be alone, check out the best spots online. There are various gigs going on throughout the year hosting some of the genre's biggest acts.
To have the best K-Pop experience, you can book a tour with Get Your Guide, which will lead you to the K-Pop themed restaurant in Seoul's posh area, Gangnam. Fantastic food, great tunes and amazing views of the Seokchon Lake and the city – a perfect recipe for a great night out!
One of Seoul's most unique cultural exports this is the best place to experience it and see what all the fuss is about (hint: it's pretty awesome).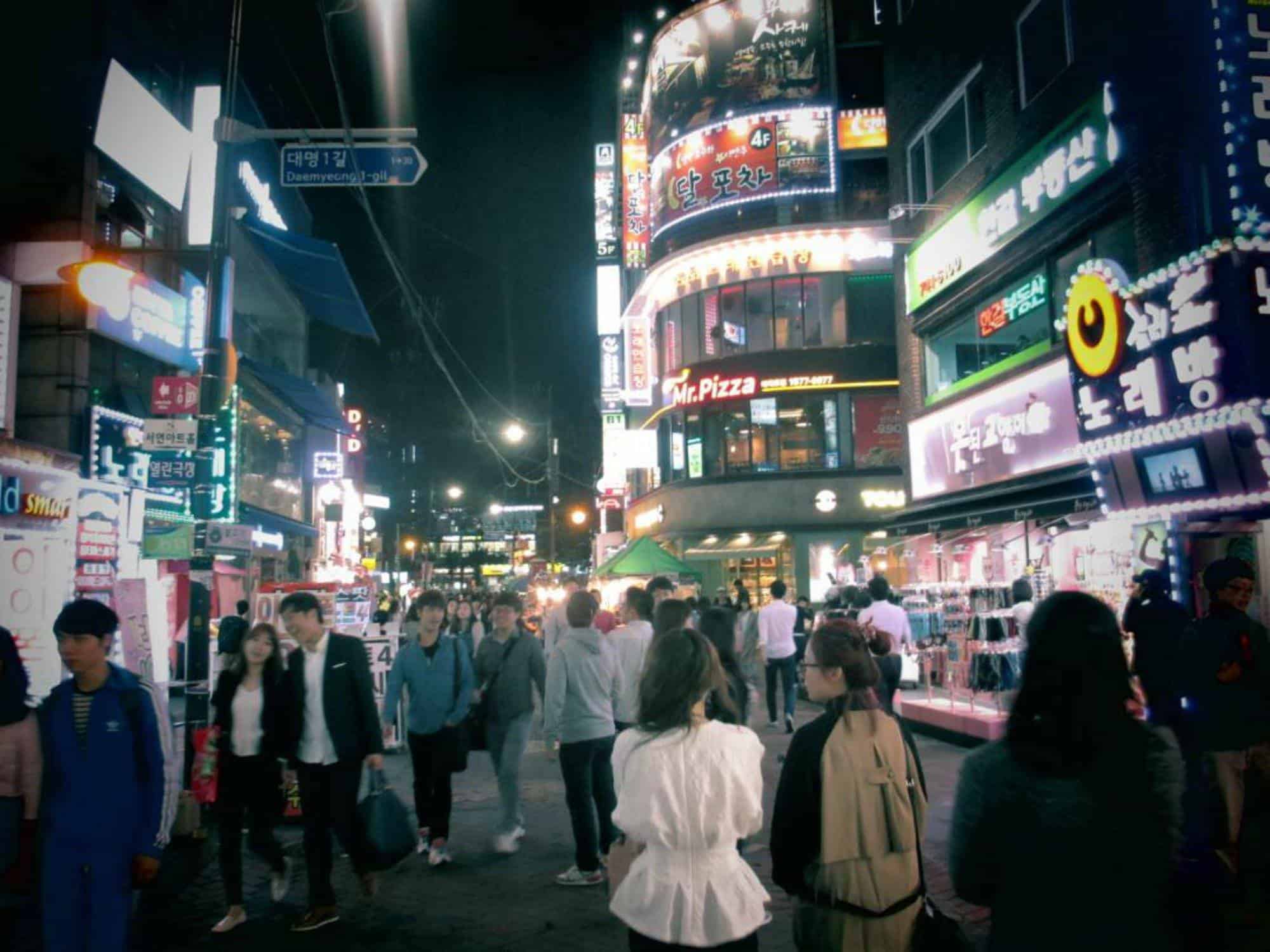 Seoul Travel Guide
To help you with your visit, here's some of our best Seoul travel tips to help you make the most of your holiday.
How to Get to Seoul, South Korea
Seoul is a regional hub and as a result it's not uncommon to have long distance fights transferring in Europe, meaning that you could easily extend a layover into a long weekend.
It also means that getting to Seoul is very easy from most major cities in East and South East Asia.
Seoul has two airports, Incheon and Gimpo. The vast majority of international flights will land at Incheon, save for some flights to and from China and Japan that will land at Gimpo.
Both airports have excellent connections to Seoul by train or bus, however check where the final stop is as depending on where you are staying one may be more convenient that the other.
Public travel within Korea is generally very good. There is an excellent rail and bus network with internal flights between the countries major cities.
Arriving in Seoul by bus will bring you to one of the cities two bus stations; Seoul Express Bus Terminal or Central City Express Bus Terminal. Both of these are connected directly to the cities subway system.
If coming in by train you will arrive at one of the cities five train stations, all of which are connected to the subway system.
Getting Around Seoul
Seoul's public transport system is excellent, it is definitely the easiest way to get around the city. To make things more convenient you can purchase T money or cashbee cards to save having to buy tickets for every trip.
Just swipe in and out and top up when you need to.
Language Issues
Whilst English is taught in all primary and secondary schools in Korea, DO NOT expect everybody to speak English. Every student in the United Kingdom learns French, German or Spanish until at least 14 and that certainly does not translate into adulthood.
It seems to be a particularly common complaint on articles focusing on East Asia. In 2018 a combined 7.7 million tourists from Japan and China visited South Korea.
The country welcomed just under 1 million US visitors (the most from any English speaking country). In East Asia English is not as useful as we believe it to be. Mandarin and Japanese are far more important in terms of tourism and commerce.
Expect to do plenty of pointing, guessing and the like in Seoul, especially at the night markets or restaurants. There are plenty of restaurants that do not have English menus, which can lead to truly memorable exchanges!
Best Time to Visit Seoul
Seoul is a very popular short break destination for Chinese, Japanese and Taiwanese tourists. Therefore you may want to avoid visiting during any National Holidays in these countries as well in South Korea.
During Chinese New Year and the October National Holiday flight and hotel prices can jump as Chinese tourists swarm to sightsee and shop. If the only time you can go is during one of these times try to avoid staying in big shopping areas like Myedong and Gangnam.
Summers swelter and winters freeze, outside of these two seasons it's generally very pleasant. Still, no matter what time you visit, you'll still fall in love with all the top things to do in Seoul!
Eating in Seoul
Eating is the highlight of any trip to Seoul. The dazzling array of food on offer in Seoul in simply stunning, from cheap and cheerful street eats to Michelin Star restaurants.
Kimchi maybe the first thing people think when they think of Korean food, however there is far more to the Korean palette than spicy pickled cabbage.
BBQ
The quintessential Korean cuisine, it is impossible to visit Seoul and not chow down on some Korean BBQ. These restaurants range from small joints down an alley way, to huge chains.
The traditional way to eat is to grill the meat, dip it in the sauce and then wrap it in a lettuce leaf, absolutely one of the best things to do in Seoul.
One of the fun activities that we always like to partake in when traveling is learning how to cook traditional dishes! If you're a foodie but also love to cook, sign up for a traditional Korean cooking class.
Bibimbap
Rice with meat and veg. A simplistic definition for one of South Korea's most defining dishes. These can be found anywhere and are usually a quick meal rather than a full blown sit down affair. Bibimbaps can come in a mind boggling array of flavours a tastes.
Korean Fried Chicken
Heaven on a plate is how a good friend of mine described this, and he is not far wrong. Make sure you try this at least once during your time in Seoul.
Dumplings and Pancakes
Usually accompaniments that can be found at most restaurants. Whilst dumplings have definite similarities with dumplings served in both China and Japan the pancakes are a very special Korean treat.
Seafood
South Korea has a wide variety of seafood dishes on offer. One of the most unique things to try in Seoul is live octopus tentacle. Certainly not for the faint hearted.
Sweets and Treats
In 2016 South Korea won the World Bakery Cup (yes there really is such a thing). Bakeries are dotted all over Seoul and serve some fantastic sweet options.
Naturally this is a very simplistic overview and there is plenty more to eat than what is written here. Get stuck in and chow down on some of the best food you never knew existed.
Accommodation – Where to Stay in Seoul
Seoul is blessed with a huge range of accommodation options, everything from dorms to 5 star luxury. The biggest issue is deciding where to stay in Seoul.
Below I've given a rough summation of some of the best places to stay in Seoul. Each of them have their own advantages and disadvantages, you just need to decide what's going to be best for you.
Insadong and the surrounding area is an excellent option, with accommodation and eateries to suit all budgets and tastes plus excellent transport links this is a great place to start. It's also walking distance to some of Seoul's most spectacular palaces and shrines. Definitely a slower pace of life here than in Hongdae or Myedong.
Hongdae is at the cheaper end of the scale but you are a little further from most sights, however with numerous cheap eats, bars and live houses this could be another great option.
Myedong is home to a fair few places, but if you're looking for a quieter area this may not be for you. At night this area is alive as people eat, drink and shop. That being said there are a number of quiet back alleys offering some awesome Korean food.
Gangnam is home a bunch of boutiques and expensive hotels, so if you're watching the pennies, this may not be the place for you. Also some parts are a little far from most of the main sights
Dongdaemum has a few places but it's quite far from most sights, but is well connected by subway and it's certainly on the quieter side of things.
Check out our list below of some of the best places to stay in Seoul.
The Best Hostel in Seoul – ZZZIP in Hongdae
This hostel out in Seoul's student student district consistently receives excellent reviews. It offers dorms, singles, twins, doubles and triples. However dorms make up the majority of its guests.
It offers free breakfast and luggage storage as well as a roof terrace and all non dorm rooms have an ensuite.
If you are travelling as a couple it's worth checking the cost of two dorm beds versus a private room. Similar to Japan, a private room can be the same price or even cheaper than two dorm beds.
Nearest Subway – Hapjeong
Best Budget Accommodation for Couples in Seoul – Mini Hotel Insa in Insadong
This excellent little guesthouse located in the heart of Insadong is a few minutes walk from Anguk subway station and sights such as Gyeongbokgung, Bukchon and Changdeokgung. It offers free breakfast and is close to a number of awesome restaurants.
It can be a little tricky to find in the maze of alleys around Insadong but the effort is well worth it. The host is also able to offer excellent advice and tips, be it the best restaurant to visit or the best time to check out certain parts of Seoul. All this for a very wallet friendly price.
Best Mid-Range Hotel in Seoul – DH Naissance Hotel in Dongdaemum
This 3-star hotel in Dongdaemun gets rave reviews from guests. Located 140m from Sungshin Women's University Subway Station it has excellent transport links in spite of the fact it's a little further away from the centre than most.
With a fully multi-lingual staff team as well as spa's and sauna's on offer it's unsurprising that this place is so popular with its guests.
Nearest Subway – Sungshin Women's University
Best Luxury Hotel in Seoul – Lotte Hotel Seoul in Myedong
Lotte is one of South Korea's most recognised and respected brands. This 5-star hotel offers all of the luxuries you would expect. Throw in its location in the heart of Myedong along with is swimming pool, sauna and hot spring spa it's easy to see why this is one of the most popular luxury options in Seoul.
It's directly connected to Euljiro 1-ga subway station making travel around Seoul extremely convenient. In addition its central location means that there are plenty of awesome sights within walking distance.
Nearest Subway – Euljiro 1-ga
DISCLAIMER: Some of the links in this article are affiliate links, which means if you book accommodation, tours or buy a product, we will receive a small commission at no extra cost to you. These commissions help us keep creating more free travel content to help people plan their holidays and adventures. We only recommend the best accommodations, tours and products that ourselves or our fantastic editorial team have personally experienced, and regularly review these. Thanks for your support, kind friend!