New Zealand is known for having the best skiing and snowboarding in the southern hemisphere.
It's little wonder then shredding the slopes here is on the bucket list for many snow lovers!
Even though we grew up just over the ditch in Australia, prior to this year we had never actually been riding over in the land of the Kiwis.
This winter we finally had the chance to change that, and when we found ourselves with a few weeks spare between overseas work trips, we locked in some dates towards the beginning of the season.
There are a few different ways you can hit up some of New Zealand's 40 epic ski resorts.
Either base yourself in one of the hotspots of Queenstown or Wanaka and take resort shuttles to and from the hills, rent a car and go on a self-drive adventure, or even join a snow tour.
Having driven ourselves all over New Zealand's South Island on previous trips, we were pretty comfortable doing everything ourselves. But instead we ended up doing a tour, and it turned out to be the best decision we could have made!
The Haka Tours Snow Safari – Why You Should Do It!
The legendary Kiwi operator Haka Tours have been running adventure and culture trips since 2007, and have pioneered some fantastic itineraries along the way.
While their summer trips are by far their most popular, Haka Tours have developed a couple of top-notch winter experiences to keep the snow-lovers happy.
We signed up for their 7-day Snow Safari, which would take us from Christchurch to Queenstown and visit 6 amazing ski resorts along the way.
At first we weren't sure if being on a skiing and snowboarding tour would be the best option for us.
We're very independent people, are pretty experienced riders, plus we had a job to photograph Kathmandu's brand new Styper range ski gear.
From the first day though it became obvious that being on a trip with Haka Tours was a perfect way to explore the South Island's top ski resorts!
If you're sitting on the fence about whether or not this is for you, here's our top 7 reasons why you should join a Haka Tours Snow Safari for your next ski or snowboard trip in New Zealand!
1) Pow Days are Better with Friends
Back in our younger years, we used to live by the mantra "no friends on powder days". We'd hit the ski hills alone, ride as hard and as fast as we could all day, and not slow down or wait for anyone.
Sure, it meant we got a few more laps in. But as we became a bit older, we learnt that the opposite is actually true. Skiing and snowboarding is much better with friends.
If you're having a hard time trying to rope your mates in to go on a big road trip to New Zealand's best ski resorts, the beauty of signing up for a Haka Tours adventure is that you'll have the chance to hang out with a bunch of legends anyway.
Our group was seriously cool, and helped make our trip so much more fun.
From the moment we met in Christchurch we all got along like a house on fire.
Everybody on the trip, except for us, were solo travellers, and were stoked to make new friends on this trip.
We'd ride together, encourage each other, eat together, even party together, every day of the tour.
It was so good to see people's progression along the way too. While some of the group were experienced riders, others had literally never been on snow before.
Haka Tours helped the newcomers sign up for ski lessons at each resort, and by the end of the 7 days, a few of them were even dropping into black runs with us!
Having a crew to ride with really did make our time in New Zealand far more enjoyable. Even today, 3 months after our trip, our WhatsApp group is still pinging with messages from everybody!
2) Surprisingly Cost-Effective
Being an isolated island as far from just about anywhere as you can imagine, New Zealand is, not surprisingly, quite expensive.
Things like food, accommodation and activities are priced towards the high end. A lift pass can be as much as NZD$130 a day, and transfers to and from the hill will set you back another $50 (or more).
Unless you stay in the (overpriced) accommodation on the hill, most of the ski resorts in New Zealand are at least 30 minutes driving away from the closest major town.
In addition to that, even though car rental can be quite fair for small vehicles, fuel in New Zealand is some of the most expensive in the world, coming in at well over NZD$2 a litre!
If you're planning on doing a solo ski trip to New Zealand, you'll very quickly find that your costs will add up to become astronomical.
That's where Haka Tours comes in to save the day!
Because Haka Tours operate such a huge number of trips around New Zealand every year, they are able to negotiate special prices at the ski fields and accommodation they visit, passing the savings onto you.
Also, by having their own buses, they can take larger groups, bringing the transport costs down.
Once you book a Haka Tours snowboarding trip everything (except for lunch and dinner) is included in the price. Accommodation, lift tickets, transport and even breakfast!
Their 7-day Snow Safari trip starts at $1799, and includes 6 different ski resorts. An incredibly cost-effective way to go shredding in New Zealand for solo travellers or couples!
3) The Convenience is Hard to Beat
Having travelled independently for over decade in some of the world's most 'challenging' countries, we can't tell you just how nice it is to let someone else do all the thinking for you.
All you have to do is get yourself to your starting hostel in New Zealand, and Haka Tours will look after the rest of your trip for you.
They'll drive you door to door, from hostel to ski resort and to the next hostel, at times that work for everybody.
Because you're travelling in a group as well you don't have to stress about accidentally sleeping through your alarm and missing your bus – your mates will make sure you're already up and good to go!
Once you're at the ski fields you can ride all day, then meet at whatever time you all agreed to head to the next destination.
That might not seem like a big deal, but when we were in Treble Cone before our Haka Tours trip started, we were left at the top of the hill with no way to get down. All of the bus drivers had gone on lunch, meaning we had to hitch to the base in order to get to our car!
New Zealand is also insanely beautiful, so being in control of your transport means you can stop for photos whenever you want.
The convenience of being on a Snow Safari with Haka Tours really makes it all worth it.
4) The Schedule is Flexible
Even though each ski tour has an itinerary, the reality is the daily schedule is slightly flexible depending on snow conditions and what the group wants to do.
If you're due to go riding at Cardrona one day, but the forecast shows Treble Cone is expecting a 50cm dump, the guide has absolutely no problems shifting things around to hit the field with the best powder (as long as the whole group is happy with the change).
It's also the same for departure times. The group will leave town earlier in the morning if there's fresh snow, or slightly later in the day if conditions are icy and everyone's planning a big night in Wanaka.
On our particular tour we had a plan to ride the Remarkables one day, and Coronet Peak the next.
We all had an awesome day up at the Remarkables, and everybody we met said Coronet Peak had almost no snow coverage.
Rather than stick to the plan, our guide Simon suggested that we could hit up the Remarks again. Of course our group jumped at the idea.
We loved having this flexibility in the schedule, and it showed that Haka Tours cares about everyone on their trips having a solid time.
Our 7-day trip even had a free day in Queenstown organised, where everybody could do anything they wanted. Some went bungy jumping, others went to Milford Sound, while a few just kicked back around town and had a rest.
5) The Guides are Awesome
Perhaps one of the main reasons why you should go on a snowboarding adventure with Haka Tours is because their guides are absolutely amazing.
These local guys and girls are very passionate about New Zealand, and spend their lives travelling around, hitting up the best activities and studying the nation's history and culture.
We were lucky enough to have Simon as our guide throughout our Haka Tours Snow Safari, and he honestly made our trip superb.
Besides being very knowledgable about his country, he was attentive to all the guests' needs, super chill (which made everyone else very chill), plus he knew the ski resorts like the back of his hand, so he could take us straight to the best runs.
From the sounds of it, we didn't just get lucky with Simon. We met a few of the other guides in Christchurch and Queenstown and they all seemed equally awesome.
Feedback from other Haka guests we bumped into was all positive as well.
The guides really do make these trips all the better!
6) Hit a Variety of Resorts
Haka Tours specialises in adventure trips around New Zealand, and part of that involves trying to visit lesser-known spots in the country.
Few tourists realise this, but New Zealand has a whole collection of privately-owned ski resorts known as club fields, and they really are worth a trip.
While you're standing in the lift line for 20 minutes at Cardrona, the lifts at these club fields are often completely empty, except for a few locals carving it up.
The terrain is often better as well, so if you're an experienced skier or snowboarder, you may actually prefer the club fields.
Haka Tours knows which are the best, and include some of them into their itineraries.
We hit up a smaller resort called Ohau during our trip, and while it isn't exactly off-the-beaten-path, it's not a spot most travellers visit when coming on a snowboarding trip to New Zealand.
If you want to only hit the more advanced club fields, check out their Snow Explorer tour.
7) Epic Discounts on Other Activities
Haka Tours have been around a long time, and today are one of New Zealand's premier tour operators.
That means they've had plenty of time to forge solid relationships with other companies around the country.
These solid relationships result in crazy discounts on activities and attractions for the guests who join one of the Haka trips.
When you're in Queenstown you can go bungy jumping, hiking, jet boating, or try any one of the million adventurous things to do there on your day off, all for a great price.
Haka Tours also can work out good deals for once-in-a-lifetime experiences too, so if you have always wanted to go heli-skiing in Wanaka, this is your chance!
These deals also extend to restaurants and bars. Simon took us to a couple of spots around Queenstown and Wanaka where Haka Tours groups could get cheap drinks too.
As we mentioned at the top, New Zealand is expensive, but Haka helps keep the costs down wherever they can.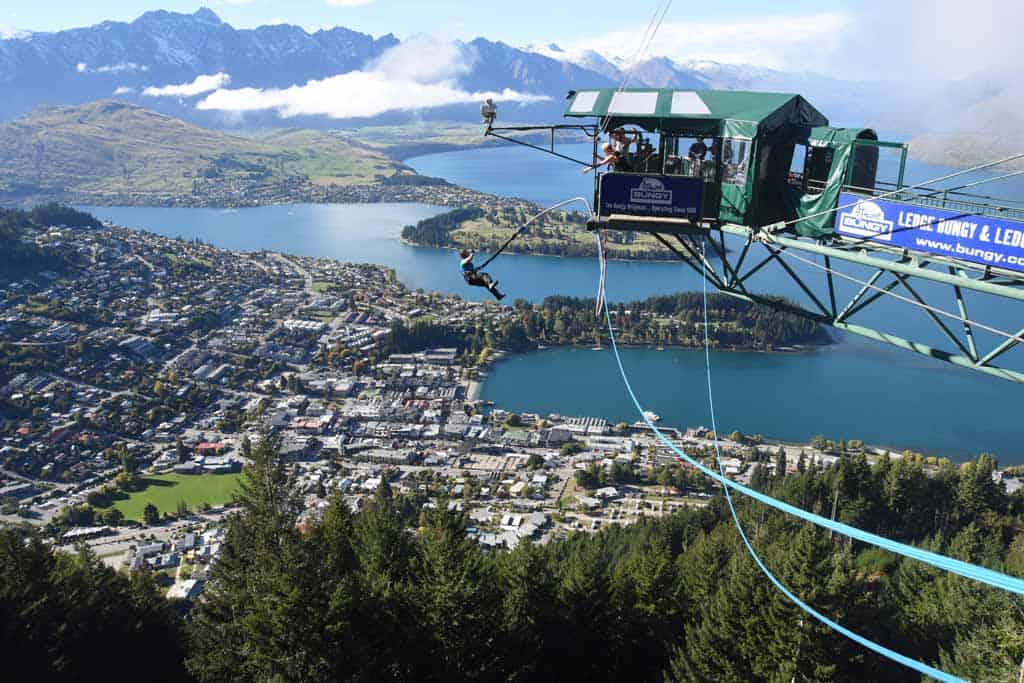 Those are just 7 reasons why we think you should sign up for one the amazing Haka Tours Snow Safaris!
The only thing we didn't like about it was that it was too short! Their 12-day Snow Odyssey trip sounds pretty amazing now.
We honestly loved our time travelling New Zealand's South Island in winter with the guys at Haka, and will definitely do so again next time we hop across the ditch.
DISCLAIMER: We travelled the South Island as guests of Haka Tours as part of an assignment to capture imagery for the adventure gear brand, Kathmandu. All thoughts, opinions and pow turns carved with a group of legends are, as always, our own.