Looking for a scenic route between LA and San Diego? Here's our Los Angeles to San Diego drive itinerary that is sure to keep you busy!
Los Angeles and San Diego are two of the USA's most famous cities.
These popular destinations are conveniently located right next to each other on the Southern California coast. So you can easily combine both Los Angeles and San Diego into one trip!
The best way to get from Los Angeles to San Diego is a road trip.
You can catch a quick flight or travel via public transport. But to really soak in the beauty of Southern California and its incredibly scenic Pacific Coast Highway, consider renting a car and embarking on a Los Angeles to San Diego drive.
This article will outline all the best stops on a Los Angeles to San Diego road trip!
There are some gorgeous beach towns, cities, and state parks to visit in the area, from LA's Santa Monica, Newport Beach, Long Beach, or Huntington Beach to other coastal gems like San Clemente State Beach, Mission San Juan Capistrano, La Jolla Cove, Laguna Beach, and more.
So grab a rental car and hit the road for an unforgettable Los Angeles to San Diego road trip!
The best way to get around is to rent a car and explore on your own! We recommend Rental Cars, which has the largest range of vehicles for the best value on the market.
Explore more of California with this epic 10-day road trip around the state!
How Long Is The Los Angeles To San Diego Road Trip?
If you're taking the shortest route for a Los Angeles to San Diego drive, it's only about 125 miles.
The drive can be done in 2-3 hours without stops, depending on traffic. It's important to note that both Los Angeles and San Diego are notorious for heavy traffic, so always be flexible with driving times!
Though you can drive from Los Angeles to San Diego in a couple of hours, this road trip itinerary can easily be stretched out into a couple of weeks.
We recommend going the coastal route instead of just taking the most direct path. It's much more scenic and makes it easier to just pull over in the various destinations includes in this itinerary.
So it's really up to you how long the road trip takes! You can just make a few stops for photos and arrive in San Diego in a day. Or you can stay overnight in some more upscale locations like Santa Monica or Laguna Beach and spend a few days driving from Los Angeles to San Diego.
You could choose to spend at least one night in every location we mention, which would extend the road trip to over a week.
The beauty of a Los Angeles to San Diego road trip is it's completely flexible! Take your time or hustle along, either way, it's a lovely journey to make.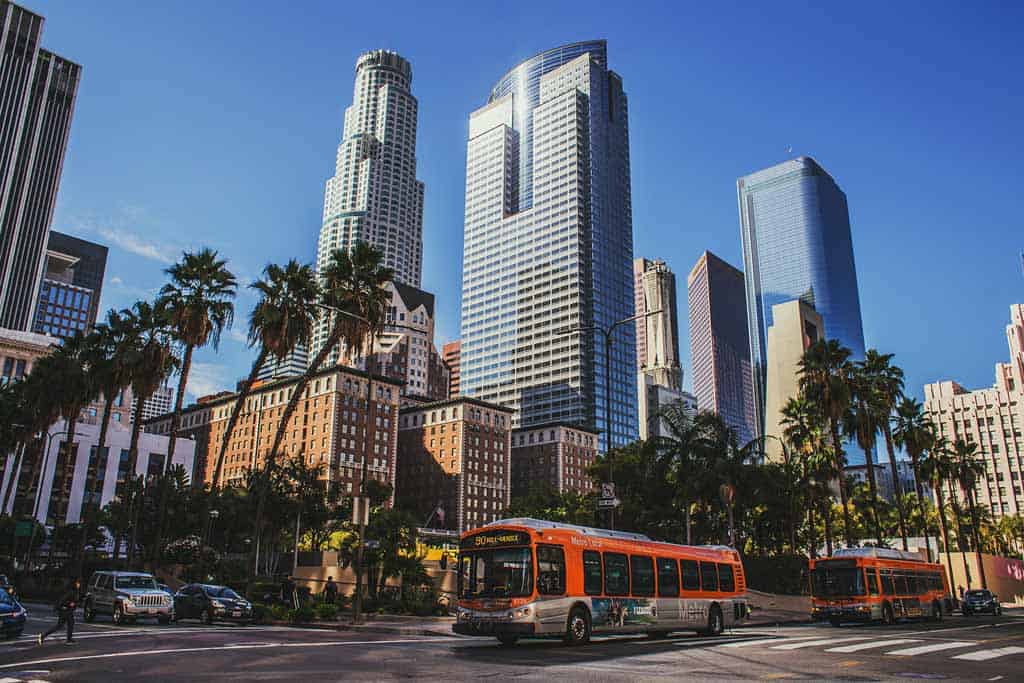 Is The Los Angeles To San Diego Drive Part Of The Pacific Coast Highway?
Yes, this Los Angeles to San Diego drive covers the southern end of the Pacific Coast Highway! This famous road, also known as Highway 1, starts in San Diego and goes all the way up to San Francisco and into Oregon and Washington.
Again, the most direct route from Los Angeles to San Diego is a straight drive that's mostly inland. But if you want to make the most of your road trip, take the Pacific Coast Highway! You'll get to see the most beautiful views and landmarks along the Southern California Coast.
Read next: The Ultimate California Pacific Coast Highway Road Trip Itinerary
Los Angeles To San Diego Drive Itinerary
Let's dive into our itinerary for the most incredible Los Angeles to San Diego drive! There are so many fascinating places to see on the Southern California route, including stunning beaches, surf spots, islands, and more.
San Diego and Los Angeles are two of the most famous cities in Southern California, but there is so much to see and do in between! This road trip will take you along the Pacific Coast Highway and through the highlights of Orange County.
You'll see iconic destinations like the Santa Monica Pier, Huntington Beach Pier, and Dana Point Harbor.
You'll get to lounge on stunning beaches in Laguna Beach, La Jolla, Newport Beach, San Clemente, and more. Get ready for a comprehensive Los Angeles to San Diego drive itinerary that will have you ready to pack up and move to California!
Los Angeles
Before you set off on your San Diego road trip, definitely take some time to explore the famous city of Los Angeles. There are so many things to do here! From the sun-soaked beaches of Santa Monica to the bustling streets of Downtown Los Angeles, this city offers a unique blend of dreams and reality.
Often referred to as the "City of Angels," Los Angeles a vibrant metropolis situated in Southern California that exudes a unique blend of Hollywood glamour, cultural diversity, and boundless opportunities.
As the second-largest city in the United States, Los Angeles is a global hub for entertainment, film production, and the arts. The famous Hollywood sign perched atop the Santa Monica Mountains is a symbol of the city's close association with the entertainment industry, drawing countless aspiring actors and filmmakers to its bustling streets.
Take some time to explore Hollywood and tour iconic studios so you experience the glitz and glamour of Los Angeles!
In addition to its fame in the entertainment world, Los Angeles boasts a rich cultural landscape, with numerous museums, theaters, and art galleries that celebrate the city's diverse heritage and artistic achievements. The city has hiking trails, beaches, and distinct neighborhoods all with something special to offer.
We recommend spending at least 3 days in Los Angeles so you can really soak it all in. But once you've had your fill of Los Angeles, you can embark on your San Diego road trip!
Santa Monica
Distance from Downtown Los Angeles: 15 miles
Driving time: 30 minutes
Before you leave Los Angeles, there are some coastal neighborhoods that you absolutely have to visit! If you're starting your San Diego road trip in downtown Los Angeles, head west and spend some time in Santa Monica!
Santa Monica is a picturesque coastal city situated on the western edge of Los Angeles County. This vibrant Southern California gem effortlessly blends laid-back beachside charm with urban sophistication.
Known for its iconic Santa Monica Pier, the city attracts millions of visitors each year who come to revel in its idyllic beaches, diverse dining options, and world-class shopping experiences.
Santa Monica's thriving arts scene, with its numerous galleries and theaters, further enhances the city's cultural allure. Whether strolling along the palm-lined Ocean Avenue or exploring the bustling Third Street Promenade, Santa Monica never fails to captivate travelers in on the California coast!
Beyond its stunning shoreline, Santa Monica is committed to sustainability and green living, exemplified by its eco-friendly initiatives and bicycle-friendly streets. Bordered by the Santa Monica Mountains, the city offers ample opportunities for outdoor enthusiasts to hike, bike, and explore nature in nearby parks and canyons.
So before you jet off down the California Coast towards San Diego, consider spending a day or two soaking in the sunshine in Santa Monica!
Your next stop is Venice Beach, which is so close to Santa Monica that you can easily explore both places in one day if you're short on time. A great way to optimize your time in this corner of Los Angeles is with a bike tour of Santa Monica and Venice Beach! Combine both gorgeous areas into one active and exciting day of sightseeing.
Venice Beach
Distance from Santa Monica: 2.5 miles
Driving time: 12 minutes
Just south of Santa Monica, Venice Beach is another highlight of the Los Angeles area. A cultural melting pot that exudes a unique and eclectic atmosphere, Venice Beach is famous for its bohemian vibe and artistic spirit.
Strolling along the lively Ocean Front Walk, one encounters a colorful array of street performers, musicians, and artists displaying their talents. The vibrant murals and graffiti art that adorn the walls of buildings contribute to the dynamic and edgy character of Venice Beach.
In addition to its artistic flair, Venice Beach boasts a diverse mix of shops, boutiques, and eateries.
The iconic Muscle Beach, an outdoor gym where bodybuilders and fitness enthusiasts gather to showcase their strength and skills, adds to the area's unique charm. With its laid-back beach culture, Venice Beach continues to captivate and inspire all who experience its one-of-a-kind ambiance.
Apart from its beaches and attractions, Venice Beach also holds deep historical significance. The neighborhood was originally envisioned as a "Venice of America" by tobacco magnate Abbot Kinney in the early 1900s. Though the canals that once resembled the Italian city were eventually filled in, the distinct name and character of Venice Beach endure.
Today, it remains a hub of alternative culture and a place of open-mindedness, attracting people from all walks of life. As the sun sets over the Pacific Ocean, Venice Beach transforms into a hub of nightlife, with beachside bars, live music venues, and cozy cafes providing ample entertainment options.
It's well worth taking a detour from downtown Los Angeles to hang out in Venice Beach for a bit! After enjoying LA highlights like Santa Monica and Venice Beach, continue along the Southern California coastline to another popular destination: Long Beach!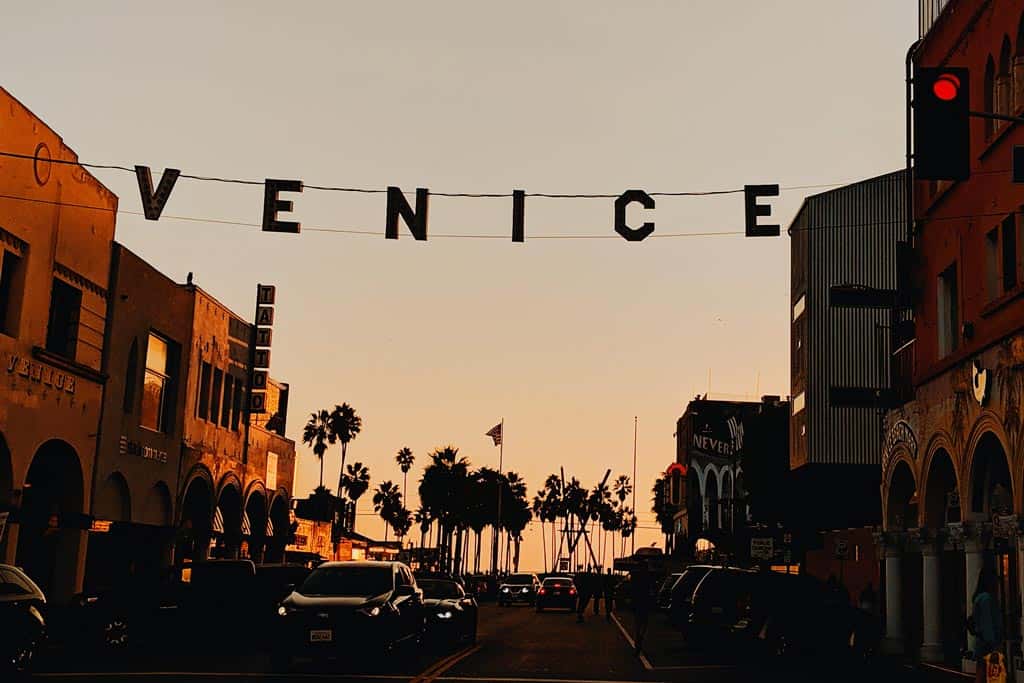 Long Beach
Distance from Venice Beach: 27 miles
Driving time: 1 hour and 10 minutes
Long Beach is your last stop on this San Diego road trip where you are still in the Los Angeles city limits. This bustling city located on the Pacific Coast of Southern California, blends urban excitement and coastal charm.
As one of the largest and most diverse cities in Southern California, Long Beach boasts a rich maritime heritage, exemplified by the historic RMS Queen Mary, a former ocean liner turned hotel and museum. The city's picturesque waterfront, with its marinas and piers, provides an ideal setting for a range of recreational activities, from sailing and kayaking to relaxing on sandy beaches.
Long Beach is also home to the Aquarium of the Pacific, a world-class marine life facility that educates visitors about the wonders of the Pacific Ocean and its diverse inhabitants.
Downtown Long Beach is alive with art galleries, theaters, and trendy restaurants, making it a cultural hotspot that caters to both residents and visitors alike.
Long Beach also serves as a major transportation hub, housing the Port of Long Beach, one of the busiest and most significant ports in the United States. The port plays a vital role in international trade and is a crucial gateway for goods entering and leaving the country.
Beyond its commercial significance, the city also hosts an array of annual events that attract people from all over, such as the Long Beach Grand Prix, an acclaimed street race that showcases high-speed racing through the city's streets.
With its warm climate, vibrant neighborhoods, and lively array of events and festivals, Long Beach offers a dynamic coastal experience that captures the essence of Southern California living.
Read next: The 8 Best Day Trips From Los Angeles
Huntington Beach
Distance from Long Beach: 15 miles
Driving time: 45 minutes
The next stop on your Los Angeles to San Diego Drive is Huntington Beach! This popular destination in Orange County is a must-visit for anyone who loves surfing and soaking in the sun.
Huntington Beach is one of the premier surfing destinations in the world, and certainly one of the best places to surf in Southern California. This vibrant city attracts surf enthusiasts from far and wide who come to ride the waves of the Pacific Ocean.
The iconic Huntington Beach Pier, stretching over 1,800 feet into the sea, offers breathtaking panoramic views and serves as a hub of activity. Visitors can enjoy strolling along the pier, watching skilled surfers catching waves, or trying their hand at fishing.
Additionally, the annual Vans US Open of Surfing, a world-famous surfing competition, further cements the beautiful Huntington Beach as an iconic surf destination.
Beyond the surf, the city's wide sandy beaches provide an inviting backdrop for sunbathing, beach volleyball, and leisurely picnics. With a lively beachfront scene, trendy beach bars, and an abundance of outdoor activities, Huntington Beach exudes a sense of endless summer, drawing in both locals and tourists year-round.
While surfing remains a focal point of the city's culture, Huntington Beach offers much more than just the waves.
The community's commitment to preserving its natural beauty is evident in the Bolsa Chica Ecological Reserve, a protected wetland habitat that provides a haven for various bird species and serves as an essential environmental resource.
Main Street of Huntington Beach is also packed with amenities and attractions, so there is something here for everyone. After enjoying Huntington Beach, continue on your LA to San Diego road trip and check out Newport Beach!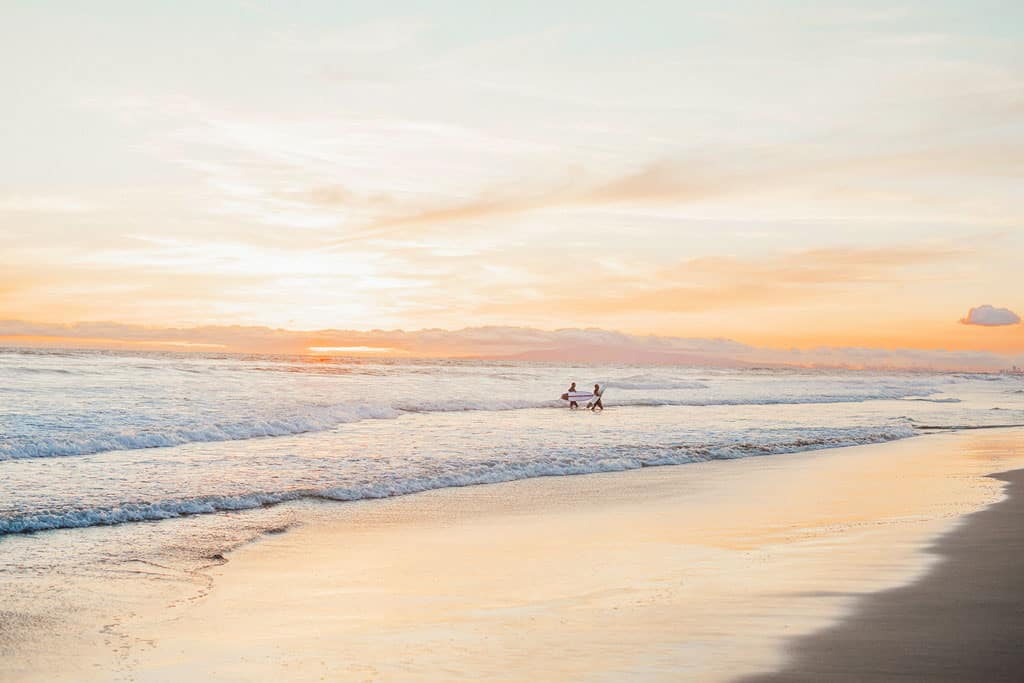 Newport Beach
Distance from Huntington Beach: 5 miles
Driving time: 15 minutes
Newport Beach, a luxurious coastal oasis in Southern California, beckons with its upscale ambiance, stunning waterfront views, and an array of recreational offerings. This picturesque city is well worth a stop on a Los Angeles to San Diego drive!
Newport Beach is renowned for its upscale communities and harbors, providing the perfect setting for a range of water-based activities. The Newport Harbor, with its marinas and yachts, attracts boating enthusiasts and sailing aficionados from around the world. There are also some epic whale-watching cruises that depart Newport Beach daily!
Balboa Island is a popular day trip location near Newport Beach. Take the ferry over to this quaint island for a fun day of sightseeing and shopping.
In addition to its coastal allure, Newport Beach has lots of amazing art galleries and theaters showcasing local and international talent. From luxurious shopping at Fashion Island to breathtaking sunsets over the Pacific Ocean, Newport Beach has elegance and sophistication.
Nature lovers can also visit Newport Back Bay Nature Preserve, a sanctuary for diverse wildlife and an excellent destination for hiking, birdwatching, and kayaking.
For those seeking a glimpse into maritime history, the Newport Harbor Nautical Museum provides fascinating exhibits on the area's seafaring past. The annual Newport Beach Film Festival attracts filmmakers and cinephiles alike, celebrating the world of cinema with an impressive lineup of screenings, events, and parties.
With a near-perfect climate, Newport Beach invites visitors to indulge in outdoor activities, from golfing and biking to sunset cruises along the coast. It's one of the best places to stop along the Pacific Coast Highway during an LA to San Diego road trip!
Crystal Cove State Park
Distance from Newport Beach: 6 miles
Driving time: 20 minutes
Another top destination in Southern California for nature lovers is Crystal Cove State Park. It's one of the largest remaining stretches of natural seashore in Orange County!
Spanning over 3,000 acres, this picturesque park offers a diverse landscape of sandy beaches, rugged cliffs, and lush coastal hills, providing an idyllic escape from the bustling urban life nearby. The park's pristine beaches are perfect for sunbathing, tidepool exploration, and swimming in the azure waters of the Pacific Ocean.
Hiking and biking trails meander through the park, leading visitors through scenic canyons and offering panoramic vistas of the coastline.
Crystal Cove State Park also preserves a historic district featuring vintage seaside cottages, allowing visitors to step back in time and experience the charm of early 20th-century coastal living.
With its rich natural beauty and a touch of history, Crystal Cove State Park provides a serene and rejuvenating retreat for travelers in Orange County.
After enjoying the natural beauty here, continue south down the Pacific Coast Highway! You'll be heading to Laguna Beach next, which is definitely a must-see on any Los Angeles to San Diego itinerary.
Laguna Beach
Distance from Crystal Cove State Park: 5 miles
Driving time: 10 minutes
Laguna Beach is a stunning city in Orange County, California known for its artistic flair, beautiful beaches, and scenic landscapes.
Nestled between the curving Pacific Coast Highway, the sparkling waters of the ocean, and the rugged hills of the Laguna Coast Wilderness Park, the city offers a unique blend of natural beauty and creative inspiration.
Hiking trails abound in the nearby wilderness park, allowing visitors to immerse themselves in the natural splendor of the region. Divers and snorkelers can explore the rich marine life in the tide pools and marine reserves of the Laguna Beach area.
And no visit to Laguna Beach is complete without spending some time on the stunning beaches! Laguna Main Beach and Table Rock Beach are two must-visit spots. Crescent Bay Beach entices visitors with its stunning panoramic views, making it a popular spot for photographers and sunset enthusiasts.
There is a vibrant arts scene in Laguna Beach, with numerous art galleries, studios, and annual art festivals that showcase the talents of local and international artists. Downtown Laguna Beach is filled with boutiques, restaurants, and coffee shops, providing a delightful setting for leisurely strolls and indulging in local culinary delights.
Visitors can also explore the historic charm of the Laguna Beach area through its preserved Craftsman-style architecture and cultural landmarks. The famous beach town of Laguna Beach has a laid-back atmosphere, making it a top destination in Orange County.
Explore more of the Golden State with our list of the 25 best things to do in California!
Dana Point
Distance from Laguna Beach: 8 miles
Driving time: 20 minutes
Just south of Laguna Beach is Dana Point, a charming coastal city in Orange County, California. Less famous than other nearby destinations like Laguna Beach, Huntington Beach, and La Jolla Cove, Dana Point is a hidden gem that makes a great stop on a Los Angeles to San Diego road trip.
With stunning coastal cliffs, sandy shores, and a picturesque harbor, Dana Point offers a plethora of recreational opportunities for visitors and residents alike.
The city's namesake, the Dana Point Harbor, serves as a bustling marina where boating enthusiasts can set sail, and visitors can partake in whale watching excursions, fishing charters, and water sports.
Doheny State Beach, a popular destination within Dana Point, beckons with its expansive sandy shoreline, providing the perfect setting for sunbathing, beach volleyball, and family picnics.
Dana Point also holds a special place in the surfing community, boasting some of the best wave breaks in Southern California, attracting surfers from near and far. With its coastal beauty, laid-back atmosphere, and range of outdoor activities, Dana Point is an inviting coastal destination that captures the hearts of all who visit.
Dana Point also embraces its maritime heritage with its annual Tall Ships Festival, where visitors can step back in time and experience the majesty of historical sailing vessels.
The seaside bluffs and parks of Dana Point offer breathtaking vistas of the ocean, making them popular spots for hiking, picnicking, and observing marine life.
Dana Point's friendly community and numerous cultural events, such as the Dana Point Arts Festival and summer concerts, further contribute to its inviting atmosphere. Dana Point is a great place to visit on any Los Angeles to San Diego road trip!
Mission San Juan Capistrano
Distance from Dana Point: 5 miles
Driving time: 10 minutes
Mission San Juan Capistrano is one of the most historically significant and well-preserved Spanish missions in Southern California. Founded in 1776 by Father Junipero Serra, it was the seventh of the twenty-one California missions established by the Spanish Franciscans during their efforts to colonize and convert Native Americans.
The mission's architecture, with its impressive stone church, ruins of the Great Stone Church, and beautifully landscaped gardens, transports visitors back in time to the era of early California history.
Mission San Juan Capistrano also houses the Serra Chapel, the oldest building in California still in use for its original purpose, making it a revered place of worship and pilgrimage for Catholics. There is also a museum at Mission San Juan Capistrano that exhibits an extensive collection of artifacts and religious relics.
Today, Mission San Juan Capistrano continues to be an active Catholic parish and plays a pivotal role in preserving and sharing the region's cultural history. The mission hosts a variety of events and festivals throughout the year, such as the annual Swallows Day Parade and Mercado, which celebrates the return of the swallows to the mission from their winter migration.
The surrounding grounds also feature a replica of the original Acjachemen village, providing visitors with the opportunity to learn about the indigenous people's way of life before the arrival of the Spanish settlers.
The historical significance of Mission San Juan Capistrano makes it a compelling destination for history enthusiasts, spiritual seekers, and those interested in exploring the rich cultural heritage of California. It's a super cool place to stop on a Los Angeles to San Diego road trip!
Looking to explore more of Southern California? Check out our list of the best road trips from San Diego!
San Clemente
Distance from Mission San Juan Capistrano: 8 miles
Driving time: 10 minutes
Continuing south down the Pacific Coast Highway, San Clemente is your last stop in Orange County before you head into San Diego County.
When you visit San Clemente, you'll get to soak in the classic Mediterranean charm, panoramic ocean views, and gorgeous beaches that Orange County is known for.
From the popular San Clemente Pier, where visitors can enjoy stunning sunsets and fishing opportunities, to the picturesque T-Street Beach, a favorite among surfers, the city's coastline caters to outdoor enthusiasts and beachgoers alike. San Clemente State Beach is one of the state's most popular beaches, and it's a must-see when you visit Sam Clemente!
The Spanish Colonial-style architecture prevalent throughout San Clemente, reminiscent of its founder Ole Hanson's vision, adds to the city's unique character and creates a sense of timeless elegance.
Downtown San Clemente, known as "The Village by the Sea," features a charming array of boutique shops, restaurants, and cafes, making it a delightful destination for visitors seeking a relaxed and inviting atmosphere.
Beyond its breathtaking coastal setting, San Clemente offers a range of recreational activities and cultural attractions. The city is a haven for surfers, boasting some of the best surf breaks on the California Coast, and hosts various surfing competitions throughout the year.
The San Clemente Coastal Trail provides a scenic pathway for walking, jogging, or biking along the coastline, offering glimpses of the vast Pacific Ocean and nearby marine life.
For history enthusiasts, the Casa Romantica Cultural Center and Gardens, once the home of the city's founder, now serves as a cultural hub featuring art exhibitions, concerts, and educational programs.
With its beautiful beaches, thriving arts scene, and a community that embraces its coastal heritage, San Clemente is a famous beach town that is definitely worth visiting on a Los Angeles to San Diego drive.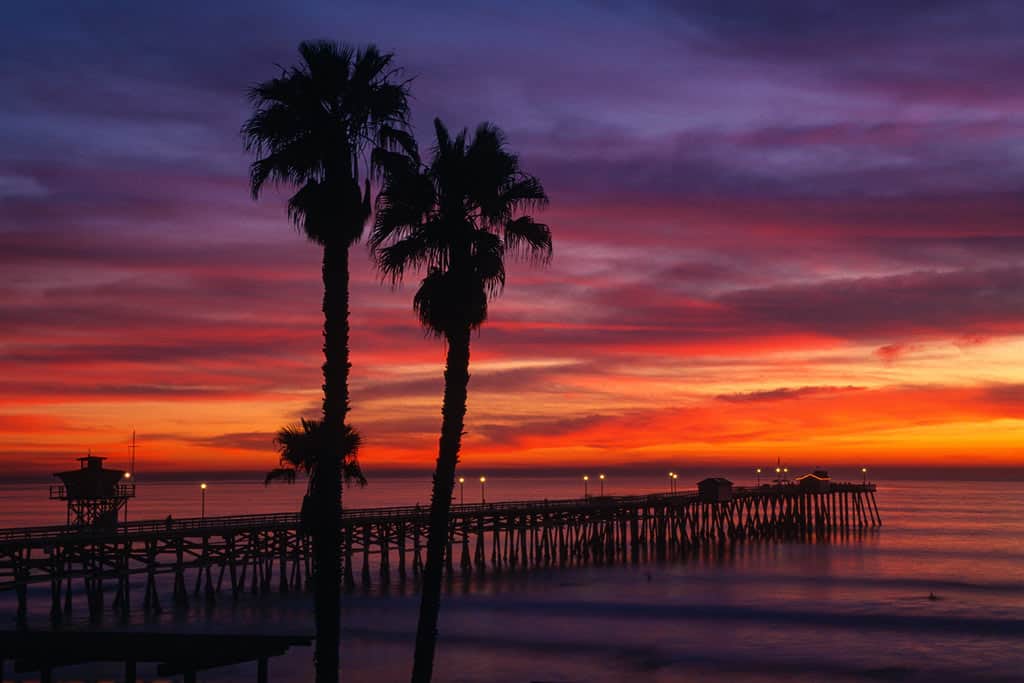 Carlsbad
Distance from San Clemente: 25 miles
Driving time: 30 minutes
Continuing on your Los Angeles to San Diego road trip, Carlsbad is the last stop before you enter the San Diego city limits! Carlsbad offers a delightful blend of family-friendly attractions and natural beauty.
With its idyllic beach town charm, Carlsbad is a popular destination for tourists and locals alike. The city is home to several notable landmarks, including the Beach House Winery, where visitors can indulge in wine tasting amidst the beautiful vineyard landscape.
California is known for its wine, so embrace the chance to go wine tasting at the top-rated Beach House Winery. Or stick to the town center and go on a food tour where you can sample the best of the best in terms of local cuisine!
For families, the epic Legoland California Resort is a must-visit, providing a whimsical world of creativity and entertainment with its thrilling rides, colorful Lego exhibits, and captivating shows.
The nearby Sealife Aquarium complements the experience, offering an immersive journey through underwater wonders with its diverse marine exhibits and interactive touch pools.
From building sandcastles on the sandy shores of Carlsbad's soft sandy beach to exploring the wonders of the sea and enjoying a sip of locally produced wine, Carlsbad promises an unforgettable vacation experience for visitors of all ages.
La Jolla
Distance from Carlsbad: 27 miles
Driving time: 45 minutes
You're nearing the end of your Los Angeles to San Diego drive! Continuing along the California coastline in San Diego County, there are some amazing places to stop before you arrive in downtown San Diego. La Jolla is one of those places!
La Jolla, a picturesque coastal community in northern San Diego, is a jewel of San Diego County that captivates with its beaches, tide pools, sea lions, and local culture.
The coastal village of La Jolla exudes an air of sophistication and charm, with its affluent neighborhoods, luxury resorts, and high-end boutiques. Along the vibrant streets of La Jolla, visitors can explore art galleries, museums, and theaters, celebrating the area's rich cultural scene.
La Jolla Cove, with its crystal-clear waters and abundant marine life, is a haven for snorkelers and scuba divers who come to explore the underwater wonders. Go on a kayak and snorkel tour for an epic day of water sports and sightseeing in La Jolla Cove!
You'll get to see wildlife and nature just by wandering around La Jolla with no plan as well. Seals and sea lions inhabit the La Jolla shores and coves, and you can see them sunbathing around La Jolla Cove all throughout the day.
Whether it's indulging in the luxurious comforts of coastal living, exploring the wonders of marine life, or immersing yourself in the city's cultural offerings, La Jolla is one of the top places to visit in San Diego County.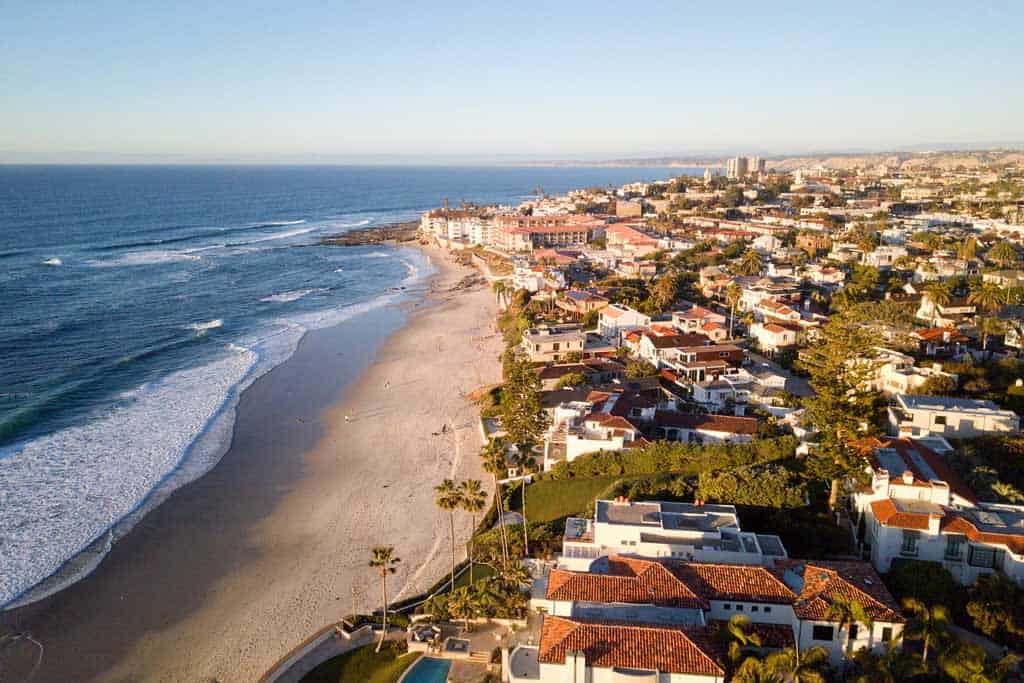 Pacific Beach
Distance from La Jolla: 5 miles
Driving time: 10 minutes
As you get closer to downtown San Diego, make sure you stop and spend some time in Pacific Beach. This is one of the most popular beach neighborhoods in San Diego County!
With its soft, sandy beach and crystal-clear waters, Pacific Beach attracts sun-seekers, surfers, and beach enthusiasts year-round.
The lively boardwalk, known as the "Ocean Front Walk," is a bustling hub of activity, offering a mix of beachside shops, restaurants, and bars. Visitors can enjoy biking or rollerblading along the boardwalk, taking in the stunning ocean views and lively atmosphere.
Pacific Beach is also a surfer's paradise, with its consistent waves and surf breaks that cater to both beginners and seasoned surfers. As the sun sets over the Pacific, the beach town transforms into a lively nightlife destination, with a variety of entertainment options, from trendy nightclubs to beachside bonfires.
Mission Bay Park is a great place to picnic, paddleboard, or take a leisurely boat ride in Pacific Beach as well. So finish off your Los Angeles to San Diego drive with a day or two enjoying Pacific Beach!
Find more amazing things to do in San Diego here!
Downtown San Diego Itinerary
Finally, you've made it to San Diego! Whether you chose to cruise along this LA to San Diego road trip with minimal stops, or you took a few weeks to slow down and spend a few nights in top spots like Santa Monica, Huntington Beach, Long Beach, Laguna Beach, Newport Beach, Dana Point, La Jolla, and more, you're probably ready to spend some time in San Diego!
To finish up this Los Angeles to San Diego road trip itinerary, we'll give you a quick overview of downtown San Diego and the highlights you should include in your stay.
While visiting San Diego, be sure to explore the museums and walking trails of the famous Balboa Park. You can also explore the colorful alleyways of the Spanish Village Arts Center, or head over to the San Diego Botanical Garden.
If you're looking to eat, drink, and enjoy the nightlife, the Gaslamp Quarter is the place to be. San Diego also has a Little Italy neighborhood with some amazing places to eat.
If you're not sure where to begin, book a trolley tour of San Diego so you can learn about the city from a knowledgeable local guide. San Diego is an incredible city, and it's well worth spending at least 3 days here after your Los Angeles to San Diego road trip.
California has lots of amazing road trips to try, whether you're looking for a Northern California road trip, a Pacific Coast Highway road trip, or a Los Angeles to Las Vegas road trip!
DISCLAIMER: Some of the links in this article are affiliate links, which means if you book accommodation, tours or buy a product, we will receive a small commission at no extra cost to you. These commissions help us keep creating more free travel content to help people plan their holidays and adventures. We only recommend the best accommodations, tours and products that ourselves or our fantastic editorial team have personally experienced, and regularly review these. Thanks for your support, kind friend!