Trying to find great activities and attractions in San Diego? Our guide to the best things to do in San Diego is all you need to plan the perfect trip!
Known as America's Finest City, San Diego highlights pristine beaches, world-class family-friendly attractions, renowned museums, and impactful historical monuments among other amazing things to do in California.
The optimal climate in the heart of Southern California appeals to tourists and locals alike as it offers an opportunity to bask in the variety of attractions and activities available in the city. There are plenty of things to do in this reputable California city if you know where to look.
Are you searching for what to do in San Diego? We're here to announce the best San Diego attractions that will widen your eyes in awe, appeal to your more refined senses, and draw you in for a thrilling adventure that you'll think back on often.
Read Next: Planning a long weekend in San Diego? Check out our post on planning the perfect 3 day San Diego itinerary!
Starting at the extensive San Diego Zoo, which hosts over 4,500 rare and endangered species, and ending at the Torrey Pines Natural Reserve, designated as a National Natural Landmark in 1977, there are many cool things to see when you explore San Diego.
And we'll guide you to experience the best things to do in San Diego during your visit for an optimal and unforgettable adventure.
The Best Things to Do in San Diego
Don't stress about what to do in San Diego during your visit. San Diego is home to an array of museums, parks, galleries, and more, and we've simplified the list to the top 21 things to do during your visit!
For some of the more expensive activities in San Diego county, consider getting the CityPASS. This pass can help you save 42% on the entry fees for a few of San Diego's top attractions.
1) Traverse The Extensive San Diego Zoo
Skip the lines with this admission ticket to the famously extensive San Diego Zoo!
Home to over 4,500 rare and endangered animals like the Platypus and the Amur Leopard, the world-famous San Diego Zoo hosts a variety of exhibits that guests can traverse as they learn about these endangered species.
Exhibits like the Polar Bear Plunge and the Elephant Odyssey are but a few of the exciting exhibits where many have learned of these impressive species.
Explore nature's museum at the San Diego Zoo while walking through each animal's natural untamed habitat. Venture into the wild at the San Diego Zoo Safari Park for an up-close and personal look at nature's finest predators.
Address: 2920 Zoo Drive, San Diego CA
Hours: Open 9am – 9pm daily
Cost: $65 (save money with the San Diego CityPASS!)
2) Unwind At Sunset Cliffs Natural Park
Unwind at Sunset Cliffs Natural Park. Overlooking the Pacific Ocean, these natural cliffs offer unrivaled coastal views – don't be concerned if you see the occasional rebel cliff diver!
One of many popular things to do in San Diego, this 68-acre resource-based park stretches along the Pacific Ocean to border the western edge of Point Loma. In addition, a 50-acre hillside section is designated as a species conservation area and links to the 640-acre Point Loma Ecological Reserve.
Visiting Sunset Cliffs Natural Park costs no money at all! So settle down for the ultimate unwind with a stunning 1.4-mile clifftop path to travel. Simmer down to bask in the sunset while gazing out across the ocean. Watch gray whales embark on their annual migration from December to April.
For the ultimate rewind, we highly recommend sitting down and basking in the views at Sunset Cliffs Natural Park.
3) Visit The San Diego Natural History Museum
A one-of-a-kind museum, the San Diego Natural History Museum located in Balboa Park was founded in 1874. This impressive museum is the second oldest scientific institution west of the Mississippi and the oldest museum in California.
With this San Diego Natural History Museum Ticket, guests can observe the showcased regional natural history and unique biodiversity of Southern California and Baja California. 
Featuring four full floors of exhibitions, including a 3D theater, the San Diego Natural History Museum boasts San Diego's only Foucault pendulum, displaying the rotation of the Earth.
Discover hidden gems and observe scientists work in this flagship institution of San Diego!
Address: 1788 El Prado, San Diego CA
Hours: 10am – 5pm daily (closes at 10pm on Fridays)
Cost: $22
For more ideas on the USA's West Coast, check out this list of the best things to do in Portland, Oregon.
4) Take The Kids To Waterfront Park
A three-minute walk from the Maritime Museum of San Diego, Waterfront Park is a great place to take the kids.
Featuring spray fountains, grassy spreads, and plenty of play equipment for children, this park is an excellent choice for one of many family-friendly San Diego activities.
The park is also free to enter, and is a smoke-free and alcohol-free park featuring waterfront views.
Many public and private events are held at this popular San Diego location. Events like farmer's markets, festivals, and family recreational activities are all held at Waterfront Park due to its magnetic waterfront views and prime downtown location.
Explore this family-friendly option while visiting San Diego – with or without the kids!
Address: 1600 Pacific Highway
Hours: 6am – 10pm daily
5) Explore the Gaslamp Quarter By Scooter
On your San Diego trip we highly recommend visiting the cultural hub of the city. Downtown San Diego encompasses the historic Gaslamp Quarter, a lively neighborhood known for its nightlife, and performing arts venues like the grand Civic Theater.
Explore the area by scooter on this Downtown and Gaslamp Loop Scooter Tour! Thanks to the scooter's talking GPS, there's no need to worry about navigation.
Instead, follow the GPS's guidance as it guides you on a multicultural journey through Downtown and the Gaslamp Quarter, teeming with dining options, unique shops, and a refreshing atmosphere.
Get ready to explore the heart of San Diego California!
6) Kayak La Jolla Cove
One of many popular attractions in San Diego, explore the La Jolla Ecological Reserve and Seven Sea Caves on this guided kayak tour!
Part of a protecting marine reserve, La Jolla Cove is a small cove with an attached beach surrounded by tide pools and impressive cliffs. This picturesque location makes it a popular spot for scuba divers, snorkelers, swimmers, and kayakers.
During the kayak tour, observe sea lions sunbathing on warm rocks as dolphins, whales, and turtles swim lazily through the pleasing blue waters.
If you time your visit to arrive in La Jolla in the summer or fall months, you could have the opportunity to see harmless leopard sharks swim past.
The La Jolla shores are truly a gem of the San Diego coastline.
7) Solve Clues In An Interactive Scavenger Hunt Of Balboa Park
Solve clues and complete challenges in an interactive scavenger hunt of Balboa Park – a 1,200-acre historic urban cultural park renamed after Spanish explorer Núñez de Balboa.
Declared a National Historic Landmark and a National Historic Landmark District in 1977, Balboa Park is listed on the National Register of Historic Places and is one of the Great Places in America.
During this interactive scavenger hunt, players will be able to turn Balboa Park into a giant game board!
Guided by your smartphone, the scavenger hunt will lead players through overlooked gems of the city and learn local California history while solving clues and challenges along the way.
Players will start the scavenger hunt at the Veterans Museum, where they will be able to absorb the impressive art and awe-inspiring architecture before starting this interactive experience that will take players through the hidden gems of Balboa Park.
Heading north next? Check out our guide to the Best Things To Do In San Francisco!
8) Hit the Beach
The San Diego region is known for its gorgeous beaches. Definitely one of the best San Diego things to do is spend plenty of time soaking in the sunshine and taking a dip in the ocean.
La Jolla is one of the more rugged and beautiful beaches. We've already mentioned that one, but definitely take the time to visit the incredible La Jolla shores if you haven't already.
Pacific Beach is just south of La Jolla and is another popular beach. Pacific Beach is a laid-back neighborhood with a lively boardwalk and lots of local surfers out paddling in the waves.
Ocean Beach is another long stretch of golden sand with plenty of attractions nearby, as is Solana Beach. These two spots have lots of dining and nightlife opportunities nearby.
Children's Pool Beach is another unique spot, though the name can be misleading. Children's Pool Beach is protected by a seawall and which was originally built to create a child-friendly swimming environment.
But the beach has become popular among harbor seals, so it's not actually the safest place for kids to splash around. However, it is beautiful and worth checking out!
9) Sightsee San Diego Harbor On Cruise
Sail the San Diego Harbor in style on this Harbor Sightseeing Cruise!
A natural harbor and deepwater port, the San Diego Harbor is located near the United States and Mexico border.
With the option of a one-hour or two-hour cruise, guests will get to see the San Diego skyline from a yacht while soaking in the sights of the U.S.S. Midway Aircraft Carrier, the U.S. Navy Surface Fleet, the San Diego Coronado Bridge, and the Naval Amphibious Base Coronado.
Other inclusive sights include historic ships in the Maritime Museum and North Island Naval Air Station, and of course San Diego's skyline.
Keep your ears perked! The professional crew enriches the cruise with informative commentary concerning the local and military history and other points of interest during the voyage of San Diego Bay.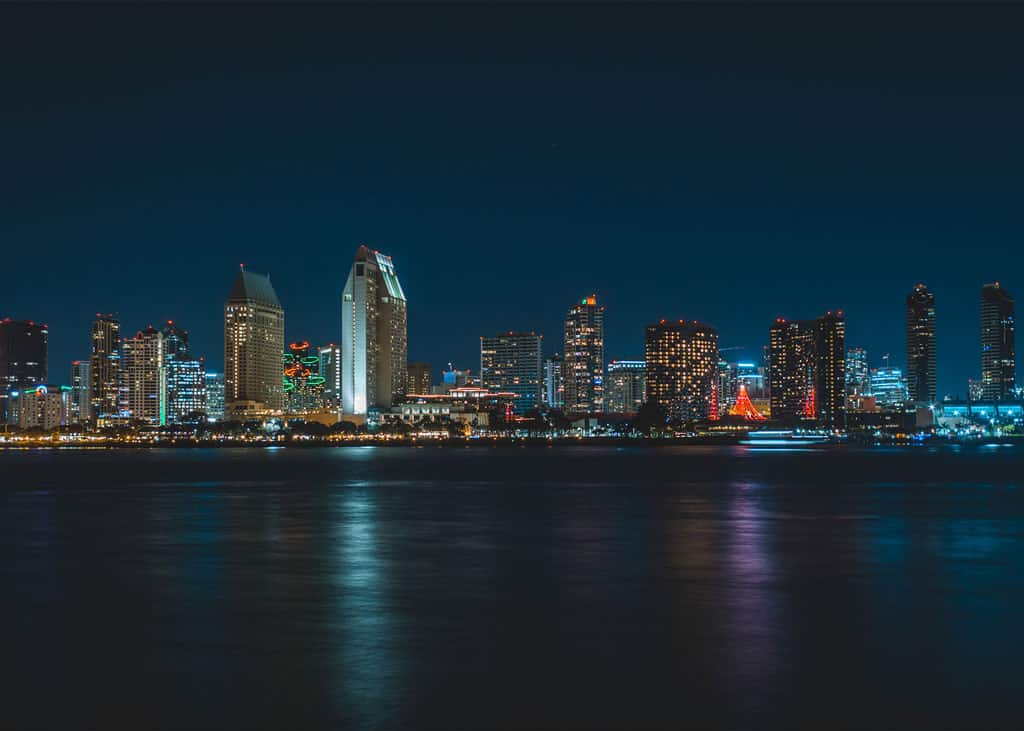 10) Spike Your Adrenaline At Belmont Park
With this Belmont Park Ride & Play Pass, guests will be able to experience a rejuvenating thrill at a historic amusement park developed by super magnate John D. Spreckels. Located at Surfrider Square in the Mission Bay area, Belmont Park first opened on July 4, 1925, initially termed the Mission Beach Amusement Center.
A popular San Diego attraction, achieve unlimited access to thrilling rides settled in line with the beach, making for salty scenic views as you twist, flip, turn, and speed on Belmont Park's exciting rides.
A famous ride at Belmont Park called The Giant Dipper is a classic wooden roller coaster that dates back to 1925 – every creak or groan as you ride the wooden coaster only manages to invigorate the adrenaline rush!
11) Walk The Footsteps Of Early European Settlers At Presidio Park
Presidio Park is a historic city park in Old Town San Diego. Here, essential figures Gaspar de Portola and Junipero Serra designed and constructed a historic fort and church in 1769- the San Diego Presidio and the Mission San Diego de Alcala.
Designated a National Historic Landmark in 1960, Presidio Park features historical exhibits such as the Junipero Serra Museum.
At this Spanish Revival-designed museum, visitors can learn the history of early settlers, explorers, and the Kumeyaay people through collections of displayed art, clothing, furniture, and more.
The park is a highlight of Old Town San Diego, which is rich in history and unique attractions.
Address: 2811 Jackson St, San Diego CA
Hours: 6am – 10pm
Cost: Free
READ NEXT: Check out these great things to do in Los Angeles!
12) Absorb Creativity At The San Diego Museum Of Art
San Diego has a widely desirable creative art scene with several reputable art galleries. One of the more renowned ones is the San Diego Museum Of Art.
At this fine arts museum, a broad collection of Spanish and Italian art features the local history and impact art has had in San Diego. The region's oldest and largest art museum, the San Diego Museum Of Art, has nearly half a million visitors yearly.
Soak in the collections from 5000 BC to 2012 AD with the San Diego Museum Of Art's impressive art collection as you walk the museum with interior motifs influenced by the Santa Cruz Hospital of Toledo, Spain.
The nationally renowned art collection is guaranteed to impress! Check the website for any special exhibitions when you're in town.
Address: 1450 El Prado
Hours: 10am – 5pm, 12pm – 5pm on Sundays, closed Wednesdays
Cost: $20
13) Surf, Sunbathe, And Play Volleyball At Mission Beach
A laid-back neighborhood, Mission Beach achieved its namesake and popularity by attracting crowds of sunbathers, volleyball players, and surfers.
One of the reputable San Diego beaches, Mission Beach features a two-mile oceanfront paved boardwalk around Mission Bay are often sprinkled with rollerbladers, bikers, or walkers. It is also a popular spot for water sports, scuba diving, sport fishing, whale watching, and boogie boarding.
This popular active spot is also home to an alluring nightlife scene, with plenty of bars and restaurants with appealing beachfront views.
14) See The Home Of The Padres At Petco Park
In downtown San Diego, Petco Park is a baseball stadium and home ballpark of Major League Baseball's San Diego Padres. Catch a game, or book a guided tour of Petco Park
On a behind-the-scenes tour, you can check out the press box, commonly referred to as writer's row.
Then, learn about the history of Petco Park by walking through the Padres Hall of Fame presented by Motorola and the Breitbard Hall of Fame, which honors athletes in San Diego and all native San Diegans who have achieved athletic fame.
Tour America's #1 ballpark with this guided tour of Petco Park, Home of the Padres!
15) Visit Point Loma Lighthouse and Cabrillo National Monument
This iconic spot commemorates the history of exploration in San Diego California. Cabrillo National Monument commemorates the landing of Juan Rodríguez Cabrillo at San Diego Bay.
Juan Rodríguez Cabrillo climbed onto shore in 1542, the official first European to step foot on the West Coast of the United States.
You can travel to Point Loma Lighthouse on a unique Electric GoCar Esport Rental Tour. This open-air adventure lacks the loudness of a motor, thanks to a soundless electric motor car. Travel San Diego the green and exhilarating way at a top speed of 75 miles an hour!
Begin the tour at Little Italy, then travel to San Diego's Old Town. Experience a wild combination of western and Mexican culture before driving to Point Loma near Liberty Station and Shelter Island.
Then stop at Cabrillo National Monument and the lighthouse at Point Loma ecological preserve.
End the tour at the romantically scenic Sunset Cliffs, where you can end the tour at the Ocean Beach community surrounded by privately-owned shops and little to no chain companies.
Read next: The Ultimate 3 Days in San Francisco Itinerary.
16) USS Midway Museum
Another one of the best things to do in San Diego is visit a historic naval aircraft carrier museum at the Naval Pier in downtown San Diego at the USS Midway Museum.
The USS Midway Museum houses close to 10 acres of exhibits, over 30 restored aircraft, and displays that tell history.
During your tour of this museum, climb aboard real cockpits, peer through restored WWII-era aircraft, and witness a powerful historical production in the Battle of Midway Theater.
There are family-oriented activities available throughout the museum. You can find more detail about the activities and events on the official website.
Address: 910 North Harbor Drive
Hours: 10am – 4pm daily
Cost: $26
17) Taste Little Italy's Famous Treats On A Food Walking Tour
Foodies will love San Diego and its multicultural cuisine. Get a taste of Little Italy's renowned treats on this food walking tour!
One of San Diego's top attractions, Little Italy was a hub spot for Italian fishermen and their families in the 1920s. Initially known as the "tuna capital" due to the city's primary tuna industry, it encouraged over 6,000 immigrant families to move to San Diego to partake.
Little Italy is known worldwide for its pedestrian-friendly neighborhood that boasts brewpubs, restaurants, indie music venues, and weekly Little Italy Mercato Farmers' Market.
This guided food walking tour takes guests through the bustling neighborhood of Little Italy, with the first stop resting at Sorrento Ristorante & Pizzeria – a lively family-owned Italian restaurant that brags traditional homemade dishes like Pappardelle Bolognese and calamari.
The walking food tour makes its last stop at Pappalecco, a traditional Italian bistro where guests can enjoy house-made gelato in an array of available flavors.
18) Put Your Thinking Cap On. It's Time To Visit The Fleet Science Center
Located in Balboa Park, the Fleet Science Center is a science museum and planetarium with a mission to connect people to the power of science!
With over 100 interactive exhibits to activate one's curiosity, the Fleet Science Center hosts school field trips, educational camps, and science workshops for all the young brainiacs inspired to learn.
Take part in the IMAX film adventure showcasing the planet and beyond in the Eugene Heikoff and Marilyn Jacobs Heikoff Giant Dome Theater. Interact with various educational games and books after snacking on pizzas, salads, sandwiches, and other available treat selections at the Fleet Science Center.
Address: 1875 El Prado
Hours: 10am – 5pm daily
Cost: $24.95
Read Next: Planning to visit LA? Be sure to check out our awesome 3 days in Los Angeles itinerary!
19) Shop At Seaport Village
Get ready to carry shopping bags after a shopping spree at Seaport Village!
This waterfront shopping and dining complex is settled adjacent to San Diego Bay in downtown San Diego.
With a selection of more than 70 shops, eateries, and galleries, Seaport Village is understandably a popular shopping spot. The waterfront views make the shopping experience even more worthwhile.
20) Tour the San Diego Air and Space Museum
Those interested in airplanes and space should definitely include this museum in their San Diego itinerary. The San Diego Air Space Museum is located in Balboa Park and is an affiliate of the Smithsonian Museum institutions.
Visit this museum to check out all the historic aircraft and spacecrafts from the history of air and space exploration. There are replicas and artifacts from all over the world.
The museum also has flight simulators and lots of cool exhibitions.
Address: 2001 Pan American Plaza
Hours: 10am – 4:30pm
Cost: $23 (get a discount when you book online in advance)
21) Hike The Torrey Pines State Natural Reserve
A 2,000-acre coastal state park reserve, the Torrey Pines Natural Reserve remains one of the wildest stretches of land found on the Southern California coast.
Designated as a National Natural Landmark in 1977, the Torrey Pines Natural Reserve overlooks Torrey Pines State Beach along with a lagoon that birdwatchers often come to observe migrating seabirds.
In addition, during whale migration, several whale species can be seen from the Torrey Pines Natural Reserve cliffs.
There are eight hiking trails available to hikers that all vary in scenery, difficulty, and length. The top three trails are Razor Point Trail, Beach Trail, and Guy Fleming Trail – each boasting stunning scenery for a rewarding hike of San Diego's stunning landscape.
Where to Stay in San Diego
Now that you have plenty of options for activities to experience during your visit, it's time to figure out where you'll stay!
There are lots of great accommodation options in the San Diego area for travelers of all budgets.
Best Hostel in San Diego
Get settled in the heart of Gaslamp Quarter in the classiest hostel San Diego has to offer! At HI San Diego, guests are welcomed to a freshly renovated urban hostel with a prime location to experience the heart of the city.
Best Mid-Range Hotel in San Diego
Located right in downtown, this Motel6 is a 100% smoke-free facility. Access to prime spots like the Fashion Valley Shopping Mall is only a five minutes drive.
In addition, guests can access free Wi-Fi, laundry facilities, and a 40-inch flat-screen TV with over 60 channels.
Best Luxury Hotel in San Diego
A 5-star Mediterranean-inspired resort, the Fairmont Grand Del Mar boasts four outdoor pools, six restaurants, a spa, a golf course, a lobby bar, and tennis courts.
So soak in the European-style tub, relax into feather-down pillows while sipping fine wine and savoring French cuisine at this one-of-a-kind resort.
DISCLAIMER: Some of the links in this article are affiliate links, which means if you book accommodation, tours or buy a product, we will receive a small commission at no extra cost to you. These commissions help us keep creating more free travel content to help people plan their holidays and adventures. We only recommend the best accommodations, tours and products, and regularly review these. Thanks for your support, kind friend!