Trying to find great activities and attractions in San Diego? Our San Diego itinerary is all you need to plan the perfect trip!
It's no wonder San Diego is known as America's Finest City and one of the top destinations in any California itinerary.
The pristine beaches, world-class family-friendly attractions, renowned museums, and impactful historical monuments are all impressive features that make many desire to explore this fun city.
Plus, the optimal climate appeals to everyone. The mild, sunny weather offers an opportunity to bask in the variety of outdoor activities available in the city without suffering frigid cold or unbearable heat temperatures.
There are plenty of things to do in this reputable Southern California city if you know where to look.
Are you searching for what to do for three days in San Diego? Are you wondering how to spend a weekend in San Diego?
We're here to announce the best San Diego attractions that will widen your eyes in awe, appeal to your more refined senses, and draw you in for a thrilling adventure with the perfect three-day San Diego itinerary.
3 days in San Diego is plenty of time to see all the best attractions, from Balboa Park to La Jolla shores to Little Italy, and beyond.
Read Next: Looking for more activities to add to your itinerary? Check out our post on all the best things to do in San Diego!
How to Spend 3 Days in San Diego Itinerary
The perfect destination for various outdoor and indoor activities, we've created the perfect 3 days in San Diego itinerary for a productive and stimulating time exploring the city. We'll include the best of San Diego's highlights, from museums to outdoor activities.
Prepare yourself for an array of activities, from kayaking in La Jolla to hitting up Ocean Beach or shopping and sightseeing.
To save money on some of San Diego's more expensive attractions, consider getting the CityPASS. It will get you discounted entry to the zoo, museums, Old Town tours, and numerous other attractions.
Day 1 in San Diego
On the first day of your San Diego itinerary, start with a visit to Balboa Park and all it has to offer. Explore the museums and the zoo, and end the day by watching a classic Cali sunset at the cliffs.
Day 1 Morning – Explore Balboa Park and the San Diego Art Museum
Very few people have visited San Diego without stopping in Balboa Park. Open 24 hours a day, every day, Balboa Park is an urban park with history, attractions, and nature.
Start the day with some peaceful strolls along the walking paths and through the gardens.
Balboa Park is a cultural oasis with 1,200 acres, so there is no shortage of things to do here.
Also make sure you stop by the San Diego Museum of Art, a world-renowned fine arts museum.
Seeking to inspire, educate, and cultivate curiosity, the San Diego Museum of Art is the region's oldest and largest art museum hosting nearly half a million visitors yearly.
The broad collection of Spanish and Italian art hosted at this respected museum features the local history to showcase the impact art has bestowed upon the magnificent city of San Diego.
Spend your first morning in San Diego exploring Balboa Park and enjoying this fascinating art museum.
Art Museum Opening Hours: Closed Wednesdays, 10 AM-5 PM (Monday-Tuesday, Thursday-Saturday), 12 PM-5 PM (Sunday)
Admission: Free
Address: 1450 El Prado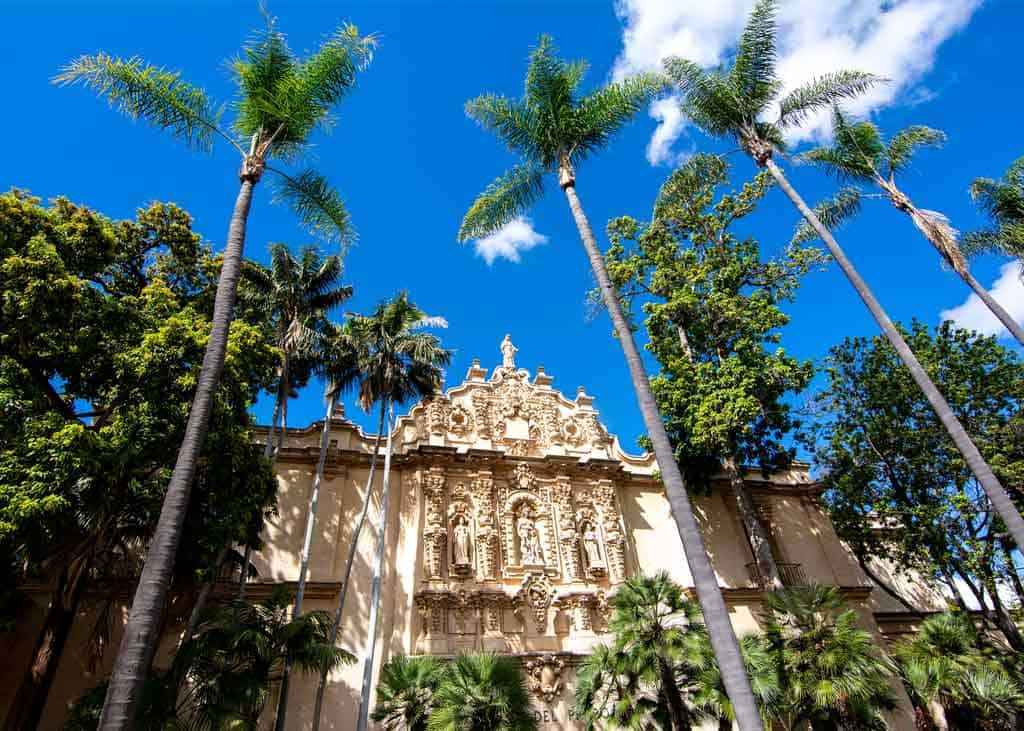 Day 1 Afternoon – Traverse The Extensive San Diego Zoo
While exploring Balboa Park, make some time to visit this world-famous zoo.
Most travelers to San Diego will agree that the San Diego Zoo is the best zoo they've ever had the pleasure of exploring. So, skip the lines with this admission ticket and get ready to have a blast.
Over 100 acres in size, this famous zoo is known for its impressive and lush naturalistic habitats that are often combined with extraordinary animal encounters.
Home to over 4,500 rare and endangered animals like the Platypus and the Amur Leopard, the world-famous San Diego Zoo hosts a variety of exhibits that guests can traverse as they learn about these endangered species and how conservation efforts are trying to save these unique species.
The Polar Bear Plunge and the Elephant Odyssey are but a few exciting exhibits where many can be educated on these enigmatic species' impressive qualities and characteristics.
If you're feeling daring, we recommend venturing over to the San Diego Zoo Safari Park for an up-close and personal look at nature's most refined predators and prey.
Opening Hours: 9 AM-9 PM
Admission: $65/Adult, $55/Child, Free/Infants
Address: 2920 Zoo Drive
Also check out our guide to the best activities in San Francisco, if you are exploring more of Cali!
Day 1 Evening – Unwind At Sunset Cliffs Natural Park
To end your first day in San Diego, take a trip to Sunset Cliffs Natural Park. Bring a towel or blanket to rest and unwind overlooking the Pacific Ocean.
This natural cliff area offers unparalleled views of the California coast and is known for its amazing sunsets. Unfortunately, the pictures never do justice, so make sure to bask in the real thing while you can!
Sunset Cliffs National Park is among many popular things in San Diego. The 68-acre resource-based park stretches along the Pacific Ocean to border the western edge of Point Loma.
Packed onto this extensive outdoor location is a 50-acre hillside section designated as a species conservation area and links to the 640-acre Point Loma Ecological Reserve.
We highly recommend stopping by Sunset Cliffs Natural Park for a free activity in San Diego. First, settle down for the ultimate unwind with a stunning 1.4-mile clifftop path to walk as you breathe the fresh air and great vibes.
Then, simmer down to bask in the famous San Diego sunset while gazing across the ocean. Visiting San Diego anywhere from December to April will give you the chance to see gray whales embark on their annual migration.
If you have time, you could even head further south down the peninsula and check out Point Loma Lighthouse, the Point Loma tide pools, or the Cabrillo National Monument.
Opening Hours: Open 24 Hours
Admission: Free
Address: Ladera Street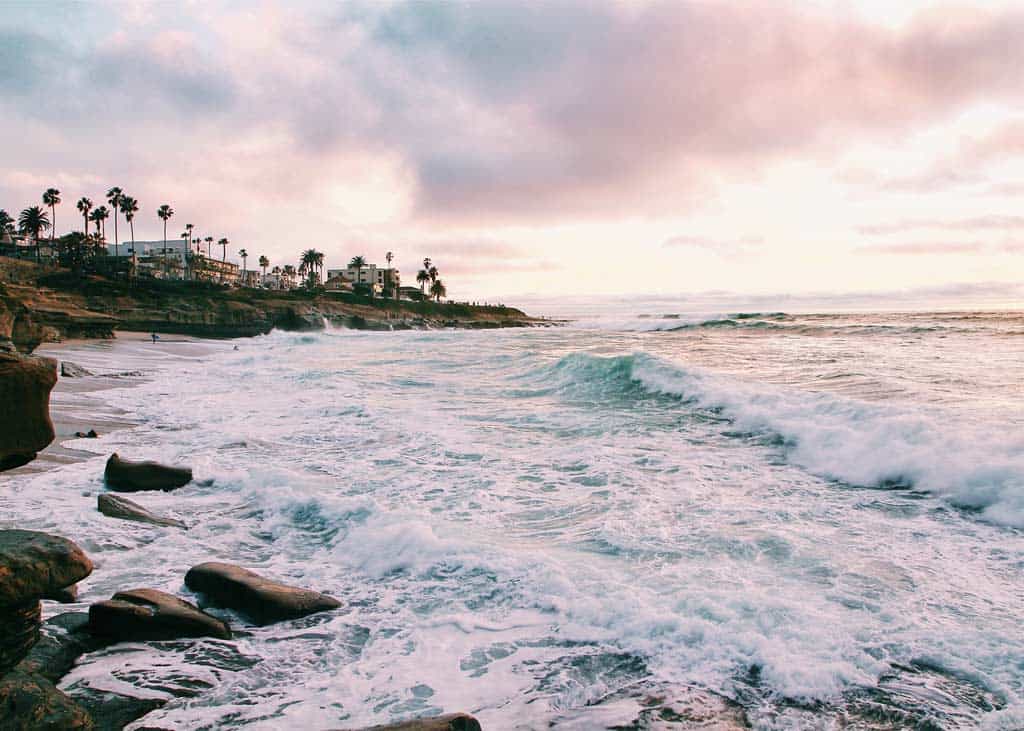 Day 2 in San Diego
Start day two of your San Diego itinerary by touring the longest-serving aircraft carrier of the 20th century at the USS Midway Museum.
Next, join a narrated tour of San Diego Old Town, the first European settlement in California. Finally, end the day with world-famous Little Italy's best food and drinks!
Read Next: If you have more time in the area be sure to check out these great day trips from San Diego!
Day 2 Morning – Tour The USS Midway Museum
The USS Midway served as the longest-serving aircraft carrier of the 20th century from 1945 to 1992.
Approximately 200,000 sailors served on this enormous aircraft carrier known for its naval aviation breakthroughs and humanitarian missions. So it's no wonder the USS Midway Museum is a worthy stop during your visit to San Diego!
Located at the Naval Pier in downtown San Diego, the USS Midway Museum houses close to 10 acres of exhibits, over 30 restored aircraft, and displays that tell history.
During your tour of this San Diego museum, climb aboard real cockpits, peer through restored WWII-era aircraft, and witness a powerful historical production in the Battle of Midway Theater.
There are family-oriented activities available throughout the museum, such as flight simulators and short films. Ready to learn some history?
A heads up: a lot of walking, bending, and climbing is involved when visiting the USS Midway Museum. The WWII-era U.S. Navy ship has low ceilings, cramped hallways, and a lot of narrow stairways that can be difficult for some people to navigate.
Thankfully, several elevators are available, and about 60% of the exhibits are wheelchair accessible.
Opening Hours: 10 AM-5 PM Daily
Admission: $25/Adult, $18/Child, $18/Veterans
Address: 910 N Harbor Dr
Heading north along the Pacific coast? Check out this list of the best things to do in Portland, Oregon!
Day 2 Afternoon – Join A Narrated Tour Of Old Town San Diego
Visit the place where California began! Settle down for a narrated tour of Old Town San Diego, the first European settlement in California!
A hub spot for history, Old Town homes acres of Mexican heritage, colorful shops and restaurants, and historical sites waiting to be explored. The birthplace of California's legacy, Old Town commemorates the early days of San Diego county.
Get ready to experience Old Town's vibrancy on the Hop-On Hop-Off Tour of Old Town San Diego. This tour makes it easy to "hop on and hop off" at any of the tour's 12 boarding points.
In addition, guests will have the opportunity to experience over 100 interesting tour points in Coronado Island and San Diego all at their own pace.
We recommend beginning the tour at Old Town San Diego State Historical Park, where guests will be able to soak in the sights of original adobe homes and artifacts preserved from the earliest Mexican settlements.
The next stop is Seaport Village, where refreshments, shopping, and entertainment are waiting. And it doesn't stop there. This tour keeps chugging along to satiate bubbling curiosity and the quest for knowledge of America's Finest City!
Opening Hours: 10 AM-5 PM Daily
Admission: $10/Adult. $8/Seniors/Military, Child
Address: 4010 Twiggs St
Day 2 Evening – Taste Little Italy's Famous Treats On A Food Walking Tour
If you want to taste the best food and drink while you explore San Diego, Little Italy's renowned treats on this food walking tour are the way to go!
One of San Diego's top attractions, Little Italy, was a hub spot for Italian fishermen and their families in the 1920s.
Initially known as the "tuna capital" due to the city's primary tuna industry, it encouraged over 6,000 immigrant families to move to San Diego to partake.
Little Italy is known worldwide for its pedestrian-friendly neighborhood that boasts brewpubs, restaurants, indie music venues, and weekly Little Italy Mercato Farmer's Market.
This guided food walking tour takes guests through the bustling neighborhood of Little Italy, with the first stop resting at Sorrento Ristorante & Pizzeria.
This lively family-owned Italian restaurant brags traditional homemade dishes like Pappardelle Bolognese and calamari. The walking food tour makes its last stop at Pappalecco, a traditional Italian bistro where guests can enjoy house-made gelato in an array of available flavors.
Get a glimpse of restaurants and bars that have become famous due to their ties to gangsters and members of the Rat Pack. But be careful, or you could end up sleeping with the fishes!
Day 3 in San Diego
Get ready for a fun last day of exploring San Diego! On the last day of your San Diego itinerary begin the day kayaking at a world-famous dive site in La Jolla.
Next, sightsee San Diego Harbor aboard a yacht as you intake fun history facts. Finally, end your last day in San Diego, splurging at Seaport Village or watching the sunset on the beach. 
Read Next: With a little more time you can take some amazing road trips from San Diego!
Day 3 Morning – Kayak La Jolla Cove
A world-famous dive site, La Jolla Cove is an ecological preserve and San Diego's top swimming, snorkeling, kayaking, and diving spot.
The calm waters make for a perfect outdoor day spent in the water and the sun. Explore La Jolla's Ecological Reserve and Seven Sea Caves on this guided kayak tour to taste this favored outdoor San Diego spot.
La Jolla has a small cove part of a protected marine reserve. Joined by an attached beach surrounded by impressive cliffs, this picturesque location makes for a popular spot for scuba divers, snorkelers, swimmers, kayakers, or any that simply want to bask in the beautiful outdoors.
The beaches at La Jolla have white sand that many beachgoers like to sunbathe on and waves that make it a hit surfing spot for surfers from all over the world. Some people come to La Jolla to observe the sea lions and seals that blend in with the human sunbathers.
During your kayak tour, you can observe the sea lions sunbathing on warm rocks as dolphins, whales, and turtles swim lazily through the pleasing blue waters.
If you time your San Diego adventure in the summer or fall months, you could have the opportunity to see harmless leopard sharks swim past.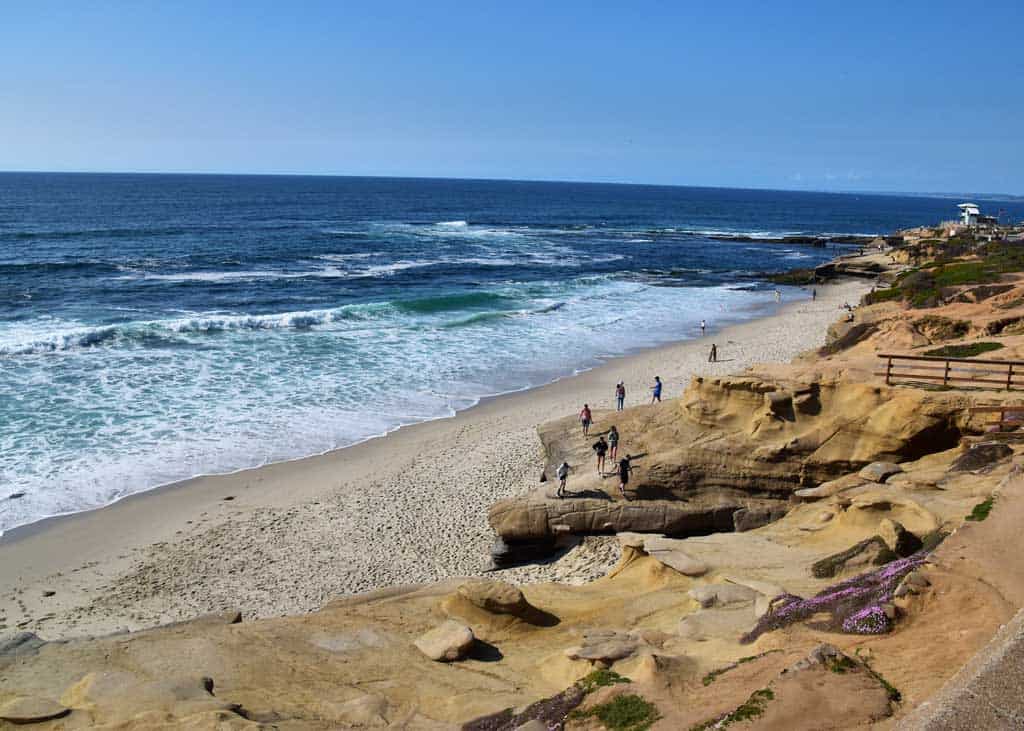 Day 3 Afternoon – Sightsee San Diego Harbor On A Cruise
Prepare to sail the San Diego Harbor in style on this Harbor Sightseeing Cruise!
The San Diego Harbor is a natural harbor and deepwater port located near the United States and Mexico border. Many people stop by this impressive port to walk as they observe cruise liners, ships, and vessels coming and going.
For this cruise, guests can choose a one-hour or two-hour cruise. They will be able to cruise on a yacht while soaking in the sights of the U.S.S. Midway Aircraft Carrier, the U.S. Navy Surface Fleet, the San Diego Coronado Bridge, and the Naval Amphibious Base Coronado.
Other inclusive sights include historic ships in the Maritime Museum and North Island Naval Air Station, as well as the entire San Diego skyline.
Keep your ears perked! The professional crew enriches the cruise with informative commentary concerning the local and military history and other points of interest during the voyage of San Diego Bay.
Heading west? Read our ultimate guide to the best things to do in Las Vegas!
Day 3 Evening – Shop At Seaport Village or Hit The Beach
Frequented by locals and tourists alike, prepare yourself — and your bank account — for an extensive shopping spree at Seaport Village!
This waterfront shopping and dining complex is settled adjacent to San Diego Bay in downtown San Diego. With a selection of more than 70 shops, eateries, and galleries, Seaport Village is understandably a popular shopping spot. The waterfront views make the shopping experience even more worthwhile!
Opening Hours: 10 AM-10 PM Daily
Address: 849 W Harbor Dr
An alternative option for the last evening of your San Diego weekend getaway is to hit the beach. Grab some food and drinks and head to the sand to watch the sunset!
Mission Beach, Ocean Beach, Coronado Beach, and Pacific Beach are some of San Diego's best beaches.
Go surfing or play volleyball at Mission Beach. Or enjoy the nightlife surrounding Ocean Beach. Coronado Beach is good for sightseeing, as there are lots of fancy mansions lining Ocean Boulevard behind the sand.
Pacific Beach is a laid-back neighborhood with a boardwalk and boutique shops. No matter what beach you visit, ending your San Diego weekend itinerary on the beach is a perfect idea.
San Diego Travel Guide
Now that you know what to do with the perfect three-day San Diego itinerary, here are some helpful San Diego travel tips and information that will help you understand the best time to visit, how to get around, and where to stay.
When is the Best Time to Visit San Diego
Like anywhere in the world, there's always a recommended time to visit, whether it be to avoid poor weather or oppressive crowds.
So when looking to visit San Diego, we recommend planning your trip to America's Finest City either from March to May or September to November.
During these recommended months, the air is more breathable as you'll be avoiding the heat of summer. There are also fewer crowds, making the attractions more enjoyable.
Read next: The Perfect 3 Days in Seattle Itinerary
Getting Around San Diego
Before you get started exploring your San Diego itinerary options you need to figure out how to get around.
Thankfully, getting around this corner of Southern California isn't as difficult as you might think as a tourist.
The public San Diego Trolley is easy to catch or hitch a ride on if you're staying in or near downtown San Diego.
However, if you're looking to explore many of San Diego's stunning coastal locations, we recommend hopping on the Coaster train that connects downtown San Diego and Old Town.
Uber or Lyft are great options if you're looking to invest in infrequent trips that are not near your stay in San Diego.
Renting a car is also great, as it gives you the flexibility to explore at your leisure. A rental car is also the easiest option for taking day trips into nature, such as Joshua Tree National Park or Torrey Pines State Park.
Otherwise, invest in this Private Transfer to/from San Diego Airport for a stress-free transfer from the San Diego International Airport to your destination in San Diego.
The best way to get around is to rent a car and explore on your own! We recommend Rental Cars, which has the largest range of vehicles for the best value on the market.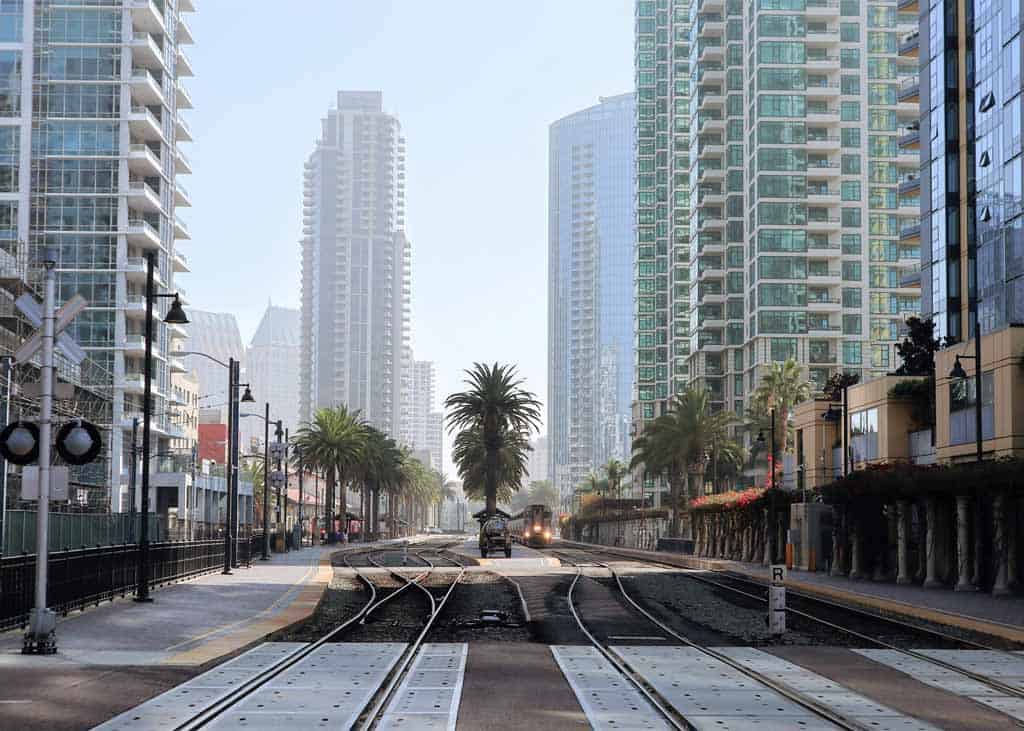 Where to Stay in San Diego
If you're wondering where to stay during your trip to San Diego, our recommendations for the best accommodation will help you choose the top spot for your budget!
Best Hostel in San Diego: Hi San Diego
Get settled in the heart of the Gaslamp Quarter in the classiest hostel San Diego has to offer!
At HI San Diego, guests are welcomed to a freshly renovated urban hostel with a prime location to experience the heart of San Diego.
Best Mid-Range Hotel in San Diego: Motel6
Located only ten minutes from SeaWorld San Diego, this Motel6 is a 100% smoke-free facility. Access to prime spots like the Fashion Valley Shopping Mall is only a five minutes drive.
In addition, guests can access free Wi-Fi, laundry facilities, and a 40-inch flat-screen TV with over 60 channels.
Best Luxury Hotel in San Diego: Hotel del Coronado
A historic, beachfront resort, the Hotel del Coronado boasts ocean views, a garden, outdoor pool, and stunning rooms with terraces and balconies.
First built in 1888, Hotel del Coronado combines history with luxury. With a restaurant and bar right on the beach as well, there is no better place to stay for a lovely trip to San Diego.
DISCLAIMER: Some of the links in this article are affiliate links, which means if you book accommodation, tours or buy a product, we will receive a small commission at no extra cost to you. These commissions help us keep creating more free travel content to help people plan their holidays and adventures. We only recommend the best accommodations, tours and products that ourselves or our fantastic editorial team have personally experienced, and regularly review these. Thanks for your support, kind friend!