Looking for all the best attractions in the City of Inspiration? Our guide to all the best things to do in Santa Monica is all you need!
The "City of Inspiration," Santa Monica, California, is a bustling beach town home to sprawling sandy beach lines that welcomes tourists from across the globe!
A beach town wonderland, Santa Monica intertwines an enriching atmosphere that attracts luxury lovers, fitness fanatics, history buffs, and nature enthusiasts.
Santa Monica awaits you whether you're a surfer looking to catch some renowned California waves at the beach or a shopper wanting to savor upscale retail therapy.
Located just west of Los Angeles, this charming coastal city is easily accessible from LA. It even has its own airport, so you can reach the city by flying into LAX or into Santa Monica Airport.
Once you arrive, you'll be spoiled for choice with all the fun things to do while visiting Santa Monica!
The Best Things to Do in Santa Monica, California
No matter what type of traveler you are, you're bound to find something exciting on our list of the best things to do in Santa Monica.
From strolling along the famous Santa Monica Pier and trying the rides at Pacific Park, to exploring Third Street Promenade, to soaking in the seaside views from Palisades Park, get ready to have a blast when you visit Santa Monica!
Find more fun things to do in the area with our list of the 25 top activities in Southern California!
1) Take In The Beauty Of The Iconic Santa Monica Pier
The famous Santa Monica Pier is an iconic and historic landmark of California. A National Historic Landmark, the pier has been a stable point of interest in California since 1909, representing the enriching past of Santa Monica.
Within the massive double-joined pier is a vibrant amusement park, local concession stands, scenic viewpoints, and favored fishing spots by locals and tourists alike.
The pier juts into the Pacific Ocean at the intersection of Colorado Avenue and Ocean Avenue. The essence of this iconic landmark has impressed many for its scenic oceanside beauty as one of the most photographed spots in the world.
The Santa Monica Pier is even home to its own amusement park, Pacific Park!
Address: 200 Santa Monica Pier, Ocean Avenue, Santa Monica, CA 90401
Hours: 6 am – 10 pm
Cost: Free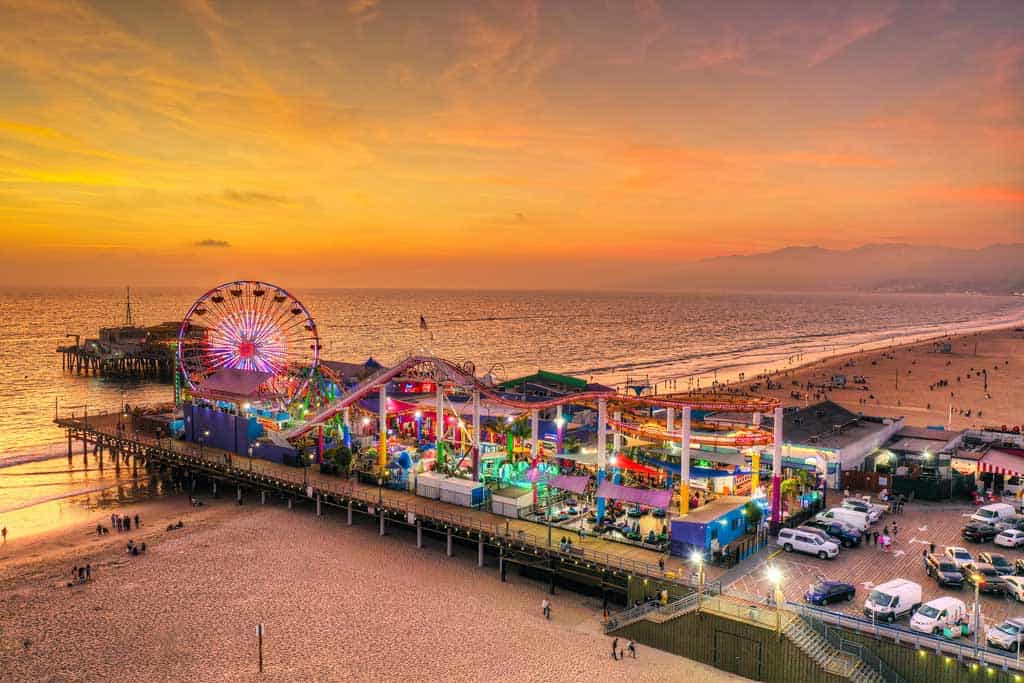 2) Explore Downtown Santa Monica and Third Street Promenade
A world-renowned dining, entertainment, and shopping area, downtown Santa Monica is ideally situated so that as you stroll downtown, you can taste the salt in the breeze from the Pacific Ocean.
As you visit downtown Santa Monica, take your pick from hundreds of trendy shops, fine dining restaurants, quaint cafes, and other local businesses.
Visit Third Street Promenade, an open-air complex by the ocean featuring three blocks of car-free pedestrian access to loads of options, from upscale fashion to fresh produce, at the farmers market.
Then, check out the internationally famed Bergamot Station Arts Center, featuring 30+ private art galleries to be peered and pondered over.
The center is a cultural hub that promotes free exhibitions for the community and tourists to learn about arts and culture through live performances, art galleries, educational programs, and monumental-scale installations.
3) Spend A Family Day At The Annenberg Community Beach House
Located on the site of a 110-room mansion that has since been demolished, the Annenberg Community Beach House is open to everyone to access its bountiful attractions at Santa Monica State Beach.
Perfect for families, the community beach house features easy beach access, a playground, beach volleyball courts, soccer fields, a pool, a splash pad, a view deck, a courtyard, and shaded tables and chairs to eat and drink as you relax.
At the Annenberg Community Beach House are sandy areas where visitors can bring their chairs, tables, and canopies to set up on.
Address: 415 E Pacific Coast Hwy, Santa Monica, CA 90402, United States
Hours/Cost: Find a full list of hours and prices on the website
4) Meet The Animals & People That Call Santa Monica Bay Home At Heal the Bay Aquarium
Previously called the Santa Monica Pier Aquarium, the Heal the Bay Aquarium presents a fascinating experience, with its location set beneath the Santa Monica Pier.
More than a hundred species of marine animals are exhibited at the award-winning aquarium, with hands-on activities available for people of all ages to learn about the intriguing underwater world and the living organisms that call it home.
The aquarium's mission is to protect Santa Monica Bay, including the animals and people that call it home, by activity community-led participation in restoring the local waterways, protecting the coastline, and enacting a clean water policy to protect public health.
At the Heal the Bay Aquarium's shop, visitors can actively participate in the aquarium's dedicated mission by purchasing zero-waste items, including green travel items and limited-edition Heal the Bay gear!
Address: 1600 Ocean Front Walk, Santa Monica, CA 90401, United States
Hours: 12 pm – 4 pm Wednesday – Sunday
Cost: $10
Planning to explore the nearby city of Los Angeles next? Check out our list of the best things to do in LA!
5) Hike, Bike, & Climb At The Santa Monica Mountains National Recreation Area
Adventure Southern California's glorious nature and impactful landscapes in the Santa Monica Mountains National Recreation Area!
The site welcomes all to explore its expansive stretches of 500+ miles of trails, with cultural and historic sites located throughout.
Take your pick of activities to participate in at the Santa Monica Mountains National Recreation Area, including horseback riding, mountain biking, hiking, camping, and climbing.
You can even take your adventure to new heights with a helicopter tour and observe the stunning area from the sky!
Backbone Trail is one of the most famous hiking trails within the recreation area. This trail is 67 miles long, coursing through the Santa Monica Mountains, where hikers can experience the rare Mediterranean ecosystem discovered in only five places on the planet.
The unique ecosystem in the Santa Monica Mountains is paired with spectacular plant and animal species, such as red-tailed hawks, oak savannas, Pacific rattlesnakes, riparian woodlands, and scrub jays.
6) Sink Your Toes In The Sand At Santa Monica State Beach
Sprawling over three miles, Santa Monica State Beach attracts visitors from across the globe to dip their toes in the sand and bask in the picturesque beauty of this golden-sanded beach.
As one of California's best beaches, the beach is paired with the iconic Santa Monica Beach Pier, opening the doors to explore bountiful Santa Monica activities.
Enjoy a stroll down the beach's walking paths or rent a bike to ride down the bike trails along the coast. Boogie boarding and bodyboarding are the rages at Santa Monica Beach.
However, during the summer, surfers flock to Santa Monica State Beach in the restricted area between the two lifeguard towers for safety purposes.
Visitors to Santa Monica State Beach can take their pick from beachside restaurants on the Santa Monica Beach Pier or along the sandy stretches, like Shutters on the Beach and Back on the Beach Cafe, to fill their appetite with yummy treats!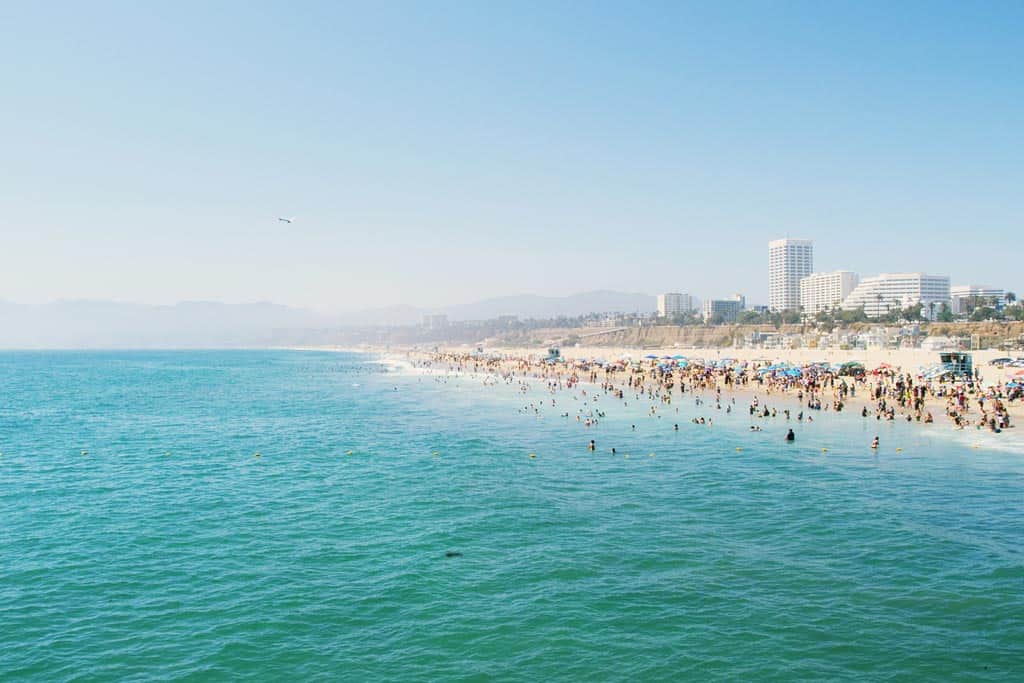 7) Pick Out Fresh & Local Goods At The Santa Monica Farmers Market
The thriving Santa Monica Farmers Market brings together locals and tourists alike to this vibrant, social, and prosperous market.
The farmer's market is committed to supporting local California farmers and small food businesses to prosper in sustainable food systems and agricultural arts.
The market is held Wednesdays, Saturdays, and Sundays in different neighborhoods of Santa Monica – Pico, Main Street, and Downtown.
No matter the day it's held, the Santa Monica Farmers Market is teeming with local and fresh items, from produce and pastries to salsas and juices.
Many A-list celebrities and renowned chefs of local Santa Monica restaurants pick from the enriching selections available at the Santa Monica Farmers Market, and so should you!
Visit the website for a full list of hours and locations of each market!
Read Next: Plan your itinerary by adding these incredible destinations in California!
8) Ponder Over Acclaimed Exhibitions At The Historic California Heritage Museum
Established in a preserved 19th-century home, the California Heritage Museum is on one of Santa Monica's most notoriously charming streets, Main Street.
The California Heritage Museum presents crafted exhibitions dedicated to sharing the cultures and history of California. The 1894 Victorian-style house that homes the museum was constructed for the founder of Santa Monica's son.
The museum displays rotating and permanent exhibitions that focus on a range of topics which in the museum's past exhibitions have included Hawaii's influence on Santa Monica's lifestyle, surfboard design, and the California fruit box labels.
On Sundays, the California Heritage Museum's outdoor area is incredibly crowded thanks to the popular farmers market that is held there.
Taking a trip to the California Heritage Museum can be a fruitful experience exploring its indoor area full of significant exhibitions and outdoors for a chance to experience Santa Monica like a local at the farmers market.
Address: 2612 Main St, Santa Monica, CA 90405, United States
Hours: 11 am – 3:30 pm Wednesday – Sunday
Cost: $5
Read our list of the 25 best things to do in California for more ideas in the Golden State!
9) Visit Venice Beach
Less than 20 minutes from Santa Monica is the famous beach town of Venice Beach. The area was named after its Italian namesake, with the town developed to continue the dedication, including canals, pedestrian bridges, and piazzas.
The waterways for which Venice Beach is widely known were designed in 1905 by millionaire Abbot Kinney, which can be seen in the Venice Canal Historic District.
People travel worldwide to walk its famous beachfront boardwalk, visit its pier, and experience the renowned bohemian, athletic, and artistic community of Venice Beach.
Athletes take the time to visit the famous Muscle Beach Gym, the outdoor weight room where Arnold Schwarzenegger, iconic bodybuilder, and actor, once frequently exercised. Then, shop 'til you drop down Abbot Kinney Boulevard, a mile-long expanse featuring trendy boutiques and upscale galleries.
Hit the water surfing on this guided surf instruction lesson at the famous Venice Beach to experience Santa Monica like a true Californian!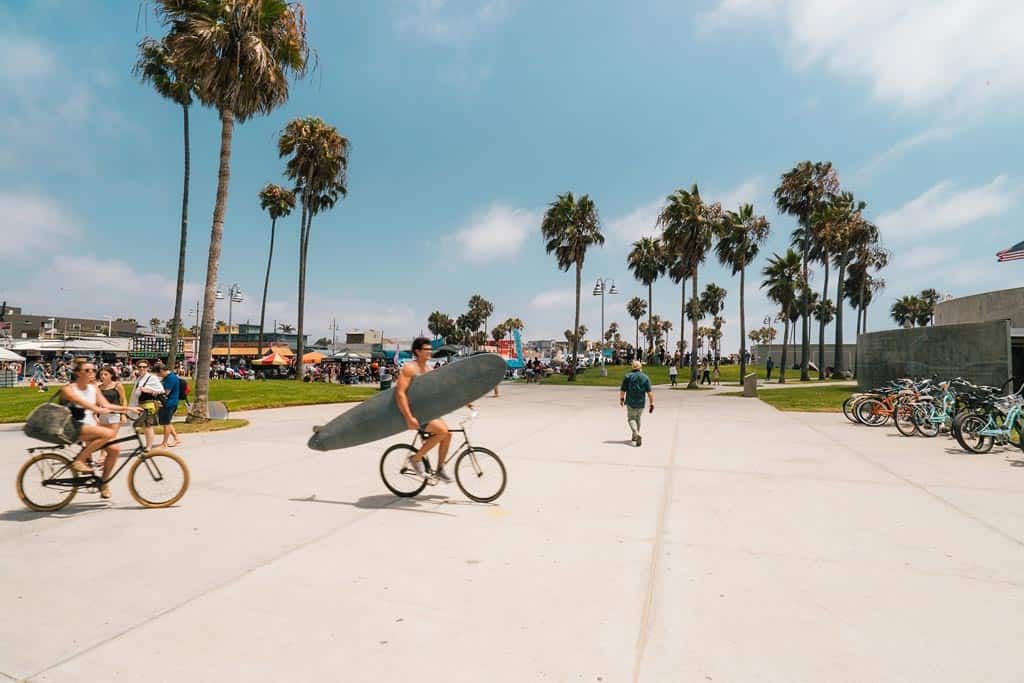 10) Take A Family Trip To Redondo Beach
A rewarding hour's trip from Santa Monica, Redondo Beach is a popular coastal city settled along Santa Monica Bay with favorable surfing and swimming opportunities.
The beach is a family-friendly destination, home to plenty of worthwhile things to do. Lay a towel down and relax on the sandy shore of Redondo County Beach.
This beach is conveniently located near Redondo Beach Pier and is nicknamed "Los Angeles' Ocean Adventure Capitol." Take your pick of swimming, surfing, tanning, fishing at the beach, or hitting the Marvin Braude Coastal Bike Trail for an active day of fun!
Explore Seaside Lagoon, a seasonal saltwater lagoon with lifeguards available for a safe spot for kids to swim and play.
Then, go on an adventure to Hopkins Wilderness Park, where meadows, forests, and streams come together to create an outdoor wonderland for visitors to go camping, hiking, and picnicking in Redondo Beach.
Read Next: Be sure to consider all of the fun things to do in Hollywood!
11) Head Over To Torrance County Beach
An hour from Santa Monica, Torrance County Beach is located in Torrance, California. This region is often called "RAT Beach," which is short for either "Redondo and Torrance Beach" or "Right After Torrance Beach."
Torrance County Beach, shortened as Torrance Beach, is the only beach in Torrance. It begins at Miramar Park and expands to Malaga Cove Beach, the stunning backdrop of the Palos Verdes cliffs decorating the scenery.
At the end of Torrance County Beach is Malaga Cove Trail, a four-mile in-and-out trail that leads hikers to Flat Rock Point and beautiful tide pools.
12) View Unparalleled Sights At The Palisades Park
A large park that runs down parts of Ocean Avenue, Colorado Avenue, and the Pacific Coast Highway, Palisades Park exudes a charm that attracts many visitors throughout the year to bask in its breathtaking scenic views of Santa Monica Bay and the Pacific Ocean.
Bikers, hikers, and other visitors can bask in the glorious views of the park within walking distance of other top things to do in Santa Monica, such as the Third Street Promenade and the Santa Monica Pier.
Palisades Park offers convenient amenities, like restrooms and shaded picnic tables, for visitors to experience the great outdoors and other attractions, including a rose garden, a reserved space for monthly art classes, and pétanque courts.
Branching off of Palisades Park is Montana Avenue, a bustling street full of shops, cafes, and restaurants.
Address: Ocean Ave, Santa Monica, CA 90401, United States
Hours: 5:30 am – 11 pm
Cost: Free
Read next: The 21 Best Things To Do In Palm Springs, California
13) Test Your Athletic Skills At The Original Muscle Beach
A historic landmark, the Original Muscle Beach in Santa Monica dates back to the 1930s. The sandy site is littered with rings, ropes, and bars for the public to test and show off their athletic skills.
The iconic Original Muscle Beach on the Ocean Front Walk hosts a gym-goer's wonderland with its dedicated outdoor gym. The area is free to visit to try your skills on the sandy shores of Santa Monica.
The beach began as a venue where people could watch in awe as wrestlers, acrobats, stunt performers, and gymnasts practiced their skills that would be shot in films made during the Great Depression.
Soon, Muscle Beach became a hub for athletes and beachgoers worldwide, whereas today, it achieves the same greatness!
This Santa Monica and Venice electric bike tour is another great way of exploring Santa Monica.
On this tour, you can pedal or let the electric bike do the work as your guide takes you along Muscle Beach, Venice skatepark, and other popular things to do in Santa Monica.
Address: Ocean Front Walk, Santa Monica, CA 90401, United States
Hours: 24/7
Cost: Free
14) Drive The Legendary Pacific Coast Highway
One of the top touted scenic roads in the world, the Pacific Coast Highway courses through much of California's Pacific coastline as the longest state route in the state. It is also the second longest in the nation, with the Montana Highway 200 snagging the label as the longest.
Sometimes referred to as California State Route 1, the Pacific Coast Highway is often shortened to its nickname, "PCH."
If you want to experience this breathtaking route without spending days traveling down the whole path, consider the drive from Dana Point to Santa Monica on the Pacific Coast Highway.
You can take the famous highway south to San Diego or north to stunning places like San Francisco, Santa Barbara, Monterey, and more!
Read Next: Plan your PCH drive with our ultimate guide to a perfect Pacific Coast Highway road trip!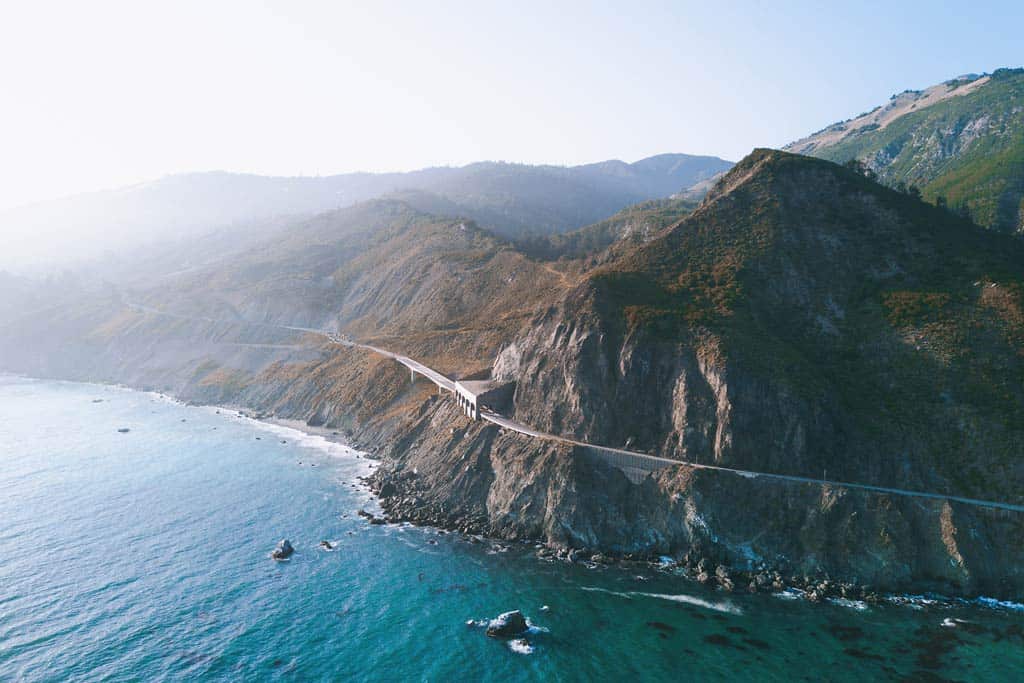 15) Take Flight At The Museum Of Flying
Founded in 1974 as the Douglas Museum and Library, the Museum Of Flying was founded by the second President of the Douglas Aircraft Company, Donald Douglas Jr.
The Museum Of Flying houses a bountiful array of artifacts and Donald Douglas Senior, the founder and first President of the Douglas Aircraft Company, ephemera.
Surprisingly, the founder's collection did not include any aircraft. This changed when the Douglas Museum and Library was renamed the Museum of Flying.
Today, the Museum Of Flying boasts an outstanding original collection, including vintage aircraft. Many of these vintage aircraft are World War II fighter aircraft to peer and ponder over history and the change of technology and aviation throughout time.
Address: 3100 Airport Ave, Santa Monica, CA 90405, United States
Hours: 10 am – 4 pm Thursday – Sunday
Cost: $10
16) Take The Kids To Play At The North Beach Playground
The third universally accessible playground in Santa Monica, the North Beach Playground welcomes all ages to come and play!
For a more in-depth explanation, a universally accessible playground features multiple forms of play.
There are multipurpose game settings, physical elements, and sensory play. The physical aspects are essential for social and motor development in children. Sensory play is helpful for all children, with or without disabilities.
There are two play areas. One is designated for children 2-5 years old, and the other targets children ages 5-8.
The North Beach Playground features sensory play elements for feeling and hearing, plus physical elements such as barrier-free equipment, accessible paths, and slides for children to enjoy alongside other children!
Address: 810 CA-1, Santa Monica, CA 90403, United States
Hours: 24/7
Cost: Free
Heading north? Here is our list of the best things to do in Northern California!
17) Explore A Range Of Activities In The Pacific Palisades Neighborhood
Nestled between the Pacific Ocean and the Santa Monica Mountains, there are so many fun things to do in Santa Monica in the Pacific Palisades Neighborhood.
A family-friendly beach, Will Rogers State Beach is notably less crowded than other Santa Monica and Malibu beaches.
There are over three miles of space to lay down a towel or set up a canopy to relax on Will Rogers State Beach, where surfing, surf fishing, windsurfing, surfing, sunbathing, and swimming are popular.
Visit the ancient world at the Getty Villa Museum in the Pacific Palisades Neighborhood. The museum houses Roman and Greek art and antiques in a re-created Romany country home paired with prosperous gardens and a gentle ocean breeze.
18) Observe Fine Art At The Bergamot Station Arts Center
Showcasing a plethora of private art galleries, the Bergamot Station Arts Center is an internationally renowned art complex and cultural hub.
The center's site was a railroad station from 1875-1953, then a celery packing operation, an ice-making plant, and a water heater manufacturing factory. Today, the center serves as a stronghold leading arts center dedicated to promoting free arts to the public.
Enjoy the Bergamot Station Arts Center's established galleries, educational programs, and live performances featuring poetry, comedy, theater, and music.
Address: 2525 Michigan Ave, Santa Monica, CA 90404, United States
Hours: 11 am – 5 pm Tuesday – Saturday
Cost: Free
19) Go Camping At Point Mugu State Park
Settled in the Santa Monica Mountains National Recreation Area, Point Mugu State Park stretches along the coastline. A visit to the park features rugged shorelines, towering sand dunes, mountain peaks, poking cacti, and fascinating tidal lagoons.
Point Mugu State Park's miles and miles worth of scenic shoreline offers a relieving escape from the hustle and bustle of life. Many people come to Point Mugu State Park to hike, camp, body surf, swim, surf, and simply bask in the exceptional views!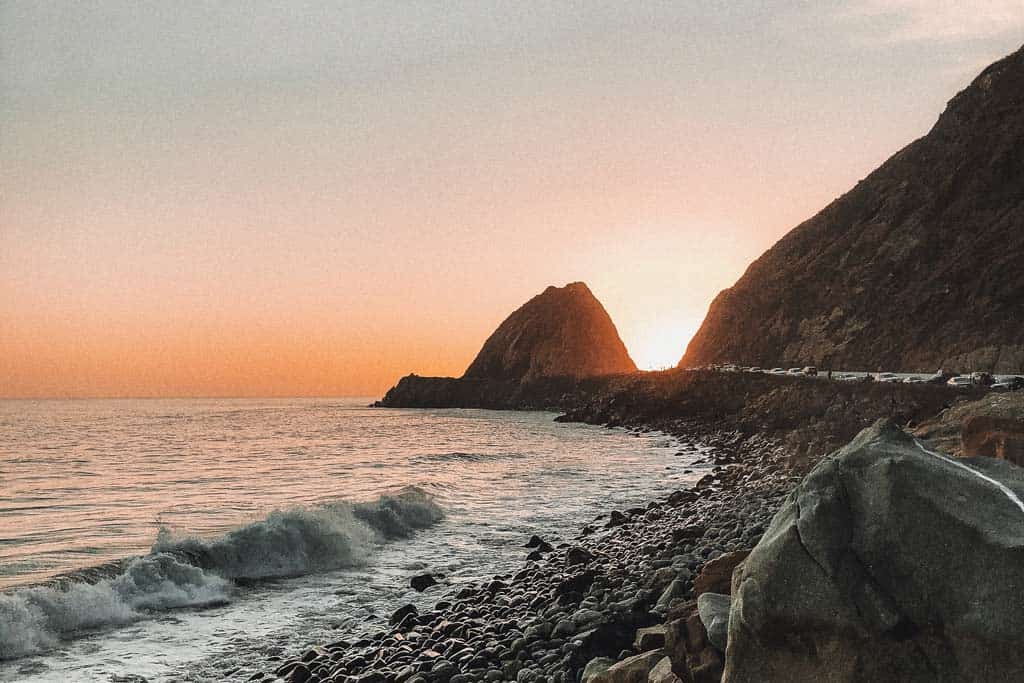 20) Stroll Through The Urban Oasis Of Tongva Park
Sourcing its name from the indigenous Tongva people, who lived in Los Angeles for thousands of years, Tongva Park has become an iconic feature within walking distance of the Santa Monica Pier.
The urban park is full of intriguing art installations and other cool features. There are four main sections to Tongva Park.
They include Garden Hill, Observation Hill, Gathering Hill, and Discovery Hill, each dedicated to its theme. Discovery Hill targets kids for a family-friendly part of Tongva Park, including amenities such as a splash pad and play area.
Gathering Hill is where visitors can peer over the Weather Field art installation or attend a free concert. Garden Hill is where nature lovers can take in vibrant plants, including agaves, tall pokers, and lilies.
And then, Observation Hill draws in explorers and photographers looking to observe breathtaking ocean vistas.
Address: 1615 Ocean Ave, Santa Monica, CA 90401, United States
Hours: 6 am – 11 pm
Cost: Free
Read next: The Ultimate 3 Days In San Francisco Itinerary
21) Snag A Tasty Treat At Sweet Rose Creamery
Sweet Rose Creamery is everyone's favorite neighborhood ice cream shop, serving up tasty batches of happiness homemade in Santa Monica!
Every ingredient at Sweet Rose Creamery is sourced from organic, local, and regenerative farmers. Then these ingredients are mixed in the creamery's shop for a homemade batch of mouthwatering deliciousness.
Sweet Rose Creamery has two locations, one on beachside Main Street and the other at Brentwood Country Mart, one of which is conveniently located only a few miles from the famous Santa Monica Farmers' Market.
Visit the website for addresses and hours!
Where to Stay in Santa Monica, California
Now that you know the best things to do in Santa Monica, California, let's check out the best places to stay during your vacation!
Whether you want a nice hotel with a swimming pool lined by palm trees, or you want an affordable hostel where you can save money, you can find it all in Santa Monica, California!
Best Hostel in Santa Monica, California
Boasting a prime location only a block from the famous sandy beaches of Santa Monica, HI Los Angeles – Santa Monica is a hotspot hostel near many of the favorite Santa Monica activities.
Hit up the famed bar crawl routes from the hostel or check out the hostel desk for tours of the area's top activities, including the Hollywood Walk of Fame.
Best Mid-Range Hotel in Santa Monica, California
Not far from Venice Beach, Days Inn by Wyndham Santa Monica/Los Angeles offers an ideal destination with easy access to I-10 and I-405 so that you can hit up Santa Monica, Los Angeles, Venice, and more top cities and attractions in California only a few miles away. Guests receive free parking, a light breakfast, WiFi, hotel gym access, and 24-hour desk service.
Best Luxury Hotel in Santa Monica, California
A seaside paradise, Shutters On The Beach is a luxurious stay exuding a tranquil and relaxing charm paired with the crash of the ocean's waves, the salt of the sea, and the breathtaking scenery of the blue waters of the beach.
The hotel's restaurants dedicate their menus to serving seasonal local cuisine and spectacular beachside views. Guests can rent bikes or access surfboards and boogie boards through the beach concierge for an out-of-this-world stay and experience by the beach.
DISCLAIMER: Some of the links in this article are affiliate links, which means if you book accommodation, tours or buy a product, we will receive a small commission at no extra cost to you. These commissions help us keep creating more free travel content to help people plan their holidays and adventures. We only recommend the best accommodations, tours and products that ourselves or our fantastic editorial team have personally experienced, and regularly review these. Thanks for your support, kind friend!