[et_pb_section admin_label="section"][et_pb_row admin_label="row"][et_pb_column type="4_4″][et_pb_text admin_label="Text" background_layout="light" text_orientation="left" use_border_color="off" border_color="#ffffff" border_style="solid"]
Luxurious, gorgeous and centrally located – this review of the Ao Nang Cliff Beach Resort looks at whether it is really one of the best hotels in Krabi.
We'll be honest – the moment we pulled up outside the Ao Nang Cliff Beach Resort we were a little surprised…
Rather than having a sprawling entrance like we expected, it seemed to be tucked away and shadowed by the neighbouring restaurant and hordes of pedestrians.
After making ourselves known to the slightly crowded reception we were asked to wait for our "ride". At this point we started to wonder if we had the right place or not.
The surprises continued when we were then ushered to a tiny, waiting car without doors and told to hop on in.
The second we jumped into the electronic buggy and darted up behind the premises everything suddenly opened up in luscious splendour.
Our actual check-in wasn't done out near the street where we first arrived, but instead at the backside of the resort in an open-air reception.
The staff were friendly and welcoming, creating an amiable atmosphere that would remain the entire time we were there.
With the formalities out of the way it was time to see our room.
We were lead to the top floor of the newest building, housing the enticingly named "Panorama Suites".
From that moment on we knew the Ao Nang Cliff Beach Resort was something special.
Our room was lavish and bright, with a comfortable sitting area, two cloud-like twin beds, an open bathroom and a quaint balcony overlooking the Andaman Sea.
But the icing on the cake was the bathtub on the balcony.
If you are looking for a place to soak and admire a gorgeous sunset view, then you may never leave the bath!
[/et_pb_text][et_pb_cta admin_label="Call To Action" url_new_window="on" use_background_color="off" background_color="#30cb00″ background_layout="dark" text_orientation="center" use_border_color="off" border_color="#ffffff" border_style="solid" custom_button="on" button_bg_color="#2a7e0f" button_border_width="0″ button_letter_spacing="0″ button_use_icon="default" button_icon_placement="right" button_on_hover="on" button_letter_spacing_hover="0″ module_class="nofollow_button" saved_tabs="all" button_url="https://bit.ly/Ao-Nang-Cliff-Beach-Resort" button_text="Book Ao Nang Cliff Beach Resort"] [/et_pb_cta][et_pb_text admin_label="Text" background_layout="light" text_orientation="left" use_border_color="off" border_color="#ffffff" border_style="solid"]
Life At Ao Nang Cliff Beach Resort
After we had picked our jaws up at how nice the room was we headed downstairs to the infinity pool.
Even though we have been on the road for years, staying in literally hundreds of different accommodations, the Ao Nang Cliff Beach Resort was the first place we had been that had an infinity pool.
Needless to say, we made the most of it.
Many of the guests could be found lounging around this pool, sipping on cocktails and enjoying the captivating views over the town.
Most of the people minded their own business, making it hard to chat to them. But as the night wore on and the alcohol began flowing they loosened up and we had a few cool conversations with people.
As the sun started to go down we went for a walk to find some food. Even though we heard the food onsite was great, we always like to mix it up and eat at other places as well.
This was pretty easy to do, seeing as the Ao Nang Cliff Beach Resort is located right in the heart of town.
A 5-minute, downhill walk takes you to the main beach (admittedly not the nicest beach in the area – check out other places like Railay and Tonsai). Within a few hundred metres of the hotel entrance are countless restaurants, bars and street food vendors.
Couldn't get much better than being in the heart of Ao Nang!
After a delicious meal we retired for the night, with the balcony door open letting in a fresh breeze.
The next day we decided to venture out to the Andaman Beach Club – a funky bar and restaurant tucked away in the jungle about 15 minutes out of town.
The same group that owns this resort, and the Alisea Boutique Hotel owns the Andaman Beach Club. This means guests of these two places can get free transport and access to the tranquil hideaway.
Hanging out at the Andaman Beach Club is a great way to spend the day, with hammocks tied between twisted trees and an almost-abandoned beach waiting to be enjoyed.
The food at the club is also divine. We tried the massaman curry, which turned out to be the absolute best example of this tasty dish we have ever had. I can never eat another massaman curry after trying this one.
The atmosphere at the beach club was so impeccable that we actually broke our alcohol abstinence after our one-month detox in Thailand.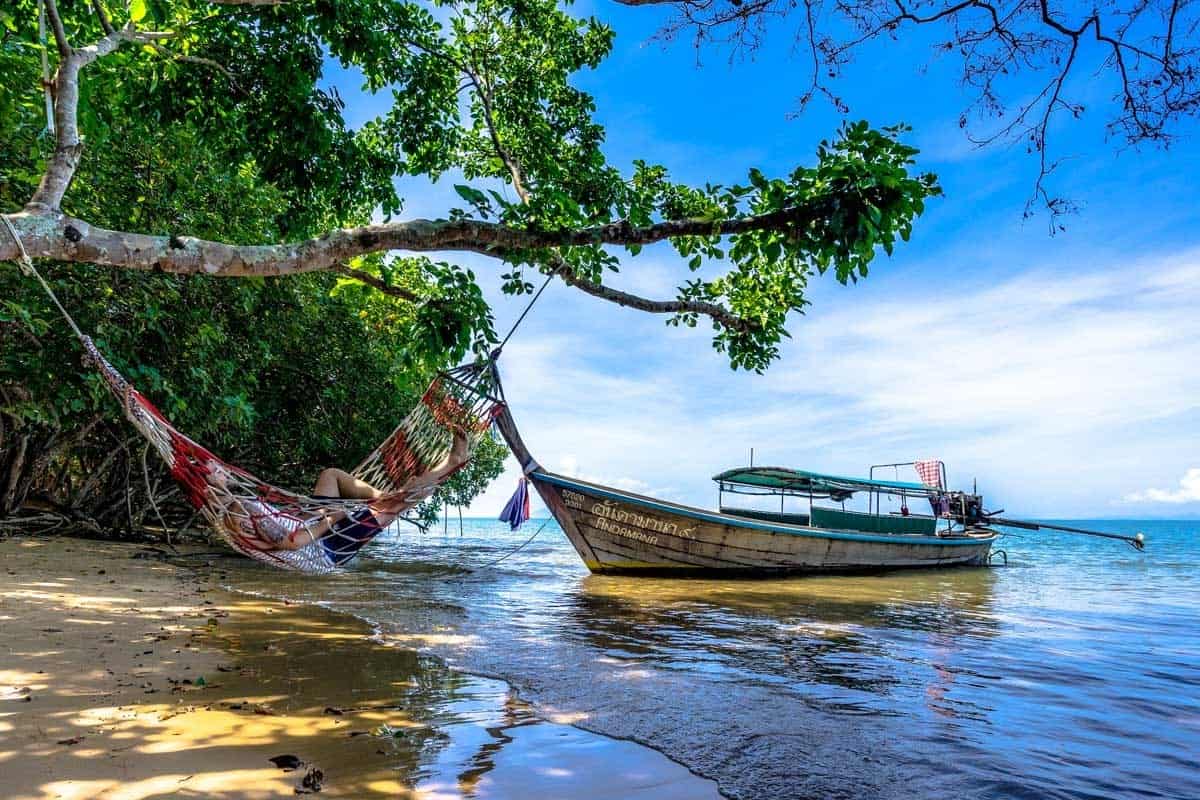 With a belly full of curry and cocktails, we headed back to Ao Nang just in time for a sunset bath on our balcony (of course).
We spent most of the next day ticking off all the best things to do in Ao Nang and eventually returned exhausted and hungry.
The restaurant on the bottom floor of the Ao Nang Cliff Beach Resort hosts a huge buffet dinner every evening, and we decided to end our final night in style.
This massive spread is only 459 THB (US$13) and has a huge selection of barbecued meats, seafood, Asian dishes and salad.
Honestly the food isn't world class like we experienced at the Crown Lanta, but it is still delicious. And for this price it is hard to complain!
All in all we were very happy with our stay at the Ao Nang Cliff Beach Resort. It wasn't 100% perfect, at least for our style. With its size it did naturally feel like a massive hotel (like you might experience with the Hilton or Sheraton).
Still, if you are looking for a high quality resort with every kind of amenity you could imagine, it would be hard to find a better place.
We were invited as guests of the Ao Nang Cliff Beach Resort. All thoughts, opinions and hours spent in the bath are of course our own.
[/et_pb_text][et_pb_cta admin_label="Call To Action" url_new_window="on" use_background_color="off" background_color="#30cb00″ background_layout="dark" text_orientation="center" use_border_color="off" border_color="#ffffff" border_style="solid" custom_button="on" button_bg_color="#2a7e0f" button_border_width="0″ button_letter_spacing="0″ button_use_icon="default" button_icon_placement="right" button_on_hover="on" button_letter_spacing_hover="0″ module_class="nofollow_button" saved_tabs="all" button_url="https://bit.ly/Ao-Nang-Cliff-Beach-Resort" button_text="Book Ao Nang Cliff Beach Resort"] [/et_pb_cta][/et_pb_column][/et_pb_row][/et_pb_section]