Never again will I take feeling good for granted. After two years crossing Asia by land, our memories were filled with incredible experiences, but our bodies and minds had taken a battering. We are not discounting the amazing things we have seen and done during the last adventure, but we have to admit that we were unhealthy and exhausted by the time we got to Istanbul. We knew we had to do something to get healthy again, and our plans started to drift to the idea of doing a detox in Thailand.
We realised it was just matter of discipline to get healthy again, and that by making some conscious decisions on how we ate and exercised we could improve our wellbeing. But it's hard to do these kind of things when you are stuck in a particular environment that doesn't make healthy living easy. If you don't believe us, spend two months travelling in Mongolia trying to live on a diet of primarily fruits and vegetables, or try to avoid goat meat, bread and yoghurt in the heart of Central Asia.
Fast forward a few months and we were in a taxi zipping between congested Phuket traffic on our way to Atmanjai Wellness Spa. Known as one of Thailand's premier detox centres, we were excited to kickstart a health campaign in a new environment under the guidance of the famous retreat.
After reading the options and recommendations sent through to us by Took, the booking manager, we had decided to go with their Ultra Cleanse program. But even after going over the details, we chose to wait until we arrived to learn about what exactly would be involved. So now that we were there we grabbed our backpacks and entered with a completely open mind – exactly how we wanted to begin.
We were instantly met by the loveable Tang, who led us to the reception of Friendship Beach Resort and got us checked in. The grounds were quiet and lush, with towering palms swaying above and trickling water ponds scattered around. Once we dropped off our bags we headed to the Atmanjai Spa at the back of the property to introduce ourselves to the staff, guests, and most importantly to the program.
After being given a quick tour we had the rest of the day to explore the grounds and relax by the pool. The program would start in the morning, so we made the most of our last chance at relaxation.
Up until that point we had been off alcohol, coffee, bread and dairy for a week, and had been living on a raw food diet for four days. Surprisingly we were far from hungry; the Thailand heat was helping to keep our appetite at bay. Our days in Bangkok had been spent walking around sipping on fresh coconuts and eating salads and vegetables bought from the market. We thought that if we saw another salad again we would revolt. But the menu at Friendship Beach Resort offered delectable food for people on a strict detox, and we splurged out to buy a raw pad thai and raw zucchini pasta. Nothing short of scrumptious, and much better than the flavourless salads we had been living off.
The following morning was when the real transformation would commence. This is our experience doing a three-day detox in Thailand with Atmanjai Wellness Spa.
The Detox Begins…
One big benefit of not drinking is being able to spring out of bed every morning. We are not late sleepers anyway, but it's nice to wake up with a clear mind and defined goals on what you want to achieve that day. So when our alarm went off at 6am, we went straight out to the beach to catch the sunrise over the Andaman Sea, and made our way to Atmanjai Wellness Spa for the morning rituals we would come to know all to well.
Tang greeted us with a warm smile and showed us how to make the psyllium husk shakes that we would be drinking five times a day. Mixed with water and a bit of bentonite clay, this concoction helps to make your stomach feel full, while cleaning the crevices of your colon. It is far from tasty, and comes with an odd texture, but washed down with a glass of apple cider vinegar and honey helps take away the aftertaste.
At Atmanjai every morning starts with yoga. The guests all meet in the airy lounge and chat about how everyone is going before the session. Some people are on the "Eat Well" program, and others are focusing on the "Fitness" routine. All have their pros, and I was quite interested to hear about everyone's progress so far. The participants all speak very openly about how they are feeling and what they are experiencing. This helps to create an honest and caring atmosphere, where you can share truths. If someone asks how you are feeling, you don't just say "pretty good" out of habit. You say exactly what you are going through, and everyone listens. An amazing situation to be in with a bunch of strangers who become friends.
Before Alesha and I could start to worry about what was ahead of us, a tanned and muscular man with a bald head and beaming smile came up to us. His name was Chris, and he worked as the "Spiritual Fitness and Personalised Motivation Specialist". His enthusiastic and caring demeanour made us instantly at ease, and Chris has the power to make anyone feel like his best friend. After a brief chat and hearing his story, we were left in awe by this amazing man. Chris would prove to be somewhat of a mentor over time, even if our encounters with him were short.
Throughout our whole time doing the Atmanjai Ultra Cleanse Program we would not eat any solid food. None. Our diet would consist of psyllium husk shakes, water, probiotics and vegetable broth in the evenings. Despite this you never feel hungry. But be prepared.
Morning Yoga
At 7:30am we headed upstairs and took our places in the bright, open-air yoga studio. Every day we would have the pleasure of practicing yoga with a different teacher, who all had different techniques and styles. Our first session was with Ocean, a Canadian lady with a sincere passion and worldwide reputation for health and fitness.
Having not practiced yoga since we lived in Canada ourselves, we were rusty and out of shape. But the movements we placed our bodies through helped clear our minds and set our psyche on the right path to charge through the day.
When the one hour session came to an end, Chris came upstairs with fresh brews of ginger tea, and we sat in a circle. Chris asked us two questions, which we took turns in answering: What were we grateful for, and what were our intentions for the day. Such simple queries that promoted deep thought. Some answers were humorous, and some spiritual and mesmerising. It was nice to end yoga with these positive thoughts, to remind us of how lucky we all were to be there.
Over the next three days I would become most grateful for the chance at doing yoga every morning. It's not often people make time for themselves in their standard busy lives, and despite living a life on the road we are also victims of this personal lapse. Being in this structured environment forced us to do very little besides focus on ourselves, which was a much appreciated journey.
The days from then on would prove to be quite busy, and we had all of our energies and attention focused on the program. While being far from strenuous, there was little time for relaxing back in the room (unless of course you decided to skip a session). For the first time in months we realised that we were no longer thinking about running this travel blog, our business and what articles we had due. It was a complete mental clearance, something that we so desperately needed.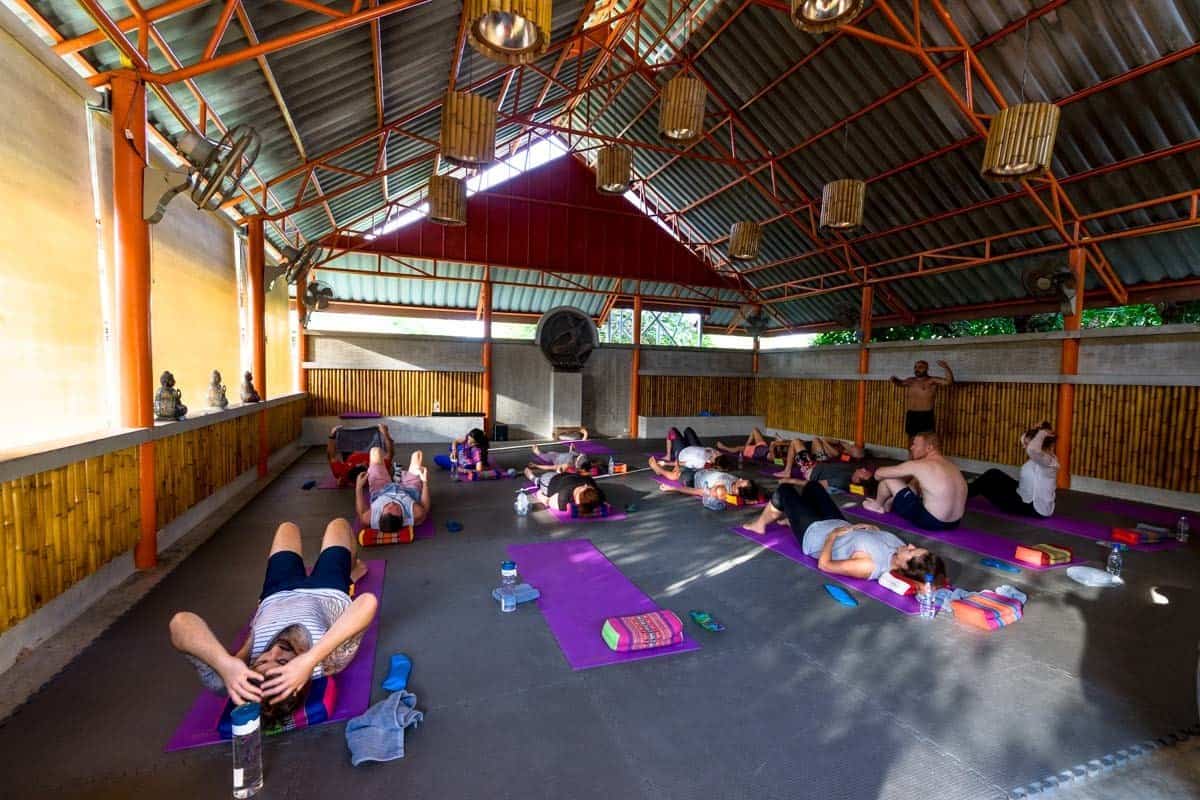 Meeting Izzy
Izzy is something of a legend, and we were very excited to have a meeting with him to discuss our goals for taking part in the Ultra Cleanse Program at Atmanjai. Working as the manager and holding degrees in sports medicine and exercise physiology, he knows what he is talking about when it comes to health. We sat down with him and he gave us an overview of what our program had in store for us.
Besides going into detail with what the sessions, probiotics and other elements would involve, we also had a long chat about diet in general. Everyone more-or-less knows what is good and bad for their bodies – don't eat processed sugar, don't drink alcohol, don't smoke, exercise regularly, etc – but it is another thing entirely to implement those things into your day-to-day life.
Izzy didn't preach or moan about what is good for us; he simply just laid out facts and figures and had an intelligent and impassioned discussion about what we should cut out of our diet. He even offered examples of how he lapses from time to time (admitting that everyone needs a vice), and the effect it has on his body when he does.
Nothing he said was revolutionary to us, but we can honestly say that almost one month after we completed the detox at Atmanjai, neither Alesha or I have had any desire to eat anything with sugar, processed or filled with wheat since that talk with Izzy. For the first time in our lives we can walk into a store, stare straight at a chocolate bar or ice-cream, and have no want to satisfy our sweet tooth. Are we cured of our sugar addiction? Of course not. But our attitudes have changed, hopefully for good.
The Colema
Warning – the idea of a colema may put a lot of people off this program, but it really isn't as bad as it first sounds. We won't go into the minute details of our experience in this section. It was a necessary part of our detox, but don't feel like you have to read this if you don't want to.
"Do you guys know what a colema is?" Izzy queried.
We had done our research and were aware of what a colema is. But that didn't make the idea any more appealing. Still, we went in with an open mind, and received a demonstration of how to use our private colema room. We were scheduled to have two colemas a day for the entire duration of our detox, and were in a mixed state of curiosity and hesitation about the procedure.
Without going into too many details, the experience was strange and slightly uncomfortable, but not as bad as we had expected. By the third day we could really start to see fascinating results – again, not something that should be discussed on a public blog.
This alone may put some people off doing a detox of this type. But the health benefits, when explained, make total sense. And when you physically see what is purged, you will be as convinced as we were.
Daily Massages
Moving on from the most intrusive segment of the Ultra Cleanse Program takes us to the most enjoyable – the daily massages. Atmanjai Wellness Spa has a number of professional and experienced masseuses on site who are well trained at a variety of styles.
With three standard options – traditional Thai, reflexology and oil – there's something for everyone. We tried each one during our three-day detox and absolutely loved it. Besides the obvious health benefits it helped relax and recharge the body while a lot of transformations were going on.
We'll be completely honest: These were by far the BEST massages we have received in Thailand. No competition.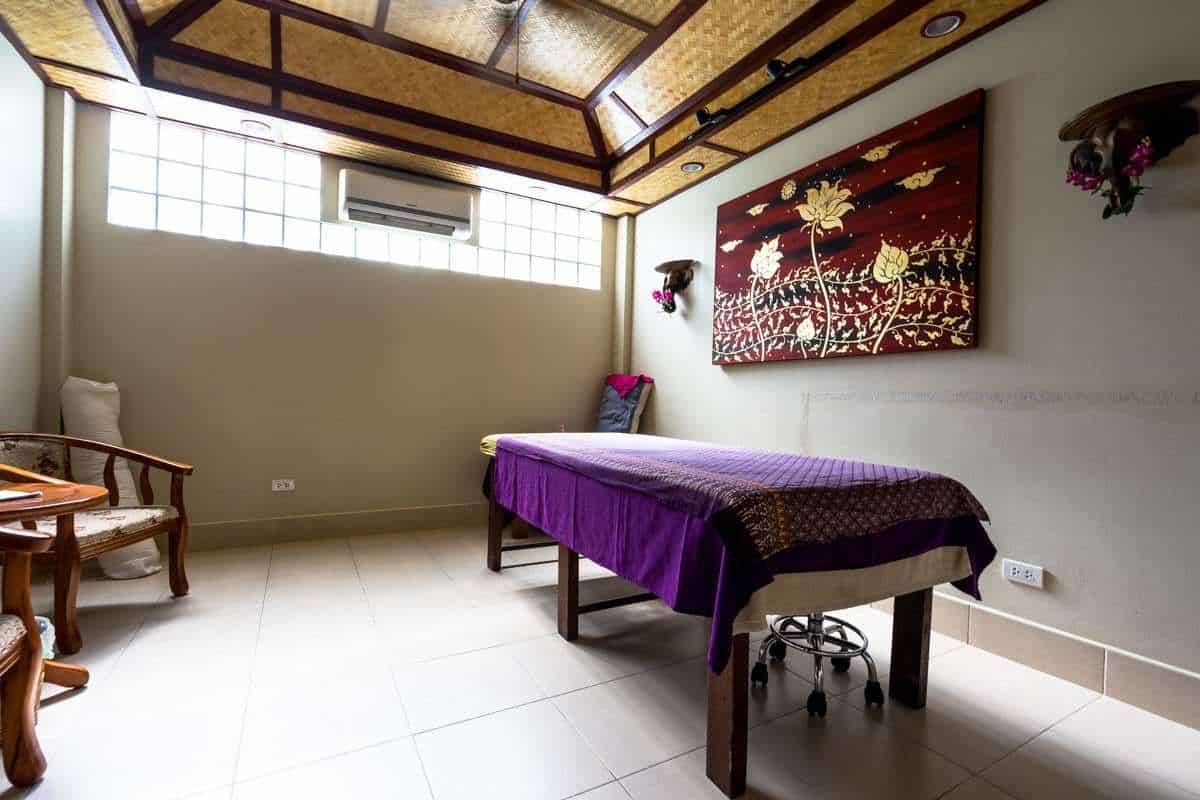 Alternative Therapies
We have never really had much experience with "alternative therapies" during our lives. Sure, we've had acupuncture (and swear by it) for various ailments, and we've used yoga and pilates to help with injuries we've sustained, but we've never embraced or tried anything like what we did in Atmanjai during our detox in Thailand.
Our Ultra Cleanse Program had us trying out three different therapies:
Ultrasonic Zapper
This is a unit that sends millions ultrasonic frequencies through your stomach via a cabled bandage. This supposedly kills harmful bacteria and parasites while energising your immune system. You don't feel anything during the procedure, and weeks after the treatment we're still not sure about it. But still it was an interesting experience.
Infra-Red And Ozone Sauna
Sitting in a full-body tent that zips up to your neck, ozone and Infra-Red light is pulsated through the body in this hot steam sauna. The benefits really come from using this multiple times over the course of weeks, and supposedly helps with eliminating toxins, arthritis, muscle spasms and lactic acid buildup. We had a 30-minute treatment, but Lesh opted out after 20 when she started to feel faint. Throughout the whole procedure the trained staff would come and check on us every few minutes, offering water and cold towels to place on our heads.
Out of all the treatments this is the one we would explore again.
Ion Cleansing Foot Bath
This was one of those treatments that we both said, "oh yea, whatever" until we saw the results. Basically we put our feet in small bath filled with water and had rods delivering small electrical currents into our bodies. Our bodies are filled with toxins, heavy metals and other unwanted elements and the positively and negatively charged ions that run into your feet supposedly can help remove them. We went along with this idea, somewhat skeptical, but were completely shocked to see the amount of absolute filth that filled the water over the 20 minutes.
A chart helped evaluate the debris and water colour to say what toxins were being eliminated. Whether this worked or not, something definitely came out through our feet, and we left feeling a bit more like believers.
Chi Nei Tsan
Izzy signed us up for a 30-minute session with the phenomenal Ms Tim Thunyarat, an abdominal realignment specialist. Everyone who had her treatment at Atmanjai said the same thing: "It's an experience". We had never heard of this therapy, but were told it was not to be missed. Basically Ms Tim would heavily massage our stomach organs and around our genitalia (yes, genitalia) to put everything back in place.
I won't lie – it hurt. But enduring the pain we both came out of it feeling like we were floating. Whether this was from the organs being realigned or from the sheer relief of not having our intestines moved from left to right, we're not sure. But our stomachs were noticeably softer afterwards.
The Level Of Care At Atmanjai
Obviously taking part in a very strict and somewhat intensive detox program is not without its risks. While we were there we saw one lady become extremely faint and nearly pass out, and some others became sick for a day or so. If you have never done anything like this before than it is best to take things very easy during your detox in Thailand. That being said you could not be in better care than with the staff at Atmanjai.
Everyone is heavily qualified and trained in their disciplines, and have years of experience in guiding people through medical and health detoxes. The Thai staff are always on hand to help and are among the most caring people we've ever come across. The Western practitioners and managers have been working in the health industry for years and will do anything to assist you in your detox in Thailand.
While it is recommended you stick to your program as closely as possible (whether it is Ultra Cleanse, Eat Well or Fitness), nothing is forced on you. If you want to skip a session, you are free to. If you want to have a day off from working out, no problem. Obviously the best results will come if you can complete every aspect of your schedule, but if you are unsure of anything you can chat to any of the staff.
Overall Impressions Doing A Detox In Thailand With Atmanjai
There was one thing that we found very interesting while we were doing a detox with Atmanjai Wellness Spa: None of the guests who were on the Ultra Cleanse Program said they felt amazing at the end of it. There was no "oh my, I'm like a new person" cries of relief when they completed the detox. But the amount of returning customers was a testament to the company.
This didn't seem like something you do as a fad for instant satisfaction. It was an ongoing, long-term transformation. The people we chatted to who had already done an Ultra Cleanse detox with Atmanjai said that the positive results came gradually and lasted for months. Ultimately it was always their own lapses that brought them undone: Starting to drink heavily again, having one treat a week that would turn into one a day, and then even more regularly, eating unhealthy foods, etc.
The way a detox with Atmanjai works is they help get your body onto the right path and give you the tools and ideas to implement healthy living into your own life. The rest is up to you. If you come with the idea of losing weight in mind, yes you will lose weight. But will you keep the weight off? The choice is yours.
Personally we felt like we achieved a lot at Atmanjai. In hindsight three days was not enough, and Izzy tried to encourage us to stay longer. Unfortunately with prior commitments we couldn't, but it was obvious to us that the longer we had have detoxed, the more results we would have seen.
It's almost a month since we began our detox, and we feel great. Since leaving Atmanjai we still have not had any alcohol, we've had bread a total of two times, yoghurt once and haven't eaten a single chocolate bar or sugary treat at all. We've both lost weight and have more energy. We will admit that our bodies don't really feel much different, but then again we didn't come into this from a traditional background. We don't have routine and a steady diet anyway, and probably won't for many, many years.
It was all quiet an interesting experience for us, but looking back on it we are 100% convinced that it was a great way to kickstart our health campaign.
This detox in Thailand has not only started off with us being healthier and more active, but our minds are actually clearer. We are more productive in our work and starting to get the energy to hit the road again. And with the incredible team at Atmanjai Wellness Spa imparting their knowledge and experience we feel healthier, both physically and mentally, than we have in years.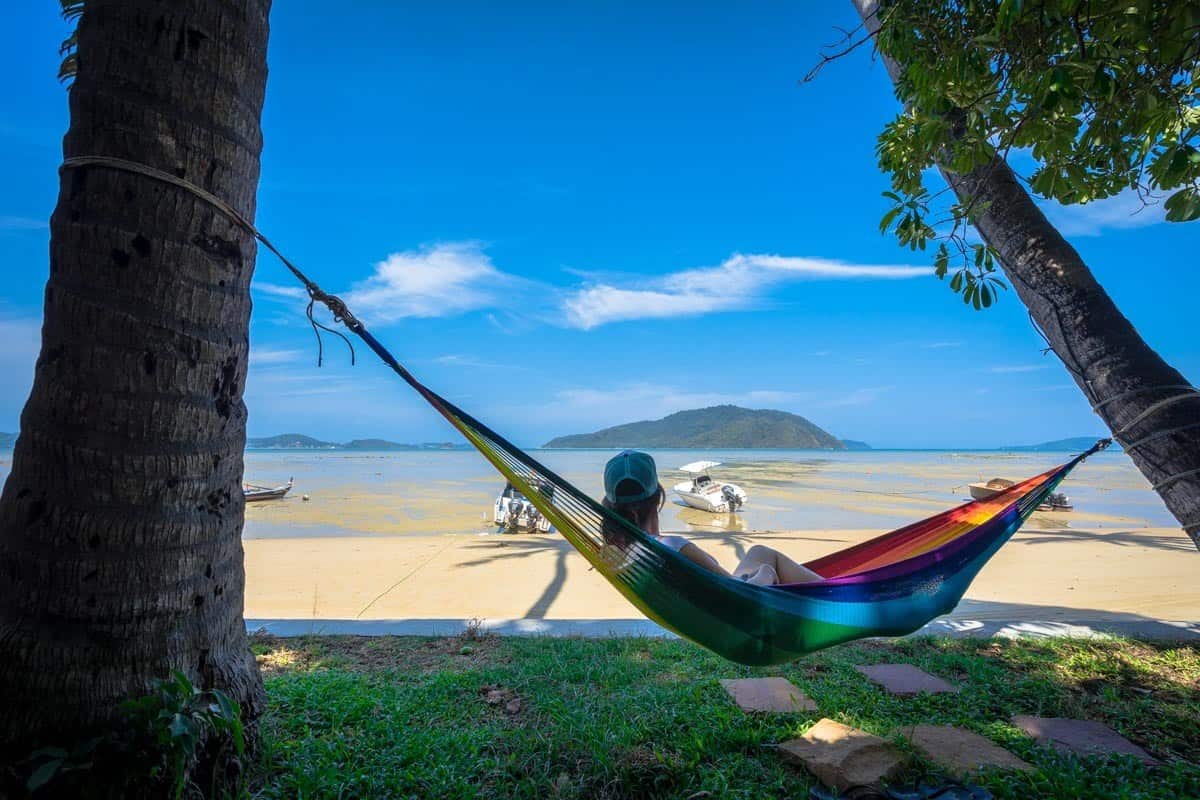 [/et_pb_text][et_pb_text admin_label="Text" background_layout="light" text_orientation="left" use_border_color="off" border_color="#ffffff" border_style="solid"]
Accommodation – Where To Stay For Your Detox In Phuket
You really are spoilt for choice in deciding where to stay in Phuket when doing a detox with Atmanjai, but ultimately staying near the retreat is the best option. Atmanjai Wellness Spa is located in the Rawaii area of Phuket, which is on the southeast part of the island.
Atmanjai shares the premises with Friendship Beach Resort, and has a sister hotel at Serenity Resort And Residences Phuket. We stayed at the first one.
Friendship Beach Resort
Right on the ocean and beautifully set up, this resort has an onsite bar and restaurant, a range of spacious and modern rooms, a great pool and relaxed atmosphere. The staff are great and we really enjoyed the place. The food and drinks are a bit on the pricey side, but is of very high quality and quite healthy.
Our room was massive and very clean, and we couldn't really fault the place. There is a fruit and vegetable market across the main road from the resort, and even though it is a bit expensive it is still cheaper than what you get in restaurants. You can easily flag down a songthaew or taxi to get up and down the area, or rent a scooter.
Serenity Resort And Residences Phuket
This is the sister property to Friendship Beach Resort, and is a bit more upmarket and luxury. We didn't venture out here, but many of the guests who were doing programs at Atmanjai were staying there and loved it. So while we can't personally recommend it based on experience, it definitely sounds like a good place to be if you are doing your detox in Thailand and want to stick around Phuket.
Our Ultra Cleanse program and detox was done in partnership with Atmanjai Wellness Spa and our accommodation was covered by Friendship Beach Resort. All thoughts, opinions and toxins eliminated are as always our own.