Looking for the most luxurious, unique hotel in Phuket? Check out our exclusive Keemala Phuket review to discover why you should be booking your stay here immediately!
Hidden away amongst the lush rainforest of Phuket's coastal hills lies one of Thailand's most peculiar luxury hotels.
Keemala Phuket is an escape from reality, where villas blend seamlessly into their natural surroundings, oceanview private pools perch impossibly on jagged cliffs and manmade waterfalls tumble into glistening streams.
On an island renowned globally as being home to some of the world's greatest resorts, Keemala Resort manages to stand out from the crowd thanks to its architectural splendour, wild landscaping, 5-star dining and boutique customer service.
To stay at Keemala is to experience a unique world that redefines small luxury hotels in Thailand. Here lies a hotel where design comes from the history of ancient Phuket settlers, the clans that migrated to the stunning island in the time of the Silk Road.
The story forms the basis of the architecture, but it's the famous hospitality of the Land of Smiles that energises the property.
Is it worth the hype though? That's what we went to find out…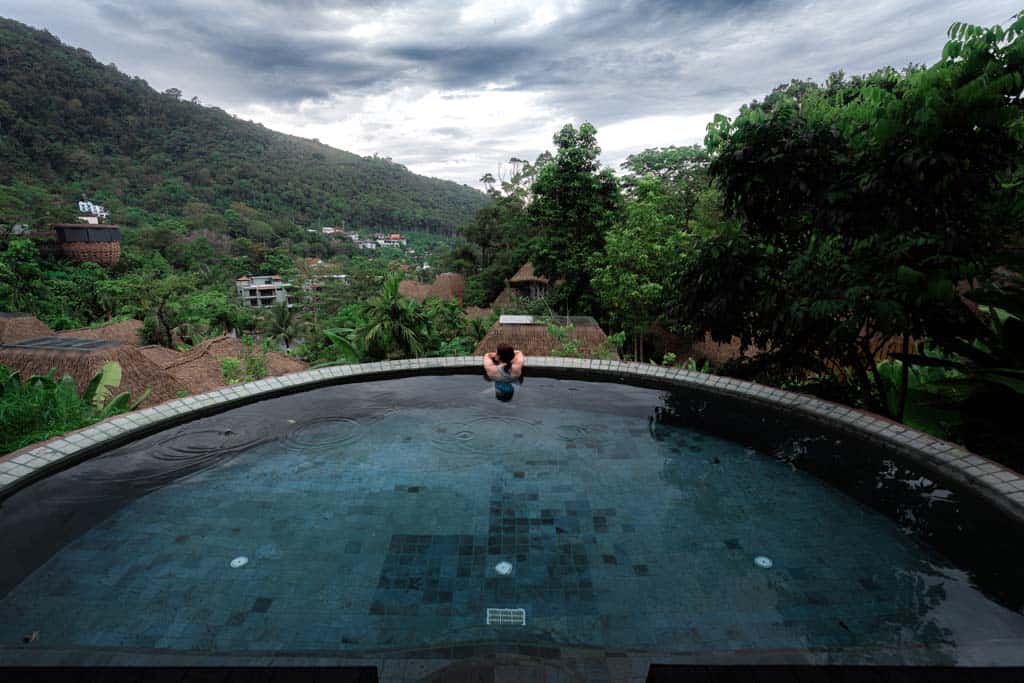 Keemala Phuket Review
We were fortunate enough to experience a stay at the Keemala Phuket Resort on our most recent visit to Thailand, and were floored with every aspect of the visit.
From the moment we arrived it was made clear that things were done differently at this private pool villa wonderland.
A golf buggy whisked us away from the timber gates tucked away in a quiet alley Kamala village along a winding, vibrant journey uphill to the reception.
Smiling staff greeted us with cold towels and welcome drinks, then led us out to the elevated Welcome Pavilion overlooking the entire resort to complete check-in.
The whole process was done quickly and efficiently while our bags were transported to our villa. With the formalities out of the way, the head concierge gave us an introduction to the hotel, a bit of its backstory, and a list of options we had for how to spend our evening.
From spa treatments to excursions to nearby Kamala Beach, there was a surprising amount on offer. But personally we couldn't wait to get to our room and make the most of Keemala's award-winning accommodation.
Another buggy transferred us to our Tree Pool House villa, and before we even stepped in the door we had fallen in love with the fanciful design and architecture.
Emerging from the trees like an enormous beehive, the exterior of the 2-storey villa wrapped in honeycomb-shaped sheet metal beckoned us to enter with heightened anticipation.
The door swung open and we stepped into a vortex of unrivalled exquisiteness.
So would begin our stay in what proved to be one of the most unique accommodations we have ever had the pleasure of experiencing.
Let us dive into our complete Keemala Phuket review.
READ MORE: See what you can get up to with this perfect Phuket itinerary.
The Villas
Keemala Resort in Phuket is best known for their designer luxury villas that are suspended throughout the rainforest property.
Each villa comes complete with its own private pool, captivating sea views, comfortable beds and spectacular bathrooms.
Whether you go for Keemala's affordable Clay Pool Cottages, the Tent Pool Villas, the Tree Pool Houses (that we stayed in) or the world-class Bird's Nest Pool Villas, one thing is certain and that is you're going to fall in love with the powerful statement Keemala makes on luxurious accommodation.
The Clay Pool Cottages
With an option of either one-bedroom or two-bedroom designs, the Keemala Clay Pool Cottage offers 126m² of spacious living with its own terrace and plunge pool (180m² in the two-bedroom suite).
Inspired by the ancient Pa Ta Pea clan of farmers and carpenters, the clay construction leans on the Earthen style of the historic tribe, and this is evident with the thatch roofs overlaying the rammed soil walls.
Tent Pool Villas
Drawing on the nomadic style of the ancient Khon-Jorn (Wanderer) Clan, the seven Tent Pool Villas take glamping to a whole new level.
Boasting rainforest views and wildlife-inspired decor, this luxurious safari style tents villa comes complete with an indoor and outdoor monsoon shower, separate bath and an oversized bed with a draped mosquito net and Egyptian cotton to keep you comfortable.
Your own infinity pool sprawls out from the terrace, beckoning you to spend your afternoons lounging in paradise.
Tree Private Pool House
This is the villa we stayed in, channelling our inner We-ha (Sky) Clan spirit and loving every moment we spent here.
This two-storey nature-inspired pod boasts a glorious master bedroom, bathroom and outdoor shower upstairs, with a balcony overlooking Kamala village below and wraparound windows that still manage to maintain a lush sense of privacy.
Stepping down the spiral staircase you find yourself in the separate living and dining room, with another bathroom, traditional coffee-making facilities and a minibar.
The enormous sliding doors open up to the large swimming pool, with lounge chairs and jungle vibes adding to the appeal.
This villa at Keemala Hotel offers a unique opportunity to enjoy separate living and sleeping quarters, adding a homely feel to your luxury getaway.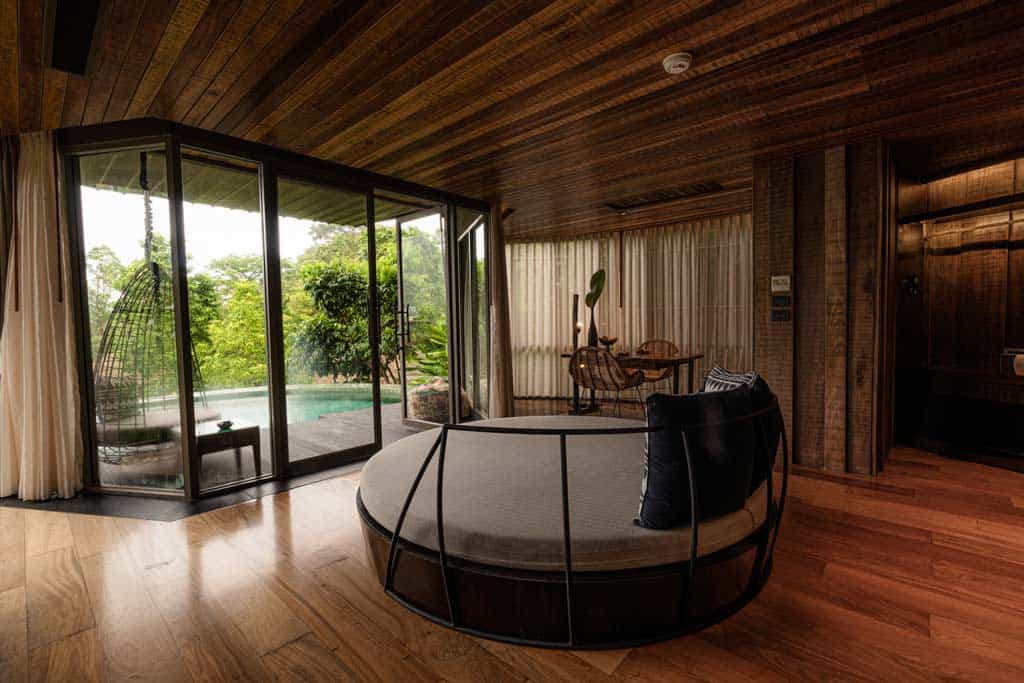 Bird's Nest Pool Villa
The pinnacle of luxury hotel rooms in Southern Thailand is the iconic Bird's Nest Pool Villa, a feat of design prowess and beauty that is unrivalled in Phuket.
The opulent Rung-Nok (Nest) Clan were considered to be the most superior of the four clans on Phuket, with creative and intellectual members that helped craft the future of history for the island.
It is their wide-ranging skills that inspired the woven design of these eight Bird's Nest Villas, resulting in Keemala's ultimate resort accommodation.
With 185m² of space, including the 20m² terrace and magnificent 30m² pool, there's no chance of feeling cramped as you relax in the tree tops looking out over the rainforest.
The timber interior and stone bath and vanity work seamlessly blends traditional design with modern amenities.
Ample light streams in from the floor-to-ceiling windows, offering ocean views of the Andaman Sea in the distance.
For those guests that are celebrating honeymoons, anniversaries or special occasions, or visitors who just want to experience incredible design, you cannot beat Keemala's Bird's Nest Villas.
The Keemala Experience
To stay at Keemala is not just to have a place to rest your head at night. It's to experience award-winning Thai hospitality, jaw-dropping design, mouthwatering cuisine and health and wellness the way that only this unique resort can execute.
The complimentary shuttle service that will whisk you straight to Keemala Town from Phuket International Airport is the start of something special.
On arrival you're driven through the tranquil surroundings to the Welcome Pavilion to start check-in, where you'll already be experiencing Keemala's superior service.
How you spend your days from here is entirely up to you. Fun seekers will want to visit the ever-popular Patong Beach for a range of activities, or head up into the mountains to what other incredible things there are to do in Phuket.
However if you're here for a holiday, why not simply kick back at Keemala Resort's Mala Spa, sipping on herbal drinks and enjoying massage treatments before a round of cocktails at the pool and retiring to your villa?
Keemala embraces whichever lifestyle you choose, so open yourself up for its splendour.
The Grounds
When construction commenced on Keemala careful considerations were made to ensure the beauty of Phuket's rainforests were highlighted rather than destroyed.
Villas were built off the ground to minimise long-term impact, narrow roads and pathways follow the contours of the hills and mature trees were left in place, creating a vibrant, jungle atmosphere.
If the hilly terrain gets to be too much, the staff are on-hand with golf buggies to whisk you from your accommodation to the reception, restaurants, pool or anywhere else you'd like to go.
For us though simply walking around the grounds admiring the architecture and nature was a splendid way to explore Keemala Phuket Resort.
The Pool
Every villa boasts their own personal pool, but for a social scene make sure you head down to the large, shared swimming pool, complete with a man-made waterfall, swim up bar and lounge chairs.
Enjoy the pool in any way you'd like. You can swim laps, join an aquatic exercise class or simply sip on cocktails and mingle with the other guests.
Dining
The exceptional service at Keemala extends to their dining options, and with the renowned Mala Restaurant and Mala Bar being the centre of cuisine delights, you're guaranteed world-class meals during your stay.
The Mala Restaurant offers all-day dining and serves up healthy living cuisine utilising locally-sourced produce, including fresh vegetables, fruits and herbs grown right here on the property.
If you're looking for an intimate evening, Keemala Phuket gives guests the option of 'Destination Dining' on the property, including in a private candlelit pod, by the pool at the Cha-La Pool Bar or setup in the herb garden.
And of course room service in your villa is always an option, or join one of the cooking classes to learn how to make your own meals
If you have any dietary requirements you will be well taken care of at Mala. Gluten free, vegan or vegetarian, allergies or dislikes are of no concern, so just let your waiter know when you're ordering.
Whether you're craving divine Thai food, unique Indian cuisine or something light and refreshing, the experienced chefs at Mala Restaurant will be sure to cover every tastebud and desire.
Breakfast
Included in your stay is a varied and fresh breakfast, served up right in the Mala Restaurant.
There's no shortage of delicious food on offer here, from Asian staples to Western classics, including made-to-order juices, eggs-your-way and daily delicacies that change depending on what ingredients are available.
Spa Treatments
No trip to Thailand would be complete without a bit of pampering, so make sure you set aside some time to enjoy Keemala's range of treatment options.
Keemala places a high priority on guests' health, which is why they've created a variety of wellness programs to suit every traveller.
Hit the fitness centre to get those calories burning then visit one of the eight treatment rooms or Thai Massage Pavilion for holistic therapies, meditation spaces, sauna rooms or integrative Thai bodywork.
The Ultimate in Resort Luxury in Phuket
From the moment we stepped foot onto the property we were in complete awe of the design, subtle details and lush grounds that has helped elevate Keemala to become the best luxury resort in Phuket.
While it may not be the cheapest option around, for those travellers who are looking to experience the epitome of Thai accommodation you cannot beat this unique hotel tucked high into the village of Kamala.
The only issue we found with our Keemala Phuket review was that our stay wasn't long enough.
There is always next time though…
DISCLAIMER: Our stay and review of Keemala Phuket Resort was made possible thanks to our partnership with the Tourism Authority of Thailand. All thoughts, opinions and delicious meals eaten at Mala Restaurant are, as always, our own.