We hitchhiked to Alert Bay in Vancouver Island to get a killer whale tattoo from the world famous Bart Willis.
I've always believed that a tattoo makes a great souvenir. It's easy to carry, represents exactly what you want to remember of your holiday and, best of all, you will never lose it!
Whether it's a saying that defines the purpose of your trip, an image of something important to you or simply a drunken, "seemed like a good idea at the time" venture, one thing for sure is you will always look at that piece of art and be taken back to the experiences you had during that time.
Which is why after my third year of living in Canada, I wanted to have another tattoo sketched onto my arm. I already had a Haida raven and bear on my right arm, the raven telling the story of my first year in Canada, the bear representing the second.
For my third and final year, I felt the mythology behind the orca would be suitable to complete the story.
I have become quite selective about the artist I choose to ink me, and after months of research, I had decided I wanted to have Bart "Bartattoo" Willis do the final piece.
Bart is a Canadian born artist who now lives in Austin, Texas having founded Southside Tattoos. He is regarded as one of the gurus of First Nations tattoo art, having helped revive the scene for the indigenous people of the Pacific North West.
After a few emails to Bart stating my story and why I wanted to have a tattoo done by him, he told me he would be in Alert Bay, BC during the summer and to "stop on by for a visit".
Alert Bay is a small village on Cormorant Island, off the northern tip of Vancouver Island in British Columbia. It has a small First Nations reserve for the 'Namgis people who reside there, and is located in the famous Inside Passage, a thoroughfare for killer whales migrating up and down those waters.
As such, it has become a bit of a tourist destination for those wishing to witness the wonders of being up close to these magnificent animals as well as those who wish to experience some authentic indigenous culture.
Towards the end of the summer Alesha and I had travelled around a bit with her parents and had finished our trip in Victoria, on Vancouver Island.
We had about 10 days spare before we were to fly to Guatemala City from Seattle, and I was desperate to try and make it to Alert Bay to meet with Bart and hopefully complete my half sleeve with a killer whale tattoo.
I hadn't heard from Bart for about a month, so was unsure if he was even still there, but didn't let that deter us.
We decided that we would hitchhike to Port McNeill, 450km North of Victoria, where we could then catch a ferry to Alert Bay.
Alesha's parents were less than impressed with this idea and tried incessantly to make us catch a bus instead, even offering to pay for the fares. But we laughed, told them we'd be fine, said it would be an adventure, and had them drop us off on the side of the highway before they flew back to Australia.
The look of worry and despair on their faces was intense, but they trusted that we would be ok. They waved goodbye to their eldest daughter and her dreadlocked boyfriend, and left them outside a service station with backpacks, a tent, a cardboard sign and their outstretched thumbs.
It took us a day and a half and 7 individual rides to make it to Port McNeill. Everyone who picked us up was completely welcoming and friendly, even offering us food and shelter.
As we didn't make it to our final destination in one day, we decided to break the jaunt up with a beautiful night's sleep on a beach overlooking the ocean in Campbell River.
We arrived in Port McNeill the next day just in time to catch the ferry to Alert Bay, and once disembarking we set out to track down Bart.
With no contact details, we were hoping that it wouldn't be too much of a mission trying to track him down. However the first person we asked sadly informed us that he had not been able to make it Alert Bay this year, and maybe we could come back next year. I was devastated.
Luckily for us this information turned out to be false, as confirmed by the next lady we asked who said she had seen Bart just that morning.
After questioning us to ensure we weren't psychopaths, she gave us directions to his little trailer overlooking the ocean.
We set up camp at the local caravan park and set off to find Bart Willis. We stumbled across his trailer and popped our heads inside.
He was tattooing some flowers on a native lady named Allison, who we later became friends with, and gave us a curious look.
As I started to introduce myself, the puzzle pieced together. He exclaimed, "Hey, you're the Aussie guy who was emailing me! Welcome, come in, sit down!" And from that moment on, the hospitality and generosity was amazing.
Bart introduced us to all his friends, and we shared beers, whiskey and delicious food. He shifted some of his clients around to fit me in on our tight schedule and over the next few days we alternated between getting inked, hanging out and consuming large quantities of fresh salmon (which is a main industry in Alert Bay).
Allison gifted us a gorging amount of salmon, and that helped keep us well fed on our limited budget.
On one of the afternoon sessions in which Bart was tattooing me, a huge pod of orcas swam by close to shore, which we could see from his quaint abode.
We rushed down to the jetty, my arm still dripping with fresh ink from the killer whale tattoo, and joined what seemed to be the entire town.
The huge gathering of people stood in amazement as we experienced these majestic animals breaching, spy-hopping and playing a mere stone-throw's distance away from our vantage point. An awe-inspiring scene.
After a few days, the locals became more and more receiving and opened their doors and their hearts to us.
We couldn't even walk down the street without people calling out from their patios, wanting to chat and to offer us a feed. Alesha and I did some hiking in the heart of the island, through some magnificent natural terrain.
On one of our final mornings, we met a famous wood carver by the name of Wayne Alfred, who invited us into his workshop after meeting us in a cafe.
We got to witness this master carve a chief's head piece, which is something we felt extremely privileged to see.
By the end of our 4 short days on the island we had met some amazing people who welcomed us into their beautiful community.
We felt like we had experienced more than most people get to who visit the island only to see the migration of orcas.
Bart completed my killer whale tattoo, which concluded my current story in Canada. But it also created a new memory that far exceeded a lot of things we had accomplished during our time in the Great White North.
It was a situation where the tattoo not only told a story of the past, but where the creation of the art manifested into something which helped redefine what I was trying to articulate.
Sometimes the story doesn't end when you think it does.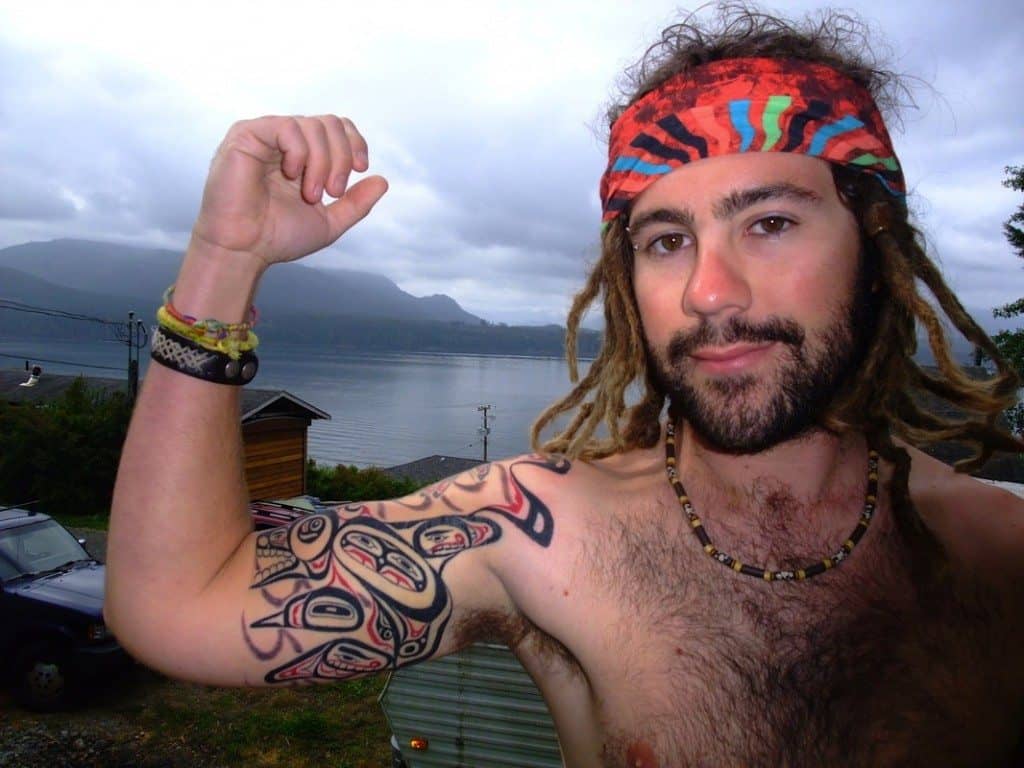 If you are looking for an exceptionally talented tattoo artist and are in either BC or Texas, or willing to stick out your thumb to make get to one of those places, check out Bart Willis.