Launching the brand new GoPro HERO7 Black Dusk White limited edition camera by going on an international trip to a secret location…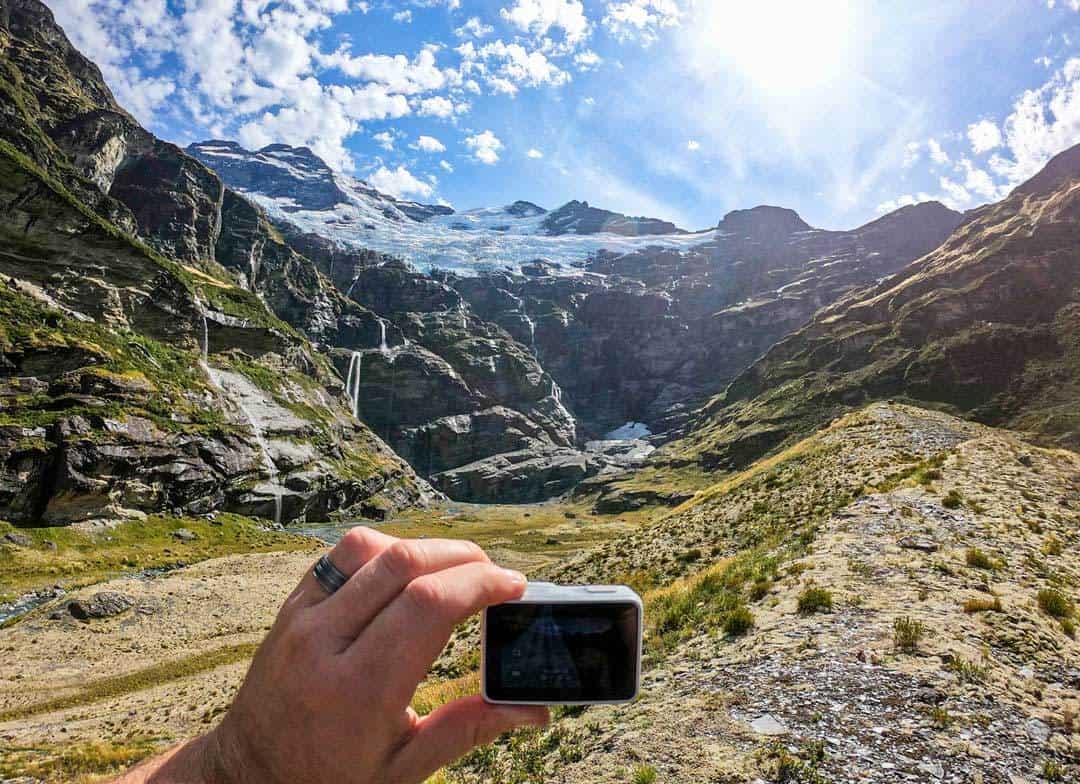 "Hey man, what are you doing tomorrow?"
I was sitting on my couch in Sydney working my way through an enormous to-do list after just returning from a 3-week assignment in Canada, when my phone rang. It was a Sunday afternoon, and I had no idea what answering that call would lead to.
BREAKING NEWS – Check out our GoPro HERO12 Black review!
The person at the other end was a mate who loves fun and adventure as much as just about anybody I can think of. He is also the kind of person that knows how to make fun and adventure happen.
After a bit of a chat he dropped the bombshell.
"Want to come on a trip? I can't tell you where or what we're doing, but I promise it'll be epic. You just need your passport, warm clothes and swimmers."
17 hours later I was standing at Sydney International Airport, passport in hand, ready to jump on a mystery flight. Because who can say no to a proposal like that?
My buddy works with GoPro, doing their marketing and PR for Australia and New Zealand. He had been secretly putting together an insanely awesome campaign to launch their brand new, limited edition GoPro HERO7 Black Dusk White edition. Not that I knew that at the time.
He needed one more person to come along, capture content and write about the trip. He thought of me, and next thing you know I was packing my bag for 3 days of untold excitement.
I got to the airport and met up with the rest of the crew coming along for the secret adventure. There was Ed, Loz and Emma from GoPro coordinating the entire trip, two amazing video creators, Kurt and Nick, and the editor from Man of Many, Joe as well.
Two others, Dalton from The Tailored Man and professional racecar driver Danni Halcrow, would be meeting us at in our final destination.
At this stage we were all handed our first clue as to where we were going. It was a sign with our flight number.
We ran to the flight information board and checked VA163. Non-stop to Queenstown, New Zealand, the adventure capital of the world.
This was going to be insane.
The Limited Edition GoPro HERO7 Black Dusk White
First of all let me talk about the new camera that has just been released, the GoPro HERO7 Black Dusk White.
For the first time ever, GoPro have brought out a limited edition colour of one of their popular HERO series cameras.
While a few of their models have had different colours based on being an entry-level, mid-range or professional bit of kit, GoPro has never given the top-of-the-line camera a new colour before.
The Dusk White shade has been applied to the very successful GoPro HERO7 Black, which is the most recent addition to the HERO lineup from the household-name camera company.
You can read all about this incredible camera in our detailed GoPro HERO7 Black review.
This particular camera is a serious contender for being the absolute best action camera on the market. After a few turbulent years (*cough* drone *cough*) GoPro managed to turn their luck around with the introduction of the HERO7, and they have now cemented their place back at the top of the industry.
The GoPro HERO7 Black hit the shelves with a number of features that seemed almost too good to be true.
To start with was the new HyperSmooth feature, which is GoPro's 'must-be-seen-to-be-believed' inbuilt image stabilisation. It was nicknamed the gimbal killer for being so good, and now you can create buttery smooth footage while running, mountain biking, snowboarding, skateboarding or just about any other high impact activity you can think of.
Next of course is the ability to shoot 4K video at 60FPS, and 1080p high definition clips at a staggering 240FPS, which produces mind-blowing slow motion footage.
Surprisingly some people still don't realise that GoPros have always been able to take photos, but that all changed with the introduction of SuperPhoto, a setting that takes vibrant HDR images that barely need to be edited.
They also have a night photo mode as well for taking sharp images in low light (with the use of a tripod of course).
TimeWarp was the last big upgrade, which is capturing hyperlapse video rather than the traditional timelapses GoPro used to be restricted to.
All of this comes in a fully waterproof camera that fits quite literally in the palm of your hand.
We've personally been using GoPros ever since the release of the first-ever HERO camera, and it's been wonderful to see the level of progression the camera company has made over the years.
On March 1st 2019 GoPro announced the limited edition GoPro HERO7 Black Dusk White, which is the same best-selling camera all wrapped up in a special new colour.
When they say limited edition they mean it – on March 24th they will stop selling them, so if you've always wanted to upgrade to the new GoPro HERO7 Black, now you can do so with a sexy new colour that won't be around forever.
Read more about the GoPro HERO7 Black Dusk White here.
GoPro's Secret Adventure in Queenstown, New Zealand
Back to the story, and what went down when GoPro took myself and 8 other people to Queenstown, New Zealand to celebrate the launch of the GoPro HERO7 Dusk White edition camera.
Don't miss our detailed guide on the best things to do in Queenstown
Day 1 – To the Luge!
After the 3-hour flight we cleared customs and headed straight to our accommodation, the Rees Hotel. This is famous for being one of the best hotels in Queenstown, and with postcard-worthy views over Lake Wakatipu and rooms bigger than most people's apartments, it's a perfect place to make a comfortable base when in town.
Not that we had much chance to enjoy the views. We were given 20 minutes to check-in to our rooms, drop our bags off and get ready for our first adventure.
As soon as I walked into my enormous apartment I saw a shiny new GoPro case sitting on the kitchen bench. I excitedly opened it, and got my first glimpse of the Dusk White version of the phenomenal GoPro HERO7 Black.
There was also a bunch of cool accessories and mounts in the case to help us capture some sweet content over the next 2 days in Queenstown.
I grabbed my new camera and headed back upstairs to catch up with the rest of the guys.
The GoPro team loaded us into taxis and we drove into town, not sure about what we would be doing for the afternoon.
We pulled up at the base of the Skyline Gondola, loaded into the lift and made our way to the top of Bob's Peak. Here we were handed our next card.
It was time to hit the luge.
This 800m track is one of the funnest activities in Queenstown, and we were given 3 laps each to get the hang of the plastic karts, and of course see who could capture the best banger footage.
Even though most of us had been to Queenstown previously, nobody had been on the luge before. There was a fair bit of smack talking already happening about who would win, but there wasn't any serious competition amongst the crew. It was just going to be a fun way to spend an hour with new friends.
We raced the karts as fast as we could, getting progressively more aggressive each time, and having a barrel load of laughs as we'd nudge each other into the walls on the way down.
After the 3 laps we headed to the Skyline Restaurant for a sunset dinner. This place is pretty famous for being one of the best spots to eat in Queenstown, and it definitely didn't disappoint.
We grabbed a table by the window, set up our GoPros for timelapses, and got stuck into the gourmet buffet dinner.
More than a few craft beers were enjoyed, but before it got too late we headed back to the hotel for an early-ish night. We were promised tomorrow was going to be jam-packed, and we needed to be fresh for it.
Day 2 – Sunrise, Helicopters and Waterfall Shenanigans
At 6am we all met in the lobby of the Rees Hotel and wandered down to their private pier on the edge of the lake to shoot sunrise.
GoPro cameras used to be all about action and extreme sports, but with the fantastic tech upgrades in recent years now they are perfect travel cameras to shoot any kind of photography.
Unfortunately the sky didn't turn on the crazy colours we had hoped for, but it didn't matter. It was great to just be starting the day with some awesome people and testing out the class-leading features of the GoPro HERO7 Black Dusk White.
Just before we made our way back to the hotel for breakfast, the GoPro officials handed us our new cards for the day.
"Let's take to the skies for the most breathtaking views in New Zealand."
In a place like Queenstown, taking to the skies can mean any one of a hundred different things. No point trying to guess right now though, we'd find out soon enough.
Today we were split up into two groups. Nick, Kurt and Danni headed off as 'creators' for their own fun-filled day of adventure with Ed and Loz, while Dalton, Joe and myself were sent off as 'media' to try some different activities with Emma tasked with the job of looking after us.
The idea was that rather than having 9 people capturing the same content, we could focus on experiencing as many epic adventures in Queenstown as possible.
We said goodbye to the creator team and met Lee from Alpine Adventures, New Zealand's premier adventure company, who drove us to the airport.
We pulled up outside HeliWorx, one of Lee's partners and curator of epic experiences, and the day's activity became clearer.
Lee gave us a briefing on what we'd be getting up to. We'd be loading into a helicopter and going for half-day flying adventure through Milford Sound, with stops at Lake Erskine, a glacier near Mitre Peak and a champagne lunch at a place dubbed Middle Earth Waterfalls.
Our pilot Scotty then joined us after doing the pre-flight checks on the helicopter, and he gave us a safety talk before we all jumped in.
A few minutes later, we took to the skies.
Flying over Lake Wakatipu is hard to put into words. The water shimmers in vivid hues of blue with mountains dropping sharply at the lake's shore.
As beautiful as the area directly around Queenstown is though, getting deeper into the Fiordland National Park is where our jaws hit the floor.
The New Zealand Alps are home to some of the most spectacular mountain ranges in the world, on par with what we've seen in Patagonia, Canada and Austria.
Even in the middle of summer the high peaks were coated in a fresh layer of snow and misty clouds rolled off the jagged cliffs.
Scotty flew us over the mountains, pointing out various features of the landscapes below. He even managed to spot some deer from high above the terrain.
He approached Lake Erskine, a stunning alpine lake with a waterfall cascading from its side into the valley below, and touched down by its shore.
We all climbed out of the chopper and excitedly ran around for twenty minutes exploring the remote destination.
Launching into the sky again Scotty then took us to the coast, and with impeccable weather on our side, we had the opportunity to fly through Milford Sound, one of the most visually stunning and popular places in all of New Zealand.
Circling Mitre Peak, a mountain famous to climbers the world over, we then flew to a nearby glacier, and with the conditions looking right Scotty landed directly on the ice, allowing us to stretch the legs.
Lee and Scotty talked to us about glacier safety, the dangers of crevasses and how to avoid them, and once we had taken our pictures we headed off again for the final destination.
Middle Earth Waterfalls is a captivating place that can only be reached by chopper (HeliWorx has the only permits to land here) or via a long trek, and it's so spectacular that this location was used during the filming of The Hobbit.
A massive hanging glacier looms above the valley, with a number of waterfalls tumbling down into the river below. It honestly is a majestic and enchanting location, and it's easy to see why it's been used in a Hollywood fantasy movie.
Scotty dropped us off about 500m up the river and we slowly walked to the base of the glacier to meet him. By the time we arrived he had laid out a delicious gourmet picnic lunch, complete with champagne, for us to enjoy.
I've had a lot of meals in a lot of epic destinations, but few compare to here.
With the meal done a few of us went for a swim in the glacial river before returning to Queenstown airport.
This was by far the most incredible experience I've had in all of New Zealand, and we couldn't thank Lee from Alpine Adventures enough for the day out.
Now it was time to find out what we'd be doing next…
"It's time to head to nature's very own water park."
Lee drove us back into town, dropping us off at the office of Canyoning Queenstown. The adventures would continue into the afternoon.
Canyoning is the sport of navigating through a canyon or gorge, often requiring climbing, jumping, scrambling or swimming to reach the end and occasionally using ropes to safely abseil or zipline through dangerous sections.
With that kind of description, we knew it was going to be an epic few hours.
Our guides gave us a safety briefing before driving us out to a canyon just 10 minutes from Queenstown. Here we were given helmets, life vests, wetsuits and shoes, as well as a more detailed explanation of what they had in store for us.
Another quick drive and soon we were at the bottom of the river. We took a quick dip to cool off, then hiked our way up the edge of the canyon.
Along the way we took two ziplines over the gorge below to get our hearts pumping, and soon enough we abseiled 20m down into the fast-flowing river.
Working our way back towards the starting point, our group slid down wet rocks and jumped off of high waterfalls. At one point we even ziplined to the centre of a pool, then using some skilful rope techniques had to abseil directly from the zipline, which is something none of us had ever attempted before.
The water was frigid, but thanks to the wetsuits (and constant movement) we managed to stay warm throughout the adventure. Our GoPro HERO7 Black Dusk White cameras also never missed a beat, even with the constant thrashing in icy waters.
I've been lucky enough to canyon in a number of countries around the world, but Queenstown really does everything better than anywhere else in the world. It was an awesome way to finish the day of secret activities.
Showered and dry, we drove into town and hit one of the bars for some celebratory craft beers before heading back to the Rees Hotel for some pre-dinner rest.
The GoPro team had booked us into Botswana Butchery, one of the best steakhouses in all of the South Island, for our final night in town, and the entire crew got stuck into a delectable meal washed down with copious bottles of wine.
Afterwards, feeling properly lubricated, the group hit Cowboys for a few hours of debaucherous dancing. We hung out until closing, then foolishly stayed up longer at the hotel drinking more wine and solving all of the world's problems.
When you get the GoPro family together, fun is always going to ensue. Couldn't have asked for a better way to end such an epic day.
Day 3 – One Final Adventure
To say I woke up feeling a little worse for wear would be an understatement, but it was totally worth it for the fun night we all had at Cowboys.
We met in the lobby, checked out of our rooms, and then were handed our last cards. Our media group would be heading back up the gondola and trying the one activity that is most synonymous with Queenstown – bungy jumping.
We drank our weight in coffees and enjoyed a healthy breakfast at Vudu Cafe before making our way to the top of Bob's Peak.
The Ledge Bungy in Queenstown is a relatively low bungy jump, but made all the more special thanks to the jaw-dropping views over town and the lake, and the ability to try a freestyle jump.
The marketing manager from AJ Hackett, the company founded by the man that invented bungy jumping, welcomed us to the centre, and I got weighed up for the activity.
The other 3 had opted to skip the final activity, but despite my veins being full of wine and beergaritas from the night before, I had decided to go ahead with it.
Due to the drizzly weather it was just our GoPro team taking part in the activity, so we had plenty of time to get ready and set up cameras for my leap.
One thing I've learned though from years of jumping off of high things is that the longer you hesitate, the more likely you are to talk yourself out of something, so once I had the bungy connected to me I swan dived off the ledge as quickly as possible.
It's the third time I've bungy jumped in my life, and there really is no other feeling quite like it. The adrenaline rush is overwhelming, and you're left buzzing for hours afterwards, even though the activity itself is over in just a few seconds.
As no one else in our crew threw themselves off the ledge, we were left with some spare time on our hands, so we signed up for a final 3 laps of the luge to finish off the morning.
In a flash we were back at Queenstown airport, checking into our flight and getting ready to return to Sydney. It was a whirlwind trip, but definitely something we would never forget.
To have the opportunity to take part in such an exciting campaign with GoPro to launch their new HERO7 Dusk White limited edition camera was quite special, and I'm very thankful to the team at GoPro Australia and New Zealand, as well as to the Lampoon Group, for the opportunity.
The next time a mate asks what I'm up to tomorrow, they're going to have a hard time trying to beat that experience…
The GoPro HERO7 Black Dusk White camera is available for a limited time only. Order it from the GoPro website, or from selected retailers.