Having the best hiking backpack will be the difference between an awesome hiking trip and one that leaves you worn out, uncomfortable and not looking forward to the next trek. Our personal expert guide based on years of in-the-field research will help make sure you get the best backpack for hiking on your next adventure.
We've spent our lives trekking around the world and testing out different gear and we're so excited to finally hit publish on our ultimate buying guide for the best hiking backpacks on the market!
We've literally used dozens of different packs on thousands of miles of trails during our 15 years travelling the world.
This article didn't come about lightly. Myself, Alesha and our friends have put in more days of in-the-field research than we care to count. But hey, when research means being out in nature, we don't mind at all.
One of our top hiking tips is to make sure you have the best gear for the adventure ahead. So before every new purchase, we'd spend hours and hours researching every single feature, material and product we could find, driving from store to store to personally try these packs
When you're packing everything up and wandering off into the woods, the most important piece of gear in your whole kit is what you'll use to carry it all.
You might get away with stuffing any old backpack full for a kilometer or two, but as the morning settles in and the distance starts adding up, you'll really feel the difference between the best backpack in the business and a lackluster packer.
That's where this ultimate buying guide steps in.
We've made all the mistakes in the business – grabbed our favorite backpacking tent but forgot the tent poles, packed the stove but forgot to fill up the gas, and trusted in the wrong packs to get us to the mountaintop. 
Yes, we've even been those people duped by salespeople who convinced us that this revolutionary pivoting waist harness is the best thing since sliced bread, forked out $500 and then been in constant pain on the first multi-day hike we did.
One long weekend without the right lumbar support was more than enough to convince me to sit down and pump out my personal guide to the best hiking backpacks in the business.
Read on to find out more info about the rest of the competition. There are lots of other great hiking backpacks, even though the Osprey Aether is our favorite.
12 Best Hiking Backpacks At A Glance
| | | | | | | |
| --- | --- | --- | --- | --- | --- | --- |
| | | | | | | |
| | | | | | | |
| | | | | | | |
| | | | | | | |
| | | 100D-400D nylon packcloth | | | | |
| | | | | | | |
| | | | | | | |
| | | | | | | |
| | | 400D recycled ripstop nylon | | | | |
| | | | | | | |
| | | 210 D high-tenacity nylon | | | | |
| | | | | | | |
| | | | | | | |
---
The Best Hiking Backpacks
Every backpack on our list takes advantage of hip pockets and a hydration bladder (minus the Kelty Coyote and Deuter Speedlite) to make the most out of every inch of space.
Beyond these key characteristics, things get a bit more interesting. Some of these backpacks focused on keeping the weight down, others went crazy with the pockets, and a few decided to beef up and serve a more heavy-duty purpose.
Without further ado, let's dive into our expert guide based on actual use into the best backpacks for hiking!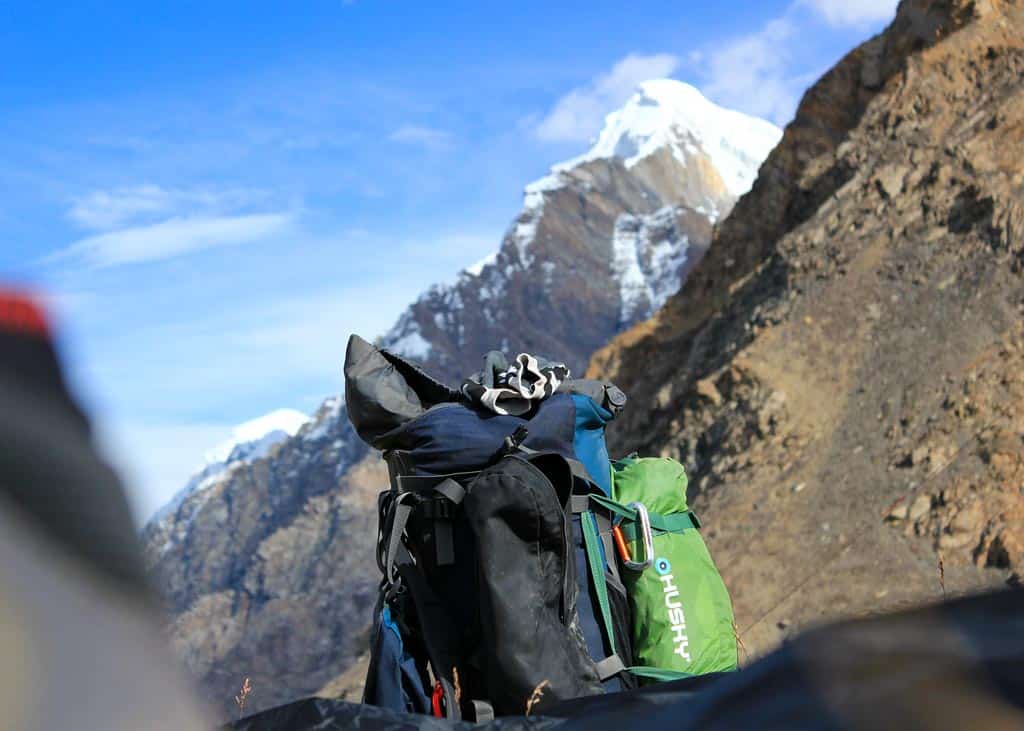 ---
NOMADasaurus Pick: Osprey Aether Plus
If you want the best hiking backpack in the business, there's no safer bet than Osprey.
The Aether Plus is the Osprey backpack's most advanced model yet, absolutely loaded with features that make your next hiking trip easier.
The bag is built for week-long expeditions and is ready to carry heavy loads while staying light.
A smattering of exterior pockets works together with all sorts of hooks, nooks, and crannies to keep everything from water bottles to trekking poles within arm's reach. The top external pockets detach from the body and turn into a day pack for quick strike missions from basecamp.
The Aether line comes in all sorts of options. Osprey built the plus line specifically for multi-day backpacking trips, while the pro-line is geared towards ultralight expeditions and extreme adventurers.
Whatever your hiking style, the voluminous and comfortable Osprey Aether will get you to base camp with stars in your eyes.
PROS
From the adjustable shoulder straps down to the hip belts, you'll find tons of ways to adjust this pack to fit your body
Removable top lid doubles as a daypack
The large zippered opening makes it easy to access the bottom of the main compartment without unzipping
CONS
One of the heaviest backpacks on our list
---
Gregory Paragon
Gregory's hiking backpacks don't have the household acclaim of Osprey, but the newest Paragon models' uniquely padded back panel and ventilation improvements have skyrocketed the bag to the ranking of a true contender.
The FreeFloat hybrid suspension makes this lightweight backpack rank as one of the best backpacking backpacks on the market.
A dual-access stretch mesh front section can store wet hiking gear or anything you need to access fast.
The optional day pack and hydration reservoir have been replaced with just a full-time hydration reservoir, but it's a small price to pay for the Paragon's lightest pack yet.
60 liters is more than enough to store all the camping gear you could need for a long weekend in the woods, and weighing a full kilogram less than the Osprey Aether sure doesn't hurt your back along the way!
Raise or lower the torso length and take advantage of the adjustable hip belt to turn the bag into your perfect backpack.
PROS
External attachment points and a comfortable frame will help this bag handle some extra weight
Common sense adjustments to spread the load across the torso, shoulders, hips, and back
Three different openings to access your gear
CONS
Upgraded suspension systems cost the user one removable day pack
The bag can still hug your shoulders and give a slight lack of breathability
---
Deuter Futura Air
The Future line is Deuter's most comfortable pack yet. In fact this is the exact backpack Alesha used for years before finally making the jump to Osprey (but she still loves this one).
The key is in the Aircomfort back mesh, which uses the latest and greatest in internal frame technology to combat sweaty backs and keep you chugging along through a multi-day backpacking trip. A good hip belt doesn't hurt the cause, either.
You can choose your own adventure and add or subtract 10 Liters of storage by taking the lid off the pack cover.
Compression straps across the bag allow you to seriously minimize the size. Even though 60 Liters is a bit too much to take carry through carry-on, with a splash of free space, you can compress this bag down in size enough to fit in the overhead compartment.
If you do decide to fill 'er up, the U-shaped zipper helps you reach the bottom of your hiking backpack without rifling through a week's supplies.
Across the bag, you'll find cinches, belts, and thoughtful details in all the right places that make this a piece of outdoor gear worthy of any closet.
PROS
A unisex backpack can be adjusted to fit anybody
Thoughtful SOS guide printed right onto the pack body
While we would always love more, 50% of the materials on these hiking backpacks are recycled
CONS
Slightly on the heavy end, especially if you only need 50 liters of storage
The latest model inexplicably removes the top buckle from the external mesh pocket
---
Osprey Talon
Here we get to our favorite day hiking backpack. The Talon 22 just wants to be outdoors, no matter what's on the agenda.
The entire pack is built to hold on tight through fast times downhill, summits, and everything in between – including casual strolls through the botanical gardens.
This light pack can still store enough for an entire day spent fully loaded. What other small hiking backpack still comes with a sternum strap, waist belt, and hydration reservoir?
We've personally used the Talon for years, both as a travel backpack and for kicking around the city.
There are only a few lightweight backpacks with this kind of mind-blowing specs, and with the world-famous Osprey logo sitting on the back, it's a safe bet that nobody does a quick outdoor adventure better than the Talon.
The large side pockets and easy access top storage keep everything close, and the hip belt pockets are just the cherry on top.
PROS
Padded shoulder straps are incredibly adjustable for such a small hiking pack
External cinches and easy access to multiple pockets help make a small pack with loads of storage
Hip belt pockets are a great spot for trailside treats
CONS
The hardcore back panel really comes in handy in the woods, but it causes the pack to lose some flexibility
22 Liters isn't enough to store a tent
---
Granite Gear Blaze
We'll forgive you for thinking, "Wait, who are you?" if you haven't heard of this company. Granite gear may not be the most well-known outdoor adventure sponsor out there.
But thanks to their ripstop nylon and a tough-as-rocks mentality, they've long been thru-hiker legends for the things they can do to an ultralight backpack.
The Blaze 60 is their most ambitious backpack yet. It's not quite the ultralight pack they're known for, but it is a bonafide stud that brings the brand into the mainstream.
This hiking backpack focuses on life as an all-rounder. There is a splash of extra padding in the comfortable back panel, a well-thought-out sleeping pad, and bag stirrups.
The beauty of this hiking pack lies in the load lifter straps, which work with the Air Current Frame to haul some seriously heavy loads.
While it's not close to the most ultralight backpack in the granite gear line-up, this bag still manages to shed off a few key grams over the competition without sacrificing comfort.
The minimal hip belt proves you don't need a championship waist belt to take on a heavy load.
PROS
A lightweight pack that doesn't necessarily require you to pack light
Heavy-duty water bottle pockets can each easily handle two 1 Liter Nalgene bottles
Full-length zipper brings easy access to stuffed main compartments
CONS
Not much creativity in the external and side pockets
Back ventilation is not up to the standard of some industry leaders
---
REI Co-op Trailbreak
No list of the best hiking backpacks is complete without a super solid budget backpack.
The Rei co-op knows a thing or two about keeping prices down and has taken advantage of its immense logistic system to churn out loads of high-quality gear cheaper than the competition.
If you're looking for an entry-level backpacking pack, you can feel pretty solid about letting this outdoor giant nudge you into a life in the woods.
You can't quite expect the Trailbreak to compete with the specs of the best overall backpacking pack options on our list, but designers squeezed every bit of value they could out of this model.
Fully loaded, you'll really feel this heavy pack, and it doesn't include a rain cover, but you'd have to try really hard to run into a rainy weekend on the John Muir trail.
The hiking backpack still comes with a sleeping bag compartment with its own zipper, a padded hip belt, and a comfortable clip across each shoulder strap that will get you a few kilometers from the parking lot to a great night underneath the stars.
PROS
The best hiking backpack on the planet at this price point
Tips the scale as a shockingly lightweight pack
Thanks to perks like large side pockets and a separate compartment for the sleeping bag, it feels alot like a more expensive backpack for hiking
CONS
Shoulder straps aren't made for logging serious kilometers
Doesn't include a rain cover
---
Gregory Baltoro
With storage capacities of up to 75 liters, the Gregory Baltoro is one of the best hiking pack options for seriously heavy loads.
When you start filling up your hiking backpacks to capacity, it can be hard to keep things organized, but that's no issue with the Baltoro.
A staggering 10 side pockets might should all but guarantee you don't need to access the main compartment until you reach camp.
The 65-liter version should be more than enough, and the U-shaped zippered access ensures nothing gets lost in the corners.
Four different sets of compression straps and a unique harness built into the hip belts hold onto your back and shoulders just right.
If you're hoping to pack light after you get to camp, a reservoir holder that doubles as a daypack sits ready just inside the Baltoro's top opening. You'll even find a great hydration tube holder that won't leave any Camelbak leaking down your thigh.
PROS
The best backpack for hiking compartmentalized
Features galore and LifeSpan foam makes for an incredibly ergonomic fit across anybody
Load lifter straps keep you looking forward
CONS
Sits slightly on the heavier side of our list
Takes a few trail miles to break in the foam
---
Osprey Exos
Our next Osprey hiking backpack is an all-rounder.
The Exos is billed as an ultralight backpack, and while it's not quite as light as some of the most ultralight backpacks for hiking, it's also packing a whole lot more under the hood than many similarly light bags.
You have a bit of freedom when adjusting your pack weight, as you can remove the sleeping bag straps, compression straps, and the top lid.
The best hiking backpack knows every single ounce counts. One thing I really appreciated about this pack is its willingness to add on a few ounces to give support and storage in all the right places.
An extra ounce or two can end up paying off, especially when they are used as smartly as they are in this pack.
The immense mesh ventilation and extra organizational features are worth their weight in gold. It all adds up to a great first foray into the ultralight world.
The Exos was Osprey's first ultralight backpack over a decade ago, and thanks to constant tinkering and updates, the freshest model still represents one of the best hiking backpacks out there.
PROS
Ultralight weight category, casual backpacking pack benefits
It uses a removable top lid instead of the usual dry-bag style roll top often found in ultralight options
The newest model adds hip belt pockets
CONS
A jack of all trades is a master of none
Requires a specific packing pattern
---
Deuter Speedlite
The Speedlite is our second-best hiking backpack for a day trip. It's also the most affordable option on our list, packing a whole lot of value into a double-digit price point.
This Deuter speedster is a great everyday carry, rocking enough traditional style and still adding on a hip belt and tons of value outside the main compartment.
Deuter crafted this sleek option for extreme sports as well as day tours.
You'll feel just as comfortable rocking this bag to the crag as you will sending it through security.
It's got everything you know and love from a larger hiking backpack, like a breathable mesh back panel and plenty of support, all in a much smaller package.
It's also got loads of daypack specials, like a top zip pocket and rock solid gear loops that make it easy to carry oversized items.
PROS
The cheapest bag on our list and is still covered by a lifetime warranty
Not large enough for overnight backpacking trips
Just as comfortable on the river as it is in the city
Loads of adjustability for such a small backpacking backpack
CONS
Not large enough for overnight backpacking trips
The exterior mesh pocket doesn't do its fair share of lifting
---
Gregory Zulu
This middle-class backpack for hiking is sneaking a whole lot of value underneath the lightweight frame.
The Gregory Zulu pack has tons of features usually reserved for high-end packs, highlighted by the removable day pack.
Behind the scenes is a Crossflo dynamic suspension system that works with EVA foam to keep things well-ventilated and stable.
The Zulu and this heavy-duty suspension don't exactly excel in any particular area, instead choosing to focus on achieving high scores across the board.
The extended hip belts and lumbar padding make sure no matter how heavy the load, your gear will stay comfortable on your back.
The devil is in the details, and so is the makings of the best hiking backpacks on the market. All the way down to the excellent location of the stretchy water bottle pockets, this pack pumps quality into a lower price point.
PROS
Comes in a wide range of interior storage capacities from 30-65 Liters
The pack is geared towards four seasons of usage
A removable day pack opens up a path from basecamp
CONS
The shoulder suspension system isn't adjustable
Lacking a few extra side pockets
---
Mystery Ranch Glacier
If you've ever heard of the cult classic Dana Designs, allow me to introduce you to his successor.
Dana Designs was once a legendary harbinger of peace until corporate outdoor greed proved too much.
The company folded, but not before it gained a cult following. Anyone who owned a Dana Design bag would never give it up, and those suckers last for life.
K2 Sports owned the rights, but as the decades went by, the designs became freed up, and Dana grew bored of retirement. Mystery Ranch was soon born, a new-aged company committed to honoring classic backpacking backpack makers.
As word spread of Dana's prowess, Mystery Ranch bags became the bag of choice for navy seals and U.S. Forest Service Hotshots.
The Glacier is Mystery Ranches' most mainstream success, all backed by the strongest Nylon of any one of the backpacks for hiking on our list.
The model takes its shape from the tough beaver pocket of the Hoodoo Spire and grows into a week-long backpacking specialist robust enough to be your gear for life.
PROS
In a world focused on ultralight, Mystery ranch is all about extra reinforcements
A wealth of external pockets and clips can practically double storage space
Two side zippered pockets open up along the length of the main compartment
CONS
The spartan backpack doesn't focus too heavily on comfort features
Just barely takes the prize for the heaviest backpack on our list
---
Kelty Coyote
Kelty's affordable prices and ability to support heavy loads have earned the bag recognition as the best backpack for living on the road.
Any endorsement by the folks who literally carry their entire lives on their backs is worth a second look, and the Coyote doesn't disappoint underneath the microscope.
It's slightly more expensive than the cheapest options from the REI Co-op, but it has a bit more going on underneath the hood.
The Coyote can support almost twice as much as other budget bags, and it rocks a breathable ventilation system that helps share the sweat.
The Coyote line of backpacking backpacks comes in sizes up to 105 liters. If you're packing any more than that, you're not going to be walking very far!
PROS
Packs feature storage for sleeping bags, hip pockets, and Fit Pro-tech that is normally reserved for the best hiking backpacks on the market
Largest liter capacity of any backpack on our list
Two zippered pockets keep everything you need before getting to camp right at hand
CONS
No amount of ventilation and suspension support is going to make 30 kilos feel haulable
The only overnight backpack on our list that doesn't include a rain cover or hydration bladder storage
---
Choosing the Best Backpacks for Hiking
We just presented you with 12 options, all of which will be the best backpack for any different kind of adventure.
In a perfect world, we'd all have a gear closet full of backpack choices, but that's simply not sustainable (please don't look in our shed – there's way too many backpacks in there).
You'll have to narrow down the field and find a suitable partner by considering the following factors.
READ MORE: Cook like a pro with our list of the best backpacking stoves.
Capacity
The storage capacity limit of your bag will likely be stop #1. Here's an easy rule of thumb guideline for determining what volume you need:
Dayhike: 20 liters
1-3 nights 30-50 liters
3-5 nights 50-70 liters
5+ nights 70+ Liters
These rulings are not resolute. There are many ultralight-obsessed thru-hikers who have made it through the Appalachian Trail on less than 40 liters. And there are also many mothers and fathers who need 80+ liters to get through a weekend expedition.
Cold weather expeditions will require more storage than sleeping underneath the stars but you'll be surprised at how quickly your pack starts filling up, especially if you're tasked with carting around the tent and cooking gear.
These two things will typically be your largest space savers, so use your pre-existing gear closet and ask yourself how many nights you'll want to spend away from the nearest plug-in before committing to your backpack.
Weight
You may not notice the difference in a few pounds while car camping, but if you plan on taking your gear deep into the backcountry, every ounce counts.
Of course, it doesn't matter how light your bag is if it can't hold your tent and sleeping bag, so while we all would love the lightest packs on the market concessions must be made.
If the rest of your gear is getting a bit up there in years, you'll likely need a cavernous main compartment and a pack with a heavy-duty maximum capacity regardless of the weight.
READ MORE: We've compiled our list of top hiking tips for beginners to help you out on the trail!
Support Systems
Many larger packs can feel lighter than air with the right support system. Nobody gets through time on the trail without support, both from fellow hikers and from their equipment.
A backpack's support system is an all-encompassing body of comfort from the shoulder and sternum straps, through the back panel system, and down to the hip belts.
Backpacking bags like to place most of the weight on your hips and create an arc of breathability between your torso and shoulders. A splash of foam padding may add on a bit of weight but will go a long way toward making a long walk more comfortable.
I always look for adjustability in my packs, because my truth is there is no one perfect spot for the pack to sit on my shoulders. As the kilometers stretch out, I like to alternate where I put the most weight on my body.
With the right pack, you can constantly adjust your hips, upper back, shoulders, and chest to share the love and keep your body fresh for the road ahead.
Here's a guide on how to fit a pack.
Ventilation
A good support system lends itself to adequate ventilation, which is an essential aspect of a great bag, especially one you plan on taking through the summer heat.
While there is no backpack on the market that will prevent a sweaty back on a summer's day, modern backpacking specialists go a long way toward letting your body breathe.
Look for a mesh outer layer to wrap around any high-quality back support system. And if ventilation is a major concern for your hiking backpack, try to find options that minimalize contact points between your bag and your back.
Easy Access
This feature is incredibly important in larger backpacks. When the main compartment of your bag gets above 40 Liters, it can really start to feel like a black hole.
Great backpacking bags will feature a U-shaped zipper or several different access points that allow you to get to the bottom of your gear bag without unpacking the whole thing.
Access doesn't stop in the main compartment. The mark of a great backpack is how many different pockets you can get to without having to take the bag off.
Every bag should allow easy access to the water bottles, but some take things further through hip belt pockets and side holes that will make sure you don't have to do any digging until it's time to light the campfire.
Extra Pockets
This key ingredient coincides with easy access. Some hikers don't mind throwing everything into the bag's main body and tramping off into the sunset, while others shiver at the thought of arriving at camp without knowing exactly where they put the headlamp.
If you're hoping to be out in the woods for a week at a time, you'll want a few pockets that can make sure your wet socks don't infect the rest of your gear.
Waterproofing
While a disappointing amount of modern daypacks may get away with not being totally waterproof, you simply can't call yourself a real backpacking pack without taking waterproofing into account.
If you spend enough time in the woods, you're going to bump into cloudy weather eventually.
Every single bag on our list except for the two-day packs and the Kelty Coyote ship with a rain cover that will work as a totally impervious shell.
Any pack with enough nylon will stay solid through a surprise drizzle and buy you enough time to find the shelter of an Oak.
Conclusion
Now it's time to pack the dang thing up and get moving!
Any one of the backpacks on our list is ready for the open road or a shady trail, but we can't help but remind you one more time. The Osprey Aether series is simply the best hiking backpack in the business.
Our editor's choice backpack has a sturdy build and AirScape breathability to keep you feeling fresh every step of the way.
NOMADasaurus Choice:
Osprey Aether
No matter where I went, all roads led to the Osprey Aether. And now I don't tackle any road without it.
This backpacking behemoth represents the safest choice in the business, and every single one of their bags are protected by an ironclad all-might guarantee.
I could have been convinced to go with any number of Osprey bags (and I now have 5 of them), but the Aether model just brings it all together in a really powerful way.
DISCLAIMER: Some of the links in this article are affiliate links, which means if you book accommodation, tours or buy a product, we will receive a small commission at no extra cost to you. These commissions help us keep creating more free travel content to help people plan their holidays and adventures. We only recommend the best accommodations, tours and products that ourselves or our fantastic editorial team have personally experienced, and regularly review these. Thanks for your support, kind friend!