The harsh truth about Cuc Phuong National Park in Vietnam.
Cuc Phuong is Vietnam's oldest national park. Established in 1962, and at a size of 222 square kilometres, it is one of the most important sites for biodiversity in the country.
It maintains a sterling reputation as a highlight in Vietnam's seemingly endless list of not-to-miss attractions. As such, you would think the government, the Vietnamese people and all tourists, would do everything they can to protect and conserve this forested region.
To strive to maintain a high level of cleanliness and preservation. Unfortunately when we visited in December 2014, this did not seem to be the case.
Check out our guide on Travelling To Vietnam.
Lesh and I have been lucky enough to travel through some of the world's most pristine and awe-inspiring environments. We've trekked for days through jungles and over mountains to reach isolated spots, just so we can bask in the planet's captivating splendour.
Compared to the majority of the population, we are quite well-educated and incredibly lucky to be able to travel the way we do. We are in a position to understand and improve many of the places we find ourselves in.
That is one reason we put such a high emphasis on sustainable travel and environmental protection.
Waste disposal in developing nations can be a touchy subject for some of us. Naturally we want to conserve this beautiful planet to the best of our abilities, and it can be a shame when we come across people who quite clearly don't care in the slightest.
I for the most part have usually defended those who come from less-wealthy countries when it comes to their littering habits. It is easy for someone from a privileged background to point fingers at those we consider to be not so fortunate.
In the case of littering, the lack of care may come from from a lack of education. Perhaps it stems from bigger economic problems, where there is more to worry about in their personal lives than how they are going to recycle a plastic bottle.
Arguments could go back and forth for hours over how we can improve this situation in certain countries.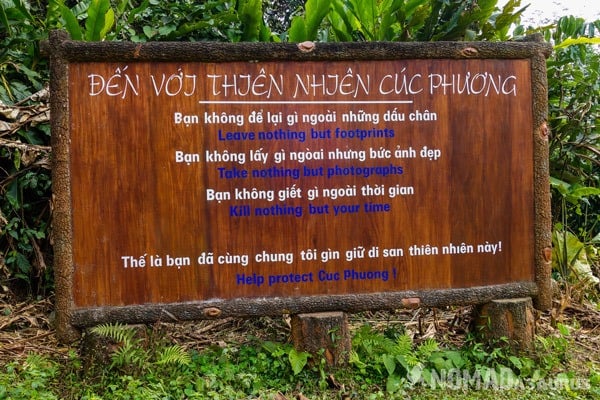 Do we try to teach every one of the world's 7 billion people about the effects of climate change? Or how incorrect waste disposal kills millions of specimens of marine life every year due to 80% of our trash finding its way to the oceans through rivers and streams?
Surely if we push the cold hard facts and figures into the minds of everyone they will make a conscious effort to improve their bad habits.
But here in Cuc Phuong National Park in Northern Vietnam, I have no answers. Just bitter disappointment.
A Change Is Needed In Cuc Phuong National Park
At the beginning of Cuc Phuong National Park's most popular trail is a large sign with the famous mantra: "Take nothing but photographs, leave nothing but footprints, kill nothing but time."
Emblazoned on the 3m tall sign in English and Vietnamese, it is as obvious a statement as you could ever get. Add to that the stone rubbish bins planted periodically along the way, and it should be clear that this is not the kind of place you carelessly throw your rubbish on the ground.
Yet as we trekked along the path we were absolutely shocked and appalled at the amount of litter dumped on the trail and in the adjacent wilderness.
I would almost go so far as to say we saw less litter on the streets of Hanoi than we did in Cuc Phuong. It was heartbreaking to see. Plastic bottles, food wrappers, bags and labels strewn across the forest.
The places we did find garbage bins, in particular at rest areas, they were overflowing and neglected. Obviously the national park doesn't have money in its budget for waste management.
At times we actually had to step over piles of rubbish to continue on the hike. Not something you expect for a place the country is trying to preserve.
Maybe we just got there on a bad day. Perhaps for the most part it is well-maintained and we wandered in on the ranger's day off. Even if that is the case, there is still the underlying problem to deal with.
What is the cause of this blatant disrespect for nature? How do we fix it? Is it even possible to fix it? We love Vietnam, its people and its landscapes.
The country as a whole has captured our hearts more so than any other place we have travelled to. But visiting Cuc Phuong National Park was one of the most disappointing and upsetting experiences of our trip so far.
We have seen local tourists blatantly ignore signs in spectacular caves, and wander past barriers to touch stalagmites.
People finish eating their food and throw the plastic wrappers out the window of a car or bus. Flick cigarette butts directly into the ocean.
Unless it is a Western tourist, I keep my mouth shut. I am far from perfect, and this is their country after all. But something needs change.
How do we start to make a difference when it comes to waste management in developing nations? How can we provide education to those who don't even have permanent access to clean drinking water?
As I walked through Cuc Phuong National Park, filling up plastic bags of rubbish in my futile attempt at solving the problem, I hope there is a better solution.