Everything you should see, do and experience on the epic Brisbane to Cairns drive! Our Brisbane to Cairns road trip itinerary will help you with all your planning needs.
One of the most popular road trips in Australia is driving from Brisbane to Cairns along the Queensland Coast.
Many will come from far and wide to experience the beaches, unique attractions, tropical islands and the beautiful Great Barrier Reef.
Famous locations like Airlie Beach, the Whitsunday Islands, Whitehaven Beach, Mission Beach, Hervey Bay, and more lie along this stretch of the Queensland Coast.
In fact, there is so much to see along this stretch of road you will find it hard to fit everything in!
This is why our expert guide will showcase the best ideas on must-see places and attractions to help you pick and choose what you want to do to plan out your journey.
Brisbane to Cairns Drive Itinerary – The Ultimate Road Trip Guide
The stretch of road covers almost 2500 kilometres (1550 Miles) and is best explored over a 10 to 14-day period. Check out the route on
We recommend travelling just a few hours each time you move on to break up the journey.
Most of the stops will only require one night, but there are a few locations that will be better to enjoy over a couple of nights.
You will pass by natural waterfalls, turquoise waters, white sandy beaches, and unique wild animal interactions, finishing up in Far North Queensland.
This is why driving from Brisbane to Cairns is just incredible and well worth the adventure.
The best way to get around is to rent a car and explore on your own! We recommend Rental Cars, which has the largest range of vehicles for the best value on the market.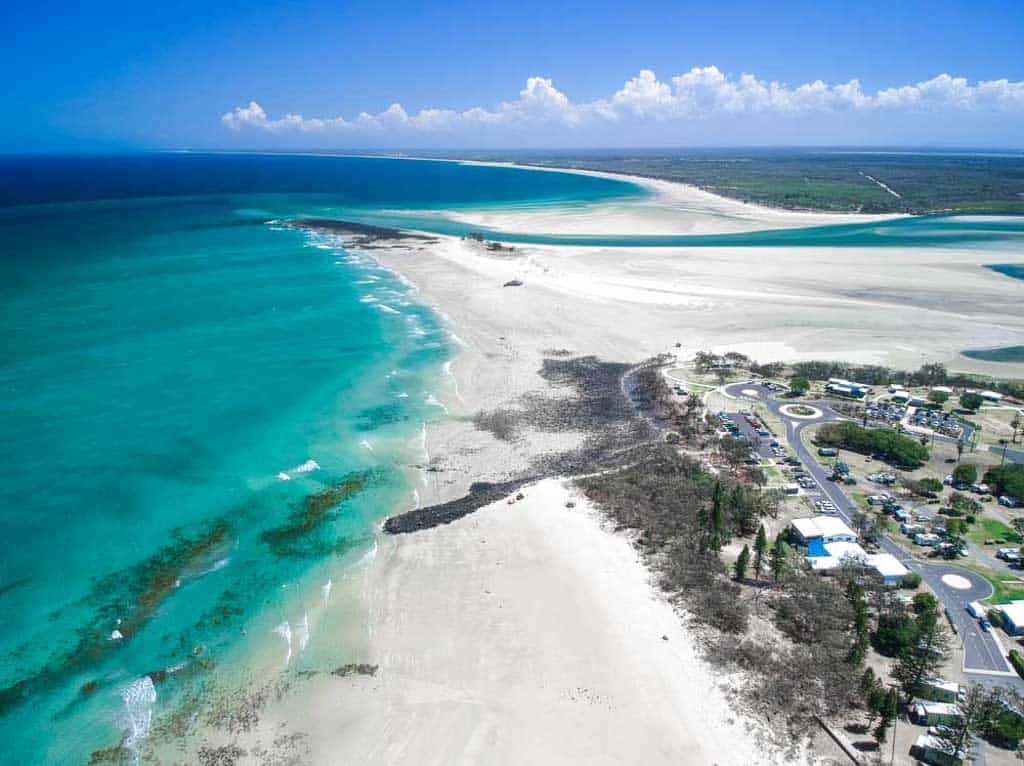 What You Will See on a Brisbane to Cairns Road Trip
The Brisbane to Cairns drive is full of wonder and it can be easy to feel overwhelmed when planning.
That's why to help you decide, I have listed some of the highlights and things to see and do below:
Beaches and Hikes on the Sunshine Coast
Swimming in secluded waterfalls around the Atherton Tablelands
Visiting the white sand beautiful beaches of Mission Beach, Whitehaven Beach, Airlie Beach and Noosa National Park
Snorkelling the Great Barrier Reef
Witnessing the loggerhead turtles laying eggs or their hatchlings scamper down the beach
Hike through lush rainforests
Take a gondola ride through the Daintree
See wild kangaroos feeding on the beach at sunrise
Just to name a few…..
And that's just one itinerary on our list of the best Queensland road trips! Check out our guide to see what else made the cut…
Tips for Driving from Brisbane to Cairns
We have a few tips for you though to help you better plan your Brisbane to Cairns road trip itinerary.
Summer in Australia is December to March, which is also the wet season in North Queensland. Rainy days are great for the waterfalls but might deter you from other outdoor activities due to the humidity.
Winter in Far North Queensland is May to September, where there are fewer rainy days to enjoy outdoor activities. Days will still be pleasant and warmer as you travel north. Nighttime could get a little cooler, but pack layers or a light jacket to make this more comfortable. The cooler nights will affect you more in the southern towns with an average low of 10 degrees Celsius.
It's more flexible to drive from Brisbane to Cairns in your own car or a rental car. A four-wheel drive will open options for more experiences, especially on Fraser Island, as well as being able to visit locations on your own. Rental cars are available from Brisbane and Cairns.
Travelling as a couple or in a small group will help reduce the costs and make the trip more affordable.
Consider hiring a campervan or RV to save on accommodations costs. There are hundreds of paid and free camping options along this journey and a very popular way to travel. Cabins, motels, hostels, and luxury fixed accommodations are on offer everywhere and are best booked beforehand.
The entire journey if you stick to the main roads, are on sealed bitumen, but some areas can be busy or a little run down. If you head inland or deeper into some of the national parks on these road trips you'll need a 4×4.
Maintenance or road works are always happening on this highway, so allow extra time to get to each stop.
Service stations, fuel or petrol can be found nearly every 100 kilometres, although some will need to be accessed off the highway and in the small towns. Be prepared and always fill up and get supplies before you need them.
Expect to spend a little more money in the high tourist hubs like Brisbane, Hervey Bay, Airlie Beach, Mission Beach, the Whitsunday Islands, the Sunshine Coast and Cairns, and if you travel to any of the remote tropical islands.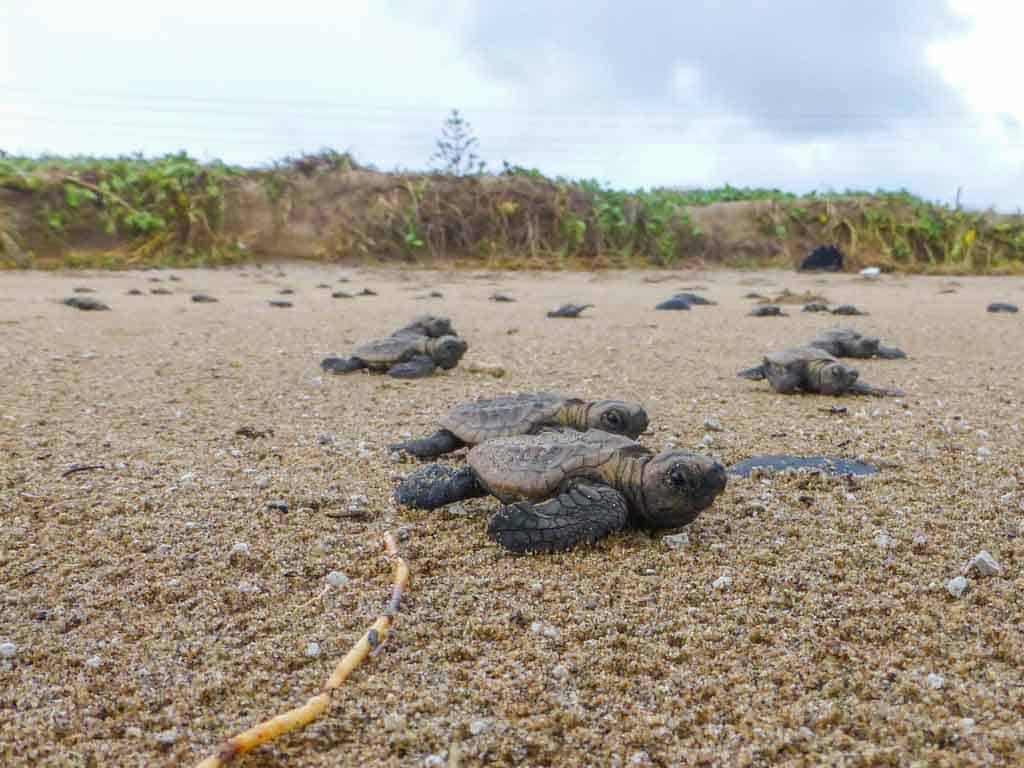 The Brisbane to Cairns Road Trip Itinerary
If you're traveling directly from Brisbane to Cairns, it will take about 19 hours, which as you can see is a lot of ground to cover.
As Cairns is also an international gateway city, the same suggestions below can be used in reverse if starting your journey as a Cairns to Brisbane to drive.
It's suggested to explore this route for a minimum of 10 days, but if you have longer then you'll find plenty to keep you occupied!
There are many different exits off the main A1 highway, both towards the coast and inland. Therefore, this will increase the kilometres travelled and the time it takes to drive the entire journey.
Not only that, but with the Reef covering 1300 kilometres along the coast of this road, you will have day trip options from many of the islands and beach towns as well.
Please note that travelling times may differ depending on road conditions, maintenance, and other unexpected occurrences.
This means when planning out your journey you need to leave plenty of time in between for delays.
There are millions of tourists, locals, and overseas visitors travelling this highway every year, and intermittent road works are very common.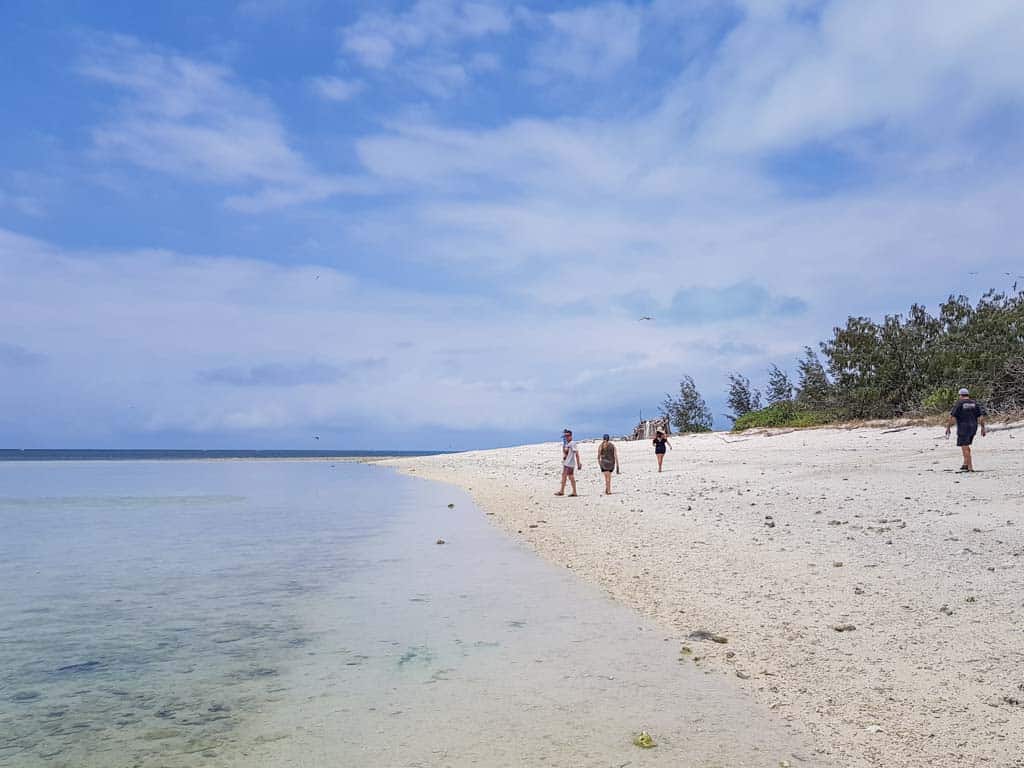 Starting in Brisbane
We are starting today from the Queensland capital of Brisbane, having a population of over 2 million people.
It's an international gateway city and a brilliant place to get your bearings.
If you have some extra time here then there is plenty to see and do in the area, which you can read more about in this blog post.
Go for a ride on the Wheel of Brisbane, walk to King Island at low tide, visit South Bank, or hike up Mount Coot-Tha for the best views of Brisbane.
They have man-made beaches overlooking the Brisbane River and the city skyline, along with two others at Redcliffe and Ipswich.
Additionally, you can day trip to Bribie Island, Moreton Island, or North Stradbroke Island.
Each Island offers magnificent beaches, four-wheel driving, and both camping and accommodation options.
Or you can head south to the Gold Coast for epic beaches and the famous Surfer's Paradise nightlife.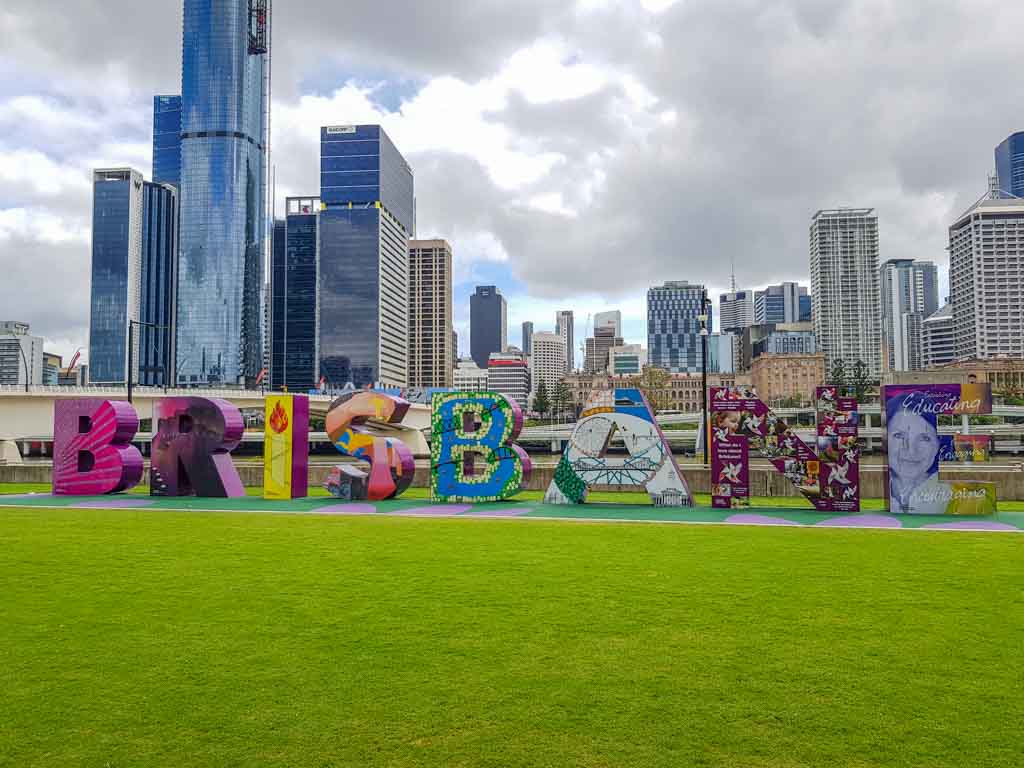 Brisbane to Sunshine Coast – 150km
The Sunshine Coast will be your first stop for beachside fun and tonnes of tourism options like Noosa and the Sunshine Coast Hinterland.
If you after some great spots to swim, you can choose to check out some of the many beaches along the coast like Caloundra or Maroochydore, or some natural rock pools at Noosa.
Go searching for some fresh waterholes or waterfalls in the Sunshine Coast Hinterland like Booloumba Falls or Kondalilla Falls.
Feeling a bit more active? Why not enjoy the fresh air and views of the Glass House Mountains by hiking up Mount Ngungun or Mount Beerwah. Or just stroll through Noosa National Park.
This is also where you will find the popular entertainments parks such as the Ginger Factory, or thrill rides at the Aussie World theme park.
Sunshine Coast to Rainbow Beach – 100km
Travelling on the Bruce Highway between Brisbane and Cairns, Rainbow Beach is the first gateway port to Fraser Island, the world's largest sand island.
But this spot has its own draw cards as well, as 70,000 visitors per year can attest.
It's known as a small beachside camping and fishing town, where you stretch the legs from your four-wheel drive and go for a spin down the beach.
Rainbow has sites like the sand dunes at the Carlo Sand Blow, freshwater swimming at Poona Lake, Coloured Sands rock formations, and Inskip Point Beach. You will be pleasantly surprised when you visit this vibrant town.
Rainbow Beach to Tin Can Bay – 32km
It's just a short drive to the next destination, so choose where you'd like to stay.
Tin Can Bay is a small little town with a population of just over 2000 people. It's a very popular holiday destination with several hotels, holiday units, and caravan parks.
Along with being able to rent houseboats and yachts to sail around the region, Tin Can Bay has a fantastic, rare opportunity to see wild humpback dolphins in the early morning.
They are fed under close supervision by the volunteers and guided by animal protection regulations.
There is a minimal charge of $10 per person which covers the cost of the food and cleaning solution.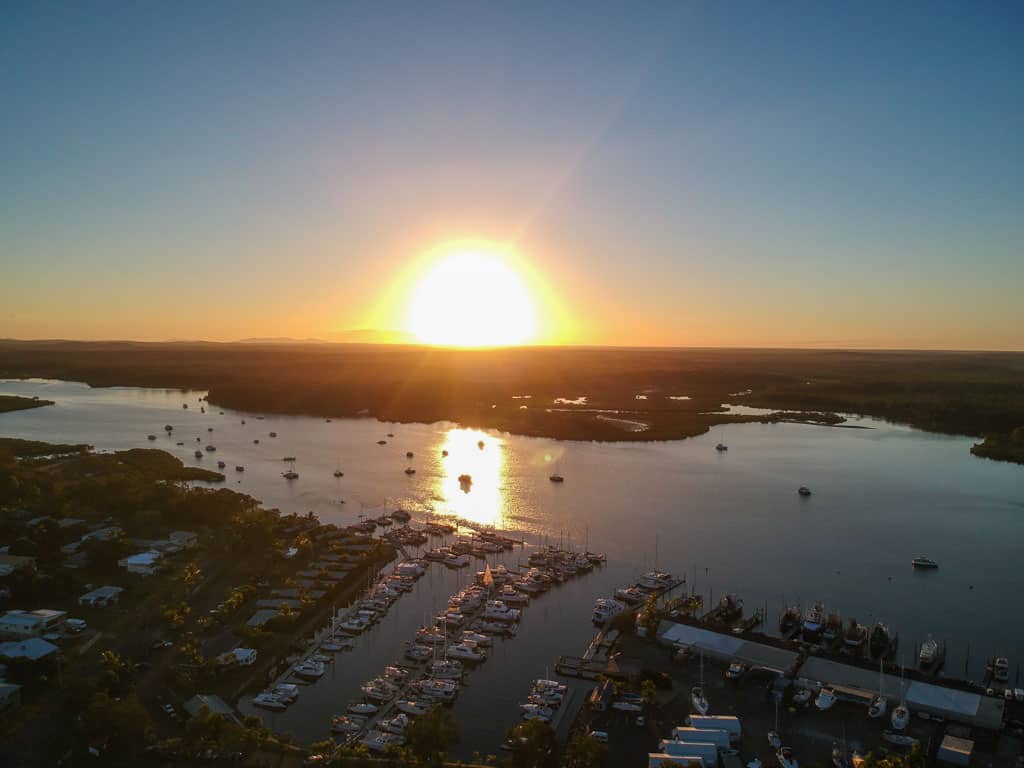 Tin Can Bay to Fraser Island / K'gari – 218km
Everyone loves the island life, and Fraser Island allows many different types of travellers to experience it.
Fraser Island, or the traditional Aboriginal name K'gari as it's now known, has two different resorts, several camping spots, and a huge amount of sites to see while visiting the island.
If you have a 4×4 you'll be in heaven, as the beaches and sand dunes offer some of the best four-wheel drive adventures in Australia.
With clear freshwater streams like Eli Creek, beachside rock pools like the Champagne Pools, Lake McKenzie, views for miles at Indian Head rocks, and unusual sand formations like the Pinnacles, there's a lot to see and do here.
You won't be disappointed stepping off land to visit Fraser Island/K'gari!
You can access K'gari from Rainbow Beach or Hervey Bay.
Hervey Bay
Pack the car early and keep heading north, because it's time to hit up one of the most beautiful locations on Australia's east coast!
Hervey Bay is a quaint little seaside town in southern Queensland, and is popular for whale watching day trips to observe humpbacks on their annual migration.
If you happen to be travelling near Hervey Bay from June to November then boat tours to see the whales is a definite "must-do" activity.
The humpbacks pass through in different size pods and put on a big show for the tourists with their breaching acrobatics.
Hervey Bay has a population of over 50,000 people and offers plenty of calm swimming and other water activities like fishing, paddle boarding, and kayaking
Additionally Hervey Bay is a popular launching spot to access the beautiful Fraser Island (K'gari) – which is the largest sand island in the world.
Hervey Bay to Utopia Rock Pools – 105km
Heading a little inland from the actual coastal route, you can visit the town of Biggenden with its gorgeous Utopia Rock Pools.
Located in the Mount Walsh National Park, there's a hidden rock pool swimming spot that the locals have been using for years.
After an easy 30 minute hike through the National Park, you will come to three or four cascading rock pools.
This is best visited in the summertime and especially after some rain. Accommodation options are limited here, but it is easy enough for a day trip from either Hervey Bay or Bundaberg.
Utopia Rock Pools to Bundaberg – 95km
With over 90,000 people living in this beachside city, you will be sure to find something to do for everyone.
Best known for producing the world-famous Bundaberg Rum, Bundaberg Brewed Drinks and their Ginger Beer, it is also where you'll find the southernmost point of the Great Barrier Reef.
Additionally there's some amazing beaches like Bargara, Elliott Heads, or Woodgate, or you can take day trips to the offshore islands and enjoy lots of different water-based activities.
Not only that, but they are all conveniently supplied with camping spots, motels, and resort accommodation!
A favourite with families and retirees, the beaches offer calm waters and nice walking.
This is also a prime location for the seasonal Turtle nesting where you can check out the loggerhead turtles laying eggs, or watch the baby turtles make their way down the beach.
Bonus Trip – Lady Elliot Island
Boarding a flight is the only way to get to this isolated island, but the good news is that flights leave from either Brisbane, Hervey Bay, or Bundaberg regularly.
Leave the rental car behind to visit this absolute paradise. The best things to do on the island are based around water activities like snorkelling and diving in the magnificent Southern Great Barrier Reef.
If you prefer to stay on land then you can learn about the bird habitats and history of the island.
If you want a longer stay, there are units, cabins, and glamping tent options at the Lady Elliot Island Eco Resort.
Bundaberg is the most popular spot to visit Lady Elliot Island from, with 20-minute flights and daily departures making it perfect for a day trip.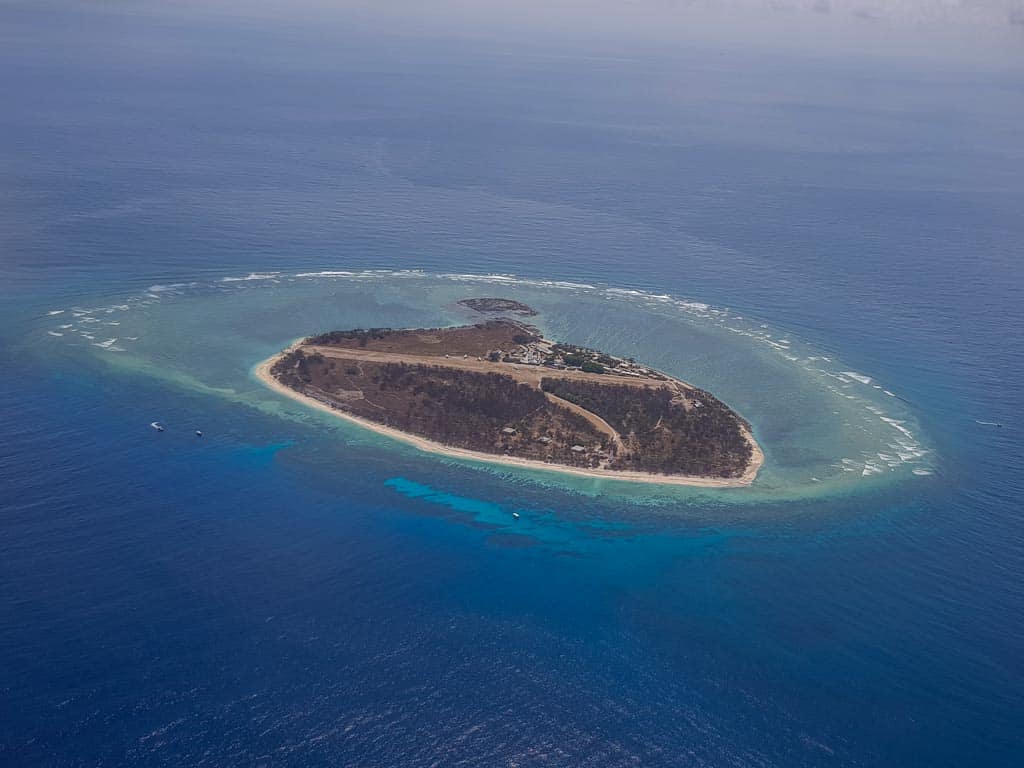 Bundaberg to Agnes Water & 1770 – 122km
As you head north into central Queensland on this Brisbane to Cairns road trip things start to change pretty dramatically.
You're now entering the tropics, but before you get there you get to enjoy the gorgeous towns of Agnes Water and Seventeen Seventy.
They are both quiet little beachside villages known for their surfing lifestyle on Main Beach, boating, fishing, hiking and swimming.
This is also a prime location to grab some fresh seafood, so pop into the local fish and chip shop to fill up on a delectable meal.
There are many different activities to check out here, like the Paperbark Forest Boardwalk, the LARC Tour (an amphibious boat), and hiking the Red Rock Trails.
Holidays homes and resort accommodation are on offer everywhere, along with plenty of camping and cabin options.
At 1770 you can look west as the sun begins its dip below the ocean horizon, offering spectacular scenery and natural beauty that isn't found in many other places in Queensland.
This is also your second (and closer) gateway to swimming with the turtles at Lady Musgrave Island.
Bonus Trip – Lady Musgrave Island
Similar to Lady Eliot Island and also located in the Southern Great Barrier Reef is the fantastic Lady Musgrave Island.
It's only accessible by boat from either Bundaberg or 1770, and while the boat trip from 1770 is shorter, the boat from Bundaberg will have more options for diving activities and sleeping in a glamping bed on top of a pontoon.
Both will have you snorkelling some amazing reef systems and finding lots of turtles.
There is a camping option on the island itself, but it's extremely off-grid and by permit only.
It's hard to pick between Lady Musgrave and Lady Elliot Island, and there's not a big difference between them.
My recommendation is to weigh up options for either and choose to visit one that suits your budget or timeline.
Agnes Water to Rockhampton & Yeppoon – 225km
Driving from Brisbane to Cairns will take you to so many amazing places, and one of the busier yet underrated towns you'll stop off at along the way is Rockhampton.
Rocky, as it's known to locals, is the Beef Capital of Australia, so if you love steak you're in for a treat.
There's a lot more to do here than just eat though. The underground rock formations at Capricorn Caves are absolutely mesmerising, as is the Mount Archer Skywalk overlooking the city, especially at sunset.
If you drive another 30 minutes towards the Capricorn Coast you will come to the small town of Yeppoon, known as the gateway to the Great Keppel Islands.
A trip out to these islands is fantastic, with lots of marine life, coral reefs and other natural wonders to enjoy.
Back on land you'll also find the nearby Byfield National Park with lots of wonderful hikes, four-wheel driving beaches, and amazing swimming spots like Stoney Creek.
Rockhampton to Finch Hatton Gorge – 400km
Get off the Bruce Highway between Brisbane and Cairns to head inland for a lovely day adventure near Mackay.
Finch Hatton Gorge has some wonderful hiking, waterfalls to explore and crisp swimming holes to enjoy.
Completing the more popular Araluen Falls hike is a short, three kilometres return.
Additionally, you can choose to complete the rest of the trek to the Wheel of Fire Gorge, which is about five kilometres return.
During high rainfall, access to the car park could be limited without a 4 wheel drive.
Finch Hatton Gorge to Cape Hillsborough – 86km
Now, this is one stop on our Brisbane to Cairns road trip itinerary that you won't want to miss!
About 45 minutes driving north of Mackay you'll find the Cape Hillsborough National Park. This is a really nice area to explore for many reasons, but the most popular is seeing the morning feeding of the eastern grey kangaroos at sunrise.
Park rangers come down every morning and put out food for them, and there's no more iconic photo than a kangaroo chilling on the beach!
Although these are wild animals, the rangers keep this activity under strict control due to how many visitors come.
While you can drive in really early, it's more practical to stay at the Cape Hillsborough Caravan Park the night before.
Cape Hillsborough to Airlie Beach – 128km
Airlie Beach really needs to be seen to be believed, and it really is a "must do" stop on your Brisbane to Cairns road trip.
Boasting some of the most beautiful blue waters in Australia, Airlie Beach is the gateway to the Whitsunday Islands and where you'll find the famous Whitehaven Beach. Airlie Beach is also a great place to enjoy a scenic flight over the UNESCO World Heritage Great Barrier Reef.
The town of Airlie Beach itself is small but has plenty to do to keep all travellers happy.
Half or full-day tours leave from Shute Harbour and take you snorkelling or diving on the reef, out to Whitsunday Island and Whitehaven Beach, visiting Hamilton Island or casting your eyes over the ethereal Hill Inlet from the lookout.
Besides Hamilton Island, with its own airport, you can also do a trip to Daydream Island.
In Airlie Beach itself you can swim in the man-made lagoon, walk along the beach or chase fresh water holes at cedar creek.
Check out our guide to all the best things to do in Airlie Beach to see what else you can get up to here.
Airlie Beach to Townsville & Magnetic Island – 275km
Townsville is the largest city in North Queensland, with a population of close to 200,000 people. That makes it a perfect spot to break up the Australian road trips along the east coast and stock up on supplies (if you need).
There's a lot of awesome things to do in Townsville, including climbing to the lookout of Castle Hill, heading to Wallaman Falls and visiting some of the nearby national parks.
But in my humble opinion, you need to jump on a ferry and go to Magnetic Island, which is easy to visit for a day trip or stay for a longer period.
Do the Forts Hike to see koalas in the wild, find the rock wallabies at Geoffrey Bay, go snorkelling in the stunning bays with sea turtles and just chill out at the beaches.
The best way to explore Magnetic Island is by car, and luckily there's a barge where you can take yours across.
Otherwise you can follow this one day Magnetic Island itinerary to make the most of your short visit.
Townsville to Cardwell Spa Pools and Mission Beach – 175km
The Cardwell Spa Pools are popular, local swimming spot where the flowing water runs over the rocks, creating a natural spa effect.
What makes this place special is the gorgeous blue colour of the water. This blue colour is created by phytoplankton, bicarbonates binding to clay, and light refraction in the water.
This has to be seen to be believed, but timing is everything, and it's best to visit after a small amount of rainfall, without washing it out too much.
Less than one hour north you'll find Mission Beach with its iconic palm trees and spectacular stretch of sand, and a place which is often declared to be one of the top Cairns day trips.
Mission Beach is one of Queensland's most famous beaches, so definitely stop here on your Brisbane to Cairns itinerary.
Mission Beach to Cairns – 140km
This is our last stretch on the Brisbane to Cairns drive, but don't rush – there's still a few sights along the way which could easily take you just over a week to see if you have the time.
From Mission Beach to Cairns you'll pass sugar cane farms and find the Babinda Boulders, another fantastic swimming river where you can also go kayaking.
South of town there's a 20-kilometre loop road called the Waterfall Circuit that cuts up through the Atherton Tablelands.
This contains a number of very different waterfalls for exploring, hiking, and swimming. One of them, Millaa Millaa Falls, just happens to be the most photographed waterfall in Australia.
If you love cascades, don't miss all these other awesome waterfalls near Cairns.
Cairns itself has a population of 150,000 people, and is a tourism Mecca. In town the Esplanade is lined with bars, restaurants, tropical gardens and a lovely man-made swimming lagoon.
Get out of town though and check out the Kuranda Rail in the surrounding rainforest, or take a different view on the Skyrail Gondola.
Most people will come to Cairns for the water, and it is the best place in Queensland to go and scuba dive or snorkel the Great Barrier Reef.
Continuing into Far North Queensland you'll come across the world-renowned Daintree Rainforest, a national park spanning mountainous rainforests, gorges, and secluded beaches, home to some of the most pristine natural environment regions in the southern hemisphere.
READ MORE: Check out on the Best Atherton Tableland Waterfalls you must see!
DISCLAIMER: Some of the links in this article are affiliate links, which means if you book accommodation, tours or buy a product, we will receive a small commission at no extra cost to you. These commissions help us keep creating more free travel content to help people plan their holidays and adventures. We only recommend the best accommodations, tours and products that ourselves or our fantastic editorial team have personally experienced, and regularly review these. Thanks for your support, kind friend!