Planning a Magnetic Island day trip? As Maggie locals (yes, we actually live here!) we have all the inside information you'll need to make the most of this magical place if you have just one day on Magnetic Island!
If you're travelling up and down the east coast of Queensland, or just happen to be hanging out in Townsville, one of the absolute best things you can do is jump on a ferry and have a Magnetic Island day trip!
Actually, the best thing you can do is stay here for a week. But if you only have one day on Magnetic Island, we have put together the perfect itinerary for you!
Magnetic Island, or 'Maggie' as it's affectionately known, is an amazing tropical getaway in the Great Barrier Reef Marine Park, just a short boat ride away from Townsville.
With about 2000 friendly locals calling the island home (including us) and a size of 52 square kilometres, there are tonnes of amazing activities and attractions here.
Whether you're into relaxing underneath a palm tree, swimming at beautiful beaches with pristine turquoise waters, hiking to epic viewpoints, hanging out with incredible wildlife including koalas or snorkelling and diving with turtles, you'll find plenty to do on Maggie.
We would recommend staying a couple of nights on the island to get the full relaxed tropical vibe. But we know sometimes your time can be limited so a day trip to Magnetic Island is the best option for you.
That's why we have put together this article. We receive messages every single day from people asking what they should do if they're just here for one day, and it's our goal to make sure everyone falls in love with this place as much as we have.
This guide has all the information and advice you need to have an awesome experience and see as much as you can on your Magnetic Island day trip.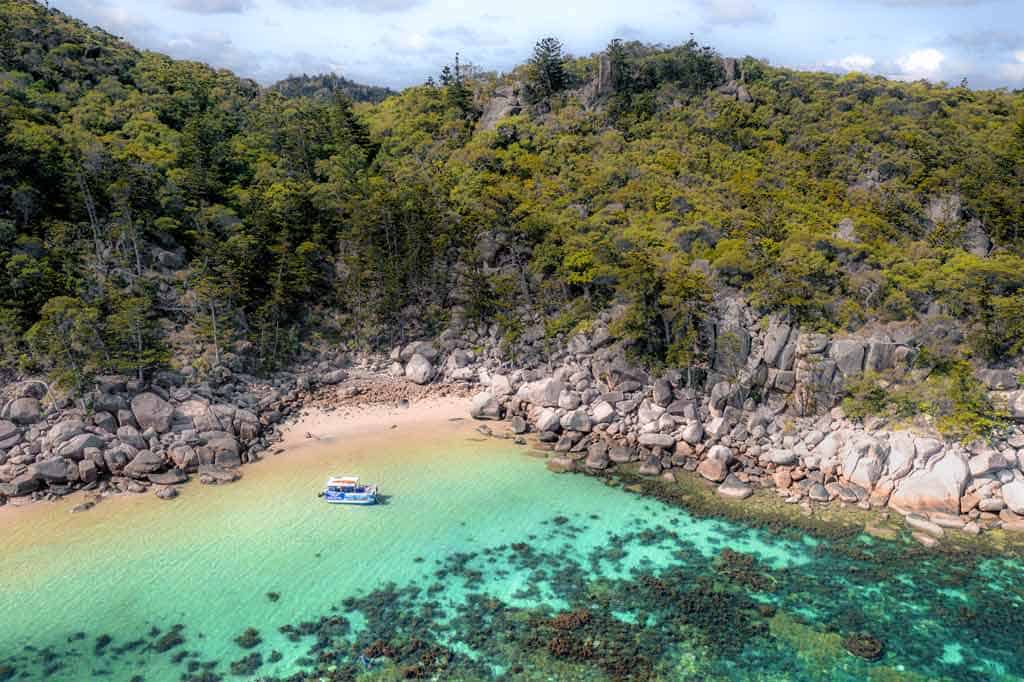 Our Local's Guide to a Perfect Day Trip on Magnetic Island
There are a few things we need to cover before you just cruise on over to the island.
Should you book a tour? Do you need to rent a car (or bring your own)? Let's dive into it.
Getting Over to Magnetic Island
Once you've made it to Townsville you're ready for the next part of your journey on how to get to Magnetic Island – jumping on the ferry!
The island has two ferry companies that go over to Magnetic Island. It is a 20 minute crossing from the town of Townsville and they leave every 30 – 45 minutes.
SeaLink is the passenger ferry only taking people on foot and bicycles, and it's the fastest and most convenient option.
Magnetic Island Ferries is the vehicle ferry take anything from trucks to cars to scooters
Check out our comprehensive guide on how to get to Magnetic Island for more information.
How to Get Around the Island?
While the island isn't huge, having your own wheels really does help make your day so much better.
You have three options – Bring your vehicle over on the barge (expensive, not really worth it for one day unless you have a few people in the car to split the cost with), rent a car, scooter or e-bike, or use public transport.
If you are on foot you're going to be pretty restricted with where you can go. You'll only see a small amount of the island, and most people who just walk around Nelly Bay end up leaving saying they don't understand the hype of Maggie.
There are purple Beam scooters available, and these are fantastic if you just want to get to your accommodation in Nelly Bay or Arcadia (they are geo-locked from Base Backpackers to Alma Bay).
But in our opinion the best way to get around the island is to rent an electric motorbike from Magnetic Island Roaming.
These e-bikes have a 120km range, go up to 50km/h and only cost $55 for the entire day.
They are completely zero-emissions (Tim and Pam charge them with solar power) and have no restrictions on where you can take them around the island.
Pick up is from Island Living in Nelly Bay (opposite Scallywags and next door to Granite) between 8-10am, and they need to be back by 5pm.
Trust us – at the very least, take the bus if you're on a budget, or rent an e-bike.
If you take the bus bring cash as they do not take card. You can purchase the ticket directly off the bus driver. If you need help where to get off, just let the driver know. They are very helpful.
Unfortunately there is not ATM at the Nelly Bay Terminal and the nearest one is at Queensland Country Bank near Vinnies Magnetic Island which is about 700m away.
For more information check out our detailed guide on getting around Magnetic Island.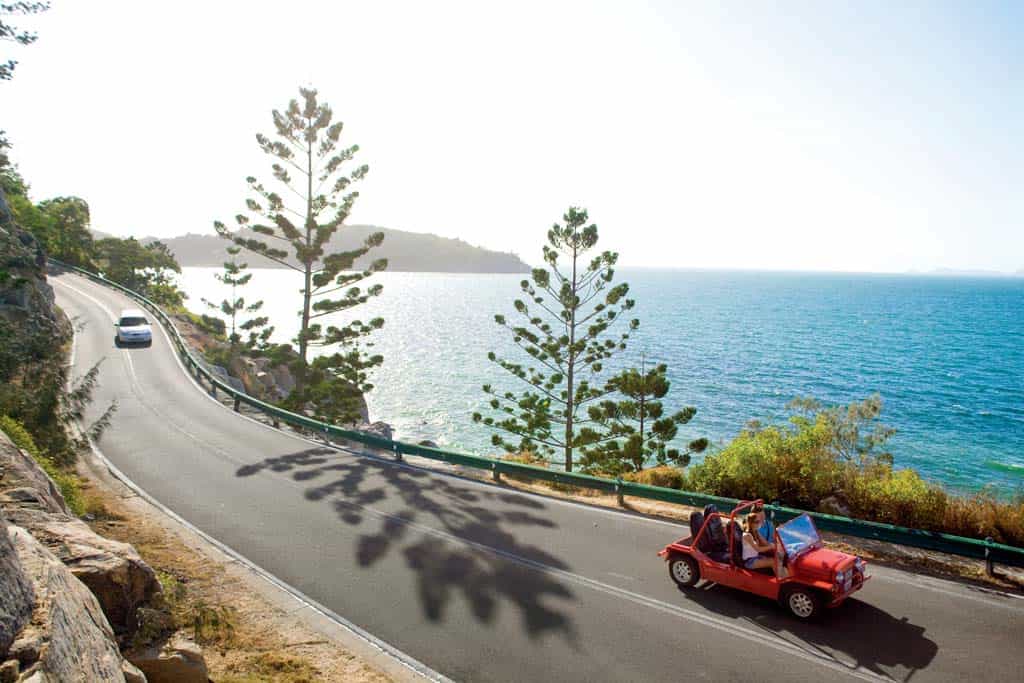 Magnetic Island Day Trip Itinerary
Now that you know how to get here and how to get around, let's dive into the actual itinerary!
How should you spend one day on Magnetic Island? By following this schedule!
You'll tick off all the main attractions, get to some unique spots that most people don't get to see on a day trip, and we'll even share our favourite sunset location.
We're going to write out this itinerary for those who are going to stick to public transport, but if you have your own vehicle your day just got even easier!
Let's go to paradise…
READ MORE: Feel like extending the day trip to a weekend or more? Check out our guide on where to stay on Magnetic Island!
7am – Take the Ferry to the Island
We highly recommend taking one of the early ferries to make the most of your day here!
Head down to the Sealink Terminal in Townsville and jump on the 7am ferry (pre-purchase your ticket here to save some money), which will get you to the island at about 7:25am.
When you arrive at the Nelly Bay Terminal, purchase an all-day hop-on/hop-off local bus ticket to get you from one side of the island to the other.
BRING CASH FOR THE BUS! Tickets are $7.60 per person for the whole day.
If you have your own wheels drive straight down to Jungle Club and grab a brew from our favourite cafe on the island, Tiny Palm. Otherwise you can pick one up from the coffee cart at the ferry terminal.
Don't get breakfast just yet though (but do pick up a light snack). Instead jump on the bus and make your way straight to your first activity for the day.
8am – The Forts Walk
Once you have you bus ticket, catch the bus heading the direction towards Horseshoe Bay.
Let the bus driver know you would like to stop at The Forts. He or she will drop you off right outside the trailhead, where you'll find a brand new, clean toilet block too.
The reason we have said to come straight to the Forts is because it can get very hot on the island (especially in summer), and you're about to tick off the number one hike on the island, which is better in the morning.
The Forts Walk is a 4km moderate round trip that goes steadily uphill to some historic World War II fortifications and ruins.
The views along the way are nice, and you'll get a few glimpses out to the bays below. But don't just look out – look up!
The Forts is famous for being home to a huge population of the island's favourite animal, koalas!
These super cute native animals lounge around in trees, often very close the hiking path, and your best chance at seeing them is in the morning before the trail gets too busy.
Keep an eye out as you walk to the summit, and if you do see one, make sure you don't get too close, and definitely don't try to touch or feed them.
There are information signs along the way to show you where the hike goes and a bit of history.
The trail is well maintained, but do wear proper walking shoes as there are rock stairs in areas.
The views from the top are stunning, allowing you to see 360 degrees around the entire island.
The whole walk should take you about an hour. When you're finished walk back down to the carpark and jump on the bus to Horseshoe Bay.
Alternatively, you can cross the road and follow the trail down into town.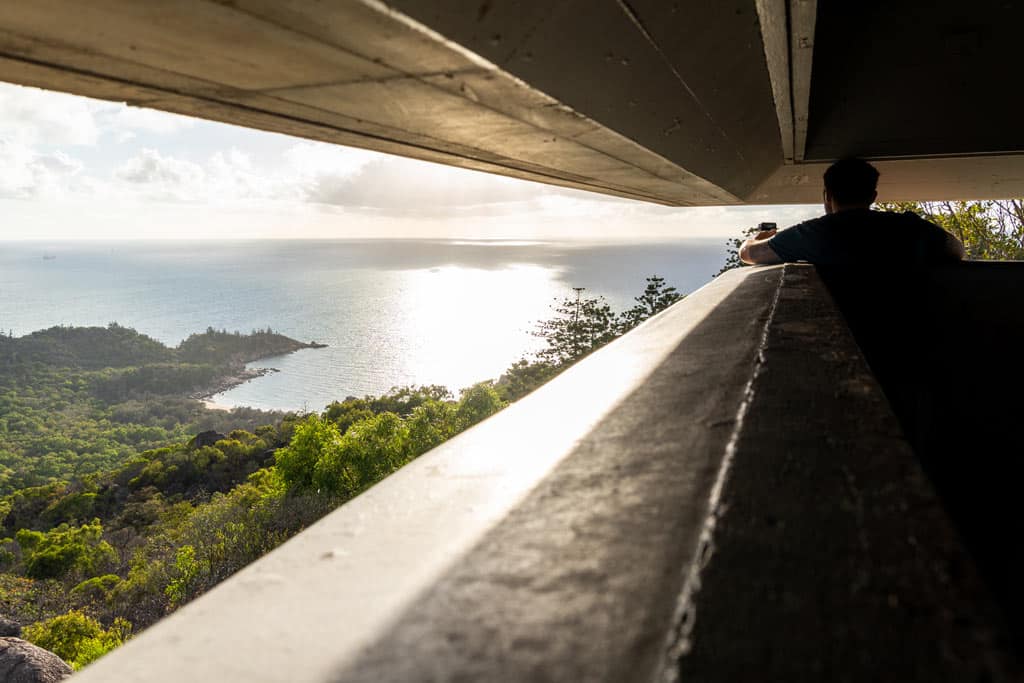 9:30am – Horseshoe Bay for Breakfast
When you reach Horseshoe Bay on the bus you will be greeted by a stunningly calm beach – this is the largest bay on the entire island, and it's gorgeous!
There are a number of cafes and restaurants with water views, so get yourself some breakfast and a coffee. We recommend Cafe Nourish.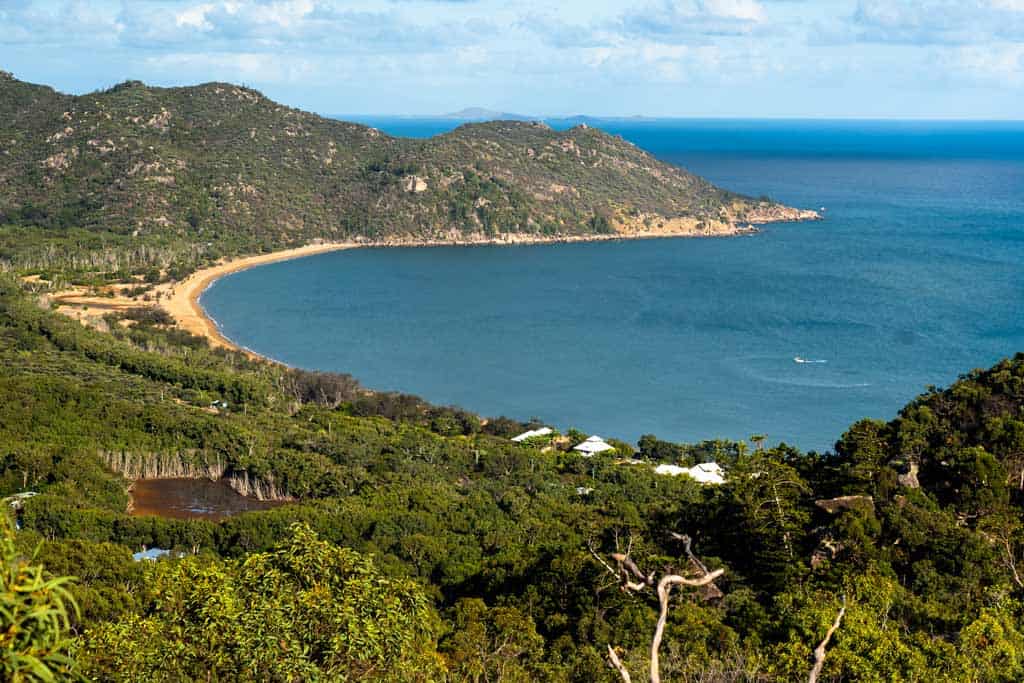 10am – Make Your Own Adventure: Kayaking or Hiking
After you have filled your tummy, it's time to make your own adventure over in Horseshoe Bay!
There are quite a few things you can do here, from jetskiing to stand-up paddleboarding, or even just kicking back and taking a rest if you'd like.
Our top recommendations on this Magnetic Island day trip though are to either rent a kayak for an hour, or go for a hike to Balding Bay and Radical Bay.
If you want to go for a paddle (with a high chance of seeing green turtles), pick up a sea kayak from Magnetic Island Sea Kayaks.
You'll need to book one of their two-hour tours, so make sure you give them a call first to see if they have availability.
Otherwise put your hiking shoes back on and head up over to two of the most beautiful bays on the island – Balding and Radical, which can only be accessed by foot or boat.
These hidden bays are glorious, with huge granite rocks lining the shore, clear turquoise water and soft white sand.
To get there walk over the small pedestrian foot bridge between the general store and souvenir store, then turn left on the residential street. You'll see signs up ahead with a hiking trail cutting through the forest.
It's a short but steep hike, so give yourself about 90 minutes to get to the beaches and back.
As another option, if you're travelling to the island between April and September, go check out the Butterfly Walk, where you'll be surrounded by thousands of colourful butterflies. This is on Dent Street.
After you have spent some time relaxing on one of the beaches and swimming in the water, head back to Horseshoe Bay to catch the bus to Arcadia.
BONUS ACTIVITY: If you love the idea of spending more time out on the water and visiting secluded bays, then we recommend booking in for a Snorkel Discover Tour of the island.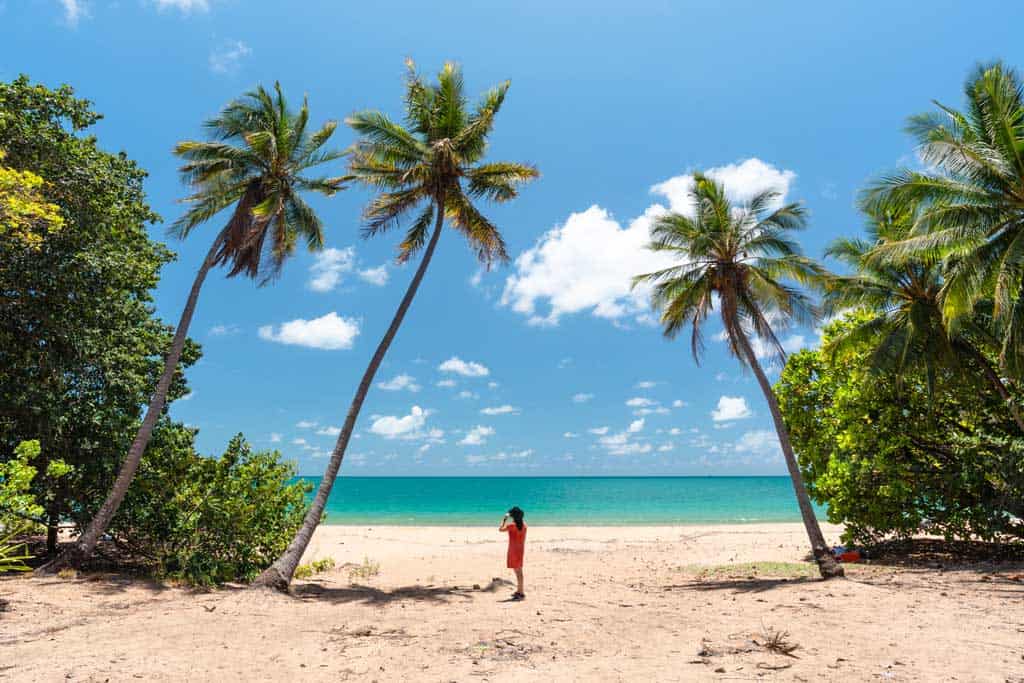 12pm – Visit Alma Bay in Arcadia
It's time for a swim at Magnetic Island's most picturesque bay!
Get off the bus at Alma Bay and dive straight into glistening water in front of you.
This sensational beach is surrounded by huge granite boulders, perfect for bouldering or rock hopping, and the water in the bay is very protected (unless the easterlies are up).
Alma Bay is a patrolled beach with a nice sitting areas and a few tables and grass patches to relax on between swims. There are beach showers and public toilets here.
Definitely stop off here in your one day trip to Magnetic Island for a swim.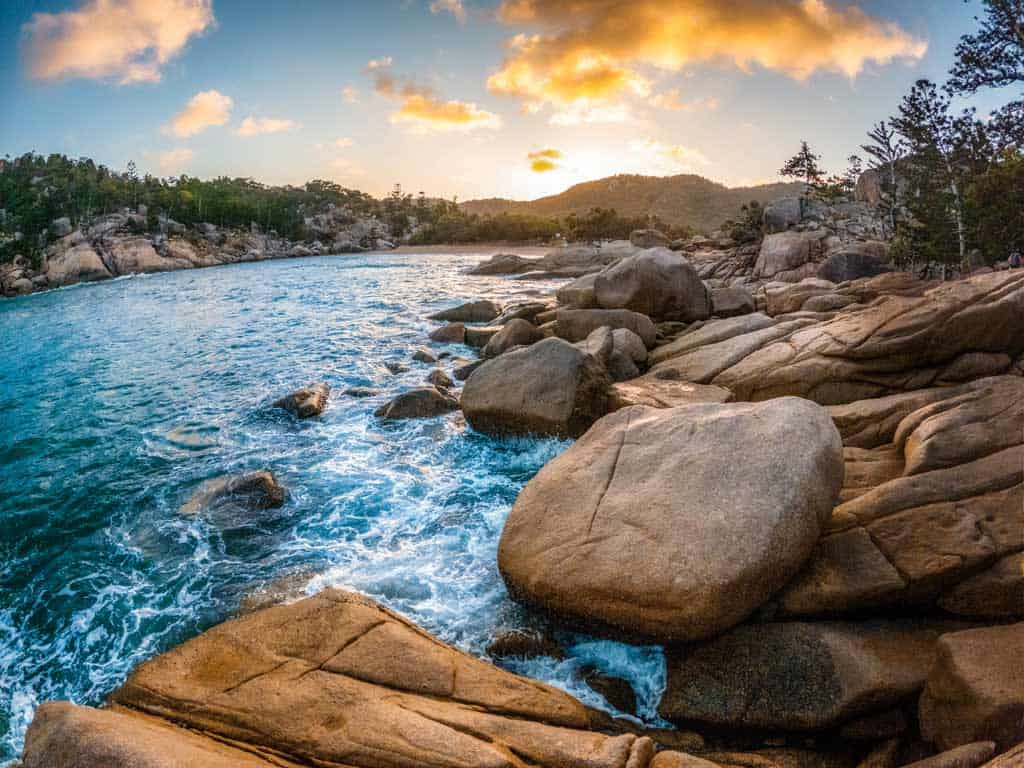 12:30pm – Feed the Rock Wallabies at Geoffrey Bay
From Alma Bay walk over to the general store to pick up some wallaby food, because you're about to go meet the island's second-cutest residents!
Just on the other side of Alma Bay at the edge of Arcadia and Geoffrey Bay is a narrow road that twists its way to the end of an old marina, which is now home to dozens of allied rock wallabies.
These curious, beautiful marsupials like to hop around the rocks, and the wallaby hospital on the island has prepared food for humans to feed them.
There are multiple places on the island that sell little bags of wallaby-safe food pellets for around $2, so be sure to buy the proper food and not feed them your own snacks, as that can make the wallabies sick.
Don't forget to get a photo of one. They will get really close to you and they are so cute. But like all wild animals, please refrain from touching them.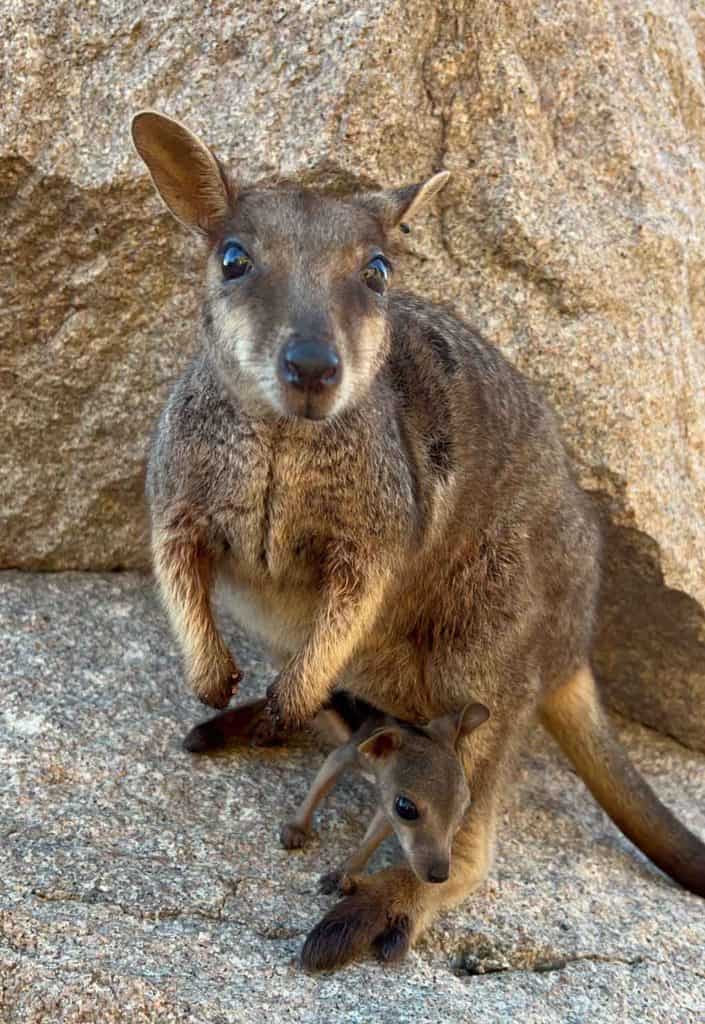 12:45pm – Go for a Snorkel on the Geoffrey Bay Snorkel Trail
If you brought your snorkelling gear you can head out to the Geoffrey Bay Snorkel Trail which is located near the rock wallabies.
Just off Magnetic Island is a great fringing coral reef in the Great Barrier Reef Marine Park. There is no fishing here so there are lots of fish to be seen.
The snorkel trail starts 390m off the beach of Geoffrey Bay at the end of the bay closest to the Arcadia Hotel.
OUR TIP: Walk down towards the old jetty where the rock wallabies are and go down the boat ramp and start from there. It is much easy and will save you time.
If you want you can pick up a snorkel map from multiple stores on the island for $5 or just follow the white buoys out in the water.
Around the buoys, you will see beautiful coral and a number of fish. This is where you will see those Giant Giant Clams, which are amazing to watch!
There is a shipwreck at the end of the trail that can be seen on a clear day. It is the wreckage of the Moltke, which was a German passenger and cargo ship that was deliberately sunk (scuttled) off Magnetic Island in 1911.
If you need to hire some snorkel gear in Acadia, you can get it from the dive shop, Pleasure Divers. To rent a whole snorkel set is about $10 for half a day (8.30-12.30 or 12.30-4.30).
Just be careful in the months of November to April (wet season) as this is Stinger Season here on Magnetic Island. You should only enter the water with a stinger suit, which can be hired at the store also, or don't jump in at all
Have an extra day and want to go on a snorkelling tour?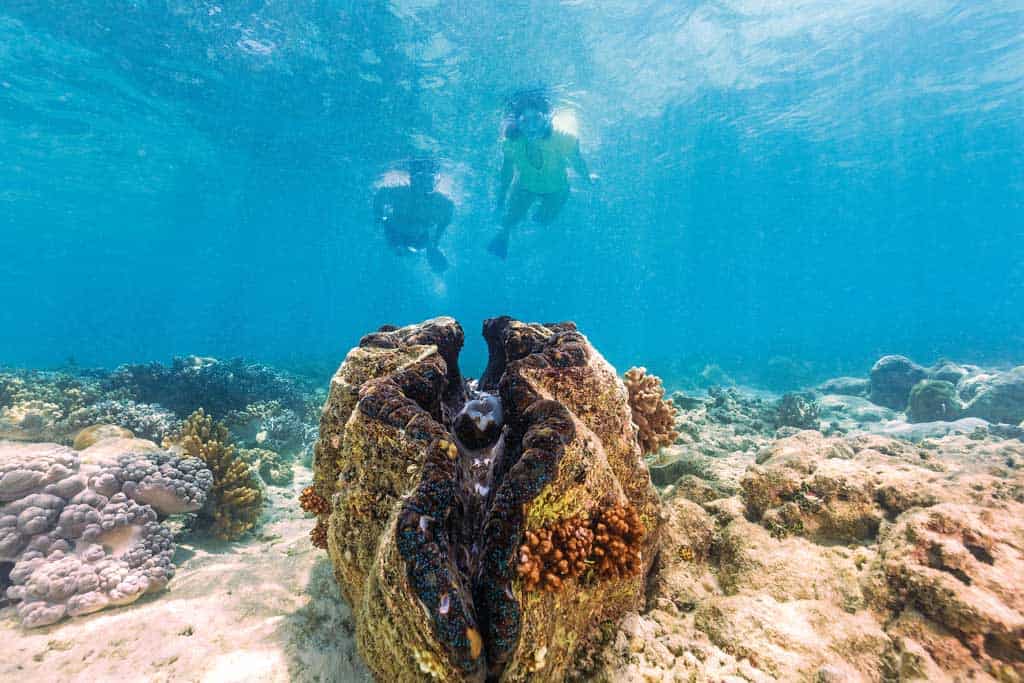 1:30pm – Lunch in Nelly Bay
After your snorkel you would have built up quite the appetite! So jump on the bus (follow the Gabul Way pedestrian path) to Nelly Bay for lunch.
There are plenty of options to eat lunch in Nelly Bay.
Our two personal recommendations are to head to SOS Seafood for the best fish and chips on the island, or walk on down to Scallywags Cafe for a next-level burger and good vegetarian and vegan options.
Take some time to get your energy back for the rest of your day on Magnetic Island.
3pm – Head over to Picnic Bay
After you have enjoyed a great lunch, catch the bus over to Picnic Bay. Just like all the bays on the island, this is truly beautiful, and a real local favourite.
The waters are calm and protected, and the most prominent feature is the large historic jetty.
Picnic Bay was the first settlement on the island, and the jetty in front of you used to be the main point of entry for people coming over from Townsville, before the new terminal was built at the marina in Nelly Bay.
Go for a walk out to the end of the jetty, and jump off the end if you need to cool down.
Alternatively there's a nice, sheltered and safe area at the end of the beach.
If you feel like a drink stop by the Magnetic Island Brewery, which is the newest place-to-be on the island. If you time your day trip to be a Sunday you'll also be treated so some local live music here.
This is a great place to relax and unwind after all your early hiking and swimming on your one day on Magnetic Island.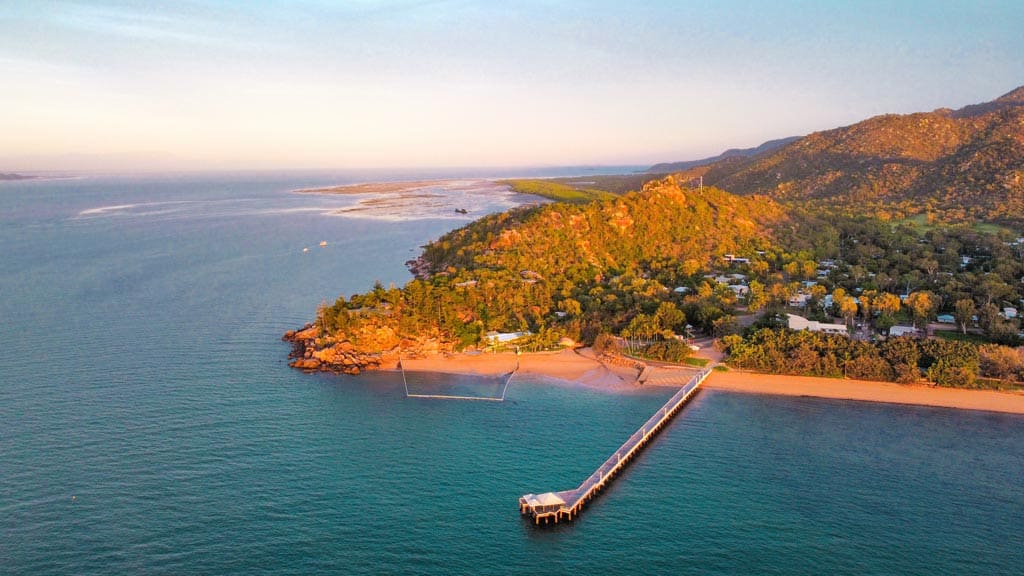 4:30pm – Option 1: Head up to Hawkings Point for 360 Degree Views
After you have relaxed in the bay, head to Hawkings Point for another epic 360-degree view of the other side of the island.
This is our personal favourite spot for sunset on the entire island, so pick up a bottle of wine from the liquor store in Picnic Bay if you'd like and settle in for the light show.
Head to the end of Picnic Street and start the step climb to the lookout. It's less than 1km from the trailhead to the top, so no need to rush.
Depending on your pace it should take about 20-30 minutes to reach the summit.
Once you get up the top you will be greeted with stunning panoramic views looking over Magnetic Island National Park and two bays – Picnic and Nelly.
Depending on the time of the year, you should be up here just in time to chill out and catch the last of the sun's rays before it dips below the horizon.
Watching the sunset from Hawkings Point Lookout is the second best way to end your Magnetic Island day trip! (Check out the final point below to see the best)
Head back down the same trail and catch the bus from Granite Street back to Nelly Bay Ferry Terminal.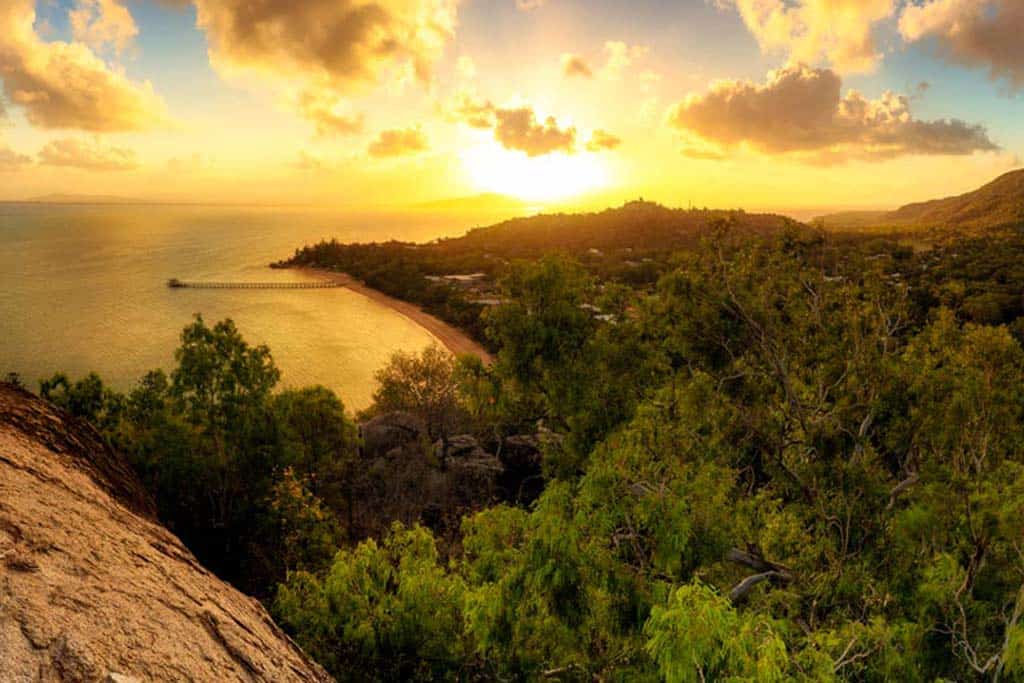 4:30pm – Option 2: Sunset Boat Tour
If you are having such a great time on Magnetic Island and want to stay for sunset, a boat tour is a great option.
We highly recommend you to go on one of these tours before you head back to Townsville.
All tours leave at 4:30pm and are around 2 hours. All prices below are for adults.
Aquascene Charters: Sunset and Shipwreck Tour – Bookings
Pilgrim Sailing: Relaxing Sundowners and Sunset Sailing on Magnetic Island – Bookings
Big Mama: Sunset Sail Magnetic Island – Bookings
All these sunset cruises above start and finish in Nelly Bay
Going on a sunset tour is a great way to finish your 1 day on Magnetic Island.
Our personal favourite and recommendation is Aquascene, mainly because the owner Adam is one of the most passionate and informative tour guides on the planet, but all three are good options.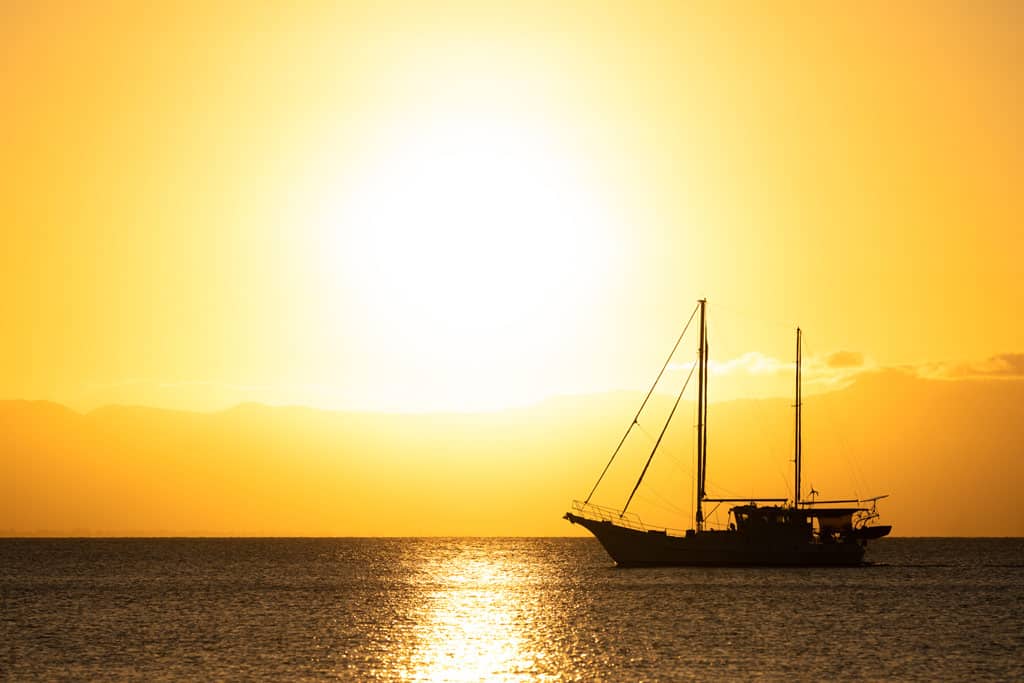 Conclusion
As you can see there is a lot to do on a Magnetic Island day trip. There is even more than the list above but this is a great start if you only have a day.
READ MORE: If you are heading back to Townsville and are staying there the night, check out our article on Things to do in Townsville.
DISCLAIMER: Some of the links in this article are affiliate links, which means if you book accommodation, tours or buy a product, we will receive a small commission at no extra cost to you. These commissions help us keep creating more free travel content to help people plan their holidays and adventures. We only recommend the best accommodations, tours and products that ourselves or our fantastic editorial team have personally experienced, and regularly review these. Thanks for your support, kind friend!