Planning on having a weekend in Port Stephens? You're going to love it here! Read on for our ultimate Port Stephens itinerary to help you make the most of your time.
Located just 2.5 hours north of Sydney, the region of Port Stephens has quickly become one of the most popular holiday destinations in New South Wales.
Once you find out all the incredible things there are to do in Port Stephens, you'll quickly understand why.
Besides boasting some of Australia's most picturesque beaches, Port Stephens is home to the Southern Hemisphere's largest moving sand dunes, a plethora of wildlife experiences (including dolphin and whale watching tours), gorgeous hiking trails and some of the best culinary options in the state.
If you're planning a trip up here with a limited time frame, and want to get the most out of your Port Stephens itinerary, we're here to help.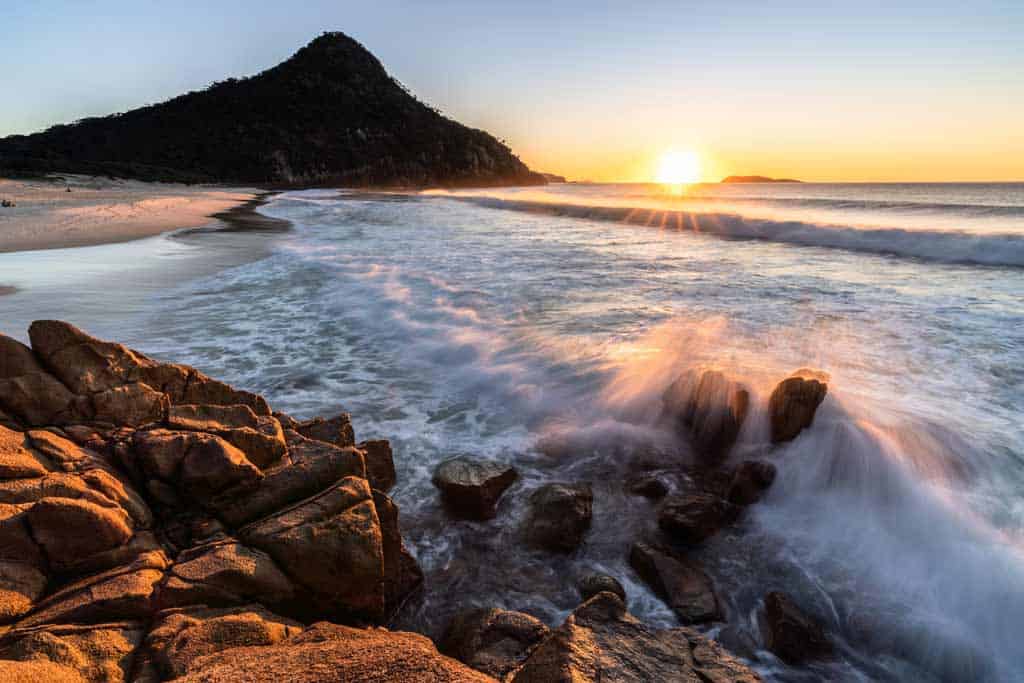 The Perfect Long Weekend in Port Stephens Itinerary
We recently spent 4 days in the absolute paradise of Port Stephens, and managed to jam a lot in!
From the Stockton Sand Dunes which are the largest sand dunes in the Southern Hemisphere, to all the delicious restaurants and cafes in the Nelson Bay Area, to all the beautiful beaches, there is seriously so much to do!
There are also a few things we would do differently though, so if you're ready for the best itinerary for Port Stephens, read on…
READ MORE: Don't miss our list of the other top destinations in Australia!
Day 1 – Wildlife and Quad Biking
Whether you're driving from the south or north, we recommend you aim to get to Port Stephens as early as possible in the morning so you can make the most of your first day.
It's all about wildlife and sand dune adventures today.
10:30am – Quad Biking in Worimi National Park
We're going to kick off your Port Stephens itinerary with a bang, by going quad biking on the Stockton Sand Dunes. These are the largest moving sand dunes in the Southern Hemisphere!
Book into the 11am morning tour with Sand Dune Adventures (definitely reserve your spot ahead of time, as they only have limited availability), and meet them at their office 30 minutes before departure for the official check-in.
After a short drive to the base, you'll be given a safety briefing before jumping on your high-powered quad bikes for an hour of epic fun.
Your experienced guide will take you deep into the dunes, roaring through the shifting sands and dropping down steep embankments (if you feel up to it).
At about the halfway point you stop on one of the highest points in the area, where you'll be rewarded with what feels like the endless vistas of rolling dunes fading into Pacific Ocean in the distance.
The quad bikes go up to speeds of 60km/h, so you're guaranteed to get the adrenaline pumping.
And if you're travelling with kids, you have two options. Put them on a smaller quad bike that's speed limited, or they can sit on the back of your own bike.
For a real unique experience though, sign up for their cultural tour, where you'll learn more about the traditional custodians of the land, the Worimi people.
What makes Sand Dune Adventures unique in the area is that they are a non-profit organisation that supports not only the conservation of the land, but employ and provide education to Aboriginal people.
It's a great company doing fantastic work, while providing a top-quality service.
Address: 2163 Nelson Bay Road, Williamtown, NSW, 2318
Phone: +61 (0) 2 4033 8808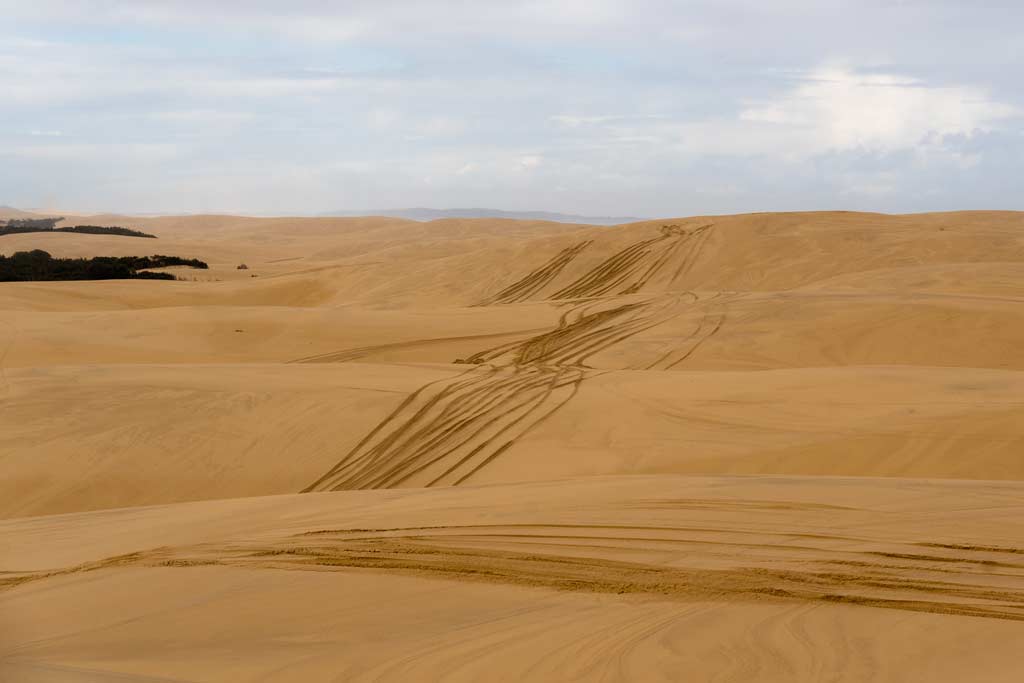 1pm – Lunch at Murray's Brewing Co
By now you would have worked up an appetite (and a thirst) from all that fun in the sun, so it's time to head to the legendary Murray's Brewing Co to quench those desires.
Set on a stunning property with large, lush fields and an epic outdoor beer garden, Murrary's is the perfect spot to enjoy an afternoon session and sample their delectable beers and cider.
The Whale Ale is arguably their most famous drop, but the IPA is hard to beat as well.
If you're not a beer lover, don't worry. There's also a wine cellar on site, showcasing local, premium vintages.
The food menu is classic pub style with tonnes of flavour (and generous servings), but to take things up a notch they also cook up woodfire pizzas.
After lunch it's time to jump back in the car and head to the next adventure.
Address: 3443 Nelson Bay Rd, Bobs Farm, NSW 2316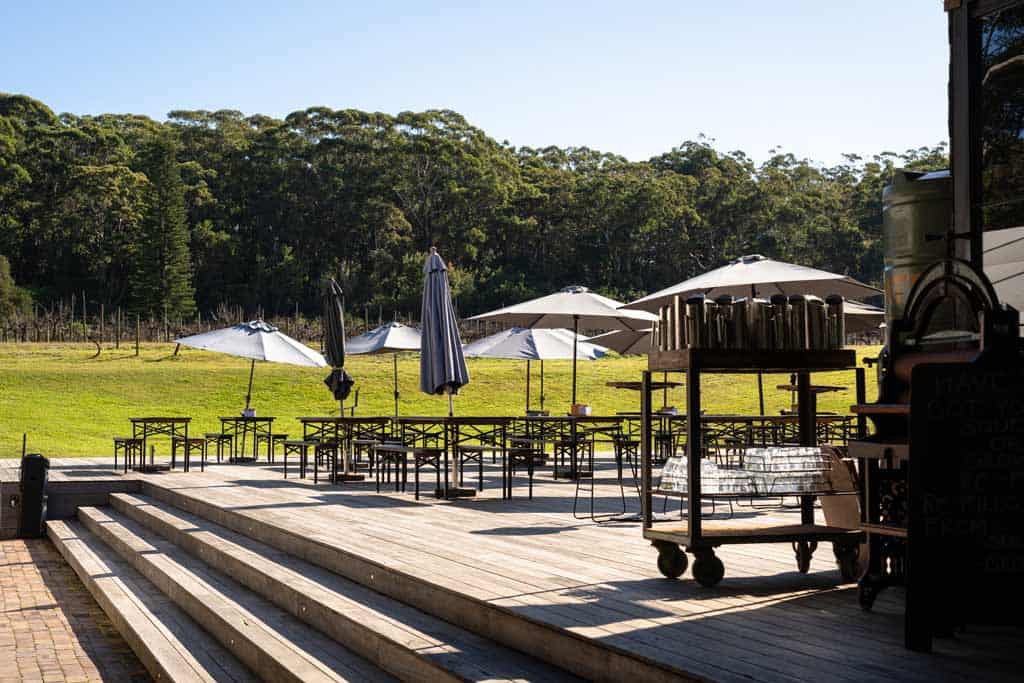 3pm – Irukandji Shark and Ray Encounters
Up the road in Anna Bay is the incredibly unique and interactive Irukandji Shark and Ray Encounters.
Designed to introduce kids and adults to the fascinating underwater world, while changing perspectives on what are usually considered dangerous species, this conservation-focused aquarium allows visitors to get up close and personal with a variety of sharks and rays.
Education is a main element of the work the staff at Irukandji do, and their goal is to have everybody leave with a deeper appreciation of these misunderstood creatures.
Address: 2 Jessie Rd, Anna Bay, NSW 2316
Book your entrance ticket to Irukandji Shark and Ray Encounters here!
5pm – Go for a Walk Along the Foreshore for Sunset
It's time to drive into the heart of the coastal town of Port Stephens and check into your accommodation.
You have a couple of different options of where to stay. If you love being close to nature, stay in Shoal Bay.
If you'd rather be closer to the action, Nelson Bay is the place to sleep.
And if you'd like to be tucked away at the quieter end of Port Stephens, head on down to Salamander Bay.
Personally we recommend staying at Shoal Bay or Nelson Bay.
Once you've unpacked the car head on down to the sea and take a walk along the foreshore for sunset.
The bays are beautiful at any time of day, but watching sailboats sway gently in the breeze while the light turns golden and crimson over the pale-blue ocean is a special moment.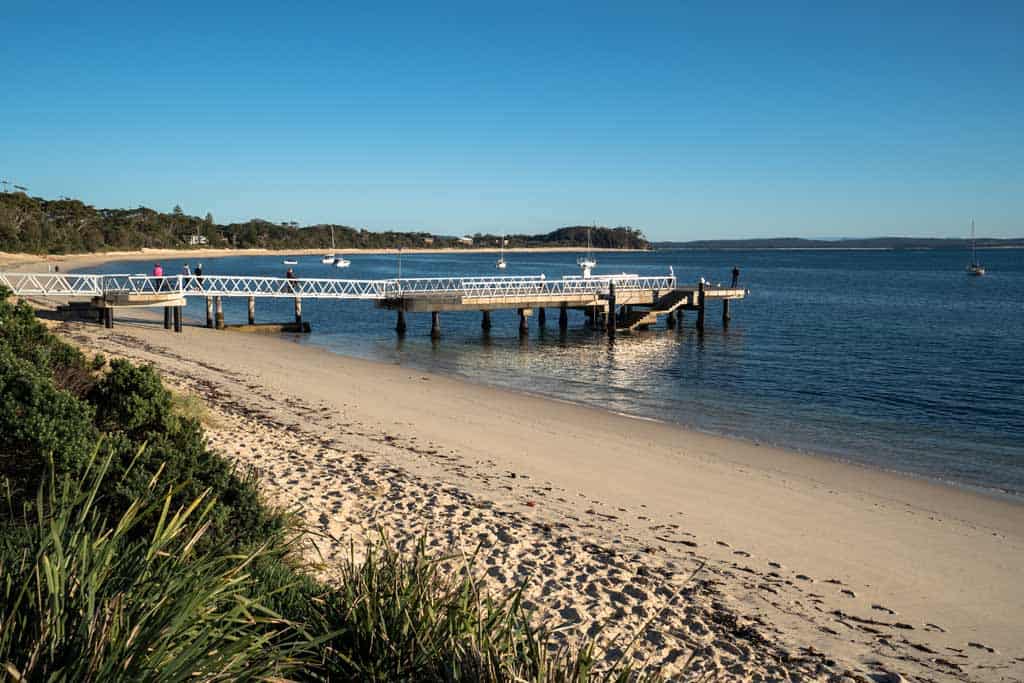 7pm – Dinner at Shoal Bay Country Club
There are a lot of fantastic restaurants in Port Stephens, so you'll be forgiven for feeling overwhelmed about where to go.
If you're staying in Shoal Bay or Nelson Bay though, it's worth booking a table at the Shoal Bay Country Club.
Don't let the name fool you, this place isn't out in the countryside – it's right by the water!
The upstairs restaurant and outdoor deck have amazing views over the ocean, making it a perfect place for a sundowner as well.
You'll be spoilt for choice on the dinner menu, and there's no shortage of wine to pair with your meal as well.
If you missed out on the woodfire pizza at Murray's for lunch, they also do a great pizza here.
Address: 35-45 Shoal Bay Road, Shoal Bay NSW 2315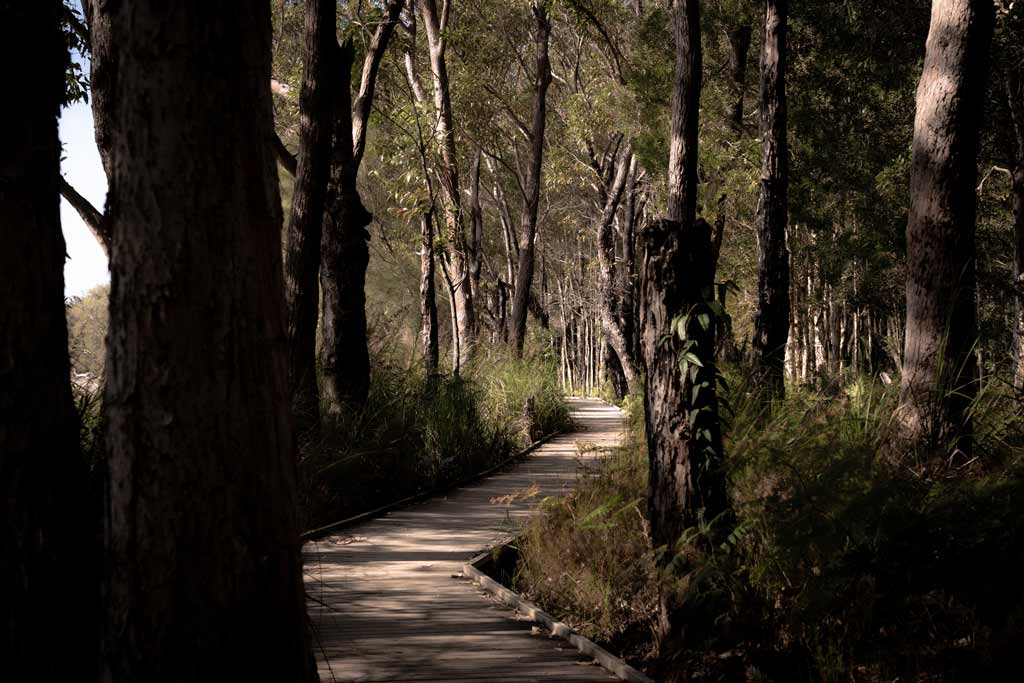 Day 2 – Sunrise Mission and Whale Watching
Hope you didn't have too many glasses of wine at the Country Club last night, because we have an early start today!
6am – Climb Mount Tomaree for Sunrise
If you're an early riser and love a bit of a challenge first thing in the morning, then we highly recommend climbing Mount Tomaree for sunrise!
The crown jewel of the Port Stephens region, reaching the summit of Mount Tomaree is an absolute must-do on any visit, and those that make the top are rewarded with the most spectacular views.
You get to overlook all the pristine beaches and small islands that make up the interesting coastline of the Nelson Bay Area.
As a word of warning, the climb involves some steep paths and stairs, but the entire thing is well maintained, and a moderately fit person should be able to walk to the top from the carpark in about 20-30 minutes.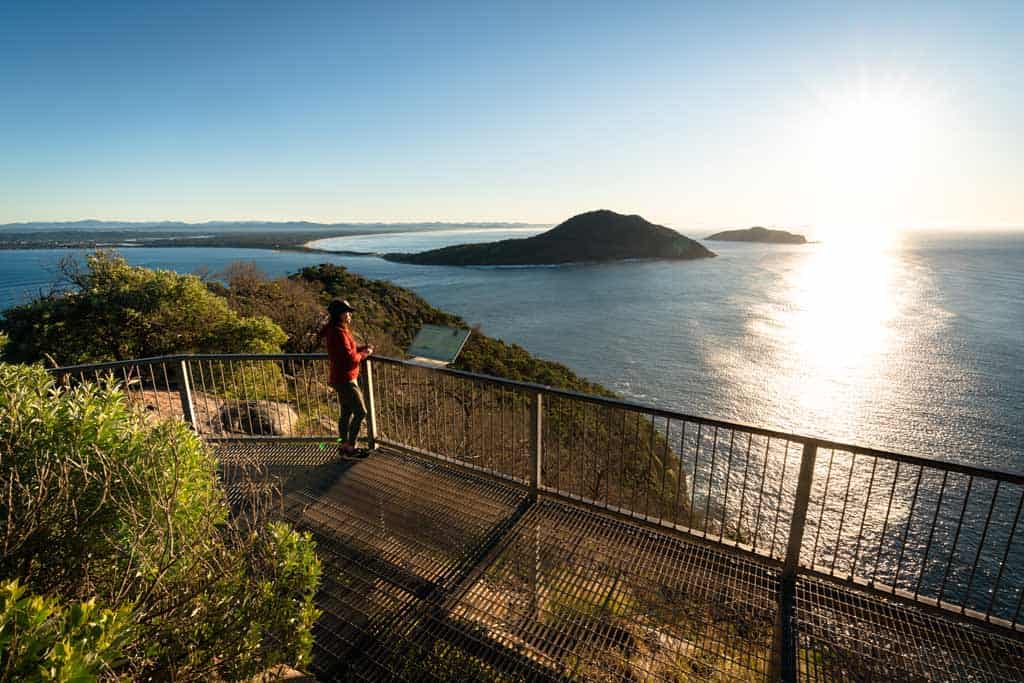 9am – Breakfast at The Little Nel
Hike back down the mountain, head to your accommodation for a shower to freshen up, then make your way to The Little Nel for an incredible breakfast.
A popular spot for locals and tourists alike, The Little Nel is always buzzing, and on a sunny day if you can grab a table outside you'll be in absolute heaven.
The staff are friendly, coffee delicious, and food is amazing. Our recommendation; get the fritters!
Address: 3/7 Government Rd, Nelson Bay NSW 2315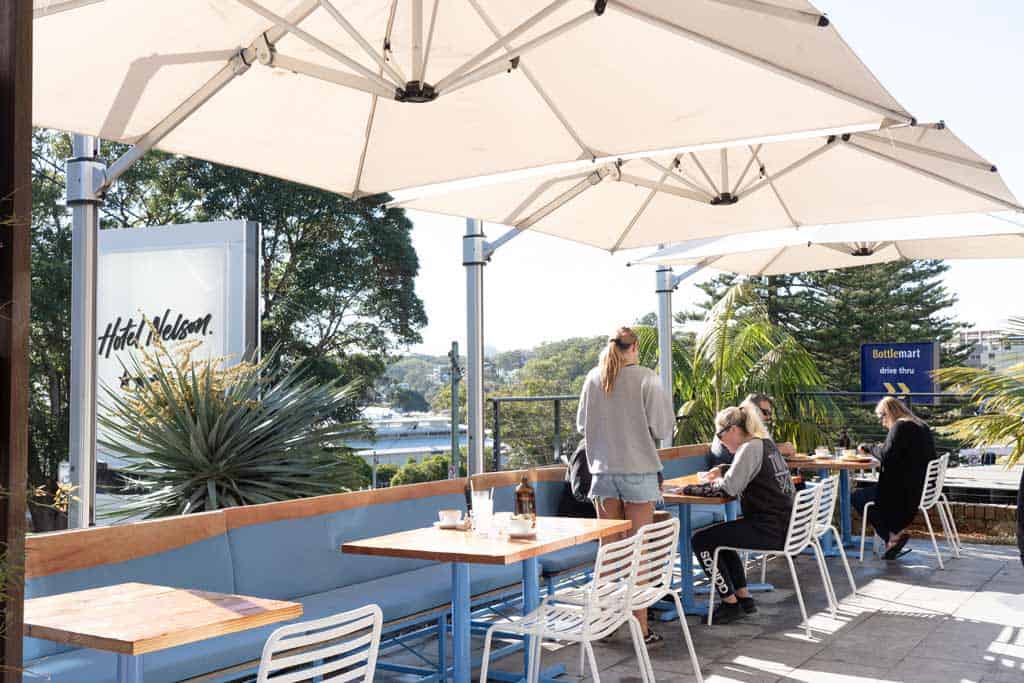 10:30am – Whale Watching or Dolphin Watching Cruise with Moonshadow TQC
Just a short walk down from the Little Nel you'll find yourself at the Nelson Bay Marina. This is where you're going to depart for what may just be your absolute highlight of this Port Stephens itinerary!
The waters off of Port Stephens are known to be one of the best places in Australia to see dolphins (year-round) and humpback whales (May to October).
Today you're going to head out to try and spot them!
Book yourself into a morning departure with Moonshadow TQC, who operate the largest fleet of boats in the Port Stephens area, and get ready for an epic few hours.
As you depart the marina and start cruising through the bay, you're almost guaranteed to see dolphins.
They often come right up to the boat and play in the wake, which always brightens up anyone's day.
If you're here in the winter months though, make sure you're booked on a whale-watching cruise instead.
Not only do you have the high chance of seeing dolphins, you'll also make your way out past the headlands and start to look for humpback whales.
READ MORE: Check out this article on the other New South Wales whale-watching hot spot, Jervis Bay!
From May to October these majestic creatures migrate north from Antarctica to breed, then head back down for the summer to feed.
They come very close to the shores of Port Stephens, making this one of the top whale-watching destinations in Australia.
If you're lucky, you'll be treated to an awe-inspiring display from the humpbacks as they breach, dive and play just a few hundred metres from the boats.
Tea and coffee is provided, and there's a full bar and snacks available for sale on the cruises as well.
Phone: +61 2 4984 9388
Address: 3/35 Stockton St, Nelson Bay NSW 2315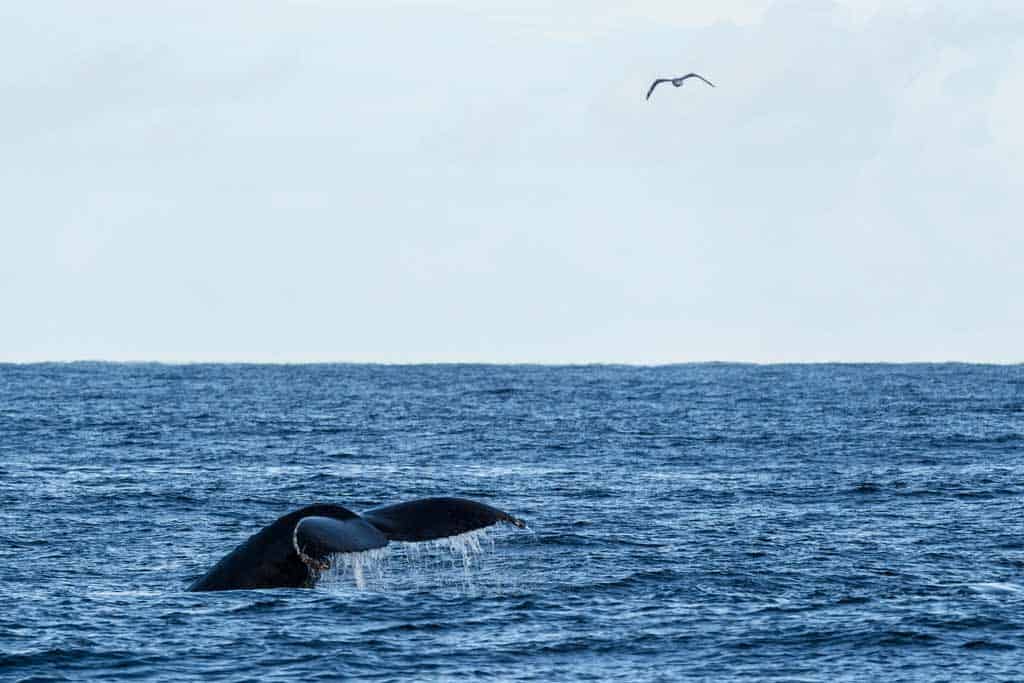 2pm – Lunch at the Inner Light Tea Rooms
The Nelson Bay Lighthouse boasts lovely views over Port Stephens, and at its base is a fantastic cafe to grab lunch as well.
The Inner Light Tea Rooms mixes a vintage feel with modern cuisine, and with only a small number of tables available, it also has an air of exclusivity about it.
Naturally, with a name like this, the iced teas are what many people come here for, and coupled with the fresh scones, you'll be in for a real treat.
The lunch meals aren't too heavy either, which is refreshing.
After you finish your meal go for a little walk around the headland (and see the pelicans at the bottom of the hill), then head back to Shoal Bay for the afternoon's activity.
4pm – Stand-Up Paddleboarding at Sunset
To top off what has already been a marvellous day, we recommend hitting the water once again to go stand-up paddleboarding for sunset.
Rod from Shoal Bay SUP is an absolute character and loves nothing more than taking visitors out for an hour of fun.
You meet up at the boat ramp at the eastern end of Shoal Bay to get a quick training session from Rod, then it's time to paddle out.
If the wind is down and water is calm it almost feels like you're paddling across glass, and the ripples glisten as the sun goes down.
It's not a guarantee, but if luck is on your side you may even have dolphins come check you out.
Don't worry if you're not experienced with SUP, or the weather is bad. Rod also has some unique paddle boards with handles for those rough conditions.
Phone: 0428 604 460
Address: On the Beach Opposite 3 Shoal Bay Rd, Shoal Bay NSW 2315
7pm – Dinner at the Cheeky Dog or Rick Stein Bannisters in Soldiers Point
Book a taxi or drive out to Soldiers Point at the western end of Port Stephens for a delightful culinary experience.
Depending on what you're feeling like, you have two options out here.
The first choice is the quintessential Aussie pub meals at the Cheeky Dog, which are guaranteed to satisfy even the hungriest patrons.
The large venue is split into two sections – the sports bar at the front and the restaurant in the rear.
The food is affordable, comes out quick, and the place has just enough ambience to make you stick around for another drink or two afterwards.
If you are feeling like treating yourself though, book a table at Rick Stein Bannisters, located upstairs in the hotel.
Rick Stein has carved a name for himself as being one of Australia's most prominent seafood chefs, and after the huge success of his restaurant in Mollymook, he has now expanded with Bannisters to open up in Port Stephens.
The food you'll find here is of the highest quality, and you can rest easy knowing that the award-winning chefs will bring you out something you're going to remember for a long time.
The waiters and waitresses are all very knowledgable when it comes to wine pairing too, so let them guide you with what to drink alongside your meals.
The Cheeky Dog and Rick Stein Bannisters are both located on the property of the Bannisters Hotel in Soldiers Point.
Address: 147 Soldiers Point Rd, Soldiers Point NSW 2317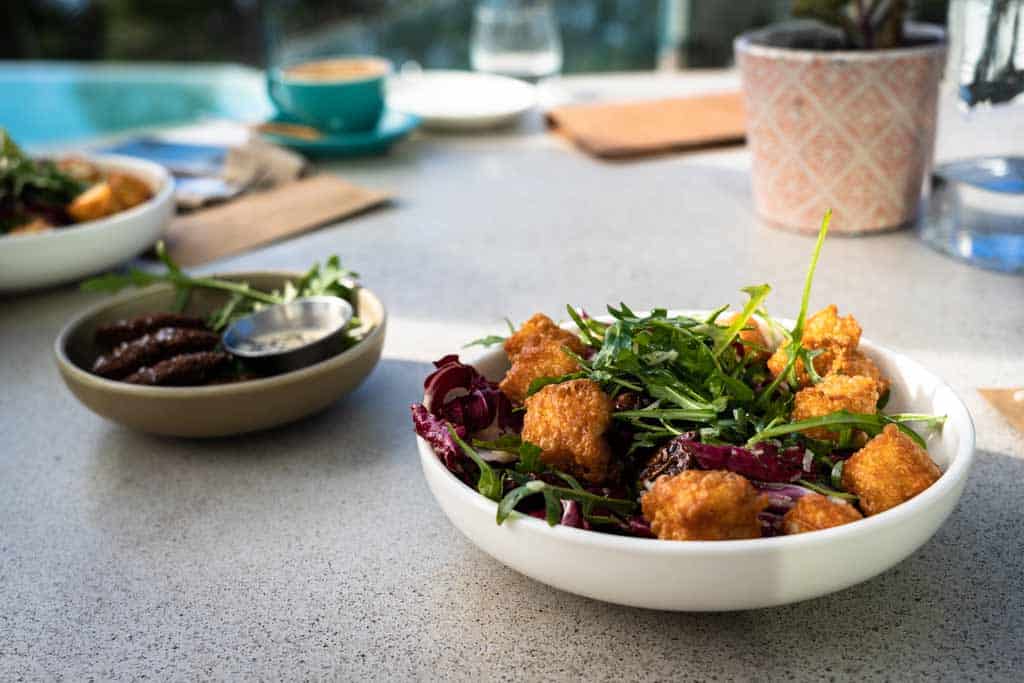 Day 3 – Epic Coastal Views
No need for an early start today. After all, yesterday was a massive one.
Instead have a leisurely sleep in (or if you're really keen, check out Wreck Beach for sunrise), then cruise on over to Nelson Bay.
9am – Breakfast at Crest Birubi Beach
Overlooking Birubi Beach in Anna Bay, Crest is one of the best breakfast restaurants in Port Stephens.
If you can book ahead, make sure you reserve a table outside for lovely ocean views while you enjoy your meals.
For a real treat, grab the Peanut Butter and Salted Caramel Smoothie. It might just change your life.
READ MORE: Check out our ultimate guide for travelling around Australia!
11am – Tomaree Coastal Walk to Fingal Bay
The entire Tomaree Coastal Walk is 20km long, and is one of the most spectacular hikes in New South Wales.
If you're feeling really fit, you can tackle the entire thing from the base of Mount Tomaree right to Birubi Beach.
But if you just have a few hours to spare and want to see the highlights of Tomaree National Park, then do the hike to Fingal Bay.
As you depart through gorgeous forests, you wander over hills and down to the beautiful beaches of Zenith Beach, Wreck Beach and Box Beach. Also walk along Fingal Bay, where the Fingal Spit that connects the mainland with Shark Island at low tide.
Each point along the way gives you postcard-perfect views, and during the winter months you'll often see humpback whales breaching out to sea.
Once you get to Fingal Bay grab a bite to eat at the Longboat Cafe, then grab a taxi back to town for a well-earned break.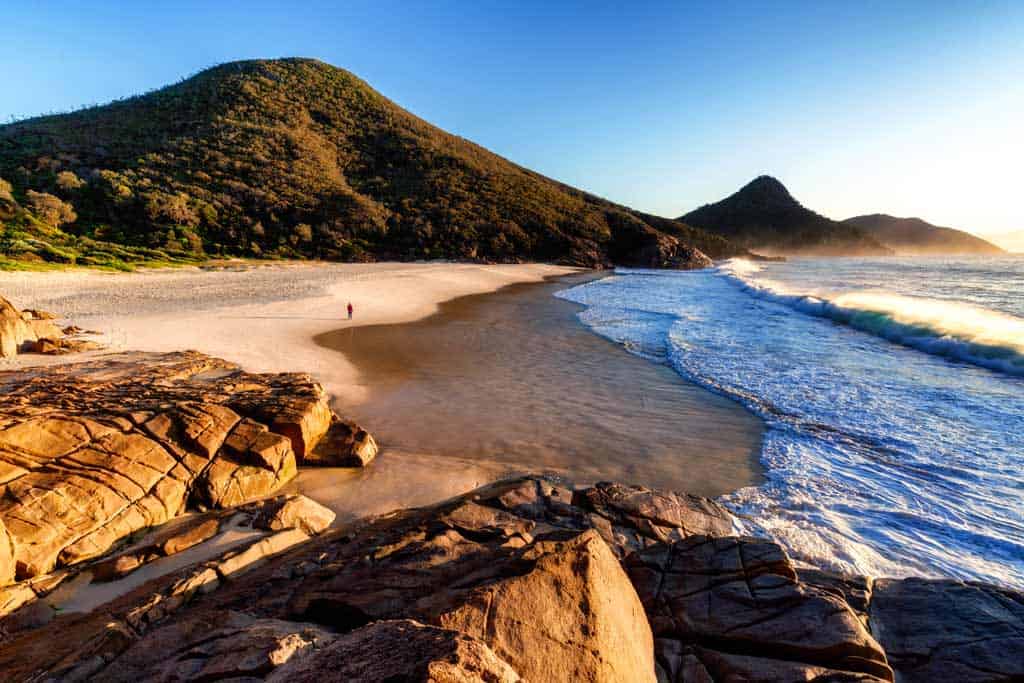 4pm – Gan Gan Lookout for Sunset or Birubi Beach for Camel Riding
For today's afternoon adventure in Port Stephens you have a few options.
The first is to head up to Gan Gan Lookout for sunset. Driving the steep road up to the lookout, you'll be rewarded with near-360 views of the Port Stephens region.
As the light changes into the Golden Hour, you'll be amazed as the entire coast lights up in shimmering hues of yellows, reds and maroons.
You can reach all the viewpoints with a short walk, so it's perfect if you're feeling a bit tired after the coastal hike.
Alternatively you can drive out to Birubi Beach for a truly unique Aussie experience – go camel riding on the beach!
Oakfield Ranch has a large number of trained camels that take visitors out on 20-minute beach walks every day.
Wandering down to the sea and towering above the breaking waves is quite a bit of fun, and something that guarantees some awesome photos.
If you're in town on a Tuesday, Thursday, Saturday or Sunday, you can sign up for a 60-minute sunset camel ride, which is what we recommend.
Birubi Beach is one of the best places in Port Stephens to watch sunset, and you'll feel like you've stepped into an Arabian movie as you ride your camel around the dunes.
You don't need any experience, and the tour is fully guided.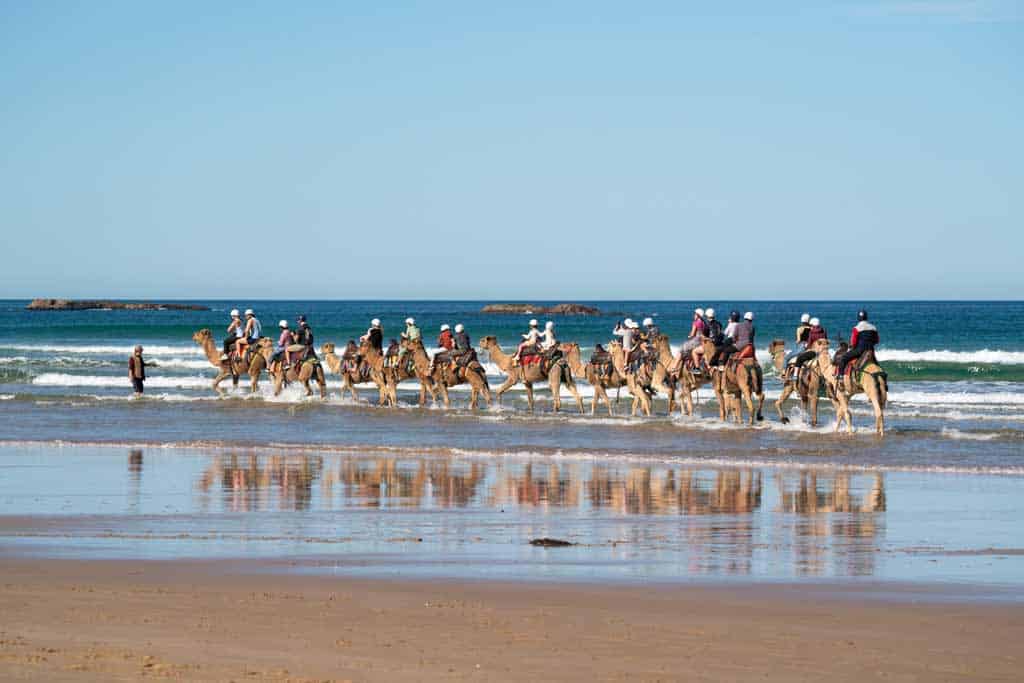 7pm – Dinner at Little Beach Boathouse
Tonight you can pick just about anything you feel like for dinner, and you'll find no shortage of options in Port Stephens.
Our recommendation, especially if you like seafood, is to check out the Little Beach Boathouse.
Located in Nelson Bay right next to Little Beach Reserve, this legendary dining option has some of the best and freshest seafood in town.
Make sure you book ahead though, as it is very popular.
Address: 4 Victoria Parade, Nelson Bay NSW 2315
Phone: (02) 4984 9420
Day 4 – Heading Home (Or Staying On)
You've reached the end of our Port Stephens itinerary, but if you are sticking around for a few more days, there are plenty of other great things to do in the area.
Some of our favourite ideas are:
Go snorkelling or scuba diving in Nelson Bay
Learn to surf at One Mile Beach
Rent a bicycle and peddle around Port Stephens
Watch the sunsetat Sunset Beach at Soldiers Point
Try to spot wild koalas at the Tilligerry Koala Habitat
Go sand boarding down the sand dunes
That's it for our weekend in Port Stephens and Nelson Bay itinerary. We hope you enjoy your time in this gorgeous region.