A detailed and straightforward guide to help travellers understand transportation in Thailand.
One of the hardest parts of travelling is often the time spent in transit on the road.
When you're in a destination enjoying the land and the culture, everything is exciting and new. But getting from place to place can feel overwhelming, confusing, or even stressful at times.
However, with a bit of research and preparation, you can take on public transport in any country and be able to travel around with ease.
Getting around Thailand is very easy, straightforward, and often stress-free.
Most travellers tend to follow similar paths throughout the country, so the planes, trains, buses, and ferries between popular cities are developed and consistent.
Many people speak English in touristy areas as well, so it is easy to ask for help if you need it.
But transportation in Thailand is often hassle-free, and it is extremely affordable.
You can find long-haul flights into Bangkok, take overnight buses cross-country, and zip around a city in a tuk-tuk, all for super cheap prices.
So don't let the idea of deciphering a foreign transportation network intimidate you!
READ MORE: Plan your trip to Thailand with our awesome Thailand Travel Guide!
Transportation in Thailand
The Thais have made it very easy for tourists to travel around their country, and this guide will hopefully clear up any confusion about the best ways to get around.
You will learn about travel to and from Thailand, travel between different areas of Thailand, intra-city urban transportation, and some useful travel tips.
Travelling to Thailand
Thailand is becoming one of the world's most popular tourist destinations, so it is very well-connected to the rest of the world.
Whether you are flying to Thailand from the other side of the world, or just crossing the border overland from a neighbouring Southeast Asian country, you shouldn't have any problems entering this vibrant country.
Air Travel to Thailand
Flying into Thailand is straightforward and often affordable.
There are so many different international airlines that connect Thailand with cities all over the globe, and if you search in the right places you can find flights that won't break the bank.
Using a search engine like Skyscanner or Google Flights is helpful because you can select an entire month as your departure date and see a calendar that has the prices shown for every day.
It is also helpful to shop for prices using an incognito window that does not store data from your previous searches. Airfares are notorious for their variety due to cached information.
This allows you to select the cheapest departure date and save plenty of money.
If you choose to travel to Thailand between May and October, you will save even more money on flights because prices tend to drop during the offseason.
Try to pack as lightly as possible for your flight to Thailand. When you only have carry-on bags, you will save money on baggage fees and have a more convenient time travelling.
Most long-haul international flights will fly into Bangkok.
There are two major airports in Bangkok: Suvarnabhumi Airport (BKK) and Don Mueang Airport (DMK. Just make sure you clarify which airport is on your ticket so you don't get confused.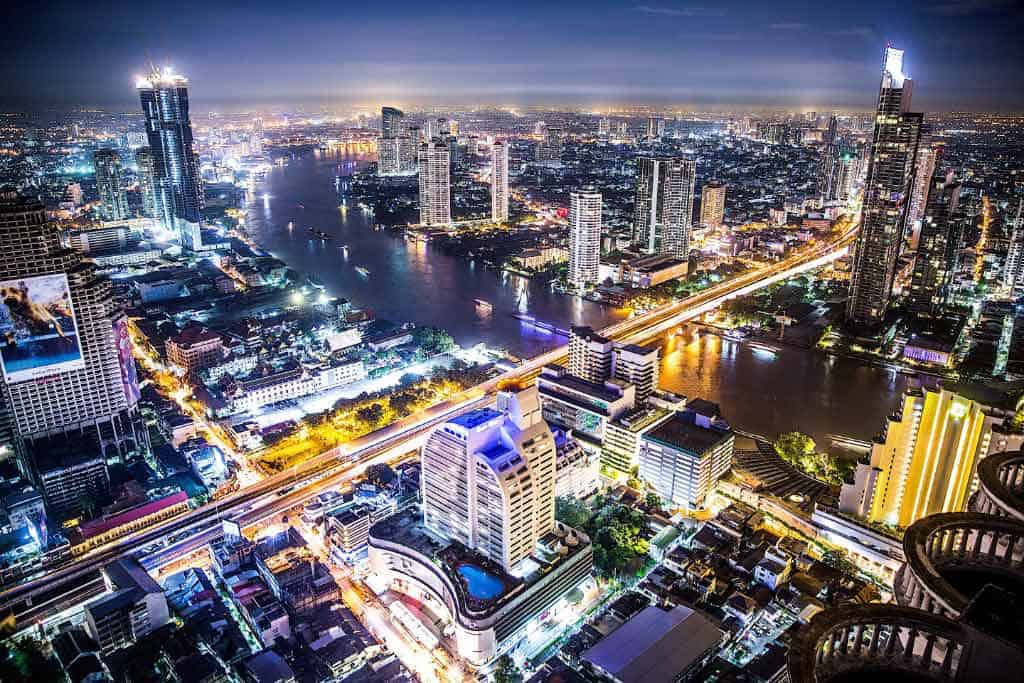 Overland Travel
There are multiple border crossings between Thailand and its four neighbouring countries, Myanmar, Laos, Cambodia, and Malaysia.
If you are entering Thailand by train or bus from any of these countries, the border crossing process isn't much different from the border crossing at the airport.
Your passport will be stamped and you'll be granted a 30-day visa on arrival.
In the next section, "Entry Requirements," you'll learn more about whether you need to obtain a visa in advance before heading to Thailand.
If you are entering Thailand with a car or motorbike that is yours or is a rental, you'll have to provide your international driver's license, vehicle registration, and vehicle insurance to the officers at the border.
Border crossings can be quick and easy, or they can be very long if there happens to be a lot of traffic.
Plan on having a good amount of snacks, water, and local currency just in case the border crossing takes longer than expected.
Entry Requirements
Many visitors to Thailand will need a visa, for which you can apply online before entering the country, or obtain at the airport upon arrival.
A Thailand tourist visa costs 30 USD, and of course, you have to have a valid passport for the duration of your stay.
There are 64 countries that have made visa-exempt agreements with Thailand, so citizens of these countries do not need a visa.
If your nationality is on this visa-exempt list, you can enter Thailand for free but you cannot stay longer than 30 days.
Check the Thai embassy website to see if your nationality is on the visa-exempt list or not.
Getting Around Thailand
Once you arrive in Thailand, travelling within the country is quite easy.
It has become such a popular tourist destination that there is a well-developed public transport network to get you where you need to go.
Long Distance Transportation
For travelling long distances within Thailand, you have a few different options. Whether it be a flight, ferry, or tuk tuk ride, there are plenty of ways to get around.
Air Travel
Domestic flights are actually one of the quickest and easiest ways to get around Thailand.
If you are heading straight from Bangkok up to Chiang Mai in the north or heading down to any of the islands, there is quite a bit of distance to cover.
Rather than sitting on a bus or train for 10 or more hours, it is worth just catching a 1-hour flight to the other side of the country.
In cities like Chiang Mai and Bangkok, the airports are only 20-30 minutes away from the city centre, and you only need to arrive about one hour before domestic flights.
So flying often turns out to be the most convenient way to travel in Thailand.
Thailand has plenty of budget airlines where you can get easy domestic flights for as cheap as $20 USD.
Thai Lion Air, Air Asia, Bangkok Airways, VietJet, Nok Air, Thai Airways and Thai Smile are just a few of the reputable and affordable airlines you can fly around Thailand. Most flights pass between the bigger cities of Bangkok and Chiang Mai.
Keep in mind these low-cost carriers are so cheap because they provide the bare minimum. You'll have to pay for food, drinks, and any checked baggage.
Air travel is best for travellers who want to see a lot of the country in a small amount of time.
READ MORE: Plan the perfect Thailand itinerary with our comprehensive travel guide!
Train
For those who have a longer time frame to travel in Thailand, the train can be appealing because it allows you to see more of the countryside.
Trains are not much more expensive than buses and they are much more comfortable. But the tickets tend to sell out so try to book yours at least a few days in advance.
We recommend using 12Go.asia to buy your train tickets in Thailand.
You can get first, second, or third-class tickets, and you'll get to enjoy the scenery along the way.
The overnight train from Bangkok to Chiang Mai is an experience in itself, with bumpy old tracks and stunning scenery.
Though trains tend to be very punctual in many countries, they are often late or the journey takes longer than expected in Thailand.
Train travel is best for travellers with a bit of time to spare, and who would prefer a more spacious and relaxed journey.
Bus
Buses are cheaper than trains or planes, but they take much longer.
The most common long-distance routes leave from Bangkok and head either north to Chiang Mai or south to Krabi, and these journeys usually cost between 500 and 1,500 Baht.
The most reputable bus companies are the ones owned by the government-subsidized transport company known as BKS.
Overnight buses are convenient for long journeys, such as the 12-hour ride from Bangkok to Chiang Mai.
Buses are the best option for travellers looking to save the most money.
But don't put any valuables in your check-in bags (it's not unheard of to show up at your destination and find all the bags have been completely cleaned out).
Also, keep your money locked away in money belts or in zipper pockets, and sleep with your day backpack on your lap and padlock it.
Just like with trains, 12Go.asia is your best bet for finding reliable bus routes in Thailand.
Ferries
If you are visiting any of the Thai islands, you'll need to catch a ferry. (Unless you are only visiting one large island with its own airport, like Phuket or Koh Samui)
It is pretty easy to just show up to a ferry port and buy your boat ticket on the spot. And sometimes the longer journeys have snacks and drinks on board.
Ferries are a lovely way to see some ocean scenery, and they are usually quite comfortable.
Your bags are often stored at the front of the boat, sometimes wrapped in a tarpaulin (but often just piled in the open), and the staff will direct you onto the boat and where to seat.
If you get seasick, take some motion sickness medicine before you get on board.
Book these ferries ahead of time in 12Go.asia.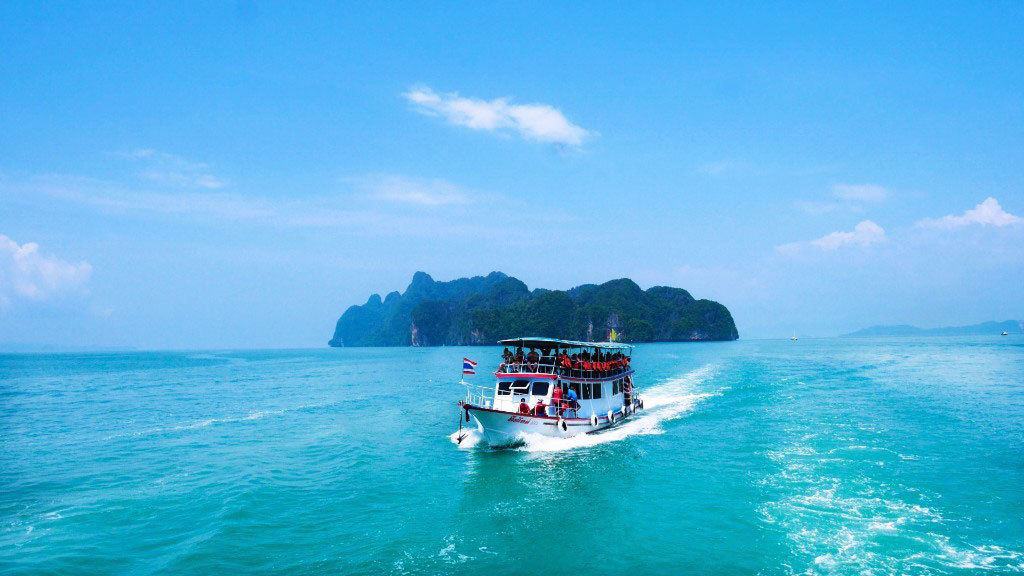 Urban Transportation
For travel within Thai cities or towns, there are plenty of public transport options.
Walking is definitely the best way to get around, as it provides exercise, costs no money, and allows you to see the city the best.
But in a big metropolis like Bangkok or Chiang Mai, or on a huge island like Phuket, you'll need to catch some form of transport to see different places.
Taxi
Taxis are the easiest and most direct form of public transport and compared to many other countries they are quite affordable.
There are more taxis available in bigger Thai cities than in rural areas, but in places like Bangkok all the taxis, fortunately, have meters so you won't get ripped off.
Elsewhere in Thailand, taxis aren't as common and sometimes they don't have meters, so agree on a price beforehand to ensure you don't get overcharged.
If there is a meter and the driver refuses to turn it on, he is most likely trying to rip you off so you should get out and find a new taxi.
Other taxi drivers will claim that the meter isn't working, and that's a pretty good indicator that they may try to rip you off.
Avoid these drivers unless you can negotiate a good price before you get in.
We use Grab in Thailand, which is like Uber. You know the price and you have the information of the driver and car if needed.
Our little tip with Grab is to only pay in cash. Do not put your card on file as some drivers are still taking advantage and taking tourists long ways, even the wrong way, and charging them an arm and leg for it.
Track your trip on your map, don't be scared to speak up if they are taking you the incorrect way or long way, be firm not to pay more than agreed and report them to the company.
Most of them are fine, there is just one or two that are dodgy.
Make sure you have all your belongings on you before exiting the taxi.
READ MORE: Learn some great Thailand travel tips to make your journey more enjoyable!
Songtaew
For a cheaper alternative to a taxi, you can take a red pick-up truck known as a songtaew.
These trucks have two long benches in the back, so they can fit lots of people and they act as shared group taxis.
Songtaews are commonly found in touristy places, as there are lots of travellers heading to the same popular places and songtaews can easily pick everyone up and drive them together.
Sometimes you'll have to wait a while for the truck to fill up, but once it's full the ride is cheaper because the total cost is split between more people.
Just ask your hostel staff or other locals where a songtaew to a particular destination leaves from and they will point you in the right direction.
If the driver says they won't take you, don't be offended, as they are probably just not going that way. Just flag down another songthaew and ask them.
To hail a songthaew, stand on the side of the road and with the palm of your hand facing down, waving your arm calmly in an up-and-down motion.
Tuk Tuks
Probably one of the most famous forms of transportation in Thailand is the tuk tuk, and riding in one is quite the experience.
These mini, three-wheeled, open-air vehicles are a staple of Southeast Asia, and they are great for catching a quick ride. Some also call this a motorcycle taxi.
Tuk tuks are actually often more expensive than taxis, so they are better used for short journeys around a city.
Because tourists love riding in tuk tuks, locals can easily overcharge them for a ride so make sure you agree on a decent price before the journey begins.
If you have lots of luggage with you, choose the spacious taxi over the cramped tuk tuk ride.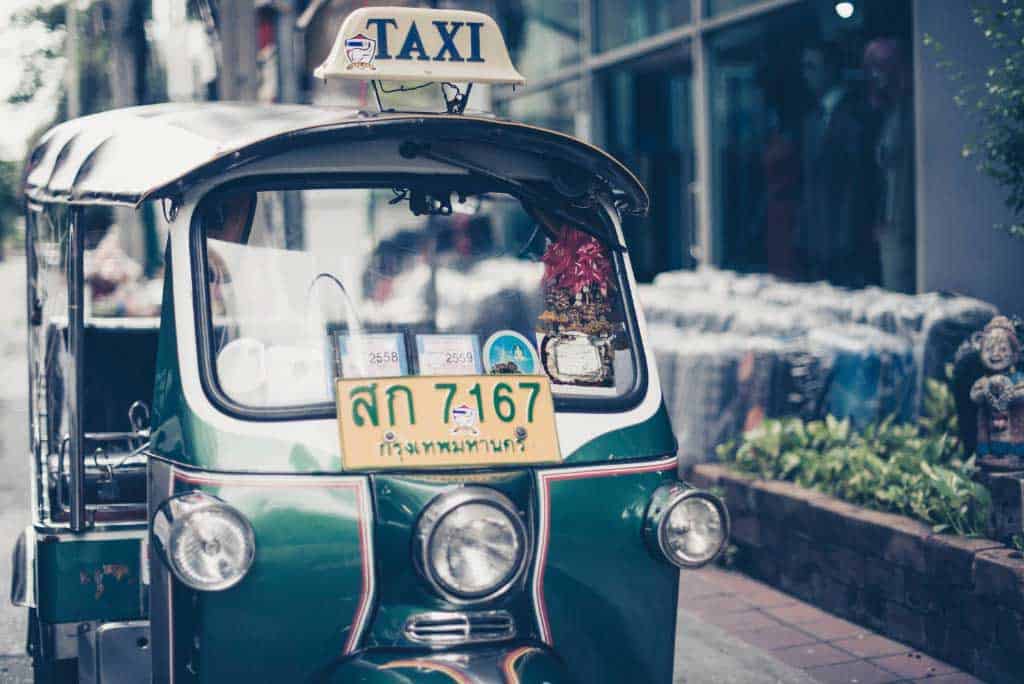 Motorcycle Taxis
Climbing on the back of a local's motorbike and whizzing around the city is probably the quickest form of public transport as you can cut through traffic if necessary.
Obviously, there is nowhere to store luggage and you can only fit a maximum of two people on a motorbike.
So a motorcycle taxi is only logical if you're trying to get somewhere quickly and cheaply and you don't have any bags.
Metro and Public Bus
Because of the convenience and affordability of songtaews, taxis, tuk-tuks, and motorcycle taxis, common forms of public transport like the metro and public buses aren't that common in Thailand.
The only exception to this is Bangkok, where metro and buses are necessary due to the sheer number of people living and travelling in this massive city.
Bangkok has lots of different bus companies and usually, a journey costs less than 10 Baht.
Just ask around in your local area where and when the public bus leaves from because it isn't a set standard.
In Bangkok, you can also take the BTS Skytrain, an overground train, or the MRT Subway, and underground metro, for travelling to different areas of the city.
The best way to get around is to rent a car and explore on your own! We recommend Rental Cars, which has the largest range of vehicles for the best value on the market.
General Tips for Transportation in Thailand
Now that you know all the options for transportation in Thailand, here are some general tips to help your journeys run as smoothly as possible.
Research the Price of a Journey
As previously mentioned a few times, local drivers often try to overcharge tourists for taxis or tuk tuks.
The best way to avoid this is to research the price of a journey beforehand so you can negotiate with the driver and secure a fair price.
Whether you do a bit of research online, or just ask your hostel staff or local friends, have an idea of what a specific journey should cost so you don't look clueless to the local drivers.
An even better way to avoid getting overcharged is to learn a bit of Thai. If you speak the language, locals won't look at you as a tourist and they may charge you the local price.
Keep Your Belongings Safe
Theft isn't a huge problem in Thailand, but it isn't unheard of.
Especially on overnight buses, trains, or any form of transport when your bags are stored separately, make sure you take the necessary precautions to secure your things.
Always have a smaller backpack, a purse or a fanny pack that you can keep on your person, and keep all your most valuable things in there including passports, electronics, and wallets.
Keep luggage locks on your bigger bags and suitcases so no one can get in and try to nick your stuff.
Just use common sense and you shouldn't have any problems with transportation in Thailand.
READ MORE: Learn more about travel safety in Thailand.
Important Note! Before you book any international trip, we honestly recommend getting travel insurance. You never know when things will go wrong, and medical bills can add up quickly if you get sick or injure yourself overseas.
Our personal recommendation based on our own experience is World Nomads.
Apps to Consider for Travelling in Thailand
It is possible to travel Thailand the old-school way, with nothing but a paper map and the confidence to ask locals for directions.
But we are lucky to live in an age with so much useful technology that makes travelling in a foreign country much easier.
Here are a few Apps that can help you with transportation in Thailand.
Google Maps
Google Maps is very useful for finding your way throughout Thailand.
Most popular attractions are listed on this universal navigation platform, so all you have to do is search for your destination and Google Maps will give you the exact address and location.
This is especially helpful for traveling in more remote areas where exact street addresses aren't as common.
For example, the island of Koh Samui has one main road that circumnavigates the island, and the smaller streets branching off this main road don't always have names.
So many attractions on Koh Samui don't even have real street addresses. Having Google Maps can help you actually see where the attraction is instead of just guessing.
Maps.me
Maps.me functions similar to Google Maps, though there are a few differences.
It is a newer and less developed App than Google Maps, so it doesn't have as many attractions listed on it.
However, this App comes in handy for those who don't travel with cellular data and just rely on Wifi. You can download entire area maps while you have Wifi and then the maps still function while you are offline.
So Maps.me is very helpful to have in case you get lost somewhere because you can open up your downloaded map and see exactly where you are, even if you don't have Wifi.
Rome2Rio
Rome2Rio is an incredibly useful international website and App that compares different forms of transportation between destinations.
You can select your departure and arrival cities, select your dates, and then watch in amazement as Rome2Rio lists all the possible ways to take public transport to your destination.
With all the options laid out, you can see which method of transportation in Thailand is the fastest, the cheapest, and the most convenient.

DISCLAIMER: Some of the links in this article are affiliate links, which means if you book accommodation, tours or buy a product, we will receive a small commission at no extra cost to you. These commissions help us keep creating more free travel content to help people plan their holidays and adventures. We only recommend the best accommodations, tours and products that ourselves or our fantastic editorial team have personally experienced, and regularly review these. Thanks for your support, kind friend!