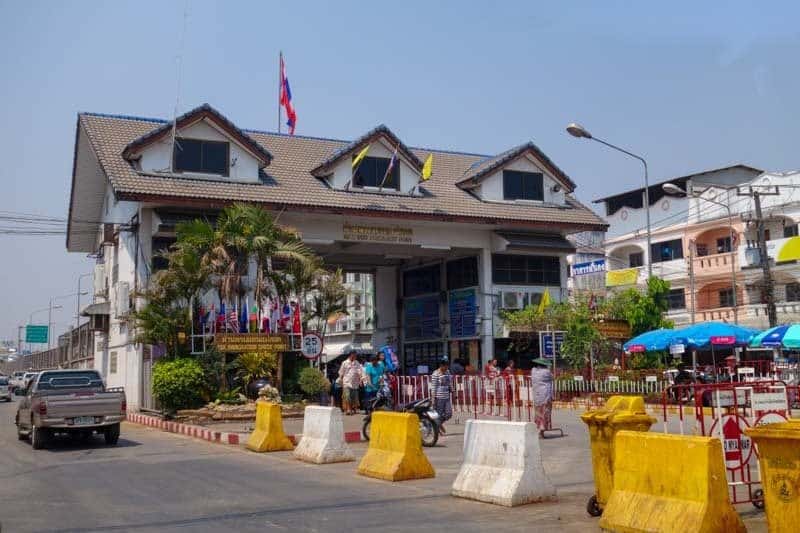 Border Crossing Between Mae Sot (Thailand) and Myawaddy (Myanmar/Burma)
[box type="info" size="large" style="rounded" border="full"]Still need to get your Myanmar visa? Check out our tips on how to get your Myanmar visa in Bangkok.[/box]
Now that overland travel between Thailand and Myanmar (Burma) is a reality, travellers are discovering this new way of entering the country in droves. We crossed the border between the towns of Mae Sot and Myawaddy in March 2014 and found it to be one of the easiest border crossings we have ever encountered. Here are some tips to do it yourself:
Take a songthaew (shared pickup) to the Friendship Bridge
Tuk-tuks will try to charge you 100 baht to take the 5km journey. Instead, save some dollars and walk past the markets and ask the drivers for a songthaew to Friendship Bridge. They will kindly point you in the right direction. Cost is 20 baht and it will leave when it is full. And by full, we mean full!
Head to the customs office and check out of Thailand
Short walk, nothing stressful! Once you arrive at the office you will see hordes of Thai and Burmese people everywhere. It will be confusing as hell. Don't worry, someone will point you in the right direction. Once you get to the window, hand over your passport with the visa departure card attached inside. Answer a few questions from the immigration official. If you have your Myanmar visa, they will ask how long you are staying for in Myanmar (Burma). Pick a number under 28 days. If you have overstayed your Thai visa, you will have to pay the 500 baht per day fee.
The bridge is about 300m long and is frequented by cars, so stick to the footpath. Enjoy the view and take lots of photos!
Check into Myanmar (Burma)
Again, more mass confusion! People everywhere, misleading signs and noise. So much noise! But luckily you are at the friendliest border crossing in Asia and everyone will direct you where to check in. You will need to go inside a building and fill out a form with some basic details. Don't worry so much about the "Address In Myanmar". Just pick your first hotel, or if you don't have one, make up a name. They don't check.
With the paperwork filled out and your visa checked, they will take your photo and you are free to leave! Welcome to Myanmar!
Notes:
If you don't have a visa, you will have to pay a $10 (or 500 baht) fee and leave your passport at the border office. You will need to collect this before the 1730 closing time. Myanmar is 30 minutes behind Thailand (UTC +6.30). Be aware that there is no visa-on-arrival so you cannot travel onwards into Myanmar.
Traffic changes from driving on the left hand side in Thailand to the right hand side in Myanmar. Make sure you look both ways before crossing the road!
You will need to mention on your form which point of exit you will use to leave Myanmar (Burma). As far as we know, you cannot differ from this except in emergency situations. So plan ahead. If you say you're going to leave at Myawaddy, leave at Myawaddy.
If you are planning on spending the night in Myawaddy, be aware that many guesthouses will not accept foreigners (even though they have signs in English). We stayed at Eden Hotel for US$8 a night (8000 kyat). Walk away from the bridge and turn left once you pass the bus terminal. Continue down this road for three or four blocks and it will be a pink building on your left.
For those who are looking at onward travel into Burma, be aware that the road out of Myawaddy only runs one way on alternate days. "Up" (to Myawaddy) and "down" (to Yangon). In March, the dates heading "down" were odd-numbered days. Dates for the rest of the year (2014), heading down, or towards Yangon, are as follows:
Apr – Even
May – Even
Jun – Odd
Jul – Odd
Aug – Even
Sep – Odd
Oct – Odd
Nov – Even
Dec – Even
Update Oct 2014
According to government websites, the new ASEAN Highway between Myawaddy and Kawkareik will be completed in early 2015. This article here from April talks about the new highway, also known locally as the Asia Highway, being used to bypass the beautiful yet dangerous Dawna mountain range. Trip time will be only 30 minutes, instead of the treacherous 3 hours currently required to make it out of Myawaddy towards Yangon (Rangoon). Once this road is completed there will be no need to watch out for alternating days, as there will be two-way traffic out of Myawaddy, making the Thailand border crossing from Mae Sot much more accessible to tourists and backpackers. Stay tuned for more information as it comes to light.
[box type="info" size="large" style="rounded" border="full"]Click on these links to learn more about money in Myanmar and what our budget was for our month travelling there.[/box]