Looking to spend a weekend in Rockhampton (or longer)? Our detailed Rockhampton itinerary will help you make the most of your time here in this up-and-coming Queensland tourist destination.
During our road trip from Brisbane to Cairns, there were a few obvious places that frequent travellers told us to check out.
The Sunshine Coast, Hervey Bay, Agnes Water, Mission Beach, etc. But whenever we asked about Rockhampton, known as the beef capital of Queensland, most people admitted to only spending a night there then moving on.
Once we started looking into all the incredible things to do in Rockhampton though, we realised that one night would not be anywhere close to enough time to really enjoy all these heritage outback city has to offer.
After Agnes Water and 1770, we headed straight to Rocky and spent a fantastic 5 nights there, really discovering all there was to see and do.
Once we met other travellers afterwards and told them how much time we'd spent there, they all asked how we filled our days and evenings in a place most had only breezed through.
That encouraged us to write this comprehensive Rockhampton itinerary guide to assist with your own plans here.
3 Days in Rockhampton Itinerary
Here's our ultimate 3 days in Rockhampton itinerary blog post for you to follow so you don't miss anything!
Need somewhere to stay? Check out the best hotels at affordable rates on Booking.com.
Day 1 – Hanging Around the City
On the first day you should really hang out in Rocky and learn more about the fantastic heritage buildings while getting a feel for this Central Queensland city.
9am – Coffee and Breakfast in Town
Your day starts how every day should start – with a delicious coffee and tasty breakfast in one of Rockhampton's fantastic cafes.
You're spoilt for choice in Rocky for where to have breakfast, but Dingles Cafe, in particular, gets rave reviews.
If you're after the best coffee in town though, you'll have to swing by Two Professors or Birdie's Cafe.
Birdie's Cafe is a funky hipster container cafe serving up fresh brews and delicious pastries, while Two Professors is for serious coffee drinkers only.
10:30am – Go for a Walk Around the Botanic Gardens
Now that you're stomach is filled, jump in your car and go for a short drive out to the Rockhampton Botanic Gardens, one of the prettiest places in the city.
The Botanic Gardens boast a variety of different sections with unique themes, such as the Japanese Garden, the Native Garden and more.
The best part is the entrance is completely free, so it's a fantastic way to keep the budget down when enjoying a weekend in Rockhampton.
Address: 100 Spencer St, West Rockhampton QLD 4700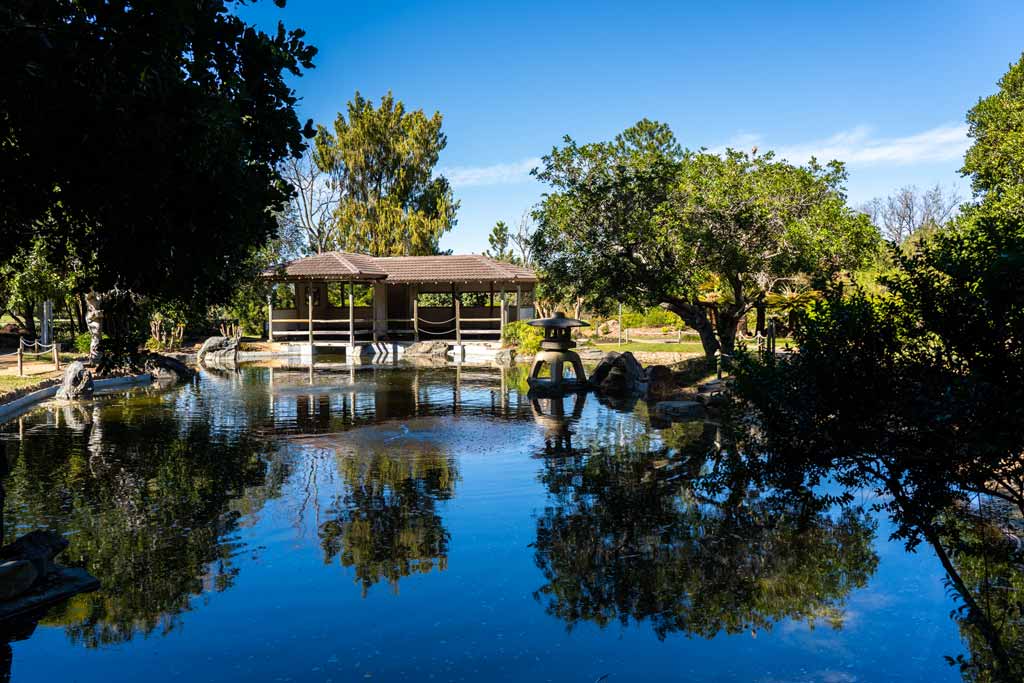 11am – Explore the Rockhampton Zoo
Right next to the Botanic Gardens you'll find the Rockhampton Zoo, a free exhibit with a large collection of native animals such as wombats, koalas, kangaroos, emus, monitors and more.
It's a great place to visit for people of all ages, and if you're travelling with kids they're guaranteed to love the open-air enclosures.
It won't take long to see everything here, so just take your time and enjoy the chance to get up close to some of Australia's most iconic species.
Address: Ann St, West Rockhampton QLD 4700
1pm – Lunch at the Boathouse
After all that walking you've probably worked up a bit of an appetite, so it's time to stop by one of the best places to have lunch in Rockhampton.
The Boathouse is located close to the heritage precinct right on the Fitzroy River, and besides having amazing views on the back deck, the restaurant also boasts a delectable and varied menu with something for everybody (vegetarians included).
Treat yourself to a boutique beer or glass of wine as well, as their selection is fantastic.
Afterwards walk off your meal by taking a stroll along the Riverside Precinct, then take a short break back at the hotel or caravan park if it's close by.
Address: 189 Quay St, Rockhampton QLD 4700
Phone: (07) 4927 1683
READ MORE: Don't miss our guide to all the other best places to visit in Australia!
4pm – Sunset River Cruise
You've seen the Fitzroy River from the shore, now it's time to get out on the water itself with a beautiful sunset river cruise.
The team at River Cruises CQ organise tranquil and fun cruises on their purpose-built boat so you can make the most of the golden hour with some of the nicest views in town.
They go all out too, with beer and wine include and plenty of banter to keep you entertained.
These are very popular tours, so it's important to book ahead if you're hoping to secure a few spots onboard.
7pm – Dinner at Headricks Lane
Hope you're feeling hungry again, because it's time to finish off day 1 of our 3 days in Rockhampton itinerary by going out for a mouthwatering meal at our favourite place in town, Headricks Lane.
Found inside a restored heritage building, Headricks Lane has become the region's premier microbrewery, that not only serves up world-class craft beers (seriously, try their Red IPA), but also some of the best food you'll get in Rockhampton.
The ambience in the venue is lively yet intimate, so don't be surprised if you end up spending a good portion of the night cozied up in a booth with conversations flowing freely.
Did we mention that you should ry their Red IPA? Seriously, just do it.
Address: 189 East St, Rockhampton QLD 4700
Phone: (07) 4922 1985
Day 2 – Aboriginal Culture and Caves
Hopefully you didn't drink too many beers last night, because today is jam-packed with Indigenous culture and adventure.
Grab a nice breakfast in town then start making your way north towards the Capricorn Caves.
NOTE: If you're looking for the best way to spend one day in Rockhampton, this schedule is perhaps the best one for you.
10:30am – Dreamtime Cultural Centre
Just outside of town heading towards the Capricorn Caves you'll pass the Dreamtime Cultural Centre on your left.
This fantastic exhibition and gallery of local Aboriginal art and culture is one of the best places to visit in Rockhampton.
While you can walk around the centre on your own, we highly recommend timing your visit to join one of the incredible free guided tours, led by Indigenous leaders Wayne and Frances.
Wayne is a Darumbal man, with deep ties to the Rockhampton region going back thousands of years, and Frances is from the island of Mer in the Torres Strait Islands.
They proudly take visitors around the centre, sharing Dreamtime stories and insights into their people and heritage.
It was honestly one of the best things we did on our Rockhampton itinerary, so make sure you do it before continuing your Rocky road trip.
The tours start at 10:30am and 1pm, and are included in the cost of your entrance, which is currently $15.50.
Address: 703-751 Yaamba Rd, Parkhurst QLD 4700
Phone: (07) 4936 1655
1pm – Capricorn Caves
Arguably the most popular tourist attraction in the Rockhampton region, the Capricorn Caves attract thousands of visitors every year.
The highlight of a trip here is the Cathedral Cave, a large limestone cavern that's been carved out by thousands of years of water erosion, leaving behind a natural auditorium buried deep in the mountain.
The cave is occasionally used as a venue for events like weddings and opera, but during the days it's opened up for travellers to wander through.
Cathedral Cave has a boardwalk to get in, making it wheelchair-accessible. The tour is 45 minutes long and costs $30 for adults and $15 for kids.
For those out there that would prefer a bit of an adventure, check out the Explorer and Adventurer tours, where you get a chance to try a bit of spelunking.
The Capricorn Caves have a whole network of narrow chutes and passages that you can crawl, climb and squeeze through.
Once you've worked your way through the narrowest parts of the cave, you pop out at the top of the hill to be rewarded with fantastic views over the region.
It's definitely not a tour for those who are claustrophobic, but if you want a challenge then definitely sign up for this extreme activity on your Rockhampton itinerary.
Address: 30 Olsens Caves Rd, The Caves QLD 4702
Phone: (07) 4934 2883
5pm – On-Country Experience with an Aboriginal Elder
Drive back to Rockhampton and take the turn-off for Mount Archer, the national park that offers sweeping views over Rockhampton.
You'll be up here for sunset as part of your 3 days in Rockhampton trip, but the plan is to get here a bit early so you can do one of the most unique experiences in Queensland.
You've already learnt about the local Aboriginal culture at the Dreamtime Centre this morning, now you'll get to spend time with one of the Darumbal Aboriginal Elders on top of the sacred Mount Archer.
Wade Mann is a local Elder, activist, community leader and teacher who has been working closely with governments and organisations for decades to help raise education and awareness for Aboriginal issues.
Now he is enthusiastically teaching tourists about his people and history.
Join him for a personal guided on-country experience on Mount Archer where he will share with you Dreamtime stories, bush tucker insights and plenty more.
He is more than happy to answer any questions you may have as well.
Spending time with an Aboriginal Elder isn't the type of thing most people, even Australians, get to do in their lifetime. So the fact you can do this in Rockhampton makes it even more worth the visit.
It's not a scheduled tour, so to book this you need to get in touch with Wade via the Darumbal Enterprise organisation.
6pm – Mount Archer for Sunset
Once you've finished your On-Country Experience with Wade, walk around to the platform on the west side of Mount Archer to enjoy a spectacular sunset over Rocky.
Marvel at the Fitzroy River carving its way through the plains below, which takes on a greater beauty now that you've heard the Dreamtime stories from Wade.
This place offers one of the best sunsets in Rockhampton, so make the most of the evening pastel colours with some snacks and a cheeky glass of wine.
Once you're finished with sunset, drive back down the mountain and find a place to grab dinner.
Any of the pubs in the heritage area will provide a delicious and affordable feed.
If you only have 2 days in Rockhampton, this is where our itinerary ends.
Day 3 – Hit the Countryside at Alkoomi Adventure Farmstay
You've seen a lot of the best attractions in Rockhampton during your 2 days in the city. But now it's time to head out of town and see what lies in the countryside.
But first, grab a leisurely breakfast at about 9am from somewhere in town that you haven't been to yet.
We recommend Cafe Bliss.
NOTE: If you have a caravan, motorhome or other recreational vehicle, check out of your caravan park and bring it with you, as you'll be staying at Alkoomi Farmstay tonight. Otherwise, you can spend an extra night in your hotel in Rockhampton.
11am – Walk Around Kershaw Gardens
Another one of Rockhampton's stunning outdoor spaces, the Kershaw Gardens is a lovely spot to reconnect with nature and get away from the hustle-bustle of the city centre.
Known as Rocky's 'Big Backyard', you'll find plenty of walking trails, picnic table and little creeks to explore as you wander through the gardens, and if you have kids with you they'll absolutely love the huge Wyatt's Wonder Web for climbing.
The highlight is definitely the big waterfall though, and despite being manmade, you'll be forgiven for tricking all your friends into thinking you've found a lush oasis in the middle of the city when taking your pictures here.
Address: Moores Creek Rd, Park Avenue QLD 4701
1pm – Drive to Alkoomi Farmstay
Jump in the car and drive about 30 minutes south of Rockhampton to the bucolic Alkoomi Adventure Farmstay.
Located on what used to be a working cattle farm, when the loveable Bec and Dave bought the business they decided to change it completely and turn into a tourist getaway.
The sprawling property is home to miniature and full-size horses, cows and dogs, as well as an array of fun activities to enjoy for people of all ages.
Once you arrive, spend a few hours swimming and kayaking in the dam, feeding the farmyard animals and taking in the fresh air.
READ MORE: Make sure you check out our updated guide to travelling in Australia.
4pm – Do an Activity
Once the afternoon rolls around and the temperature starts to drop, join one of Alkoomi's unique activities to get out and see the rest of the farm.
You can choose from either horse riding, motorbike riding, ATVing or going on a wagon wheel ride through the paddocks.
All of the activities cost $50 per person, and last about an hour.
We personally recommend the horse riding.
6pm – Sunset at the Hill
A short walk from the camping area you'll find the road that leads to the top of the hill, which is the absolute best place to watch the sunset.
It's hard to beat the golden hues you get out in the countryside, so make sure your camera is charged and beers are cold while you watch the sun dip below the horizon.
7pm – Back to Rockhampton or Camp the Night
If you have your own camping gear you can stay the night at Alkoomi Adventure Farmstay for just $10 per person.
Every night Dave sets up a lovely outdoor fire for all the guests to enjoy beneath the crystal clear night sky.
They also have a couple of dongers available to stay in, but these book out well in advance so call ahead if you're hoping to secure one.
Otherwise head back to the city and grab a bite to eat.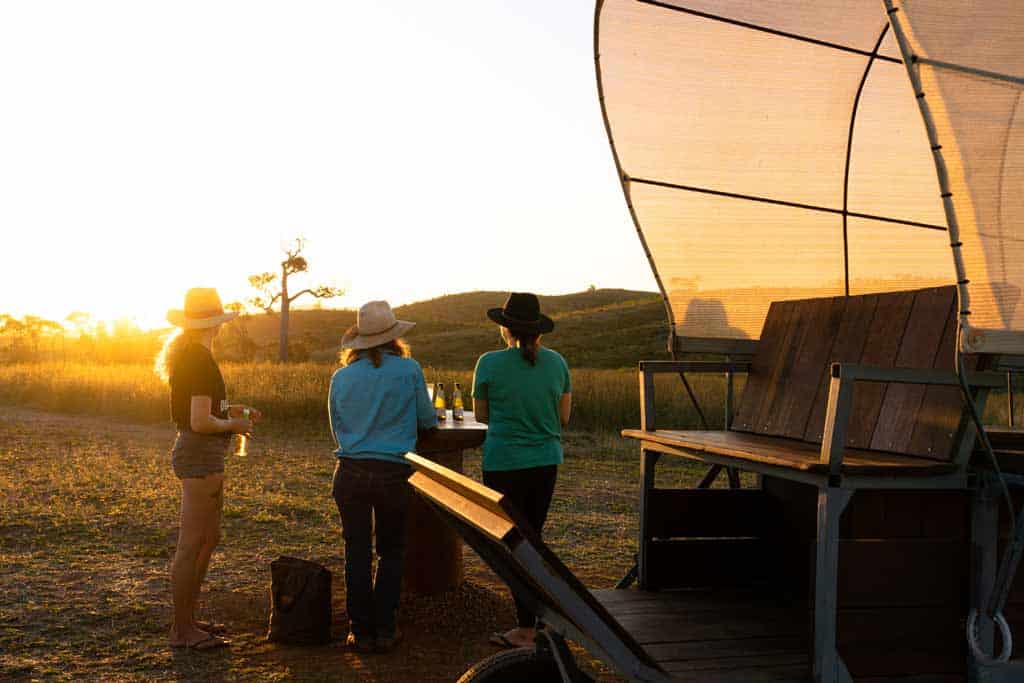 Extra Days – Bonus Activities
That's it for our 3 days in Rockhampton itinerary! If you're looking for the best way to spend a weekend in Rockhampton, then by following our blog post you would have seen most of the best attractions you can experience.
If you're lucky enough to have some extra days up your sleeve though, here are some of our recommendations for what to do:
Go Mountain Biking at First Turkey MTB Park
On the side of Mount Archer National Park is the First Turkey Mountain Bike Park, one of the best biking trail networks in all of Queensland.
Built and maintained by volunteers, you'll find a huge selection of cross-country and downhill tracks, with jump lines, steep and flowy runs and some mellow beginner-level terrain.
You can rent a mountain bike in town, but it's best to bring your own.
Join a 4×4 Adventure
The landscapes just outside of Rockhampton are prime territory for some four-wheel-driving adventures, so if you have a 4WD, load it up and hit the tracks.
If you don't though, that doesn't mean you have to miss out on all the fun.
Rockhampton Tours organise amazing 4×4 trips all around the region, and can go for anything from a half-day jaunt to an epic multi-day expedition.
They also do guided trips if you'd like to take your own vehicle without the risk of getting lost or stuck out in the bush.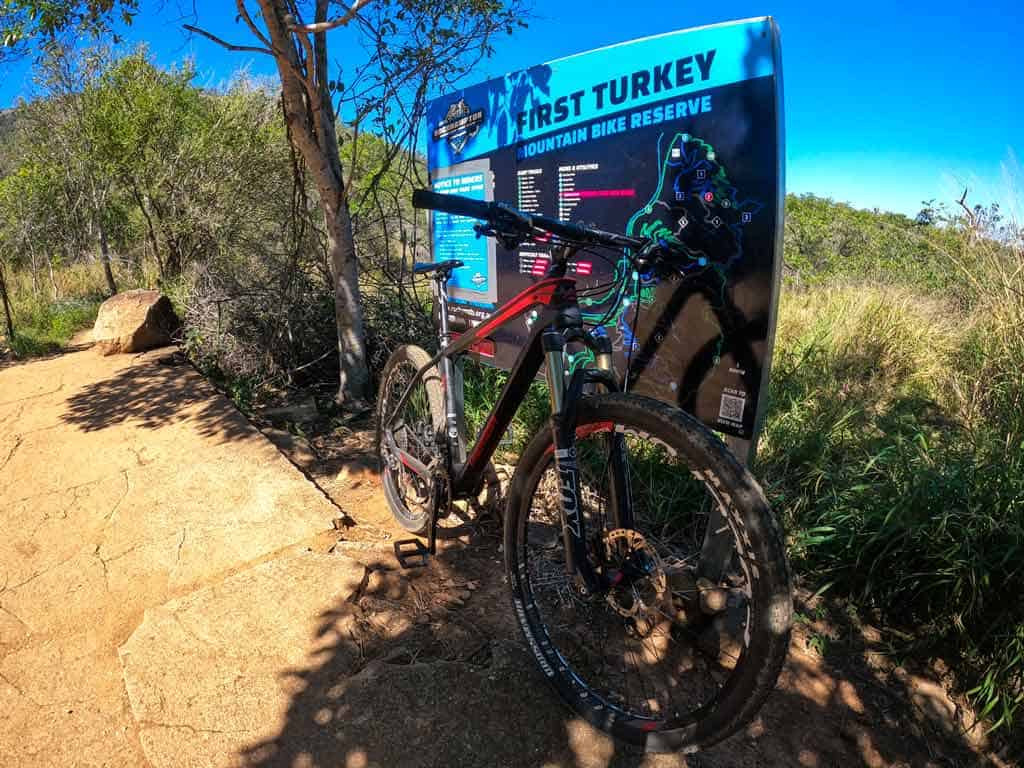 Where to Stay in Rockhampton
To make the most of this 3 days in Rockhampton itinerary you're going to need somewhere nice to stay.
If you're travelling with a caravan, campervan or roof-top tent, you'll be spoilt for choice when it comes to caravan parks to stay at.
Alternatively, if you want to keep your costs down, you can make the most of the free campsite at Kershaw Gardens.
Just make sure you're fully self-contained, as there are no facilities out there.
Hotels in Rockhampton
Travelling by car and don't have a tiny home on wheels? Not a problem. Rocky has a nice selection of affordable, boutique and luxury accommodation options to rest your head at night.
Kortes Resort is the nicest accommodation in Rockhampton, and with very reasonable rates, its a fantastic choice if you'd like some serious comfort during your stay here.
Otherwise we recommend Booking.com or Airbnb to find a place to stay.
DISCLAIMER: Our trip to Rockhampton was made in partnership with Rockhampton Regional Council (Explore Rockhampton). All thoughts, opinions and selfies with cows are, as always, our own.