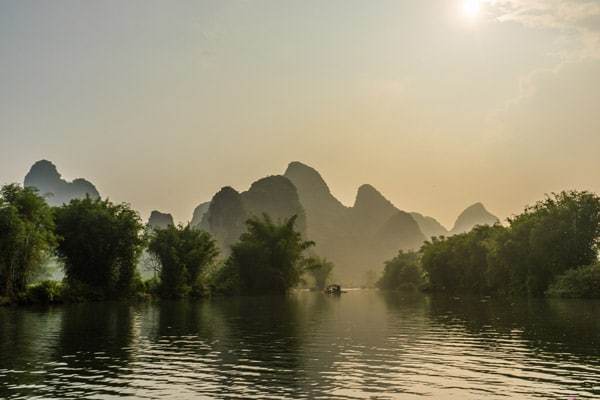 On the banks of the Yulong River we watch as the sun drops down behind a limestone peak. The sky radiates shades of orange and crimson, while the ripples left behind from a floating bamboo raft glisten in the final rays of light. I had heard stories of the serenity and beauty of Yangshuo long before we arrived in China, and the rumours were now proving to be true. This was heaven – A place so magical it has inspired millions of oil paintings and captured the imagination of artists and travellers for centuries. Digging my feet into the grass, I too am equally inspired.
The fabled tales from guide books and tourists are true; there is something special about the Guangxi province in South West China. From the staggered paddies of the Longji Dragon's Backbone Rice Terraces to the pristine surroundings of Guilin City, the scenery here is almost certain to steal your breath in wondrous awe.
In the midst of this beauty lies the region's most popular attraction, and with good reason. Yangshuo is a stunning example of a place where captivating vistas are combined with countless ways to enjoy them. From rock climbing on the hundreds of karst mountains around Yangshuo to drifting down the Yulong River on a bamboo raft, you can really choose to be as active, or as relaxed as you like.
A place this superb could not remain a secret forever though, and now the famous 'West Street' and downtown region is completely overrun with domestic tourists as well as international visitors. One can barely even step off of the bus without being completely swarmed with touts offering tours and hotel rooms. First impressions may lead you to believe that sustainable tourism is long dead in Yangshuo, but thankfully that is not the case. All you need to do is step outside the city centre and discover the splendid beauty away from the chaos.
Alesha and I had seen images of Yangshuo and instantly imagined a Chinese version of our favourite place in the world, Phong Nha in Vietnam. While we had seen what cultural harm could be done to other Chinese cities such as Lijiang when it comes to mass tourism, we still had high hopes for the limestone landscapes of Guangxi.
The initial arrival at the bus station was quite a shock to the system – touts physically blocked the door so no one could disembark without going through them first. We didn't know whether to laugh or scream at the manic calamity of it all. It this what we were to expect during our time here? Luckily it took less than three minutes to restore our faith in the town.
I could try and be poetic in my descriptions of Yangshuo, with lush pastures rolling into soaring cliffs, all peppered with dense and forbidding jungle, but any attempts on my behalf would fail to do justice to what we encountered. Let's just say that it was better than we ever could have expected. Indeed even better than the image on the back of the 20RMB note…
All I could do was look at our smiling taxi driver and mumble a butchered attempt at 'meili', the Chinese word for beautiful. My poor pronunciation did not matter. He nodded in enthusiastic agreement. He knew more than anyone that his home was beautiful.
Arriving at the Yangshuo Mountain Retreat, about 8km from the city centre and situated on the edge of the Yulong River was like materialising in a fairy tale. The perfectly manicured gardens complemented the subtle construction divinely, all surrounded by rising towers of limestone on every side.
It didn't take long for us to eagerly head out to see what pockets of perfection nature had hidden in Guangxi. Securing our transport, we bolted off towards the mountains.
The absolute best way to explore Yangshuo is on two wheels. Even though this is one of the few places in China where a foreigner can rent a motorbike (and after our South East Asia motorcycle adventures, we were tempted!), we opted for the pedal variety and loved every second of it.
For three days we jumped on our mountain bikes and became completely lost in the beguiling terrain. Our lack of directional knowledge did not matter, as we were constantly transfixed by the enchanting countryside. By using our own bicycles instead of taking buses, taxis or motorbikes, we were also able to keep our carbon footprint down while saving some money. Win win!
The few times that we did find ourselves on the famous West Street were completely lacklustre and underwhelming. Here we had to dodge selfie-stick wielding salesmen and overpriced juice vendors every step of the road. It may be appealing to some, but for us we couldn't wait to leave it all behind for greener scenes. And lucky enough, greener scenes are everywhere to be found in Yangshuo.
Unfortunately for us the weather did not really cooperate, and we were unable to get any rock climbing or kayaking in due to the rain and periodic thunderstorms. All this means is that we will have to add Yangshuo onto our long, long list of places to come back to in the future!
With the onslaught of domestic tourists to Yangshuo, and visitor numbers rising every year we can only imagine what will happen to this place as time goes on. Will it grow into a haven of sustainable tourism full of responsible travellers, or will it spiral out of control?
For this particular place, it is hard to say. Maybe it already has spiralled into mass tourist oblivion – but there is still hope. While more and more people flock to West Street to snap photos with Madame Tussauds' wax figures, there are patches of tranquillity and sustainability not too far from the city centre.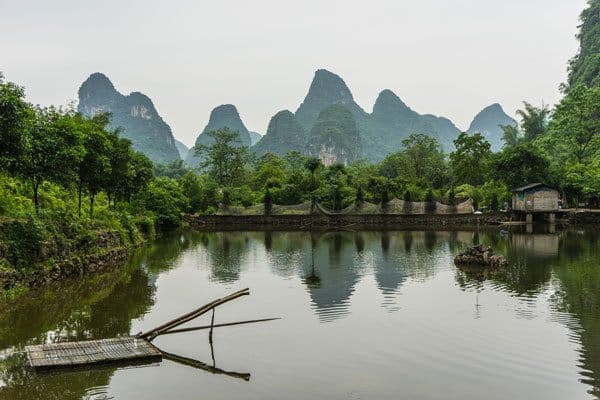 Yangshuo Mountain Retreat
The Yangshuo Mountain Retreat is an ideal example of how a hotel can develop a strong business model focused on sustainable tourism and be completely successful.
In a day and age where convenience takes priority over environmental benefits, the Yangshuo Mountain Retreat breaks away from this irresponsible mindset and has removed all disposable items from their inventory. This means you won't find any plastic cutlery, napkins or single-use cosmetics – even the rubbish bags are biodegradable!
The custom furniture is made from locally-sourced bamboo, which grows at a much faster rate than almost all other commercially used timbers. The hot water systems run on solar power, and they have installed one of the most eco-friendly septic and sewage systems in the entire town. As if that wasn't enough, 5% of their profits are used on developing new green initiatives. When they say they are environmentally friendly, they mean it.
What truly sets them apart from the rest though is their dedication to the training and development of their staff. From early beginnings, owner Chris Barclay put his employees as a priority, and even hired a staff development coach, Ronald Van de Weerd, to aid in their training.
All the employees are locals to the area and are actively encouraged to eventually branch out and establish their own businesses. From the moment we arrived, the staff were attentive and friendly, and allowed their personalities to shine through rather than act like robots who are only there to serve every customers whim and request. What a pleasant experience!
We were absolutely thrilled with our stay at the Yangshuo Mountain Retreat, and it really helped ensure we left town in a positive mood on what is happening in the region. When we found out that a further 5% of their profits is donated to helping children with brittle bone disease, the decision to stay there was even more worthwhile.
It is becoming easier and easier to choose places promoting sustainable tourism if we just do a bit of research before arriving. In a place as beautiful, yet as developed, as Yangshuo, it is important to find and use these responsible operators and accommodations to ensure we minimise the effects of our own travels. Small decisions can have big impacts. Make sure they are the right ones.
The costs of our accommodation was covered by the Yangshuo Mountain Retreat. All thoughts, opinions and words are, of course, our own.