A comprehensive Thailand packing list, filled with travel tips, general advice, and must-haves for what to pack for a trip to Thailand in Southeast Asia.
There is no better feeling than stepping off the plane in an exotic new destination and feeling extremely confident, well-researched, and prepared.
Travelling is always an amazing experience, but when you take the time to research your destination and pack properly, your trip will most likely run smoother than you ever imagined.
Though many of the same packing and travelling tips apply to all destinations around the world, it is important to customize your packing list to the specific country you are visiting.
So when considering what to pack for Thailand, you should definitely brush up on your knowledge of the country and its customs and climate.
READ MORE: Make the most of your trip to Thailand with our Thailand travel tips.
Thailand is a stunning country in Southeast Asia that is only growing in popularity.
The rise in tourism in this humble country means that there are plenty of resources online that can help future travellers decide what to pack for Thailand.
In this Thailand packing list, you will find detailed descriptions of all the Thailand travel essentials so you know what to bring on your trip.
You will also find some useful travel tips, like the best time of year to travel to Thailand as well as important things to consider while packing.
This article serves to enlighten travellers about what to expect in the country, and also to give advice about what to wear in Thailand depending on the month.
Of course, every traveller is different so this Thailand packing list is more of a guideline that can easily be modified.
You can either skip right to the Thailand Packing List for an overview of what to bring, or you can read the entire article for a more in-depth explanation of why you should pack certain things.
If you are a novice traveller, and this is your first time visiting Southeast Asia, I definitely recommend reading the whole thing for some useful advice!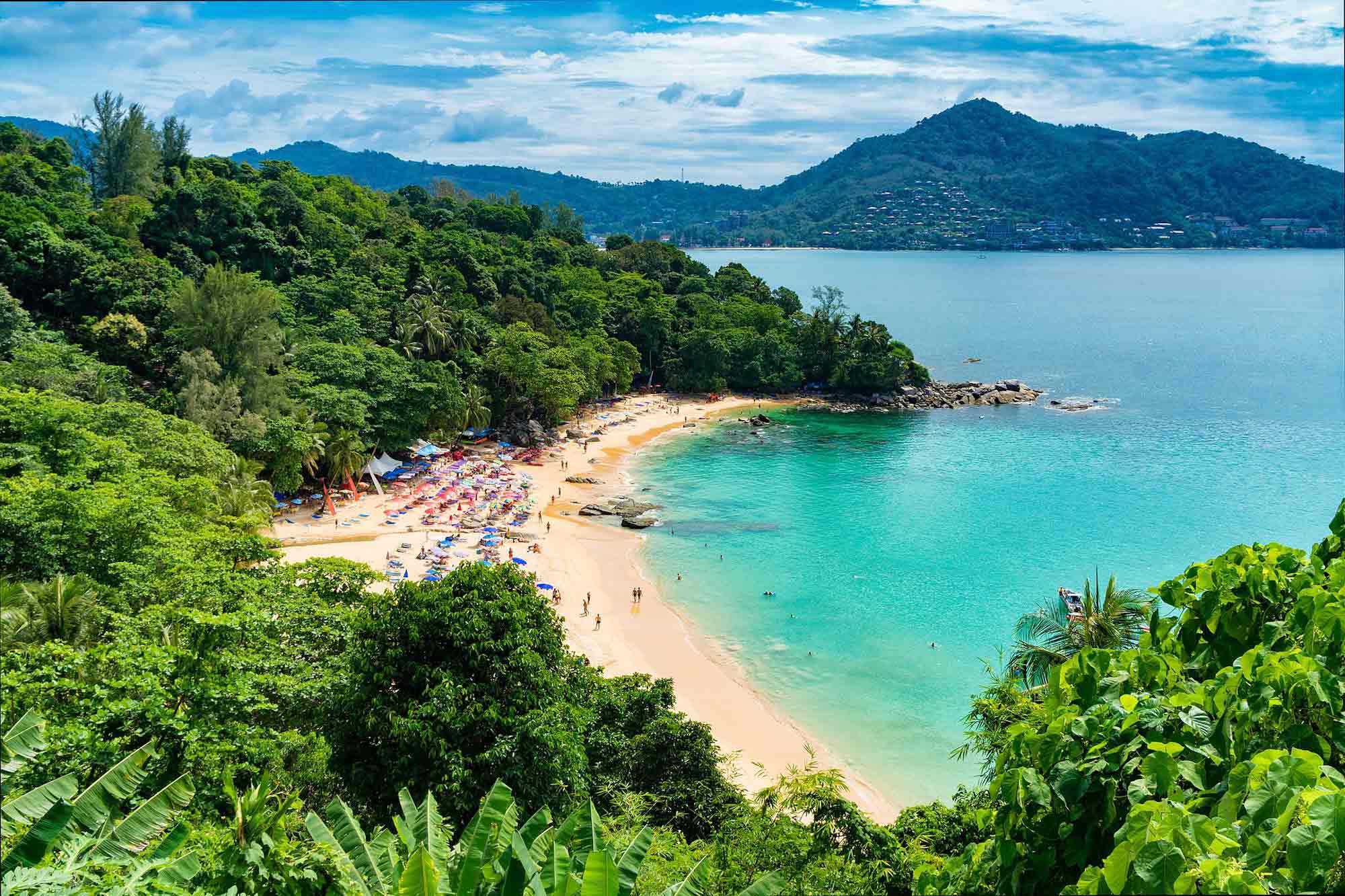 General Thailand Packing Tips
Most universal travel tips apply when considering what to pack for Thailand.
The main travel tip for budget travellers is to try and pack as lightly as possible.
Travelling is much more convenient with less luggage, and you'll save money on checked baggage when flying budget airlines that usually only provide free carry-on bags.
READ MORE: Check out our recommended travel backpacks!
Often while travelling you'll find that you wear the same comfortable clothes over and over anyway, so try to pack only the essentials that you know you'll wear often.
This tip especially applies to footwear.
Pack your most comfortable and versatile walking shoes for exploring, and one pair of sandals or flip flops for hitting the beach.
A great idea for shoes to bring to Thailand are sturdy, waterproof sports sandals that have secure straps (This pair from Skechers is a great example).
These sandals are strong and protective yet breathable, and perfect for hiking waterfalls or exploring rocky beaches. They're much sturdier than flip flops, and hiking boots can take up too much space.
Some other Thailand travel essentials are electricity adaptors so you can charge your devices, and a power bank if you use your phone often.
Always pack a reusable water bottle so you can save money on buying water bottles and so you create less plastic waste.
The tap water in Thailand is not suitable for drinking, but most hotels and hostels will have drinking water where you can fill up your bottle.
An insulated, metal water bottle is best because it helps keep the water cool.
You can even buy a water bottle with a built-in filter, like this one from Grayl, if you want to clean your own water.
You should also always travel with health insurance. Travel insurance can cover you if something crazy happens! And have a copy of your passport just in case you misplace yours while abroad.
Visit your home doctor before you leave for a trip to see if they recommend any medications, like malaria pills or antibiotics for travel sickness.
Important Note! Before you book any international trip, we honestly recommend getting travel insurance. You never know when things will go wrong, and medical bills can add up quickly if you get sick or injure yourself overseas.
Our personal recommendation based on our own experience is World Nomads.
If you plan on staying in hostels or communal rooms, you may want to bring a padlock to secure your belongings in a locker, or even just a few luggage locks to keep your bags shut tight. You can also use packing cubes if that helps you stay organized.
Basically just make sure you are fully prepared for a trip, and always pack lightly and pack comfortable attire.
Ultimate Thailand Packing List Items
Considering all this information, here is a detailed list of what to pack for a Thailand trip.
You can cater the list to your own individual needs, but this is a general outline for those who are a bit unsure about what to bring to Thailand.
Clothing and Footwear
Clothing and Footwear
• T shirts and bottoms for everyday wear (everything should be quick-drying, versatile and comfortable)
• Longer pants or skirts for entering temples (Or a shawl or sarong)
• One or two sweatshirts or sweaters for cooler temperatures and air-conditioned facilities
• Pajamas
• Bathing suits
• One or two nice outfits for going out to a club, a party or a nice dinner
• Socks and undergarments
• Sandals / Flip flops (Preferably sturdy for visiting rugged beaches and waterfalls)
• Comfortable walking shoes
• Hiking boots if you plan on trekking
• Hat and sunglasses (we love and recommend SunGod adventure-proof sunglasses)
• A lightweight rain jacket
Bags and Accessories
Bags and Accessories
• A sturdy backpack, duffel bag or suitcase to hold everything
• Headbands and hair ties (to hold back your hair when it is hot and humid)
• Reusable water bottle
• Filter for water OR water bottle with built-in filter
• Wallet
• Smaller day bag to take on day trips
• Camera or GoPro and their chargers (Make sure you have somewhere to store your photos, or even bring an extra memory card in case you run out of space)
• A few plastic bags in case bathing suits or towels aren't dry before a day of transit
• Toiletries, although most basic necessities you can buy in Thailand for very cheap prices at a 7/11
• Waterproof backpack cover if you are traveling during the rainy season
• Umbrella
• Packing cubes to save space in your backpack
Essential Travel Items
Essential Travel Items
• Passport and copy of passport
• Proof of travel insurance
• Microfiber towel (they roll up super small and dry quickly so they're perfect for traveling; Rainleaf is an amazing brand!)
• Medications you may need
• A padlock or luggage locks
• Money Belt (get a PacSafe one for the best quality)
• Credit or debit cards (Be sure to notify your bank that you are traveling so they don't suspect fraud from international charges)
• Phone, tablet, laptop, kindle, or any other essential electronics and their chargers
• Electricity adaptors so you can charge your devices (Thailand has a two-prong outlet, either round or flat)
• Headphones
• Journal or book for long travel days and downtime
If you're ready to backpack like a pro, check out this detailed article about how to turn unexpected, everyday objects into multi-faceted travel essentials.
Things to Consider While Packing for Thailand
A Thailand packing list is pretty similar to a packing list for any other country.
Some essentials remain the same no matter where you travel, but there are a few factors to keep in mind when planning what to bring to Thailand.
Be sure to consider the climate and weather, religious dress codes, and the purpose of the trip in addition to general travel tips.
Climate and Weather in Thailand
Thailand travel essentials differ slightly depending on which time of year you visit.
You should always bring a rain jacket or umbrella just in case of a shower, but if you visit during the rainy season then rain gear is absolutely essential.
In addition to a rain jacket and umbrella, you may also want to pack waterproof pants and shoes, and even a waterproof backpack cover to keep your belongings dry.
Other than that, what to wear in Thailand in Spring, Autumn or Winter is pretty much the same.
All of your clothes should be lightweight and breathable because the weather will be hot and sunny year-round.
Sun protection is very important, so always pack a hat, sunglasses, and sunscreen for a trip to Thailand.
Because of the heat, many hotels, restaurants, shops, and other establishments blast the air conditioning to keep the temperature cool, so be sure to pack at least one warm layer just in case you get cold inside.
Dress Code for Religious Buildings
Visiting all the stunning Buddhist temples is a highlight of travelling to Thailand, so make sure you pack clothes that fit the temple dress codes.
Most religious buildings in Thailand require you to cover your shoulders, chest, and knees, and remove your shoes.
Pack modest clothes that cover your body, but make sure the fabric is light enough to keep you cool in the heat.
Lightweight, loose pants or long skirts are ideal, as are loose-fitting shirts that completely cover the chest, shoulders, and midriff.
Another option is to bring a shawl or a sarong that you can just drape over your shoulders or tie around your waist before you enter a temple.
You can also buy sarongs for very cheap in Thailand, so that could be a fun and useful souvenir to purchase when you arrive.
If you are exploring lots of temples in one day, you may also want to wear shoes that are easy to slip on and off for convenience.
Consider the Purpose of the Trip
If you are just visiting Thailand for a basic tourist experience, then you shouldn't need much more than the general clothes, accessories, and travel items listed above.
But some people may be visiting Thailand for a specific reason, such as scuba diving, trekking, volunteering, or visiting rural villages.
Consider the purpose of your trip and pack any extra necessities you may need.
For example, if you're a certified scuba diver and you're looking to hit all the best diving locations in Thailand, it may be cheaper to bring some of your own gear rather than renting it in every different spot.
If you plan on snorkelling often, it may be cheaper and easier to bring your own snorkel, goggles, and flippers rather than renting them everywhere.
If you plan on trekking, definitely pack your best, sturdy hiking boots and other necessary equipment like walking sticks and trekking backpacks.
If you plan on camping while trekking and you have space in your luggage, you may want to bring your own tent, sleeping bag, and cooking supplies.
If you're from Australia or New Zealand, we recommend heading to your local Kathmandu store to pick up the best trekking and camping gear.
Always consider the potential risks of travelling to rural villages or camping in the countryside.
Sometimes, certain diseases are more prevalent in rural areas so make sure you take the necessary precautions to ensure you stay healthy.
This could mean simply packing a mosquito net and insect repellant, or it could mean getting vaccinations before you travel.
Just consider the nature of your trip and the destinations you plan on visiting, and always research the areas thoroughly before you hit the road.
The Best Time to Travel to Thailand
Most countries have a peak tourist season, an offseason, and a shoulder season that falls between the two, and Thailand is no exception.
Thailand, like other Southeast Asian countries, has a tropical climate, so expect warm weather year round.
But there are upsides and downsides to every season, and your Thailand packing list will differ slightly depending on which time of the year you visit.
READ MORE: Plan the perfect trip to Thailand with our Thailand Travel Guide.
The Shoulder Season
The best time to travel to Thailand is the shoulder season.
This lies between peak tourist season and off-season, meaning the weather will be nice and the crowds won't be too hectic.
You may have a few rainy days, but you'll definitely have lots of gorgeous beach days as well.
Flight prices will be reasonable, the ocean will be relatively clear and there will be quite a few tourists, but not so many tourists that the attractions lose their appeal.
Shoulder season for Thailand is March through April in the spring, and November through early December in the autumn.
The Peak Tourist Season
The peak tourist season for Thailand is when you'll find the best weather.
The reason why most travellers flock to Thailand between mid-December and February is that the sun shines almost every day, the humidity is low, and crystal clear water is perfect for snorkelling or diving.
So if you are mainly visiting Thailand for the purpose of visiting the beaches and going snorkelling or diving, it may be worth visiting during peak season.
The downsides to peak season travel are that tourist attractions can get super crowded, and flight prices get more expensive.
The Off-Season
Off-season in Thailand is from May to October, and this is a great time of year to travel for those who want to save money.
Flight prices drop significantly, and the crowds thin out so you can easily have beaches and attractions all to yourself.
The biggest downside to off-season travel is the monsoon season.
Thailand's heat in Summer is extremely high, and it rains often so the water visibility isn't very good.
But there is still a good chance of some nice beach days during the summer, and Thailand's beaches are so stunning that they are still beautiful when the sky is overcast.
Though it rains often during the off-season, sometimes that means just a quick shower in the late afternoon and a full morning of sunshine.
October is the wettest month during the off-season, so try to avoid visiting during this month.
But there is still a great chance of many rain-free days during the rest of the offseason, so don't be scared to go backpacking Thailand during the summer!
DISCLAIMER: Some of the links in this article are affiliate links, which means if you book accommodation, tours or buy a product, we will receive a small commission at no extra cost to you. These commissions help us keep creating more free travel content to help people plan their holidays and adventures. We only recommend the best accommodations, tours and products that ourselves or our fantastic editorial team have personally experienced, and regularly review these. Thanks for your support, kind friend!