While you could spend weeks enjoying the city, here is the perfect 3 days in Miami itinerary to give you the best experience you can have during your visit.
Miami is located at the southeast corner of the Florida peninsula where the Atlantic Ocean meets the Gulf of Mexico. With such geography, it experiences tropical climates that have been inviting travelers for years, giving it some of the best things to do in Florida.
Depending on whether you want to experience the beach to its fullest or are seeking a warmer way to escape winter, there is no bad time to visit Miami.
The city can be generally divided into the beach scenes of Miami Beach and the metropolitan activities of the downtown area.
Both areas offer lots of great things to do and this 3 days in Miami itinerary is going to give you the best of both worlds!
READ MORE: Don't miss my epic guide of all the best things to do in Miami!
How to Spend a Perfect 3 Days in Miami Itinerary
Picture yourself sunbathing on the long stretch of sand that is Miami Beach. Or perhaps having cocktails at a ritzy bar overlooking South Beach.
Maybe you're interested in the Latin culture that thrives within the city, touring museums and street art, or in taking in one of many professional sporting events throughout the year.
Miami is also a great jumping-off point to explore Key West and the other Florida Keys.
Or it's a great location from which to take a cruise to Cuba and other Caribbean destinations.
From the iconic Miami Beach and South Beach to the multicultural entertainment and outdoor activities, this 3 day Miami itinerary will get you started on a perfect stay!
Day 1 – Enjoy Miami Beach
Start your 3 days in Miami on the famous Miami Beach and enjoy exploring the surrounding areas.
Ocean Drive, the road next to Miami Beach, is full of interesting Art Deco architecture, so be on the lookout for some cool buildings while exploring!
8am – Grab Breakfast by the Beach
On this first day of our Miami in 3 days schedule, you should enjoy waking up and taking in a relaxing breakfast/brunch at any number of great restaurants on Ocean Drive next to Miami Beach.
This will start a weekend in Miami off right, with warm sea breezes, palm trees, and sunshine surrounding you all morning.
A few great places to enjoy in Miami Beach would be Under The Mango Tree, Las Olas Cafe or Charlotte Bakery. 
Read Next: Check out our post on the best day trips from Miami.
9am – Head to South Beach
Next, get your bearings of Miami Beach by hopping on the free trolley towards South Beach.
With pickups in several places likely near your breakfast venue along Ocean Drive, you can ride the trolley throughout the greater Miami Beach and not have to worry about finding a parking spot.
You can't come to Miami without visiting the famous South Beach, so plan to spend an hour or two there browsing the shops, going for a swim, or basking in the shade under the palm trees on the pristine white sand.
South Beach can get very crowded, so if you want to avoid hordes of tourists there are quite a few other just as beautiful and less busy beaches on the northside of Miami Beach.
Consider checking out Surfside Beach, North Shore Park Beach or Bal Harbour Beach.
Every beach offers surfboard, SUPs or kayak rentals if you're more into adventurous activities and not just sunbathing.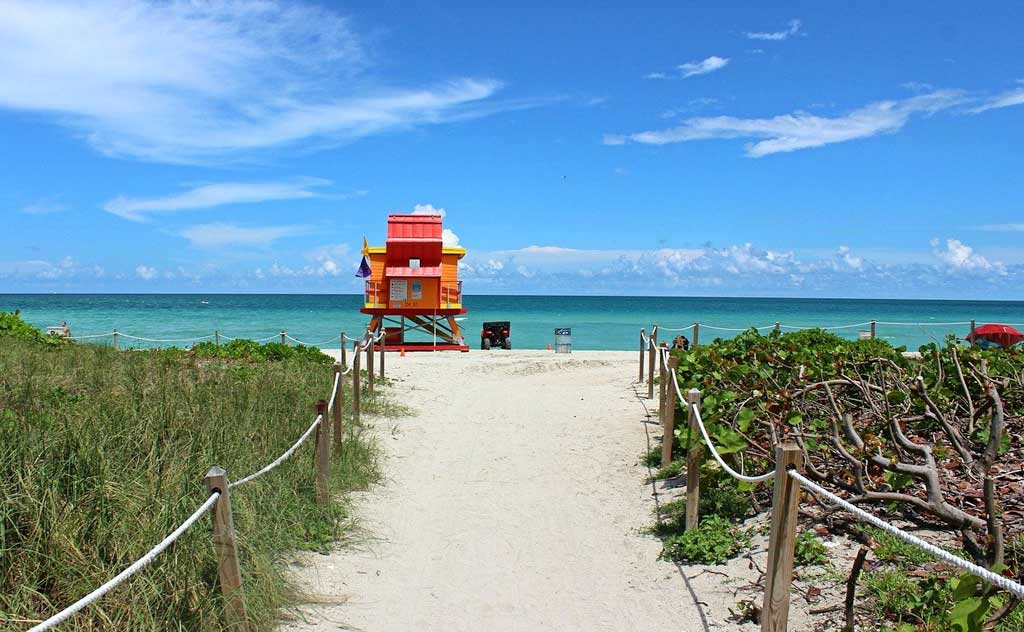 12pm – Go on a Cruise
Once you've had your fill of sunbathing on South Beach, hop on the trolley and head on down to the Bayside Marketplace Marina and get on a sightseeing cruise around Biscayne Bay.
This is the best way to see Miami's waterfront and Millionaire's Row.
See mansions, high rises, and yachts owned by the rich and famous. Such famous people like Shaquille O'Neal, Will Smith, Liz Taylor, and Gloria and Emilio Estefan once or do still reside in this lavish neighborhood.
If you'd rather enjoy a recreational activity, I suggest renting a SUP and paddling around the bay at sunset. You may catch some amazing views when the Miami skyline lights up at sunset.
Another alternative for day 2 is exploring the nearby town of Coral Gables, which is a popular tourist spot near Miami. In Coral Gables, you'll find the famous Venetian Pool, a public pool surrounded by sophisticated Art Deco architecture.
Coral Gables is also home to the Fairchild Tropical Botanic Garden, and more historic sights and museums. There is so much to do in Miami itself that you can save Coral Gables for another trip, but it is a fun little excursion from the city if you're interested.
Read Next: Use our guide when planning an epic Miami to Key West road trip itinerary!
6pm – Sunset Drinks, Dinner and More Drinks!
After your sunset cruise, paddle, or day trip to Coral Gables, go out for a night on the town in South Beach.
There are plenty of great restaurants and bars on the strip, some with a great view of the beach and ocean.
At night South Beach really comes alive and you will see expensive cars, people dressed to the nines (you may even spot someone famous!), and glitz and glamour all up and down this ritzy part of A1A.
A few great spots to enjoy the nightlife is Sweet Liberty Drinks, Mac's Club Duece, Joe's Stone Crab and Time Our Market Miami.
Don't miss out on a night of salsa lessons and mojitos in South Beach if you want to spice it up! Nightlife is so fun here and you should definitely go out at least once during a weekend in Miami if you're into it.
READ MORE: Plan to spend the perfect 3 days in New Orleans with this itinerary!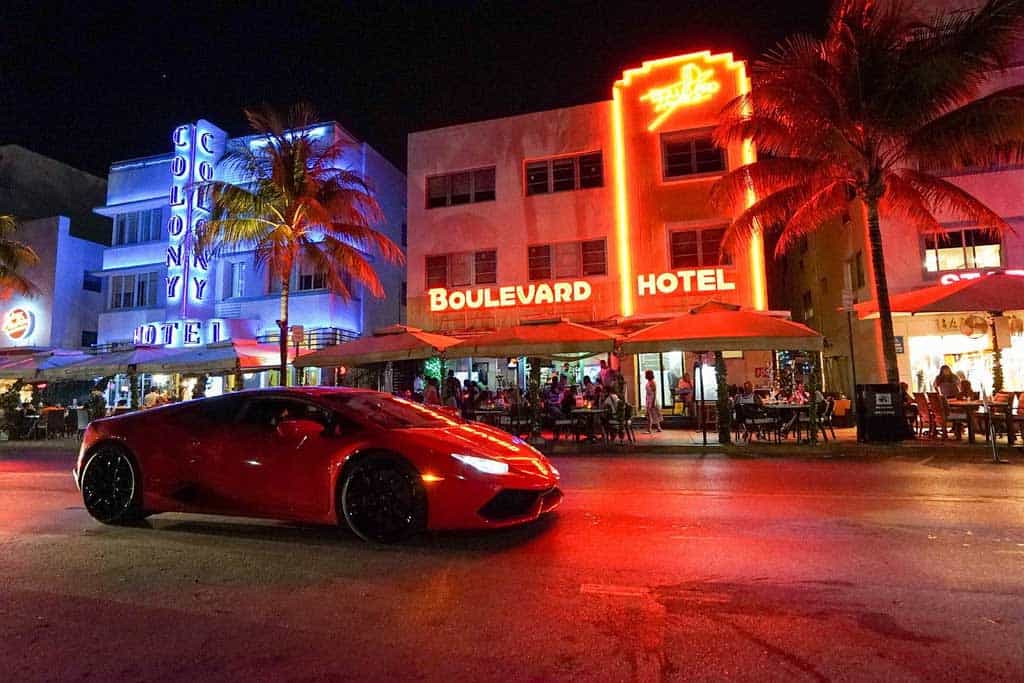 Day 2 – Day Trip to the Everglades and Biscayne National Park or Key Largo
The second day of your 3 days in Miami is going to take you away from the city a little so that you can enjoy the natural sights and sounds that are quintessential to South Florida.
For this, you have a few options from which to choose. And it's likely that while you can do two out of three of these activities, you're probably going to miss out on the third.
So be sure to add whatever activity you miss to your bucket list for your next trip to Miami!
7am – Breakfast then Head to the Everglades
Plan to wake up early and grab a quick breakfast offered at your hotel. Then head out to Everglades National Park for your airboat tour!
I suggest visiting in the morning as it is much cooler out than midday or in the afternoon. You are also more likely to see active wildlife during the cooler morning temps!
An airboat ride is a must when visiting Everglades National Park and will take you to spots you'd never be able to see in the 1.5 million-acre park.
You will witness animals in their natural habitat such as alligators, turtles, manatees, herons, and maybe even a Florida panther!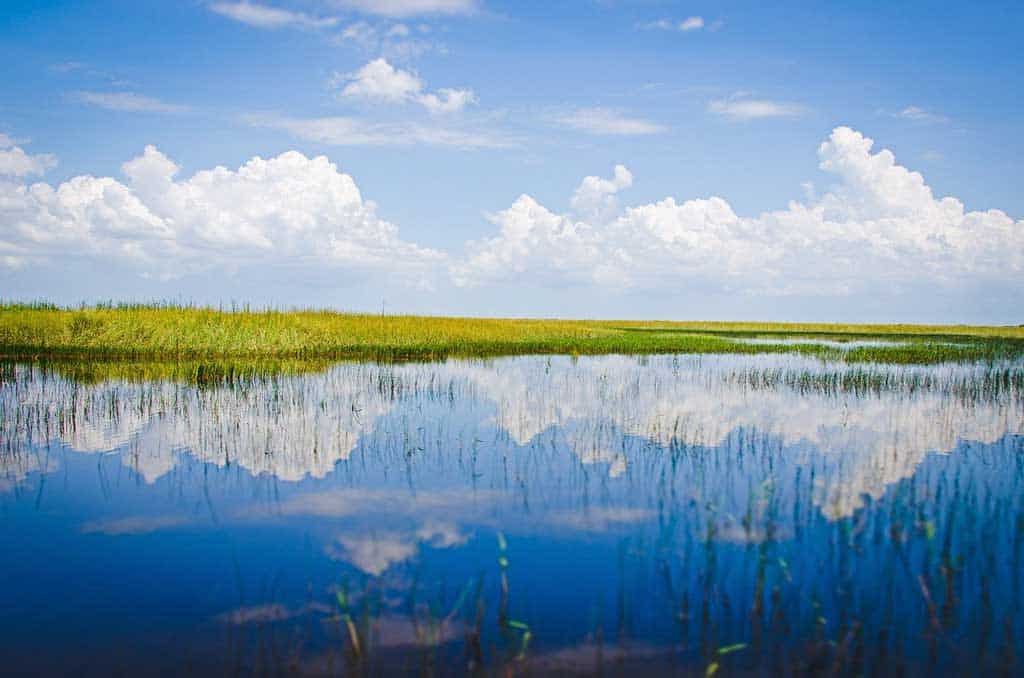 11am – Head to Biscayne National Park or John Pennekamp State Park
After enjoying your airboat ride through the Florida swamp, take your pick of either visiting Biscayne National Park or John Pennekamp State Park.
Both are great for snorkeling if that's what you want to do. And the afternoon is the best time to cool off by swimming in the ocean and enjoying the beautiful coral reefs!
To snorkel the reefs you will need to reserve a spot on a boat snorkel tour for both parks. If you are not interested in snorkeling, both parks offer other ways to enjoy the natural beauty of the area.
John Pennekamp Florida State Park has glass bottom tour boats so you can still see part of the reef while staying nice and dry.
Biscayne Bay has a few great hikes and also rents out paddleboards and kayaks so you can paddle around the mangroves and perhaps even see manatees or dolphins!
If you're visiting during the lobster season you can go lobstering or even fishing.
Whichever parks you choose to visit while spending 3 days in Miami, you'll be certain to enjoy your adventure!
7pm – Grab Dinner Near Your Hotel
You're probably exhausted after such a long and amazing day, so I recommend just grabbing a bite to eat close to your hotel.
A weekend in Miami can be as jam-packed or as chill as you want it to be. There is nothing wrong with just hanging near your hotel, walking around, observing the art deco buildings, and soaking in the vibrant Miami atmosphere without making any real plans!
READ MORE: 20 reasons to take a day trip to visit Key West!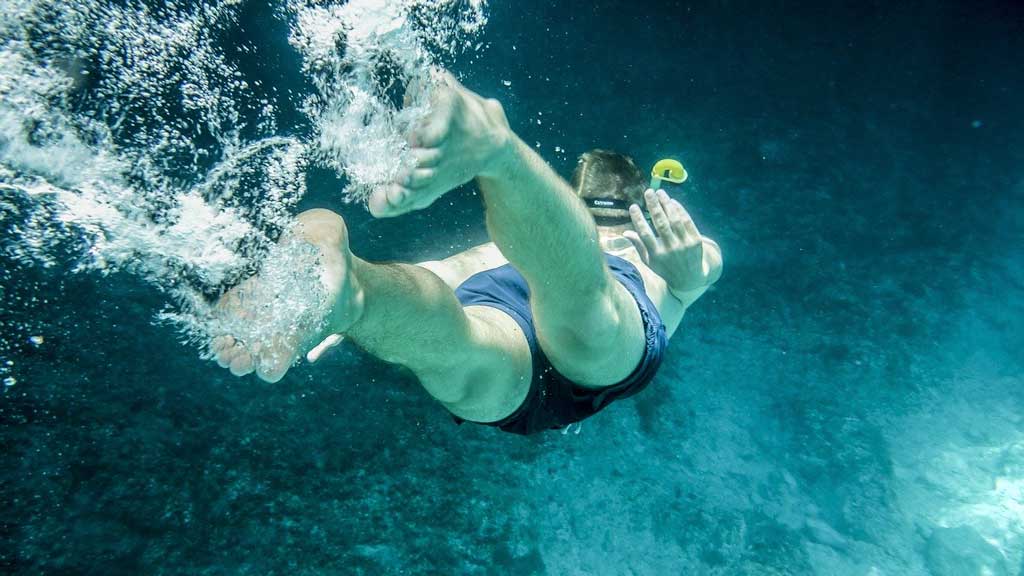 Day 3 – Explore Downtown Miami
The final day of your 3 days in Miami itinerary will take you into the heart of the city to tour the culture, art deco buildings, and vibe of this major metropolitan area.
There is a lot to do just in the downtown area of Miami. So if you get stuck enjoying one thing or another, don't worry as you can always come back for another weekend in Miami!
8am – Breakfast then Head to Downtown Miami
Just like in Miami Beach, downtown Miami has a free trolley that will take you virtually anywhere you want to go.
So the first thing you'll need to do is catch a ride and head toward the north part of the city to Wynwood Walls.
Wynwood Walls is an area of abandoned factories that has been turned into a street artist heaven!
This is the perfect place for selfie-takers or someone who loves unique art.
There are over 800,000 square feet of street art murals to enjoy or have your picture taken with from over 50 artists worldwide!
The best way to enjoy it is by signing up for a golf cart tour of the exhibit. Book it early though.
If art is your passion, plan on being in Miami during the second weekend of the month, visit Wynwood on a Saturday and the neighborhood will be bustling with art vendors, food trucks and live music.
You can also check out the Miami Beach Botanical Garden, the Art Deco Museum, or the Institute of Contemporary Art while exploring downtown Miami!
11am – Bayside Marketplace or Little Havana
Next, take your pick of touring the Bayside Marketplace and The Wharf or touring the neighborhood of Little Havana.
You could easily spend the entire day visiting either place since there is so much to see and do!
If you love to shop then Bayside Marketplace is where it's at. The marketplace has an open container policy, so grab a tasty adult beverage while you shop the beautiful open-air market.
And if you want to watch the yachts cruise in there's no better place to do it than The Wharf Miami. You can grab lunch here at any of the several restaurants and sit and enjoy the waterfront atmosphere.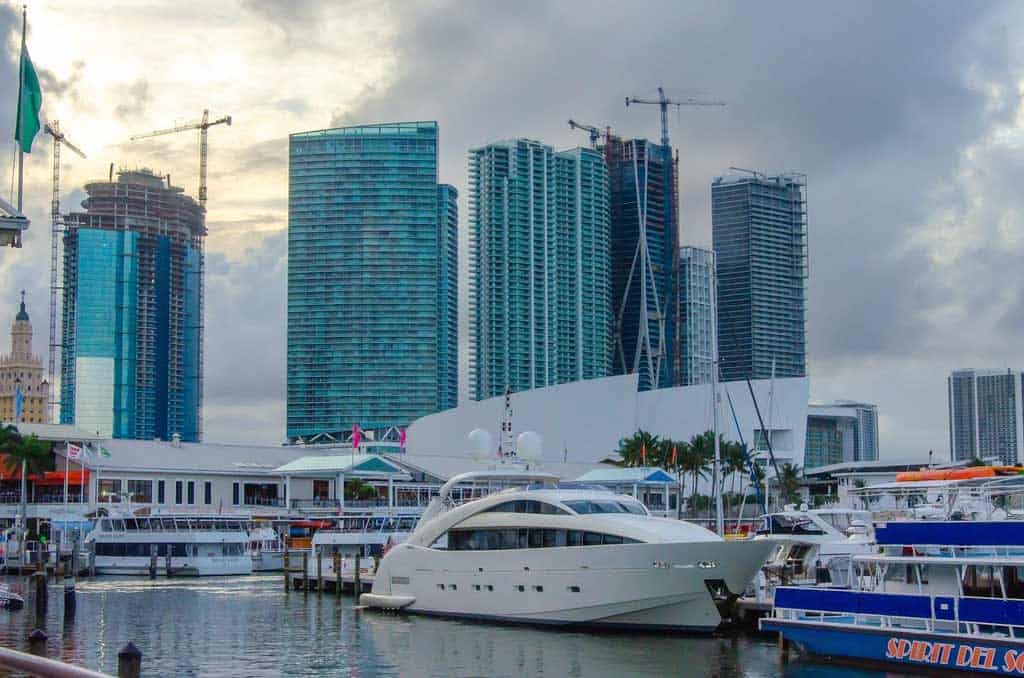 Little Havana is a diverse and colorful part of Miami to explore. Start your tour on Calle Ocho and truly experience the Cuban culture.
Plan to grab an authentic Cuban lunch or early dinner in Little Havana and don't forget the delicious Cuban coffee to go with it!
If you want to learn more about Cuban culture, there are plenty of art galleries to browse or museums to visit in Little Havana.
Book a walking tour of Little Havana here.
6pm – Drinks and Dinner in Little Havana
You could end your night here having dinner at El Exquisito restaurant before trying your hand at Salsa dancing at the historic Ball & Chain bar.
If Salsa dancing is not your style, just outside of Little Havana is Marlins Park, where you can watch a great professional baseball game.
Miami Travel Guide
Now that you know how to spend 3 days in Miami, here is a little more information about when to visit the city, how to get around, where to stay and what to eat.
When to Visit Miami
Any time of year is a perfect time to plan a trip to Miami. However, the most popular time is during spring break.
If you want to skip the crazy party crowds in Spring, then plan on visiting November or December, after hurricane season has ended.
There will be fewer tourists and the weather is quite mild in late fall or early winter.
The summer months are a great time to enjoy the beaches and cool off in the ocean. It is quite hot and humid in Southern Florida in the summer, but there are still plenty of activities to do that can help beat the heat and leave you enjoying the sunshine yet staying cool.
Consider watching the Marlins play a lively game of baseball in their climate-controlled stadium, or go snorkeling over the coral reefs in the mild waters of the Atlantic Ocean.
No matter when you visit, you'll get to enjoy palm trees, warm weather, and lots of sunshine.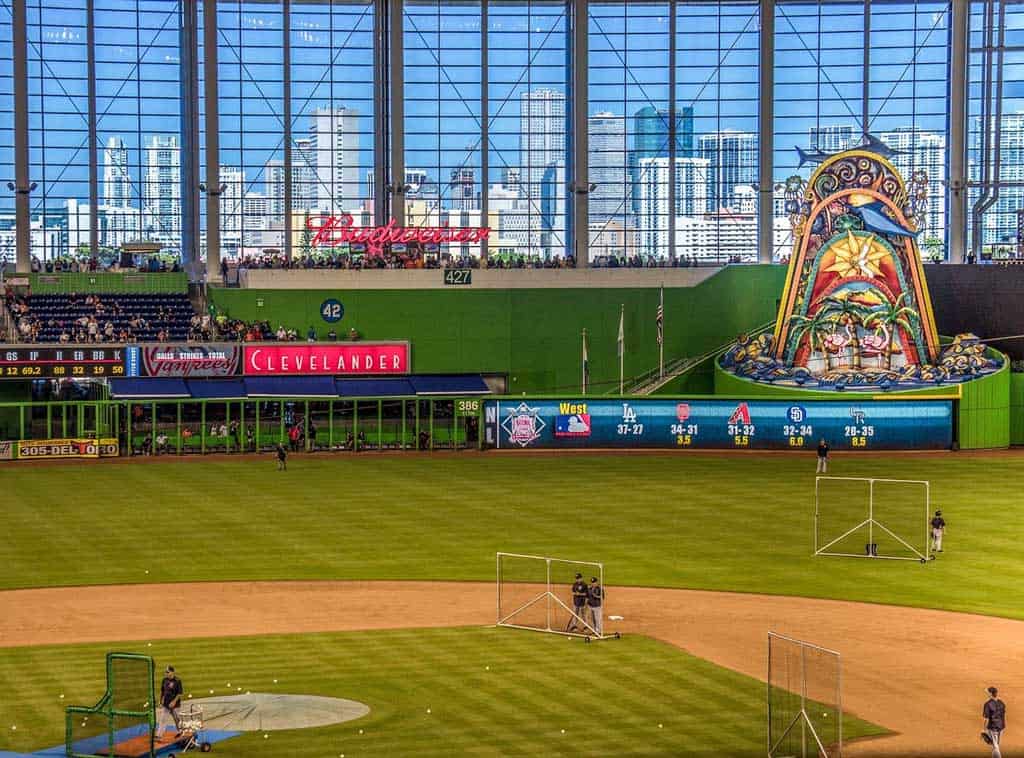 Getting Around Miami
Miami is the 7th largest city in the US and therefore is not the best city to see everything there is to do on foot.
But because it is a large city, there are plenty of transportation options to get you to the top Miami attractions.
Renting a car will be your best option. And if you're flying into Miami, most car rentals can be picked up at the airport.
Another popular option is the hop-on hop-off trolley, and best of all it's free!
Though the trolley won't take you everywhere in Miami, the two separate trolleys located in the downtown and beach areas is a fantastic way to see the sights plus learn a little history along the way.
If you are looking for a faster way to get around without worrying about parking then consider calling an Uber or taxi.
Miami is a very popular place and finding rideshare shouldn't be a problem.
Of course, renting a car will give you the most access to enjoy Miami and all that the surrounding area has to offer.
The best way to get around is to rent a car and explore on your own! We recommend Rental Cars, which has the largest range of vehicles for the best value on the market.
Where to Stay in Miami
Miami has endless options for places to stay. Whether you want to wake up next to the beach or be in the center of the city, you have plenty of choices on your accommodation.
Expect to pay a bit more during a weekend in Miami than in other US cities because the city offers premium experiences and is always packed with visitors.
But regardless of where you stay, you're going to enjoy your 3 days in Miami.
Budget Accommodation – Posh South Beach
Posh South Beach offers an adults-only experience that focuses on relaxation and enjoyment during your stay.
Just minutes from the beach, the hostel has a pool, terrace, and sundeck and offers standard amenities to be expected such as WiFi, television, and a common kitchen area.
Guests are also treated to free happy hour at an adjacent bar to warm up for a night on South Beach.
Mid-Range Accommodation – Stardust Hotel
Located in the Art Deco District the Stardust Hotel combines location with affordability and offers guests amenities that make them feel relaxed during their stay.
Just a five-minute walk to the beach, the hotel provides WiFi, cable TV, microwave and a small refrigerator in each room.
Ask for beach towels and a beach umbrella to enjoy your time at the beach and know that you are close to all of the restaurants and bars you can enjoy both on Miami Beach and downtown.
Luxury Accommodation – Marlin Hotel
Options for luxury hotels vary throughout downtown Miami and Miami Beach. But one of the best all-around options is the Marlin Hotel, located in South Beach.
Just steps from the ocean and all the entertainment that South Beach has to offer, the hotel also creates an ambiance that makes you forget you are in the hustle and bustle of the city.
With blackout drapes and soundproof rooms, bath scents and rainfall showerheads and a fully stocked minibar, you will feel a bit pampered after a long day or night out in Miami.
Enjoy high-speed WiFi, flatscreen television and ocean views to make your luxurious stay complete!
Best Restaurants in Miami
Miami has a ton of options for eating at all budget points and all international cuisines. Especially in touristy areas like Miami Beach and along Ocean Drive, there is no shortage of places to eat. Here are a few of our recommendations.
Budget – Grafa Pizza & Pasta
A hole-in-the-wall pizza joint near South Beach, Grafa Pizza & Pasta offers delicious Italian food at most hours of the day.
Stop in for a slice between the time at the beach or stuff your face with pasta after a night out on South Beach.
Mid-Range – CVI.CHE 105
CVI.CHE 105 is a top-rated Peruvian and pan-Latin restaurant specializing in – you guessed it – ceviche.
Enjoy a bowl of this fresh seafood dish or feast on other traditional Peruvian dishes like Corvina, chaufa and chicken or seafood and rice.
High-End – Lobster Bar Sea Grille
You can't leave Miami without indulging in some delicious locally caught seafood. The Lobster Bar Sea Grille provides just that with a variety of fine dining options serving lobster, stone crab and other seafood.
The ambiance of its location in Miami Beach is also hard to beat on any night of the week.
DISCLAIMER: Some of the links in this article are affiliate links, which means if you book accommodation, tours or buy a product, we will receive a small commission at no extra cost to you. These commissions help us keep creating more free travel content to help people plan their holidays and adventures. We only recommend the best accommodations, tours and products that ourselves or our fantastic editorial team have personally experienced, and regularly review these. Thanks for your support, kind friend!