Wondering what activities and attractions you can't miss in the City of Trees? Our guide to the best things to do in Sacramento is just what you need!
Widely known as the "Farm to Fork" Capital, thanks to its vast amount of farmers' market and role in shipping produce, Sacramento, California, is the capital of The Golden State.
Sacramento, in Northern California, is notorious for its local produce and is often called the "City of Trees." This city is surrounded by the natural beauty of the Sierra Nevada Mountains, and it is also teeming with history!
The iconic California Gold Rush began within Sacramento at Swiss immigrant John Sutter's sawmill in 1848. Numerous historical buildings and sites, such as the Railroad Museum and the State Capitol, draw in history buffs from all over to glimpse local history.
And if you're not a history buff, that's okay! That won't stop Sacramento from impressing you with its enigmatic and thrilling attractions as it is still one of the best places to visit in California.
The city is full of classy cocktail bars, hip breweries, fine-dining restaurants, lively basketball games at the Golden 1 Center, and scenic nature trails such as the American River Bike Trail that stretches from Old Sacramento to Folsom (also known as the Jedediah Smith Memorial Trail).
Whether you want to dive into history or nature, there are lots of fun things to do in Sacramento, a charming city in northern California!
The Best Things to Do In Sacramento, California
Want to know what to do in Sacramento, California's capital? Then, look no further! Our top-notch list of the best things to do in Sacramento includes various memorable and unique activities.
From hitching a train ride at the California State Railroad Museum to walking through history at the Old Sacramento State Historic Park, Sacramento has much to explore!
Check out our full list of the best things to do in California for more ideas in the Golden State!
1) Hitch A Ride On The Iron Horse At The California State Railroad Museum
Found in the Old Sacramento State Historic Park, the California State Railroad Museum collects, preserves, and shares stories of the impactful railroad history of the "Iron Horse."
The museum hosts numerous world-class exhibits, including the Chinese Railroad Workers' Experience. This exhibit shares the hard work and essential role Chinese workers played in establishing the western portion of the Transcontinental Railroad.
Within the California State Railroad Museum are 19 magnificently restored vintage locomotives and railway cars. Visitors can peruse authentic silverware and other refined details of what these machines looked like back in the day.
Specially offered in the summer and spring weekends, the museum allows guests to hitch a ride on the Sacramento Southern Railroad. As a passenger, you'll experience what it was like to travel back in the day as the train chugs past the Sacramento River and Old Sacramento.
Or, for a more active experience, check out this countryside-guided rail bike tour! Pedal down a vintage train track on a unique adventure along the scenic countryside with breathtaking sights of the Sacramento River and prosperous landscapes full of history.
Address: 125 I St, Sacramento, CA 95814, United States
Hours: 10 am – 5 pm
Cost: $12
2) Step Back Into Law-Making History At The California State Capitol Museum
Acting as California's working seat of government and a museum, the California State Capitol Museum houses the California State Assembly, the California State Legislature, and the California State Senate.
A trip to the California State Capitol Museum allows visitors to witness California history being made in the lawmaking process.
Free tours take visitors through the California State Capitol building, presenting educational and historical information on the structure's development, architecture, and history and how it has changed since its initial founding more than 150 years ago to the present day.
The museum also has historic materials and artifacts, including artwork and furniture from the original Capitol building.
If you're looking to learn even more about local history, visit the nearby California Museum, which specializes in state history.
Address: 1315 10th St, Sacramento, CA 95814, United States
Hours: 9 am – 5 pm Monday – Friday
Cost: Free
3) Peer At Exceptional Exhibitions At The Crocker Art Museum
The oldest art museum in the Western United States, the Crocker Art Museum, was founded in 1885. It is renowned for its exceptional world-class collection of California art and is notorious for its collections of international ceramics and European master drawings.
Located in downtown Sacramento, the museum is in a historic building, its first floor dedicated as an education center for student and community efforts, including the Gerald Hansen Library and Tot Land.
Crocker Art Museum houses an array of resources for visitors to explore artwork's historical, cultural, and creative impact through lectures, films, concerts, exhibitions, and much more!
Address: 216 O St, Sacramento, CA 95814, United States
Hours: 10 am – 5 pm Wednesday – Sunday
Cost: $15
4) Climb Into A Vintage Car At The California Automobile Museum
Boasting a collection of more than 150 vintage vehicles, including muscle cars, race cars, classic cars, and early models, the California Automobile Museum is dedicated to teaching others the impact of automobiles on history.
The expansive collection of automobiles at the California Automobile Museum combines more than 120 years of the automobile history.
Personal tours of the museum are offered for visitors to learn interesting tidbits or have any questions asked by one of the museum's docents.
The permanent exhibits feature vintage rides driven by Hollywood celebrities and famous California car clubs.
All ages are welcome to climb into the backseats of vintage 1850s cars to get a taste of how riding around in these cars used to be back in the day.
Address: 2200 Front St, Sacramento, CA 95818, United States
Hours: 10 am – 5 pm (Closed Tuesdays)
Cost: $10
5) Listen & Learn At The California State Indian Museum
Committed to interpreting the diverse cultures of California's indigenous peoples, the California State Indian Museum opened its doors in 1940 and has continued to share the major themes of California Indian life, including family, nature, and spirit.
The California State Indian Museum hosts exemplary exhibits presenting the culture and history of local California tribes. One such example shares the story of Ishi, the last survivor of the Yahi tribe.
There are numerous illustrations and artifacts, such as beadwork, a redwood dugout canoe, and traditional baskets among the exhibits, some of the tools over 2400 years old.
The museum's store sells Native-made goods, including hand-crafted dolls, jewelry, California Indian books, soapstone carvings, and more!
Address: 2618 K St, Sacramento, CA 95816, United States
Hours: 10 am – 5 pm
Cost: $5
6) Fish, Boat, Hike, & Bike The American River Trail At Discovery Park
An expansive park, Discovery Park is a hub spot for locals and tourists alike to stretch their legs and enjoy the great outdoors!
The park is settled where the Sacramento River and the American River collide. Discovery Park boasts one of the best boat launches in the county, an opportunity for recreational boaters to get out and explore the waters for catches, scenic views, and exhilarating fun!
Those desiring to remain on land have access to the 32-mile Jedediah Smith Memorial Trail, also known as the American River Bike Trail. This is one of the best bike trails in California!
All ages are welcome to show off their archery skills at the archery range or play softball on the field. Anglers of all ages can test their luck fishing off the shore or on a boat as well.
Address: 1600 Garden Hwy, Sacramento, CA 95833, United States
Hours: 6 am – 8 pm
Cost: $6 per vehicle
Find more fun things to do in Northern California here!
7) Enjoy A Performance At The Acclaimed B Street Theatre
Featuring entertainment for everyone, B Street Theatre performs a range of contemporary productions, from iconic classics to first-time premiers.
B Street Theatre's two-theatre playhouse in Midtown is dedicated to Mainstage and Family Series for an intimate, house-quality experience throughout the year.
Renowned for being one of Northern California's leading professional theatres, B Street Theatre has produced over 100 new plays, many of which are national, world, regional, or West Coast premieres.
B Street Theatre is also committed to performing local, national, and international performances and hosting concerts, live podcasts, stand-up comedians, and much more!
Find a list of upcoming shows on the official website.
Address: 2700 Capitol Ave, Sacramento, CA 95816, United States
8) Explore Downtown Sacramento
Full of life, culture, class, and history, downtown Sacramento presents a diverse array of things to do in Sacramento.
Grab drinks at the classy cocktail bars and socialize with locals or fellow tourists. Go dancing at one of the boisterous clubs to dance the night away.
Chow down on popcorn as NBA stars smash free throws and dunks at the Golden 1 Center. Explore political, historical, and art finds such as the Crocker Art Museum, the California State Capitol Museum, and California Museum, the latter of which is home to the California Hall Of Fame.
Get a taste of the local vibe on a "cocktails, mocktails, and bites" walking tour! A local guide takes you through Sacramento's Midtown to find, try, and savor world-class craft cocktails (or mocktails), yummy treats, and other hidden gems!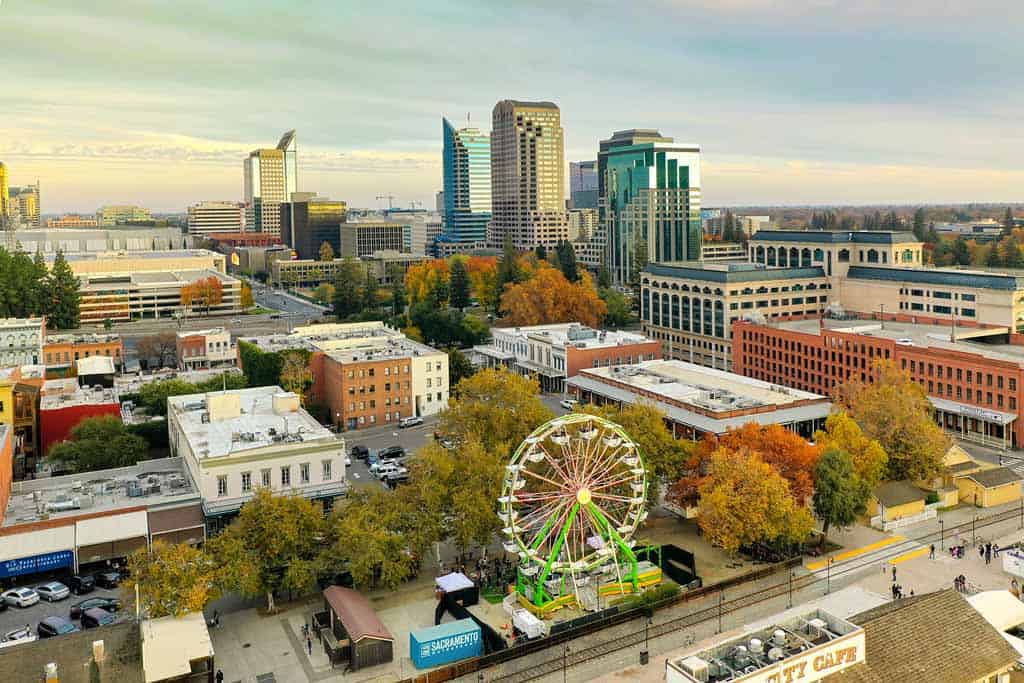 9) Grab Some Popcorn For A Ballgame At Sutter Health Park
Home ballpark for the Minor League Baseball team, the Sacramento River Cats, Sutter Health Park is known for its intimate and exhilarating ball games!
The skyline views from here are outstanding as the crowd goes wild in the 15,000-seat stadium.
And though the park may be more commonly known for hosting games for its MLB home team, the park also hosts trade shows, concerts, festivals, religious gatherings, and team-building events.
So whether you're shoving down popcorn as the River Cats race toward the home base or jumping to the beat during a concert, Sutter Health Park is the place to go.
You can see the landmark Tower Bridge in the distance, which links West Sacramento in Yolo County with east Sacramento. This historic tower bridge is right next to the ballpark!
Address: 400 Ballpark Dr, West Sacramento, CA 95691, United States
Sacramento is only 1.5 hours away from San Francisco! Check out our list of the best things to do in San Francisco when you get there.
10) Walk Through Fairytale Town With The Kids
A family-friendly amusement park, Fairytale Town's mission is to engage and encourage the creativity, imagination, and education of children of all ages!
Running for more than 60 years and planning on never stopping, the goal of Fairytale Town is to create a safe space for families to learn and play. The park has 26 themed playsets based on well-known and loved fairy tales and nursery rhymes.
And that's not all! There are also two performing art stages, gardens, and a welcoming bunch of farm animals waiting to be played with.
Address: 3901 Land Park Dr, Sacramento, CA 95822, United States
Hours: 9 am – 4 pm Wednesday – Sunday
Cost: $8
11) Take Your Pick Of Activities At William Land Park
This famous park was named after a pioneer who established the nearby Western Hotel in 1875. There's also an elementary school named after him to commemorate William Land.
William Land Park is an oasis of attractions within its 207 acres, including Sacramento Zoo, Funderland, Fairytale Town, and the William A. Carroll Amphitheater.
Other welcoming amenities include the rock garden, golf course, jogging path, village green, basketball court, wading pool, and more!
On Sunday mornings, the park hosts a local farmers' market. The market boasts more than 60 sellers, all selling fresh, locally sourced, locally-made goods, produce, and products like flowers, bakery items, and flowers.
Address: 3800 W Land Park Dr, Sacramento, CA 95822, United States
Hours: 6:30 am – 8 pm
Cost: Free
12) Take The Kids To Tour The Sacramento Zoo
Formerly known as "the little zoo in the park," the Sacramento Zoo started in 1927 with only 40 animals, mainly monkeys, deer, raccoons, and birds.
Today, the Sacramento Zoo has become one of the best things to do in Sacramento for its charming appeal, dedication to its animals, and commitment to conservation and educational efforts.
Receiving half a million visitors yearly, the zoo has solidified its standing as a top attraction and zoo.
More than 500 animals call the Sacramento Zoo home, and visitors to the zoo can learn more about these intriguing species while walking among prosperous, diverse plant species through themed gardens.
Address: 3930 W Land Park Dr, Sacramento, CA 95822, United States
Hours: 9 am – 4 pm
Cost: Around $20, but ticket prices vary depending on the day. Check the website for more info!
Heading south? Check out our ultimate 3 Days in Los Angeles Itinerary!
13) Enjoy A Refreshing Stroll Through The California State Capitol Park
Established thanks to the ideals and dreams of a Victorian garden by 1863 California Governor Leland Stanford, the California State Capitol Park is adored for its impeccable design and refreshing natural appeal.
The park also features historical points of interest, including memorials and monuments, some of which are still alive!
Some of the trees at the park were once believed to be extinct, and now, visitors can bask in the refreshing shade of these trees. The International World Peace Rose Garden is a particular highlight, with beautiful fountains and flowers arranged beautifully.
There are historical monuments and memorials in the California State Capitol Park, such as the Firefighters Memorial, the Vietnam War Memorial, and the Spanish-American War Memorial, to peer at and learn about as you stroll through the encompassing beauty of the park.
Address: 1300 L St, Sacramento, CA 95814, United States
Hours: 24/7
Cost: Free
14) Experience History At Sutter's Fort State Historic Park
Once an agricultural and trade colony of the first permanent European colony in California's Central Valley, Sutter's Fort State Historic Park now preserves the area within what is now Midtown Sacramento. Constructed in 1839, the site was previously termed New Helvetia by John Sutter, the founder.
The Swiss immigrant John Sutter originally built the fort to protect his 150,000 acres and harvest land from attack.
When Sutter stretched his reach out to commission a sawmill built 50 miles east on the American River, the first recorded gold nuggets were discovered. This discovery was the starting point of the famous California Gold Rush.
Today, visitors to Sutter's Fort State Historic Park can experience what time in the heyday before the gold rush began was like!
Address: 2701 L St, Sacramento, CA 95816, United States
Hours: 10 am – 5 pm
Cost: $5
15) Bask In The Beauty Of The Cathedral Of The Blessed Sacrament
The mother church of the Roman Catholic Diocese of Sacramento, the Cathedral Of The Blessed Sacrament, is renowned for its historical significance within Sacramento. It is one of three especially historically significant buildings to be considered such in the city.
The building was established as the mining town transitioned into a capital city. Bishop Patrick Manogue, an Irish immigrant to the United States ordained as a priest, petitioned to have the cathedral moved to Sacramento near the state capitol building.
He reasoned that he believed it ideal for people to see "Church and State, two important institutions, each pursuing the common good for society, but from different angles." Rome approved his petition.
The Cathedral Of The Blessed Sacrament has stunning architecture and design that are often adored and similar to the great cathedrals of Europe.
It touts a Renaissance Revival style, making it stand out in downtown Sacramento as bypassers admire the impressive structure.
Address: 1019 11th St, Sacramento, CA 95814, United States
Looking to escape the city and enjoy nature? Head over to Lake Tahoe and read our list of the best things to do when you get there!
16) Walk Through History In The Old Sacramento State Historic Park
A collection of historic buildings, the Old Sacramento State Historic Park protects and preserves early Gold Rush structures such as the 1853 B. F. Hastings Building that was previously home to the California Supreme Court.
The park protects Old Sacramento's role in history as a California Historical Landmark.
The area was the western terminus of the first transcontinental railroad, the Pony Express postal system, and the transcontinental telegraph.
The whole district, which once acted as the business district of Old Sacramento in the 1850s, became a National Historic Landmark in 1965, where visitors can now learn and see more than 50 historic structures across 296 acres.
If you want to learn even more about the famous California Gold Rush, consider a Historic Gold Rush River Cruise along the Sacramento River!
Address: 111 I St, Sacramento, CA 95814, United States
Hours: 10 am – 5 pm
Cost: $5
17) Tour The Stunning Historic Leland Stanford Mansion
More commonly referred to as the Stanford Mansion, the Leland Stanford Mansion is a historic mansion that now serves as a mansion while also serving as California's official reception center for leaders across the globe.
The mansion was the office of three governors, including Leland Stanford, from 1862-1863.
Leland Stanford was many things, including a pro-Union Civil War governor and president of the Central Pacific Railroad, helping to complete the finalization of the transcontinental railroad.
Personifying the elegant appeal of the Victorian era of California, the mansion exudes an enigmatic charm with its detailed moldings, restored woodwork, 19th-century style gardens, original period furnishings that belonged to the Stanford family, and historical paintings.
The Leland Stanford Mansion is a National Historic Landmark open for touring!
Address: 800 N St, Sacramento, CA 95814, United States
Hours: 10 am – 5 pm
Cost: $5
18) Spend A Family Day At The Scandia Family Fun Center
An outdoor amusement park, Scandia Family Fun Center is a great family-friendly opportunity to spend time outdoors while keeping the kids happy with thrilling attractions.
Scandia Family Fun Center is the ultimate destination for the whole family. Go for some friendly competitions on the go-cart racetrack as you race across the course against family, friends, and strangers.
Swing batta' batta' swing at the batting cages to test your aim and hand-eye coordination! Putt around at the mini-golf course as the kids try to aim true through historic and fun-themed courses.
Get as many tickets as possible in the exuberant and boisterous arcade to trade the tickets in for fun prizes!
Address: 5070 Hillsdale Blvd, Sacramento, CA 95842, United States
Hours: 10 am – 10 pm
Cost: Visit the website for a complete list of prices and attractions
Read next: The Perfect 3 Days In San Francisco Itinerary
19) Watch A Show At The Historic Crest Theatre
Settled in downtown Sacramento, the historic Crest Theatre has a long and intriguing past.
Opening in 1912 as the Empress Theatre, a vaudeville palace, the theatre soon undertook a new name in 1946, the Hippodrome Theatre.
After an unfortunate incident, the theatre closed for remodeling, then opened up again, this time as the Crest Theatre. It acted as one of the top movie palaces in Sacramento before the theatre, unfortunately, closed in the 1980s.
Crest Theatre was successfully revived and eventually renovated once more to keep up to date with new film standards and the upcoming trends of digital projection.
And even today, the theatre is renovating the basement screening to transform it into an on-site full-service restaurant named Empress Tavern and other nifty upgrades!
The Crest Theatre is operational, hosting foreign and independent films, concerts, and community events that visitors are welcome to join!
Address: 1013 K St, Sacramento, CA 95814, United States
20) Learn About Local History At The Sacramento History Museum
The only museum dedicated to Sacramento, California, the Sacramento History Museum hosts rich historical content on the iconic California Gold Rush. It is housed in the first municipal structure of the city, which was established in 1854.
The museum is situated on the ancestral homelands of the Nisenan Tribal people in the Sacramento Valley. The Maidu, Miwok, Patwin, and Nisenan people continue to inhabit the land.
Active members of these native Californian tribes preserve and share their cultural heritage by working with museums to better share a deeper take on their culture and local history.
Address: 101 I St, Sacramento, CA 95814, United States
Hours: 10 am – 5 pm
Cost: $10
21) Take The Kids To Folsom City Zoo Sanctuary
Since 1963, the Folsom City Zoo Sanctuary acts as a zoo and animal sanctuary dedicated to protecting and rehabilitating injured wildlife or animals confiscated as illegal pets. The sanctuary has sheltered hundreds of animals, from bobcats to squirrels to cougars and wolf-hybrids.
Acting as a haven for these animals, the Folsom City Zoo Sanctuary welcomes visitors to stroll along the scenic pathways to learn the unique story of each animal. Animal lovers will have a blast here!
Once you're done learning about these special animals, hitch a ride on the Folsom Valley Railway that heads through Folsom City Lions Park for the family to continue their fun!
Address: 403 Stafford St, Folsom, CA 95630, United States
Hours: 10 am – 4 pm Thursday – Sunday
Cost: $7
Where to Stay in Sacramento
Now that you know the best things to do in Sacramento, let's check out the best places to stay during your trip! There are accommodation options for all budgets, and many hotels are centrally located near the best Sacramento attractions.
Best Hostel in Sacramento
Settled in a restored historic Victorian mansion, HI Sacramento is an accommodating hostel that welcomes visitors from across the globe.
Located just a short walk from the best tourist attractions, including the American River Parkway, guests receive complimentary breakfast and free WiFi to enjoy the most out of their stay in this elegant hostel's parlor, decorated bedrooms, and outdoor patio.
Best Mid-Range Hotel in Sacramento
Under ten minutes from the airport, Wyndham Garden Sacramento Airport Natomas offers guests complimentary shuttle services to and from the Sacramento International Airport (SMF).
This accommodating hotel boasts an optimal location for you to explore Sacramento. Catch a quick taxi into town to tour Sacramento Historic Park and other highlights. of Sacramento county!
Best Luxury Hotel in Sacramento
A unique luxury boutique hotel, Kimpton Sawyer Hotel, an IHG Hotel, exudes the perfect amount of class in the heart of Sacramento. Relax with refreshing cocktails on the pool deck overlooking the Golden 1 Center, or savor a scrumptious meal at the hotel's bar, Revival at the Sawyer.
Then, sink back into a serene atmosphere in the spacious rooms with a California charm and undeniably outstanding views of downtown Sacramento.
DISCLAIMER: Some of the links in this article are affiliate links, which means if you book accommodation, tours or buy a product, we will receive a small commission at no extra cost to you. These commissions help us keep creating more free travel content to help people plan their holidays and adventures. We only recommend the best accommodations, tours and products that ourselves or our fantastic editorial team have personally experienced, and regularly review these. Thanks for your support, kind friend!