Home to some of the best landscapes in New South Wales, this guide to the best Warrumbungles walks in the Warrumbungle National Park will help you plan your day hikes, short walks and more on your next visit.
New South Wales is a mecca for outdoor lovers. From glorious coastlines to alpine peaks, there's a lot of incredible landscapes to enjoy if you like a bit of adventure.
Having explored a decent amount of the state, we thought we had seen it all. That was until we made our way to the Warrumbungle National Park and instantly had our minds blown!
This gorgeous national park rises out of an otherwise featureless landscape a few hours inland, with dramatic mountains and native forests waiting to be explored. Perfect if you're a hiker like us!
We spent a few days camping here with the aim of ticking off all the major Warrumbungles walks, including one we'd heard was one of the top 10 hikes in Australia. And it didn't disappoint!
READ MORE: Check out our favourite Royal National Park walks if you're planning a trip to this epic place too!
If you're planning to hike the Warrumbungles, this guide will help answer all your questions.
Ready? Let's dive into it.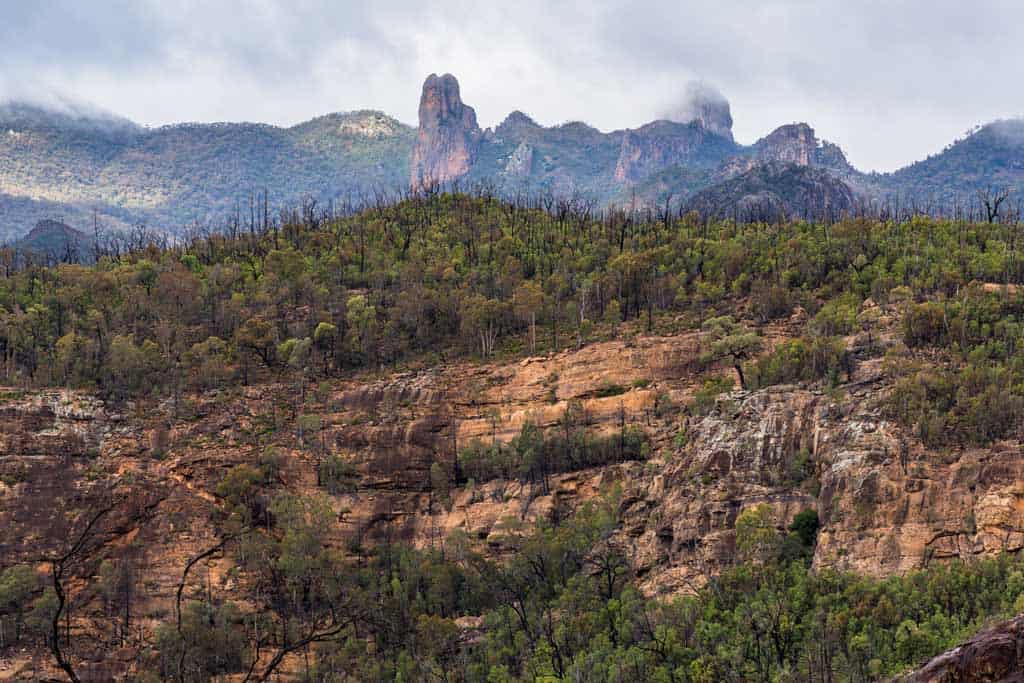 Warrumbungle National Park Travel Guide
Before you go hiking in Warrumbungle National Park, you of course have to get there!
Here's a bit of info about the park.
Where is Warrumbungle National Park?
Warrumbungle National Park is located in the Central Western area of New South Wales of Australia, 500km northwest of Sydney.
The nearest town to Warrumbungle National Park is Coonabarabran, which is 33km from the park.
There are no facilities in Warrumbungle National Park so this is the nearest town to get your supplies.
Coonabarabran has a fuel station, supermarket, cafes, accommodation (if you are not camping) and restaurants.
How Do I Get to Warrumbungle National Park?
The only way to get to Warrumbungle National Park is by driving. There is no public transport available.
There are a couple of routes you can get to Warrumbungle National Park from Sydney.
You can go through the Blue Mountains towards Wallerawang. After Wallerawang, you will follow the B55 north towards Mudgee then Dunedoo and continuing on to Coonabarabran. You will then head west to get to Warrumbungle National Park.
Or you can head north to Newcastle, then head follow the M15 which will take you north west. The road turns into B84 and you will head towards Cassilis. After Cassilis, you will turn right to head north towards Coonabarabran. You will then head west to get to Warrumbungle National Park.
How Much is a National Park Pass for the Warrumbungles
As it is a National Park, you will have to purchase a pass to enter.
You can do this by either buying a daily pass, or purchase a yearly pass to visit Warrumbungles National Park. And yes, the rangers do come and check.
The Park entry fee is $8 per vehicle per day or a 1-year single park pass is $22.
You can also get a better deal if you buy the 1-year multiple national park pass for $65 (excluding Kozioscko National Park) if you want to take in other great walks in NSW at other national parks.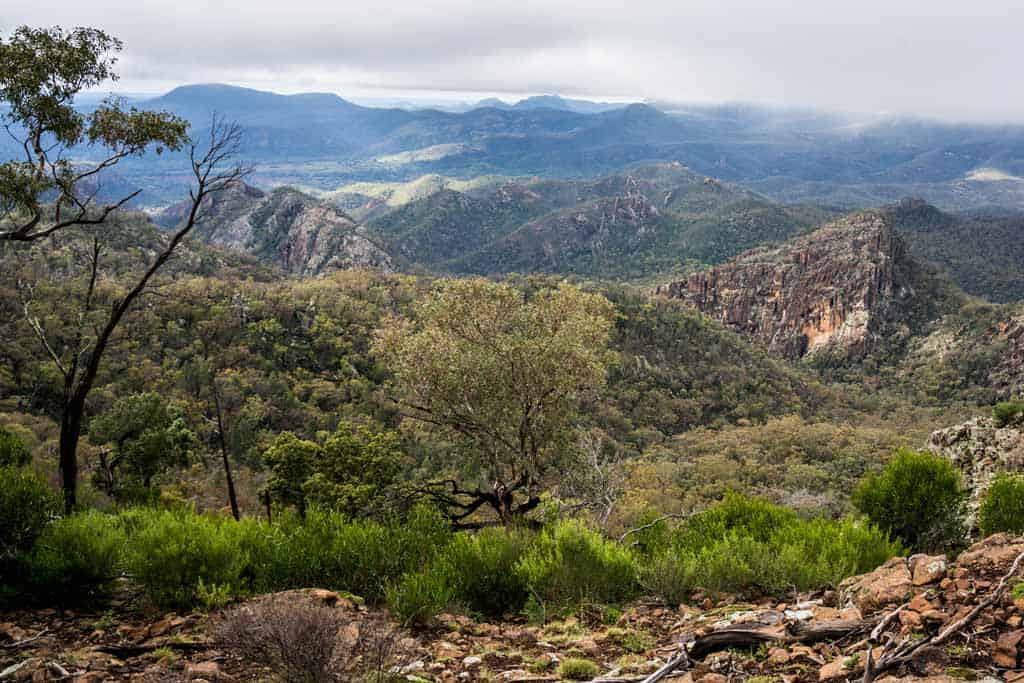 Best Time to Visit Warrumbungle National Park
Between April and September is the best time to visit Warrumbungle National Park, as the weather is much more pleasant in the winter.
The cooler temperatures mean the Warrumbungles hikes are much more comfortable. The stargazing is also much clearer.
It does get cold and can rain so do bring layers and a raincoat. The crowds are fewer and nature smells amazing!
During the summer months (November through to the beginning of March) being in the Warrumbungle National Park is very hot.
If you do go during this time, make sure you have enough water with you.
What is a Dark Sky Park?
The Warrumbungles are Australia's first Dark Sky Park and the first of its kind in the Southern Hemisphere.
If you want to see stars, this is the place to do it. With crystal clear skies, low humidity and low altitude, it makes for awesome conditions for stargazing.
The world-class astronomy research facility, Siding Spring Observatory, is just down the road from the Warrumbungle National Park Visitor Centre.
Warrumbungles National Park is known for stargazing as the nights can be crystal-clear. This does all depend on the weather. Unfortunately, when we were there it was raining and overcast.
There are a few buildings and a small population that are in the area so the light pollution is very low.
If you are into astrophotography, this is where you will get your best Milky Way shots. Plan your shots and make the most of the clear skies and no light pollution.
The Ultimate Guide to the Best Warrumbungles Walks and Hikes
There are a number of Warrumbungles walks you can do in the park. It all depends on what you are looking for and how much time you have.
Here is a list below from the shortest walks to the longest ones, all qualify as some of the best walks in NSW.
Tara Caves Walk
Distance: 4km return
Time: 1.5 hours
Ascent: 150m
Facilities: Toilet and picnic tables at Woolshed Picnic Area
Tara Cave is a rock shelter that is one not to miss if you would like to learn about the Aboriginal people of this area.
This cave was used by the Aboriginal people for thousands of years and was used until around 1850.
There are interesting tool-making grooves at the front of the shelter which are visible from the viewing area.
These were created thousands of years ago and are still so visible. It is incredible.
The track that leads to Tara Cave, is well maintained and is accessible for a pram or wheelchair.
Start your hike at the Woolshed Picnic Area. You can park your car here and there is a drop toilet if you need it.
Wambelong Nature Walking Track
Distance: 1km loop
Time: 30-60 minutes
Facilities: Toilets and picnic tables at Canyon Picnic Area
This is the shortest hike in the Warrumbungle National Park. But just because it is the shortest, this does not mean you will not see anything.
This track is ideal for wildlife and birdwatching, so bring your camera.
From the Canyon Picnic Area, follow the signs and it will lead you along the Wambelong Creek. Keep your eyes open and your ears alert.
You may even see a brown falcon or red-winged parrots on the horizon. Don't forget to look up, you might spot a koala if you are really lucky. And there are emus in the area so watch out for them!
I cannot even count the amount of Kangaroos we saw. Kangaroos will laze around and relax in the shade during the hottest parts of the day at nearby Camp Wambelong.
The rock formations in the mountain area are fascinating. You will see unique rock formations and dramatic spires shaped by volcanic activity over a million years ago. It is amazing to think about how they were once formed.
At one point the track rises steeply where you will be greeted with a beautiful lookout view of the valley and Spilt Rock. Take some snacks and sit and enjoy.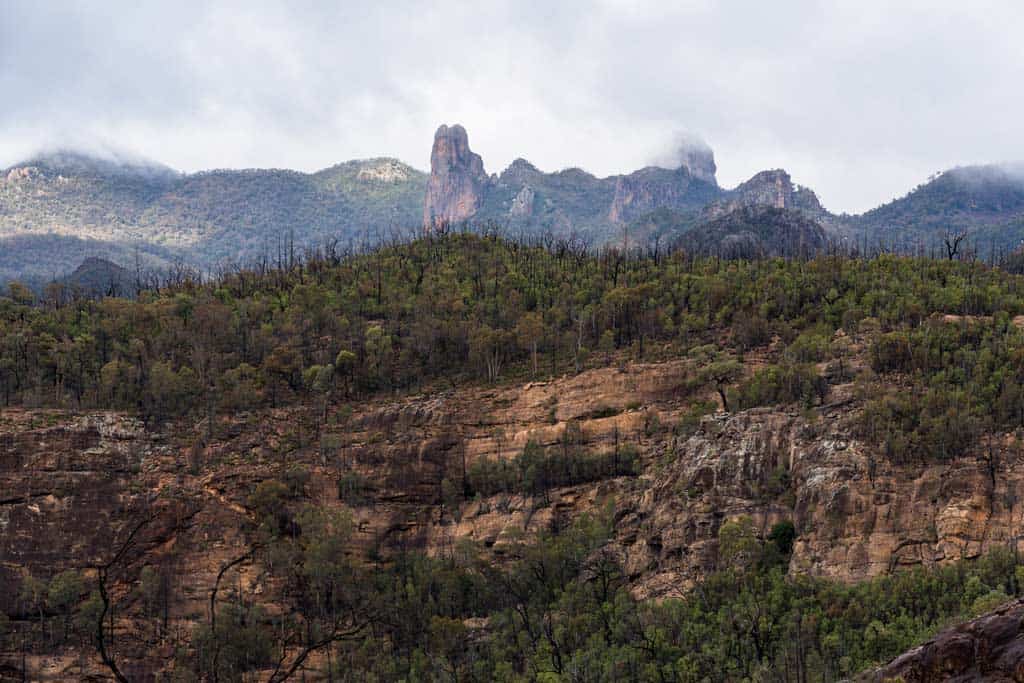 Breadknife and Grand High Tops Hike
Distance: 14.5km loop
Time: 7-8 hours
Ascent: 642m
Facilities: Drop toilets at Grand High Tops Carpark and camps along the trail
This one is one of the most popular day hikes you can do in Warrumbungle National Park.
In fact, it's probably one of the best walks in New South Wales. But this one is for the reasonably fit hikers as it is long, steep and challenging.
This walk offers amazing views of the area and so many different viewpoints. Take some lunch or snacks and have a break at the Grand High Tops Lookout where you can soak up the views of the ancient volcanic landscape.
READ MORE: We have a whole list of hiking tips! Check them out here.
If you leave early and are reasonably fit, you can do the is trail in one day. But if you want to break up the walk you can camp overnight at Balor Hut or Dows Camp which are both located along this route.
There is no water here so you will need to bring in what you will need. Water is very scarce in the park. See the information below about the hut and campgrounds.
If you want more of a challenge you can do a side trip to Lugh's Throne which is a short but very steep climb to the summit.
Belougery Split Rock
Distance: 7km
Duration: 3 hours
Ascent: 350m
Facilities: Toilet at Camp Wambelong
We did this walk to Belougery Spire on our first day in Warrumbungle National Park. Despite only being a short walk, it was challenging and steep in sections.
The walking track is a circuit and is easy to follow at the beginning. The track leads you up the shady Burbie Canyon.
But as we got higher, the trees thinned and you had to follow the yellow markers on the rocks.
Even though the track is challenging, it is worth it when you reach the top lookout.
Unfortunately, we did not get right to the summit as it had been raining and the rocks were slippery. There is a bit of climbing and scrambling to reach the summit and this is not recommended if it has been raining.
But still got amazing views! Take a snack and have a rest up the top and take it all in.
It is within walking distance from Camp Wambelong. If you are not staying at this camp, you can park in Split Rock Car Park.
The walk begins at Split Rock Car Park. This is 2.3km along Timor Road past the turnoff to Camp Blackman and the Warrumbungle National Park Visitor Centre.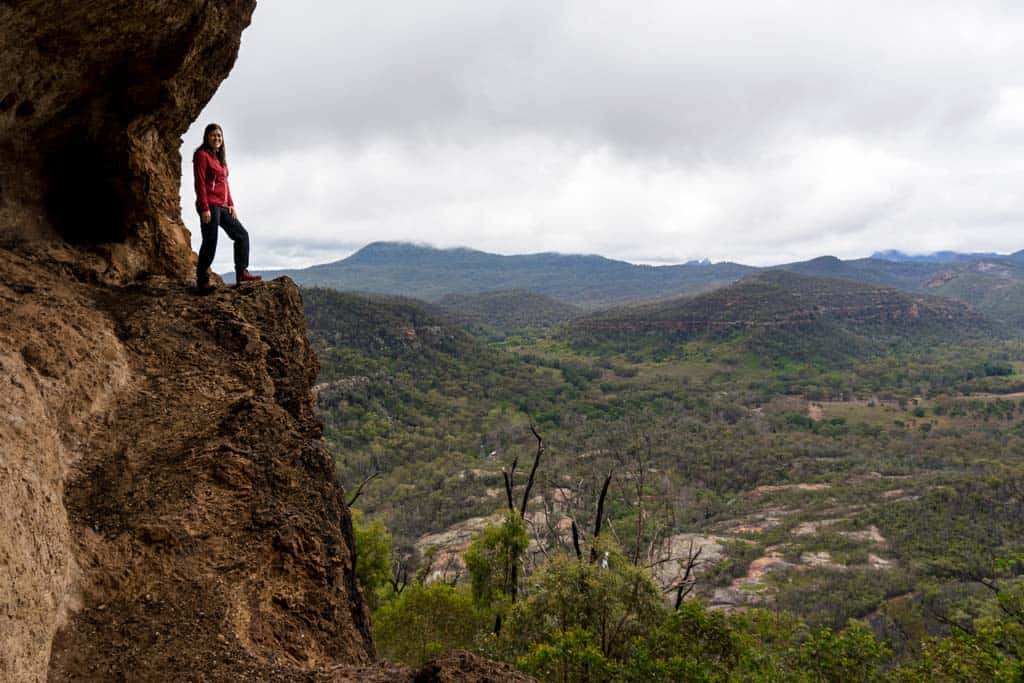 Bluff Mountains Circuit
Distance: 17km
Time: 7-8 hours
Ascent: 700m
Want to see the face of the highest cliffs in the Warrumbungle National Park? Well, this walk is the one for you. This one is for the crazy adventurers!
Bluff Mountain is the highest of the cliffs in the Warrumbungle National Park. This walk will take you to the top of the cliffs where you will have amazing views of the area. You can see so many different peaks from this spot.
After climbing to the top you will come to the Bluff Mountain lookout and be rewarded with incredible views of the Warrumbungles volcanic peaks and shield volcano domes like Bluff Pyramid, Mount Exmouth, Tonduron Spire and Mount Naman's thick lava flows.
This walk starts and finishes at Pincham Car Park.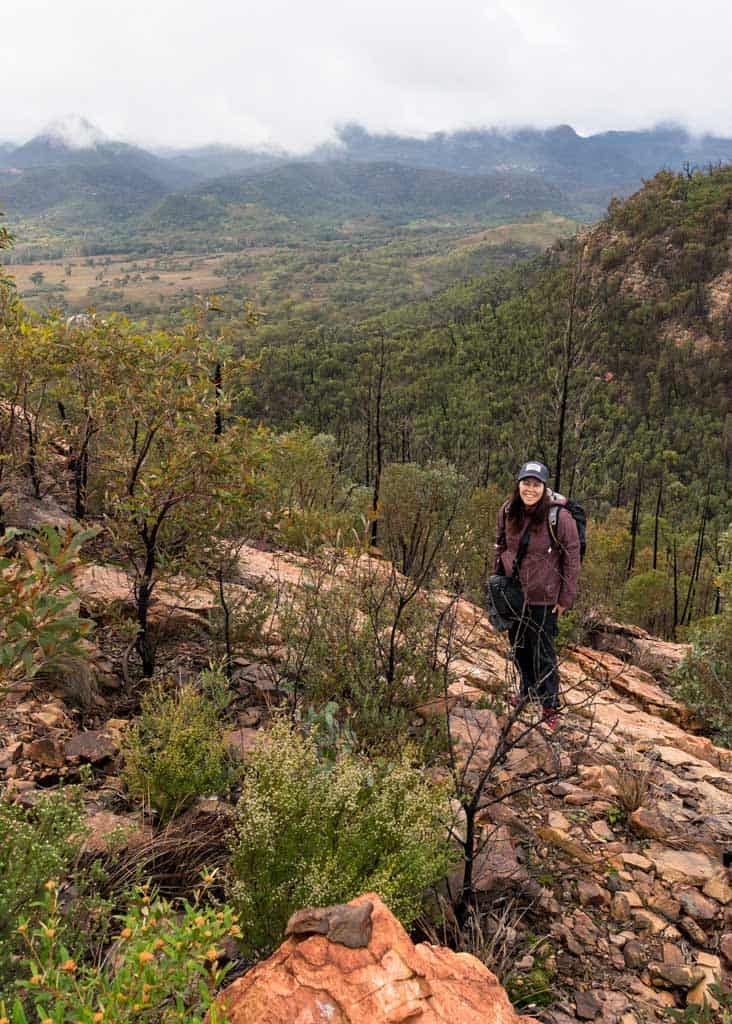 Mt Exmouth
Distance: 26km
Time: 2 days
Ascent: 1230m
Facilities: Drop toilet at Danu Camp
Now this one is the longest and maybe the most difficult walk in the Warrumbungle National Park. Most visitors that come to the park, will go on day hikes.
But if you want more of an adventure, check out this overnight walk that will take you 26 km through the beautiful wilderness. It is easily one of the best walks in the state.
This walk is for experienced hikers and needs to be planned. Visit the Warrumbungle Visitors Centre to ask for a map and information about this walk.
As this is an overnight walk, it is recommended to sign the registration book before leaving and let family or friends know where you are.
Water is hard to come by, so be prepared. There is a hut to stay at along the way, Balor Hut.
Here you'll find a water tank for your drinking water and cooking. Do take water treatment tablets to be safe. Confirm with the visitors centre whether the hut does have water and the track is fine.
Park at the Pincham Car Park. This is where the track leaves from. You will have to have a national park parking ticket on your vehicle in case the ranger comes around at night.
On day 1 you will head to Dows Camp which is 11 km away and an ascent of 820 m. On day 2, you will hike to Pincham Car Park which is 15 km and an ascent of 410 m.
You will need to carry everything with this walk, including cooker, pots, food, camping gear and sleeping gear. Take a day bag as you can leave your bag in places and do side trips.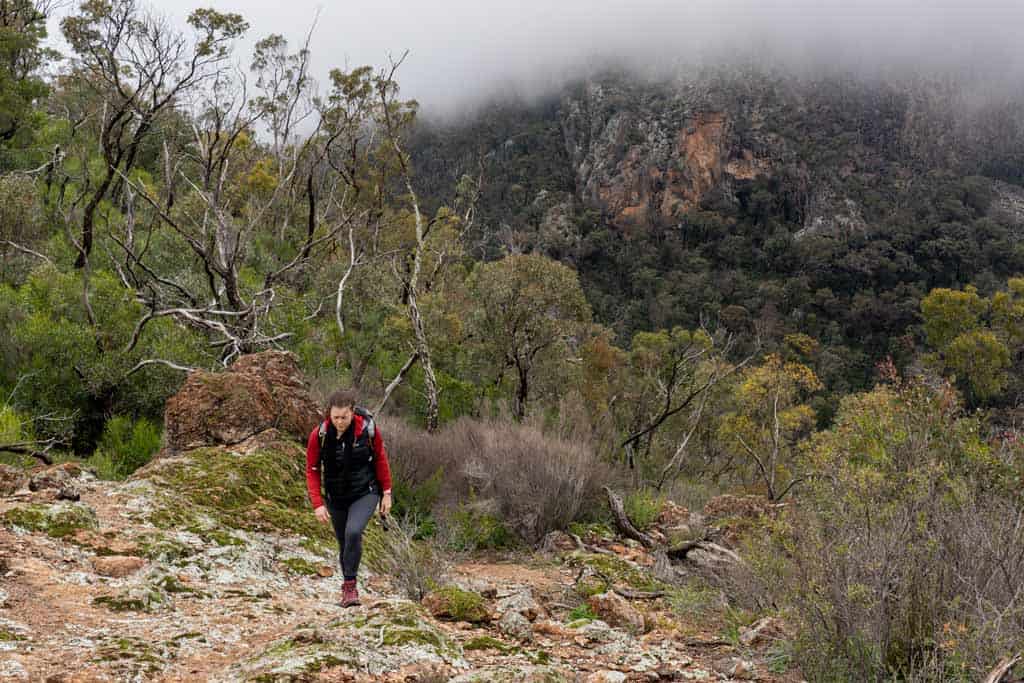 General and Safety Information About Warrumbungle National Park
Keep in mind that the Warrumbungles are a remote, wild and potentially dangerous place.
So before you go hitting the trails, make sure you're prepared.
Facilities
There are only drop toilets within Warrumbungle National Park. They are located in multiple carparks and in the campgrounds.
The only campground that has flushing toilets is Camp Blackman, which also has hot showers as well.
If you need to go to the toilet out in nature, please pick up your toilet paper. Sadly people leave this after they have gone in nature and animals eat it and become very sick, even dying.
We carry a toilet bag with us. It has sanitiser in it, toilet paper and a biodegradable bag for our toilet paper.
We pick it up and take it to the nearest drop toilet or rubbish bin when returning from the walk. We take this all the time on our long hikes and camping trips.
Weather
The weather in the Warrumbungle National Park can change quickly so be prepared. Check the weather and winds the night before to prepare for your walk the following day.
If you do not have phone reception, the Visitors Centre has these reports. Take a rain jacket and a rain cover for your bag. These are always great to have and you will be thankful when the weather turns unexpectedly.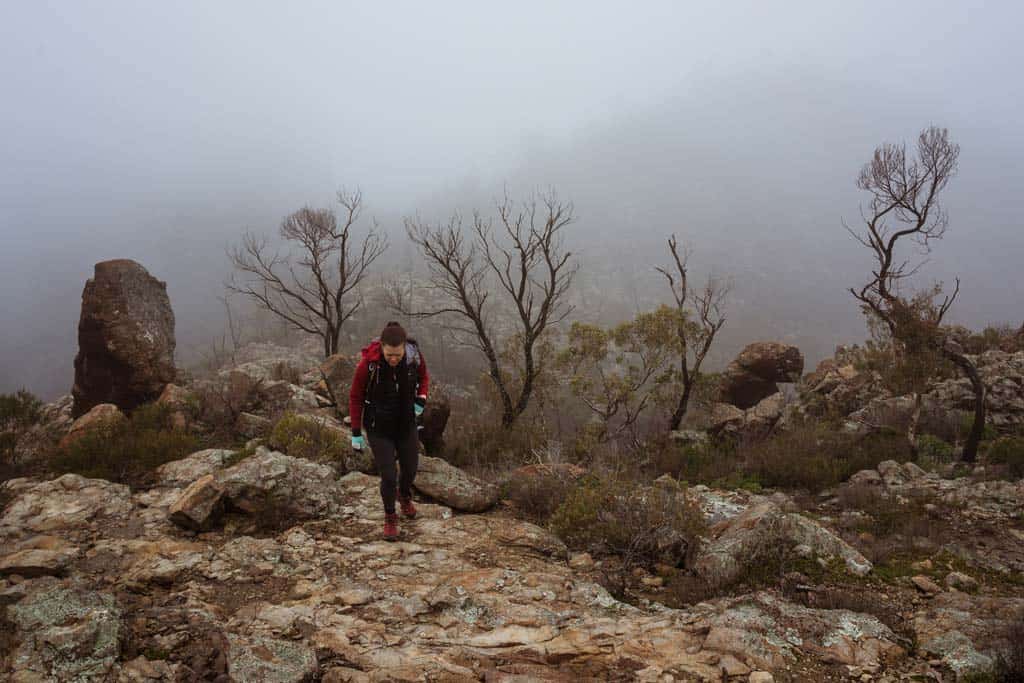 Water
Take the amount of water you need for all the walks. We say take at least 1.5 – 2lt per person on long trails.
There is no water along the way to fill up so you will need to take what you need for the day.
If you are staying at the camps on the multi-day walks, there are tanks of rainwater there for you to use. Do take water treatment tablets to be safe.
Bring the Correct Gear
It is crazy how many people we have seen walking in the wrong correct clothing or not being prepared for the length of the walk.
Make sure you are dressed for walking and not a day on the beach. These are two different environments.
Be sure that you are prepared and you have rain jackets and warm clothing just in case. Our saying is better to be safe or sorry.
Letting Someone Know
It is always good to let someone know where you are going and what you are doing, especially if you are on your own in Warrumbungles.
The phone reception in the national park is very patchy.
You can check in with the visitors centre and sign the registration book. This keeps track of hikers and for rangers to know how often trails and camps are used.
Wildlife
There is so much wildlife in the Warrumbungle National Park. It is amazing to witness with many opportunities for close up views. Please never feed or try to touch these animals.
If you walk quickly you may come across kangaroos feeding or birds playing in the trees. It is beautiful to see.
This is what hiking in nature is all about, not blaring music and loud talking. Please respect nature and other hikers around.
Where to stay in Warrumbungle National Park
There are multiple campgrounds to stay at in Warrumbungle National Park. All the campsites below require a booking online on the NSW National Parks website here.
There are only campsites in the Warrumbungle National Park. There is no bed accommodation.
But here is hotel and guesthouse accommodation in the nearest town Coonabarabran which is 33km away.
Campsites
Planning on camping? Here are the top spots to do so in the park.
Drive-In Camps
The two below are the most popular campgrounds as they are accessible via campervan, caravan or any other vehicle. Tents are welcome too.
Camp Blackman
Number of Sites: 105 powered and unpowered sites
This is the most popular campground as it has powered and unpowered sites.
It also has flushing toilets and hot showers in the Blackman 1 section. Blackman 1 has the unpowered sites and Blackman 2 has the powered sites.
The sites, especially in the powered section can get crowded.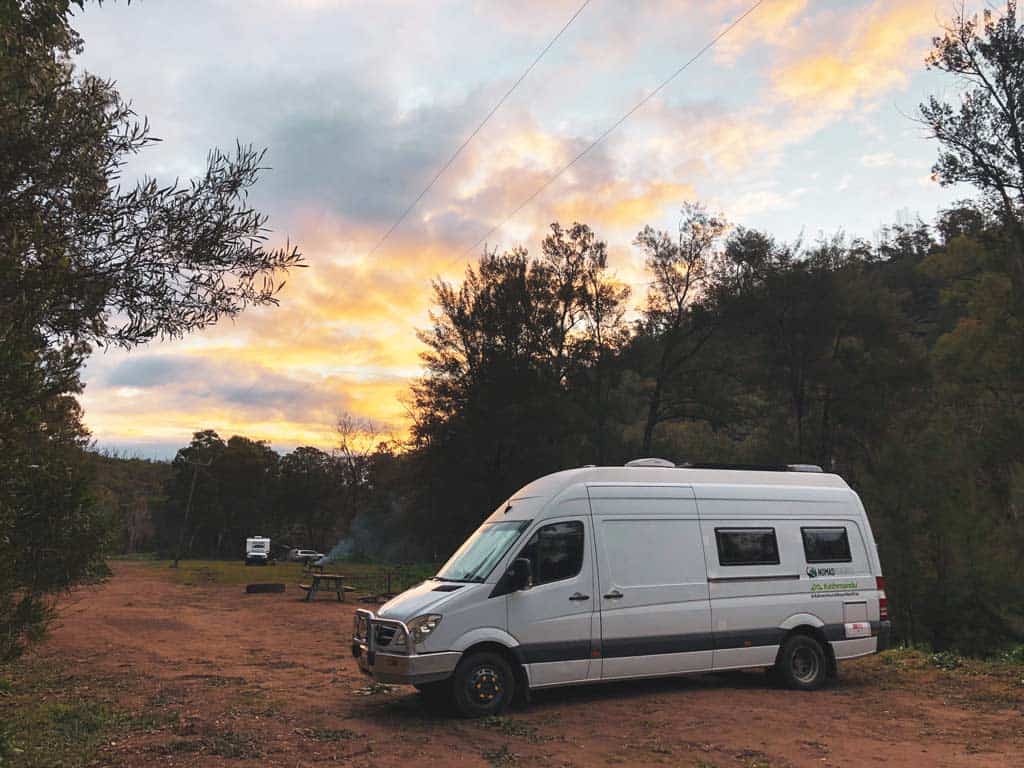 Camp Walaay
Number of Sites: 5 unpowered sites
This camp is located near the Warrumbungle National Park Environmental Education Centre. These camp areas are big, perfect for large groups.
These are unpowered sites but are within walking distance of the hot water showers and flushing toilets about 300 meters away.
Camp Wambelong
Number of Sites: 35 unpowered sites
This is a really quiet camp compared with Camp Blackman. It's got a very relaxed feel without many facilities.
The only facilities are 2 drop toilets. You can use the hot showers and flush toilets at Camp Blackman but it is 5.2kms away.
This camp is directly across the road from the Split Rock Trail and Burbie Trail.
Walk-in Camps
All the camps below are tents only. Make sure you have a good, lightweight hiking tent for this.
Burbie Camp
Burbie Camp is a walk-in camp that offers remote bush camping near a natural spring with wildlife, birdwatching, scenic views, and stargazing.
It is located on the west side of the Grand High Top Circuit Track.
Pincham Camp
Camp Pincham offers rustic walk-in camping. It is along the east side of the Grand High Top Circuit track at the start near about 260m carpark.
Dows Camp
This camp is a basic, walk-in camp located 8km from Pincham Carpark, located on the east side of the Grand High Top Circuit Track. If you are hiking the Breadknife and Grand High Tops track loop, you will pass it.
Many hikers stay at this camp as a stopover to summit Bluff Mountain, which is a great spot to watch sunrise or sunset from. It's a steep climb and challenging 2.4km trail.
Give yourself 3-4 hours to walk to the camp from the carpark.
Set your tent up and enjoy some night/s sleeping in nature. Catch a sunset and if the skies are clear, don't forget to get out and do some stargazing.
Balor Hut Campground
This remote walk-in hut can take up to 4 guests. The fee above included exclusive use of the hut. This means, It is $24.60 for the whole hut for the night, whether you are 1 person or 4 people, you get this hut to yourself.
There are 4 bunk beds in the hut. You will have to bring your own bedding (camping mat, camping pillow, sleeping bag and sleeping liner).
At the hut, there is a toilet, table and an internal wood fireplace. There is also a water tank there, but check with the visitors centre when you register if there is water in the tank. Take water treatment tablets.
Parking is at Pincham carpark. Balor Hut is approximately a 6 km walk uphill with a couple of steep pinches. The camp is located on the west side of the Grand High Top Circuit Track.
Ogma Gap campground
The rustic Ogma Gap campground is a walk-in remote camp. Located on the west side of the Grand High Top Track Circuit.
Hurleys camp
Hurleys camp is a remote campground at the base of Belougery Spire, tucked away off the Grand High Tops Circuit Track. It is located on the side of the track.
Danu camp
This small camp is a walk-in campground that is located high in the mountains. If you are doing the Mount Exmouth hike or exploring the Burdie trail by bike or by foot, this Danu Camp is the perfect stopover to stay the night and rest.
There is a rainwater tank there but do bring sterilisation tablets.
DISCLAIMER: Some of the links in this article are affiliate links, which means if you book accommodation, tours or buy a product, we will receive a small commission at no extra cost to you. These commissions help us keep creating more free travel content to help people plan their holidays and adventures. We only recommend the best accommodations, tours and products that ourselves or our fantastic editorial team have personally experienced, and regularly review these. Thanks for your support, kind friend!