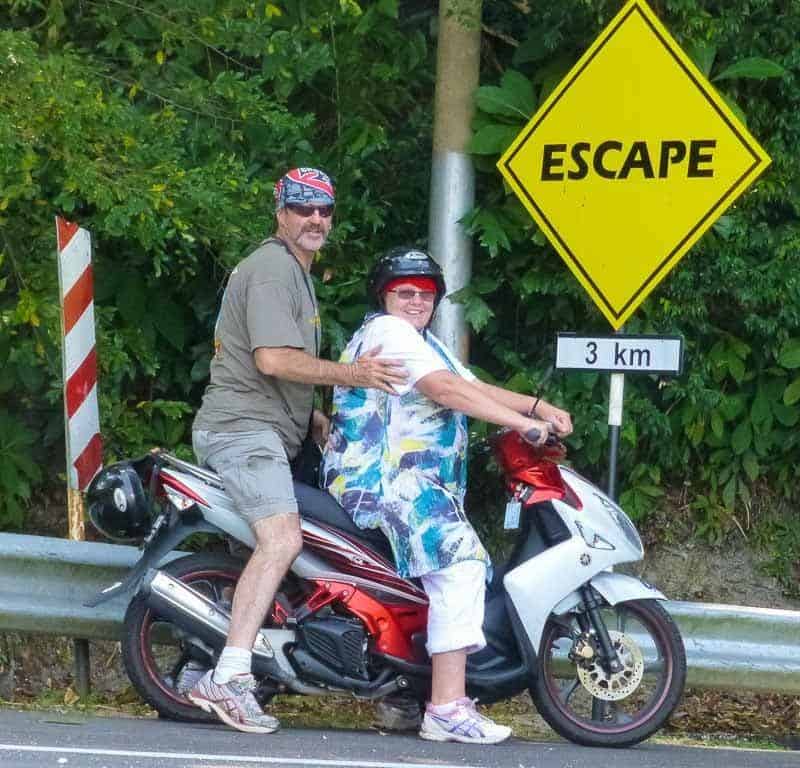 One of the greatest ways to explore a foreign country is on two wheels. Having the freedom to go where you want, when you want is a great feeling. It can also save on transport in the long run! Unfortunately not everyone who decides that they are up for renting a scooter or motorbike is equipped with the required experience or knowledge. This is not necessarily a bad thing. Everyone has to learn somehow. But before you take off on that exciting adventure, be sure to do your homework!
Our friends Ron and Michele Legge from Legging It have compiled a great list of tips and advice for the first-time rider. Having left their home country of Australia to go on a motorcycle mission from Malaysia to Europe, they definitely know what they are talking about!
Before renting a scooter or motorbike…
Get a licence. Travel insurers won't payout if you have an accident but don't have a licence.
Alcohol and motorbikes don't mix.
Get a bike based on your ability rather than your ambition.
Don't rent based on price. The cheapest bikes usually have more miles on the clock and in some cases less roadworthy.
Do an inspection of the motor bike. Check the tyres for tread and damage, the engine for oil leaks, the instruments and lights all operate. Photograph and record all damage. Most importantly check the brakes. If you are not happy with the condition of the bike get another one or go elsewhere.
ATTGATT – All The Gear All The Time. Protective gear will help to minimise injury in a crash.
Once you are on the road…
Constantly scan the road looking for hazards like entering traffic, pedestrians, animals etc
Cover your brakes. Be ready to stop.
When riding in traffic drop a gear. If you need to speed up you'll be ready.
Check the road surface. Oil, diesel, debris, potholes, ice, water
Plan escape routes. When riding in traffic always have a way out.
Own your lane. Ride in a position that other drivers wont try to squeeze you out.
Make yourself seen. Wear light coloured clothing. If it is legal turn on your headlight. Make eye contact with drivers.
Ensure your indicators are off after every turn.
Get clear of traffic. At traffic lights work your way to the front of traffic and use your power to get ahead of cars into clear road.
Mirrors and head checks. Constantly check on your surroundings.
When changing lanes, MILO: Mirrors, Indicators, Look, Over
Don't get yourself between vehicles and exit ramps. Move into a position so that you'll avoid cars that change lanes at the last minute.
Use larger vehicles as cover. When crossing intersections, roundabouts use other vehicles as protection.
Coming into corners select the right gear, come wide so that you can open your line of vision and as you round the apex turn sharper so that you avoid oncoming traffic which maybe cutting the corner.
Use the Internet to get motorcycle tips. Even if you're an experienced rider a fresh perspective is always welcome.
Enjoy your ride, but stay safe to ride another day.
Now that you know some great tips on renting a scooter or motorbike, don't be afraid to go out and explore the world on two wheels! It could become the greatest adventure you have ever undertaken.