We spent three nights in one of the best accommodations in downtown Vancouver. Here is our complete Burrard Hotel review.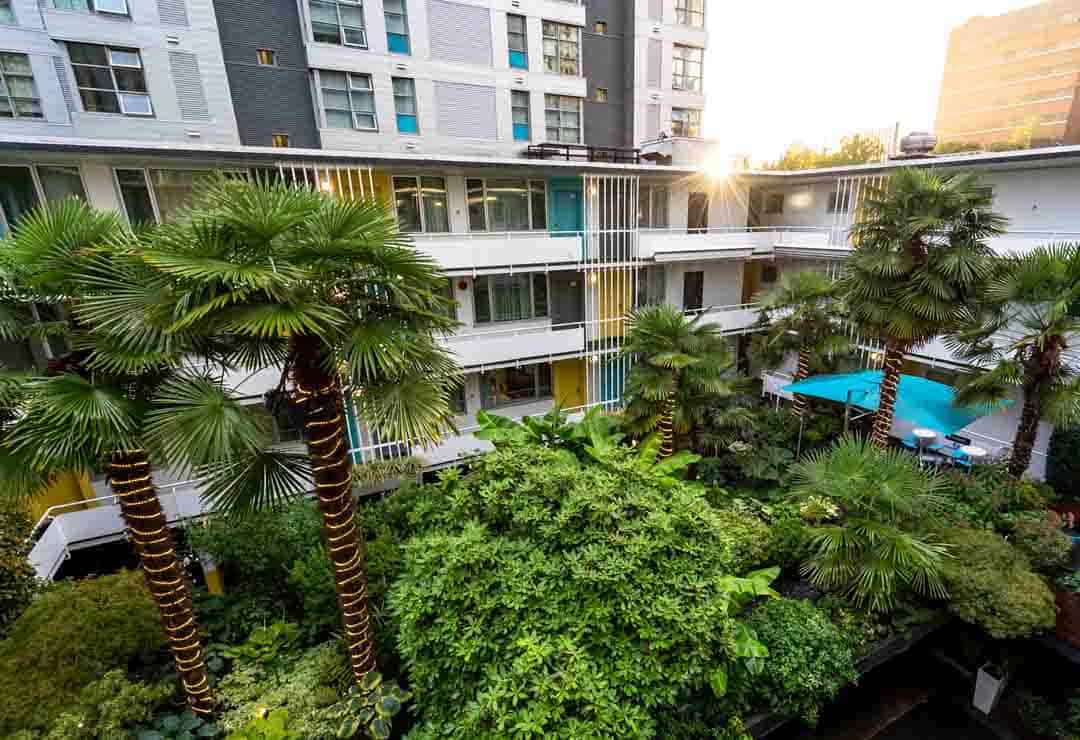 Vancouver will always hold a special place in our hearts. Not only is it one of the most vibrant, eclectic and beautiful cities on the planet – it's also the place where we first met in 2008, in a hostel bar on Granville St!
10 years later we had the opportunity to return to one of our favourite destinations, this time not as young, broke backpackers but as a married couple with a love of funky establishments and fun activities, on the hunt for the best things to do in Vancouver.
Rather than stay at the original hostel we met in, we decided to go more upmarket and stay in the best boutique hotel in Vancouver – The Burrard Hotel.
The Perfect Stay – The Burrard Hotel Review
When it comes to booking nice accommodation, we prefer to find boutique hotels with character rather than huge chain-style places housing hundreds and hundreds of people.
For us we want friendly staff, different amenities to make our stay fun, style over luxury and of course an awesome room to relax in after a huge day exploring.
We were absolutely thrilled with our stay at The Burrard Hotel in Vancouver, and have put together this detailed review to help you decide whether it's the kind of place for you.
The Location
When it comes to staying in Vancouver, there's a few different options. You can either stay in the trendy West End, in upmarket Yaletown, in the tourist hotspot of Gastown or even in more local places like North Vancouver or Kitsilano.
In our opinion though you really want to be downtown, and after spending 6 months living in the city we think the best place for tourists to base themselves on a visit to the city is here, close to the West End.
Luckily that's right where The Burrard Hotel is located!
Situated on Burrard Street near the corner of Helmcken St, you're only a few blocks away from the nightlife of Granville St and Davie St, and you can easily walk to Stanley Park, Gastown or just about anywhere else you'd want to check out downtown.
Just because you're in the centre of it all doesn't mean it's loud though. The block that The Burrard is on is actually extremely quiet, and it isn't a thoroughfare for partiers getting between clubs.
That means when you do rest your head at night you won't be interrupted by house music pumping into the night. A problem we've had at other Vancouver hotels…
What we loved most about The Burrard's location was that you could literally walk everywhere!
Stanley Park is only a 20-minute walk away and Gastown is 15 minutes away, so you never have to jump in a taxi or Skytrain to get to any of the main tourist destinations.
But even if you did want to venture further afield, The Burrard has complimentary bicycle rental available! More on that below.
The Property
In 1956 the Burrard Motor Inn opened to the public, right when automobile travel was taking off and Vancouver was becoming a buzzing destination for visitors from near and far.
It expanded to have a huge courtyard, cocktail bar and ample parking for its visitors, making its prime location in the heart of Vancouver even more desirable.
For years it was one of the premier places to stay in the city, but then it slowly fell into disrepair and was overtaken by newer, more upscale hotels being built around town.
What was once an iconic accomodation became quite downtrodden, but it never quite lost its charm, thanks to its unique quadrangular design and proximity to the city's best attractions.
In 2010 new management took over the property and decided to rejuvenate what was once a Vancouver legend.
They poured millions of dollars into the hotel, replacing decades of smokey decorations and tainted furniture with crisp, modern and clean designs.
READ MORE: Check out our brand new guide on how to spend 3 days in Vancouver!
Over the next few years they brought The Burrard Motor Inn into the 21st century, installing high-speed wifi, big screen TVs, espresso machines and subtle lighting.
But the managers didn't let the history of the inn go. Instead they kept the retro 50s style, giving guests a feeling of how this hotel would have felt in its hay day.
The entire hotel wraps around a huge, leafy courtyard, so when you step outside of your room you're instantly met with fresh air and greenery rather than a long, stuffy hallway.
If you want to chill out in the courtyard too it's always open, often with a fire roaring on those chilly evenings.
From the moment we walked in we fell in love with The Burrard Hotel, and it offered such a fresh feeling compared to so many other hotels we've stayed in over the years.
Don't let the 50s style fool you – You won't find any smoke-infused curtains or dusty carpets in this place. It's as modern as you can get while retaining its authenticity!
The Rooms
The Burrard Hotel only has 72 rooms, and while they aren't the biggest in the city, they are arguably some of the nicest and most comfortable!
The rooms are painted white with big windows to let in a lot of light (thick curtains blocked exterior light at night). This to us is extremely important, as we want to feel bright and happy when we're in our room, not like we're in a dungeon.
Our room had a crazy Disney-parody picture on the wall, which we couldn't help but laugh at the more we looked at it.
The bathroom was retro yet clean, with high water pressure coming from the hot shower.
It was all the little things in the room though that made it stand out to your standard hotel room.
The pillow-top beds were decadent and warm, and you easily sunk into them when you crawled beneath the blankets.
The room had strong air conditioning and a big screen TV with more channels than we dared to count. There was also a Nespresso coffee machine, so you could make a cuppa whenever you felt like.
To us the rooms at The Burrard Hotel were perfect – luxurious without being over the top, funky without being weird, and with enough little extras to make us feel at home.
Those Little Extras
What made us so happy to write our Burrard Hotel review isn't just the location and comfortable rooms – it's the little extras that come with your stay in Vancouver!
The best one for us is the free use of the retro-style bicycles for all guests. The Burrard Hotel has quite a few of these cool, blue cruisers that you can take out for a burn around Stanley Park, or anywhere else in the city you'd like to check out.
They have pet-friendly rooms too, so if you are wanting to travel with your dog you know you have a home for your best friend as well.
If you're feeling active, guests at The Burrard Hotel are given free passes to the Steve Nash Fitness Centre around the corner so you can get your work out in.
There's parking available too, and they even have a charging station for electric cars. How cool is that?!
Right next door to the reception at the hotel is the Elysian Cafe, which serves up delicious pastries and good, strong coffee – something that can be hard to find in Canada.
There's also the Burgoo restaurant, which is meant to be amazing, but truth be told we didn't actually eat there.
The staff are super friendly too, and have amazing knowledge of the city. They'll happily share their insider tips for Vancouver with you, so make sure you ask!
It's Not Perfect Though…
As much as we loved our stay at The Burrard Hotel, it's not the perfect place for everybody.
If you prefer your accommodation to be 5-star, or want a concierge at your beck and call, then you might want to consider some other options, like the Fairmont Hotel Vancouver.
It also not a great place if you're travelling as a family with small children, as the rooms only have queen or king beds, or 'double rooms' with two double beds in them. But if you have teenage kids that can have their own room, then you'll be fine.
We felt like for couples or singles looking to get the most out of their time in Vancouver, The Burrard Hotel was an ideal spot to stay, just keep your expectations in line.
Bonus for NOMADasaurus Readers
As part of our Burrard Hotel review of the best boutique hotel in Vancouver, we're very pleased to share that the management at The Burrard have a very special offer exclusively for NOMADasaurus readers!
They are offering 15% off the best available rates on their website, and anybody booking from our website will be given a very awesome welcome pack, with drinks, snacks and little goodies to make your introduction to the city just perfect.
In order to use this deal you need to book directly through their website (use this link here) and use the special code "NOMAD" at checkout.
That's it for our Burrard Hotel review. If you end up staying make sure you tell them that NOMADasaurus sent you!
Our accommodation at The Burrard Hotel was generously provided by the management team and through our partnership with Tourism Vancouver. All thoughts, opinions and laps of Stanley Park completed on the bikes are, as always, our own.