We recently spent 4 nights on safari in Madikwe Game Reserve at the incredible Jaci's Safari Lodge and Tree Lodge and couldn't believe just how amazing this luxury accommodation in South Africa is. In our Jaci's Lodges review we dive into what it's like to stay here, the elements we loved most and help you decide whether you should add it to your African bucket list.
South Africa is world renowned for being the continent's premier safari destinations, with parks like Kruger and Sabi Sands bringing in tens of thousands of visitors each year.
Anyone who has ever tried to plan a trip to Africa understands just how overwhelming it can be. In a country where safari companies are as plentiful as they are varied, narrowing down the list of which ones to visit can be a daunting task.
Of course the popular parks are fantastic, and if it's your first time to South Africa they are well worth considering.
But why not do something different and get off the beaten path, all without sacrificing any of the experiences you would come to expect from an African safari?
After all, chat to any hardcore safari lover and you'll come to realise that the most popular doesn't necessarily mean the best.
Lesser-known Madikwe Game Reserve is just 4 hours from Johannesburg by car and packs an incredible punch, home to the famous Big 5, rare wild dogs, giraffes, cheetahs, antelope and more
Nestled deep within the untamed beauty of Madikwe is Jaci's Lodges, offering an extraordinary safari experience that effortlessly blends luxury, adventure, and conservation.
On our last trip to Africa we visited Jaci's for a few nights to enjoy the unrivalled luxury and wildlife opportunities that we had heard so much about from other enthusiasts.
From the moment we arrived, we knew we were in for a treat.
Jaci's Lodge Review – Our Epic Safari Experience
By the time we had arrived at Jaci's in Madikwe we had already spent two months in southern Africa, doing more safaris than we could count.
From the incredible bespoke Pangolin Photo Safaris in Botswana to camping in the sprawling desert of Etosha National Park in Namibia, we had jumped into every opportunity to find the perfect African safari lodge every where we went.
Our trip to Madikwe was set to be our last safari destination, and truthfully, we had pretty high expectations.
We'd seen the Big 5, met a lot of amazing people and stayed in some very unique accommodations.
Yet as we drove into the gates of Jaci's Lodges, our home for the next 4 nights, we instantly knew we had arrived somewhere special.
So what exactly made it so captivating? Read on to find out in our Jaci's Lodges review.
QUICK FIRE – 7 Reasons We Love Jaci's Lodges
Very stylish luxury accommodation options across two properties
All-inclusive stay with all meals, drinks and activities part of your safari
Two game drives or walking safaris every day
Jaci's Safari Lodge is family friendly, being one of the very few safari options in South Africa where you can bring your kids
Jaci's Tree Lodge is adults only, in case you want a kid-free escape
Sleep under the stars at the Naledi Treehouse – possibly the coolest safari sleep-out ever
Jaci's deeply cares about their staff, and this is evident with their revolutionary Staff Trustee, where team members who have been with the company for more than 5 years are gifted shares in the company
But First – Where is Jaci's Lodge?
Jaci's Lodge is located in the Madikwe Game Reserve, 4 hours from Johannesburg in the North West Province of South Africa and just an hour from the Kalahari Desert in Botswana.
This sprawling reserve stretches over 750km², making it the fifth-largest game reserve in the country, and is home to Africa's famous Big Five and an abundance of other wildlife.
Madikwe is known for its remote, untouched wilderness, making it a perfect destination for a unique and authentic safari experience.
The reserve is also malaria-free, so if you're concerned about either catching malaria or taking anti-malarial medication, you have nothing to worry about here.
The two lodges at Jaci's are found in the eastern section of the park along the Marico River, easily accessible via road or air.
How to Get to Jaci's?
The absolute easiest way to get to Jaci's Lodges is to fly on a charter flight from Johannesburg, which will take less than one hour.
From the airport it is about 15 minutes driving to the safari lodge.
Another option is to organise a road transfer from either Johannesburg or Pretoria in South Africa, or from Gaborone in Botswana.
Flights and transfers can be organised directly through Jaci's when booking your stay.
Alternatively you can do what we did and drive from O.R. Tambo International Airport in Johannesburg in around 4 hours.
The drive is straightforward following major highways (and most importantly, safe), although you can't trust Google Maps to get you there on the most direct route.
If you're planning on driving to Madikwe with a rental car the team at Jaci's will send you step by step directions to follow.
The best way to get around is to rent a car and explore on your own! We recommend Rental Cars, which has the largest range of vehicles for the best value on the market.
Accommodation at Jaci's Lodges
Jaci's has a number of different accommodation options spread across two properties: The lush and extraordinary Jaci's Tree Lodge, and the variety of luxurious tented suites and 5-star villas in Jaci's Safari Lodge.
During our visit we stayed 2 nights at the Tree Lodge and 2 nights in the Safari Lodge, changing around our rooms night by night to get the full Jaci's experience.
Here's a breakdown of each place so you have an idea of what they're like and which one is best for you.
Jaci's Tree Lodge
Nestled amongst the canopy is Jaci's newest and most exquisite accommodation retreat, the captivating Tree Lodge.
Inspired by the secluded camps of the Okavango Delta, owners Jan van Heteren and his wife Jaci wanted to bring this iconic style of luxury to Madikwe and has managed to execute it beautifully.
The 8 Treehouse Suites at Jaci's Tree Lodge branch out from the large common area on elevated platforms, giving the sense of floating above the earth and putting guests in the lush world of riverside foliage.
We spent two nights at the Tree Lodge and absolutely fell in love with it.
The Treehouse Suites
Walking down the elevated boardwalk you don't quite know what to expect at the Treehouse Suite.
And then you walk around the corner, step onto your own private deck, and suddenly are overcome with a feeling of tranquility and awe.
The Treehouse Suite at Jaci's Treehouse Lodge is a remarkable and unique accommodation, offering an unparalleled connection with the African wilderness.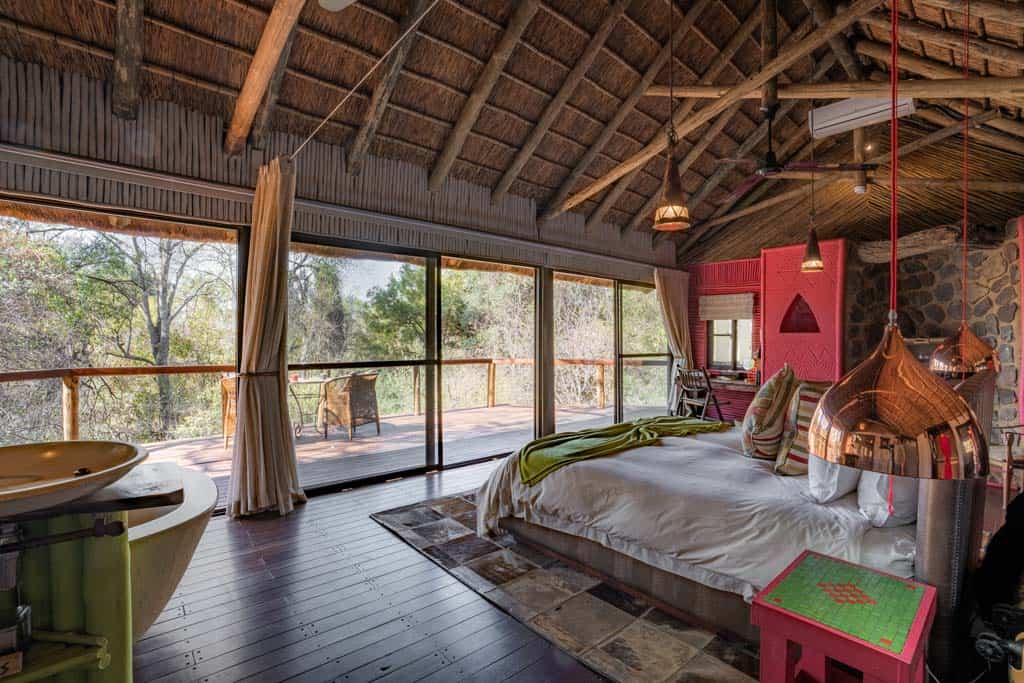 Perched high in the treetops, it provides an enchanting blend of luxury and adventure.
The suite features a comfortable king-sized bed, elegantly designed interiors, and a well-appointed open-air en-suite bathroom with an indulgent outdoor shower.
A large stone bathtub looks out over the viewing deck, and there is no better place to relax and soak with a drink from the minibar in hand than right here.
(It was so enticing that even Alesha, who isn't really a bath girl, jumped in after dinner one night.)
There's all kinds of amenities here, including a safe, large writer's desk with universal power outlets and an Amarula bar for night caps, but the real magic lies in simply drifting to sleep surrounded by the sounds of birds and antelope all around you.
The Naledi Treehouse
Just above the Terrapin Hide is the Naledi Treehouse, another one of Jaci's unique stays that is guaranteed to be the highlight of your South Africa safari adventures.
This open-air platform is designed for those that are looking for something special by sleeping out under a dazzling African sky, an experience that will leave your friends and family back home in a bout of envy.
READ MORE: Like to take photos of the stars? Check out our article with all the astrophotography tips you'd ever need!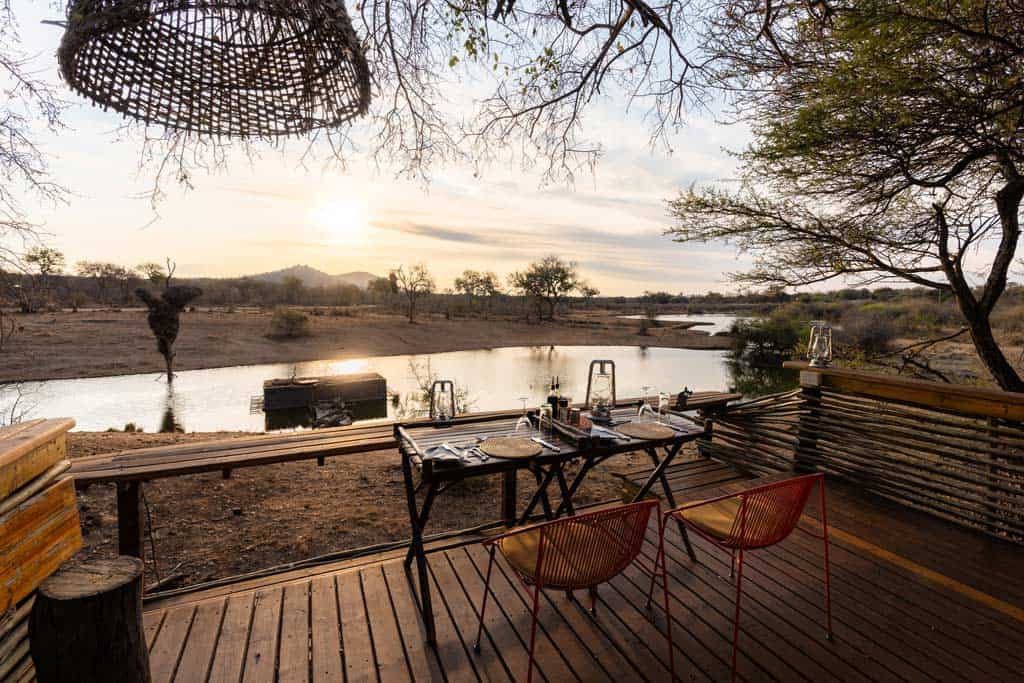 Staying at the Naledi Treehouse for an enchanting evening was better than we could have expected, thanks to the Jaci's staff that made the entire thing extra special.
The platform is gorgeously decorated with a king-sized bed, luxury bedding and mosquito net (with two electric blankets either side to ensure you don't get cold when the sun dips), an outdoor ensuite, dining table for meals and lanterns scattered around.
The cherry on top though is the wood-heated hot tub that looks directly over the watering hole! Talk about romantic!
We decided to skip an afternoon safari drive to have the full Naledi Treehouse experience, and we're glad we did!
The Jaci's team setup sunset cocktails and a fire for us over at the nearby Tlou Deck, including a non-alcoholic gin and tonic for Alesha, before we headed back to the Treehouse for dinner.
Our delicious 3-course meal was brought directly to us while we sat on the deck watching animals come and go from the watering hole, and a little cooler with additional drinks, hot water thermos and tea and coffee was also dropped off.
Eating beneath the stars was a beautiful experience, and when we'd finished we jumped into our heated bed to pass out to the soothing sound of the wilderness all around.
Despite being a little worried about the temperature, we were very warm and cosy in the comfortable bed all night.
Waking up to the sunrise filtering through the leaves and the songs of the birds was pure bliss.
If you're looking to enjoy a little adventure on your visit to Madikwe we can't recommend spending the night in the Naledi Treehouse enough!
The Terrapin Hide
The Terrapin Hide at Jaci's Tree Lodge is a fascinating wildlife observation room that is popular at high-end safaris around Africa. And for good reason.
Accessible via an underground tunnel, the concrete bunker provides incredible wildlife viewing opportunities with an eye-level perspective that's impossible in the safari trucks.
Narrow openings wrap around the bunker just a few centimetres above the water level, meaning you can get mind blowing images of animals drinking from the waterhole – an exceptional opportunity for wildlife photography.
During our visit we saw elephants, giraffes, zebras, impalas, water bucks, buffalo kudus and a variety of birds come down to drink.
But all kinds of other animals are often spotted there, including lions and leopards.
The hide is designed to provide a serene and unobtrusive viewing experience, allowing guests to immerse themselves in the natural surroundings while observing the activities of animals in their natural habitat.
Whether you are a seasoned wildlife enthusiast or a photography lover, the Terrapin Hide offers a unique experience at Jaci's.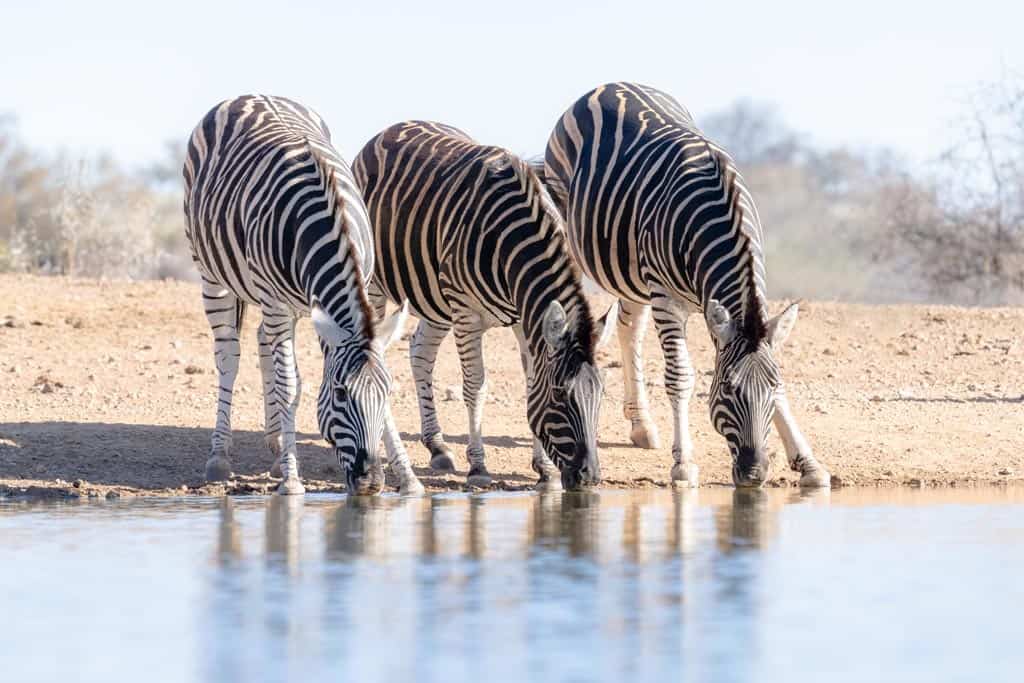 Jaci's Safari Lodge
The original Jaci's where it all began – the legendary Safari Lodge blends high-end luxury with an intimate atmosphere, harmoniously set between the plains of Madikwe and the Marico River.
When you first arrive at the lodge you're greeted by the staff and led over the suspension bridge into the reception, bar and dining area.
This massive open-air room is a colourful and inviting space with lots of couches to relax on, tables to enjoy a meal at and little nooks and crannies to hide away with a good book in hand.
On the adjoining outdoor deck is where most of the meals are served, weather permitting, underneath some towering trees that are often teeming with monkeys and birds.
Once you're checked in you'll be taken to your accommodation, and Jaci's Safari Lodge has quite a few different options.
We stayed in two – a traditional tented suite, and the simply breathtaking Starbed Suite.
Tented Suite
If you've stayed in a few private luxury safari destinations you may be familiar with the glamping canvas tents that are popular around Africa.
Jaci's Tented Suites take this design and amplify it to a new level with their own style of decor and high-end amenities throughout.
There's the king-sized bed (or twin if you'd prefer) that is like sleeping on a cloud, with a sweeping mosquito net to keep any bugs away while you doze.
The private ensuite comes complete with a separate toilet, his and hers sinks and a beautiful mosaic tiled bathtub.
An outdoor shower tops it off with piping hot water and uninterrupted views of the sky.
Air conditioning and ceiling fans are of course installed to keep the tent warm in the winter months and cool in the summer.
For those that love a night cap, or a cap at any time of day, there's a full bar with complimentary Amarula and premium spirits that can be purchased, as well as a cooler with tea, coffee, snacks and other drinks.
And out the front there's a large, private outdoor deck that looks out over the beautiful bush.
These tented suites at Jaci's are simply divine, and for a couple or two friends travelling on a smaller budget are just about perfect.
The Starbed Suite
On our last night at Jaci's we were surprised with an upgrade to the opulent Starbed Suite, which is by far the largest and most extraordinary accommodation we stayed in during our entire two months in Africa.
This exclusive suite covers more square metres than our home, with not one, not two but three(!) showers and two bathrooms, a separate lounge area with copper fire place, enormous king sized bed and a writer's desk.
There's artwork and photography prints scattered throughout and a massive deck with complete privacy.
But the reason this suite got the name 'Starbed' can be found upstairs.
On your private rooftop patio you'll find a luxurious bed with mosquito net that on a clear night has incredible views of the Milky Way.
Guests in the Starbed Suite are free to use the upstairs bed and lounge chairs whenever they'd like, offering a pretty unique experience of sleeping under the stars if you're not booking in for a night at the Naledi Treehouse.
The Starbed Suite is the pinnacle of luxury lodging in Africa, and if you're on your honeymoon or celebrating a special occasion, you cannot beat this accommodation.
Other Suites at the Safari Lodge
Jaci's has a few other types of accommodation at their Safari Lodge to suit your style and budget.
Safari Suite: A spacious and elegant retreat retreat for the whole family after a big day of safari adventures. With room for four adults and four children, there's a large deck with fire pit, massive Master Bedroom, twin beds in the children's room and loft for additional guests.
Nare Suite: The Nare Suites are ideal for families or small groups of up to 6 guests, providing ample space and privacy. It consists of two separate en-suite bedrooms connected by a central lounge area, ensuring everyone has their own space to relax. The private plunge pool on the deck is a refreshing treat.
The Property
The grounds of Jaci's Safari Lodge are absolutely stunning, and no matter which accommodation you choose you'll surely fall in love with the property.
There's are two swimming pools that are open to all guests, with one swimming pool being very secluded and the other in a more open-air environment.
If you wander on down next to the river you'll find a beautiful path that connects the two lodges. Keep an eye out for all kinds of birds and even antelope as you walk.
But our favourite part of the Safari Lodge is the Thutlwa Lookout.
The large, elevated outdoor covered deck at the front of the property overlooks the reserve, and you can get incredible game viewing from the comfort of a couch with drink in hand.
Some meals are served at the Thutlwa Lookout, which is a pretty magical way to enjoy an omelette and coffee, but you can access to the lookout at any time of day.
The Safari Game Drives
Of course the luxury accommodation at Jaci's is a major drawcard and would likely be the main reason somebody would book a visit here rather than one of the other lodges in Madikwe Game Reserve, but we can't write a Jaci's Lodges review without talking about the marvellous game viewing opportunities on safari.
Jaci's offers two game drives every day, morning and afternoon, with the experienced safari guide choosing where to go based on prior animal sightings, advice from other guides and intuition.
Jaci's Lodges has comfortable 4×4 Toyota Land Cruisers built in standard safari style with three rows of seats, no walls and a roof that is removed in winter and installed again in the summer.
When you arrive at the lodge you'll be paired with a knowledgable guide and possibly a small group to enjoy game drives with.
The guides share insights into wildlife behaviour, habitats, and conservation efforts, which greatly enhances the safari experience.
Some drives include bush breakfasts or sundowner stops, allowing guests to savour meals in the heart of the African wilderness.
The flexibility of itineraries accommodates various interests, and private drives can be arranged for a personalised adventure.
Here are some photos we captured on safari in Madikwe Game Reserve with Jaci's:
Conservation and Sustainability
During our stay at Jaci's Lodges we were truly impressed by their unwavering commitment to conservation and sustainability.
It's clear that they're not just about providing a remarkable safari experience but also actively contributing to the preservation of our environment for future generations.
This isn't just a case of greenwashing either. A lot of the work they do is unsung, and it's just something they feel is the right thing to do.
Naturally, being in the heart of a phenomenal wildlife game reserve, one of their most commendable initiatives is their involvement in nature and wildlife conservation, particularly in the crucial fight against rhino poaching.
Knowing that they're taking steps to protect these magnificent creatures is heartening, and during our visit to Madikwe we had the chance to see more than a few of these breathtakingly awesome creatures.
READ MORE: Learn how to choose sustainable accommodation when you travel with our comprehensive guide!
Their partnership with Pandae Green Solutions for full-scale recycling of glass, paper, and tin demonstrates their dedication to reducing their ecological footprint.
The use of non-toxic cleaning products and amenities further underscores their commitment to eco-friendliness.
Their emphasis on community employment and sourcing products locally not only supports the local economy but also strengthens their ties with the community.
Furthermore, Jaci's Lodge has an impressive vegetable garden and has introduced a hydroponic gardening system, ensuring that their meal options are sourced as sustainably as possible.
And Jaci's is now using a hydrogen generator as a proof of concept to power their Safari Lodge.
It is the very first hydrogen generator ever used in an African safari lodge, and as of next year both their lodges will be completely off grid.
Not only is this a sustainable way to power the lodges, but it also means that South Africa's load shedding issues isn't a problem for Jaci's.
Jaci's Staff Trust
Of course we all know that no matter how great the wildlife experiences are or how luxurious the accommodation is, a place is only ever as good as its people. And that's where Jaci's shines.
Every staff member we came across, from the managers to the chefs, wait staff to maintenance team, were friendly beyond belief and bent over backwards to make us feel at home here.
You could tell they loved their job and enjoyed working there.
On our last day right before we were leaving we were chatting to Tristan, the sales manager at Jaci's, and he told us about the Jaci's Staff Trust. And suddenly it all made sense.
When the owners, Jan and Jaci, setup the business he knew that the company can only ever be as good as its team, knowing that they play a crucial role in daily operations, management and upkeep.
As a result he established a Staff Trust as an incentive and bonus for members of the team to treat Jaci's Lodges as their own.
The Staff Trust is an incentive for any employee who has been working at the company for longer than five years to become a shareholder, and currently 27% of the company is owned by the staff.
This means when the company is doing well, they are financially rewarded for that by receiving annual dividends just like any stakeholder in a large company.
Most of the staff come from the nearby villages and communities where great business opportunities are hard to come by, so this initiative empowers the team and gives them direct motivation to help make Jaci's the best it can be.
It's truly heartening to see the strong bond and sense of ownership that the staff at Jaci's Lodges share, and it amplifies their dedication to creating a memorable experience for guests like us.
Our Jaci's Lodges Review Conclusion – 9/10
Our stay at Jaci's Lodges was nothing short of extraordinary. From the moment we set foot in this remarkable wilderness haven, we were enveloped by a sense of awe and wonder that only grew with each passing day.
The lodge's unwavering commitment to conservation, sustainability, and the well-being of their staff is not just admirable but deeply inspiring.
The incredible experiences, from thrilling safari drives in Madikwe Game Reserve to tranquil moments in the treehouse suites, will forever be etched in our hearts.
Jaci's Lodges is not merely a place to visit; it's an experience that touches the soul. It's a testament to the power of responsible tourism, where conservation, community, and luxury seamlessly merge to create an unforgettable journey.
Our time here left us with cherished memories, a profound appreciation for nature, and a deep desire to return.
Jaci's Lodges captured our hearts, and we can't wait to return one day soon.
If you'd like to book a stay there, get in touch directly via email and mention that you're coming from NOMADasaurus:
Email address: [email protected]
Jaci's Lodges
In our Jaci's Lodges review we explore everything there is to know about this luxury safari in Madikwe Game Reserve, South Africa after our recent visit.
Pros
Incredible luxury lodging
Fantastic wildlife safaris
Terrapin Hide
World class food