Plan the perfect Miami to Key West road trip that includes incredible national parks, Florida wildlife and the best of the Florida Keys!
Miami and Key West are two of the hottest places to travel to. Raging with parties on one end and thriving with long stretches of sandy beaches and blue waters on the other, these two cities are well-known as the top vacation spots in Florida, full of fun and sun to soak in.
Combining these alluring travel destinations, this Miami to Key West road trip adds flavor and spice with stops at unique and sought-out attractions, such as Everglades National Park and National Key Deer Refuge.
After experiencing Miami's intoxicating Cuban culture, world-class art galleries, upscale shopping, and boisterous party beaches, it's time to hit the road and drive along the eye-catching seven-mile bridge that helps to connect the upper and middle Keys to the lower Keys.
You'll end up in the iconic city of Key West, where you can easily spend a few days soaking in all the natural beauty and culture here.
Get ready for the time of your life on an unrivaled adventure heading to the stunning island city of Key West, where the water strikes you with its beauty and the Key lime pie is the freshest you've ever tasted!
Planning Your Miami to Key West Road Trip
Our Miami to the Florida Keys road trip itinerary perfectly curates the top points of interest along the way for a more fluid drive without unnecessary detours.
We save you the hassle of finding what attractions to see along the way so that you can have the Miami to Key West road trip of a lifetime.
Check out our 3 days in Miami itinerary so you know what to do in the city before you hit the road!
Where to Start Your Miami to Key West Road Trip
We're starting this Miami to Key West road trip in Miami before heading through some national parks and continuing along the south coast for a few hours or days while you soak in all the attractions.
Then, as you travel along the famous Seven Mile Bridge, you'll pass the Upper Florida Keys and continue to the Middle and Lower Keys. You'll pass various mile markers on your way down to Key West, which can be helpful for keeping track of your travels.
If you don't have your own car, be sure to rent one! It's the best way to do this road trip, as tours and public transport don't allow you the freedom and flexibility to explore all the cool stops.
The best way to get around is to rent a car and explore on your own! We recommend Rental Cars, which has the largest range of vehicles for the best value on the market.
The Best Time of Year For the Miami to Key West Drive
Spring is the best time of year to head out on a Miami to Key West drive. Away from peak tourist season, you can find better travel accommodation pricing while avoiding large crowds for the best Key West road trip.
Alternatively, fall is also a great time as the weather cools and summer crowds subside. If you're planning to travel to South Florida during fall, keep in mind that hurricane season stretches until the end of November.
Summer can be hot and busy. And during the milder winter months, you can expect a lot of "snowbirds" to take up much of the accommodations.
How Long Is This Road Trip?
Without stops, the Miami to Key West drive time is a little under three and a half hours. With these recommended stops for this road trip, we recommend taking a few days to experience these unique attractions.
This southern Florida road trip is entirely customizable, so if you're running short on time, you can easily skip a stop or two to head straight to the next one.
You can fly directly into Key West International Airport, but a road trip to Key West is much more rewarding because there is so much to see and do on the way!
Read Next: Be sure to read our post on all of the best day trips from Miami.
Miami to Key West Road Trip Itinerary
Miami
The famous Florida city of Miami exudes a rich Cuban influence paired with its long stretches of beaches. Spring breakers flock to Miami Beach to party the vacation away on the sandy shores of Miami's shoreline.
The nightlife in Miami is notorious for its vibrant and boisterous nature, hosting top performers such as Nicki Minaj, Skrillex and Drake.
Celebrities flock to Miami to party the day and night away alongside everyone else, having welcomed big names like Leonardo di Caprio, George Clooney, and Kim Kardashian, so don't be surprised if you see one of your favorite celebrities while in Miami!
Though its nightlife is notorious, Miami is more than parties and beaches. The city is rich with activities that please various tastes.
For example, the Vizcaya Museum & Gardens is a National Historic Landmark that dates back to its foundation in 1916. You can also explore the Cuban neighborhood of Little Havana, or tour various art museums.
Other top things to do in Miami:
Vizcaya Museum & Gardens
Wynwood Walls
Bayside Marketplace
Bayfront Park
South Beach
Find even more of the best things to do in Miami here.
Coral Castle Snack Bar & Coffee Shop
A unique stop along this drive from Miami to Key West, Coral Castle Snack Bar & Coffee Shop features furniture and items constructed from coral rock. Walking through the grounds, visitors will find a piece of coral rock shaped into the form of the state of Florida.
There's also a sundial and dual-chambered well. But, more eye-catching than these pieces is what the shop is named after – the massive coral rock castle!
The castle weighs 1,100 tons. It was finished in 1941 by one dedicated man who immigrated to the United States from Latvia.
The man, Edward Leedskalnin, is said to have only used simple tools like wedges and chisels to construct the impressive structure and the many others made from coral rock open for viewing on the grounds.
While observing these outstanding pieces of work by Leedskahlnin, visitors can stop by Coral Castle Snack Bar & Coffee Shop for a refresher. The bar and coffee shop sells handhelds like tuna salad sandwiches, hamburgers, and Caprese sandwiches with views of the coral rock creations to savor while you eat.
Other top things to do in the area:
Knaus Berry Farm
Homestead Miami Speedway
Fruit & Spice Park
R. F. Orchids
Robert Is Here
Biscayne National Park
Protecting nature and history, Biscayne National Park is a jewel that should not be overlooked on a Miami to Key West road trip!
The largest marine sanctuary in the National Parks System, the park preserves 10,000 years of human history, from the time of prehistoric tribes to that of shipwrecks of explorers scouring for land and gold.
The park is a sight for sore eyes with its shocking blue waters, prosperous coral reefs, and greenery-rich islands.
People travel from all over to dip in Biscayne National Park's waters, where its marine life ecosystems are flooded with vibrant tropical fish and coral reefs.
From fishing, snorkeling, kayaking, and swimming, it's common to find people hitting the water in Biscayne National Park for a fresh day out in the water for chances to see manatees, dolphins, and sea turtles!
Within the grounds of Biscayne National Park is the Boca Chita Key. On the key is the iconic historic lighthouse that many people launch off from to go snorkeling in the clear blue waters of the park.
Offshore from Boca Chita Key is the third largest coral reef in the world, with exotic marine species like parrot fish and blue neon gobies swimming about.
Other top things to do in the area:
Crandon Park
Historic Virginia Key Beach Park
Bill Baggs Cape Florida State Park
Deering Estate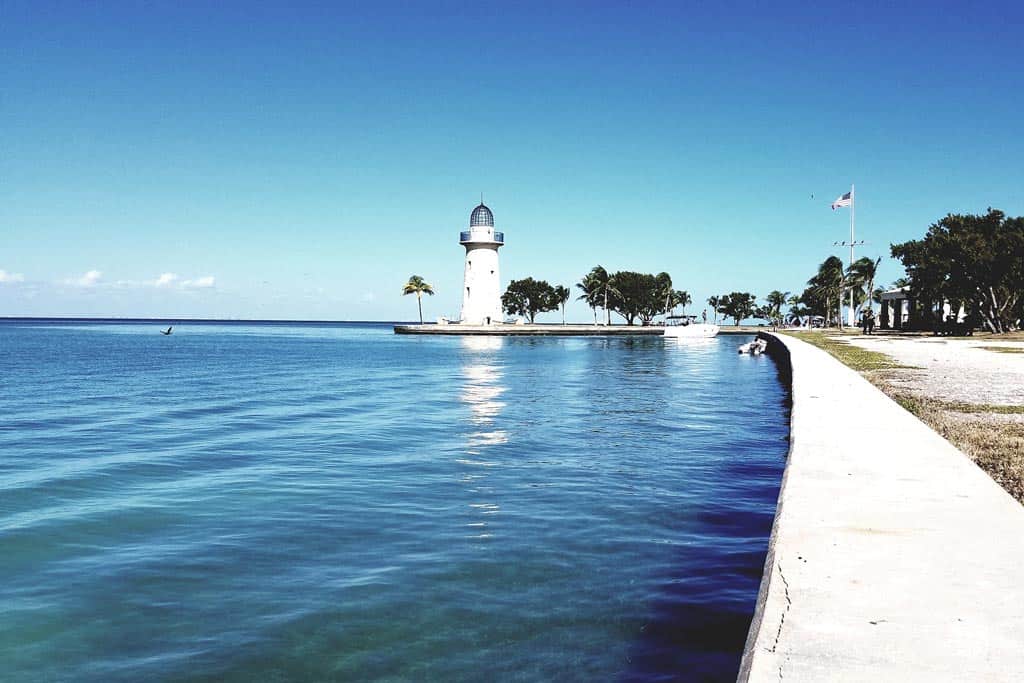 Everglades National Park
For many reasons, the Everglades National Park is one of the most well-known parks in the United States, which of course, makes it an unquestionable stop on our Miami to Key West drive.
It is the largest wilderness east of the Mississippi River and the largest tropical wilderness in the nation.
It protects endangered species such as the American crocodile, the Florida panther, and the manatee. It is also the only place on the planet where crocodiles and alligators coexist peacefully.
As one of the largest wetlands on the planet, the Everglades National Park surprisingly used to be bigger. It used to provide drinking water for over 7 million Floridians.
The park welcomes visitors to enjoy its lush environment with outdoor recreational opportunities like hiking, fishing, bird watching, and camping. Like this airboat tour and wildlife show, boat tours are an exceptional opportunity to travel to Everglades National Park by water to see crocodiles, alligators, and turtles.
This tour, in particular, treats tourgoers with specialty alligator sausage and alligator tail and a show of alligator wrestling techniques used by Native Americans.
Other top things to do in the area:
Big Cypress National Preserve
Miccosukee Indian Village
Museum of The Everglades
Exploring more of Southern Florida? Check out our list of the best things to do in Fort Lauderdale!
John Pennekamp Coral Reef State Park, Key Largo
After touring the Everglades, drive along the Overseas Highway until you leave the mainland and enter Key Largo. Here you'll find your next stop on the route to Key West!
The country's first undersea park, John Pennekamp Coral Reef State Park, was founded in Key Largo in 1963, adjacent to the Florida Keys National Marine Sanctuary. A highly recommended stop along the Miami to Key West drive, this park in Key Largo is a place of history and beauty.
Part of the National Register of Historic Places, the park's creation was designed to protect the only living coral reef in the United States.
The park's namesake is dedicated to Miami newspaper editor John D. Pennekamp. He contributed significantly to the founding of the Everglades National Park and the up-and-coming John Pennekamp Coral Reef State Park.
This top Key Largo attraction is home to mangrove swamps, tropical hammocks, shore birds, damselfish, barracudas, anemones, and many more marine life species. Key Largo is the dive capital of the world, so do your best to spend some time underwater!
There are recreational opportunities for park visitors to see these vibrant species up close and personal by joining a glass-bottom boat tour, kayaking, canoeing, scuba diving, or snorkeling. Either way, opportunity awaits for all to explore the underwater rainforest of John Pennekamp Coral Reef State Park!
Other top things to do in the Key Largo area:
Rowell's Waterfront Park
Dagny Johnson Key Largo Hammock Botanical State Park
Crocodile Lake National Wildlife Refuge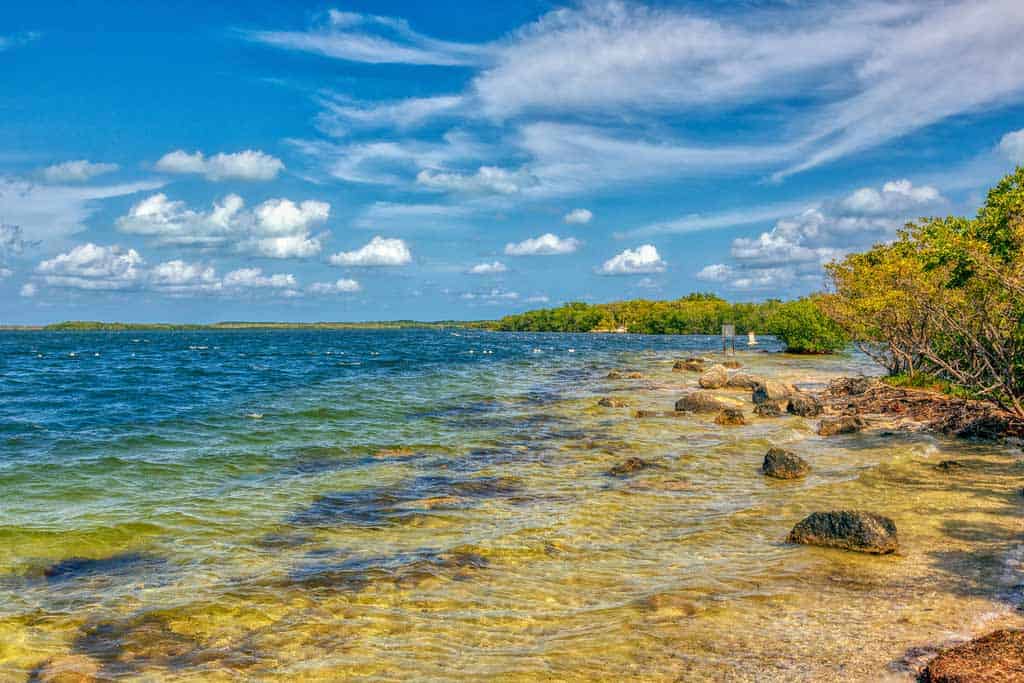 History of Diving Museum
Committed to sharing the stories and impact of diving, the History of Diving Museum showcases its collections and interpretations of artifacts related to diving. It is a unique gem to stop at on the Overseas Highway on your Miami to Key West drive.
The museum shares the history of underwater exploration that has influenced history worldwide. The museum has a special dedication to the local diving history of the Florida Keys and South Florida.
The History of Diving Museum's exhibits feature photographs, antiques, documents, oral history, books, and many more intriguing items detailing the extensive history and foundation of diving.
This includes subjects such as freediving, treasure hunting, and marine biology that utilize diving to break through the water barrier to reach the underwater world's treasure trove.
Other top things to do in the area:
Lorelei Restaurant & Cabana Bar
Keys History & Discovery Center
Theater of The Sea
Islamorada Brewery & Distillery
Want to explore more of the Sunshine State by car? Here is a 2 Week Florida Road Trip Itinerary that might inspire you!
Florida Keys Brewing Company
A trendy microbrewery in the Upper Keys, the Florida Keys Brewing Company exudes an alluring tropical ambiance while serving fresh local brews. It's one of the best places to check out on the Overseas Highway as you head to Key West.
The brewery is a refreshing taste of the local vibes and brews in the Morada Ways Arts and Cultural District.
Tours are available of the brewery, along with tastings of a flight of Florida Keys Brewing Company's brews made and canned 100% locally. Grab a growler of your favorite Florida Keys Brewing Company beer or go big and buy a keg!
Settle down with a fresh brew in the Beer Garden. Lay back, relax in one of the chairs, and play a game of giant Jenga or cornhole. And make sure to check the schedule as Florida Keys Brewing Company hosts live music that can be enjoyed in the Beer Garden.
Indian Key Historic State Park
The Indian Key Historic State Park is an island once an integrated town in the 19th century. The island was the first county seat for Dade County in 1836.
Today, the Indian Key is an abandoned ghost town with only remaining leftover ruins and structures. When traveling from Miami to Key West, this park is a hot attraction to hit up.
During its active days, Indian Key was where a running business salvaged cargo from shipwrecks that banked in the Florida Keys.
In 1840, Indian Key was attacked by Indians, and many of the town's structures were destroyed except one building. This ended up in the island being abandoned.
At present, Indian Key Historic State Park is a fun outdoor recreational spot people love to hang out. Anglers test their luck for local catches like Spanish mackerel, tarpon, and bonefish.
The island is accessible by kayak or canoe, with opportunities to see sea turtles and dolphins. Once you reach the island, picnicking, hiking, and snorkeling are all other popular activities to consider while visiting Indian Key Historic State Park.
Then head back to the Overseas Highway and continue driving south on your Florida Keys road trip!
Other top things to do in the area:
Robbie's of Islamorada
Blond Giraffe Key Lime Pie Factory
Crane Point Hammock
Islamorada Wine Co.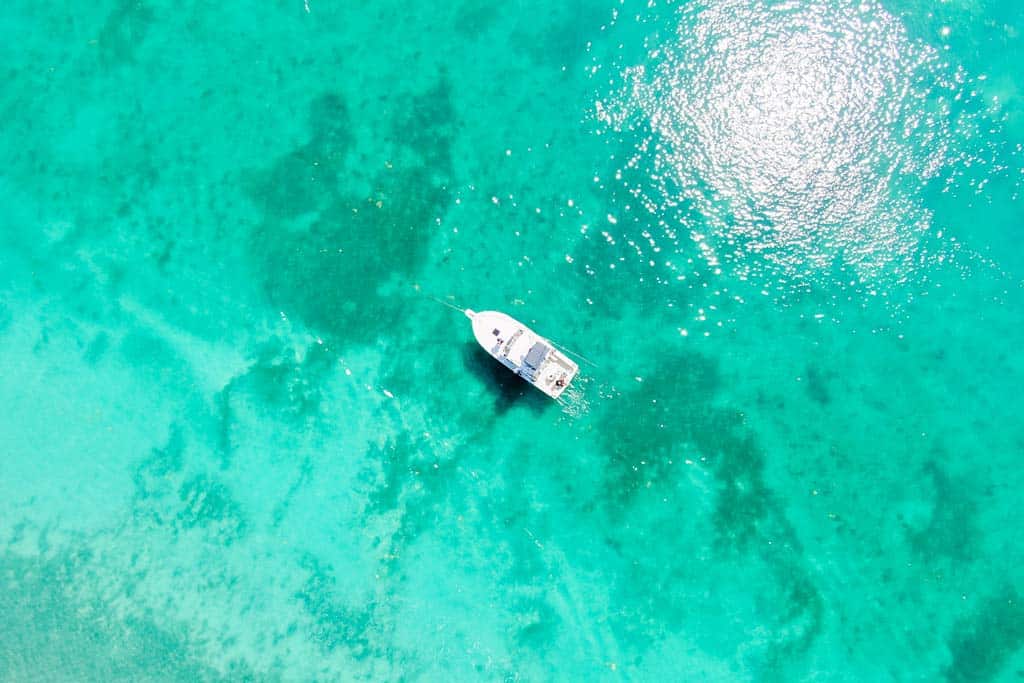 Lignumvitae Key Botanical State Park
Accessed exclusively by tour or private boat, Lignumvitae Key Botanical State Park is nestled on Lignumvitae Key.
The tropical island is flooded with thriving virgin tropical hardwood hammocks as turquoise waters gently crash against its shores. It is a captivating stop on a road trip from Miami to Key West.
The virgin tropical hardwood hammock was common in most of the Upper Keys of Florida, but that is no longer the case. Now, people can view these plants in Lignumvitae Key Botanical State Park, where they prosper and grow widely.
The backstory of Lignumvitae Key lands with a Miami chemist, William J. Matheson. The chemist purchased the island in 1919, establishing a caretaker's home, a windmill for electricity, and a cistern for rainwater.
Today, the island acts as Lignumvitae Key Botanical State Park, with self-guided tours available to explore the secluded island.
Read next: 24 Exciting Things To Do In Orlando, Florida
Dolphin Research Center
A nonprofit education and research facility in Key West, the Dolphin Research Center's mission is to protect, rehabilitate, and research marine mammals.
With a prime focus on dolphins, the Dolphin Research Center also rescues and rehabilitates other marine animals, including whales and sea lions. The center uses its experiences in rescuing these unique species to assist marine mammals in distress better.
The Dolphin Research Center's dedication has extended to the licensed approval of the Federal Government needed for the center's go-ahead to assist endangered manatees in need of help.
Admission to the Dolphin Research Center allows visitors to see these marine mammals up close and personal. There's also a fun chance to swim in a safe and educational environment with the dolphins.
Other top things to do in the area:
Keys Cable Park
Keys Fisheries
Cabana Club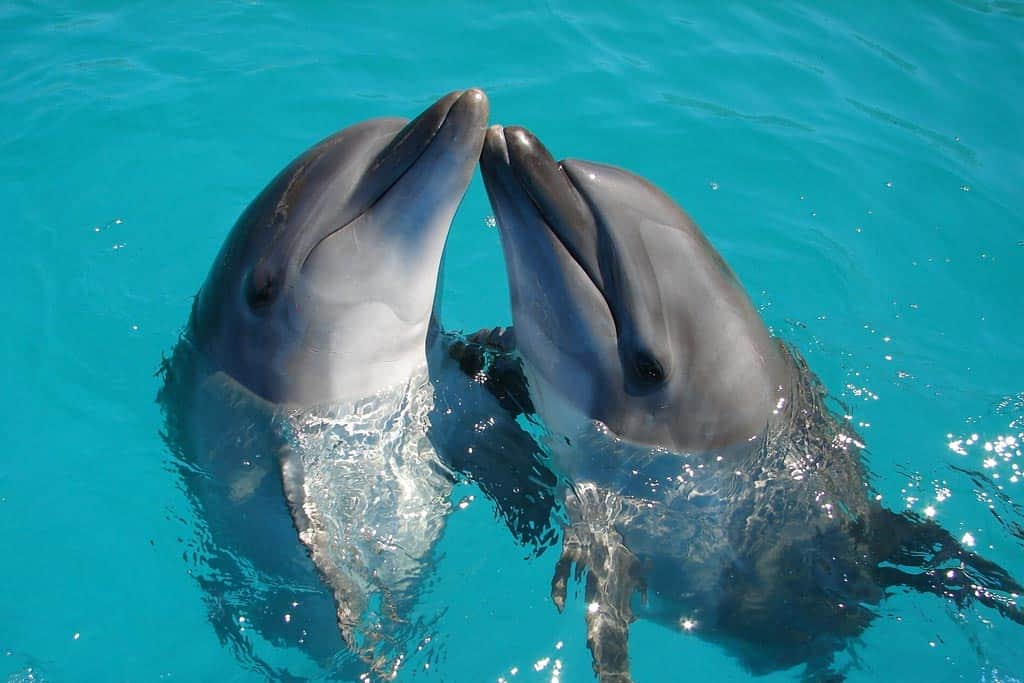 Curry Hammock State Park
The largest undeveloped piece of land between Big Pine Key and Key Largo, Curry Hammock State Park, is a magnificent sight.
Curry Hammock State Park's sanctuary is home to many avian species, native and migratory, like the peregrine falcon. Finding solace in the warmth of the park is a frequent activity for locals and tourists alike in this little tropical paradise.
Kiteboarders come on windy days to show off their skills, while kayakers and canoers adventure the waters on calmer days.
Curry Hammock State Park has a campground for visitors to stay. Either way, visitors can savor easy access to its swimming and paddle through the beautiful waters and scenic hiking trails on land.
Other top things to do in this area of Key West:
Sombrero Beach
Coco Plum Beach
Florida Keys Aquarium Encounters
Another excellent stop on the drive from Miami to Key West is the Florida Keys Aquarium Encounters, which features unique exhibits in an educational environment designed to inspire and teach others about the importance of conservation.
With admission to Florida Keys Aquarium Encounters, visitors can add on one encounter. There are three popular encounters many visitors choose from.
During the Big Shark Bay Encounter, visitors can feed and interact with adult nurse sharks with a chance to assist a marine biologist in a shark training session!
On the Stingray Cove Encounter, visitors can immerse themselves in the water alongside friendly stingrays and hand feed these water gliders.
The Coral Reef Snorkel Encounter is one of the most popular, where visitors can snorkel or dive in a coral reef tank alongside sharks, fish, and stingrays.
Other top things to do in the area:
Island Fish Company
Curly's Coffee & Marina
Marathon Lady Party Boats
Planning to explore the north of Florida? Check out our list of things to do in St. Augustine.
Turtle Hospital
Just 10 minutes down the Overseas Highway toward Key West is a sea turtle rehabilitation and rescue center that has done wonders in its commitment to rehabilitating injured turtles. Once the Turtle Hospital rehabs the injured sea turtles, they are returned to their natural habitat.
The Turtle Hospital uses outreach programs and local school visitations to educate others on the importance of sea turtle conservation.
The hospital researches how to protect turtles better and works toward bettering environmental legislation to protect turtles from further environmental safety concerns.
Guided educational tours of the Turtle Hospital are provided to learn more about the facilities and rehabilitation area for turtles. A presentation is given on turtles before visitors get a behind-the-scenes look at where the sea turtles are rehabilitated.
Other top things to do in the area:
TJ's Tiki Bar
Pigeon Key
Coco Plum Beach
Bahia Honda State Park
A must-stop along this Florida Keys road trip, Bahia Honda State Park is located on Bahia Honda, an island in the lower Florida Keys.
The park is a top-rated attraction when driving from Miami to Key West. On weekends and holidays, arriving early is highly recommended, as the park will close when maximum capacity is reached.
Surrounded by the iconic clear blue waters and sandy beaches of the Florida Keys, Bahia Honda State Park is a paradise of breathtaking sunsets, salty breezes, and sun-touched kisses.
The old railroad bridge in the park was the act of Henry Flagler, who made it his mission to bring the railroad to the Florida Keys.
The mission was a success until a hurricane eventually destroyed the railroad. It then served as an overseas highway but now stands as an iconic landmark, especially the old seven-mile bridge that stretches out stubbornly across the waters next to the newer seven-mile bridge.
From lazing in the sun at Sandspur Beach to swimming in the shocking blue waters and trying water sports, Bahia Honda State Park is a stop worth taking on this road trip from Miami to Key West.
Other top things to do in the area:
Calusa Beach & Loggerhead Beach
Sandspur Beach
Little Duck Key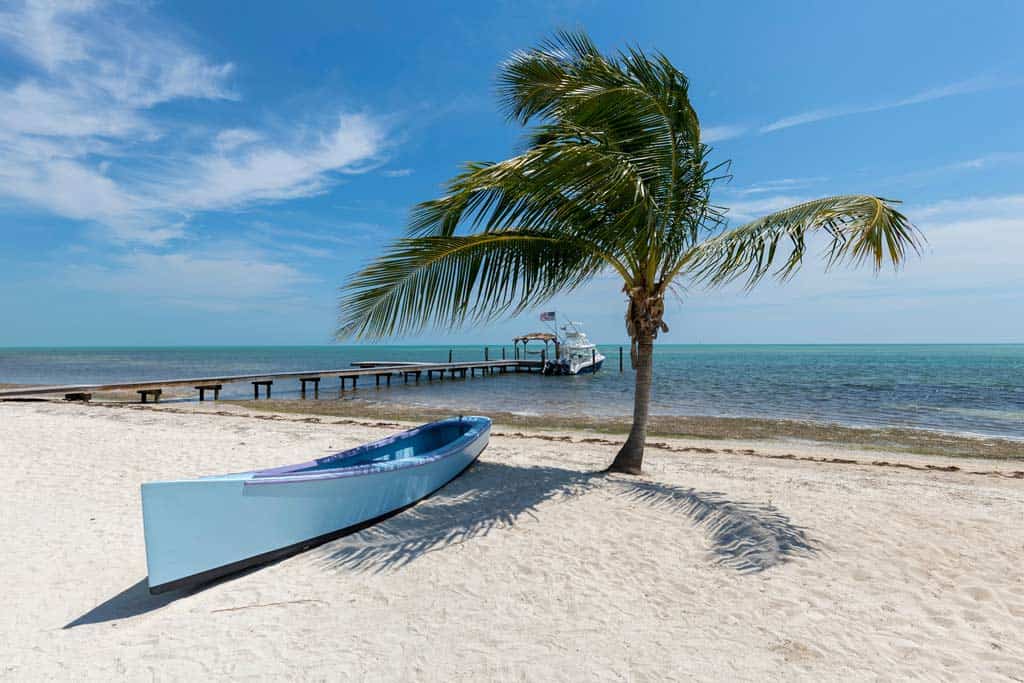 National Key Deer Refuge
Endemic to the lower Florida Keys, the Key deer are an endangered subspecies of white-tailed deer. The National Key Deer Refuge in Big Pine Key protects this endangered species as a national interest of preservation.
The refuge is a sanctuary for more than the rare and endangered Key deer. Here you can find mangrove forests, tropical hardwood hammocks, pine rockland forests, salt marsh wetlands, and freshwater wetlands. Within this refuge are over 20 threatened and endangered animal and plant species.
Guests are welcome to visit the refuge on their Florida Keys road trip to experience the beauty of these rare species and habitats.
However, we recommend first stopping at the Nature Center for a tour through educational exhibits and other features, including a mangrove aquarium and a Key deer story exhibit.
Other top things to do in the area:
Big Pine Key Flea Market
Big Pine Key Park
Artists In Paradise Gallery
Grimal Grove
You're almost in Key West! Here is our list of the 20 best things to do when you get there.
Key West
You're at the end of your epic Florida Keys drive! The home of the world's third-largest barrier coral reef, Key West, is full of notoriety, natural beauty, and the best Key lime pie ever tasted.
To visit Key West is to be welcomed by rejuvenation and creativity. For years, writers and artists have flocked to Key West for inspiration—some big names, including Ernest Hemingway, Robert Frost, and Tennesse Williams.
The lowest record temperature in Key West is 41°F, recorded in 1981. This feature, of course, is a sought-out aspect of many wishing to escape the harsh winter months in colder areas. It's also why Key West is a perfect year-round paradise to visit.
On this dolphin-watching and snorkeling eco-cruise tour, you can watch bottlenose dolphins in their natural habitat and snorkel in the striking blue waters for an underwater adventure.
Also while visiting Key West, stop by the iconic Southernmost Point Buoy to snap a photo at the bottom of the continental United States!
Nature lovers can also go snorkeling in the stunning Dry Tortugas National Park, and those looking for a bit of culture and shop and sightsee on Duval Street.
There are so many incredible things to do in Key West, so enjoy your time here!
Other top things to do in the area:
Dry Tortugas National Park
Loggerhead Key Lighthouse
Duval Street
Fort Zachary Taylor Historic State Park
The Hemingway Home & Museum
Southernmost Point Buoy
Key West Lighthouse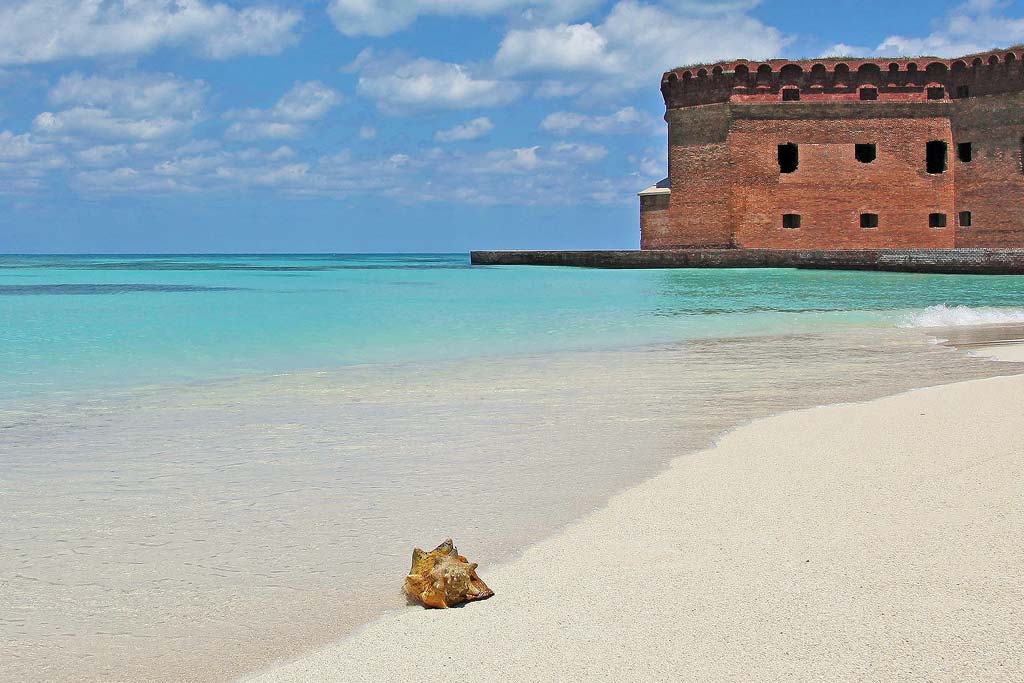 DISCLAIMER: Some of the links in this article are affiliate links, which means if you book accommodation, tours or buy a product, we will receive a small commission at no extra cost to you. These commissions help us keep creating more free travel content to help people plan their holidays and adventures. We only recommend the best accommodations, tours and products that ourselves or our fantastic editorial team have personally experienced, and regularly review these. Thanks for your support, kind friend!