From basking in the sun's rays on a white sandy beach to spotting a golden doubloon at the Pirate and Treasure Museum here is our list of the best things to do in St. Augustine!
St. Augustine is considered to be the United States' oldest continuously inhabited city and home to some of the best things to do in Florida.
Founded in 1565 by Spanish admiral Pedro Menéndez de Avilés, the settlement was named after the feast day of St. Augustine. The old city is steeped and rich with history and is home to some of the oldest buildings in the United States and beautiful Spanish colonial architecture.
This is how the city deservedly earned its nickname "Ancient City". Located on the North East coast of Florida, St Augustine has a subtropical humid climate with hot and rainy summers and mild winters.
The mild climate, rich history and white sandy beaches make this unique city a great destination to visit any time of the year.
Though if you plan to visit in the summer, make sure to pack rain gear, as you'll most likely get wet in the afternoons!
Along with being the oldest city in the U.S., St Augustine is home to the oldest masonry fort, oldest schoolhouse and the landing site of the famous explorer Ponce de Leon in 1513.
But there's not just history to be seen and learned here, there's also a tonne of outdoor activities to enjoy.
From surfing great waves on Vilano Beach to kayaking or paddle boarding around beautiful barrier islands and mangrove stands, there's so much to see and do in this historic city.
You can even play a round of golf at a course designed by golf legend Arnold Palmer, or visit the World Golf Hall of Fame. The possibilities are truly endless!
Read Next: Check out our post on all of the best things to do in Florida!
The Best Things to do in St. Augustine
Most people come to St. Augustine to relax and enjoy the beautiful pristine beaches.
But there is much more to do here than just sitting on a beach. The nation's oldest city, St. Augustine is North Florida's gateway to a plethora of outdoor activities and rich history and culture.
You could easily spend a full day touring the two historic forts in the area and strolling around Old Town.
Or spread out your trip and enjoy looking at unique art galleries and artifacts at the Maritime Museum or Lightner Museum, admire the historic buildings on St George Street, and sample wine at the San Sebastian Winery.
From exploring the historic district of Old Town to drinking water from the Fountain of Youth here is our list of the best things to do in St. Augustine.
Castillo de San Marcos National Monument
By far one of the most visited St. Augustine attractions on Florida's east coast is the Castillo de San Marcos.
It's one of the many places in St. Augustine Fl which are on the National Register of Historic Places.
A beautiful Spanish fortress made from Coquina, a substance of crushed shells, it is the oldest and largest masonry fort in the United States and is located on the Western shore of Matanza Bay in the Historic District of St. Augustine.
Explore Castillo de San Marcos at your leisure and discover rooms that once housed soldiers and at the top see cannons that were used in the multiple battles that were fought here.
You may even get to see a re-enactment of soldiers in uniform performing the daily duties of colonial life in the fort.
Visit the official website for more info about this landmark!
Lightner Museum
Inside what used to be the Alcazar Hotel built by Henry Flagler in 1888 is the Lightner Museum.
It is a unique museum full of 19th-century artifacts collected by Otto C. Lightner.
There are five floors with 19th and 20th-century art, furniture, musical instruments and Victorian stained glass art all in rooms restored to their original beauty when the hotel was in its prime serving wealthy guests in the 1800s.
It is a highlight of this old city, as is the
Cost: Adult $17 / Senior (65+) Students Military $14 / Child 11-17 $10 / Under 11 Free
Hours: 9am – 5pm
Location: 75 King St
Take a Romantic Stroll Across the Bridge of Lions
The Bridge of Lions is among St. Augustine's top attractions and is one of the city's most iconic structures.
As a drawbridge that connects St. Augustine to the pristine beaches along Anastasia Island, it is one of the best places in St. Augustine to take a photo.
Whether you're visiting with a partner or wandering on your own, taking a selfie in the middle of the bridge with the city in the backdrop is a must.
Walk at sunset or just after dark to enjoy the romantic feel of strolling across this nearly 100-year old iconic bridge.
This beautiful bridge is also on the National Register of Historic Places.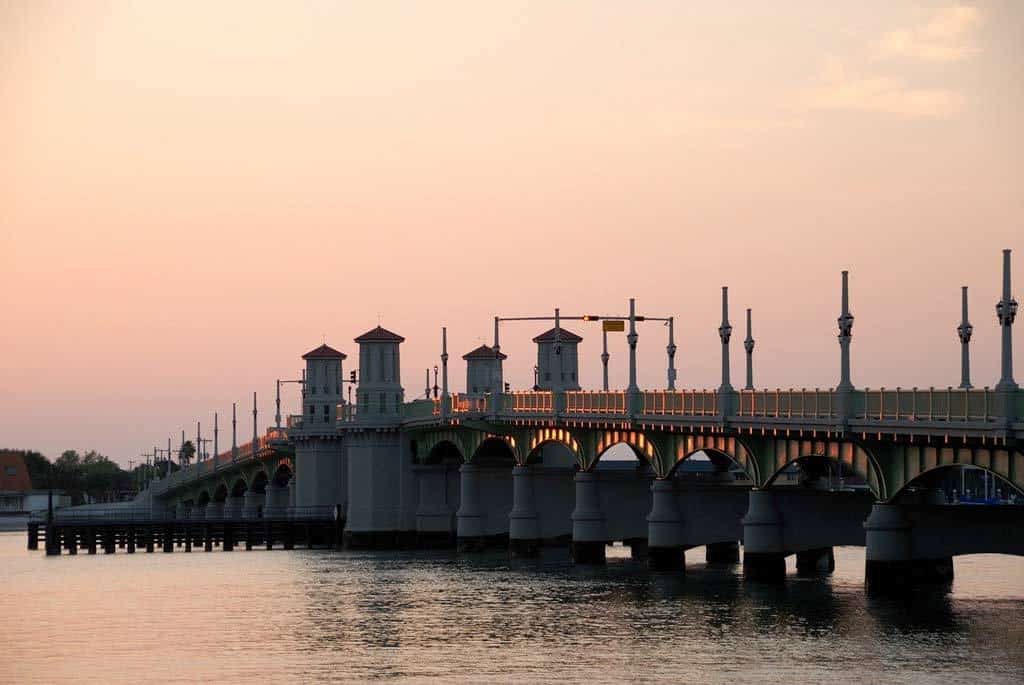 Drink From the Waters at the Fountain of Youth
This is the site where the famous Spanish explorer and first governor of Puerto Rico Ponce de León landed in 1513 while searching for the Fountain Of Youth.
Many explorers went searching for Ponce de Leon's Fountain of Youth, a spring whose water supposedly restored youth to old men.
There's no known truth to this being the actual place of the legendary fountain, and Ponce de Leon's Fountain of Youth may not even exist.
But the Fountain of Youth Archaeological Park is still a fantastic place to visit to learn about the history of the area, look at ancient artifacts and of course drink the waters from the Fountain of Youth.
There's a 16th-century Spanish settlement to explore, a watchtower, planetarium, and you can even get to watch a cannon shooting!
The Fountain of Youth Archaeological Park is certainly one of the best things to see in St. Augustine Florida!
Cost: Adult $19.95 / Senior (60+) $17.95 / Child 6-12 $9.95 / Under 6 Free
Hours: 9am – 6pm
Location: 11 Magnolia Ave
Be a Prisoner For a Day at St. Augustine's Historic Old Jail
Learn what it was like to be a prisoner in the early 1900s at St. Augustine's Old Jail.
Constructed in 1891 and designed by Henry Flagler to look like a Victorian hotel so that it blended in with the rest of the old city.
You'll be led throughout the prison by a tour guide dressed in period garb from the era.
Tour the women's and men's cells, the sheriff's living quarters, and the maximum-security cell where the criminals on death row were housed.
You will even get to see the gallows where 8 men were hung and hear interesting tales about the jail's most famous inmates and the sheriff's and their families who lived on site.
You can visit during the day, but I suggest coming at night on the Ghost and Gravestones tour for a more eerie experience!
While here make sure to stop at the Oldest Store and the St. Augustine History Museum as well.
Cost: Adult $15 / Child $9
Hours: 9am – 5pm
Location: 167 San Marco Ave
READ MORE: Plan your visit to New York City with our perfect 3-Day itinerary
Be Enthralled by the Cathedral Basilica of St. Augustine
When walking through Old Town you must stop to take a peek inside the Cathedral Basilica of St. Augustine.
This breathtaking cathedral was built in 1793 and is home to the oldest Christian congregation, established in 1565, in the United States.
The church was designed with a combination of Spanish and Neoclassical styles, from the curving bell gables and clay roof tiles to the Doric columns.
Inside there is a very unique exposed ceiling with ornate timbers and painted panels and large main altar inlaid with gold.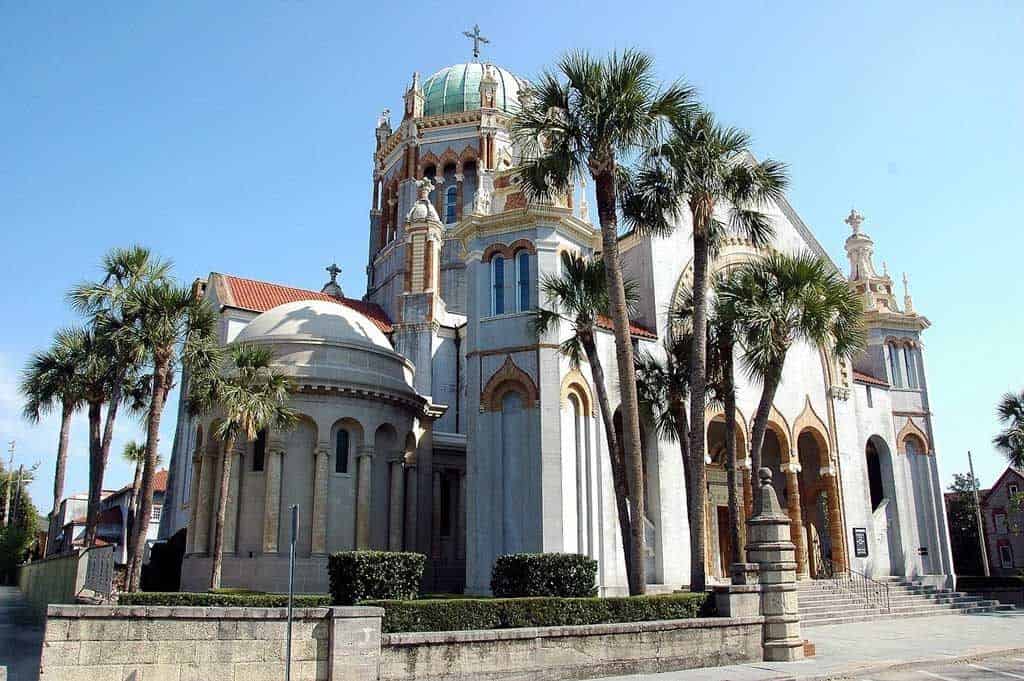 Tour the St. Augustine Distillery
A relatively new industry and quickly becoming one of the top things to do in St. Augustine is touring the St. Augustine Distillery.
Housed in St. Augustine's historic former FP&L ice plant building, the owners of the distillery are committed to creating some of the best whiskey, rum, gin and vodka in the United States.
Their doors are open to the public and give free tours daily!
See how their award-winning liquor is distilled and also learn the history through photos and artifacts of Old Florida and the historic ice plant building.
When the tasting tour is finished head upstairs to the popular Ice Plant restaurant and bar and have a drink made with the "Best Gin in the South" paired with their delicious shrimp beignets.
Touring the St. Augustine Distillery is an incredible activity, especially on a rainy day.
Cost: FREE
Hours: 10am – 6pm
Location: 112 Riberia St
Stroll Through Historic Old Town and St. George Street
You can't come to St. Augustine and not walk down the cobblestone paths and colonial quarter of Old Town.
St George Street is the most popular area and is a pedestrian-only walkway lined with quaint Spanish Colonial buildings, some dating back to the early 1700s, colorful flags, and cute boutique shops and cafes.
Duck down side streets where you'll find more shops, candy stores, charming eateries, and other hidden treasures.
Be sure to stop and check out the oldest wooden school house where you can learn what it was like to attend school in the early 1700s.
George Street and the Colonial Quarter is the heart of St. Augustine, an area full of historic places that shouldn't be skipped!
Sip Delightful Wine at San Sebastian Winery
A favorite destination among both locals and tourists is the San Sebastian Winery.
Housed in an old East Coast Railway building once owned by Henry Flagler, the winery was started in 1996 by Gary Cox and is now considered one of the top wineries in the country.
Tours of the facility are free and include a tasting along with a video presentation in their theater.
Their wines are my absolute favorite and I recommend going home with a bottle or two of their Vintners White and Vintners Red, both made from native muscadine grapes.
Don't forget to head upstairs to the rooftop deck for wine and appetizers when the tour is finished.
If you're there on a weekend you'll be greeted with delightful live jazz tunes.
Cost: FREE
Hours: 10am – 6pm
Location: 157 King St
Discover Oddities at Ripley's Believe It Or Not
If you're into the weird and freaky then a visit to Ripley's Believe It Or Not is most likely on your must-do list.
This odditorium was the first of its kind and opened in 1950, housing the permanent collection of founder Robert Ripley.
Ripley traveled worldwide to collect oddities, bizarre events, and unusual artifacts that can't be seen anywhere else.
Even the building itself is unique, a castle built in 1887 for William G. Warden, and those who work there have ghastly tales about the Castle being haunted.
Cost: Adult $16 / Child 5-11 $7 / Under 5 Free
Hours: 9am – 8pm
Location: 19 San Marco Ave
Old Town Trolley Tours
Save your energy by not walking and have the Old Town Trolley take you to the best places in St. Augustine Florida.
The Old Town Trolley Tours are by far one of the best ways to get around the city, and you'll learn some interesting facts and history while enjoying a relaxing ride around town.
Hop off whenever you want, the trolley stops at over 22 destinations, and then hop back on when you want to go to your next place of interest.
Your ticket is good for 1 day of unlimited re-boarding and even includes a free shuttle to the St. Augustine Lighthouse and beach.
Potter's Wax Museum
A unique experience and one of the top St. Augustine activities is touring the Potter's Wax Museum.
It is the oldest wax museum in the United States and the perfect place for taking selfies with some of your favorite wax celebrities.
The wax sculptures so accurately resemble their likeness it can be quite eerie at times!
There are over 150 wax figures from historical figures and celebrities to fictitious and favorite horror characters.
Each figure has a short biography and you'll leave learning some interesting facts about your favorite celebrity or historian!
Cost: Adult $12 / Child (6-12) $8
Hours: 9am – 5pm
Location: 31 Orange St
Flagler College
This college was once the Ponce de Leon hotel, which in its prime was one of the most exclusive resorts in the United States.
Built in 1888 by Henry Flagler, it is now a National Historic Landmark and one of the most iconic buildings in St. Augustine.
The college was founded in 1968 and the tour will take you through its most stunning rooms and areas.
You'll learn about the former hotel's history and how it was constructed in Spanish Renaissance style.
The dining hall is the most popular room to tour with its 79 Louis Comfort Tiffany stained glass windows and ornate murals painted on the walls and ceilings.
If a tour of the college wasn't on your original to-see list, it should be added now!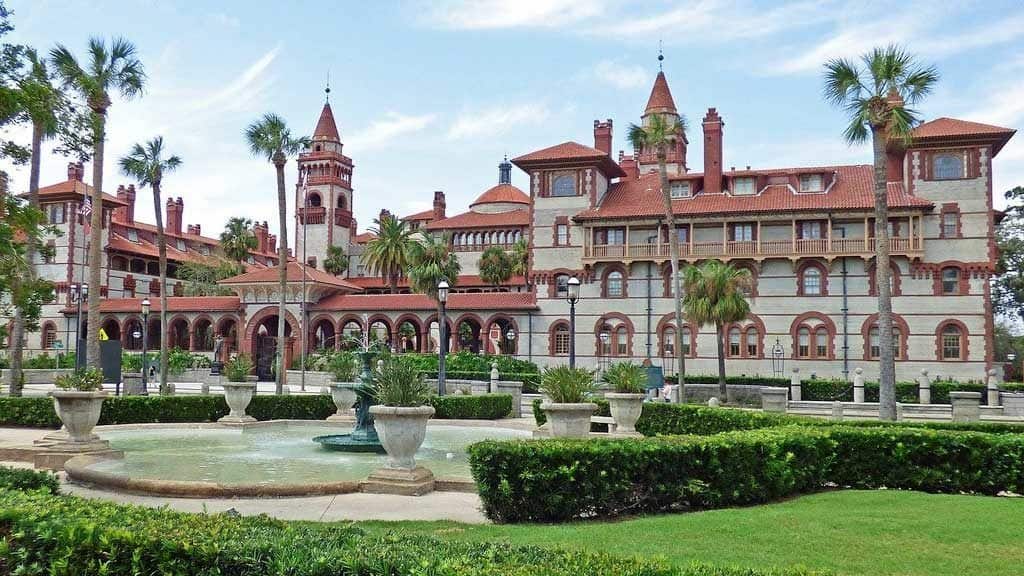 Go Back in Time at Historic Fort Matanzas
Named for the Matanzas Inlet it was built to protect, Fort Matanzas is a National Monument and can only be reached by ferry boat to the barrier island it was built upon.
Explore the ecosystem of the barrier island on a half-mile-long boardwalk and then enter the fort through the coquina stone walls and learn what it was like to be a Spanish soldier fending off British attacks.
There are reenactments almost every day in the summer and musket demonstrations given every hour from 12:30 – 3:30 pm.
Entrance is free and is a must-see and do for the entire family.
Cost: FREE
Hours: 9am – 5:30pm
Location: 8635 A1A South
Watch Wildlife at Anastasia State Park
More than just a pretty beach on the Atlantic Ocean, Anastasia State Park consists of 1,600 acres of tidal salt marsh, mangrove stands, and dunes full of wildlife, birds and native plants and trees.
An adventure and nature lovers paradise, the park is a perfect place to explore by paddleboard and kayak.
And on windy enough days windsurfing is a very popular St. Augustine activity with locals and visitors.
Don't worry if you did not bring your own kayak or paddleboard, there is a rental shop located in the park. You can even take lessons!
There's even a full-service campground for those that would rather camp instead of staying in a hotel.
Cost: $8 per car
Hours: 8am – 5:30pm
Location: 300 Anastasia Park Rd
READ MORE: Plan your visit to Las Vegas with our perfect 3-Day itinerary
Climb to the Top of the St. Augustine Lighthouse
Regardless of where you are in the St. Augustine area, it is likely that you will see the lighthouse poking above the treeline of the surrounding area.
This iconic structure has stood proud and tall since 1874 and is worth a climb up the 219 steps to the top for 360-degree views of the city and Matanzas Bay.
Explore the beautiful lighthouse on your own or join a tour, they happen every hour from 11 am-3 pm.
There is also a nature walk, gift shop, the Maritime Museum and a shipyard playground on the lighthouse grounds to enjoy.
Cost: Adult $12.95 / Senior (60+) $10.95 / Child (12 & under) $10.95 – Under 44" Free
Hours: 9am – 6pm
Location: 8635 A1A South
Get Spooked on a Ghost Tour
Board the trolley and prepare yourself to be spooked while visiting the darker side of St. Augustine.
Your guide will take you to the scariest places in town while telling stories of the ghosts that haunt the buildings and deceased residents that are believed to still wander around the city.
You will find the tours to be scary yet informative, giving a glimpse into the spooky and past history of the nation's oldest city.
World Golf Village
St. Augustine Florida is known for its beautiful sunny year-round climate. As such, the sport of golf has always had a big presence in the area.
This is so much so that the headquarters for the Professional Golf Association is located just a 45-minute drive north of St. Augustine.
However, what is more of an attraction to golfers is the World Golf Hall of Fame and Village just a short drive from the center of St. Augustine.
In addition to housing the World Golf Hall of Fame, the World Golf Village also hosts 2 world-class golf courses and Murray Brothers Caddy Shack, a golf-themed restaurant owned by actor Bill Murray and his 5 brothers.
Whether you want to tee off on a course designed by Arnold Palmer and Jack Nicklaus, or would rather grab a bite to eat and take your chance on meeting Bill Murray, who frequents the venue, you can't go wrong with a visit to the World Golf Village.
Relax at Pristine Vilano Beach
If you're looking for a less touristy beach, Vilano is the beach to go to.
Located north of downtown St. Augustine, it's just a short drive away and my absolute favorite beach to go to in the area!
Much less crowded than St. Augustine Beach, it's small and quaint with no large highrises and pristine white sand and clear water.
The waves can get big here, so if you have small children watch them closely. But if you are a surfer, even better.
This is a good beach to catch some decent waves and to skimboard.
My favorite activity here is searching for sharks' teeth. On a good day I can find upwards of 20 to 30 teeth to add to my collection.
Discover Dubloons at the St. Augustine Pirate and Treasure Museum
There are dubloons to be discovered and more at the Pirate and Treasure Museum.
The museum offers interactive exhibits that transport you to a time when piracy was at its peak and tells the history of some of the most infamous of pirates, some who even attacked St. Augustine.
You'll see over 800 artifacts, including Thomas Tew's treasure chest, the only known real Pirate treasure chest in existence and gold from the warship Queen Anne's Revenge.
It is the largest collection of authentic Pirate artifacts in the world!
Kids will enjoy interacting with the exhibits in this museum just as much as the adults will love learning about the intriguing history of Piracy!
Cost: Adult $18.99 / Senior (60+) $15.99 / Child (5-12) $9.99
Hours: 10am – 7pm
Location: 12 S. Castillo Drive
St. Augustine City Guide
Now that you know what to do in St. Augustine Florida, we want to help you make your other plans as well by sharing the best accommodations and places to eat in the city, close to all the historic sites.
Best Accommodation – Where to Stay in St. Augustine Florida
St. Augustine is a very popular place to vacation from all over the world. As such, the range of accommodations varies and meets any budget.
Whether you want to rent a private bed and breakfast room in the heart of the historic old town or a beachfront view of the sunrise, don't mind sharing a mixed dorm or are willing to stay a few miles our of historic downtown, the best accommodation in St. Augustine is in every part of the surrounding areas.
St. Augustine will remain busy throughout most of the year. This is especially true in summer.
So be sure to book your accommodation in advance.
You can determine what to do in St. Augustine once you get there. But knowing where to stay is entirely different!
Best Budget Accommodation for Couples – At Journey's End
At Journey's End is a wonderful place for couples to enjoy all that St. Augustine has to offer.
A bed and breakfast located literally in the heart of old town St. Augustine, At Journey's End provides a luxury experience at a reasonable price.
Enjoy a delicious breakfast included in your stay and select either a king or queen suite to accommodate your preferences. You'll have WiFi and access to a business center as needed.
But more likely you're going to want to relax and enjoy your time together. Sit outside and enjoy the Saint Augustine weather or walk just minutes to join any number of tours, visit all sorts of restaurants or indulge in cocktails at the various restaurants and bars down the road.
You won't get more central than At Journey's End.
Best Mid-Range Hotel in St. Augustine Florida – The Conch House Marina
The Conch House Marina combines a great location with on-site dining and entertainment intentionally designed to ensure you don't have to wander far to have a good time.
Located just 2 miles from downtown, the Conch House is a short and inexpensive Uber ride to all of the best St. Augustine attractions.
With a swimming pool, restaurant and bar you can enjoy your time between excursions throughout the city.
In one direction you are only a few miles from Anastasia State Park, the Lighthouse and the St. Augustine Amphitheater.
In the other direction, old town St. Augustine awaits. If you're interested in fishing charters you can book on straight from the hotel as many charters leave from the docks.
Enjoy other standard amenities, including WiFi, cable television and a kitchenette with a mini-fridge, coffee maker, microwave and kitchenware.
Best Luxury Hotel in St. Augustine Florida – The Casa Monica Resort and Spa
As the name suggests, the Casa Monica Resort and Spa will provide you with a truly luxurious stay when you visit St. Augustine Florida.
Centrally located in the downtown area of the city, the resort offers king, queen or two-bed options.
Enjoy a relaxing few hours by the pool before heading out to explore the city, or spend a day pampering yourself with a spa, massage, and pedi/manicures.
You are walking distance from most of the main Saint Augustine attractions, including the Lightner Museum, the Wax Museum and all that St. George Street has to offer.
Dining options are unlimited within just a few minutes from the hotel. And if you are inclined, hotel staff will help you arrange any tours or transportation that you need.
This is truly a gem in the heart of St. Augustine.
Best Restaurants in Saint Augustine Florida
Saint Augustine is full of delicious options for places to eat while you enjoy your stay in the city.
From casual quick bites to luxurious fine dining experiences you can expect a range of dining atmospheres.
Because of St. Augustine's location in the south and the Minorcans who settled there you'll find an eclectic mix of good old southern cooking and fresh seafood with a Mediterranean-inspired flair.
Here are a few of our favorite places to eat in St. Augustine Florida.
Budget
One of the best budget options in Old Town to grab a quick bite to go (or dine in!) is a slice of Brooklyn style pizza from Pizza Time.
I couldn't tell you the number of times I've eaten here, the pizza is that good! The line is usually out the door but it moves fast.
Grab one slice or two and make sure to order a side of garlic knots, you won't regret it!
Mid-range
Serving up southern food with a creative twist and locally sourced fresh seafood, you can find a variety of tasty dishes for any palate including many vegetarian choices.
Its brightly colored interior and tropical vibe make Floridian the hippest place to eat in Saint Augustine!
High-End
An award-winning restaurant in the heart of historic downtown St. Augustine, Collage is known for its unique international-inspired dishes, warm and inviting fine dining experience and kind wait staff.
Treat yourself to a variety of flavorful dishes like their lobster ravioli in pesto cream sauce and bebere spiced lamb ribeye.
DISCLAIMER: Some of the links in this article are affiliate links, which means if you book accommodation, tours or buy a product, we will receive a small commission at no extra cost to you. These commissions help us keep creating more free travel content to help people plan their holidays and adventures. We only recommend the best accommodations, tours and products that ourselves or our fantastic editorial team have personally experienced, and regularly review these. Thanks for your support, kind friend!