From skiing to camping, here are the best things to do in Yosemite in Winter!
Known to be one of the most amazing places in the United States, Yosemite National Park attracts millions of visitors every single year and is one of the top things to do in California.
Even more famous than its famous cousin across the border in Canada, Banff National Park, there's absolutely no reason you shouldn't add visiting Yosemite in winter to your bucket list!
The Best Things To Do In Yosemite In Winter
With less visitors and beautiful snow covered landscapes it's an excellent idea to visit Yosemite National Park in the winter time.
There are plenty of outdoor activities to enjoy in the Yosemite valley and local museums are open year-round too! Whatever your reasons for escaping to Yosemite National Park, there's sure to be something to that is perfect for you.
Here are some of the best things to do in Yosemite in winter.
Cross Country And Downhill Skiing
No winter destination is complete without the opportunity for some fun in the snow and Yosemite does not disappoint. Cross country skiing trails are in their abundance giving visitors with a range of abilities the opportunity to enjoy the park. It's one of the main Yosemite attractions!
Cross Country Skiing is popular in the Glacier Point area, particularly the route from Badger Pass to Glacier Point. Wawona Meadow is another lesser known but still beautiful cross country skiing spot in the Yosemite Valley.
Mariposa Grove of Giant Sequoias is a top attraction in the national park, featuring forests of the gigantic and impressive sequoia trees. The roads leading here close during the winter, but the area is still open for cross country skiing. So skiing is the best way to see Mariposa Grove in winter.
The Yosemite National Park Ski School has everything you need to enjoy your trip. Here you can rent equipment including cross-country skis, snowshoes and even specialised sleds for pulling your kids along too.
Ice Skating, Indoors Or Outdoors
Fun for all the family at Yosemite National Park, ice skating is definitely an activity you should try here. The half dome rink offers spectacular mountain and tree lined views whilst you skate making it a unique experience.
You'll find all you need from the rental area and there's a warming hut to keep your shoes toasty and to warm up after skating too. Indoor rinks are also found at Tenaya Lodge and Mammoth, great if the weather is very bad.
Curry Village Ice Rink is another great spot and you get to enjoy the cliffs of Glacier Point in the background.
When you visit in winter, skating among other winter sports are a must on anyone's what to do in Yosemite itinerary!
Winter Camping And Stargazing
You might think it's too cold for camping during winter but if you wrap up warm you will enjoy the experience. You can get a free wilderness permit in winter time to camp near to Summit Meadow, Dewey Point, or Glacier Point. However you cannot camp at the points themselves. For safety reasons during winter you need to camp at least a mile away from a ploughed road.
Stargazing here is great during winter due to the dark clear skies and there's no better thing to do when winter camping than to snuggle up and watch the stars. The park offer some good tips for keeping safe in the winter wilderness. Make sure you add this to your list of things to see in Yosemite in Winter!
If you're looking for multi day camping in the Yosemite Valley, check out this option on Get Your Guide.
Snow Tubing And Sledding
Not much skill is required to enjoy this pastime in Yosemite Valley, which is why it's a must do for families during winter here. You can book specific sessions in the park ski and snowboard snow tubing area or you can try the free snow play area found on the Big Oak Flat Road.
Whether you bring your own sleds and set off on your own or book as part of a group, you are sure to have some fun times sliding down the mountain in the snow! Out of all fun Yosemite tourist attractions, this one is especially popular among young families!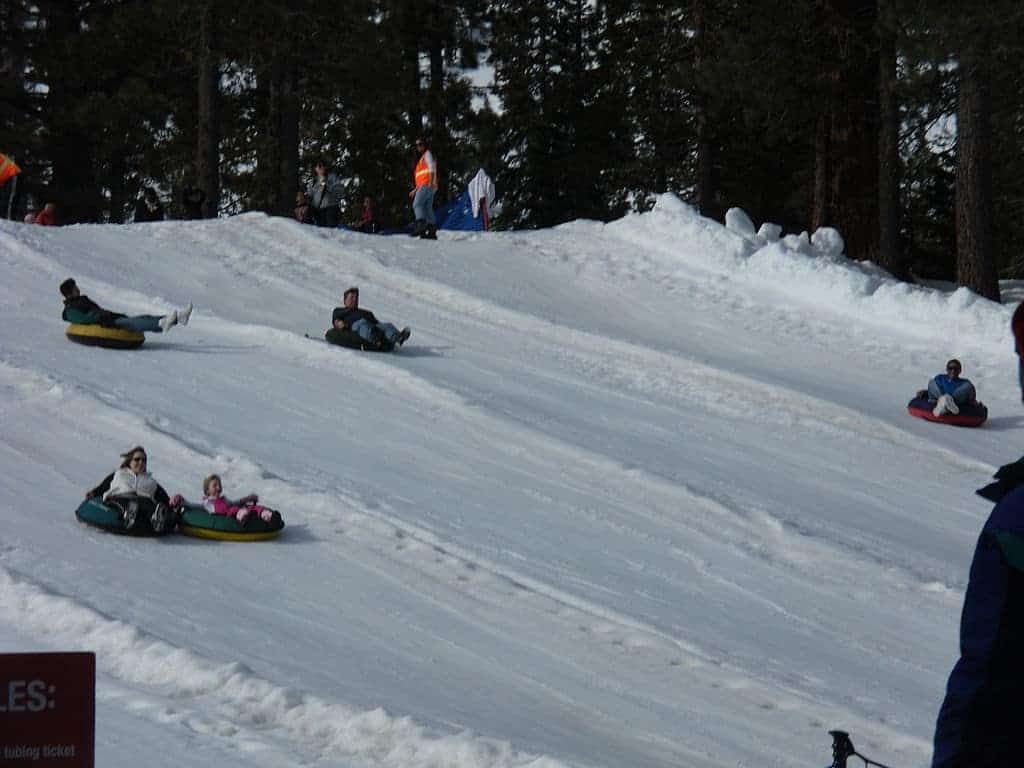 Yosemite Museums
If you want to get out of the cold and learn a bit more about the park and it's past, then visiting the local museums is the perfect idea.
The Visitor Centre in Yosemite Village is the best place to start and it will really give you an insight into the park and its surrounding areas history and culture.
Telling the story of the parks evolution exhibits range from Native American tribespeople to modern day rock climbers.
A real all-rounder for a quick stop park history tour. Nearby to the visitor centre is the Yosemite museum which goes into a lot more historical detail.
Particularly interesting exhibits are those of Native American needlework and basketry and the Miwok and Paiute tribes.
Also down in Wawona is the Pioneer Yosemite History Center, a collection of old, historic landmarks and buildings.
You aren't done with Yosemite sightseeing unless you also include the museums!
Sightseeing In Winter
Sometimes you only get the chance to see certain amazing sights during winter time. Yosemite is one of those top winter destinations where you can do just that.
The phenomenon 'Frazil ice' is a freezing mist that settles on waters in the park causing a mix of ice crystals and moving water resembling a slush.
At El Capitan meadow during February who can see another amazing sight where Horsetail Falls looks like lava pouring down as the sun is setting. It's an amazing phenomenon which is a Yosemite National Park must see. Worth a winter visit just for this!
Other famous sights in the Sierra Nevada Mountains are stunning year round, but the winter wonderland created by the snow and ice make the scenes special.
Any of the alpine lakes in Yosemite National Park, including Tenaya Lake, May Lake, and Mirror Lake, are gorgeous in winter when surrounded by snow and ice.
Yosemite Falls and the iconic cliff face of El Capitan are other top attractions in the area. There is also Half Dome, a gigantic slab of rock that is curved in the shape of a half dome. This monstrous peak overlooks the Merced River and is fringed with forest, making it an incredibly scenic sight.
Even in wintertime, Half Dome, Yosemite Falls, El Capitan, and more are all majestic sights to see, especially with a bit of snowfall.
Hitting The Hiking Trails
Yosemite National Park is famous for its hiking trails. Of course, winter isn't the easiest time of the year for hiking, and most hikers prefer to visit in early summer. But it's still possible to hit the trails, get some exercise, and enjoy some scenic views in winter, you just need the right gear and a bit more preparation.
Some popular hiking trails that remain open in winter include the John Muir Trail, the Half Dome Day Hike, Yosemite Valley Loop, Mirror Lake, and Tuolumne Grove. El Capitan is one of the most famous sights and hikes in Yosemite, and it is open year-round.
Some sections of the Mist Trail, which branches off from the John Muir Trail, are also open in winter, including the hikes to the top of Vernal Falls and Nevada Falls. Just double check the official national parks website for more info and up to date trail closure notices.
There are numerous popular hiking trails around Yosemite Falls, but in winter only the Lower Yosemite Falls track is open. Still, it's a challenging and breathtaking activity with jaw-dropping views!
When considering any hikes in Yosemite in winter, just check for road closures and weather conditions. Hiking is much riskier in winter due to severe weather, snowfall, and dropping temperatures. Also be safe and prepared while hiking, pack the proper gear, and try not to go into the wilderness alone.
Take A Horse-Drawn Sleigh Ride
For an experience straight out of the carol jingle bells, you can take a horse drawn sleigh ride through the snow in Yosemite National Park. Starting at Tenaya Lodge you'll feel like you are in a Christmas movie riding through a winter wonderland.
The handsome Belgian Draft Horses decorated in bells lead your sleigh through the forest whilst you sit cosily draped in blankets.
This is the perfect family friendly activity to include in a Yosemite vacation. It's also a perfect moment to take that ultimate Christmas card picture too!
Zipline Touring
Looking for an aerial adventure? You will find it at Yosemite Ziplining and Adventure Park which offers year road tours. It might be a little cold during winter but you are sure to discover some fantastic views at these lofty heights.
The park offers a guided 2 hour long ziplining tour over six different stages, ranging in difficulty. All safety equipment and briefings are included and you can also rent a go-pro helmet to recorded your own moments.
Celebrate Christmas
During the festive season the Yosemite Valley area becomes alive with celebration. Families can enjoy theatre performances, parades including a decorated tractor parade and of course meeting the man himself, Santa.
You'll find lots of seasonal activities to do with kids in Yosemite National Park as well. Stocking and ornament decorating and gingerbread house making can all be found here. Don't worry the parents aren't left out, plenty of winter beverages, food and music will keep you happy.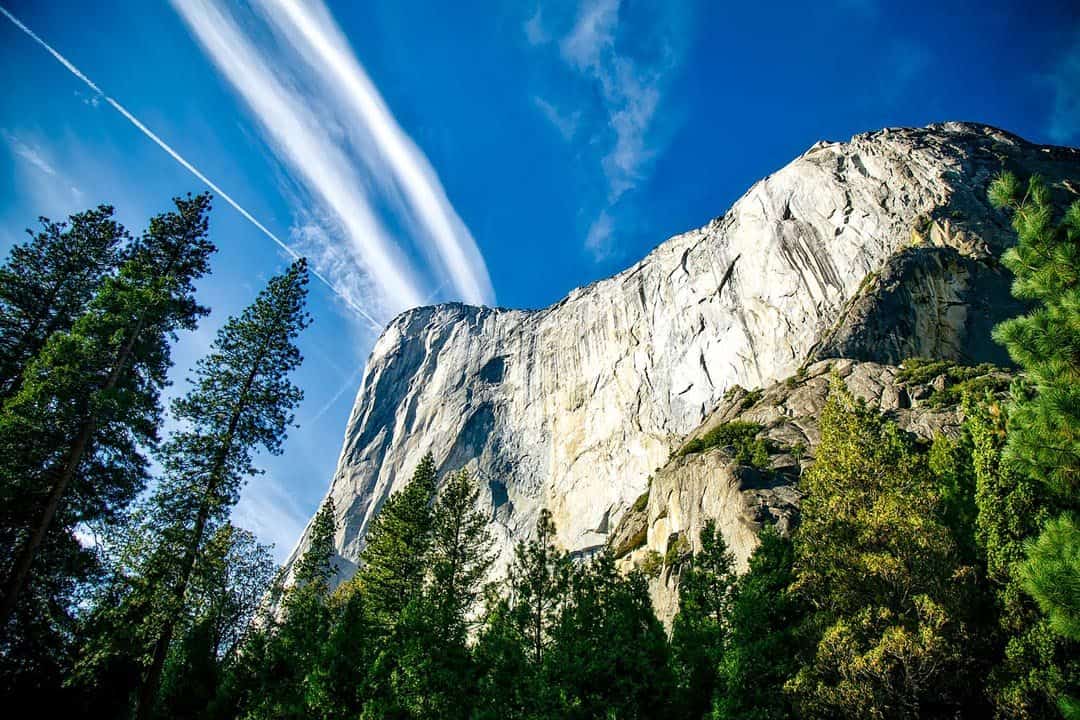 Clearly after reading this you are already planning your next winter trip to Yosemite National Park, right? Even if you are looking to escape winter, the draw of festivities in this area might change your mind.
The Yosemite Valley and Wawona are accessible by car during the winter months however, Crane Flat and Tioga Pass and the Tuolumne Meadows area are closed for the season.
It's best to check out the conditions before heading out on your trip. Whatever the weather though you are sure to have a fantastic time in winter in Yosemite.
Have you found more of the best things to do in Yosemite in winter? What did you like best about it?
DISCLAIMER: Some of the links in this article are affiliate links, which means if you book accommodation, tours or buy a product, we will receive a small commission at no extra cost to you. These commissions help us keep creating more free travel content to help people plan their holidays and adventures. We only recommend the best accommodations, tours and products that ourselves or our fantastic editorial team have personally experienced, and regularly review these. Thanks for your support, kind friend!